Canola Council Chief to Lead Grain Commission
2 years ago
-
The point person for Canada's canola industry will become the chief executive of Canada's grain handling regulator starting in mid-February.
Patti Miller, the president of the Canola Council of Canada since 2012, will start a six-year term as chief commissioner of the Canadian Grain Commission (CGC) on Feb. 13, federal Agriculture Minister Lawrence MacAulay announced Tuesday.
"Patti has a wealth of experience in the sector and her passion for agriculture will be of great benefit to the commission's work," MacAulay said in a news release.
The Winnipeg-based CGC, which has a staff of about 400 full-time equivalent employees, serves as regulator of standards and procedures for Canada's grain handling sector and as official certifier of Canadian grain.
The commission establishes, recommends and maintains grades and standards for Canadian grain, is responsible for Canada's system of grain grading and inspection and serves as one of Canada's scientific research organizations on grain quality.
As chief commissioner, under the Canada Grain Act, Miller will supervise and direct the commission's staff and operations.
Miller comes to the post with a master's degree in agricultural economics from the University of Saskatchewan and industry experience in both the public and private sectors. While at the Winnipeg-based Canola Council, Miller spearheaded its "Keep It Coming 2025" strategic plan, launched in 2014 with targets for annual Canadian canola production of 26 million tonnes and for average yields of 52 bu./ac. by 2025.
Before joining the council she worked in management at Agriculture and Agri-Food Canada (AAFC), overseeing farm income program delivery and grain and oilseed market development and research work. Before her stint at AAFC, she was communications manager for the Canadian arm of U.S. agrifood firm Cargill.
As the CGC's chief commissioner, Miller replaces Elwin Hermanson, who opted not to apply for another stint at the post after his term expired in January last year. Jim Smolik, who as assistant chief commissioner assumed Hermanson's duties, ran out the clock on his term in November when he moved to a new post at Cargill. The lone remaining CGC commissioner, Murdoch MacKay, also concluded his term last month.
Source: AgCanada.com
2017 Youth Ag-Summit to be held in Brussels
2 years ago
-
CALGARY, Dec. 19, 2016 /CNW/ — Against a backdrop of the increasing disconnect of young people from farming and a world population that is forecast to soar to 10 billion by 2050, visionary thinking, a long-term approach, and creativity are needed to develop solutions to face global farming challenges. That is why Bayer and the two Belgian young farmers associations, Groene Kring and Fédération des Jeunes Agriculteurs, are inviting young thought leaders from around the world to apply to attend the third Global Youth Agriculture Summit from October 9 to 13, 2017 in Brussels, Belgium.
About 100 young delegates from around the world will share ideas, develop solutions and engage in an open discussion on one of the world's most challenging questions: How do we feed a hungry planet sustainably? To apply, young people aged 18 to 25 are asked to submit an essay on the underlying causes of food insecurity and the effect it can have on a growing population. The essay question is based on the UN Sustainable Development Goals. Ability to demonstrate original ideas and passion to help shape the future will be the key selection criteria for the Youth Ag-Summit. Applications are being accepted online until January 13, 2017. Find out more about the application process and the Summit at www.youthagsummit.com.
In 2015, delegates delivered the Canberra Youth Ag-Declaration, an action-oriented plan with recommendations on how youth can have an optimal impact on global food security, which was tabled at the United Nations Committee on World Food Security in Rome afterwards. "Hailing from 33 countries and many different educational backgrounds, all 100 delegates brought together unique and diverse perspectives and mooted ideas towards addressing a global concern. It was amazing to see how we all, enthusiastically, took up the challenge and formed a common overall vision aimed at feeding a hungry planet," remembers Samba Ouma Zablon, 2015 alumni delegate from Kenya, who was selected to present the declaration to the UN. In 2017, the movement continues in the European capital.
Canada remains involved for the third-installment of the Summit, and will be sending four young leaders represent Canada—two of which will be current members or alumni of 4-H Canada. This will add to a total of 68 Canadians who will have contributed to the global conference since its inception in 2013 (Calgary, AB).
"Since 2013, when 4-H Canada first partnered with Bayer in hosting the inaugural conference, the Youth Ag-Summit has been an incredible opportunity for our members to lend their voice to important global conversations," said Shannon Benner, CEO of 4-H Canada. "We believe in empowering young people with the skills they need to be leaders in the areas they are passionate about, and working with their peers to discuss tackling global food security at this Summit will do just that."
Assessing young people's knowledge about agriculture
The Summit's long-term goal is to inspire delegates to not just think, but to act, and action is clearly needed to improve young people's knowledge about agriculture, since many young people are disconnected from farming and give little thought to where their food comes from. That is why Bayer initiated a major study1 to assess young people's agricultural literacy in eleven countries during Summer 2015. The Youth Agriculture Literacy Study revealed that the overwhelming majority of young people had no idea when crops were ripe or were harvested. The study also demonstrated that a higher level of education does not mean a higher level of agricultural literacy.
"Bayer is committed to encouraging young people to learn about agriculture and to inspire the next generation of ag visionaries. With initiatives like the 2017 Youth Ag-Summit, agricultural scholarships and experimental learning at our student labs and online, we want to encourage young people to learn more about sustainable agriculture and food supply whereby the vital role of science and innovation is highlighted," says Bernd Naaf, Head of Business Affairs & Communications and Labor Director at Bayer.
About the Youth Ag-Summit
The Youth Ag-Summit is a global youth conference to inspire and connect the next generation of young leaders in agriculture and related disciplines. At the Summit, 100 young leaders aged 18 to 25 from all around the world will meet to share perspectives and create an open dialogue on one of the world's most challenging questions: how to feed a hungry planet? The Youth Ag-Summit forms part of the Agricultural Education Program and aims at raising awareness for food and farming all over the globe.
Find more information about the summit on the website: www.youthagsummit.com
Find out more about the Agricultural Education Program at: www.ag-education.bayer.com
Province, U of A partner to continue research at agricultural stations
2 years ago
-
Since 2013, the Alberta government has been implementing a new management model to ensure the Onefour and Stavely research substations continue to conduct research relating to sustainable rangeland management and prairie conservation into the future.
Through a memorandum of understanding between the government and the University of Alberta the two research ranches will maintain rangeland and native grassland and continue to provide opportunities for agricultural research. In addition, important wildlife habitat will be protected while also providing grazing opportunities for local ranchers.
"The Onefour and Stavely research ranches have played a pivotal role in developing rangeland management as we know it in Western Canada," said Shannon Phillips, Minister of Environment and Parks. "The recent memorandum of understanding between the Government of Alberta and the university will help ensure more important work will come from these sites in the future."
The research ranch model was developed by working with the university and livestock industry representatives. It uses grazing stewards to maintain the important grazing infrastructure and provides sustainable grazing opportunities on the sites which are important for maintaining these grassland ecosystems.
"The signing of this memorandum of understanding allows staff and students to utilize Stavely and Onefour to conduct innovative research and teaching on a wide variety of issues pertinent to rangeland ecology and management," said Dr. Edward Bork, Director of the Rangeland Research Institute in the Faculty of Agricultural, Life and Environmental Sciences at the University of Alberta. "This agreement will support long-term research that promotes rangeland economic and environmental sustainability in Western Canada by taking advantage of the rich generational learnings that Stavely and Onefour offer."
According to Dr. David Turpin, President of the University of Alberta, the Stavely Research Station and Onefour have created a deep legacy of ecological and agricultural research in the province. "Thanks to this new agreement, that legacy is in good hands," he noted. "Through our Rangeland Research Institute in the Faculty of Agricultural, Life and Environmental Sciences, the U of A will continue to engage with and facilitate partnerships across the province, country and continent, conducting leading multi-disciplinary research and teaching to address issues as diverse as grassland ecology, wildlife management, carbon capture, climate change and water management."
Work on the ranches will help promote and set research standards for range management in the province and help shape future research.
About the research ranches
Onefour: The Onefour Agricultural Research Substation, established in 1927, is a 42,000-acre (17,199 hectares) site that includes 39,780 acres (16,098 hectares) of public land southeast of Medicine Hat. Through good stewardship practices, Onefour has conserved valuable native prairie habitats, supporting a wide variety of flora and fauna, including species at risk.
Stavely: The Stavely Agricultural Research Station, established in 1949, is a 980-acre (388-hectares) site west of Stavely on the eastern edge of the Porcupine Hills. Through good stewardship practices, Stavely has served to conserve valuable foothills fescue grasslands while supporting wildlife habitat.
Soil pHertility
2 years ago
-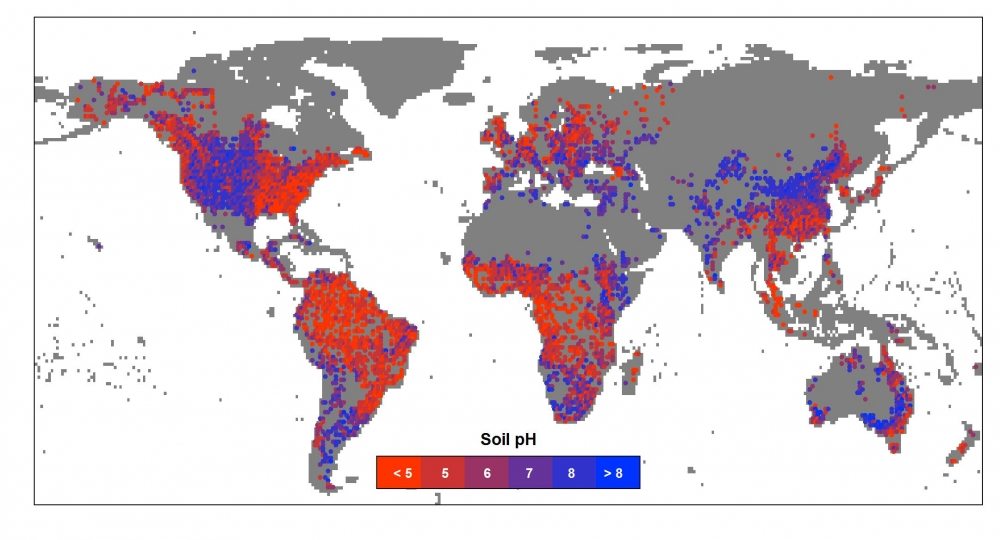 Examining data from around the world, researchers create a global map of soil pH and illuminate how it changes between wet and dry climate.
For some time now, scientists have known that climate influences soil chemistry — and, in particular, soil pH, a measure of acidity or alkalinity. In dry climates, soil is alkaline; in wet climates, it's acidic.
But what has remained unknown is just how soil pH changes between wet and dry climates. A new analysis by UC Santa Barbara researchers sheds light on that mystery, revealing that the shift occurs abruptly, right at the boundary between wet and dry conditions. The findings appear in the journal Nature.
"We found that if you go to wet climates — places where you might expect to find a forest, whether in the high latitudes or in the Amazon — the pH is acidic," said lead author Eric Slessarev, a Ph.D. student in the Department of Ecology, Evolution and Marine Biology at UCSB. "If you go to dry climates, the pH is alkaline. This is what we expected. But our analysis was able to confirm that the transition between those two zones is very abrupt.
"It only takes a small change in climate to achieve the switch from that acid zone to the alkaline zone and there are fewer soils with an intermediate pH," Slessarev added. "Those soils are in places like Iowa or the Ukraine, which — not coincidentally — are places intensively farmed because those neutral range soils are the most fertile. Extreme pH tends to be bad for crops for a variety of reasons."
Soil pH levels range from 0 to 14, with 7 being neutral. Levels below 7 are acidic, and those above are alkaline. Neutral soils are less common than either extreme and tend to cluster at the transition between wet climates and dry climates.
The research team conducted a meta-analysis using soil databases from the United States, China, Canada, Australia, Brazil and the International Soil Research Information Center in Wageningen, Netherlands. The team evaluated approximately 60,000 data points to build a global soil pH map.
"One thing that we can draw from our analysis is that the parts of the world that humans depend upon the most for agriculture sit on an edge between wet and dry climates and between acid soils and alkaline soils," Slessarev said. "What's more, our work demonstrates that soil pH — and therefore soil fertility — is tightly linked to climate. In fact, it's linked in a way that looks like a staircase, where a step exists between one space and another. For the parts of the world on the edge of that step, this means a very small change in climate could make a big difference in how the system functions."
Source: UC Santa Barbara
Canadian leadership in plant variety protection receives international recognition
2 years ago
-
December 9, 2016, Ottawa, ON – Canada's leadership in protecting new plant varieties has received international recognition with the election of Anthony Parker, Canada's Commissioner of Plant Breeders' Rights, to the International Union for the Protection of New Varieties of Plants (UPOV).
UPOV members recognized Parker's knowledge and experience in plant variety protection matters and his role in the ratification of the 1991 Act of the UPOV Convention by Canada in 2015.
Parker played an instrumental role in the implementation of the 2015 Agricultural Growth Act which amended Canada's Plant Breeder's Rights Act, bringing it into line with the UPOV '91 Convention. His role in advancing these legislative amendments to the Act has cemented Canada's reputation as a leader in plant variety development and Plant Breeder's Rights.
Parker will serve as Chair of the Administrative and Legal Committee (CAJ), which is one of UPOV's governing bodies, and is tasked with dealing with the organization's financial, administrative, legal, and policy matters.
Through the cooperation of its members, UPOV creates an environment which supports investment in plant breeding, bringing innovations to farmers globally. An effective system of intellectual property protection for new plant varieties helps ensure sustainable agricultural production, crop diversity, and food security worldwide. Such new plant varieties include features like improved yields and resistance to plant pests and diseases, a key element for increasing productivity and product quality.
UPOV was founded in 1961, establishing the first International Convention for the Protection of New Varieties of Plants; and has since been revised three times, in 1972, 1978 and 1991. UPOV is based in Geneva, Switzerland; and is comprised of 74 members covering 93 states on six continents.
Since 1992, Canada's Plant Breeders' Rights Office has received over 9000 applications for new plant varieties, covering over 330 different crop kinds.
Agriculture and Conservation Groups Join Together for a Sustainable Future
2 years ago
-
December 7, 2016, Ottawa, Ont. – Seeing more benefit to working collaboratively than apart, a diverse group of partners from the agriculture industry and conservation organizations have created a plan toward a sustainable future for Canada's agri-environmental landscape.
Imagine our country as a place where no new land is brought into agricultural production, environmental benefits are produced and farm production and profitability increase on an existing land base. This is the shared vision of the Canadian Roundtable for Sustainable Crop's (CRSC) agro-ecosystem working group, along with industry partners, for the sustainability of Canadian agriculture in the next 10 years.
Announced today at the Sustainability at Sunrise breakfast during the GrowCanada Conference, this vision has Canadian farmers meeting the growing demand for increased production while conserving and restoring ecosystem health such as soil, water and wildlife, and managing climate risk for future generations.
"The CRSC is proud to have been part of developing this vision," says Mark Brock, chair of the CRSC steering committee. "Sustainability is the common ground between environmental and agricultural interests and we thank all the founding organizations for their involvement; in particular, the leadership of Maria Trainer and Paul Thoroughgood. We applaud them for discovering things we can agree on, rather than focusing on those we cannot and inspiring our entire sector. To realize this vision, actions must be taken, and the CRSC looks forward to being part of the work that lies ahead."
Using science as the cornerstone and collaboration to achieve their goals, agriculture and conservation leaders from Canadian Federation of Agriculture, CropLife Canada, Ducks Unlimited Canada, Fertilizer Canada, Grain Growers of Canada, Soil Conservation Council of Canada, and the World Wildlife Fund Canada were involved in the development of this vision for a sustainable future.
Brought to life at a workshop led by the Soil Conservation Council of Canada, the CRSC will use this vision to work toward 12 outcomes by 2026. The first one starts with Canada being recognized as an innovative leader in the area of sustainable agriculture.
Sustainable agricultural practices recognize that agricultural and environmental values are intrinsically connected. To ensure current stewardship efforts are maintained, and to avoid environmental degradation, increased production must be achieved on the current area of land under production.
Read the entire vision statement.