Seed Treatment Education
3 years ago
-
With the technology available today, farmers are increasing their production. Seed treatments are among the newest technologies available — by helping seed get the best possible start, they are helping farmers grow more from less.
There are several best practices producers can follow to get good yields — proper crop rotations, good disease and insect management, seeding in ideal conditions and consistent seeding depth. However, it's easy to fall short on one or more of these each growing season, and that is where seed treatments come in.
"Seed treatments should be considered an insurance policy. If you have ideal conditions at seeding, then the seed treatments may not pay. However, most springs do not provide those ideal conditions," says Harry Brook, a crop specialist with Alberta Agriculture and Rural Development.
A seed treatment is a chemical or biological substance or physical process applied to seeds or seedlings to protect against insects, seed and soil-borne diseases and certain weather conditions such as frost, drought or flooding. By protecting the seed from early-season stressors, seed treatments help seeds reach their full genetic potential.
The primary role of any cereal seed treatment is to improve germination and emergence, and get young seedlings established through to the two- to four-leaf stage. At that point, the plants should have developed root and stem structures strong enough to outgrow further seedling disease attack.
Brook says seed treatments protect the seed from pathogens in the soil for about two weeks and then their efficacy declines. "Cool, wet, slow springs should give you a benefit using seed treatments," he says.
Product Pipeline
A wide variety of seed treatments are currently available, and these products have come a long way in recent years. Some of the newest products boast significantly lower application rates than older products, operate via multiple modes of action to control more diseases and/or insects, and are available in ready-to-apply formulations.
"Since we released our first seed treatment in 1991, the needs of growers have changed a lot with continuous cropping and new crop rotations," says Ted Labun, seed treatment specialist for Syngenta Crop Protection Canada. "We kept adding to our first solution, but now we've taken all those solutions and put them into one solution that's easy to apply."
Labun is referring to Syngenta's new Vibrance Quattro seed treatment, which contains four fungicides in one product and comes in a ready-to-apply formulation. The company also offers Cruiser Vibrance Quattro which has the Cruiser insecticide for wireworm protection.
Both products can be applied by commercial seed treaters, but are also available in a convenient, pre-mix formulation that can be applied on-farm without the requirement of a closed system.
Bayer CropScience also launched two new seed treatments this year. Raxil PRO is a new cereal seed treatment that combines the power of three fungicides in an easy-to-apply micro-dispersion formulation. Raxil Pro Shield incorporates the systematic and contact disease protection from Raxil with the plant health benefits and wireworm protection of Stress Shield.
Bayer has also recently launched the SeedGrowth brand, which represents the company's four segments of seed treatment expertise: products, equipment, services and coatings. "Through Bayer SeedGrowth, farmers get support beyond just seed treatments to the quality and life of their seed and crops," says Derrick Rozdeba, manager, integrated communications for Bayer. In 2014, Bayer partnered with Ag Growth International (AGI) to co-design the STORM Seed Treater for computerized, self-adjusting/metered, in-yard seed treatment for cereals.
Meanwhile, in the fall of 2014 Nufarm Agriculture was named the exclusive distributor of Valent Canada's NipsIt seed treatments for on-farm use in Canadian markets.
"Seed treatments should be considered an insurance policy. If you have ideal conditions at seeding, then the seed treatments may not pay. However, most springs do not provide those ideal conditions."

—Harry Brook
NipsIt INSIDE is an insecticide seed treatment containing the active ingredient clothianidin, offering Canadian wheat growers protection of key insects, including wireworms, through contact and super-systemic activity. According to the company, NipsIt INSIDE stays in the seed/root zone longer than other insecticide seed treatments due to its lower water solubility.
A second product, NipsIt SUITE, is an all-in-one seed treatment containing the fungicidal active ingredients metconazole and metalaxyl, and insecticidal active ingredient clothianidin. Metconazole is a new fungicide seed treatment which provides superior protection against key seed and seedling diseases incited by seed-borne and soil-borne fungal pathogens such as the bunt and smut fungi, seed rot and seedling diseases caused by fusarium and rhizoctonia, says the company.
Since releasing its Insure Cereal seed treatment in early 2013, BASF Canada has been reminding growers about the benefits of using seed treatments."By using a seed treatment with plant health benefits, crops can get off to a good start in spring," says Russell Trischuk, technical marketing specialist, functional crop care for BASF Canada. Through 2011 and 2012, BASF conducted an extensive trial program using Insure. In 30 trials for wheat, Insure-treated seed had a two-bushel increase over competitors. In barley, the increase was three bushels and in oat it was more than a four-bushel advantage for the Insure-treated seed. Insure is a ready-to-use seed treatment with three modes of action: pyraclostrobin, triticonazole and metalaxyl.
Application Options
No matter how good the product, it can only be effective if applied evenly and at the proper volume to all sides of each and every seed. While getting seed treated commercially might be more expensive than treating on-farm, the payoff from a job done right can be worth the extra cost.
Brook says producers should avoid drip and gravity-fed applications as they result in inconsistent and unreliable coverage. For best results, he recommends buying pre-treated, certified seed, or using a good on-farm seed treater.
"On farm application is convenient, but to maximize the effectiveness of the fungicide, it needs to be on every seed. Most on-farm applicators can't do as good a job getting an even coating on the seed as a seed treater in the local seed plant," he says. "Many producers use their local seed cleaning plant to apply the seed treatment because of this."
"What is really important is that the quality of application is the best it can be. That is critical for field performance."

—Ted Labun
According to Labun, Syngenta supports both commercially treated seed and on-farm application. "What is really important is that the quality of application is the best it can be. That is critical for field performance."
Labun says the application method really depends on the crop. "For pulses and cereals we recommend both on-farm applications and commercial application, but canola is much more challenging to treat so we recommend growers only go through commercial treating for canola," says Labun.
If a producer chooses to go the on-farm route, Labun says they have lots of support available to them. "We have five seed treatment specialists in the field that help with application best practices. Last year we held a clinic in Regina to train producers. We brought in five pieces of equipment, treated seed and talked about safety and proper equipment. We also hold grower meetings where we bring equipment in and do some training," he says. "The quality of application is critical to see field performance; poor treatment isn't going to get the return on investment that producers need."
Julie McNabb
Hemp, Fababeans and Ethoiopian Mustard are Making Their Mark on Alberta
3 years ago
-
Niche
noun \'nich also 'n'sh or 'nish\
A distinct segment of a market
Although Jan Slaski will admit that hemp acres are still small in Alberta, don't tell him it's a niche crop. The researcher with Alberta Innovates Technology Futures doesn't care for that term.
"In 2013 in Canada, we had 67,000 acres of hemp grown. In 2014, we had 108,000 acres. This 20 to 30 per cent annual increase has been observed every year over the last five or six years. Projections in Alberta and Canada are that it will grow 20 to 30 per cent every year in years to come. This increase is market driven," he says. "To me, that doesn't say 'niche crop.'"
In fact, Alberta alone accounts for 30 per cent of the national hemp acreage, Slaski notes.
Indeed, hemp has gone from a specialty item to a mainstream product found commonly in the marketplace. "Eight or 10 years ago you found these products in health food stores on the bottom shelf — now you find them at Superstore and Sobeys," Slaski adds. "This crop has been de-stigmatized. When I started working with it, people would laugh when I told them I work with hemp, because they couldn't distinguish between marijuana and industrial hemp."
Hemp products, of course, come from the cannabis plant — the same plant marijuana is derived from. Hemp, though, differs in that it contains virtually no Tetrahydrocannabinol (THC) — the active component in marijuana that causes psychoactive effects. Hemp became legal to grow in Canada in 1998, although it is still regulated by Health Canada and anyone wanting to grow it must apply for a license.
Grain from industrial hemp is used in food products, cosmetics, plastics and fuel. The market for hemp grain is large, with $50 million in hemp products being exported from Canada in 2014, according to Slaski. Although the market for hemp fiber isn't as large at the moment, it's growing fast — two hemp fibre processing facilities are currently being developed in Alberta. In mid-January, Cylab International announced its plan to move operations from China to an undisclosed location in Southern Alberta. The new facility will process hemp fibre into construction materials, animal bedding and other products.
Stemia Group Ltd., a company Alberta Innovates Tech Futures has collaborated with for five years, is building a flax and hemp straw decortication facility in Lethbridge. The company plans to make products for the construction, automotive and paper industries.
Will Van Roessel of Alberta's Specialty Seeds Ltd. has grown hemp for five years. He produces seed varieties used to produce hemp grain, and says being in the seed business, he's always looking for new ventures and opportunities. That's why he began growing it.
"We had to learn a few things. The plant is very different from anything else we grow. The major concern is harvest," he says. The height of hemp plants, and the fact that seeds can mature at different rates on the same plant, can make harvest a challenge. "Everyone has heard horror stories about how difficult hemp can be to harvest. The last couple years harvest has been pretty minimal as far as issues go."
Optimal growing conditions make harvest easier. According to the Ontario Ministry of Agriculture, Food and Rural Affairs (OMAFRA), hemp responds to a well drained, loam soil with a pH (acidity) above 6.0. Neutral to slightly alkaline (pH 7.0 – 7.5) is preferred. The higher the clay contents of the soil, the lower the yield of fibre or grain produced. For optimum germination, industrial hemp seed requires good seed-to-soil contact. The seedbed should be firm, level and relatively fine; similar to that prepared for direct-seeded forages. The soil can be worked and planted as soon as the ground is dry enough to avoid compaction.
Numerous hemp varieties are available to be grown in Canada, but the most common that are being contracted and grown presently are Alyssa, Anka, CRS–1, CFX–1, CFX–2, Delores and Finola.
"Everyone wants to grow it because everyone makes money — from growers to processors," Slaski adds. Although Alberta is No. 3 in Canada for number of hemp acres grown — Saskatchewan ranks first with Manitoba second — he says the market will only continue to grow as time goes on. "People in the past didn't treat the crop seriously, but that has changed."
Growing the Faba Bean
The faba bean was once an up-and-coming crop in Manitoba, before the soybean exploded onto the scene and took over. Leave it to Alberta to usher in a faba bean revival on the Prairies.
According to statistics from Alberta Agriculture and Rural Development (AARD), faba bean acreage in Alberta nearly tripled in 2014 compared to the year before, jumping from 30,000 to 80,000 acres.
"Faba bean acreage is exploding," says Mark Olson, head of the pulse crops unit at AARD. "Alberta has been the leader in this rebirth of the faba bean."
The reason for the explosion in faba bean acreage? "A lot of companies have really stepped forward to market it," Olson says. That includes Saskcan Pulse Trading and Parkland Alberta Commodities, which are marketing the beans for Alberta growers.
Much of the faba bean grown in Alberta is sold into the Middle East, where faba bean flour is widely used in sauces as well as falafel, a traditional Middle Eastern food served in a pita. The beans themselves are a popular food staple there. There are two types of faba beans — tannin varieties and low-tannin varieties. Low-tannin faba bean is often used in hog rations, while the tannin-containing varieties are used largely in food products.
Tannin also acts a natural seed protectant, Olson notes. Also, it's a crop that doesn't have to be heavily fertilized, he adds, because faba beans fix nitrogen and it is the highest nitrogen-fixing — approximately 90 per cent — annual grain legume globally. "As nitrogen prices increase, farmers are looking for a way to cut costs," Olson adds.
Clifford Cyre of Westlock's Cyre Seed Farms can attest to the benefits of faba beans. He's been growing them for 15 years. He holds the rights to the Snowbird faba bean variety in Western Canada, a low tannin type suitable for both food and feed uses.
"The standability is excellent for thrashing," Cyre says. "As far as combining goes, it's very easy. The seeds are bigger, so you have to have the right equipment."
Another benefit Cyre has noted is the fact that there's little pest and disease pressure with faba beans. "There is one fungicide you can use for diseases on faba bean which is for sclerotinia, but we haven't had an issue with that," he notes.
Growers should watch herbicide residues where they plan to seed faba beans. He also advises not planting them on high nitrogen grounds, and avoiding fields with a history of having a lot of manure spread on them.
There are currently 13 faba bean varieties registered in Canada, but only two are commonly grown in Alberta. These are Malik (9-4) and Snowbird. Two new varieties, Snowdrop and Tabasco, are currently in the seed multiplication process and should be available to commercial growers in the next couple years.
Ethiopian Mustard Taking Off
It's hard to imagine an airplane being fueled by mustard, but in 2012, the first flight of a jet aircraft powered with biofuel made entirely from Ethiopian mustard took place in Ottawa.
Ethiopian mustard — or Brassica carinata — holds tremendous promise as a biofuel and is prized as a food source in countries such as Africa. And it's beginning to get noticed in Alberta, where it's being tested as a startup crop in the hopes of it filling a niche market demand.
"It is quite a different animal to grow — it broadens the scope of crops that producers can look at," says Kevin Falk, a researcher with Agriculture and Agri-Food Canada based in Saskatoon, Sask. He's testing the crop in locations in southern Alberta, a province he says shows promise for growing it.
"It needs a hot, dry climate, so for it to be grown in Canada, you have to stay south," he says. "I've tried growing it as far north as Beaverlodge, Alta., but it didn't do well."
In 2012 and 2013, carinata acres were contracted in Saskatchewan and Alberta. No Ethiopian mustard acres were contracted in 2014, however, because its exclusive Canadian distributor — Agrisoma Biosciences — put its contracting program on hold while it sought regulatory approval for its use in livestock protein. The approval was granted, and Agrisoma estimates at least 25,000 acres of Ethiopian mustard will be grown in Canada in 2015.
When processed, Ethiopian mustard oil can be used as an industrial oil suited for biofuel production. According to Falk, there's been a focus on reducing the glucose content of the plant so it can be used as a feed ration. In Ethiopia, it's used as a food product, as it provides flavour to food similar to that of a Dijon mustard, although less hot.
It's a late-maturing crop, Falk notes, and takes around 10 days longer than Argentine canola to mature. White rust and blackleg are not an issue, and Falk has seen yields as good if not better than those seen with canola. It's also heat and drought tolerant, he adds, and yields as good — if not better — than canola in the hotter, drier areas.
"It's an up-and-coming crop that we're going to see more of," Falk says.
Marc Zienkiewicz
New transgenic technologies may signal a brave new world of barley breeding
3 years ago
-
New transgenic technologies may signal a brave new world of barley breeding.
In Alberta, fusarium head blight, a fungal disease of small grain cereals, presents a major problem that crops up annually for seed growers in the southern and central parts of the province. While it has troubled wheat growers for years, FHB caused by the pathogen Fusarium graminearum was also detected in barley several years ago.
FHB results in reductions in yield, grade, and end-use quality. It can also cause the production of mycotoxins in grain, especially deoxynivalenol or DON, which can negatively impact feed quality as well as baking and malting quality — and poses a slight risk to humans and animals.
But there may be a new potential solution on the horizon. Using transgenic technologies, Phil Bregitzer, a research geneticist with the United States Department of Agriculture (USDA) Agricultural Research Service (ARS) is using novel technologies in the quest to develop a barley line with resistance to FHB.
"The products of my research potentially can assist any producer, in Alberta or elsewhere, to produce barley that is free of FHB and/or mycotoxin without using fungicides, thus contributing to producer profitability, consumer health, and environmental sustainability," says Bregitzer.
The need for FHB-resistant varieties is growing yearly in Alberta.
According to James Helm, outgoing head of research at the Field Crop Development Centre in Lacombe, Alta., while seed-borne F. graminearum levels in barley still clock in at lower levels than in wheat in the province, they rose from five per cent in 2013 to eight per cent in 2014, according to data from 20/20 Seed Labs and Biovision Seed Labs. The companies' tests also showed that F. graminearum levels in Alberta reached record highs in 2014, with 15 per cent of samples overall testing positive for cereal crops.
Helm is the spokesperson for a team of scientists at the Field Crop Development Centre including lead pathologist Kequan Xi, pathologist Kurshan Kumar, and plant breeder Flavio Cappettini.
The team says that merely the threat of FHB comes at a cost to barley producers. The zero tolerance regulation for mycotoxins in malting barley may restrict the growth and production of malting barley. Add to this the increased input costs from the use of fungicides and seed testing.
"The steady increase in the levels of F. graminearum along Hwy. 16 has proven that Alberta's environment is not a barrier to the spread of F. graminearum," says Helm. "With the wide spread of inoculum and a large acreage of susceptible cereal crops, there is a risk of an epidemic if conducive conditions such as abundant rainfall with relative high temperature coincide with the flowering stage of cereal crops."
With the risk of FHB compounding annually, resistant varieties are still the grower's top tool for battling the disease.
Transgenic Technologies
Bregitzer's project involves introducing a gene into barley that creates double-stranded (ds) RNA, the gene's "messenger" that carries information from DNA for controlling the synthesis of proteins.
"We are attempting to use a phenomenon called RNA interference (RNAi) to target important fusarium genes, thus disrupting its ability to infect barley and/or produce mycotoxins."
RNAi involves introducing a transgene that encodes an inverted repeat of sequences that match the critical fusarium gene, Bregitzer explains. This produces an RNA that will fold back on itself, creating double-stranded RNA (dsRNA).
"dsRNA is recognized by a system for gene control — which can function in some cases like this one as sort of an immune system — that results in the RNA from the targeted fusarium gene being destroyed or inactivated," Bregitzer says. "If we can inactivate the main gene that drives mycotoxin production, for instance, we hope to produce a plant that even if infected with fusarium will not produce contaminated grain."
Bregitzer and his team will deliver the transgenes into the new varieties using a system based on DNA transposons (or mobile genetic sequences, which can include genes) isolated from maize.
"No one has used transposition for plant breeding in this way to my knowledge, although its capacity to do this has been known for several decades," Bregitzer says.
"Because of the end result — an intact transgene — without extraneous sequences except for some very short termini derived from another, safe food crop, the resulting barley plants are expected to more reliably express the transgene."
Bregitzer's research is funded by competitive grant funds from the U.S. Wheat and Barley Scab Initiative (USWBSI), as well as a special grant from the USDA-ARS. The project is a long-term initiative, but Bregitzer is in it for the long haul. "The process of producing any truly useful barley line is a decade-long process," he says.
Until the varieties that Bregitzer and his team are working on become available, he cautions that producers should use the best resistant varieties available and employ recommended best practices to combat FHB.
Management Strategies
Garson Law, research manager for Alberta Barley, says the new transgenic breeding project will have no immediate impact in Alberta, as transgenic barley is not approved for use in Canada.
"If any transgenic-derived variety is ever approved for use in Canada, the impact would be huge," Law says. "FHB is an existing and growing problem for Alberta's barley growers, and the economic impact for Alberta agriculture is estimated to be as high as $49 million."
According to Law, the economic impact of the disease on Alberta's barley growers was similar in 2014 as in 2013, with FHB noticeably concentrated primarily in southern Alberta, and higher than normal incidence in central Alberta.
"It's difficult to predict for 2015, but we've seen in the last 10 years that FHB has spread throughout the province, and if the conditions are optimal — for example, high moisture during flowering — then we expect this trend to continue," Law says. "It's a problem that's not going away."
He says education is key to managing FHB in barley, as well as crop rotation, the use of resistant varieties, fungicides, seed treatments, and best agronomic practices. "Individually, they won't manage the problem. However, taken together, these methods are much more effective," says Law.
Helm adds that seed or feed should not be imported from eastern provinces or FHB-infested areas.
Julienne Isaacs
A New Path Forward
3 years ago
-
There are many moving pieces in the Canadian seed industry today — changes to Plant Breeders' Rights legislation, changes to variety registration, changes to seed crop inspection delivery. All of these changes might leave growers scratching their heads. We take a look at how today's evolving landscape will impact you and the seed you buy.
In the last few years, seed has benefited from rapidly evolving technology and innovation. "Farmers today are using a paraphrase from Jim Helm—'driving race cars, not horse and buggy'," says Patricia Juskiw, a barley breeder at the Field Crop Development Centre in Lacombe. "While Helm was referring to the feed industry and the genetics of the cattle being fed, this also applies to our modern farming systems with pedigreed seed being the fuel for that car. We have GPS, ICM and precision farming that requires the 'best' seed technology available.
"So for the plant breeder it is imperative that we understand that farmers are better able to access information from their farm and the industry to make informed decisions and may therefore be able to select genetics uniquely suited for their cropping system from delivery of the seed into the ground to the product harvested," says Juskiw.
This makes investment in seed innovation more critical today than ever before. "Canada needs to remain competitive in both domestic and foreign markets. As foreign markets and competitors innovate and advance, Canada must also. Canada cannot compete with many countries as a low cost producer, so our option is to compete on quality and innovation. Innovation takes investment," says Dale Adolphe, executive director of the Canadian Seed Growers' Association.
Thanks to Bill C-18, which will bring Canada's Plant Breeders' Rights legislation in line with UPOV '91, Canada is poised to see an increased investment in seed across the country and across various crops.
"The large part of the legislation that is very important to the seed industry are the proposed amendments to Plant Breeders' Rights," says Dave Baute, president of the Canadian Seed Trade Association. "These amendments would put Canadian plant breeders on an equal footing with plant breeders around the world, giving them the confidence to invest in plant breeding and variety development in Canada. It would also give international plant breeders the confidence to send their superior varieties to Canada."
Variety Registration
A responsive and efficient seed regulatory system also contributes to the success of a country's crop production sector. As the seed industry evolves, it's becoming clear that Canada needs a flexible variety registration system that meets the needs of the various value chains of the many different crops grown.
The Canadian government has taken a leadership role in updating its variety registration system. In 2013, it began reviewing Canada's crop variety registration system with the goal of streamlining it. In June of 2014 amendments to the Seeds Regulations resulted in oilseed soybeans and forage crop kinds moving from Part I of Schedule III in the Regulations to Part III of Schedule III.
"This means that varieties of these crop kinds are no longer subject to merit assessment and recommendation by an approved recommending committee in order to obtain variety registration. Applications for registration of these varieties can be made directly to the CFIA's Variety Registration Office," explains Tammy Jarbeau, media relations coordinator for the Canadian Food Inspection Agency.
The theory is that new varieties of soybeans and forages will be available to farmers at the same time as they are available to competing growers in, for example, the United States, says Adolphe. "The previous argument was that the Canadian testing system for the introduction of new varieties and may have been an impediment to introduction of new varieties," he adds.
Consultations on the variety registration system were ongoing in 2014. "The CFIA distributed a draft Model Operating Procedures document to the recommending committees for their review and comments in October. Each recommending committee has been asked to provide their comments on the MOP to the Variety Registration Office within 30 days following their annual meeting," says Jarbeau.
"These amendments would put Canadian plant breeders on an equal footing with plant breeders around the world"

—Dave Baute
In the coming years, Adolphe doesn't see too much more change coming for variety registration. "With the CFIA proposal for two categories, enhanced and basic, likely not too many changes will occur in terms of crop placement," he says. "I expect pressure will stay on the recommending committees to continue to streamline their variety review procedures. This should result in more transparency, more predictability and a friendlier environment for investment into variety development."
Juskiw agrees. "The simplified process should allow the same quality of products to enter the system, but with reduced need for field testing and its concurrent costs."
She says that while some look on these changes as opportunities, others look on them as potentially threatening to marketing systems. "In a time of change there is always the uncertainty about what may be lost, especially with regards to germplasm. As well, quality and disease evaluations may no longer be conducted with the potential for corruption of quality classes and epidemics. However, the Canadian system is very mature and should be able to adjust to these changes and challenges."
Seed Crop Inspection
It has been one year since Alternative Service Delivery for seed crop inspection was implemented. To see how year one under the new framework went, the CFIA conducted a series of surveys of various stakeholders in ASD in October 2014.
"Based on the information collected to date, things went well in the first year of seed crop inspection," says Jarbeau. "Almost 90 per cent of seed crop inspections were conducted by licensed seed crop inspectors in 2014 and the remaining 10 per cent of the inspections were conducted by Canadian Food Inspection Agency inspectors. This is above the targeted goal.
"The number of fields needing inspection did not decrease from previous years and the lag time for receiving and processing inspection reports has improved with the electronic reporting system. Each region had more than one service provider and the CFIA is not aware of any complaints from growers not being able to find a service provider," she adds.
From the grower's perspective, Adolphe agrees. "Those surveys generally rated year one of ASD fairly positively," says Adolphe. "Yes, there were glitches, but those were either overcome in 2014 or are being addressed for 2015."
"(T)he Canadian system is very mature and should be able to adjust to these changes and challenges."

—Patricia Juskiw
For seed growers, this evolution has resulted in higher inspection fees than in the past. "However, generally speaking, when this is converted to a per-bushel increase in cost, it results in cents per bushel. The commercial farmer will see these costs passed along to them but because it is cents per bushel, they might not distinguish this cost increase from typical market price shifts," says Adolphe.
Reports from seed growers indicate the quality of their inspections in 2014 were very good, so commercial farmers can expect the high quality of certified seed to continue. "The independent third party inspection continues to provide assurance in the marketplace," says Stettler-based seed grower Norm Lyster.
The CFIA anticipates there may be minor modifications to "fine tune" the program in 2015 and beyond.
Julie McNabb
Growers on High Alert for Stripe Rust
3 years ago
-
Stripe rust has been developing earlier than ever before on winter wheat in central Alberta — which may mean it is overwintering in the region.
Early in the 2014 crop season, two Alberta Agriculture and Rural Development (AARD) pathologists, Krishan Kumar and Kequan Xi, observed heavy infections of stripe rust on winter wheat in the Olds, Alta. cereal breeding nursery.
Samples of stripe rust-infected winter wheat were also observed in breeding plots and commercial fields near Lacombe and Bentley. Kumar and Xi suggested that as they'd never before observed such severe early infection, the stripe rust pathogen might have overwintered in central Alberta.
According to Michael Harding, a research scientist with AARD, it is unusual for the stripe rust pathogen (Puccinia striiformis) to overwinter in Alberta. Most years, he says, it enters the province from a westerly direction — the Pacific Northwest states, where it normally overwinters.
"Due to the predominant westerly wind trajectories, the disease is almost always observed first in southwestern Alberta because it is the first region in Alberta along the natural dissemination pathway to receive stripe rust spore showers from the overwintering sources in the USA," Harding notes. "After appearing in southwestern Alberta, the disease will move north and east depending on prevailing winds and environmental conditions."
Harding believes there are several convincing observations that back the suggestion that stripe rust overwintered in central Alberta. The first is its early appearance in central Alberta without concurrent infection found in southern Alberta, where stripe rust spores would normally have entered the province. "The arrival of stripe rust first in central Alberta, and so early in the growing season, is unusual and very suggestive of an overwintering event there," Harding says.
Xi and Kumar confirmed the overwintering potential, Harding explains, by collecting leaf samples from beneath snow drifts and bringing them indoors for testing. Their findings were illuminative: they discovered that viable stripe rust infections were surviving through the winter under the insulated snow cover.
Denis Gaudet, a cereal pathologist with Agriculture and Agri-Food Canada (AAFC), believes there is plenty of merit to Xi and Kumar's claims. "I would concur with their assessment," he says. "The onset of moderate to severe symptoms early in the growth season that was observed in Olds is not typical of the usual spring infection pattern, which is a trace to light infection, or less than one per cent severity."
Secondly, Gaudet says, the region frequently has an uninterrupted snow cover during the winter that helps protect the fungus and plant tissues from cold injury and death, which can lead to widespread survival of stripe rust from a fall infection throughout the winter.
There are other possible reasons for early infection, however. "It is possible that heavy spore showers originating from the Pacific Northwest USA occurred in early spring and this could have accounted for the early, severe stripe rust observed," he says. "Cool, moist growing conditions during the early spring would have promoted the development of the fungus in the wheat plant."
Regardless of the causes for the early development of stripe rust in central Alberta, seed growers and farmers should be on high alert early in 2015 and use proactive management techniques to ensure minimal damage in winter wheat.
Management Techniques
Harding says the use of cereal cultivars with resistance to stripe rust is the most important strategy seed growers and farmers can employ to combat the disease.
"In cases where stripe rust resistance is not available, management of the disease can be achieved by vigilant scouting and timely fungicide applications," Harding notes. "Stripe rust disease can develop and spread very, very rapidly, so frequent scouting for the characteristic stripes that have orange spore pustules is critical."
He says fungicides may be applied preventatively — in other words, for susceptible varieties, fungicides should either be applied in advance or as soon as stripes appear if stripe rust has been reported in the region. Applying upper canopy leaves with fungicide (flag leaves and penultimate leaves) will help avoid yield loss, because these two leaves are the greatest contributors to yield in cereals. If the disease is not present on the upper leaves, or comes in late in the season when grain fill will no longer be affected, the use of fungicides is not cost-effective.
"The optimum time for applying fungicides is around flowering, during which these two leaves are fully expanded," Gaudet explains. "If fungicides are applied too early in the growing season before full development and extension of these two leaves, an additional spray may be necessary. Monitor fields for stripe rust, and if incidence or severity levels exceed five per cent, particularly in June and July, fungicides can be applied."
"New sources of resistance are being incorporated and stacked so that the resistance will be long lasting."

— Robert Graf
Gaudet's team at the Lethbridge Research Centre performs weekly stripe rust surveillance in southern Alberta during the summer months and offers fungicide recommendations — a service that should continue into 2015.
Harding and Gaudet both caution that issues with stripe rust infecting and overwintering in the fall-sown winter wheat can also be avoided if growers resist seeding winter wheat too early — in August or early September — because this can create a "green bridge" between the spring wheat crop and the winter wheat crop.
Gaudet's team has already observed stripe rust pustules in winter wheat seeded this fall during a recent survey of Southern Alberta. "We will be monitoring the survival of stripe rust throughout the winter so we will have an answer by next spring."
Stripe rust can only survive on a living host, but it can move into a fall-seeded crop from a spring-seeded crop if the former is planted too early, or if volunteer cereals are growing nearby. "In rare instances where stripe rust overwinters on a winter wheat crop, or on grassy or cereal volunteers, there a bridge from one green crop to another, and from one season to the next," Harding says.
Julienne Isaacs
New Clubroot Pathotype on the Horizon
3 years ago
-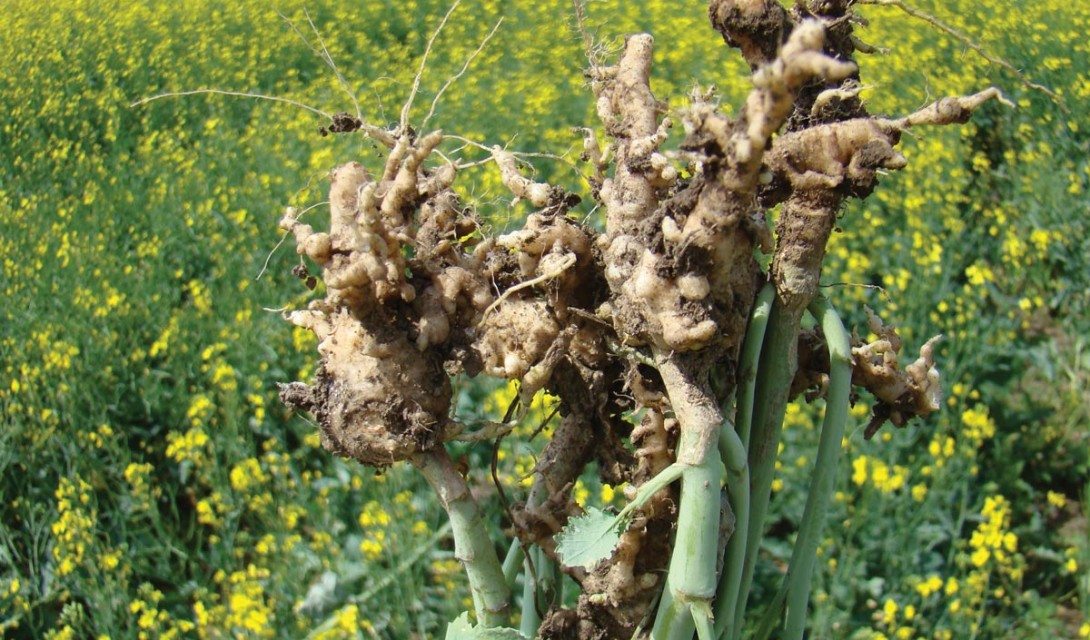 Alberta researchers have identified a new clubroot pathotype. Proactive management will be key in 2015.
A new clubroot pathotype that can overcome clubroot resistance has been confirmed in Alberta fields.
A 2014 clubroot survey written by a team of researchers headed by Stephen Strelkov, division director of Plant BioSystems and professor at the University of Alberta, claims that 648 commercial canola crops in 36 counties and municipalities in Alberta were surveyed, to reveal 104 new cases of clubroot. "Additional surveys by county and municipal personnel identified another 279 new records of the disease, for a total of 383 clubroot-infested fields in 2014," the survey states.
Of the fields surveyed, several planted to resistant canola were found to have mild to medium levels of clubroot infection — signs of a pathotype that can overcome clubroot resistance.
In 2013's clubroot survey, Strelkov identified higher-than-normal levels of clubroot pathogens in fields of apparently resistant canola. Subsequently, Strelkov and his team inoculated certified canola seed with the collected pathogen under greenhouse conditions.
The new strain caused almost 100 per cent damage in the greenhouse trial, even though the canola variety used was resistant to existing clubroot pathogens.
This year, Strelkov's team tested seed from all major companies. "We wanted to find out whether the other varieties were holding up against this strain," says Strelkov. "We inoculated products from all the different companies and we discovered this new strain could overcome all of the current resistant varieties in use."
Strelkov and his team have been working with Alberta Agriculture and Rural Development (AARD) and the Canola Council to collect samples and conduct further testing.
The pathotype was identified this year in many fields where clubroot had not previously been confirmed. Even though the damage in those fields was low to moderate, Strelkov says there might be a yield impact down the road, especially in areas where the problem continues to intensify.
Michael Harding, a research scientist with AARD, says the findings have serious implications for canola growers in Alberta. "The appearance of a new pathotype that can overcome the clubroot resistance is of great concern, especially since all of our currently available clubroot-resistant cultivars are ineffective against this pathotype," he says.
Harding believes the findings, while worrying, are not surprising in the larger context of clubroot resistance gene deployment in other areas of the world. "The clubroot pathogen is a very difficult organism to stay ahead of in terms of deployment of major gene resistance because it has the capacity to generate great diversity (pathotypes) and produce extremely high numbers of long-lived resting spores," he says.
Added together, high diversity, "extreme reproductive potential," and the pathotypes' ability to survive long periods of time in the soil means that new pathotypes can develop after only two or three resistant crop cycles, Harding argues.
AARD continues to assess the situation with surveillance and research activities to analyze the new pathotype. Harding says damage in 2015 will be dependent on a variety of factors. "First, the environment will determine the clubroot disease potential to some extent. A dry spring will be less conducive for disease development," he says.
Crop history and rotation will also have impact on specific regions' susceptibility to the new pathotype. Growers who emphasize biosecurity and sanitization to prevent movement of infested soil on their operations will have a better chance of preventing new infestations.
Sanitization Key to Management
In Strelkov's view, the most valuable tool for managing clubroot resistance is the continued use of resistant varieties. In cases where resistance has been overcome, longer rotations are warranted and can help maintain the integrity of the resistance by reducing selection pressure on the pathogen.
The University of Alberta's canola breeding and research team has developed a great deal of germplasm which is currently being screened against the new pathogen, according to Habibur Rahman, a research scientist with the department of Agricultural, Food and Nutritional Science. Rahman says the team has completed one round of tests and is currently completing its second round.
"Resistance is a most useful and important tool to manage the disease, and in areas where clubroot is very severe, longer rotations are warranted."
— Stephen Strelkov
"By the end of this year we'll know if we have resistance to this pathotype," he says. It's too soon to say whether the results of those tests might lead to new varieties resistant to the new clubroot pathotypes, but in the meantime, growers cannot afford to bypass best management practices.
"Sanitization of equipment is important," says Strelkov. "I realize it's difficult to clean off all equipment, but mechanical cleaning should be practiced at least." Working clubroot-infested fields last is also a recommended strategy as total sanitization of equipment can be difficult.
Harding seconds the claim that sanitization is key. "Proper sanitization of any equipment carrying soil will reduce the spread of disease," he says. "Sanitization involves cleaning all soil and organic material from equipment and then applying a disinfectant to kill any remaining spores."
But Harding claims that scouting should be the first step in managing clubroot, beginning at flowering and ending at swathing. "Early detection of clubroot could mean the difference between a problem that is 10 m2 as opposed to one that goes unnoticed and becomes a problem across an area of 25 ha or larger," he says.
A good way to begin scouting is at the entrance to fields — growers should pull 50 to 100 plants and inspect the roots for signs of clubroot. Patches of dead or prematurely ripened plants should also be inspected.
Minimizing tillage is another recommended strategy for minimizing the spread of the pathogen.
According to Clint Jurke, agronomy director at the Canola Council of Canada, an integrated system of good stewardship practices will help mitigate the problem. A combined strategy including the use of resistant varieties, lengthy rotations in infested fields, vigilant weed control, reduced or zero tillage and equipment sanitization is the best bet for growers in high-risk clubroot zones.
"Stewardship of our management tools is essential," he says.
Julienne Isaacs