Resistance to Major Fungal Disease in Oilseed Crops Now Possible
1 year ago
-
In a world first, researchers from the University of Western Australia in collaboration with Punjab Agricultural University in India have found the key to resistance to sclerotinia stem rot, a major fungal disease in Brassica oilseed crops globally.
Brassica oilseed crops include canola and mustard. Sclerotinia stem rot poses a major yield limiting threat to these crops worldwide, and currently, no commercial varieties with high level resistance to this disease are available.
The research, published in the international journal Scientific Reports, showed that resistance to sclerotinia stem rot disease found in Indian mustard is influenced by at least 10 genes. Professor Martin Barbetti from UWA's School of Agriculture and Environment and Institute of Agriculture said the findings are exciting because they offer highly significant oilseed breeding applications and benefits.
"Developing highly resistant varieties offers the only real prospect for long-term, cost-effective management of this devastating disease," Prof Barbetti said.
"The findings offer mustard and subsequently canola breeders a powerful tool to optimize use of the genetic variation available within wild Brassica species."
Currently farmers rely mainly on fungicide sprays to manage the disease, but these often provide poor or inconsistent control. As forecasting this disease has proven unreliable, fungicides are often wasted in cases where little disease would have eventuated anyway, adding to the already high production costs for low-input farming systems such as in Australia and India.
"Initially for mustard crops and later for canola, such novel engineering to develop new oilseed Brassica varieties that express these critical resistances to sclerotinia stem rot will enable much more effective management of this devastating pathogen worldwide," Prof Barbetti said.
The findings were published in the paper Mapping resistance responses to Sclerotinia infestation in introgression lines of Brassica juncea carrying genomic segments from wild Brassicaceae B. fruticulosa in Scientific Reports. The research was supported by the Government of India and the Indian Council of Agricultural Research.
Source: European Seed
Working Toward Better Seed Testing
1 year ago
-
Meeting the industry's future needs for quality seed testing services is the major goal of the Commercial Seed Analysts Association of Canada.
Gail Livingstone doesn't mince words when it comes to speculating about the future of the Commercial Seed Analysts Association of Canada (CSAAC), a group she's been a part of for a half-century.
Now 75, Livingstone recently retired after operating her own seed testing lab for many years. When she joined CSAAC in the 1960s, she was one of the youngest members of the organization. When she retired, she considered herself one of the oldest.
CSAAC represents commercial seed analysts across the country.
"I think whatever changes come will be something CSAAC just has to do to maintain the association and keep all the analysts informed so they can do their job," she says.
But, she adds, after having been around for nearly 75 years as an association, CSAAC is a resilient group able to weather whatever storms come its way.
"I can't see anything major in the future that's going to be a big problem for them to adjust to. They're just going to have to tackle whatever comes along and find ways to deal with it."
Livingstone's frankness comes from decades of dealing with a multitude of changes within the seed sector, especially in the realm of government oversight, which has ramped up over the years. She notes that quality standards have increased — which she acknowledges is a good thing — but that means more bureaucracy and red tape for already busy analysts to wade through.
"Today's analysts are policed very thoroughly. Over the years we've seen a lot of forced progression as government has become more involved in the process."
All CFIA-accredited seed labs are given proficiency testing samples twice a year that they must test and send back to CFIA. They must meet minimum requirements in order to maintain their lab's accreditation.
Analysts are required to continue their education and ensure they have the latest knowledge needed to do their jobs. That differs from CFIA-accredited seed graders, CSAAC executive director Krista Erickson notes, who aren't subject to the same requirements — something she refers to as a "two-tiered" system of seed testing.
"Graders are monitored during Canadian Seed Institute audits and during interval monitoring of bulk storage facilities and approved conditioners. We as analysts are more conscientious of quality and have greater knowledge because of the proficiency monitoring frequency in addition to lab audits," Erickson says.
"The importance of seed testing with accredited labs and CSAAC analysts guarantees high analytical standards versus getting seed quality data such as grading from those with less regulatory and professional association oversight."
CSAAC continues to evolve as time goes on, Erickson notes. The industry is moving forward faster than ever, and analysts need to know everything they can in order to be able to answer questions from their clients in regard to import/export, seed identification, seed testing rules and quality assurance.
"We need to stay on top of all these things. The biggest challenges for our members are probably the costs associated with running an accredited lab, training analysts and keeping them in the industry and having them make it their career," Erickson says.
Both Erickson and Livingstone are confident the Seed Synergy Collaboration Project will strengthen CSAAC's place within the industry.
"It will foster a greater understanding of our profession and help us work toward testing that better meets the industry's needs," Erickson says, adding Seed Synergy will help CSAAC better understand challenges faced by the industry's other five associations.
"I do feel it should enable the key associations involved to understand one another better, and understand their concerns and solve major issues all these groups have now or will experience in the future," Livingstone adds.
Canadian Wheat Research Coalition formed
1 year ago
-
The Alberta Wheat Commission (AWC), the Saskatchewan Wheat Development Commission (Sask Wheat) and the Manitoba Wheat and Barley Growers Association (MWBGA) have announced the formation of the Canadian Wheat Research Coalition (CWRC), a federal not-for-profit corporation that will facilitate long-term investments aimed at improving profitability and competitiveness for western Canadian wheat farmers.
The CWRC will facilitate a collaborative approach to producer funding of regional and national research projects in variety development and agronomy including the next Canadian National Wheat Cluster and core wheat breeding agreements with Agriculture and Agri-Food Canada and universities. Additional regional projects that align with variety development and agronomic priorities will also be considered for funding through the CWRC.
"Most of the best performing wheat varieties available to farmers are the result of producer-funded wheat breeding efforts," said Kevin Auch, AWC chair and CWRC director. "I look forward to working with my provincial counterparts to continue this work with the goal of seeing new, high performing varieties that result in better returns and increased competitiveness for farmers."
The three wheat commissions will serve as founding members on the farmer-led board of directors. The structure allows for additional producer or private sector groups that share an interest in advancing wheat research in Canada to join as organizational members. This inclusive arrangement provides a platform for the CWRC to pursue new public, private, producer partnerships (4Ps).
"Producer collaboration and funding has been important to sustaining Canada's wheat research and variety development programs," said Bill Gehl, Sask Wheat chair. "The commissions working together under the CWRC will enhance the role of producers in supporting the research community."
The formation of the CWRC directly follows the commissions' increased responsibility in funding core wheat breeding agreements and the national wheat cluster, coinciding with the end of the Western Canadian Deduction (WCD) on July 31, 2017. Under the previous structure, the Western Grains Research Foundation (WGRF) led these research initiatives through WCD funding. In preparation for the end of the WCD, the commissions signed a Memorandum of Understanding (MOU) outlining their agreement to partner in setting variety development priorities and funding commitments that meet the needs of wheat farmers in Western Canada. As a result of the MOU, the commissions will ensure continuity in new spring wheat variety development is maintained through the CWRC, and will continue to engage WGRF as a key player through this transition. Project funding will be shared on a proportionate basis by commissions based on check-off revenue.
"With the end of the WCD, we look forward to working with our fellow wheat commissions in taking on increased responsibility related to variety development," said Cale Jeffries, MWBGA director and CWRC board member.
The CWRC will be administered by a host commission, which will rotate every three years starting with Sask Wheat. The CWRC's first board will consist of eight farmers including Kevin Auch, Jason Saunders and Terry Young representing AWC; Ken Rosaasen, Glenn Tait and Laura Reiter representing Sask Wheat; and Cale Jeffries and Dylan Wiebe representing MWBGA.
New Public Trust Research Tackles Transparency in 2017
1 year ago
-
Find out what consumers are looking for from restaurants, grocery stores, food companies, governments and farmers at the CCFI Summit
Public trust and transparency continue to evolve as priority agenda items for many stakeholders and governments across the agri-food sector from coast to coast.  If transparency is no longer optional – what does that mean and what actions are needed by those who work in food or farming.
The Canadian Centre for Food Integrity (CCFI) 2017 public trust research will focus on transparency, trust and millennials, as a key driver in their efforts to help Canada's food system earn trust.
"As discussions evolve from identifying public trust as a priority to establishing strategy and action plans for the future, it's essential for our agri-food sector leaders to understand the values and expectations of the Canadian public," stated Kim McConnell, CCFI Chair.
Building on the benchmark work established in 2016, this year's CCFI research will take a deeper dive into transparency to help establish what consumers are looking for and from whom. The US Center for Food Integrity 2015 research established seven key elements of transparency and found that consumers clearly hold food companies responsible for delivering, followed by farmers, restaurants and grocery stores.  The Canadian research will duplicate this work for valuable North American comparisons, and also added in governments as a new category to find out more.
This research will be released at the CCFI Public Trust Summit in Calgary September 18-20th, along with a new transparency index tool for companies and associations to use to measure their efforts on transparency with some best management practices.
Join thought leaders from across the country and across sectors to help build the momentum for earning trust in Calgary this September.  Register and book hotels for the CCFI Public Trust Summit today at www.foodintegrity.ca
Western farmers worry they'll pay the price of saving supply management under NAFTA
1 year ago
-
Kevin Auch has been putting in long hours on his southern Alberta farm harvesting durum wheat — and also fretting about distant trade negotiations that may affect the price.
He wasn't pleased, earlier this week, when Canada's foreign affairs minister vowed to defend supply management on Canadian farms in the NAFTA negotiations just getting underway.
The system of controlled production and price protection doesn't directly affect wheat farmers. But Auch, who is also chairman of the Alberta Wheat Commission, wonders who will pay the price of shielding supply management from competition.
BASF receives MRLs for HEAT LQ as a pre-harvest herbicide in wheat and barley
1 year ago
-
In time for the 2017 cereal harvest, BASF Canada confirms that the CODEX Alimentarius Commission (CAC) established Maximum Residue Limits (MRLs) for HEAT LQ as a harvest aid in cereals. This allows BASF to establish MRLs in all major export markets to support the use of HEAT LQ as a pre-harvest herbicide in wheat and barley with glyphosate.
"Canadian wheat and barley growers can now use HEAT LQ as a harvest aid with full export market access," said Dan Packer, cereal crop manager for BASF Canada.
The announcement has received endorsement from the Western Grain Elevator Association.
HEAT LQ on wheat and barley was included in the 201-2018 producer declaration, prior to the establishment of CODEX MRLs for HEAT LQ. The members of the Western Grain Elevators Association will now waive this clause for the 2017-2018 application season.
"With the recent establishment of CODEX MRLs for HEAT LQ as a pre-harvest herbicide in wheat, durum and barley, grain companies will now omit those crops from the 2017-18 declaration forms," said Wade Sobkowich, executive director of the Western Grain Elevator Association. "Growers can now use HEAT LQ as a pre-harvest application on wheat, durum and barley, and these grains can be marketed to Canada's major export countries."
HEAT LQ provides wheat and barley growers with a new tool to dry down tough broadleaf weeds including volunteer Roundup Ready canola, redroot pigweed and wild buckwheat, to name a few. A pre-harvest application of glyphosate and HEAT LQ will provide complete and rapid drydown of tough weeds to improve harvest efficiency for the 2017 season.
For more information on a pre-harvest application of HEAT LQ herbicide, contact AgSolutions Customer Care at 1-877-371-BASF (2273), or visit agsolutions.ca.
New publications encourage Canadian honey bee health
1 year ago
-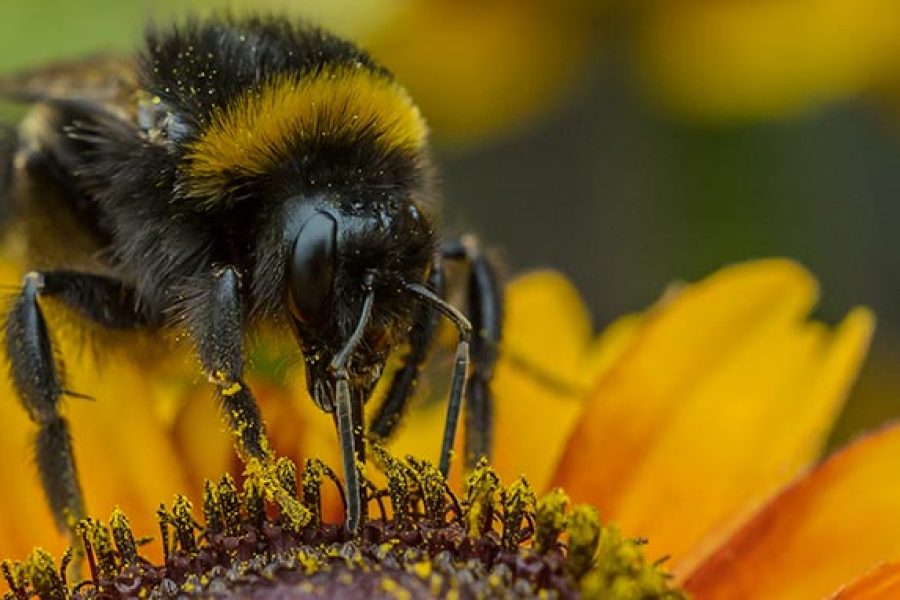 The Bee Health Roundtable recently published two documents related to honey bee health:
Canadian Best Management Practices for Honey Bee Health is a useful manual for those interested in bee keeping. It covers a wide variety of topics, such as hive management, pest disease treatments, queen health and bee nutrition.
Planting Forage for Honey Bees in Canada is a guide that provides information for farmers, road, utility and land managers, and gardeners on how to create and improve honey bee forage in Canada. It also encourages home owners to support initiatives related to honey bee habitats, and provides a list of plants that are attractive to honey bees.
Both documents are available for download at the Canadian Honey Council website.
The Bee Health Roundtable is an industry-government forum that fosters dialogue and action on a national scale to ensure a sustainable future for beekeeping and crop agriculture.