We Must Do More About Mental Health
10 months ago
-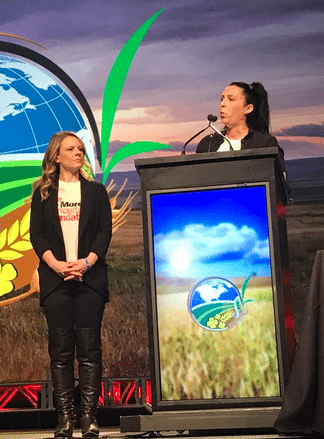 An important new initiative to get people in the agriculture community talking about mental health was launched this week.
The Do More Agriculture Foundation — a not-for-profit whose mission is to create a culture in ag where all producers are encouraged/empowered/supported to take care of their mental wellbeing — officially launched at the FarmTech conference in Edmonton on Jan. 30.
Do More Ag co-founder and farmer Kim Keller says this week's launch is only the beginning of a conversation that will go on for years within the agriculture community.
While she says things are improving with regard to breaking down the stigma associated with mental illness in agriculture, there's a long way to go to help farmers get the help they need if struggling with mental health issues.
"So much of a farmer or producer's livelihood is out of their control. It's market- or weather-based. At the same time, we have the culture in ag where we're supposed to be tough and stoic and not talk about our feelings," she says.
"Like the rest of society, there's a lack of understanding and knowledge about mental health in agriculture. The fact farmers live in rural locations makes things even more challenging — it's no secret that mental health resources in rural areas aren't plentiful."
At FarmTech, Keller and fellow Do More Ag co-founder, farmer Lesley Kelly, took part in a panel discussion moderated by Alberta Seed Guide publisher Shawn Brook about mental health in ag.
Anyone wishing to help out in the effort to raise awareness of mental health in agriculture is encouraged to contact the Do More Agriculture Foundation through the contact form at domore.ag.
VIEWPOINT: Learning to live with Fusarium
10 months ago
-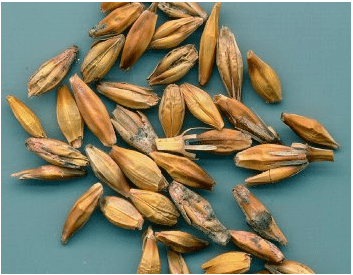 Alberta's Fusarium Management Plan, developed to limit mycotoxin production and subsequent grain contamination, and to prevent the spread of Fusarium graminearum into Alberta was a good idea – at the time it was implemented. But now that Fusarium is established in Alberta, growers need to take matters into their own hands to mitigate the effects of this serious disease of cereals. Alberta Seed Guide spoke with Kevin Auch, chair of the Alberta Wheat Commission and a farmer in the Carmangay area, about the issue and what farmers can do to diminish the chance of Fusarium appearing in their fields.
Alberta Seed Guide: Fusarium head blight is top of mind for Alberta cereal seed growers and farmers. Why is this specific disease such a threat?
Kevin Auch: Fusarium is a severe downgrading factor for wheat and its slow creep into Alberta has the potential to severely affect wheat production here. The disease is adversely affecting wheat production in other provinces where it is prevalent, and is curbing wheat profitability and production. For example, durum used to be a popular crop in Manitoba, but since durum is more susceptible to Fusarium than other wheats, the prevalence of Fusarium in Manitoba has virtually eliminated durum production in that province.
ASG: The Alberta Fusarium graminearum Management Plan has been in place since 2002, to "limit the introduction, escalation, spread and economic impact of F. graminearum in Alberta." Is the plan doing what it set out to do? Why or why not?
KA: I think the Alberta Fusarium graminearum Management Plan was reasonably effective at slowing the introduction of the disease into Alberta. But now that the disease is here, and seed is no longer the main threat or source of transmission of the disease, it is becoming more apparent that other alternative strategies may now need to be employed.
ASG: Currently, Fusarium graminearum (Fg) is listed as a pest in the Alberta Agricultural Pests Act, and no person or company can sell​, transport​ or plant infected seed. ​Are most farmers testing their seed or purchasing tested seed to know that it is Fg free? ​
KA: I think a good percentage of farmers are testing, and it makes sense for farmers to plant the best quality seed possible. However, to enforce zero per cent Fusarium seed limits on a farmer who already has Fusarium in the fields he is planting doesn't make too much sense anymore. While higher germination seed is better, we don't enforce the use of 100 per cent germination seed; and in a case like this one where a farm already has Fusarium, zero per cent Fusarium seed doesn't make sense either.
ASG: With the spread of Fusarium throughout the province, the access to disease-free seed is limited. How can Alberta farmers overcome this challenge?
KA: Properly applied seed treatments are one of the best management practices that can help control the spread of the disease, and protect seedlings from other diseases as well.
ASG: Why is changing the Pests Act important in the management of Fusarium now and into the future?
KA: Currently the way the legislation is written, it's illegal to plant anything but disease-free seed. But proper seed treatment of wheat that is going into fields that already contain low levels of Fusarium may be a better management practice.
ASG: Until changes are made, what can the ​crop industry and farmers do to mitigate Fusarium, now and into the future?
KA: I can't stress enough the importance of adhering to best management practices that help slow the spread of the disease and properly using all the tools available to us.
Root Microbiome Valuable Key to Plants Surviving Drought
10 months ago
-
Just as the microorganisms in our gut are increasingly recognized as important players in human health and behaviour, new research from the University of Toronto Mississauga (UTM) demonstrates that microorganisms are equally critical to the growth and health of plants. For example, plants that are able to recruit particular bacteria to their root microbiomes are much more drought resistant than their fellows, says UTM PhD candidate Connor Fitzpatrick, of the Department of Biology.
The plant's root microbiome is the unique community of micro-organisms living in and on plant roots. Similar to the gut microbiome in animal species, the root microbiome is the interface between a plant and the world. The root microbiome is responsible for important functions such as nutrient uptake and signals, important to plant development.
Fitzpatrick's study is published in the latest issue of the Proceedings of the National Academy of Science. His exploration of the role of the root microbiome in plant health could eventually assist farmers to grow crops under drought-ridden conditions.
For the study, Fitzpatrick grew 30 species of plants found in the Greater Toronto Area from seed in identical soil mixtures in a laboratory setting. These included familiar plants like goldenrod, milkweed and asters. The plants were raised for a full growing season (16 weeks), with each species grown in both permissive and simulated drought conditions.
Fitzpatrick's research explores the commonalities and differences among the root microbiomes of the various host plant species, dividing the microbiomes into the endosphere (microbes living inside roots) and rhizosphere (microbes living in the soil surrounding roots). He found variation across the 30 species, with related species having more similarity between microbiomes than diverse species.
"It's as you would expect," Fitzpatrick says. "Just as there are more similarities between a human's gut microbiome and an ape's than between a human's and a mouse's, the closer the relationship between plant species, the more similar their root microbiomes. It's important to document as a way to better understand the evolutionary processes shaping the plant root microbiome."
In addition to deepening our basic biological understanding of plant evolution and development, the research offers further avenues for study, including how and why some plants recruit bacteria that impact drought resistance while others don't.
"If plants were able to enrich their root microbiomes with a particular group of bacteria, the Actinobacteria, they grew much better in drought conditions," says Fitzpatrick. "All of our plants had access to this group of bacteria, but they also needed to have the ability to recruit it from the soil."
In another finding that is consistent with the practice of crop rotation, Fitzpatrick showed that the more similar the composition of a plant's root microbiome to that of the previous generation of a plant grown in that soil, the more the second-generation plant suffered.
"There is a complex web of interactions taking place that is difficult to disentangle and requires further inquiry," Fitzpatrick says.
"Practically speaking, we need to understand how to sustain plants with all of the mounting stressors today, such as drought and an increase in pathogens (e.g., plant disease)," Fitzpatrick says. "The efforts to mitigate these issues are expensive and short-lived or very damaging to the environment. If we can harness naturally occurring interactions for these purposes, we'll be much better off."
Source: University of Toronto
PBR moves from education to enforcement
10 months ago
-
Ottawa, ON – January 23, 2018 – SeCan has reached settlement with a number of western producers who were selling and/or advertising for sale varieties protected by PBR. "Our goal is to continue to educate" says Todd Hyra, Business Manager, Western Canada for SeCan. "Part of education is the willingness to take the step to enforce the rights on behalf of the breeder".
Below are the most recent infringers listed by town, province and variety.
| | | | |
| --- | --- | --- | --- |
| Cory Dawe | Dinsmore | SK | AC® Strongfield Durum |
| Richard Erle Bredahl | Shaunuvon | SK | AC® Strongfield Durum |
| Dylan Szakacs | Melfort | SK | AC® Vesper VB CWRS |
| Chad Swan | Plenty | SK | CDC Copeland Malt Barley |
| Ian Topham | Eastend | SK | CDC Cowboy Feed Barley |
| G5 Farms Ltd. | Oak River | MB | CDC Copeland Malt Barley |
| Clayton Miller | Young | SK | CDC Copeland Malt Barley |
"PBR has been in place for 25 years and 'I did not know' is no longer a suitable excuse," says Lorne Hadley from CPTA. "It's refreshing to see some willing to step forward and admit a mistake – these end very differently than cases where the infringer is reluctant to come clean. We never pursue an infringer without having evidence in hand."
Awareness is the important first step and SeCan talks about the importance of PBR whenever possible. To stay on side Hadley points out a few things to keep in mind:
Most new varieties have some form of protection – don't assume a variety is not protected.
If a variety is protected under PBR, it is illegal to sell common seed, even if you don't use the variety name.
Under PBR, it is OK to keep seed on your farm – as long as the farm-saved rights are not pre-empted by another agreement or contract.
Under the new PBR '91 rules, the buyer, the processer, and the seller are responsible for the infringement.
Visit PBRfacts.ca for more information.
The goal of Plant Breeders' Rights is to encourage investment in plant breeding in Canada. There is a misconception that PBR only benefits large companies – the fact is large companies often have other tools to protect their intellectual property (including patents and contracts). PBR is critically important for public breeders, (including universities) and smaller private breeders who may not have the resources or traits necessary to utilize other forms of protection.
How climate change alters plant growth
10 months ago
-
Global warming affects more than just plant biodiversity – it even alters the way plants grow.
A team of researchers at Martin Luther University Halle-Wittenberg (MLU) joined forces with the Leibniz Institute for Plant Biochemistry (IPB) to discover which molecular processes are involved in plant growth.
In the current edition of the internationally renowned journal Current Biology, the group presents its latest findings on the mechanism controlling growth at high temperatures. In the future this could help breed plants that are adapted to global warming.
Plants react much more sensitively to fluctuations in temperature than animals. They are also unable to seek out warmer or cooler locations.
"When temperatures rise, plants grow taller in order to cool themselves off. Their stalks become taller and their leaves become narrower and grow farther apart. Yet this makes the plant more instable overall," says Professor Marcel Quint, an agricultural scientist at MLU. This is noticeable, for example, during grain harvesting. Instable plants bend faster in the rain and generally produce less biomass. There is also a reduction in the proportion of key substances, like proteins, that can be stored in the grain kernel.
"While the correlation between temperature and plant growth at the macrolevel is relatively well understood, there are still many open questions at the molecular level. We are just starting to understand how plants detect the changes in temperature and translate this into specific reactions," Quint notes.
Earlier studies have shown that the protein PIF4 directly controls plant growth and that this protein is also dependent on temperature. When it's cold, PIF4 is less active – in other words the plant doesn't grow. At higher temperatures, PIF4 activates growth-promoting genes and the plant grows taller.
"Up until now it had been unclear how the plant knows when to activate PIF4 and how much should be released," says Quint. "There were large gaps in our knowledge about the exact signalling pathway of temperature-controlled growth."
And that is precisely what the research group in Halle has now discovered. They investigated the growth behaviour of seedlings of the model plant thale cress (Arabidopsis thaliana). Normally its seedlings form short stems at 20 C (68 F). These stems become considerably longer at 28 C (82.4 F). In the lab, the scientists identified plants with a gene defect which still only formed short stems at 28 C. Then they searched for possible reasons for this lack in growth. They discovered a hormone that activates the PIF4 gene at high temperatures, thus producing the protein. This reaction did not occur in the mutated plants.
"We have now discovered the role of this special hormone in the signalling pathway and have found a mechanism through which the growth process is positively regulated at higher temperatures," says Quint.
The findings of the research group from Halle may help to breed plants in the future that remain stable even at high temperatures and are able to produce sufficient yields. To achieve this, the findings from the basic research on model plants first have to be transferred to cultivated plants like cereals.
Seed Man Still Growing Strong
10 months ago
-
If you were asked to name a good career for a people person, you might not blurt out "seed grower"; but then, you're not Ron Markert.
As a third generation grower with 40 years in the business, Markert has donned many different hats in the industry and worn them all well.
"My dad was a grower and I thought I would give it a try," said Markert. "Four decades later I still love it, largely because of the great people."
The Seeds of Success
On his 5,000-acre farm near Vulcan, Markert grows wheat, barley, canola and peas. In 1990 he moved his dad's processing plant onto his farm and set about making changes, increasing the capacity and installing a colour sorter.
Today, the seed part of the business is his main focus. Yet while it's a lot of work, he has always made time to do his part for the industry as a whole.
A prime example was his work on the Alberta Seed Growers (ASG) board. Starting in 1999, he served for 12 years in a number of roles including director, vice-president and president.
"It's so important to have such an organization that looks after all industry members and represents their interests. If you don't have representation like that, the government or other seed industry players can make changes and you don't have a say. The ASG is a voice for the industry, and without it our voices wouldn't be heard."
Passing the Test
Those voices spoke loudly in 2012 when the Alberta government proposed an end to funding for the Regional Variety Testing (RVT) program.
Since the program was having financial problems, the Alberta government wanted industry to run it, saying it was the seed industry that received the benefit. The ASG argued that everyone in the province would benefit because of the increased revenue farmers received through the choice of better varieties. The seed growers proposed the government fund the co-coordinator of the program so that role would be viewed as third party and unbiased. The rest of the RVT program would be funded by stakeholders that have interests in variety testing. After some determined lobbying, the government agreed.
That was a highlight for Markert, as was his chairing of the committee that hosted the Canadian Seed Growers Association (CSGA) convention in Calgary, also in 2012. It was his last year on the ASG board, and after taking a year off, he stepped up to the national level.
"You have to think differently on the [national] CSGA board as you're not just working for Alberta, you're representing the entire country. Instead of interpreting the rules, we're actually making them."
That's the case with the Circular 6 Committee on which Markert sits, which deals with rules and regulations governing how we grow seed in Canada. It has been a real eye-opener for him on dealing with the whole seed industry and learning what you can and can't do in that arena.
While discussions sometimes get heated, he appreciates the mutual respect and recognition of common goals. "We disagree, but at the end of the day we go for dinner and we're all friends again."
An Awarding Experience
That ability to work with others may have lead to the BMO Farm Family Award in 2016 for Markert and his clan. The annual award honours outstanding families who best represent values of the family farm within their rural community, and it recognizes both farming business practices and community involvement.
"You don't get many pats on the back in this business, so it was nice to be recognized," says Markert.
The award was fitting, as farming, and the seed business in particular, is truly a family affair for the Markerts. Louise, Ron's wife of 36 years, is an integral part of the seed operation, and son Lee and his wife Lindsay are partners. While daughter Danielle and son-in-law Shawn work on the farm at Del Bonita, Danielle also works for Monsanto and does crop inspections in her off time. Her younger sister Beth is a seed growth specialist for Bayer CropScience.
Family Values
One issue that Markert, his family and his colleagues must deal with in the near future is value creation. In 2015, amendments to the Plant Breeders' Rights Act were enacted that impact how the plant breeding system in Canada can be funded.
"Right now when I sell seed, there is a one-time royalty in that cost which I pay back to the plant breeder, but sometimes people distribute seed to other growers even though that is prohibited," notes Markert. "The amendments may mean that the royalty is collected on the harvested seed instead and collected every year rather than upfront. That means that everyone who uses the seed would pay for it. For example, instead of the initial buyer paying say $2 per bushel on certified seed, it may become 10 cents per bushel every year on your harvested production. This approach would balance out the cost for the industry."
At present, Canada hasn't decided what route to go on the royalty collection, as it must be negotiated with all producers, commissions and seed growers.
"This will be one of the industry's biggest issues going forward. If we don't get it right, we could have a huge mess that will be with us forever. I urge everyone in the seed industry and all producers to pay close attention to this matter."
Follow the Leader
It is challenges like this that has driven Markert to be so active in his industry, and he encourages others to do the same.
"Sitting on these boards has taken me from one end of Canada to the other. I would encourage young people in the business to get involved with the ASG, CSGA or other boards. It's a great opportunity to really understand how the seed business works in Canada and around the world, and to grasp the key issues."
If it sounds like he's getting ready to pass the torch, there may be some truth to that.
"Louise and I are going to slow down a bit now and do more travelling while our son runs the business. You never know when the maker will take you; at some point you have to stop and smell the roses."
Combination of resistance genes offers better protection for wheat against powdery mildew
10 months ago
-
University of Zurich (UZH) plant researchers have tested newly developed wheat lines with improved resistance to powdery mildew in field trials. They have demonstrated that a combination of two variations of a resistance gene provides wheat with better protection against the fungal disease.
For several years now, UZH researchers have been investigating a wheat gene that confers resistance to powdery mildew (Blumeria graminis f. sp. tritici). The gene, called the Pm3 resistance gene, exists in different variations, so called alleles. In previous studies, plant researcher Beat Keller and his team demonstrated that single Pm3 alleles are able to confer resistance against powdery mildew fungi. And yet, a single resistance gene can quickly lose its effectiveness. Thus when it comes to plant breeding, it is important to combine multiple resistance genes. This is exactly what researchers at UZH have now tested in field trials using transgenic wheat lines.
The researchers created new wheat lines by crossbreeding transgenic Pm3 lines. This resulted in four new wheat lines, each containing two different Pm3 gene variations. "These four new wheat lines showed improved resistance against powdery mildew in field trials compared with their parental lines – during the field seasons 2015 to 2017," explains Teresa Koller, lead author of the study.
Back in the laboratory, the scientists proved that the parental lines' gene activity is added up in the newly created lines. Each Pm3 allele in the four new lines displayed the same activity as in the parental line, which results in increased overall activity, since it came from two different gene variations. "The improved resistance against powdery mildew is the result of the increased total transgene activity as well as the combination of the two Pm3 gene variations," summarizes Teresa Koller. The high overall activity of resistance genes did not cause any negative effects for the development of the wheat or its yield.
The findings of these trials improve our general knowledge of the immune system of plants, and in particular of fungal disease resistance of wheat. Besides contributing to fundamental research in the area of plants' immune systems, the findings can also be applied in wheat breeding. Thanks to the precise testing of Pm3 alleles, the best variations and combinations are identified and can then be used directly in traditional breeding by crossbreeding them into modern wheat varieties.
Sarah Foster Honoured by the Seed Community
10 months ago
-
Sarah Foster, president of 20/20 Seed Labs, received the Outstanding Service Award from the Alberta Seed Processors at the 2018 AGM in Edmonton, Alta. on Jan. 18, 2018.
Sarah founded 20/20 Seed Labs in 1989. The laboratory is now fully accredited for all crop kinds in Canada and is the only private ISTA accredited laboratory in Canada.
"This is a gift I will never forget and I'm so proud to be in ag," Foster said on Twitter.
The Alberta Seed Processors created a video to highlight some of Sarah's work.
Blackleg and Clubroot in Canola
10 months ago
-
Blackleg and clubroot are both serious diseases that are growing in severity across Alberta, but with proper and diligent management by all farmers, they can be effectively controlled.
Blackleg
Blackleg is a fungal canker or dry rot that results in stem girdling and lodging. The disease has been present in canola fields since the 1980s.
Today, the availability and use of canola cultivars with resistance to blackleg has helped to avoid significant damage, notes Michael Harding, a research scientist with Alberta Agriculture and Forestry (AAF). However, it is still very common to see blackleg in canola crops.
Harding and his colleagues have undertaken recent surveys for blackleg (and stem rot) on Alberta canola. In 2016, they found that of 480 canola fields, 432 of them had blackleg symptoms. Indeed, Harding states "the prevalence of blackleg in Alberta has been measured at 55 to 99 per cent in the six surveys conducted over the past eight years. Prevalence was slightly lower in 2017 compared with 2016, as it was a relatively dry year in comparison."
Long-term survey trends show the pathogen to be present throughout the province, and Harding does not believe any area or farm should consider itself "blackleg free." Some fields experience little to no loss due to blackleg while others may have significant disease pressure, and he says economic loss experienced by individual farms depends on their location in the province, local weather and field history, as well as cropping and disease management practices.
"Blackleg is always a risk for canola producers and blackleg management practices should be proactive," Harding says. "Crop rotation (one host crop every four years) is a very effective way to keep disease pressure from building. The pathogen does not survive in soil without a host. So, once the canola residues are decomposed, there is little to no risk of economically-damaging blackleg pressure originating within that field."
Harding also notes that genetic resistance in the MR- and R-rated canola cultivars is keeping disease severity very low in most fields, as was seen in the survey data. However, Ralph Lange Team Lead Crop Pathology and Molecular Biology at InnoTech Alberta, notes there are now yearly cases of severe loss in cultivars labelled "resistant," a significant change from the 1990s and 2000s that indicates the pathogen is adapting.
Lange says there are about eight different blackleg strains in Western Canada, and in Alberta, about 80 per cent of all isolates belong to just three strains.
"We continue to have good resistance genes available, and what's changed is that we now need to actively manage the crop resistance genes we present to blackleg fungus populations," he explains. "So, frequent and accurate scouting with excellent record keeping is essential for determining if the genes we're presenting are working or not. Then, producers need to eliminate the non-functioning resistance genes when selecting which canola cultivar to plant (at least one functioning resistance gene)." This is now much easier, Lange notes, because seed companies are starting to reveal which genes are in which cultivar.
Another tool for blackleg management is fungicides. Harding notes while all certified canola seed is cleaned and treated to make it essentially blackleg-free (although infection can still occur due to spores being released from infected stubble), in high-risk situations during the growing season, foliar fungicides may be applied at the one-to-three leaf stage.
Going forward, Harding says the risk of resistance-building in the pathogen is very real when crop rotation recommendations are ignored, especially in wetter years when blackleg has a better chance to infect and cause disease.
"If genetic resistance were to erode due to selection of virulent pathotypes of the fungus, it would have a devastating impact in areas where genetic resistance was no longer effective," he notes. "While we are not currently seeing widespread changes in blackleg severity, it has been seen in some individual fields. This is a warning sign that we need to think carefully about crop rotation practices and resistance stewardship in order to stay ahead of blackleg."
Clubroot
In canola, this soil-borne fungus-like disease causes swellings to form on the roots, ultimately stunting the plant and even causing premature plant death. Infection and severity are supported by warm, moist, acidic soil.
University of Alberta scientists and staff from Alberta Agriculture and Forestry currently conduct yearly clubroot surveys, which began in 2003 when clubroot was first identified in the province. The 2016 survey found 289 new clubroot-infested fields and the 2017 survey another 301.
"What we've found is that clubroot is spreading fairly rapidly for a soil-borne plant pathogen, and this seems to be due mainly to the movement of infested soil and machinery," explains Stephen Strelkov, professor in the faculty of Agricultural, Life and Environment Sciences at the University of Alberta. "We've also found significant numbers of spores in wind-blown dust from infested fields which could contribute to local spread."
There is a continued spread eastward, he adds, with several new infestations recently found near the Saskatchewan border.
"Part of why it often takes a few years for growers to 'up their game' when dealing with clubroot is because the impact on yield is often very slight," notes Dan Orchard, agronomy specialist with the Canola Council of Canada. "It's almost always found in a patch at the field entrance, and the overall field yield isn't really affected. But if not managed, that patch will become much, much larger and potentially cause total loss of the entire crop."
At least 12 new strains of clubroot have been identified in Alberta since 2013, and they are all capable of overcoming the resistance in many clubroot-resistant canola varieties.
"In 2016, these strains were confirmed in over 60 fields in Alberta, and in 2017, we identified another 42 fields with potential resistance issues," Strelkov notes. "These new strains have likely emerged as a result of cropping of clubroot-resistant canola in short rotation in fields with moderate to severe clubroot infestations."
Orchard notes while best management strategies make a big difference, they are difficult to deploy. "This would include equipment sanitation, which growers have suggested could be hours and hours per piece of equipment for each field," he says. "Not cleaning equipment is a risk growers seem to be accepting, although I believe many or most of them make sure equipment from unknown regions or potential clubroot regions is clean before entering their lands, which is a great practice to follow."
He adds there is evidence around the world and preliminary evidence in Alberta suggesting pH plays a major role in clubroot spread and severity.
"Liming fields could reduce clubroot impact, but it's another excellent management strategy that's easier said than done," Orchard says. "I'm convinced, however, that over the next few years and with the help of new technology, the industry will produce better lime recommendations, better pH mapping, better application techniques, and just a better understanding of lime and the benefits/challenges."
While he believes genetic resistance is currently the most significant factor in keeping this disease at bay, the fact that new clubroot strains are quickly appearing means growers need to deploy a multi-pronged approach.
"The recipe for success would seem to be liming badly-infested patches and seeding them to a perennial grass until spore loads are manageable, coupled with planting resistant canola varieties and rotating sources of resistance on top of crop rotation."
Strelkov agrees that with the new strains appearing, it's unwise to use resistant canola varieties as a sole management strategy. He stresses longer rotations are important, and adds while "sanitation often is not viewed as practical, even steps such as trying to remove large chunks of soil from machinery or working infested fields last can be helpful."
Pot Genetics: Why cannabis strains don't all live up to their billing
10 months ago
-
Red Diesel, Moby Dick, Lemon Burst, or how about Girl Scout Cookies? All names for "bud," the cannabis flower, and when the black market product goes legal in Canada this summer expect some heavy marketing of fancy names and their tantalizing effects.
But plant scientists say the "sell" is hazy. Those buds have a mixed-up lineage and don't always match what's advertised.
It's about genetics, and cannabis is a mixed breed, to say the least.
With more than 100 creative names for pot, each variant is said to have slightly different properties and that translates into different effects, according to vendors.