Alberta's First Seed Plant Doesn't Act Its Age
10 months ago
-
At 71, you're supposed to slow down a bit and not overdo it. Clearly, someone forgot to share that with the Camrose County Seed Cleaning Plant, which seems to get bigger and better with age.
In 1946, the Agricultural Service Board (ASB) in the Municipal District of Camrose saw that good clean seed was hard to find and chose to do something about it.
"The old army drill hall was rented through the Town of Camrose from 1946 to 1948 to clean and store seed grain," said current plant manager Murray Van Petten. "The Alberta government rented cleaning machines to the operators and a profit of $7,000 was turned over to the M.D. of Camrose No.63."
A Clean Start
Nothing against army drill halls, but the ASB decided in 1948 to build a new plant, thanks in part to a $10,000 grant from the province. Thus was born the first seed cleaning plant built in Alberta with municipal and provincial funding for use by the agricultural community.
"It's from this basic idea that the co-op seed cleaning plants were built back then, with one-third financing from each of the provincial government, municipal government and shareholders," says Van Petten. "In the case of the Camrose plant, the shareholder portion of the funds was provided by the proceeds of the first operation in the Camrose Drill Hall. As a result, this plant was owned completely by the M.D. of Camrose and operated by the Agricultural Service Board."
Just as armies must face adversity, so too did plant operators. In 1963, the recently formed County of Camrose No. 22 built a new, more modern seed plant on the existing site. One year later, it had burned to the ground, leaving only the office and driveway. The present plant was constructed on the surviving foundation in 1964; fortunately, it has fared much better than its predecessor.
Onward and Upward
"There have been numerous additions and renovations over the years to enhance efficiency and production," says Van Petten. "In 1980, we built a loading bay and power door, and followed that up in 1981 with a new driveway floor deck including a digital readout truck scale. That year, we also added a bin monitoring system, a 3,000 bushel per hour receiving leg, a debearder and an additional elevating leg."
But they were just getting warmed up. Brand new offices and overhead doors appeared in 1982, while 1983 saw a 1,500-bushel clean seed bin and two 275-bushel screening bins installed. Over the next 10 years, the plant would add more storage and screening bins, loading bays, a more effective cyclone and an LMC Mark 500 Gravity Table at a cost of $232,000.
"The last renovation, completed in 2001, included 10,000 bushels of grain storage, a 5,000 bushel per hour receiving leg, clean seed leg, an upgraded treating facility and three 2,000 bushel hopper bins for clean seed."
Candid Cameras
Today, the plant runs like a well-oiled machine where nothing is left to chance. All bin levels and leg shafts are monitored, as is the chemical pressure, treated grain flow and mixing auger shaft rotation. To ensure staff safety and work efficiency, the plant has a video monitor system complete with eight cameras.
Thanks to a full line of new equipment installed over the last five years – including a debearder, 6 drum indent, precision grader, Ceres 686 Clipper and a Buhler Sortex color sorter – the plant now averages 700,000 to 800,000 bushels per year.
In keeping with its commitment to not be slowed by age, the plant upgraded its treating system last year to a Graham G-40, capable of treating seed between 30 and 40 bushels per minute.
Counting on the County
Apart from its storied past and status as "Alberta's first," the Camrose County Seed Cleaning Plant is also unique in its county ownership, something Van Petten says offers many advantages.
"The Agricultural Service Board offices at the plant are a natural because we are patronized mostly by farmers. One office assistant is able to support both the ASB and seed plant offices' reception requirements and maintain all financial aspects for the plant. As well, the ASB shop being on the same premises gives the plant access to welders and other necessary equipment for maintenance."
Finally, two of the seed plant operators are used by the ASB department during summers, giving qualified personnel full-time positions and saving the hassle of retraining part-time help every year for both departments.
With all of the upgrades, makeovers and innovations, the Camrose County Seed Cleaning Plant is neither looking nor acting its age, and that's good news for the county, the operators and their customers. Like the senior citizen who eats well and exercises, it seems the plant's best years are yet to come.
Uncovering a Genetic Mechanism to Enhance Yield Potential in Cereal Crops
10 months ago
-
Solving the world's food, feed and bioenergy challenges requires integration of multiple approaches and diverse skills. Andrea Eveland, Ph.D., assistant member at the Donald Danforth Plant Science Center, and her team identified a genetic mechanism that controls developmental traits related to grain production in cereals. The work was performed in Setaria viridis, an emerging model system for grasses that is closely related to economically important cereal crops and bioenergy feed stocks such as maize, sorghum, switchgrass and sugarcane.
The Eveland laboratory's research findings, "Brassinosteroids modulate meristem fate and differentiation of unique inflorescence morphology in Setaria viridis", were recently published in the journal The Plant Cell. In their study, Yang et al. mapped a genetic locus in the S. viridis genome that controls growth of sterile branches called bristles, which are produced on the grain-bearing inflorescences of some grass species. Their research revealed that these sterile bristles are initially programmed to be spikelets; grass-specific structures that produce flowers and grain. Eveland's work showed that conversion of a spikelet to a bristle is determined early in inflorescence development and regulated by a class of plant hormones called brassinosteroids (BRs), which modulate a range of physiological processes in plant growth, development and immunity. In addition to converting a sterile structure to a seed-bearing one, the research also showed that localized disruption of BR synthesis can lead to production of two flowers per spikelet rather than the single one that typically forms. These BR-dependent phenotypes therefore represent two potential avenues for enhancing grain production in millets, including subsistence crops in many developing countries that remain largely untapped for genetic improvement.
"This work is a great demonstration of how Setaria viridis can be leveraged to gain fundamental insights into the mechanisms that govern seed production in the grasses – our most important group of plants that includes corn, sorghum, rice, wheat and barley," said Thomas Brutnell, Ph.D., Director of the Enterprise Institute for Renewable Fuels, Danforth Center. "It's also worth noting that this project was conceived and work initiated after Dr. Eveland joined the Danforth Center – an impressive feat for a junior faculty member that speaks to both the advantages of working on a model system and the great team that she has assembled at the Danforth Center."
At the Danforth Center, Eveland's research focuses on the developmental mechanisms that control plant architecture traits in cereal crops. Specifically, she investigates how plant organs are formed from stem cells, and how variation in the underlying gene regulatory networks can precisely modulate plant form. Her team integrates both computational and experimental approaches to explore how perturbations to these gene networks can alter morphology, both within a species and across the grasses, with the ultimate goal of defining targets for improving grain yield in cereals.
"The genetics and genomics tools that are emerging for Setaria enable more rapid dissection of molecular pathways such as this one, and allow us to manipulate them directly in a system that is closely related to the food crops we aim to improve," said Eveland. "It means we are just that much closer to designing and deploying optimal architectures for cereal crops. The prospect of leveraging these findings for improvement of related grasses that are also orphan crop species, such as pearl and foxtail millets, is especially exciting."
Treated Seed Offers Insurance Against Threats
10 months ago
-
As the technology and the application of seed treatments is becoming more effective, growers are turning to treated seed to give their crop a fighting chance against seed and soil-borne disease and insects. Early seeding is becoming more common in Alberta, however seeding into cold soils can be risky – the seed sits in the soil longer and is vulnerable to threats below the ground. To combat that, seed treatments are helping growers start their season off right.
"Treating seed is a lot like insurance," says Harry Brook, crop specialist with Alberta Agriculture and Forestry. "Ideally, you'd be seeding into warm, moist soils for rapid emergence. But that's the ideal and then there's the reality. Early spring weather is unpredictable and growers have a lot of acres to cover. Seed treatments allow growers to seed when it works best for them without the negative impact early seeding can have on their crop."
Brook says that ideally, soil temperatures would be a minimum of five degrees before seeding begins; however, today many growers attempt to seed as soon as the soil has defrosted. The general rule is the earlier a crop is seeded, the greater the yield potential. But that's only true if it emerges strong and healthy. By keeping disease and insects at bay, seed treatments help offset the risks of a delayed emergence.
Some crops are treated more than others. Canola is treated with combination products that contain both fungicides and insecticides to combat soil-borne diseases as well as protection from flea beetle damage. For cereal growers, the use of seed treatments is becoming more of a requirement, as diseases such as smut, bunt, damping off and root rot are increasing in incidence. And as there is a resurgence of wireworms in Alberta, seed treatment insecticides for cereals become more important. The available seed treatment insecticides put the wireworms in a coma-like state so they are unable to feed during the critical period of emergence.
Tight rotations with little cropping variation have meant an almost province-wide buildup of disease inoculum in the soil, meaning that every season has the potential for damaging disease, regardless of weather the previous season.
"Seed treatments offer security against early season threats, but they won't provide long-term protection," says Brook. "The seed treatment will help you achieve a good seedling, but you may still need to apply a foliar fungicide or insecticide if the conditions warrant it."
Brook cautions that good agronomics are still a crucial component at seeding. "Seeding is risky, and growers are participating in even riskier behaviour by shortening their rotation and seeding really early. Seed treatments are a relatively low-cost insurance. It may not pay every year, but as our disease and insect pressure increases, it will pay more often than not."
New Regulations Standardize Commercial Seed Treatment Processes
Advances in seed treatment technology has produced products that are applied at lower rates for a reduced impact on the environment, coupled with the development of products with several modes of action to offer higher levels of crop protection. While some growers treat seed on-farm, much of the seed treated in Alberta is done by a commercial seed treater.
As commercial application of seed treatments becomes more commonplace, the rules for how certain seed treatments are transported, stored and applied have evolved. As of January 2018, commercial seed treaters that apply designated seed treatment products will be required to follow the standards under the Accredited Seed Treatment Operation Standards as developed by CropLife Canada in co-operation with industry and government groups. Under these standards, designated seed treatment products destined for commercial use on corn, canola and soybeans can only be handled by accredited facilities.
"Today, commercial treaters [that are handling certain products] have a set of industry standards that were developed to ensure [certain] seed treatment products are handled and stored safely," says Russel Hurst, vice-president, Sustainability and Stewardship with CropLife Canada. "Commercial storage and handling facilities [that are handling restricted products] have to follow a set of practices that are checked every two years by a third-party auditor to ensure compliance."
The set of uniform health and safety standards for the storage and handling of seed treated in Canada creates targeted solutions that contribute to improved safety and productivity. The standards were developed by a working group made up of members from industry, government and seed growers. While Alberta already has very high government requirements for commercial seed treatment facilities, these new standards were put in place to make sure everyone treating seed for commercial use is meeting or reaching these goals at a national level.
In Alberta, commercial seed treaters include seed treatment companies, agricultural retail facilities, seed growers who treat commercial seed and seed cleaning co-ops. The new standards include 76 protocols, 66 of which were already covered under existing government regulation, and 10 additional industry best management practices.
"For the long-term sustainability of the seed treatment industry, we needed to be involved in developing these standards in order to create a vibrant industry going forward," says Hurst. "If we didn't come up with these guidelines we risked having standards imposed on us that weren't necessarily in the best interests of the industry."
Effective January 2018, only seed treatment operations that have successfully completed an accredited seed treatment operations standards audit will be able to receive certain seed treatments for application on seed. However, not all seed treatments are on this designated list; only products that are deemed to pose elevated risk to people or the environment are placed on this "restricted-use" list.
"This no-ship policy is similar to what other sectors of the crop input industry have developed," says Hurst. "The fertilizer industry, for example, has these types of protocols in place so that their products are treated with care. We aren't necessarily saying anyone is doing anything wrong, we are just making sure we are all reaching toward the same standards."
Hurst says there can be a fine line between rigorous and onerous standards, but he says the consultation process has been ongoing since 2009 and he thinks the standards developed today are obtainable by Alberta's commercial seed treatment industry. While on-farm treaters are not subject to the same standards, they still are expected to follow the product label and use good management practices when treating their seed.
"These guidelines will likely be updated every five years unless a new regulation or new product is put in place that requires us to adjust our protocols," says Hurst. "Growers want to protect their seed and their crop, and new products are always being added to our list of designated seed treatments. Our standards will change as products and growers' use of them continues to evolve."
New Survey Identifies Labour Challenges for Seed Growers
10 months ago
-
Throughout 2017, a number of seed growers and related organizations voiced concerns about lack of seed grower access to foreign labour through the Government of Canada's Temporary Foreign Workers Program (TFWP).
To better understand the issue, Canadian Seed Growers' Association (CSGA) surveyed seed growers across the country. Here are some of the findings:
26% of members surveyed were not able to find all the workers needed to work on their seed farms in 2016 and 2017;
When asked what types of workers seed farms need most, 59% of respondents indicated they needed full time permanent positions while 41% indicated they needed seasonal help;
27% of respondents used government programs to access workers;
47% of respondents indicated they would use the Temporary Foreign Workers Program (TFWP) to access season workers if they had access to the program
As a result of these findings, the CSGA began working with the Canadian Seed Trade Association, the Seed Corn Growers of Ontario and the Canadian Agricultural Human Resource Council (CAHRC) to sensitize Government and in particular the Department of Employment and Social Development Canada to the need to expand access to the TFWP to all seed growers.
Initial efforts have focused on ensuring that canola seed growers maintain their current access to the program, that seed corn growers regain the access that they recently (and inexplicably) lost and that other seed growers needs be recognized. While these efforts have not yet yielded results, Government's initial response has been encouraging.
CSGA will continue to advocate on behalf of members on labour issues and will provide progress reports as discussions with government evolve.
Source: CSGA
Seed Synergy partners launch new website and release Green Paper
10 months ago
-
The Seed Synergy Collaboration Project has launched a new website, seedsynergy.net, and released a comprehensive Green Paper proposing a vision for the next generation seed system and inviting comments on it.
Over the past year, leaders from the six major seed sector industry organizations have been working together on the Seed Synergy Collaboration Project to develop recommendations and implementation plans that will enable a next generation seed system for Canada.
"The Seed Synergy partners are pleased to announce these updates to you", said Krista Erickson, executive director of the Commercial Seed Analysts Association of Canada, speaking on behalf of the group. "Collaboration between the partner groups over the last number of months has brought us one step closer to the reality of a seed system that functions optimally for all those involved in it and for Canadians in general. We hope that agriculture value chain partners will join with us in the discussion and visit our new website today".
The current model of the seed sector must adapt to seize emergent opportunities. Canada needs a strong vision for the future, and practical reforms now, to position producers, innovators, and ultimately the entire agricultural value chain to succeed in a highly competitive and innovation-based global marketplace.
The Green Paper is the Seed Synergy partnership's vision for how to meet these challenges, with proposals designed to: stimulate investment to unlock our innovative potential, enable industry to play a greater leadership role in governing the seed system, increase transparency within the system and better meet diverse customer needs and drive growth throughout the agriculture value chain.
Over the coming months the Seed Synergy organizations will be talking to their members, holding regional workshops, and engaging with stakeholders (including key federal government departments) to produce a final White Paper for the spring/summer 2018. The White Paper will chart a course for the future of the seed system, and will set out a strong path forward for industry and government to work together in a meaningful way.
For more details and to provide feedback, visit the new Seed Synergy website.
Self-defense for plants
10 months ago
-
Salk scientists characterize unusual plant immune response to bacterial infection
When you see brown spots on otherwise healthy green leaves, you may be witnessing a plant's immune response as it tries to keep a bacterial infection from spreading. Some plants are more resistant to such infections than others, and plant biologists want to understand why. Salk Institute scientists studying a plant protein called SOBER1 recently discovered one mechanism by which, counterintuitively, plants seem to render themselves less resistant to infection.
The work, which appeared in Nature Communications on December 19, 2017, sheds light on plant resistance generally and could lead to strategies to boost plants' natural immunity or to better contain infections that threaten to destroy an entire agricultural crop.
"There are a lot of losses in crop yields due to bacteria that kill plants," says the paper's senior author Joanne Chory, a Howard Hughes Medical Institute Investigator, director of Salk's Plant Molecular and Cellular Biology Laboratory and a 2018 recipient of the Breakthrough Prize in Life Sciences. "With this work, we set out to understand the underlying mechanism of how resistance works, and to see how general it is."
One of the ways plants fight bacterial infection is by killing off their own cells in which bacterial proteins are detected. But some bacteria have evolved a counter strategy—injecting special proteins that suppress the plant's immune response by adding small, disabling chemical tags called acetyl groups to immune molecules. This process is called acetylation. What makes certain plants able to resist these bacterial counter measures while others succumb to infection remains unclear.
As a means to better understand such pathogen-plant interactions, Chory's team turned to the well-studied weed Arabidopsis thaliana and, in particular, an enzyme called SOBER1—which had previously been reported to suppress the weed's immune response to a bacterial protein known as AvrBsT. While it may seem counterintuitive to use immune suppression to study infection resistance, the Salk biologists thought doing so could yield useful information.
The researchers started by determining SOBER1's amino acid sequence—the particular order of building blocks that gives a protein its basic identity. Intriguingly, they found it was very similar to a cancer-pathway-related human enzyme. This enzyme contains a characteristic tunnel into which proteins with certain types of modifications can fit and be cut as part of the enzymatic reaction. It turns out SOBER1 can be classified as part of a vast protein superfamily known as alpha/beta hydrolases. These enzymes share a common core structure but are very flexible in the chemical reactions they catalyze, which range from the breakdown of fat to the detoxification of chemicals called peroxides.
Next, they used a more than 100-year-old technique called X-ray crystallography to determine SOBER1's three-dimensional structure. While similar to the human enzyme, the plant enzyme's tunnel had two extra amino acids sticking down from the top: one at the entrance and one in the middle.
"When we saw those, we realized they had to have a dramatic effect on function because they basically block the tunnel," says Salk research associate and co–first author Marco Bürger.
To discover what the purpose might be, Bürger and co–first author Björn Willige, also a research associate, used substrates (molecules that enzymes act on) with different lengths and biochemically tested how well they fit in the enzyme and whether they could be cut. Only certain types fit and were cut—very short acetyl groups. This suggested that SOBER1 is a deacetylase—a class of enzyme that removes acetyl groups. Furthermore, the team mutated SOBER1 and thus opened the blocked tunnel. With this change, Bürger and Willige engineered an enzyme that lost its strong specificity for short acetyl groups and instead preferred longer substrates.
"For the initial biochemistry experiments, we used established, artificial substrates," says Willige. "But next we wanted to see what would happen in plants."
For this, they used tobacco plants—which have large leaves that are easy to work with—and a bacterium with a protein called AvrBsT, known to trigger acetylation. They produced AvrBsT in different regions of tobacco leaves along with SOBER1 and several mutated (and thus nonfunctional) versions of the enzyme.
Leaves producing AvrBsT had brown patches of dead tissue, indicating that AvrBsT had initiated a cell death program to curtail the systemic spreading of the pathogen. Leaves that produced AvrBsT together with SOBER1 looked healthy, indicating that SOBER1 reversed the action of AvrBsT. Strikingly, mutated SOBER1 versions with an opened tunnel were not able to prevent the tissue from dying. From this, the researchers concluded that deacetylation must be the underlying chemical reaction leading to suppression of the plant's immune response.
The tobacco tests supported the idea of SOBER1 being a deacetylase that would remove acetyl groups added by bacterial proteins. Without the acetyl groups tagging proteins, the plant didn't recognize them as foreign and thus didn't mount a cell-killing immune response. The leaves looked healthier because cells weren't dying.
"SOBER's function is surprising because it keeps infected tissue alive, which puts the plant at risk," says Chory, who also holds the Howard H. and Maryam R. Newman Chair in Plant Biology at Salk. "But we are just beginning to understand these types of mechanisms, and there could very well be conditions in which the actions of SOBER1 is beneficial."
Further tests showed that the activity and function of SOBER1 is not restricted to the weed Arabidopsis thaliana, but also exists in a plant called oilseed rape demonstrating that the findings of Chory's lab could be applied to agricultural crops and biofuel resources.
Bürger and Willige would next like to begin screening for chemical inhibitors that could block SOBER1, thereby allowing plants to have a full immune response to pathogenic bacteria.
The work was funded by Howard Hughes Medical Institute, Deutsche Forschungsgemeinschaft, the Human Frontier Science Program and The Pioneer Postdoctoral Endowment Fund.
Flax Council of Canada Closing Its Doors
10 months ago
-
After 32 years of representing the interests of all agricultural and industrial flax interests, the Flax Council of Canada's executive committee announced yesterday the closure of its office in Winnipeg, effective Jan. 31, 2018. The Flax Council of Canada will continue to operate on a reduced service basis.
The Flax Council of Canada is a national organization, funded by a voluntary export levy. Established in 1986, the Flax Council promotes the advancement of Canadian flax and flax products including nutritional and industrial uses in domestic and international markets.
In a news release, the Flax Council stated: "Over the course of the past year, the formation of a combined oilseed council was thoroughly discussed at the request of some of our members that contribute significant levy dollars to the Council. Through these discussions, it became apparent that the formation of an oilseed council would not materialize in the foreseeable future. The result of this is a significant loss of funding to the Council, necessitating cost reduction measures."
Recognizing the importance of a national voice, the news release went on to state further dialogue will be needed to see what opportunities may lay ahead as the flax industry decides the merit of a national organization.
The Flax Council played a key role in managing the aftermath following the detection of CDC Triffid seed in shipments to the EU, providing financial support to significant testing protocols in an effort to remove Triffid from the seed supply in Canada.
Since 2013, the Flax Council has managed more than $6.2 million in research and market development programs with the support of Agriculture and Agri-Food Canada, Manitoba Agriculture, Saskatchewan Ministry of Agriculture, and both the Saskatchewan Flax Development Commission and Manitoba Flax Growers Association.
CSI Contemplates a Responsive Role for the Future
10 months ago
-
As executive director of the single point of contact for many seed processing and testing establishments in Canada, Roy van Wyk can imagine a future in which the Canadian Seed Institute (CSI) plays a different and more adaptive role than it does now in its response to the outcome of the Seed Synergy Collaboration Project, which is designed to forge a next-generation seed regulatory system for the country.
Currently, CSI is responsible for the oversight of approximately 1,000 Canadian businesses that are either registered seed establishments, authorized importers or accredited seed testing laboratories. Want to be an accredited seed testing lab, an authorized importer, approved conditioner or an accredited bulk storage facility? You must first be audited by CSI.
Van Wyk can see those responsibilities also extending to seed certification itself as the industry begins to build a next-generation seed system through the Seed Synergy Collaboration Project. Currently, the Canadian Seed Growers' Association (CSGA) is responsible for certifying pedigreed seed crop production for all agricultural crops in Canada except potatoes, while the CFIA is responsible for the blue tag and the grade tables.
"One thing I think we'd benefit from is if all the oversight and final certification services were delivered under one roof," van Wyk says.
"The delegation of full responsibility for the labelling of seed with the certification label, namely the blue tag, would move us along quite nicely towards a single window for seed certification. I believe this is one change that could strengthen the industry by demonstrating a stronger sense of ownership and impartiality for seed certification."
CSI was originally formed in 1997 when the Canadian Food Inspection Agency (CFIA) was looking to delegate the oversight of registered seed establishments and accredited seed labs. It was a costly and time-consuming role the government simply didn't want to take on anymore.
Today, CSI has five major industry members — the CSGA, Canadian Seed Trade Association, Commercial Seed Analysts Association of Canada, Alberta Seed Processors and Quebec Conditioners.
Contemplating the role of CSI is nothing new. In the months leading up to its formation in the late 1990s, the seed industry was forced to grapple with the idea of an entirely new organization being formed to take over seed facility inspections, says former CSI executive director Jim McCullagh.
"The hardest work in forming CSI was done through the executives of the CSGA and the CSTA in particular — they were responsible for convincing their memberships this was a good idea," McCullagh says.
"For the CSTA, where many of its members were already looking at ISO 9001 as a quality management system standard, it wasn't too much of a new concept to grasp. For CSGA members, it was more daunting. They were more comfortable with the services being provided by the CFIA, and they had a little more difficulty acknowledging that change was needed."
But change did happen. And van Wyk feels it needs to happen again as the Seed Synergy project begins in earnest. Seed Synergy is tentatively scheduled to provide the federal government with its initial recommendations for a next-generation seed system for the spring of 2018.
In March, the CFIA officially declared its intentions to modify Canada's Seeds Regulations in order to "reduce overlap and redundancy, increase responsiveness to industry changes, address gaps, weaknesses and inconsistencies, and provide clarity and flexibility to affected regulated parties for seeds imported, conditioned, stored, tested, labeled, exported and sold in Canada."
"Our industry as a whole recognizes that so many issues are coming at us, and that seed program modernization is here. There are pressures to streamline our six seed sector associations, and while that might seem like the natural thing to do, it might not necessarily mean any cost savings," van Wyk says.
"Through Seed Synergy, it's easier to see the value each organization brings to the seed industry. We all have very unique roles and responsibilities. For CSI, it's been that much more of an eye-opener, to gain an even deeper understanding of how all those parts fit together."
The Seed Synergy exercise will help CSI gain more knowledge of the other organizations and better understand if there are roles it can take on to help support the other groups, van Wyk adds.
"In 18 months I think the future design for Canada's next generation seed system will be a lot more clear. CSI is still the most relevant model to look to for future discussions on a next-generation seed system. It's still early, and we have a lot of ground to cover, but we're ready to begin talking in a lot more detail and consulting with our clients, members and industry stakeholders to determine what the future seed industry should look like."
David Sippell Joins Cibus to Lead Canadian Operations
10 months ago
-
Cibus, a leading trait development and plant breeding company, has appointed David Sippell as Vice President, and General Manager, Canada. He will manage Canadian operations from Cibus' new office in Winnipeg.
Sippell has more than three decades of experience within the agribusiness sector. With the recent launch of SU Canola in Canada, Sippell will direct Cibus' growth and expansion into the Canadian canola market.
"David's addition to the Cibus team as the leader of our Canadian operations will steer the company's progress in this geography and provide innovative profit-yielding options to Canadian farmers," said Peter Beetham, Ph.D., President and Chief Executive Officer, Cibus. "David's extensive knowledge of the seed business and international agribusiness expertise will strengthen and grow Cibus' expanding presence in the world's most valuable canola seed market."
Sippell will bolster Cibus' growing commercial team. "David's expertise in the agribusiness sector and his deep knowledge and passion for the canola industry will contribute to the expansion of Cibus' operations in Canada," said Bradley Castanho, Ph.D., Senior Vice President, Commercial and Business Development.
Sippell's experience includes decades of leadership experience in the canola seed business in Canada with a range of companies that include Pioneer Hi-Bred International Inc. and Syngenta, and Sippell was the founding President and CEO of Canterra Seeds Holdings Ltd., a grower-owned seed company. Sippell holds a Bachelor of Science, Master of Science and Doctor of Philosophy in Plant Pathology and Plant Breeding from the University of Guelph.
According to a news release, SU Canola offers Canadian growers valuable, non-GMO hybrids that provide a new option for weed control. Cibus' first canola hybrid was registered for sale in Canada in spring 2017. Led by Sippell, Cibus' Winnipeg office is the flagship for expanding Canadian operations as Cibus launches its expanding product portfolio.
Planning for Fusarium in 2018
11 months ago
-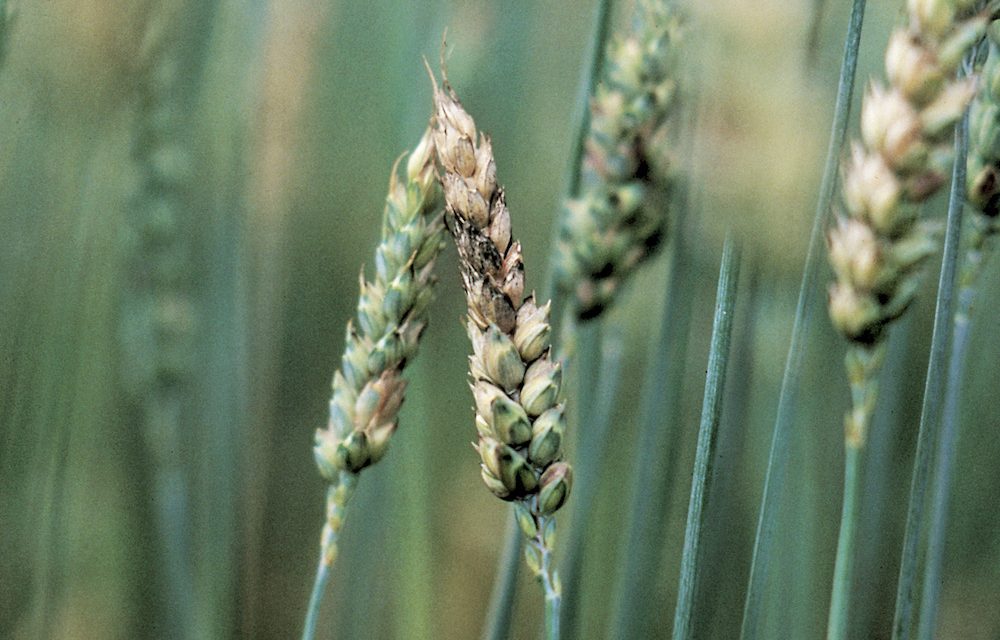 It will be easy for growers to let their guard down this year when it comes to managing for Fusarium head blight (FHB). The bone-dry summer in 2017 meant there was little issue with FHB or any other disease.
However, going into the 2018 season, growers need to stay vigilant against the yield- and quality-robbing cereal disease.
"There's little one can do at this point in time to eliminate the risk for Fusarium if the pathogen is present," says Brian Beres, research scientist with Agriculture and Agri-Food Canada in Lethbridge. "We know the inoculum is there, and while you can't control the amount of pathogen in the soil this year, nor can you predict the weather, you can control your agronomics and give your crop a fighting chance against the disease."
Fusarium graminearum is the most common cause of FHB in Alberta, and is particularly well established in the southern areas of the province. It affects yield and grade as it produces the mycotoxin deoxynivalenol (DON), which makes the grain a poor grade for the feed, malting milling and biofuels industries. High humidity and warm weather in late June and July favour spore development on infected residue, and those spores can spread through the wind or through moisture splashed onto the plant.
"After what appears to have been a year of low Fusarium head blight damage, we hope it is not out of sight, out of mind," says Michael Harding, research scientist, plant pathology with Alberta Agriculture and Forestry's Crop Diversification Centre South in Brooks. "The inoculum overwinters in the soil and on residue, and if we have a wetter season this summer, it could still be a very bad year for FHB."
Going into the growing season, the first thing growers can do to manage for Fusarium is carefully choose their variety based on their local risk. While no cereal varieties are truly resistant to Fusarium, some tolerate the disease better than others. Durum varieties can be the most difficult to choose as they are all susceptible to moderately susceptible to the disease.
Once a variety is chosen, Beres says uniformity is the main theme to allow a crop to battle FHB. A uniform crop will flower at the same time with a shortened flowering duration, ideally before Fusarium spores begin invading the crop. To achieve uniformity, growers need to turn up their seeding rate and then seed early.
"Two beneficial things happen with a higher seeding rate," says Beres. "First, you achieve uniform growth stages throughout the field; and second, you have increased main stem production and fewer tillers, both which makes foliar fungicide timing easier and improves fungicide efficacy greatly."
The ideal winter wheat seeding rate of 450 seeds/sq. metre has been established through previous research Beres and his team conducted. Combined with timely planting further enables winter wheat the opportunity to "escape" FHB infection as it can complete flowering ahead of the onset of spore inoculation. For spring wheat, research was also conducted to gauge what response growers get from a high seeding rate.
"Traditionally, spring cereal growers have seeded around 200 to 250 seeds per square metre. However, we've observed spring wheat such as durum and high-yielding CWRS varieties respond to rates as high as 450 seeds per square metre," says Beres. "While the yield response may stop at 300 to 350 seeds per square metre in some environments and with some varieties, the Fusarium risk may be lower because you have a much more uniform crop that also happens to be much more competitive with weeds."
Once the resistance package is established and the decision is made to seed at a higher rate, growers should consider lodging risk. A crop seeded at a high rate is at greater risk for lodging later in the season if lodging resistance is overlooked when choosing a variety. However, taller wheat can also be a benefit when battling FHB in low to moderate disease severity with low spore dispersal, as the disease spores that splash up from the ground during wet periods may not reach the (head) vulnerable areas of the spike.
Before the seed is even placed in the ground, cereal growers should consider a seed treatment.
"Seed treatments won't directly tackle FHB, which happens later in the season," says Harding. "But it will battle seed- and soil-borne pathogens as well as abiotic factors which could weaken your crop and its stand establishment. You don't know what's in the soil. Treated seed is exposed to less stress early in the season so it has a better chance for success after emergence."
While you want to have your field come into maturity at the same time, high risk FHB areas should consider seeding different fields at different times. "You really don't want to plant all of your wheat during the same week," says Harding. "If they are all coming into anthesis at the same time, your entire season is at risk. But if fields mature at different times, you are spreading out the risk of a total loss."
Rotation is another way to reduce the disease pathogen in the soil, but given Alberta's short growing season and cropping options, effective rotations can be challenging.
"Ideally you would only have one crop in four years that is a host for Fusarium," says Beres. "But that's impractical as many of the crops that comprise today's cropping systems are hosts for the disease. Even if the field is rested in chemical fallow, the undisturbed stubble, tissue and plant roots can be colonized with Fusarium."
Harding says even though ideal rotations are difficult, inoculum levels can be reduced by managing that rotation. "Durum and corn are the best hosts for the disease, so if you are growing corn, which is likely to have more Fusarium residue, don't grow durum right away. Allow the residue to break down on a less susceptible crop. You should work out your field selection in the fall and winter so that you can minimize the buildup of the pathogen."
If the plant is more uniform and flowering more even, the timing window to apply a fungicide is also easier. More heads will come out of the boot at the same time, and the more heads available to the fungicide, the better its efficacy. Recent research shows that waiting until as many heads are visible will reduce Fusarium and DON at harvest. A fungicide will remain effective four to six days after flowering, or seven to 10 days following head emergence.
You also have to take caution as to how you apply the fungicide," says Beres. "You need to consider ground speed, keep your boom levels low around 30 centimetres above the canopy for better coverage, and make sure your nozzle is configured so that the angle and pattern covers as much of the plant as possible utilizing a coarse spray pattern. You'll get as much out of an input that you put into how you apply it."
Harvest management can be tricky once Fusarium has infected a field. Many growers will increase the fan speed on their combine and blow the lighter, infected seed out the back end. However, then the stubble has been seeded with infected material.
"The opinions around the utility of tillage for FHB management in the science community are somewhat mixed," says Beres. "However, studies conducted on the Canadian Prairies show no increase in FHB under no-till, and there is only agreement that F. avenaceum has been controlled with tillage, not F. graminearum."