DowDuPont Agriculture Division To Become Corteva Agriscience
10 months ago
-
The agriculture division of DowDuPont will be known as Corteva Agriscience one it is spun-off, which is expected to happen by June 1, 2019. The name is derived from a combination of words meaning "heart" and "nature".
Corteva Agriscience brings together DuPont Crop Protection, DuPont Pioneer and Dow AgroSciences to create a standalone agriculture company with positions in seed technologies, crop protection and digital agriculture.
In addition to announcing the corporate name, the intended agriculture company unveiled the Corteva Agriscience brand identity and logo today (www.corteva.com) at Commodity Classic, the largest farmer-led convention and trade show in the United States.
The corporate headquarters for the intended company will be located in Wilmington, Delaware, and will include key corporate support functions. Sites in Johnston, Iowa, and Indianapolis, Indiana, will serve as global business centers, with leadership of business lines, business support functions, R&D, global supply chain, and sales and marketing capabilities concentrated in the two Midwest locations.
DowDuPont will support the new brand name through a series of recognition events between now and the time the division becomes an independent company.
Alberta Seed Processors announce Seed Smart scholarship winners
10 months ago
-
The Alberta Seed Processors board of directors announced the first-ever winners of the Seed Smart scholarship fund designed to recognize outstanding young leaders in the agricultural world.
Cole Huppertz, 20, (Lakeland College) and Kyle Wheeler, 20, (University of Alberta) are the first recipients of the $1,000 awards. This scholarship is awarded annually to deserving applicants enrolled in a full-time, agriculture-related program at an accredited post-secondary institution in Canada – with preference given to those studying in Alberta.
"I would like to thank Cole and Kyle for submitting their winning applications," said Hector Ouellette, Alberta Seed Processors' president. "These two have demonstrated their dedication to making a difference in agriculture and in their communities and we are proud to help make their road a bit easier."
The Alberta Seed Processors are a network of seed and grain processing professionals focused on providing Alberta farmers, seed growers, and the agriculture industry with value-added services to support the growth of the local and global agriculture economy. The Association would like to congratulate both Huppertz and Wheeler on their outstanding applications and their bright futures in the agricultural industry.
"I am very fortunate to receive this scholarship. This will be put towards my education at Lakeland and help me to pursue a career in the agriculture industry," said Huppertz.
"I am very excited to have won the SEED SMART Scholarship. This will go a long way to helping pay for my schooling and my athletics. I am grateful for the opportunities that the money will grant me, and thankful that such an opportunity is provided by all of you for me," added Wheeler.
The deadline for this year's award is October 15, 2018. The application form and further instructions for potential candidates will be available in the coming months at www.seedsmart.ca.
Riding the Western Soybean Wave
10 months ago
-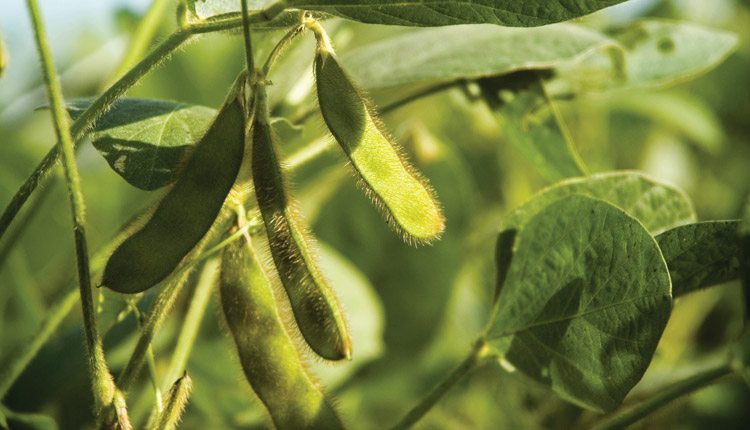 Soybeans were once unheard on the Prairies. Now, they're marching west from Manitoba to Alberta, with no end to acreage increase in sight.
Here's an easy riddle: What was unheard of in Manitoba a few years ago, now is found everywhere and has moved well beyond Manitoba in a seemingly unstoppable westward domination of Canadian fields?
The answer is soybeans.
Truly a force to be reckoned with, soybeans are now being grown in huge amounts across Saskatchewan and have started to be grown in Alberta as well. To find out exactly how much acreage has expanded, how the development of locally-adapted varieties is going and where the future of soybeans in the west is headed, we checked in with three experts, including Glenda Clezy, an agronomy specialist with the Saskatchewan Pulse Growers (SPG).
Clezy says it was around 2012 that the crop really started to increase significantly in acreage in Western Canada. She points to Statistics Canada data that shows a strong jump in acreage in Manitoba from last year to this year (2.3 million acres in 2017 up from about 1.6 million in 2016), and a tremendous leap over the same time period in Saskatchewan (850,000 in 2017, more than three-and-a-half times the 240,000 acres grown in 2016).
Alberta is not currently included in the data due to low acreage, nor in Statistics Canada's June 2017 crop report, which states that Ontario, Manitoba, Quebec and Saskatchewan account for 99 per cent of national total soybean production, and that all of these provinces reached record high soybean acreages this year.
"The number of varieties available to growers is on the rise as well," Clezy explains, "and is likely a key factor in the increase in acres as more varieties are available that are shorter-season and have the potential to reduce risk for producers. Currently there are 48 varieties in the variety trials in Saskatchewan. These varieties range from 006 to 0006 maturity groups."
Trials in Manitoba involve similar varieties, as well as some that are later-maturing.
Clezy took a look at the websites for companies that are currently selling soybean varieties in Western Canada, and reports that there now seem to be more than 90 varieties available in total. However, she notes that not all of these varieties will be suitable for all areas, and farmers in some areas will have a much smaller number of varieties to select from that may be suitable for their locations.
Wilt Billing believes the number of soybean varieties available in Western Canada has easily gone up ten-fold over the last decade. The product line manager for Crop Production Services in Manitoba says that it's the development of early-maturing varieties that has driven the acreage growth, and that "some companies have been faster to address this than others."
Elroy Cober, a research scientist in the soybean breeding and genetics division at Agriculture and Agri-Food Canada (AAFC) in Ottawa, agrees that maturity is a requirement for reliable production in the Prairies. "Growers need to select lines that reliably mature," he advises, "while recognizing they may give up a little yield in years when there is a long open fall."
Over the last 15 years or so, Cober has been testing his early-maturing soybean lines with staff at the AAFC station in Morden, Man. He notes that while the growing season in that area is a "long" season when considering Western Canada as a whole, he's found "the early half of my breeding material to be adapted to Manitoba."
Cober has developed a very early-maturing variety, AAC Edward, marketed by SeCan.
"During its testing, it was grown at Saskatoon for a number of years and performed very reliably there," Cober reports. "It is necessary to test lines in their proposed area of adaptation. Iron deficiency chlorosis is not an issue in Eastern Canada, while it can be a problem with some soils in Manitoba. Local testing will sort out lines that are susceptible."
Cober is currently testing early-maturing breeding material in Manitoba at AFFC Morden and Portage. He is also collaborating in a pilot project where he is developing populations and sending them to Morden and Saskatoon for selection and testing with the belief that local selection may allow for even better adaptation.
Billing notes that in general, breeding is now shifting towards the development of defensive traits and high-yield potential in the early-maturing varieties. He lists resistance against things like Phytophthora, white mould, and soybean cyst nematode to be among important defensive traits.
Soybeans on Trial in Alberta
In a presentation published in January 2017, crop scientist Francis Larney of AAFC Lethbridge and his colleagues stated that soybean acreage is increasing in Alberta and that they have found the best yields to occur at maturity of 116 to 121 days. They have done one year of study so far. They also conclude:
More than 130 days to maturity can lead to risk of frost damage
Threshold CHU = 2,200
Target yields are now about 3,300 kg/ha (50 bu/ac)
Future yields could be pushed to 4,000 kg/ha (60 bu/ac)
The team measured factors such as plant density, days to flowering, plant height at flowering, pods and seeds per plant and so on, and found that narrow rows resulted in lower pod height and more seeds per plant. Higher planting density resulted in slightly faster maturation.
The scientists also looked into whether soybeans could be used to replace dry beans in irrigated rotations, but found dry beans result in a soil N credit 2 to 2.5 times greater than soybeans.
Looking Forward
 In terms of where in the west we might we see soybeans being grown next and how the industry is preparing for that, Clezy points to a few factors.
"The future of soybeans will be dependent on the success that growers have over the next few years, as well as the ongoing release of new varieties that offer higher yields and earlier maturity," she says. "The weather and the amount of moisture available will also impact the success of soybeans. As varieties continue to develop that are able to mature in fewer number of days, and yield sufficiently to make them a suitable option for more of Western Canada, we will likely continue to see soybean acres increase as well as expand in geography to the north and to the west."
Cober notes that some growers are trying soybeans in areas such as The Pas, Man., and Edmonton, and he feels it might be a possible to grow soybeans that far north, and he continues to look for new early-maturity genes which might allow for further northern expansion. "While heat-loving soybeans might be able to be grown in the northern Prairies, they need to yield enough to be competitive with cool climate crops," he notes. "I hope that soybeans might find a place in canola rotations to allow for longer rotations and reduce canola disease pressure."
Alberta Seed Processors announce new president
10 months ago
-
The Alberta Seed Processors' provincial board of directors are pleased to announce that Hector Ouellette has been elected as the new president of the organization.
Ouellette, who has been a part of the board of directors for 14 years in the Falher Co-operative Seed Cleaning Plant in Falher, Alberta, has been farming near Girouxville for over 30 years. He also owned a small trucking company in the oil and gas sector.
"I am very honoured to be in this role representing Alberta's seed processors," Ouellette said. "I look forward to bringing some new ideas to the table and contributing towards the bright future of our industry."
Ouellette was originally elected to the board in January 2016 to represent region seven, located in Northwest Alberta, which encompasses 14 plants in the Peace Country, including two plants located in B.C.
The provincial board would like to extend a special thanks to past president David Bishop, who has stepped aside to allow for a new voice to represent the association. Dave will also move to a new role as vice-president of Alberta Barley.
"I have never been more optimistic about the direction of this organization," Bishop said. "I would also like to thank the Association's members for their confidence and support in me over these past six years."
The Good, Bad and Ugly of Working in a Family Business
10 months ago
-
Successfully navigating the pitfalls that are unique to family enterprises can reap great benefits for everyone involved.
We all know the saying, "You can pick your friends, but you can't pick your family."
And for many people, the idea of working with family members would solicit a resounding response of "No, thank you!"
However, for others, they wouldn't have it any other way. Simon Ellis is one of these individuals. As owner and sales manager at Ellis Seeds, a fourth-generation family seed retailer in Wawanesa, Man. (54 km southeast of Brandon), he says, "Working with family is very rewarding."
Ellis graduated from Assiniboine Community College in Brandon in 2013. It was at that point he assumed more responsibility at his family's company.
"I currently work with my dad and mom, who are slowly stepping back from the business," he explains. "My role has reached a point where I am making the majority of the business decisions. I focus on developing new business relationships, logistics, and running day-to-day tasks with help from our employees."
In 2015, Simon's wife Amanda joined Ellis Seeds and is responsible for the financial and administrative side of the business. Recently, her father also came onboard, bringing with him many years of sales and management experience.
"Our family is very fortunate in that everyone can communicate with each other very well," says Ellis. "There is a trust that you wouldn't find with other employees. The biggest challenge is the fear of damaging a strong family relationship; businesses can be stressful during challenging times. It is important to remember everyone wants what is best for the family and business."
This is the same belief that has endured for nearly a century when Ernest Ellis (Simon's great-grandfather) started Ellis Seeds in 1923. At that time, Ernest shipped grass seed across the prairies because of the need to provide a quality product and produce productive land. Since then, Frank (Ernest's son) took the reins, followed by his son, Warren, who is Simon's father.
"We take pride in that our product has flowed through all four generations," says the younger Ellis.
Need to Communicate
However, the journey has not been without its challenges, which is why he says communication is the most important thing you can do to navigate working in a family business.
"Express your concerns before they build into something bigger, and continually express gratitude to your family members for supporting you and the business. They are working hard to support you, and if a mistake is made, it was a mistake and there are more important things in life."
Have Some Compassion
Rick Stamp is the owner and patriarch of Stamp Seeds, a family owned and operated pedigreed seed farm in Enchant, Alta., located approximately 77 km northeast of Lethbridge.
"Working with family is the most envious position to be in, when each person and — in turn — the family as a group, can figure out how to make it click," says Stamp. "On the other side of the coin, this can be the very worst position to be in as a family, as many family operations do not survive, and this can ultimately break families apart."
It was back in 1979 that Stamp decided he wanted a career in farming. Prior to this, he had gone to college and became a steam engineer, but realized that wasn't what he wanted.
"It was a great learning experience, but I then had a chance to purchase two quarters of land. I applied for a beginning farmers loan from AFSC, which I was able to secure," he recalls. "In hindsight today, I was very ill-prepared, with a lack of business knowledge and no capital. But what I did have was a lot of ambition, the ability to dream, to learn every day and, at the same time, was not afraid to put in the hours to make it happen."
Since 1980, Stamp and his wife Marian have worked together as partners. Their three sons, Greg, Matthew and Nathan also work full time in the business, plus two of Marian's first cousins, who have worked at Stamp Seeds for more than a decade.
Stamp says his company has been successful largely due to deep-down compassion the family has for one another.
"We are concerned what is happening in everyone's lives, what we are having to deal with, and what can we do to help each other be successful and satisfied in their work and personal lives. If we do this for each other as a family, this translates to all other individuals who work in your business building a great operating environment. This then radiates out to everyone else our group deals with."
Pitfalls and Conflicts
There are a number of possible conflicts that can arise in a family business (or any business, for that matter), according to Francine Carlin, principal of the Business Harmonizer Group, an advisory and consulting firm based in Vancouver. Some of these tend to be more unique in a family business enterprise such as:
lack of communication
lack of trust in decision making
not having clear roles or job descriptions
lack of education
little or no shared experiences within the family or the business
a sense of entitlement
not understanding the impact of the family dynamic role in shaping the future of the business
Carlin is dedicated to helping family-business owners and members develop meaningful solutions for resolving the issues and concerns that have become roadblocks to critical decision making. She has found that in her transition from corporate work to working with family enterprises, many issues can be much more complex in nature.
For instance, in working with those in the agriculture industry, Carlin says many family farms are struggling.
"And the legacy is even more emotional because it's tied to the land. I worked with one family who still had the land since 1882 and, somehow, by blood, sweat and tears, they kept it in the family. There are a lot of deep stories in the family enterprise. It takes a lot of emotional energy to change."
Carlin says what she enjoys most is helping to facilitate a shared understanding of complex issues by separating the person from the issue.
"It is important to have regular family business meetings with an agenda and often facilitated by a neutral party. It is also important to establish some form of governance that could facilitate shared understanding and family harmony, so that all impacted are clear about policy, roles and expectations. Hold regular financial reporting and business planning outcomes with nonactive family owners. The more family members working in the business, the more vital it is to ensure that everyone is clear on roles, responsibilities and expectations."
Carlin adds that for those individuals who are considering starting a family business or joining a family business that has already been established, she offers this advice.
"Understand the amount of work and commitment that's required to be successful. Build a foundation of trust and establish financial and business management best practices. And spend time nurturing and supporting a positive family dynamic."
Stamp couldn't agree more: "Build a workable, functional, and most importantly 'accountable' business structure, for everyone to work inside of. Individuals are paid for showing up on time to work every day, and for what they bring to the business — not because of who they are. If you can't get the job done, you should not be part of the team. I believe if you want others to join your business — direct family or not — ask yourself why would anyone want to be involved where there is constant conflict, lack of respect and unhappiness."
Adds Ellis: "Have the tough conversations before starting or joining in. Know where everyone stands and what their goals are. Identify and deal with challenges before they come up. The most important thing here is family and you must protect that at all costs."
Alberta's Outstanding Young Farmers for 2018
10 months ago
-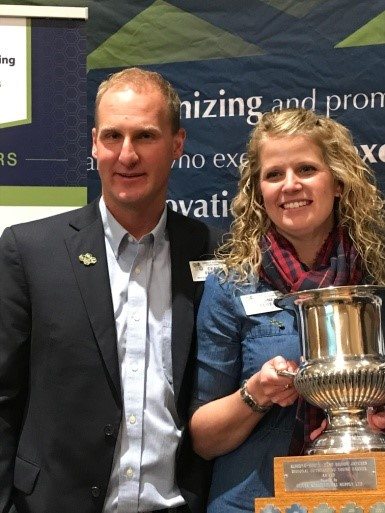 More than 60 people gathered to honour fourth generation farmers Craig and Jinel Ference of Double F Farms located at Kirriemuir as Alberta's Outstanding Young Farmers for 2018. The winners were announced at the Alberta regional event held at the Pomeroy Inn & Suites in Olds, Alta. on Feb. 9.
After receiving university degrees, in agriculture business for Craig and education for Jinel, they returned to take on the responsibilities of full-time farming in 2004 and today crop 10,000 acres, manage an 8,000 head feedlot and 4,000 mother cows, as well as a number of custom farming contracts. Their goal today continues to be one of creating a diverse business that involves many agriculture sectors.
As caretakers of the land, Craig and Jinel focus on improving the land for future generations by increasing organic matter from one to four per cent. New technology in product and equipment advancements continues to bring change to their farming techniques, both in Alberta and their new expanded operation in Biggar, Sask.
Two other couples were honoured at the 2018 regional event:
Craig and Celeste Christensen, Parflesh Farms, Standard, Alta.;
Roelof and Mary VanBenthem, VanBenthem Dairy, Red Deer County, Alta.
Celebrating 38 years, Canada's Outstanding Young Farmers' program is an annual competition to recognize farmers that exemplify excellence in their profession and promote the tremendous contribution of agriculture. Open to participants 18 to 39 years of age, making the majority of income from on-farm sources, participants are selected from seven regions across Canada, with two national winners chosen each year. The program is sponsored nationally by CIBC, John Deere, Bayer, and Agriculture and Agri-Food Canada through Growing Forward 2, a federal, provincial and territorial initiative. The national media sponsor is Annex Business Media, and the program is supported nationally by AdFarm, BDO and Farm Management Canada.
Canada's Outstanding Young Farmers for 2018 will be chosen at the National Event in Winnipeg, Man. from Nov. 29 to Dec. 3, 2018.
Industry Taking Action on Pollinators
10 months ago
-
Pollinator protection has been a hot-button issue in Canada for the last five years. We look at some of the efforts in this country to protect pollinators and what the implications of them could be for the seed sector.
Recent headlines regarding overwintering of honeybees in Canada and the rest of North America over the past decade have often not been good. Annual honeybee colony losses have averaged 25.03 per cent in Canada since 2007, while the rate in the U.S. was slightly higher at 28.4 per cent.
That's why a recent report out of the U.S. was welcomed as good news by members of the agricultural sectors and scientific communities on both sides of the border. In May 2017, the Bee Informed Partnership (BIP), in collaboration with the Apiary Inspectors of America (AIA) and the U.S. Department of Agriculture (USDA), announced 21.1 per cent of managed colonies in the U.S. were lost over the winter of 2016-17. That number represents an improvement of 5.8 per cent over the previous winter and is well below the nation's average during the past decade.
There is reason for optimism north of the border. According to the Canadian Association of Professional Apiculturists (CAPA), the number of overwintering colony losses in Canada the past two years was well below the national average for the past decade (16.8 per cent in 2015-16 and 16.4 per cent in 2014-15).
"I think the fact the overwintering losses continue to decline shows that the cooperative working practices that have been emphasized the last few years are working, that beekeepers are stepping up their management on managing health-related issues with bees and growers are starting to modify their practices, understanding they have to use agronomic practices that help ensure a healthy environment for pollinators as well," says Calgary-based Paul Thiel, vice-president of product development and regulatory science for the Crop Science Division of Bayer in Canada.
"Here in Canada, we're very reliant on honeybees for our InVigor hybrid canola seed production. It's essential for our business and for our customers — this hybrid canola could not be grown without the pollination service they provide."
Several efforts are currently underway in this country to help protect honeybees and other pollinators such as bumblebees, and butterflies.
From Emotion to Science
Stephen Denys is director of business management for Maizex Seeds and a long-time member of the Canadian Seed Trade Association (CSTA). He's been following the issue of pollinator health closely since the debate over honeybee losses and their connection to the use of neonicotinoids flared up five years ago.
Denys says he's been encouraged by the efforts made by the ag industry, government and other groups to promote pollinator health and protect natural habitats. Even more encouraging, he says, is the fact that the debate over treatment methods appears to be shifting away from being emotion-driven to science-based.
"The concern from the seed industry is that we've been successful at agriculture on this continent and in Western civilization because we've always taken a scientific approach to things," says Denys, a former president of the CSTA.
"We don't make decisions emotionally — we look at the science and then [use that] to make a decision. If the science showed you've got a real issue and you've got to make a change, farmers here have always adapted to that change and industry has adapted to that change."
Denys says one of the things the seed industry needs to do is work together to better educate the public about what it has accomplished to date and "walk them through the evolution of why we're doing the things we're doing today."
New Products in the Pipeline
Bayer has teamed up with several industry partners and organizations as part of the Bees Matter initiative. The outreach program aims to share information on honeybee health in Canada with the Canadian public and raise awareness with everyone from agricultural producers to backyard gardeners about practices they can adopt to ensure pollinator health. Bayer is also part of a bee health roundtable group spearheaded by Agriculture and Agri-Food Canada that has been tasked with identifying and addressing risks and opportunities related to bee health.
One of the projects the company is involved with that will be of interest to the seed sector is the creation of a new fluency agent for negative pressure air seeders. In the past, a mixture of talc and graphite was used to expedite the movement of corn and other seed as it was vacuumed through the seeder. The wax-based fluency agent means there is far less dust created when treated seed exits the seeder.
"There's been a significant reduction in the creation of any dust that might contain the seed treatment compound," Thiel says. "It's been effective and the growers have adopted it. They're very interested in maintaining the biodiversity and the natural surroundings of their farms."
Bayer is also working on a new miticide designed to help beekeepers control the Varroa mite, which has been referred to as the vampire of the honeybee industry. There are currently few ways to control the deadly parasite, which originated in Asia. Research has indicated the strips can control as much as 95 per cent of mites.
"It will give a rotational option to beekeepers so they are not as reliant on too few compounds and help to reduce the potential for resistance development in the Varroa mite population," Thiel says.
First-of-its-Kind Study
While pollinators have been making plenty of news, knowledge of their habits and habitats here in Canada remains lacking.
Nigel Raine, a pollinator expert at the University of Guelph and Rebanks family chair in pollinator conservation, is seeking to change that. Raine is leading a team of researchers that will be monitoring pollinator activity at 50 different locations throughout the province of Ontario as part of a multi-year study that began in 2016. It's believed to be the first time a study of this kind has been conducted on such a large scale anywhere in Canada.
"What we're hoping to get is a broader picture of the distribution of wild pollinator species and how they're related to different habitat types and different land use categories. We're trying to include everything from provincial parks and conservation areas through to intensive agriculture and even some urban sites," Raine says.
"The main aim the first few years is to get a baseline to see which species are where. If we can see areas where they have very healthy populations, we can look at the types of habitats in that area and we can say this is the sort of matrix that we want to look at [being part of the landscape] on a scale that pollinators need."
One of the biggest challenges with the study, according to Raine, is the large number of different pollinators that call Canada home. There are more than 850 species of bees in this country, with most of them being solitary ground-dwellers.
Raine says the study has potential implications for the agriculture industry in not only Ontario but the rest of the country, since three-quarters of the leading food crops are pollinated by some form of animal. The data from the study could eventually help determine where pollinator habitats need to be located and how widely they should be distributed.
As for the seed sector, Raine says the study could lead to more integration with industry in terms of how plants, particularly native plants, are sourced to create the mixes for habitats that will support pollinators and wildlife in general. It could also increase demand for seed required to produce pollinator-friendly habitats in some cases, he adds.
Raising Public Awareness
Pollinator Partnership Canada (PPC) is a registered non-profit that does mission-based work across the country aimed at promoting and protecting pollinators and their ecosystems. It's comprised of more than 140 stakeholder organizations including university faculty and researchers, farmers, corporate agriculture, seed producers and corporations with an environmental ethics platform.
It's one of the partners behind the Million Pollinator Garden Challenge, a campaign to register one million public and private spaces as pollinator habitats. It's also created a series of 15 regional guides designed to help gardeners, farmers and land managers select plants for pollinator-friendly habitats.
The partnership has also been one of the driving forces behind the creation of a series of so-called bee hotels across the country. The project was started in 2014 in conjunction with the Fairmont hotel chain to build sustainable resting places, or 'hotels', for solitary bees.
PPC research director Vicki Wojcik says it's difficult to qualify the impact the hotels are having on bee populations. However, she says the project has had a huge impact in terms of raising awareness regarding the importance of pollinator health.
"We often have more of an opportunity to get people interested in the concept within a more urbanized context. Eventually, over time, the idea does take hold," she says.
The partnership has also teamed with Bayer and the University of Guelph to look at how cover crops can be used to enhance pollinator nutrition. "What this research study is trying to see is what kind of plant-pollinator interaction we see with cover crops so that we can give farmers more tools," Wojcik says.
Are Seed Testing Methods Keeping Up with the Times?
10 months ago
-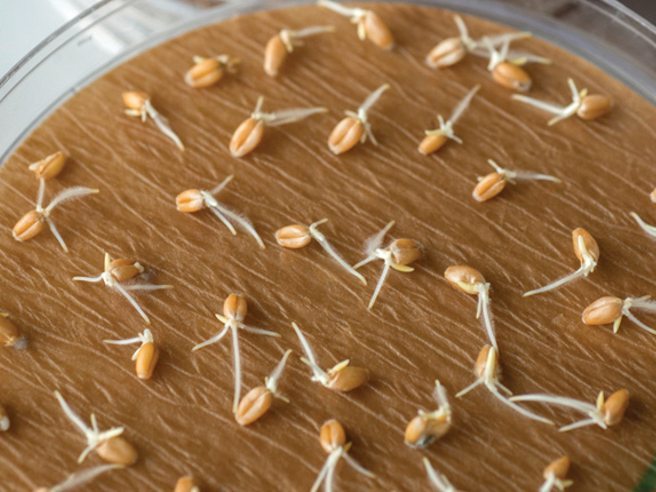 When it comes to seed quality, customers want to know exactly what they are buying and what they can expect.
High quality seed is determined by its parent's genetic makeup, physical integrity and purity of the seed, seed health and physiological seed quality, explains Lahcen Grass, the global manager for seed biology testing and product marketing support at the Syngenta Seedcare Institute.
Alison Powell, a long-time member of the International Seed Testing Association (ISTA) and an honorary senior lecturer at the University of Aberdeen, says it's important to define what we mean by "seed quality."
The term is wide ranging, she says, and encompasses purity, variety, problems of seed health, germination and vigour. She says it also includes whether or not the seed is genetically modified, and factors such as moisture content and seed weight.
"We hear a great deal about plant breeding, but the product of plant breeding is only as good as the quality of seed produced," Powell says, noting much of that depends on seed production conditions.
Grass agrees. "The quality of a given year's seed is determined by the prevailing weather and field conditions from the previous year, and subsequent processing and handling practices," he says, adding that you also have to consider if it was harvested at its highest point of physiological maturity.
The latter property can be determined by two separate tests: a germination test and a vigour test. However, these tests are not created equal.
While each seed company has its own proprietary method for conducting vigour tests, Powell points out that standardized vigour tests are published in the ISTA Rules for Seed Testing and are used worldwide. Vigour tests often impose stressful conditions on the seed during germination and emergence. The ISTA tests include several different tests but are all based on the main cause of differences in vigour, namely seed aging.
"High germination seed lots from the same variety and year can yield good germination test results but score very different on vigour tests," Grass says. "Generally, seed susceptibility to stresses that lead to poor and uneven field emergence are typical features of seed with lower vigour, not of lower germination capacity.
"On the other hand, higher and uniform emergence and vigorous seedling growth are properties of seed with higher vigour and germination."
Seed vigour is unlike germination in that it's not an absolute number. The expression of vigour depends on field conditions and is affected by oxygen uptake, water uptake and soil temperature. Thus all seeds will emerge well in favourable conditions, and differences in emergence due to vigour only arise in poor conditions.
"Industry shouldn't rely solely on germination tests, because it doesn't give the complete story," Grass says. "The good thing is all seed companies go the extra mile to conduct their own vigour tests. They invest their own resources because they don't want to sell low vigour seed to customers."
Sarah Foster, president of 20/20 Seed Labs, agrees.
"We have our sights set on seed quality and how the environment could influence vigour," she says. "With hybrid wheat on the horizon, quality, performance and vigour are key competing factors. As scientists we have to work on new tests to determine what's needed in the near future."
Grass says this information can then be used to rank seed lots based on germination. For example, if the germination rate is low, there's no need to test it for vigour.
With a focus on vigour, Powell and the ISTA Vigour Committee constantly think about the development of new tests and the potential for automation, which can dramatically speed the test results. For example, Powell says the radicle emergence test depends on the physical counting of emerged radicles, but the use of image analysis can drastically speed the process.
Just as scientific advancements are made in plant breeding, so too are they in the seed testing sector. But are the rules and standards set forth keeping up with these new breakthroughs?
In 2009, Joost Van der Burg, a member of ISTA's Advanced Technologies Committee representing the Netherlands at the time, inventoried the most promising technologies that were either in the pipeline or had emerged and were available for use. The technologies, he says, usually involve some investment and they sometimes take a decade or more to mature, so it's understandable that some secrecy surrounds them.
Powell acknowledges there are new technologies, developed by equipment companies, which are beginning to come into the market. The challenge, she says, with many of the tempting new technologies is that they've only been tested using select material, not commercial material.
Powell explains that ISTA's Seed Science and Advisory Group can evaluate the efficacy of equipment that is marketed as a means of testing seed.
"We get as much information as possible from the company and published research, and then evaluate the evidence that the equipment is effective and publish the results," she says. "The results of the seed tests need to be comparable everywhere because that is the basis of international trade."
However, having worked with students from Nepal, Bangladesh and Kenya, Powell says she's particularly aware that not all countries have modern laboratories and equipment. "That's why it's necessary for the association to recognize a wide range of tests," she points out.
Tested and Trusted
"Our vision within the International Seed Testing Association is 'uniformity in seed testing,'" Powell says. "We've worked hard to get the rules and testing standards we have today in place.
"The tests that exist now are the ones that have been and can be replicated around the world in any laboratory, and that give people in the seed industry a great deal of confidence. They are also the basis for international trade."
In some cases, the different types of tests to evaluate one characteristic of seeds reflect the changes in approach to testing. "When I think about a variety test, there are many different types of tests that can be used to verify the variety," Powell says. "These range from traditional methods that evaluate if features of the seed are 'characteristic of the variety' to extraction of proteins or DNA techniques, followed by electrophoresis or PCR [polymerase chain reaction]."
Foster, who is also an ISTA auditor, which means she helps to audit government laboratories and is committed to promoting the seed industry, says: "Yes, ISTA is current with the times and keeps working toward introducing new rules." There's a great deal of work going on internationally, she adds, and ISTA's focus remains strong to incorporate new standards.
Powell explains the test methods approved by ISTA today underwent rigorous research and numerous studies to ensure accuracy and the ability to replicate.
The characteristics tested for today are the ones industry has found to influence seed performance. If you want good emergence, then the seed needs to have a high germination rate and good vigour, Powell emphasizes. If you need seed of a certain variety, then you want excellent purity, she adds.
Adoption of New Rules
When working toward adoption of new testing methods, ISTA follows a Method Validation Programme. Technical committees conduct appropriate background research and development for different tests. This is followed by six laboratories completing the test using the specified protocol and preparation of a report from the data. Then there's a technical and a statistical review of the report to determine if the validation has shown that the test is repeatable and reproducible. If the validation is satisfactory, then the test is proposed as a new rule. If approved by ISTA members, it can be introduced into the ISTA Rules.
The subsequent application of the test by ISTA laboratories is monitored through an auditing process and proficiency tests in which ISTA accredited laboratories are sent the same sample, asked to perform a test and expected to get the same results.
For some tests, there are a number of methods that can be used. As an example, a number of approaches and equipment have been developed to determine if seed has been genetically modified. Powell explains the approach ISTA has taken to ensure uniformity in testing is that a laboratory can use a combination of approaches, as long as we get the same results.
Future
It's important for testing methods to remain relevant. "We are looking at and keeping our eye on automation, the use of robotics moving into image analysis, and the requirements for uniformity in horticulture and precision agriculture," Powell says. "If you see something that has potential, bring it to ISTA because we might be able to help it advance. We need to know what's going on scientifically and to develop it, and develop it properly."
ISTA's Seed Science Advisory Group looks at practical and applied research. Comprised of eight people, representing Denmark, France, the Philippines, the United Kingdom and the United States, the group is responsible for reading publications and scientific literature to see if there are ideas, concepts or technologies that need to be further developed.
"We all want seed to perform for customers," Powell says, noting seed performance impacts the entire value chain.
Foster adds: "Farmers continue to adopt precision ag practices and depend on every single seed put into the ground to grow and perform — the only way to achieve that is by doing some very high profile vigour work. Every inch of the field counts, and seed testing plays an important role."
DowDuPont Agriculture Division Announces New Premium Seed Brand
10 months ago
-
DowDuPont Agriculture Division is launching a new premium global seed brand — Brevant — in Canada, Latin America and select European countries in 2018.
The Brevant brand will replace the Dow Seeds brand over the coming months following the merger of Dow and DuPont. In Brazil, it will replace the Coodetec and Biogene brand products.
The global launch of the Brevant brand was unveiled in Cascavel, Brazil, at the Show Rural Coopavel (Farm Show) one of the region's most important farm shows.
Visit www.Brevant.com.
Should the Seed Sector Start from Scratch?
10 months ago
-
The new Seed Synergy green paper lays out a proposed vision for a next-generation Canadian seed system.
They key to a successful 21st-century Canadian seed industry is a modernized seed system that effectively attracts investment, fosters innovation, and delivers new and tailored seed traits to customers efficiently.
That's according to the new green paper issued by the Seed Synergy Collaboration Project Team, which is made up of members of our industry six associations and is working to develop a next-generation seed system for the country via the Seed Synergy project.
First announced in 2016, the Seed Synergy project is being undertaken by all six associations that make up the seed industry — Canadian Seed Institute, CropLife Canada, Canadian Seed Growers' Association, Canadian Seed Trade Association, Commercial Seed Analysts Association of Canada, and the Canadian Plant Technology Agency.
The project kicked into full gear after a series of annual meetings in 2017, at which the boards of all six associations gathered to discuss the project and how to move forward.
According to the new green paper — the precursor to a Seed Synergy white paper to be released in the coming months — Canada's seed system is in danger of imploding due to a number of factors, among them the fact that our system is an old and arguably out-dated one.
In addition, it argues that while Canada has an excellent national system assuring and tracing the genetic identity and origin of seed in the marketplace, seed sold as common seed does not provide these benefits, nor contribute directly to the seed system.
These factors, the green paper says, limit both domestic and export market-driven growth for Canadian producers, and if not addressed will place Canada at a productivity disadvantage relative to its international competitors.
As a result, the green paper argues that a revamped seed system is needed in Canada, one that delivers:
Improved profitability, which will in turn stimulate the investment needed to deliver a steady stream of new product innovation and growth;
A more efficient governance model for the seed system, where stakeholder organizations work in tight collaboration with each other and government in potentially new configurations;
Regulations that make sense and that are easier to understand, navigate, and comply with;
A system that better adapts to change, and responds and adjusts to sector needs on an ongoing basis;
A competitive environment that has space for businesses of all sizes to be successful and competitive, not just the biggest players with the most resources.
"In this context, the case for change is clear. To realize its full potential, Canada needs to rethink the core policies, legislative and regulatory frameworks, and associated institutional arrangements that make up the seed system of today. The rules and practices simply have to change, to deliver a more responsive, transparent, and customer-focused system, and to make Canada an attractive investment market for both large and small businesses."
Major Reforms
The Seed Synergy project team is proposing major seed industry reforms in the areas of:
Research & Development: the green paper proposes a new, risk-based assessment model that sets regulatory requirements in proportion to the projected risk of new products. "Government will continue to lead oversight of the system, and government-sectoral coordination needs to be enhanced to define regulatory standards that make sense."
Market Entry and Commercialization: proposes replacing the current variety registration and variety eligibility for certification regimes with an integrated system, anchored in a product profile for all approved seed products, containing all regulatory and commercial information relevant to that product in one, easily accessible place or virtual space, with access to confidential business information about a product limited to those granted explicit access to it.
Production and processing: proposes a modernized pedigreed seed system that will facilitate an increase in pedigreed seed use and a reduction in incentives for common seed production, as new high-performing protected varieties replace older ones. "We propose an expansion of options for producing seed under comprehensive quality management systems that do not require third-party crop inspections but which are backed by third-party audit frameworks."
Sales and distribution: proposes a universal seed lot listing system, where seed for sale is listed along with at least a declaration of identity and quality.
It also proposes a new value creation model that enables technology transfer and innovation and drives economic growth, and which features a seed sale listing system that brings increased transparency and utility to seed sales across the country, and allows for more efficient protections of intellectual property rights and commercial transactions.
Finally, the green paper proposes improving governance of the seed system overall to sustain these reforms, and to better coordinate priorities across the seed and agricultural sectors. It suggests creating an "anchoring organization" that would perform many of the functions proposed herein.
"This could take the form of a single organization or a formal network of organizations or parts thereof," the paper says.
To read the full green paper, visit http://seedgrowers.ca/wp-content/uploads/Synergy-Green-Paper-5.3.pdf