Broadening Appeal
1 month ago
-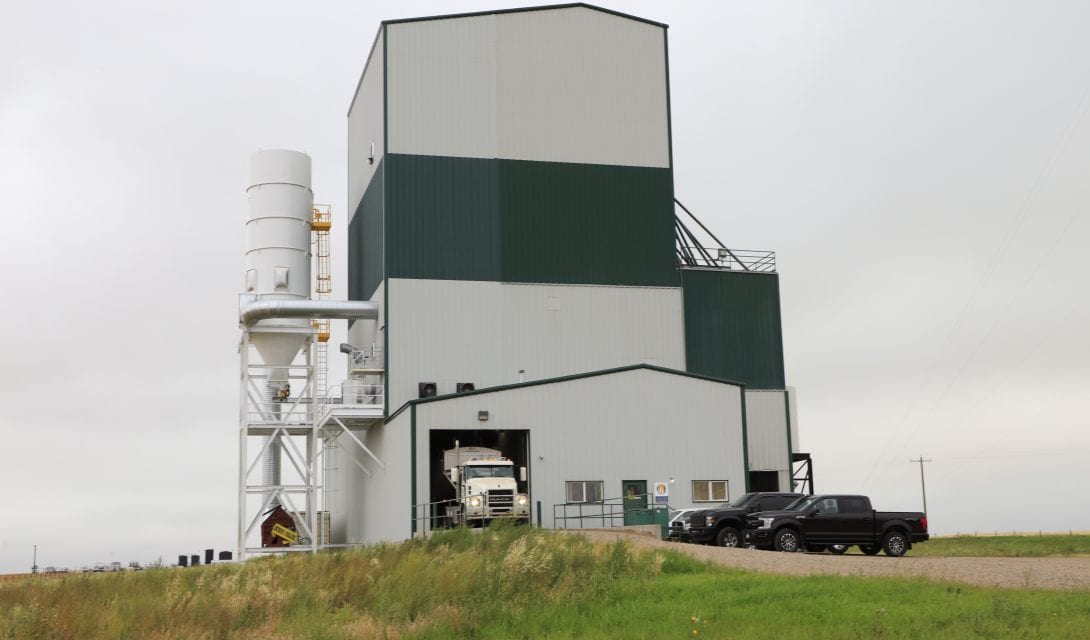 The Provost Co-operative Seed Cleaning Plant is boosting its business by drawing farmers from farther away.
Leon Ternan has been farming in Luseland, Sask. for nearly five decades. For years, he'd been using local businesses to clean his seed, but that changed last March when he decided to give the Provost Co-operative Seed Cleaning Plant, located just over the border in Alberta, a try. As Ternan will tell you, he's very happy he did.
"We thought that we would try something different, so we looked at Provost. We had them clean about 10,000 bushels of barley for seed, and our experience was so positive that we bought a membership in the co-operative," says Ternan, who grows malt barley, spring wheat, durum, canola, lentils, and green and yellow peas.
Ternan notes his farm is about an hour away from Provost but he says the speed and efficiency of the town's seed cleaning plant make it well worth the extra time it takes to get there.
"We wanted to support them because it was such a professionally run organization," explains Ternan. "The staff was exceptionally helpful and friendly, and it was just one of the most positive business experiences that I've ever had. That's what prompted us to want to be a part of it."
Hugh Baier is the manager of the Provost Co-operative Seed Cleaning Plant, a job he's been doing for 25 years. He says customers like Ternan are not unique as the plant has been actively working to expand its business by attracting more farmers from further away.
"I am a firm believer that if you don't grow, you stagnate," says Baier. "In the area we're in, unlike perhaps in northern Manitoba, Alberta and Saskatchewan where they can create new farmland by clearing it, we're not making any new land around here. So, any increase in our business has to come from farmers coming from a longer distance."
The plant builds its customer base by being efficient to make the extra trucking time worth it, Baier explains. When a customer arrives, they will have him come into the plant and have a coffee while they unload the grain, clean it and reload the truck.
"We're very focused on the quality of customer service we deliver, and we're very focused on the quality of the product that we deliver as well," Baier says.
Baier notes his plant doesn't deal with pedigreed seed, but that doesn't mean the seed cleaning which takes place there isn't of the highest standard.
"We're in a unique area, as far as seed plants in the province of Alberta go. We don't have any seed growers around us at all. We don't clean certified seed here, so everything we do is common seed," he says.
That being said though, they treat all of the grain which comes into their plant with the same protocols as if it was pedigreed seed being cleaned. "Our seed is very clean when we're done, so the producers are very happy with the product we give them," Baier adds.
The Provost Seed Cleaning Co-operative was established back in 1959, and its first plant opened for business a year later. Eventually, the original wooden building was in sore need of replacement, and in 2000, a new steel and concrete structure was constructed at a cost of $1.1 million.
Baier says since then, the facility has undergone $4 million in upgrades — including a major expansion last year which effectively doubled the plant's overhead storage space as well as its production capacity.
"We added an additional 23,000 bushels of overhead storage. We've also upgraded our equipment, so now we're able to process 900 bushels of seed per hour on cereals and 1,200 bushels per hour on peas," Baier says, stressing the upgrades and plant expansion are meant to accommodate not just current demand but future demand as well.
Baier notes the average overall output each year now is between 750,000 to 800,000 bushels of seed, which provides a significant boost to plant's bottom line.
"All of my major expenses are by the hour, the biggest one being labour. So, the more bushels I can get done in that hour, the more profitable we are," he says. "Time is a very valuable commodity to our customers as well."
Last year's upgrade to the Provost Co-operative Seed Cleaning Plant included the purchase of three new pieces of cleaning equipment — a LMC 606 roll feed aspirator, a LMC 7216 Advent cleaner and a Marc 500 XL gravity table. A Carter Day nine-roll indent with a 54-inch Scalperator is the fourth piece of cleaning equipment utilized by the plant.
"We're trying to stay ahead of the game here," explains Baier. "We want to continue to grow our business, and to do that, we need to stay up to date on newer, better and faster cleaning equipment. This means we'll adding a colour sorter in the near future to match the current capacity of our plant."
The facility also upgraded its seed treating equipment last year, adding a second Graham G40 seed treater to the line. Baier says the plant's twin G40s are mounted on a 20-inch by 24-toot mixing auger and can treat 90 to 100 bushels of seed per minute on cereals. The seed treating business has more than doubled in the last five years, and to meet the increased demand they've sped up the time it takes to complete treatments.
"I've been really trying to show farmers the benefit of what seed treatments can do," Baier says. "Our largest increase has come from treating pulses, peas and lentils. However, we are treating more cereals as well. Farmers are slowly seeing the benefit of treating."
In addition to Baier, the plant employs two full-time operators, Cole Angeltvedt and Lucas Kemper. A fourth staff member is the plant's CFO, Karen Gartner.
The farmer-owned plant is overseen by a seven-member board of directors and presently has 237 registered shareholders. Typically, about five to 10 non-shareholder farmers will the use the seed cleaning facility each year, Baier says, and if new customers are happy with the service and final product, he'll encourage them to buy a share in the co-operative.
"There is a cost savings to the producer if they are a member as well," says Baier, adding co-operative shareholders save 20 cents per bushel on the seed they bring in for cleaning and treating.
According to Baier, the plant operation wasn't affected all that much when the COVID-19 pandemic hit North America last March. The only major change, he says, was closing the plant's office to customers and the public. Instead of coming in for a cup of coffee, producers have remained in their trucks while they've emptied the grain, cleaned it and reloaded.
"We're going to continue doing this for another couple of months yet and then see how things go," says Baier. "It's working quite well. I mean, there's so many means of communication now other than face to face. It's quite easy to deal with our customers by phone and text. You can still meet all their needs; they just don't physically come into the office."