Tom Steve's New Project is Kind of a Big Deal
6 months ago
-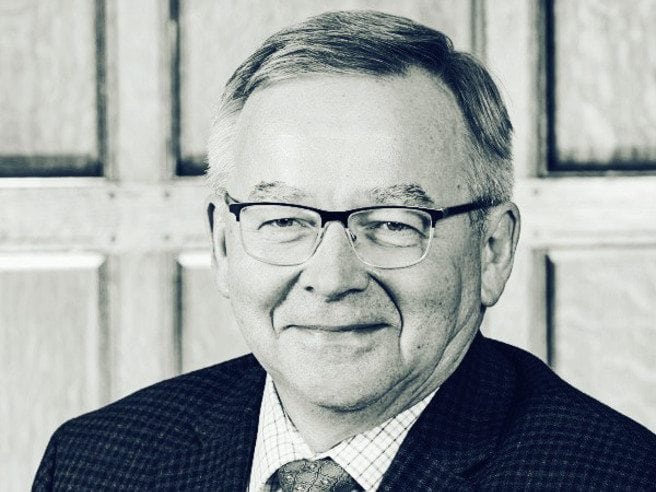 To quote fictional anchorman Ron Burgundy, what Tom Steve is currently working on is — in wheat circles — kind of a big deal. If it comes to fruition, it could serve to rock the very foundations of western Canadian agriculture and change the way farmers think about cereals.
Steve, general manager of both the Alberta Wheat Commission and Alberta Barley Commission, is at the forefront of an effort to create value in wheat, to make it a more profitable crop and get the private sector as interested in wheat as it is in big-money crops like soybeans and canola.
Steve is co-chair of the Value Creation Working Group, tasked by the Grains Round Table to come up with a way to stimulate investment in cereal breeding. Steve and fellow working group co-chair Erin Armstrong — director of industry and regulatory affairs for Canterra Seeds — have come up with two models that are becoming a huge topic of conversation among growers and within the seed industry.
At the same time, Steve is once again proving why he's a person of influence who isn't afraid to stand in front of a room of farmers and explain why the funding model for wheat variety development needs to change.
"The system we have today is predominantly funded by producer and public money. That in itself is a risk," Steve says in the frank, no-nonsense tone of voice he's become known for — a voice that comes from having started his career in the 1970s as a broadcast journalist (serving as director of communications to the premier of Saskatchewan and as cabinet press secretary). He entered the ag industry in the late 1990s working in the grain sector.
"Public funding could be at risk of becoming flat or declining due to the realities of budgets and the shrinking number of farmers. It's a win-win to bring more private investment to the market and better genetics, too. The risk is that if we continue down the path we've been going down all these years, Canada may not remain competitive globally as far as cereals go."
The idea hasn't come without controversy, he acknowledges.
"I hear from farmers that wheat is a lower margin commodity on their farm, but they don't want to change anything. There's a fundamental contradiction there. Of course, no one wants to pay more for seed if they don't get an immediate return — they have a legitimate concern there. But here's the thing — we need to look longer term at where our competition is coming form, and where the yields and quality of our product need to go to be competitive long term. And the only way to do that is through value creation."
Changing financial and organizational models that have been long relied upon has become second nature for the 61-year-old Steve. As general manager of both the Alberta wheat and barley commissions, he's working toward the integration of both organizations' respective management teams.
"Merging management teams is somewhat ground-breaking in Alberta in terms of having two major commodity groups under one umbrella. In the past we've tended to have single commissions for each of the crops individually. We're doing something new and are really excited about it," he says.
On the Way to Nitrogen-Fixing Cereals
7 months ago
-
Cereal crops that fix their own nitrogen? Achieving this dream could result in major benefits for agriculture and the environment.
Scientists around the world are pursuing this goal, including a group in Alberta. The Lethbridge-based researchers have already made impressive advances towards developing nitrogen-fixing triticale plants as a first step to creating other nitrogen-fixing cereals.
"The idea of nitrogen-fixing cereals is not new. The discovery in the late 1880s of symbiosis between nitrogen-fixing bacteria and legumes spurred the eventual question of whether it is possible in non-legume plants, including cereals. However, the path from the idea to its successful realization is in this case quite bumpy," says Dr. Alicja Ziemienowicz, a research biologist with Agriculture and Agri-Food Canada (AAFC) and an adjunct professor at the University of Lethbridge. She is co-leading this nitrogen fixation research with her AAFC colleague Dr. François Eudes.
"There are three biotechnological approaches for biological nitrogen fixation in cereals, and all require genetic engineering of bacteria or plants or both," she explains. "The first one is to create rhizobium-legume-like symbiosis in cereals; in other words, to convince rhizobia and cereals to form an interaction similar to the interaction of rhizobia with legumes. The second approach aims at improving bacteria that live inside cereal plants or in the soil right next to cereal roots so these bacteria can perform nitrogen fixation more efficiently."
However, these two strategies would rely on the use of bio-fertilizer inoculants, which are not always as effective as crop growers would like and are not as convenient as having the trait in the seed.
"When I joined the team of Dr. François Eudes at AAFC's Lethbridge Research and Development Centre about five years ago, we decided to take the third approach to the biotechnological solutions for the nitrogen fixation problem," adds Ziemienowicz. "This approach is perhaps the most challenging one but also the most promising. It involves the direct transfer of bacterial nitrogen fixation (nif) genes into the plant."
Ziemienowicz is an expert in this type of research and has been working on development of better technologies for plant improvement for over 20 years. She is excited to be applying her knowledge and skills to nitrogen fixation in cereals "to achieve practical and applicable outcomes in a research area that is so important for Canadian and global agriculture."
"Many have labelled nitrogen-fixing cereal crops as the 'holy grail,'" notes Lauren Comin, research manager with the Alberta Wheat Commission (AWC). "Nitrogen-fixing cereals could bring a lot of significant benefits. First of all is the benefit to the farmer's profit. Obviously producers would save money by reducing input costs, and there could be time savings as well. Those benefits alone are enough for us to get excited."
Ziemienowicz states, "Nitrogen fertilizers contribute about 20 per cent of cereal crop production costs, not including costs of fertilizer application: fuel, machinery, labour. Cereal crops capable of fixing nitrogen for their own needs will reduce crop dependence on nitrogen fertilizers, and will increase their performance and productivity in nitrogen-deficient soils."
Both Comin and Ziemienowicz point out that nitrogen-fixing cereals would also contribute to sustainability. "There is an ever-growing interest in sustainability from those on the farm and off the farm. Plants that could fix all or some of their nitrogen would mean fewer synthetic applications, less nitrogen loss to the atmosphere and less leaching into the waterways," says Comin.
Eudes and Ziemienowicz began this research in 2014 with a two-year proof-of-concept study, funded by AWC and Alberta Innovates. Last year's research was funded by AWC and the Saskatchewan Wheat Development Commission. Recently, the research was approved for three-year co-funding by all three of these agencies. In this upcoming work, Ziemienowicz and Eudes will be collaborating with AAFC wheat breeders Drs. Robert Graf and Harpinder Randhawa.
Ziemienowicz and Eudes' research so far has involved triticale. "Most procedures that we employ in this project work more efficiently in triticale than in wheat," says Ziemienowicz. "Once we obtain nitrogen-fixing triticale, we will transfer this trait into wheat using interspecies breeding techniques. Moreover, lessons learned from development of this trait in triticale will help us to apply it to other crop species."
If all goes as expected, they will produce triticale plants that have all the characteristics of the triticale parent plus the ability to fix nitrogen. Ziemienowicz thinks it will take at least 10 more years to develop nitrogen-fixing wheat. "We need about three years to produce and test the nitrogen-fixing triticale plants. Then, we need a few years to transfer the trait to wheat. Also, it takes years for commercialization of a plant with a novel trait."
Even though it is many years away, the path to commercialization could be as challenging as the scientific path to develop nitrogen-fixing cereals.
"The Canadian 'plants with novel traits' approach is different from much of the rest of the world. [In Canada] it doesn't really matter what process you used [to introduce a trait]; it's whether it is a new trait that has never appeared before," explains Cam Dahl, president of Cereals Canada Inc., a not-for-profit organization that brings together partners from all sectors of the cereals value chain.
"However, there would be some significant regulatory hurdles [for GE nitrogen-fixing wheat] in other markets like the EU or Japan because of the unfounded public perception around recombinant DNA technology."
From Dahl's point of view, recombinant DNA technology has provided great benefits, both economic and environmental, in crops like corn, soybeans and canola. But he is uncertain about what the cereals industry could do to change negative public perceptions of the technology. "That's a question I have been asking for 20 years. I'm not quite sure of the answer, whether it's an issue around technology in plant breeding or technology in pesticides, herbicides and fungicides. Very often public perception does not match up with the science and what science is telling us. The gap between scientific understanding and public perception sometimes can be very large, and that is difficult to cross."
Dahl notes another consideration in commercialization. "We would have to ensure that, if a new product is commercialized, it would be done in a way that doesn't jeopardize our current exports." That would require such steps as obtaining regulatory approvals in importing countries and using identity-preserved systems to keep the GE grain separate from other grain. Another factor would be development of a policy on the low-level presence of GE crop material in grain shipments.
Despite the challenges, AWC hasn't shied away from funding Eudes and Ziemienowicz's work. "Investing in genetic engineering technology today does not mean that we'll be harvesting a GE crop in August. Developing new varieties is really a long-term game. And depending on which novel traits we're seeking, the benefits could far outweigh the perceived negatives," says Comin.
Ed. Note: A longer in-depth story on this topic will appear in the Fall 2018 issue of Alberta Seed Guide.
CSGA Survey: Changes to Standards for 2019 and 2020
8 months ago
-
As part of its Strategic Plan 2017-2023, the Canadian Seed Growers' Association committed to modernizing its seed crop production standards to meet the challenges of new technology, new market demands and new production realities while systematically involving membership in an ongoing review of Circular 6.
As part of its Strategic Plan implementation, CSGA recently published changes to its seed crop production standards for the 2018 growing season. These changes stemmed from the first phase of the CSGA's Circular 6 Modernization Project initiated in Fall 2017. You can view the CSGA's Circular 6 as well as the recently published changes to it at http://seedgrowers.ca/seed-growers/regulations/ . For the most part, these changes involve adjustments for which there was widespread agreement.
The second phase of the Circular 6 Modernization Project is now underway and is focused on some of the more challenging issues facing seed crop production and certification. These issues will require additional research and analysis to determine whether further adjustments are required. The CSGA requires your input to ensure they are focused on the right issues.
To provide your input, complete the new survey available on the SeedTALK platform. It is entitled 'Circular 6 Modernization: Survey on Possible Changes for 2019'. The survey closes on April 13, 2018.
Supporting the Growth of Canada's Seed Industry
8 months ago
-
The federal government is investing over $760,000 through Growing Forward 2 programs to help the Canadian seed industry improve and enhance the certification of seed crops, identify and assess risks and opportunities facing the industry, and expand seed trade in global markets.
The Canadian Seed Growers' Association (CSGA) will receive $499,814 under Growing Forward 2's AgriRisk program to better understand the risk and opportunities within the seed system and develop options for the future. CSGA will receive an additional $203,400 under the AgriMarketing program, Assurance Systems stream to modernize seed production standards and guidelines.
The Canadian Seed Trade Association (CSTA) will receive $65,154 under the AgriMarketing program, Market Development stream to help build Canadian seed innovation and trade and break down barriers to trade.
In a news release, Doug Miller, managing director of certification and technology services with the Canadian Seed Growers' Association, said the CSGA is grateful to Agriculture and Agri-Food Canada (AAFC) for the AgriMarketing funds "which will ensure Canada retains its strong reputation as a leader in seed certification through the modernization of official seed crop regulations.
"On behalf of the Seed Synergy partners, CSGA also thanks AAFC for their AgriRisk contribution which supports the Seed Synergy Collaboration Project, an industry-led collaboration which will draft a proposal for a next-generation seed system for Canada."
The Seed Synergy partners include the Canadian Seed Growers' Association, the Canadian Seed Trade Association, the Canadian Seed Institute, the Commercial Seed Analysts Association of Canada, the Canadian Plant Technology Agency and CropLife Canada. "By supporting the seed industry, AAFC is demonstrating support for what we believe in: a growing, innovative, profitable and internationally competitive Canadian agricultural sector supported by seed quality assurance and genetic traceability," added Miller.
According to Dave Carey, executive director with with the Canadian Seed Trade Association, the funding assists the association in being engaged on the global level by attending international meetings of the International Plant Protection Convention, the International Seed Federation and the Seed Association of the Americas.
"A strong Canadian presence abroad is key for helping our members expand market access and work through non-tariff trade barriers," said Carey in a news release. "The funding also allows us to work with experts on projects that provide our members with the tools they need to increase their exports."
Canada's seed industry is respected and recognized worldwide for its high quality, safe and available seed for planting, providing families with quality food. The industry provides close to 60,000 jobs, contributes more than $5 billion to the Canadian economy and has strong export markets helping to achieve the government's objective of expanding agricultural exports to $75 billion by 2025.
Muendel Honoured with Alberta Pulse Industry Innovator Award
10 months ago
-
The Alberta Pulse Growers (APG) presented the fourth annual Alberta Pulse Industry Innovator Award to Dr. Hans-Henning Muendel, who was instrumental in developing numerous bean cultivars for Alberta growers.
"Each year, APG recognizes a person or organization whose progressive thinking and tireless efforts helped build Alberta's pulse industry into the flourishing sector that it is today," said APG Chair D'Arcy Hilgartner. "Dr. Muendel dedicated his career to developing the dry bean cultivars that now set the standard for small red, black, pinto and great northern cultivars in Western Canada. He truly deserves to receive the Alberta Pulse Industry Innovator Award for his many contributions."
In 1996, there weren't any dry bean cultivars being grown in Western Canada that had been bred in this region. Over the next 11 years, as the senior research scientist at the Agriculture and Agri-Food Canada Research Centre in Lethbridge, Muendel and his team developed 14 dry bean cultivars in seven bean classes, and co-developed one other new bean cultivar. Muendel's bean breeding program concentrated on producing early maturing, upright bean cultivars that are well-suited to the short growing seasons of southern Alberta, Saskatchewan and Manitoba. Many of the dry bean cultivars from Muendel's program also had improved resistance to white mould while maintaining high yield and quality. Muendel also served as an ex-officio director for Alberta Pulse Growers.
Zone 1 Director Rodney Volk had high praise for Muendel's contributions to the pulse industry that continue to benefit dry bean growers like himself.
"Dr. Muendel was instrumental in establishing the breeding program that developed dry bean cultivars specific to southern Alberta growing conditions," Volk said. "The success of dry bean production in southern Alberta today can be largely credited to his program's development of local varieties with improved standability and disease resistance. Many of today's pinto and great northern varieties still have a direct connection to the lines Dr. Muendel developed."
Muendel said that he was honoured to learn that he was chosen as the recipient of the fourth annual Industry Innovator Award: "It has been 10 years since I retired, and now – with our bean varieties having spread throughout the Alberta dry bean growing area – on behalf of my breeding team, it is such an honour to accept this award."
The Alberta Pulse Growers Commission represents 6,000 growers of field pea, dry bean, lentil, chickpea, faba bean and soybean in Alberta. Our vision is to have Alberta pulses recognized by consumers as environmentally friendly, healthy, nutritious, and recognized by all producers as being an essential element in a sustainable cropping system.
Uncovering a Genetic Mechanism to Enhance Yield Potential in Cereal Crops
10 months ago
-
Solving the world's food, feed and bioenergy challenges requires integration of multiple approaches and diverse skills. Andrea Eveland, Ph.D., assistant member at the Donald Danforth Plant Science Center, and her team identified a genetic mechanism that controls developmental traits related to grain production in cereals. The work was performed in Setaria viridis, an emerging model system for grasses that is closely related to economically important cereal crops and bioenergy feed stocks such as maize, sorghum, switchgrass and sugarcane.
The Eveland laboratory's research findings, "Brassinosteroids modulate meristem fate and differentiation of unique inflorescence morphology in Setaria viridis", were recently published in the journal The Plant Cell. In their study, Yang et al. mapped a genetic locus in the S. viridis genome that controls growth of sterile branches called bristles, which are produced on the grain-bearing inflorescences of some grass species. Their research revealed that these sterile bristles are initially programmed to be spikelets; grass-specific structures that produce flowers and grain. Eveland's work showed that conversion of a spikelet to a bristle is determined early in inflorescence development and regulated by a class of plant hormones called brassinosteroids (BRs), which modulate a range of physiological processes in plant growth, development and immunity. In addition to converting a sterile structure to a seed-bearing one, the research also showed that localized disruption of BR synthesis can lead to production of two flowers per spikelet rather than the single one that typically forms. These BR-dependent phenotypes therefore represent two potential avenues for enhancing grain production in millets, including subsistence crops in many developing countries that remain largely untapped for genetic improvement.
"This work is a great demonstration of how Setaria viridis can be leveraged to gain fundamental insights into the mechanisms that govern seed production in the grasses – our most important group of plants that includes corn, sorghum, rice, wheat and barley," said Thomas Brutnell, Ph.D., Director of the Enterprise Institute for Renewable Fuels, Danforth Center. "It's also worth noting that this project was conceived and work initiated after Dr. Eveland joined the Danforth Center – an impressive feat for a junior faculty member that speaks to both the advantages of working on a model system and the great team that she has assembled at the Danforth Center."
At the Danforth Center, Eveland's research focuses on the developmental mechanisms that control plant architecture traits in cereal crops. Specifically, she investigates how plant organs are formed from stem cells, and how variation in the underlying gene regulatory networks can precisely modulate plant form. Her team integrates both computational and experimental approaches to explore how perturbations to these gene networks can alter morphology, both within a species and across the grasses, with the ultimate goal of defining targets for improving grain yield in cereals.
"The genetics and genomics tools that are emerging for Setaria enable more rapid dissection of molecular pathways such as this one, and allow us to manipulate them directly in a system that is closely related to the food crops we aim to improve," said Eveland. "It means we are just that much closer to designing and deploying optimal architectures for cereal crops. The prospect of leveraging these findings for improvement of related grasses that are also orphan crop species, such as pearl and foxtail millets, is especially exciting."
Treated Seed Offers Insurance Against Threats
10 months ago
-
As the technology and the application of seed treatments is becoming more effective, growers are turning to treated seed to give their crop a fighting chance against seed and soil-borne disease and insects. Early seeding is becoming more common in Alberta, however seeding into cold soils can be risky – the seed sits in the soil longer and is vulnerable to threats below the ground. To combat that, seed treatments are helping growers start their season off right.
"Treating seed is a lot like insurance," says Harry Brook, crop specialist with Alberta Agriculture and Forestry. "Ideally, you'd be seeding into warm, moist soils for rapid emergence. But that's the ideal and then there's the reality. Early spring weather is unpredictable and growers have a lot of acres to cover. Seed treatments allow growers to seed when it works best for them without the negative impact early seeding can have on their crop."
Brook says that ideally, soil temperatures would be a minimum of five degrees before seeding begins; however, today many growers attempt to seed as soon as the soil has defrosted. The general rule is the earlier a crop is seeded, the greater the yield potential. But that's only true if it emerges strong and healthy. By keeping disease and insects at bay, seed treatments help offset the risks of a delayed emergence.
Some crops are treated more than others. Canola is treated with combination products that contain both fungicides and insecticides to combat soil-borne diseases as well as protection from flea beetle damage. For cereal growers, the use of seed treatments is becoming more of a requirement, as diseases such as smut, bunt, damping off and root rot are increasing in incidence. And as there is a resurgence of wireworms in Alberta, seed treatment insecticides for cereals become more important. The available seed treatment insecticides put the wireworms in a coma-like state so they are unable to feed during the critical period of emergence.
Tight rotations with little cropping variation have meant an almost province-wide buildup of disease inoculum in the soil, meaning that every season has the potential for damaging disease, regardless of weather the previous season.
"Seed treatments offer security against early season threats, but they won't provide long-term protection," says Brook. "The seed treatment will help you achieve a good seedling, but you may still need to apply a foliar fungicide or insecticide if the conditions warrant it."
Brook cautions that good agronomics are still a crucial component at seeding. "Seeding is risky, and growers are participating in even riskier behaviour by shortening their rotation and seeding really early. Seed treatments are a relatively low-cost insurance. It may not pay every year, but as our disease and insect pressure increases, it will pay more often than not."
New Regulations Standardize Commercial Seed Treatment Processes
Advances in seed treatment technology has produced products that are applied at lower rates for a reduced impact on the environment, coupled with the development of products with several modes of action to offer higher levels of crop protection. While some growers treat seed on-farm, much of the seed treated in Alberta is done by a commercial seed treater.
As commercial application of seed treatments becomes more commonplace, the rules for how certain seed treatments are transported, stored and applied have evolved. As of January 2018, commercial seed treaters that apply designated seed treatment products will be required to follow the standards under the Accredited Seed Treatment Operation Standards as developed by CropLife Canada in co-operation with industry and government groups. Under these standards, designated seed treatment products destined for commercial use on corn, canola and soybeans can only be handled by accredited facilities.
"Today, commercial treaters [that are handling certain products] have a set of industry standards that were developed to ensure [certain] seed treatment products are handled and stored safely," says Russel Hurst, vice-president, Sustainability and Stewardship with CropLife Canada. "Commercial storage and handling facilities [that are handling restricted products] have to follow a set of practices that are checked every two years by a third-party auditor to ensure compliance."
The set of uniform health and safety standards for the storage and handling of seed treated in Canada creates targeted solutions that contribute to improved safety and productivity. The standards were developed by a working group made up of members from industry, government and seed growers. While Alberta already has very high government requirements for commercial seed treatment facilities, these new standards were put in place to make sure everyone treating seed for commercial use is meeting or reaching these goals at a national level.
In Alberta, commercial seed treaters include seed treatment companies, agricultural retail facilities, seed growers who treat commercial seed and seed cleaning co-ops. The new standards include 76 protocols, 66 of which were already covered under existing government regulation, and 10 additional industry best management practices.
"For the long-term sustainability of the seed treatment industry, we needed to be involved in developing these standards in order to create a vibrant industry going forward," says Hurst. "If we didn't come up with these guidelines we risked having standards imposed on us that weren't necessarily in the best interests of the industry."
Effective January 2018, only seed treatment operations that have successfully completed an accredited seed treatment operations standards audit will be able to receive certain seed treatments for application on seed. However, not all seed treatments are on this designated list; only products that are deemed to pose elevated risk to people or the environment are placed on this "restricted-use" list.
"This no-ship policy is similar to what other sectors of the crop input industry have developed," says Hurst. "The fertilizer industry, for example, has these types of protocols in place so that their products are treated with care. We aren't necessarily saying anyone is doing anything wrong, we are just making sure we are all reaching toward the same standards."
Hurst says there can be a fine line between rigorous and onerous standards, but he says the consultation process has been ongoing since 2009 and he thinks the standards developed today are obtainable by Alberta's commercial seed treatment industry. While on-farm treaters are not subject to the same standards, they still are expected to follow the product label and use good management practices when treating their seed.
"These guidelines will likely be updated every five years unless a new regulation or new product is put in place that requires us to adjust our protocols," says Hurst. "Growers want to protect their seed and their crop, and new products are always being added to our list of designated seed treatments. Our standards will change as products and growers' use of them continues to evolve."
CSI Contemplates a Responsive Role for the Future
11 months ago
-
As executive director of the single point of contact for many seed processing and testing establishments in Canada, Roy van Wyk can imagine a future in which the Canadian Seed Institute (CSI) plays a different and more adaptive role than it does now in its response to the outcome of the Seed Synergy Collaboration Project, which is designed to forge a next-generation seed regulatory system for the country.
Currently, CSI is responsible for the oversight of approximately 1,000 Canadian businesses that are either registered seed establishments, authorized importers or accredited seed testing laboratories. Want to be an accredited seed testing lab, an authorized importer, approved conditioner or an accredited bulk storage facility? You must first be audited by CSI.
Van Wyk can see those responsibilities also extending to seed certification itself as the industry begins to build a next-generation seed system through the Seed Synergy Collaboration Project. Currently, the Canadian Seed Growers' Association (CSGA) is responsible for certifying pedigreed seed crop production for all agricultural crops in Canada except potatoes, while the CFIA is responsible for the blue tag and the grade tables.
"One thing I think we'd benefit from is if all the oversight and final certification services were delivered under one roof," van Wyk says.
"The delegation of full responsibility for the labelling of seed with the certification label, namely the blue tag, would move us along quite nicely towards a single window for seed certification. I believe this is one change that could strengthen the industry by demonstrating a stronger sense of ownership and impartiality for seed certification."
CSI was originally formed in 1997 when the Canadian Food Inspection Agency (CFIA) was looking to delegate the oversight of registered seed establishments and accredited seed labs. It was a costly and time-consuming role the government simply didn't want to take on anymore.
Today, CSI has five major industry members — the CSGA, Canadian Seed Trade Association, Commercial Seed Analysts Association of Canada, Alberta Seed Processors and Quebec Conditioners.
Contemplating the role of CSI is nothing new. In the months leading up to its formation in the late 1990s, the seed industry was forced to grapple with the idea of an entirely new organization being formed to take over seed facility inspections, says former CSI executive director Jim McCullagh.
"The hardest work in forming CSI was done through the executives of the CSGA and the CSTA in particular — they were responsible for convincing their memberships this was a good idea," McCullagh says.
"For the CSTA, where many of its members were already looking at ISO 9001 as a quality management system standard, it wasn't too much of a new concept to grasp. For CSGA members, it was more daunting. They were more comfortable with the services being provided by the CFIA, and they had a little more difficulty acknowledging that change was needed."
But change did happen. And van Wyk feels it needs to happen again as the Seed Synergy project begins in earnest. Seed Synergy is tentatively scheduled to provide the federal government with its initial recommendations for a next-generation seed system for the spring of 2018.
In March, the CFIA officially declared its intentions to modify Canada's Seeds Regulations in order to "reduce overlap and redundancy, increase responsiveness to industry changes, address gaps, weaknesses and inconsistencies, and provide clarity and flexibility to affected regulated parties for seeds imported, conditioned, stored, tested, labeled, exported and sold in Canada."
"Our industry as a whole recognizes that so many issues are coming at us, and that seed program modernization is here. There are pressures to streamline our six seed sector associations, and while that might seem like the natural thing to do, it might not necessarily mean any cost savings," van Wyk says.
"Through Seed Synergy, it's easier to see the value each organization brings to the seed industry. We all have very unique roles and responsibilities. For CSI, it's been that much more of an eye-opener, to gain an even deeper understanding of how all those parts fit together."
The Seed Synergy exercise will help CSI gain more knowledge of the other organizations and better understand if there are roles it can take on to help support the other groups, van Wyk adds.
"In 18 months I think the future design for Canada's next generation seed system will be a lot more clear. CSI is still the most relevant model to look to for future discussions on a next-generation seed system. It's still early, and we have a lot of ground to cover, but we're ready to begin talking in a lot more detail and consulting with our clients, members and industry stakeholders to determine what the future seed industry should look like."
Speed breeding technique sows seeds of new green revolution
11 months ago
-
Pioneering new technology is set to accelerate the global quest for crop improvement in a development which echoes the Green Revolution of the post war period.
The speed-breeding platform developed by teams at the John Innes Centre, University of Queensland and University of Sydney, uses a glasshouse or an artificial environment with enhanced lighting to create intense day-long regimes to speed up the search for better performing crops.
Using the technique, the team has achieved wheat generation from seed to seed in just eight weeks. These results appear in Nature Plants.
This means that it is now possible to grow as many as six generations of wheat every year – a threefold increase on the shuttle-breeding techniques currently used by breeders and researchers.
Dr. Brande Wulff of the John Innes Centre, Norwich, a lead author on the paper, explains why speed is of the essence: "Globally, we face a huge challenge in breeding higher yielding and more resilient crops. Being able to cycle through more generations in less time, will allow us to more rapidly create and test genetic combinations and find the best combinations for different environments."
For many years the improvement rates of several staple crops have stalled, leading to a significant impediment in the quest to feed the growing global population and address the impacts of climate change.
Speed breeding, says Wulff, offers a potential new solution to a global challenge for the 21st century.
"People said you may be able to cycle plants fast, but they will look tiny and insignificant, and only set a few seed. In fact, the new technology creates plants that look better and are healthier than those using standard conditions. One colleague could not believe it when he first saw the results."
The exciting breakthrough has the potential to rank, in terms of impact, alongside the shuttle-breeding techniques introduced after the second world war as part of the green revolution.
Wulff goes on to say: "I would like to think that in 10 years from now you could walk into a field and point to plants whose attributes and traits were developed using this technology."
This technique uses fully controlled growth environments and can also be scaled up to work in a standard glass house. It uses LED lights optimized to aid photosynthesis in intensive regimes of up to 22 hours per day.
LED lights significantly reduce the cost compared to sodium vapour lamps which have long been in widespread use but are ineffective because they generate much heat and emit poor quality light.
The international team also prove that the speed breeding technique can be used for a range of important crops. They have achieved up to six generations per year for bread wheat, durum wheat, barley, pea and chickpea; and four generations for canola. This is a significant increase compared with widely used commercial breeding techniques.
Speed breeding, when employed alongside conventional field-based techniques, can be an important tool to enable advances in understanding the genetics of crops.
"Speed breeding as a platform can be combined with lots of other technologies such as CRISPR gene editing to get to the end result faster," explains Dr. Lee Hickey from the University of Queensland.
The study shows that traits such as plant pathogen interactions, plant shape and structure, and flowering time can be studied in detail and repeated using the technology.
The speed breeding technology has been welcomed by wheat breeders who have become early adopters.
Ruth Bryant, wheat pathologist at RAGT Seeds Ltd., Essex, UK, said: "Breeders are always looking for ways to speed up the process of getting a variety to market so we are really interested in the concept of speed breeding. We are working closely with Dr. Wulff's group at the John Innes Centre to develop this method in a commercial setting."
Dr. Allan Rattey, a wheat crop breeder with Australian company Dow AgroSciences, has used the technology to breed wheat with tolerance to pre-harvest sprouting (PHS), a major problem in Australia.
"Environmental control for effective PHS screening and the long time taken to cycle through several cycles of recurrent selection were major bottle necks. The speed breeding and targeted selection platform have driven major gains for both of these areas of concerns."
Source: John Innes Centre
The 4-P Funding Model
12 months ago
-
Taking a look at one very successful Alberta-based initiative.
The 4-P model (public/private/producer partnership) for crop R&D involves funding contributions from government, private companies and producers. This type of initiative is seen as an effective way to pool resources and ensure the growth of total overall investment in variety development in Canada – and according to those directly involved, the 4-P involving Agriculture and Agri-food Canada (AAFC), Canterra Seeds and the Alberta Wheat Commission (AWC) is no exception.
This particular 4-P started in 2014 and runs through to the end of 2018, but Tom Steve reports that discussions about renewal will begin in early 2018.
"It's the main CPSR (Canada Prairie Spring Red) wheat breeding program in Western Canada," says Steve, general manager at the AWC. "Three-quarters of this wheat class is grown in Alberta as it's well-suited to the climate. It goes into both feed and milling markets."
The partnership's main benefit for producers in his view is the continuation of a program that was in danger of being shut down. The main CPSR breeder at AAFC in Winnipeg had retired and the program was in jeopardy, he recalls. AAFC put out a request for partnership proposals in early 2014, and Canterra Seeds submitted one that was accepted in March. AAFC then held discussions with multiple grower groups that had expressed potential interest in participating, and by mid-2014, notes Canterra Seeds president and CEO David Hansen, AWC had joined the partnership with the full support of his company. All three parties are contributing $3.4 million in cash and in-kind items over the five-year timeline.
"It's overall a great way to develop new varieties with higher yields and better disease resistance," Steve notes. "Alberta farmers, through the AWC, will get a share of royalties on seed sales, likely starting with a variety called AAC Crossfield in the fall of 2018, and those royalties will go back into further research investments."
Two other lines are already also approved for registration, and Hansen says there are many new candidates in the variety registration trials "that are showing amazing promise."
Dr. Harpinder Singh Randhawa, based at AAFC Lethbridge, is the partnership's breeder behind these varieties. He notes the 4-P model is not just about funding, but about providing other resources critical to ensuring a strong breeding program moving forward.
"With AAFC sites that have closed, for example the Cereal Research Centre in Winnipeg around 2012, and also the downsizing of satellite research sites, there really was no room for my breeding work," he explains. "Through this partnership, I have access to trial sites through Canterra and this is very important. Money is certainly needed for variety development, but you also need other resources. To have the increased research capacity over a greater geographic area in Saskatchewan, Manitoba and Alberta greatly benefits the research. Canterra is also providing evaluation work."
Canterra Seeds is also providing insight into commercial opportunities, says Hansen, as well as the ability to use different production and commercialization models based on what is best for a particular variety to maximize its distribution and value. In addition, Canterra is providing links to end-users and an understanding of their requirements in Canada and the U.S. in order to help guide development of new varieties in the program.
Beyond all this, Steve lists another benefit of this arrangement for producers: AWC's close relationship with Dr. Randhawa. "It's a great exchange of information," he says.
Hansen agrees. "The relationship among the three partners continues to grow," he notes. "We are well-aligned, and with an effective governance model in place we are able to work well towards the objectives of the agreement. Partnerships make sense when you are able to bring various elements required to the table to further the advancement, versus everyone trying to do things on their own. Wheat is a very complex crop that requires a significant investment in order for it to remain a competitive option for the farmer. This may not apply for all crops, but for wheat and durum, this does seem to be true, and so the arrangement definitely makes sense."
Hansen adds that Canterra Seeds' interest in continuing the three-way relationship is strong, and that it fully intends to explore new opportunities, including perhaps the involvement of Limagrain Cereals Research Canada if it makes sense. Limagrain and Canterra Seeds have a partnership, and this relationship could provide opportunity for expanded future collaboration, including germplasm and breeding tools.
For his part, Steve notes that for AWC, the 4-P model for breeding Canada Prairie Spring Red wheat has been very successful and he looks forward to discussions on a renewal.
"We really like this model, and with it, we have the resources in place for a world-class program," he says. "We look forward to more varieties over the next few years."
Harpinder adds that from his perspective, it would be wonderful to continue on, and he looks forward to sitting down and discussing it early next year.
"It's been wonderful," he says, "to work both with Canterra and also the Alberta Wheat Commission."