Test Kochia Escapes For Glyphosate Resistance
1 year ago
-
Glyphosate-resistant kochia is found in all three Prairie provinces. Kochia produces 15,000 to 25,000 seeds per plant, and mature weeds, once they break from their stems and start to tumble with the wind, can spread these seeds over a fairly wide area. Farmers will want to test escapes for glyphosate resistance so the weeds can be targeted for intense management before they start to shed their seeds. A few hours of hand rouging may be required, but this can be time well spent to stop a small patches from spreading.
Kochia patches are hard to remove, even if kochia is not glyphosate resistant. The weed often takes over saline or otherwise marginal areas where crop barely grows anyway. Farmers may want to consider seeding kochia-infested areas to salt-tolerant perennial forage rather than continue to throw inputs at it. Soil-applied residual herbicides, used ahead of some (non canola) rotational crops, can be effective on kochia, including glyphosate-resistant kochia
Testing For Glyphosate Resistance
– Manitoba's PSI Lab will test kochia for glyphosate resistance. It uses a DNA test to check for the GR trait, so it can test green plant material. Read the test protocols. For sampling tips, see this video from Manitoba Agriculture weed specialist Tammy Jones. Manitoba Canola Growers can get a free test.
– Charles Geddes, AAFC Lethbridge, is with the Prairie Herbicide Resistance Research Lab. The lab is also accepting samples from suspicious kochia patches for evaluation. They will test for glyphosate resistance and also dicamba/fluroxypyr resistance, which, Geddes says, "will be a very big issue especially for pulses and small grain cereals, leaving minimal herbicide options post-emergence." Sampling protocols require leaving at least 20 plants until October and then harvesting at least 2,000 viable seeds. Email [email protected] for more information. Below is a PDF of the submission form and sampling protocols.
Source: Canola Watch
Be On The Lookout For Late Blight
1 year ago
-
This disease affects mainly potatoes and tomatoes and continues to be a risk for all solanaceous crops grown in Alberta.
"Over the last few years, there has been a great deal of concern in Alberta surrounding late blight, a serious disease that affects mainly potatoes and tomatoes," explains Robert Spencer, commercial horticulture specialist at the Alberta Ag-Info Centre.
This disease is caused by a fungal pathogen called Phytophthora infestans. Spencer says that the favourable conditions for disease development, combined with the presence of the pathogen, have resulted in detections of late blight in commercial, market garden and urban potato and tomato crops throughout parts of Alberta in previous years.
"A number of different strains of the pathogen have been identified in different years, each being more or less aggressive on either potatoes or tomatoes. Late blight continues to be a risk for all solanaceous crops – potato and tomato family – grown in Alberta this year."
Spencer says that all growers of potatoes and tomatoes should be vigilant to try to catch any diseased material early on before a significant outbreak can occur. In the early season, growers should watch for:
Tomato transplants and newly emerged potato shoots with water-soaked leaf lesions.
Plants that develop lesions early on in the season or as the season progresses, particularly if conditions are moderate and wet or humid.
Spencer recommends contacting the Alberta Ag-Info Centre to determine if further testing is required and to discuss management.
"Please do not hesitate to report an incidence, as early awareness will help to prevent and contain an outbreak and can help others protect their crops."
He adds that while undertaking identification, producers should dispose of infected material as quickly as possible, removing diseased parts if it is on a small scale, or killing out plants so disease cannot develop further. Protective fungicide applications can be used if conditions favour disease.
Learn more about late blight of potatoes and tomatoes.
Source: Alberta Ag
Fungicides – Are They Needed Every Year?
1 year ago
-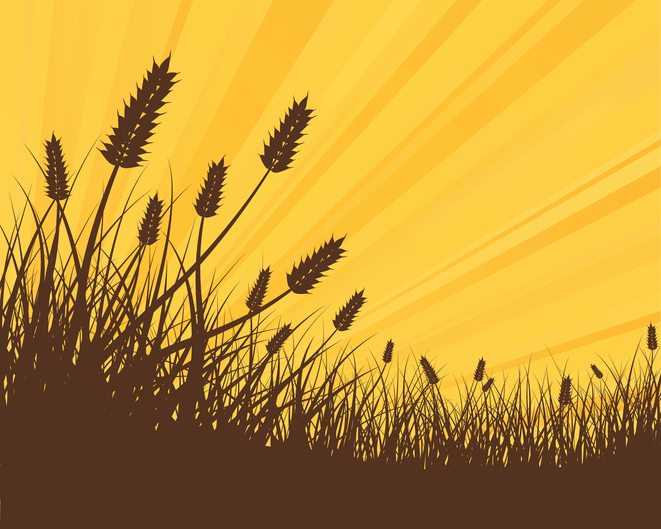 "You need to ask yourself some basic questions when estimating the risk of using fungicides," says Harry Brook, crop specialist at the Alberta Ag-Info Centre. "Asking them can lead to an improved chance that a fungicide will be worth the application."
Brook adds that there are two main cases for spraying fungicide. "They include diseases that have not yet shown symptoms and those that are showing symptoms. The risk factors for each has to be assessed separately."
The easiest risk to assess is for those diseases that already show plant symptoms before spraying, and those are usually leaf diseases.
"Presence of disease symptoms on the lower leaves, coupled with moist weather conditions, is conducive to further spread of the disease and usually means fungicides will be a worthwhile investment," he says. "These diseases include scald and net blotch in barley, septoria and tan spot in wheat, ascochyta and mycospaerella in peas, and blackleg in canola."
"If no symptoms are presenting, it is debatable that spraying will pay. With leaf diseases, it is important to preserve the healthy leaf area for the grain and seed filling part of the life cycle."
Brook says that a more difficult case concerns the need to spray prior to any symptoms appearing, and it is more of a gamble in the case of sclerotinia in canola and fusarium head blight in wheat.
"You must consider the previous year's occurrence in susceptible crops, current and near term weather conditions, your crop rotation, the particulars of the infectious agent and crop and spraying costs. Scorecards can help with the risk assessment. Canola Council of Canada has created a sclerotinia scorecard (PDF, 621 KB). The fusarium risk tool is available on the Alberta Climate Information Service during June, July and August – the susceptible period."
He adds that timing of application of the fungicide is crucial to ensure the protection arrives at the appropriate time. Fungicides only translocate a small distance on the leaf, so adequate coverage and water volumes are required to maximize the protection received from spraying.
Another consideration is air temperatures when applying and the mechanics of the sprayer itself.
"Where the fungicide is applied has a big effect on the type of nozzles to use. For example, spraying to protect from fusarium graminearum in cereals requires spraying the head. You may have to use front and back facing nozzles to adequately cover the head. Even then, expect a fungicide treatment to only give you partial protection. How heavy the crop is will also affect how well the spray penetrates the canopy and gets to the target leaves."
Some fungicides also give an added benefit of improving nitrogen use efficiency in the plant. Actual value of this will also depend on growing and weather conditions.
Weather conditions have the greatest effect on the development of disease on crops. Hot dry conditions are not conducive to the development and spread of disease.
"Tight crop rotations and damp conditions should mean more time in the field scouting for symptoms. Field scouting is essential to identify problems early so there is time to minimize crop losses."
Brook adds that fungicides are a useful tool when, where and how they can best give you a financial benefit. "If the risk is low, do not use that tool. Overuse of pesticide product lead to resistance issues and eventual loss of that tool. Fungicides have a place in production but they are not needed every year."
Source: Alberta Ag
Don't Let Fusarium Upset Your Season
1 year ago
-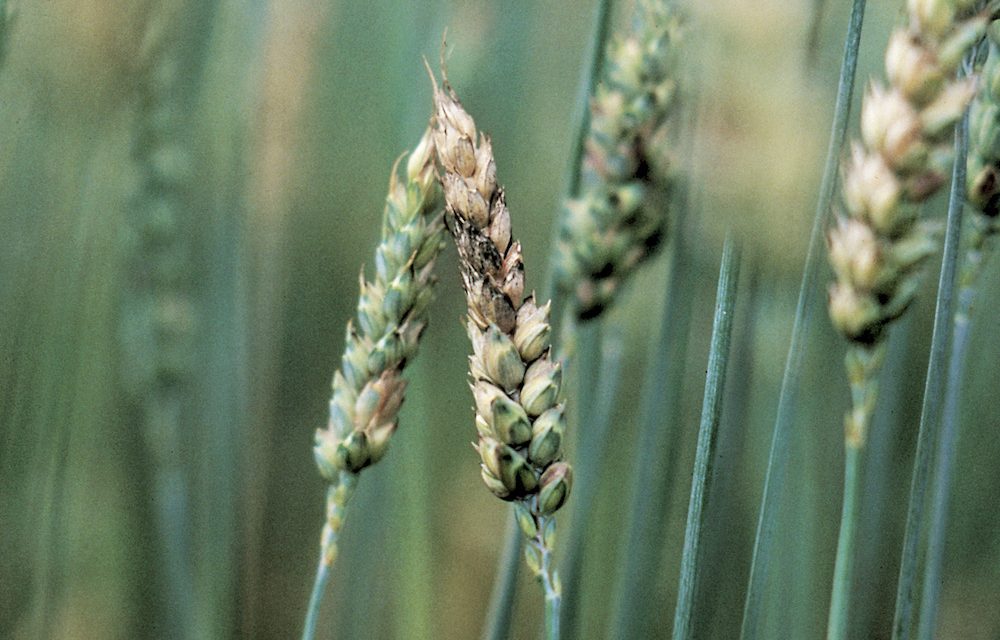 Fusarium head blight (FHB) is a fungal disease of cereal crops. When disease infection is severe, FHB can recognized by premature bleaching and salmon-coloured fungal growth on the heads of crops it has infected. FHB reduces yields, decreases grain quality and may limit crop marketing opportunities.
When FHB infects cereal crops, it can produce mycotoxins such as deoxynivalenol (DON), also commonly known as vomitoxin. As most importing countries have strict limits on DON levels, DON limits the grain's end uses and marketing potential.
To help keep marketing options open and maximize return on investment, Cereals Canada recommends growers use the following practices to manage the disease:
Grow Disease-Resistant Varieties. Growing the most disease-resistant varieties available in areas at risk for FHB is one of the most important decisions in managing the disease. Cereals also vary in their susceptibility: durum is highly susceptible, barley is less susceptible than wheat and oats are the least susceptible cereal crop.
Apply Fungicide When There Is an Elevated Risk Of FHB. The risk of fusarium infection increases when hot, humid or wet conditions persist during head emergence and flowering, taking as little as three days for infection to occur. Timely application of a foliar fungicide with a specialized nozzle or nozzle combination for maximum head coverage can help protect crops from FHB at these critical stages. Producers are encouraged to make use of the provincial specific materials available. For example, the provincial agricultural departments have relevant material on their websites, including risk maps; in Saskatchewan, the FHB risk map is produced by and hosted on the SaskWheat website.
Plan Crop Rotations to Manage Fusarium. Fusarium can overwinter in crop stubble, so planning crop rotations that allow adequate time for residues to decompose before returning to cereal crops is crucial. Rotate away from cereal crops for at least one, and preferably two, years on fields that were recently affected by FHB.
Plant clean seed and consider a seed treatment in high-risk areas to improve the crop stand.
Use a Combination of Best Management Practices to Control Fusarium. Using as many best management practices as possible provides the best chance to limit the severity of fusarium outbreaks. Growing disease resistant varieties, applying fungicides and rotating crops may have the highest impact.
Other options include timing crop development to escape the disease, establishing a strong stand by using high quality, vigorous seed and appropriate seeding rates, avoiding irrigating during flowering and managing crop residue by finely chopping and evenly spreading to facilitate the breakdown of disease infectious structures.
By managing FHB in the field, growers are keeping marketing options open for cereal grains.
Source: Keep it Clean!
Fighting Fusarium Head Blight
2 years ago
-
Cereal growers in Alberta have a new weapon in the fight against fusarium head blight (FHB). It's an online risk assessment tool that helps farmers and agronomists decide whether to apply fungicides based on the likelihood of the disease turning up in their area.
Brian Kennedy, grower relations and extension manager for the Alberta Wheat Commission (AWC), says the tool was launched in the summer of 2017 following requests from wheat producers in the province.
"They had been seeing fusarium risk maps from Manitoba and Saskatchewan … and they asked us to develop something," he says.
The tool was developed for the AWC by numerous partners, including Ralph Wright and Pavel Pytlak from Alberta Climate Information Services, plant pathologist Michael Harding and crop specialist Neil Whatley from Alberta Agriculture and Forestry, and Agriculture and Agri-Food Canada plant disease researcher Kelly Turkington.
"We've been lucky [in that] we've had a couple of years with lower fusarium head blight, but because this is a weather-related disease, growers need to be aware of it and manage their risk by following best management practices every year," says Turkington.
"This was really to get something out and available to producers, so they can start looking at gauging the potential risk of fusarium head blight based on weather conditions."
Turkington says while FHB is a relatively new disease in some areas of the province, the disease risk is more widespread in Alberta than it was a decade ago.
"The pathogen has become more frequently found not only in southern Alberta, where it causes production issues and downgrading and so on, but also outside of that region," he says.
"We're at a point now that in a number of areas in Alberta, producers are not so much concerned about introducing the pathogen as they are about effectively managing it so that the impact on yield and especially grade and also mycotoxin contamination is mitigated as best possible."
Weather Station Data
The FHB risk assessment tool works by pulling data from weather stations across Alberta to provide a localized risk warning gauge. This data consists of nearly 130,000 hourly weather observations that Alberta Climate Information Services collects every day from over 370 stations provincewide.
"We think it's a great use of the data that the weather stations are collecting," says Kennedy.
The disease severity is calculated on a Manitoba FHB risk assessment model that's based on air temperature, relative humidity and rainfall over the previous seven days. The Alberta tool is active between June 1 and August 15 each summer, the time when a wheat crop is most susceptible to FHB infection and corresponding losses, both in terms of yield and quality.
The tool, which is designed to be viewed on mobile devices, can be found at agriculture.alberta.ca/acis/fusarium-risk-tool.jsp. The website also includes best management practices for controlling fusarium head blight.
To access the FHB risk gauge, users click on a red pin in the top left corner which opens up a map of Alberta with all of the weather stations marked with a green dot. They can then zoom in and click on the green dot closest to their field, which then brings up the risk gauge for that location.
"A farmer can look at the weather station closest to their field and keep an eye on that, and when they see that it is high risk and their crop is in the floret stage when it's liable to be infected, then they can make a decision on whether or not to apply a fungicide," says Kennedy.
Turkington says for some producers, "having this additional piece of information provides some peace of mind."
Kennedy points out that wheat farmers who apply fungicides regularly to guard against FHB infection can save money with the tool by not having to spray as often. By only spraying when the FHB risk is highest, he says, "this also mitigates the risk of resistance building up in the fungus."
Kennedy says he has heard good things about the FHB risk assessment system from growers across the province. "They see it as a useful tool."
Kennedy cautions that weather isn't the only consideration when assessing FHB risk. Farmers need to be aware of other risk factors such as:
The stage of the crop
The level of fusarium infestation in their area
The susceptibility of the variety seeded
If the seed was infected with fusarium
If a seed treatment was used
The history of the crop rotation in the field
Past stubble and straw management practices
New Features
Kennedy says the system's developers chose a mobile friendly website rather than an app as a platform for the tool to make it easier to use.
"The advantage for users is they don't have to install something on their mobile device. We tend to get a lot of apps on our devices that are always updating or sending us reminders, which leads to a lot of them being deleted. So, if this is added to their favourites on their browser on their phone, they can look at it at any time without having to install any software," he says.
Kennedy notes that a number of new features were added to the tool this past growing season, including pest management recommendations and risk assessment maps for alfalfa weevil, bertha armyworm and wheat midge.
Data related to growing degree days and corn heat units was also added in 2018, and there are discussions about adding more features in 2019, Kennedy says.
According to Turkington, the hope is to update the model for weather predictions in the risk calculations for fusarium head blight.
"The models are continually being refined," he says. "If you look at some of the recent risk maps in the United States, they're starting to focus now on mean relative humidity over the previous 14-day period, but it was felt we could start with the model version currently being used in Manitoba, at least in the initial phases of the project and then update as needed."
Kennedy says more work needs to be done across the entire Prairie region to ground-proof the disease risk assessment models for Western Canada, and that it'll take a couple of years of scientific study to incorporate weather forecasts into the Alberta FHB tool.
Southern Alberta Clubroot Response Workshop
2 years ago
-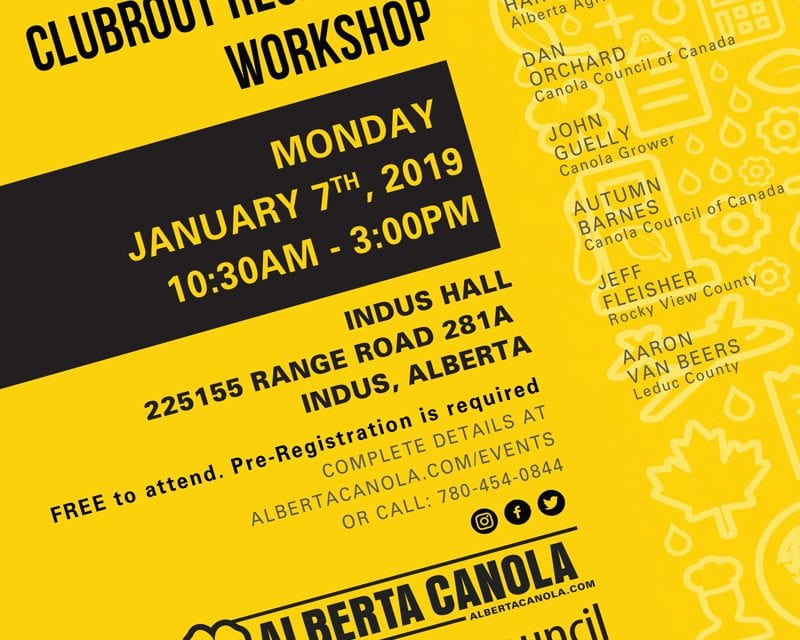 Clubroot was confirmed in 4 fields southeast of Calgary in the fall of 2018.
This meeting will help you gain a better understanding of the clubroot pathogen in the context of southern Alberta and teach you how to limit the impact of clubroot on your community.
There will be plenty of time for discussion, and representatives from southern Alberta municipalities and seed companies will be available for questions throughout the day.
SPEAKERS & TOPICS
Local Clubroot Situation Update
Autumn Barnes – Agronomy Specialist, Canola Council of Canada
Clubroot Biology, & Scouting Protocols
Michael Harding – Research Scientist, Plant Pathology Alberta Agriculture & Forestry
Finding Clubroot for the First Time: how growers can cope, action plans, realistic sanitation options and hindsight
Dan Orchard, – Agronomy Specialist, Canola Council of Canada
John Guelly – Canola Grower and Alberta Canola Director
Understanding Clubroot Pathotypes and When to Deploy Resistant Varieties
Stephen Strelkov – Professor and Clubroot Research Scientist,  University of Alberta
Perspectives from Municipalities
Jeff Fleisher –  Rocky View County
Aaron Van Beers – Leduc County
For more information, click here.
Source: Alberta Canola
Pea Leaf Weevil Risk Map from 2018 Survey Season
2 years ago
-
The annual pea leaf weevil (PLW) survey that is conducted by the Alberta Insect Pest Monitoring Network was released in early December. This important tool can provide insight into PLW pressure in your region of the province. The Alberta Insect Pest Monitoring Network is a collaboration between Alberta Agriculture & Forestry staff, independent agronomists and pulse growers across the province who cooperate in providing access for monitoring and survey of adult feeding. While the maps represent observed notching in the leaves of pea and faba bean plants by the adults, the damage is done by below ground feeding on nodules by the larvae. The publication of these maps is not a forecast for the 2019 growing season, but rather a summary of where adult feeding was located.
The only tool growers currently have to suppress the damage (as control is defined as >80% reduction) is through seed treatment with a registered neonicotinoid. Thiamethoxam (CruiserTM) and Imidacloprid (Stress ShieldTM) are the actives that can provide a window of protection so that pulse seedlings and their newly-formed nodules can symbiotically fix atmospheric nitrogen into a usable form for the plant.
Scott Meers, who leads the Alberta Insect Pest Monitoring Network, advises growers treat pea and faba bean seed when in regions with PLW pressure and along boundaries of where adult populations are present.
"Seed treatment is the only effective tool to limit the damage from this pest," Meers said. "A foliar insecticide is not recommended as it is simply a revenge killing. The adult populations overwinter in alfalfa, roadside perennial legumes and pulse stubble. They move into new pea and faba bean crops in the spring. Goliath spraying does little to limit overall population or protect against yield loss."
Research is underway to better understand the impact of PLW on the yield of peas and faba beans. There is also the ongoing hunt to find natural predators of this pest. Information on predators and parasitoids of many of the insect pests across Alberta and the prairies are available through the Field Heroes initiative. In preparation for the 2019 growing season, Alberta pulse growers should familiarize themselves with the PLW life cycle, and the current PLW pressure in their region. It is also recommended that growers inform themselves as to the natural predators and parasitoids that are present in their fields, keeping problem insect pest populations in check.
Full PLW map and other information PLW life cycle information available here: http://www1.agric.gov.ab.ca/$Department/deptdocs.nsf/all/prm16763
Field Heroes initiative and information is available here: http://www.fieldheroes.ca/
Source: Alberta Pulse Growers
Clubbing Clubroot: An Update On Breeding Clubroot-Resistant Canola
2 years ago
-
On the Prairies, clubroot appeared in Alberta in 2003, in Saskatchewan in 2008 and Manitoba in 2013. As any grower can tell you, it's a nasty canola disease that usually worsens in a field every year, partly because the spores are very easy to spread and so hardy they can survive for up to two decades in the soil. Combine this fact with the strong prices that canola fetches these days – widely encouraging back-to-back or two-year rotations – and you have a big problem.
Companies are certainly moving as quickly as possible to produce seed with effective resistance to clubroot, but breeding to defend against this particular pathogen involves navigating a wide range of complex challenges.
"Clubroot has a very short lifecycle resulting in several generations per season," explains Dr. Marcus Weidler, vice president of seed operationsat Bayer CropScience, "enabling the pathogen to react to changes in its environment very quickly, including new crop resistance genes."
Dr. Jed Christianson,pathology lead at Monsanto Canada, explains that clubroot's large and quickly-adapting population sizes means that it takes relatively long canola rotations of three or four years to see significant drops in the number of viable spores in the soil, and very long rotations of over 10 years for spores to effectively disappear.
"Each gall produced on a canola root can contain billions of spores," he says. "So, given the numbers of spores generated, even very rare events like the emergence of individual spores that have gained the ability to infect resistant canola will happen over a fairly short number of cropping cycles. A one in a billion event doesn't seem that unlikely to happen when you're given 20 billion chances."
Combine this with the fact not all clubroot pathotypes (races) have been identified, and it's therefore difficult, explains Weidler, to develop a canola variety that is resistant to all potential pathotypes to which a plant may be exposed.
Dr. Igor Falak reminds us that it was in2013 that a new clubroot pathotype was identified, one to which all canola varieties on the market carrying resistance to the original 2003 pathotype were susceptible. Although hybrids with the initial type of resistance continue to hold their own on most infested acres, the number of fields with the new pathotype is increasing annually. Falak, senior research scientist with Corteva Agriscience, blames this situation on "years of canola-on-canola."
In addition, he notes that although clubroot "is similar to another disease of canola (blackleg), where canola products may carry race specific resistance," clubroot-resistant canola varieties "do not have 'fallback' resistance mechanisms, unlike blackleg-resistant products that also have a different type of stable resistance."
More breeding challenges are found in the fact that because canola plants carry no clubroot resistance genes, all the major seed companies are actively testing resistance genes found in rutabaga, cabbage and turnip. However, Weidler notes that because these species are only remotely related to canola, it's far from easy to transfer genes between them without also transferring additional unwanted genetic "baggage" that negatively impacts yield, canola quality or agronomics.
If all this wasn't enough, clubroot is a challenging organism to deal with, having unique characteristics – described by Weidler as a form of life "somewhere between a bacterium and a fungus."
Christianson concludes that the biggest challenge in creating clubroot-resistant canola seed is to introduce resistance "while continuing to improve hybrid performance for yield, maturity, standability, resistance to other diseases, harvestability, seed quality and all of the other attributes that are important to growers' success."
Breeding Steps to Develop Clubroot-Resistant Canola Seed
Christianson says the steps involved in breeding clubroot-resistant varieties are relatively simple, and that any breakthroughs relating to resistance genes "are really just the discovery and characterization of more of them through concerted screening efforts."
The entire process is a matter of crossbreeding canola with resistant relatives through normal pollination procedures and recovering offspring that are clubroot-resistant. "Those offspring then have to be crossed with canola again and again through many generations, selecting the resistant offspring at each generation for use in the next cycle to obtain plants that maintain resistance, but have recovered the characteristics of high-performing canola," Christianson explains.
Weidler adds that unwanted genetic material from the resistance donor that negatively impacts the agronomic performance of the offspring is removed through several crossings of the offspring with elite parent stock. "Using molecular breeding tools, we can check the progress towards the end goal," he notes. "Ideally, only the genetic sequence conferring clubroot resistance has been transferred and no other parts of the donor genome remain in the offspring."
Breeding Progress
DowDupontwasthe first company in Canada to market clubroot resistant hybrids in 2009 (45H29).
"Our hybrids have multi-source and multi-race resistance to clubroot, and have a high level of resistance to the most prevalent clubroot race – race 3 – along with resistance to races 2, 5, 6 and 8," Falak notes. Pioneer has new canola hybrids that contains a new source of clubroot resistance that confers resistance to both the initial type and new pathotypes, and can be rotated with the original resistant hybrids."
For its part, Bayer CropScience has "identified several new potential resistance sources," says Weidler, "and we have been able to demonstrate that these are different from what is currently on the market."
Christianson says that as Monsanto nears "actual commercial entry into the marketplace, we will have more to share about how second-generation resistance fits in with existing resistance traits to provide a sound disease management strategy."
No matter what resistant canola varieties are marketed, no company can predict how long a new variety will last before it's compromised. This depends on too many factors, explains Weidler, including the resistance gene, environmental conditions and management practices.
All the companies strongly agree that the existence of varieties with resistance is only part of the clubroot solution.
Weidler emphasizes the importance of an integrated disease management approach for clubroot, and fully supports the recommendations of the Canola Council of Canada.
Falak and Christianson echo the sentiment. "All resistance traits will be effective for longer periods of time if they are used judiciously," says Christianson. "Choosing resistant seed is only one part of a successful disease management strategy. Growers need to include crop rotation, field scouting and early detection of clubroot, and minimizing soil movement between fields on equipment."
Falak agrees. He says following a proper canola rotation as well as rotation of resistance genes, combined with preventing soil movement and other agronomic measures "would enable sustainable clubroot management that would prolong efficacy of any new resistance sources that are introduced."
How to Test Soils for the Clubroot Pathogen
2 years ago
-
Soil tests for clubroot can have two objectives:
1. Is the clubroot pathogen present? (Yes/No test) This could be done with just one composite sample per field. Take samples (scoops) from higher-risk areas, such as field entrances, low spots or a water run that may bring resting spores into the field. For more refined results, send individual samples from each 'hot spot' to better understand the distribution of the pathogen within a field.
Farmers can use a 'yes' result to confirm that they should grow clubroot-resistant (CR) varieties. The general recommendation is to use CR varieties as soon as clubroot is found in the area (which are now most areas of the Prairies). A 'yes' result should also encourage heightened biosecurity and sanitation measures to keep clubroot from spreading within that field and to other fields.
Experience has shown that a positive result may not immediately lead to noticeable levels of clubroot. Resting spore levels could be too low for infection to be visible. Environmental conditions may not be conducive. Spores may not be viable. But soil tests can complement plant scouting practices for early detection of clubroot.
As a winter project, farmers could save the buckets of sampled soil and use it to grow canola plants to see if they produce galls. Remember, clubroot prefers moist and warm soil so keep the soil wet, but not saturated, and in a warm environment.
2. What is the resting spore count per gram of soil? (Quantitative test) In addition to the yes/no test, labs can also measure the amount of resting spores per gram of soil. Sample to a 15cm depth as spores in the top layer are most likely to cause yield-limiting infection. Quantitative results could be used to assess the clubroot risk level, but the 'grey-area' nature of this test creates problems for interpretation. Fewer spores mean lower risk, but clubroot infection can still occur at 1,000 spores per gram of soil, or less. If one field has 10,000 spores per gram and the neighbouring field has 100,000, both fields have a problem. And if a test shows 1,000,000 spores per gram, the field is clearly at risk and symptoms are likely to appear under most conditions.
Adding to the grey area is that results can be different depending on the lab (results cannot be compared lab to lab because of their different sampling, storage, extraction and analysis protocols) and the soil sampling location.
When sampling to determine the spore load in a heavily-infested area, collect samples from only that area as a composite sample from other areas may dilute the spore concentration. However, to get a fair estimate of spore load within a heavily-infested area, include soil from the canola row and from between the rows.
Eventually other objectives may be added – How many spores are actually viable and alive? What pathotypes are present and at what numbers? – which could be used to choose a variety with resistance to the predominant pathotypes in a field. This test for differing pathotypes, similar to the blackleg system, is not ready but significant progress has been made.
Source: Canola Watch
Clubroot Identified in Rocky View County Southeast of Calgary
2 years ago
-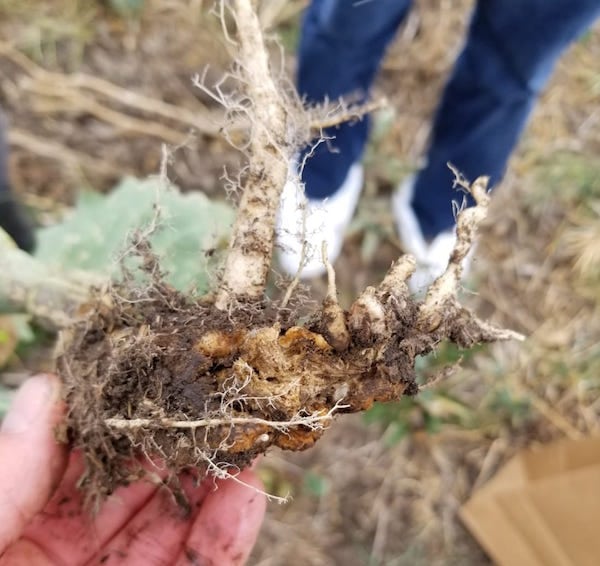 Clubroot has been identified in canola southeast of Calgary. Although clubroot has been found in various counties in Alberta since 2003, this is the first year the disease has been confirmed in Rocky View County.
This fall, southern Alberta canola growers should be especially diligent in scouting their canola fields for clubroot and should consider deploying resistant varieties in future canola production cycles.
Identifying clubroot as early as possible and keeping the pathogen's spores from spreading are important steps in long-term clubroot management. With early detection, growers can take steps to contain and minimize spore loads and protect their fields. ANY method of soil movement can move the clubroot pathogen's spores, such as tillage, dirt/dust on equipment and straw, wind or water erosion, and even animals.
Under high disease pressure, above-ground symptoms of clubroot can include stunted growth, wilting and premature ripening. These symptoms should not be mistaken for drought stress, which was common throughout southern Alberta this year. Start looking for the disease around field entrances and in areas with higher moisture or where soil movement may have occurred in a field's history. Proper diagnosis should always include digging up plants to check for gall formation on roots. This time of year, many galls will likely have matured and decomposed into a peat-moss-like (or sawdust-like) substance around roots. If growers or agronomists find galls or a substance that looks like it might have been galls, samples can be sent to a lab for proper diagnosis. Find the labs list at clubroot.ca.
Source: Canola Watch