Clubroot Management: Harvest Theme
2 years ago
-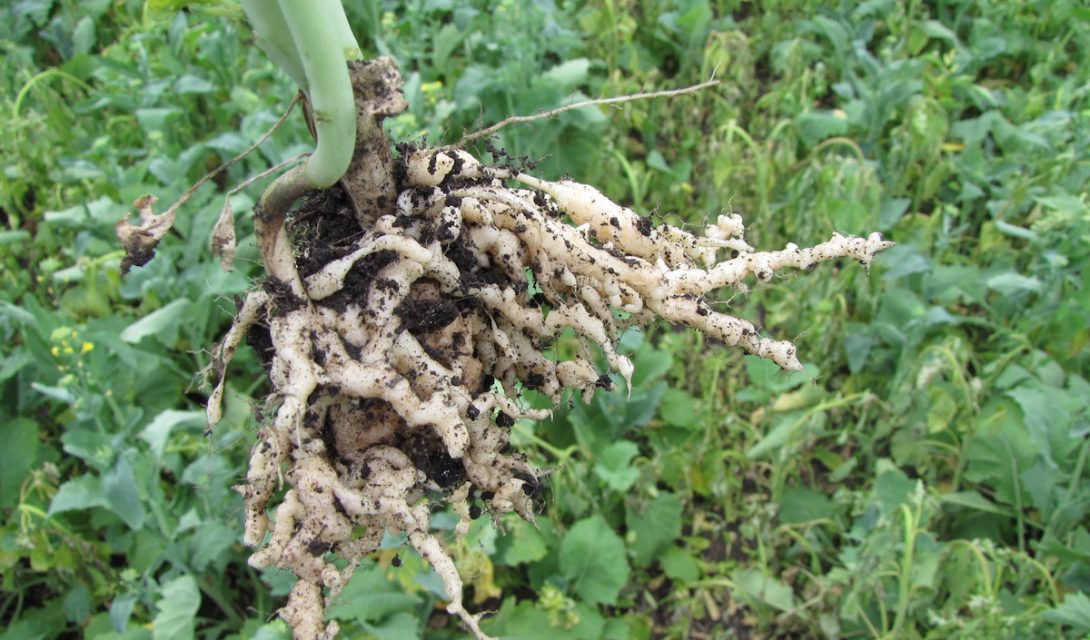 Look. During harvest scouting, carefully examine the roots of unhealthy looking plants and also random plants chosen from around the field. Start in high risk areas, such as field approaches, then fan out in a "W" pattern. By this time of year, galls may start to break-down. Decaying galls will have a sawdust-like look and texture. If in doubt, send plant samples to a lab for identification. How to scout.
Test. Soil tests to determine if a field has clubroot could be done with just one or two composite samples taken from high-risk areas – like the field entrance or a water run that may bring spores into the field. Labs that do clubroot testing.
Clean. Moving soil means moving clubroot. Because more soil clings to machinery in wet conditions, wet harvests will increase the risk of clubroot movement on harvest machinery and trucks. How clubroot spreads.
Fields known to have clubroot could be done last to avoid spreading soil to other fields that do not have clubroot. Doing clubroot-infested fields last also means you'll have more time to give equipment a thorough cleaning before bringing it home. If not doing those fields last, try to knock off as much mud and dust as possible before leaving the field and going to the next one.
(No) Tillage. Do not work infested fields when they are wet because more mud will stick to equipment and could be transported to clean fields. Note that fertilizer banding in the fall will move some soil. Growers will want to be conscious of clubroot when bringing in rented applicators and when NH3 nurse tanks are delivered. Perhaps clean the applicator before bringing it to the farm and take nurse tank deliveries at a fixed location at the edge of the field. When choosing a delivery location, perhaps avoid the main field entrance if possible since it will be one of the highest risk areas for potentially spreading clubroot to other fields.
Talk. If clubroot is found for the first time, report it to your neighbours and county or municipal office. As noted in discussions at the International Clubroot Workshop, people need to realize that clubroot is the "bad guy" here. Farmers who discover clubroot early and take action should be commended. Read our Top 10 from the ICW.
Source: Canola Watch
Scouting for Fusarium Head Blight Symptoms in a Developing Crop
2 years ago
-
Scouting for fusarium head blight (FHB) symptoms is key to realizing whether a field is a candidate for the application of a FHB plan. Neil Whatley, crop specialist at the Alberta Ag-Info Centre, explains its importance and what to look for when scouting.
Fusarium head blight is a fungal disease of cereal crops that affects kernel development. "While caused by one or more species, Fusarium graminearum is considered the most important FHB species due to its aggressiveness and production of a toxin called deoxynivalenol (DON)," says Whatley. "This mycotoxin is a fungal chemical that affects livestock feed, the baking and milling quality of wheat, and the malting and brewing qualities of malt barley. Canadian Grain Commission grading standards allow very little tolerance of Fusarium damaged kernels (FDK) in the top grades of cereals."
Whatley says that to limit the impact of FHB, grain producers must use a combination of disease management strategies throughout the growing season. "The first step in this strategy is realizing whether the disease is present in a developing crop by searching for disease symptoms. Additionally, learning whether Fusariumgraminearum is the dominant FHB species under observation and becoming aware of its prevalence and severity contribute to this first step toward potentially reducing its negative impact."
FHB symptoms become visible in a cereal crop during the later heading stage. While disease infection takes place a few weeks prior at the flowering stage, symptoms appear when the plant reaches the late milk to early dough stage. "For spring seeded cereals, this typically occurs during the last part of July or early August," explains Whatley. "Once symptoms are present, it is too late to apply a fungicide, however, this information is valuable for your FHB disease management plan in subsequent growing seasons."
The most apparent FHB disease symptom in wheat is premature bleaching of one or more infected spikelets in the cereal plant's head, which is visibly apparent on green heads. Orange, pink or salmon coloured fungal growth may also appear at the base and edges of the glumes on these blighted head parts. Symptoms in barley are much less distinct and the brownish discolouration of FHB infected barley spikelets can easily be confused with hail damage or the extended symptoms of other barley diseases like spot blotch, i.e. kernel smudge.
"If these symptoms are observed in a field, send the suspicious looking cereal head samples to a laboratory," notes Whatley. "Several private seed company labs offer FHB testing services and the only way to confirm whether the affected heads contain FHB infection is to have them tested by a lab. Additionally, a lab test will determine whether the Fusarium species is indeed Fusarium graminearum or one of the less damaging fusarium species."
Infection timing determines the severity of kernel damage. Explains Whatley, "While infection occurring at early flowering can lead to complete abortion of kernels, fusarium damaged kernels generally result from infection that occurs from the early to mid-flowering stages. Later infections that occur well after flowering and up to the soft dough stage of kernel development may not show visible symptoms. However, kernels may contain the fungus, and more importantly, the mycotoxin it produces."
For more information about scouting for FHB symptoms, contact the Alberta Ag-Info Centre at 310-FARM (3276).
Source: Alberta Agriculture and Forestry
Increasing Numbers of Weeds are no Longer Responding to Herbicides
2 years ago
-
Weed resistance to herbicides has been an issue in crop production for many years. However, it is is coming to the forefront as increasing numbers of weeds are no longer responding to herbicides.
"Most producers are aware of the issue but, unless it affects them directly, don't see it as a huge issue," says Harry Brook, crop specialist with Alberta Agriculture and Forestry. "For example, resistance to glyphosate – commonly known as RoundUp – is found in other parts of the world and Canada. We also now have glyphosate resistance in kochia in southern Alberta and it continues to spread. These should serve as a wake-up call to producers to the importance of rotating different herbicide groups when treating problem weeds. Failure to take this problem seriously will eventually result in the loss of our most popular weed control products."
Herbicide resistant wild oats can be found in many field in the province. Some biotypes are resistant to more than one herbicide group.
"In Manitoba in 2016, 78 per cent of fields sampled had some group 1 resistant wild oats. The majority of herbicides used for wild oat control are in this group. If wild oats is resistant to a single herbicide in a chemical group, it's pretty well resistant to all the herbicides that use that particular mode of action. Also in 2016, group 2 resistant wild oats was found in 43 per cent of Manitoba fields, and 42 per cent had wild oats resistant to both group 1 and 2. These numbers would be similar in Alberta. Soil-applied wild oat control is in group 8, which is older chemistry and has seen a resurgence in use. Cases of resistance to group 8 herbicides is increasing, despite it not being used much in the last 20 years."
Cleavers, kochia, chickweed, spiny annual sow thistle, hemp nettle, green foxtail, wild mustard, smartweed, Russian thistle and stinkweed have all developed resistances to group 2 herbicides, says Brook. "That group contain the sulfonylureas, the "imi's" and florasulam. Weed surveys from 2014 to 2017 estimate about 7.7 million acres or more in Alberta have some weed resistance issue."
Brook says there are a few ways to detect a herbicide resistance issue. "Investigate areas in the field where weed control didn't occur. Rule out other factors that might have affected herbicide performance including misapplication, spray misses, unfavourable weather conditions, and misapplication of herbicide at wrong leaf stage or late weed flushes. Other warning signs include other weeds listed on the herbicide being controlled adequately, patchy control with no reasonable explanation, a history of herbicide failure in the same area, lack of signs of herbicide injury on plants, and finally, a history of using the same herbicide group on the land, year after year."
Brooks says when a producer uses the same herbicide or products using the same mode of action, they are actually helping select for those plants that are either not affected or affected less by the active ingredient than other plants. "By killing off susceptible plants, you are actually setting the stage for the resistant ones to thrive as all their competition is killed off."
Herbicides that have one specific mode of action are most likely to develop resistant weeds. "Group 1 and group 2 herbicides fall into this category," says Brook. "However, the most important reason for having resistance show up is due to repeated use of the same chemical. Short crop rotations and a lack of crop variety has set up the conditions to encourage weed resistance to emerge."
Canada has reported resistance issues in weeds to at least six different herbicide groups. "If we ignore the risk of developing resistances, the day may come when we might lose some of our best herbicide tools from the weed management tool box. Pay attention. Scout your fields. Keep field records. Use a good crop and herbicide group rotation to keep this problem at bay. The consequences of not doing so are not cheap or pretty."
For more information about herbicide resistance, contact the Alberta Ag-Info Centre at 310-FARM (3276).
Source: Alberta Agriculture and Forestry
Clubbing Clubroot
2 years ago
-
On the Prairies, clubroot appeared in Alberta in 2003, in Saskatchewan in 2008 and Manitoba in 2013. As any grower can tell you, it's a nasty canola disease that usually worsens in a field every year, partly because the spores are very easy to spread and so hardy they can survive for up to two decades in the soil. Combine this fact with the strong prices that canola fetches these days – widely encouraging back-to-back or two-year rotations – and you have a big problem.
Companies are certainly moving as quickly as possible to produce seed with effective resistance to clubroot, but breeding to defend against this particular pathogen involves navigating a wide range of complex challenges.
"Clubroot has a very short lifecycle resulting in several generations per season," explains Dr. Marcus Weidler, vice president of seed operations at Bayer CropScience, "enabling the pathogen to react to changes in its environment very quickly, including new crop resistance genes."
Dr. Jed Christianson, pathology lead at Monsanto Canada, explains that clubroot's large and quickly-adapting population sizes means that it takes relatively long canola rotations of three or four years to see significant drops in the number of viable spores in the soil, and very long rotations of over 10 years for spores to effectively disappear.
"Each gall produced on a canola root can contain billions of spores," he says. "So, given the numbers of spores generated, even very rare events like the emergence of individual spores that have gained the ability to infect resistant canola will happen over a fairly short number of cropping cycles. A one in a billion event doesn't seem that unlikely to happen when you're given 20 billion chances."
Combine this with the fact not all clubroot pathotypes (races) have been identified, and it's therefore difficult, explains Weidler, to develop a canola variety that is resistant to all potential pathotypes to which a plant may be exposed.
Dr. Igor Falak reminds us that it was in 2013 that a new clubroot pathotype was identified, one to which all canola varieties on the market carrying resistance to the original 2003 pathotype were susceptible. Although hybrids with the initial type of resistance continue to hold their own on most infested acres, the number of fields with the new pathotype is increasing annually. Falak, senior research scientist with Corteva Agriscience, blames this situation on "years of canola-on-canola."
In addition, he notes that although clubroot "is similar to another disease of canola (blackleg), where canola products may carry race specific resistance," clubroot-resistant canola varieties "do not have 'fallback' resistance mechanisms, unlike blackleg-resistant products that also have a different type of stable resistance."
More breeding challenges are found in the fact that because canola plants carry no clubroot resistance genes, all the major seed companies are actively testing resistance genes found in rutabaga, cabbage and turnip. However, Weidler notes that because these species are only remotely related to canola, it's far from easy to transfer genes between them without also transferring additional unwanted genetic "baggage" that negatively impacts yield, canola quality or agronomics.
If all this wasn't enough, clubroot is a challenging organism to deal with, having unique characteristics – described by Weidler as a form of life "somewhere between a bacterium and a fungus."
Christianson concludes that the biggest challenge in creating clubroot-resistant canola seed is to introduce resistance "while continuing to improve hybrid performance for yield, maturity, standability, resistance to other diseases, harvestability, seed quality and all of the other attributes that are important to growers' success."
Breeding Steps to Develop Clubroot-Resistant Canola Seed
Christianson says the steps involved in breeding clubroot-resistant varieties are relatively simple, and that any breakthroughs relating to resistance genes "are really just the discovery and characterization of more of them through concerted screening efforts."
The entire process is a matter of crossbreeding canola with resistant relatives through normal pollination procedures and recovering offspring that are clubroot-resistant. "Those offspring then have to be crossed with canola again and again through many generations, selecting the resistant offspring at each generation for use in the next cycle to obtain plants that maintain resistance, but have recovered the characteristics of high-performing canola," Christianson explains.
Weidler adds that unwanted genetic material from the resistance donor that negatively impacts the agronomic performance of the offspring is removed through several crossings of the offspring with elite parent stock. "Using molecular breeding tools, we can check the progress towards the end goal," he notes. "Ideally, only the genetic sequence conferring clubroot resistance has been transferred and no other parts of the donor genome remain in the offspring."
Breeding Progress
DowDupont was the first company in Canada to market clubroot resistant hybrids in 2009 (45H29).
"Our hybrids have multi-source and multi-race resistance to clubroot, and have a high level of resistance to the most prevalent clubroot race – race 3 – along with resistance to races 2, 5, 6 and 8," Falak notes. "We have five hybrids with clubroot resistance: 45H29, 45H33, 45CS40, 45CM36 and 45H37. Pioneer hybrid 45CM36 is one of our newest products that contains a new source of clubroot resistance that confers resistance to both the initial type and new pathotypes, and can be rotated with the original resistant hybrids."
Hybrid 45CM36 was launched in 2017 and is widely available to western Canadian famers for the 2018 growing season.
For its part, Bayer CropScience has "identified several new potential resistance sources," says Weidler, "and we have been able to demonstrate that these are different from what is currently on the market."
Christianson says that as Monsanto nears "actual commercial entry into the marketplace, we will have more to share about how second-generation resistance fits in with existing resistance traits to provide a sound disease management strategy."
No matter what resistant canola varieties are marketed, no company can predict how long a new variety will last before it's compromised. This depends on too many factors, explains Weidler, including the resistance gene, environmental conditions and management practices.
All the companies strongly agree that the existence of varieties with resistance is only part of the clubroot solution.
Weidler emphasizes the importance of an integrated disease management approach for clubroot, and fully supports the recommendations of the Canola Council of Canada.
Falak and Christianson echo the sentiment. "All resistance traits will be effective for longer periods of time if they are used judiciously," says Christianson. "Choosing resistant seed is only one part of a successful disease management strategy. Growers need to include crop rotation, field scouting and early detection of clubroot, and minimizing soil movement between fields on equipment."
Falak agrees. He says following a proper canola rotation as well as rotation of resistance genes, combined with preventing soil movement and other agronomic measures "would enable sustainable clubroot management that would prolong efficacy of any new resistance sources that are introduced."
Pioneering work on Fusarium head blight in rye
3 years ago
-
Unlike other cereal crops affected by Fusarium head blight (FHB), very little is known about FHB in fall rye from a Canadian perspective. We don't know how serious a concern FHB might be in our rye crops. We don't know which Fusarium species are infecting rye. We don't have FHB ratings for our current rye varieties. And we have limited information on optimal timing for fungicide applications to manage FHB in rye.
So Jamie Larsen with Agriculture and Agri-Food Canada (AAFC) at Lethbridge and Anita Brûlé-Babel with the University of Manitoba have teamed up on a project to develop FHB-related information and tools that rye growers need.
"This research is new territory from a Canadian and even a North American perspective," says Larsen, who has breeding programs for open-pollinated fall rye and several other cereals.
"Rye has not had a lot of attention from Canadian researchers and growers for a very long time. But the playing field has changed with the new rye hybrids. They are significantly higher yielding, they are shorter, and they are easier to harvest. So now there is renewed interest in rye," notes Brûlé-Babel. "It's important to get a sense of how rye responds to Fusarium head blight and whether there is going to be an issue with the disease and what rye growers should do in conditions where Fusarium is a concern."
Larsen became interested in the issue due to several factors that have emerged in recent years. "Initially when I started working in rye, I had looked at the literature and I thought the disease wasn't a major problem. Also, the main areas where rye is traditionally grown – north of Swift Current and around the Great Sand Hills area in Saskatchewan – aren't huge Fusarium head blight areas. And rye has this natural ability to be tolerant to a lot of diseases. So I wasn't too worried about Fusarium head blight," he explains.
"But then I sent some rye varieties to Ontario as checks in a triticale experiment. And as I was walking along in those plots, I saw a rye variety with its head completely glued shut and pink with Fusarium. I'd never seen anything like it." As well, he found out FHB occurs in Prairie rye crops through his work as the coordinator for the fall rye cooperative registration trial. Each year, the trial is grown at 15 locations across Western Canada, and in some years Fusarium-damaged kernels (FDK) have been found in the grain samples from the trials.
Another driver for Larsen was the potential, especially with the new hybrids, to sell more rye into the feed and food markets. To help in realizing that potential, he saw the need to know more about FHB's impacts on rye yield and quality – particularly since Fusarium species can release toxins that can limit the use of grain in feed and food – and the need to develop FHB-resistant rye varieties and other tools to manage the disease.
FHB is not common in the Lethbridge area, but it is a widespread concern in Manitoba, and Brûlé-Babel conducts screening for FHB resistance as part of her winter wheat breeding program. So Brûlé-Babel and Larsen brought together their different areas of expertise to develop their plans for the project. Also joining the project is KWS, the German company that has developed several hybrid ryes for Canadian growers.
Evaluating Rye Lines for Resistance
Brûlé-Babel is screening fall rye lines for FHB resistance at her FHB nurseries at Winnipeg and Carman. To increase the potential for disease development, her research team inoculates the rye lines with Fusarium graminearum, the most common of several Fusarium species that cause FHB in Manitoba cereals.
The FHB responses of the rye lines are measured in three ways: disease levels in the field; FDK levels in the grain; and concentrations in the grain of deoxynivalenol (DON), the primary toxin produced by Fusarium graminearum.
In 2017, they evaluated about 70 rye lines, including materials from Canada, the United States, Germany, Russia and other countries, as well as lines from Larsen's breeding program and from KWS. Current Canadian rye cultivars are included in the screening so growers will be able to get information on FHB ratings to help in choosing rye varieties for their farms. For 2018, the researchers have added more rye lines from KWS, so the total is now about 130 lines.
The 2017 results showed that FHB definitely occurs in rye and that some lines are more resistant than others.
"Overall, we're not seeing very many lines that are as susceptible as our susceptible wheat checks. And most of the rye lines are in the resistant to intermediate range," notes Brûlé-Babel.
The testing for FDK and DON in the 2017 samples will be done in the coming months by KWS. However, based on what Brûlé-Babel's team observed in the field and as the grain samples were harvested, it appears that FHB infection often tends to cause the rye plant not to set seed. As a result, the FDK levels are lower than would be expected in a wheat crop with similar field infection levels.
Brûlé-Babel had heard anecdotally through their KWS collaborators that DON levels in rye tend to be quite low. She suspects this could turn out to be true if there aren't many infected kernels in the harvested grain to contribute to DON in the samples.
"So my guess at this point is that the biggest problem from Fusarium head blight for rye producers might turn out to be yield loss as opposed to a crop that you can't market [due to FDK and DON]," she says.
Once they have two years of data from the nurseries, Larsen will start making crosses with some of the FHB-resistant lines so he can develop new open-pollinated varieties with this trait.
Other Fusarium Species
Brûlé-Babel is also leading two other FHB/rye studies for the project. One study is looking into other Fusarium species that cause FHB in rye. "Not a lot is known about which Fusarium species infect rye [on the Prairies], so we've worked with Maria Antonia Henriquez at AAFC's Morden Research and Development Centre. She does a Fusarium survey every year, collecting diseased plants from [spring wheat and winter wheat fields in Manitoba]. So we asked if she could also collect samples from rye fields," explains Brûlé-Babel.
One of Brûlé-Babel's graduate students, Duoduo Wang, has isolated the Fusarium species from the Manitoba rye samples. Wang has identified the species based on the appearance of the fungi when grown in the lab, and she will be doing some DNA marker work to confirm the identifications. The preliminary results indicate that the most common species was Fusarium graminearum, but other species were also present.
In 2018, Wang will be doing a greenhouse study to examine the infection process and see how the different Fusarium species interact with selected rye cultivars.
Optimizing Fungicide Timing
Wang is also working on the other study, which is investigating fungicide timing for managing FHB in rye. "Very little information is available on fungicide timing for rye for this disease. We need to develop some basis for timing recommendations," says Brûlé-Babel.
According to Larsen, the general recommendation for fungicide timing for FHB in wheat is to spray two days after heading because wheat plants usually flower about two days after heading. But in rye, flowering might not start until seven to 14 days after heading. In that long heading/flowering period, what is the best time to apply a fungicide?
Brûlé-Babel also points out that, because rye is an outcrossing species, its florets are open for a longer period than the florets of a self-pollinating species like wheat, and it may be that a fungicide might interfere with pollination and seed set in rye.
From the rye lines being screened in the nursery, Wang has selected an FHB-susceptible cultivar, a cultivar with an intermediate response, and an FHB-resistant cultivar to use in the fungicide trials. The trials will take place at Winnipeg and Carman. The fungicide will be Prosaro, a commonly used fungicide that is registered for FHB suppression in wheat and barley.
The trials will compare four fungicide timings: at 50 per cent heading; at 10 per cent anthesis, which is when 10 per cent of the flowers on the spike have extruded anthers; at 80 per cent anthesis; and at six days after flowering. Brûlé-Babel's team will be inoculating the plants with Fusarium graminearum. The trials will also have two types of check plots: inoculated with no fungicide and non-inoculated with no fungicide.
Larsen hopes they'll be able to figure out an easy-to-use general rule for FHB fungicide timing in rye similar to the two-days-after-heading guideline for wheat. He adds, "The hybrids are typically a lot more uniform in flowering timing than the open-pollinated ryes, so fungicide timing for open-pollinated ryes might turn out to be a little trickier."
Practical Results
This pioneering project will lead to practical information, improved varieties and other tools for rye growers in Western Canada and perhaps other regions of the country.
"Providing good information for farmers to make decisions is very important. Part of the reason we're doing this research is to make sure there won't be any surprises in terms of potential Fusarium problems for rye growers," Brûlé-Babel says. "I'm quite excited about the revival of interest in rye because it's a very good crop for many uses and definitely contributes to diversification on the landscape."
This FHB research is part of a larger project led by Larsen on rye disease issues that also includes work on ergot and rust. Saskatchewan's Agriculture Development Fund, Western Grains Research Foundation, Western Winter Wheat Initiative, Saskatchewan Winter Cereals Development Commission, FP Genetics, KWS and Bayer CropScience are funding the project.
VIEWPOINT: Learning to live with Fusarium
3 years ago
-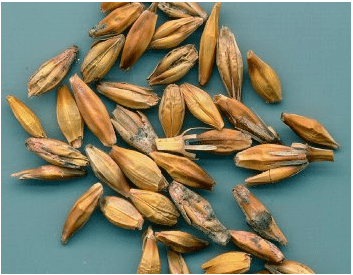 Alberta's Fusarium Management Plan, developed to limit mycotoxin production and subsequent grain contamination, and to prevent the spread of Fusarium graminearum into Alberta was a good idea – at the time it was implemented. But now that Fusarium is established in Alberta, growers need to take matters into their own hands to mitigate the effects of this serious disease of cereals. Alberta Seed Guide spoke with Kevin Auch, chair of the Alberta Wheat Commission and a farmer in the Carmangay area, about the issue and what farmers can do to diminish the chance of Fusarium appearing in their fields.
Alberta Seed Guide: Fusarium head blight is top of mind for Alberta cereal seed growers and farmers. Why is this specific disease such a threat?
Kevin Auch: Fusarium is a severe downgrading factor for wheat and its slow creep into Alberta has the potential to severely affect wheat production here. The disease is adversely affecting wheat production in other provinces where it is prevalent, and is curbing wheat profitability and production. For example, durum used to be a popular crop in Manitoba, but since durum is more susceptible to Fusarium than other wheats, the prevalence of Fusarium in Manitoba has virtually eliminated durum production in that province.
ASG: The Alberta Fusarium graminearum Management Plan has been in place since 2002, to "limit the introduction, escalation, spread and economic impact of F. graminearum in Alberta." Is the plan doing what it set out to do? Why or why not?
KA: I think the Alberta Fusarium graminearum Management Plan was reasonably effective at slowing the introduction of the disease into Alberta. But now that the disease is here, and seed is no longer the main threat or source of transmission of the disease, it is becoming more apparent that other alternative strategies may now need to be employed.
ASG: Currently, Fusarium graminearum (Fg) is listed as a pest in the Alberta Agricultural Pests Act, and no person or company can sell​, transport​ or plant infected seed. ​Are most farmers testing their seed or purchasing tested seed to know that it is Fg free? ​
KA: I think a good percentage of farmers are testing, and it makes sense for farmers to plant the best quality seed possible. However, to enforce zero per cent Fusarium seed limits on a farmer who already has Fusarium in the fields he is planting doesn't make too much sense anymore. While higher germination seed is better, we don't enforce the use of 100 per cent germination seed; and in a case like this one where a farm already has Fusarium, zero per cent Fusarium seed doesn't make sense either.
ASG: With the spread of Fusarium throughout the province, the access to disease-free seed is limited. How can Alberta farmers overcome this challenge?
KA: Properly applied seed treatments are one of the best management practices that can help control the spread of the disease, and protect seedlings from other diseases as well.
ASG: Why is changing the Pests Act important in the management of Fusarium now and into the future?
KA: Currently the way the legislation is written, it's illegal to plant anything but disease-free seed. But proper seed treatment of wheat that is going into fields that already contain low levels of Fusarium may be a better management practice.
ASG: Until changes are made, what can the ​crop industry and farmers do to mitigate Fusarium, now and into the future?
KA: I can't stress enough the importance of adhering to best management practices that help slow the spread of the disease and properly using all the tools available to us.
Combination of resistance genes offers better protection for wheat against powdery mildew
3 years ago
-
University of Zurich (UZH) plant researchers have tested newly developed wheat lines with improved resistance to powdery mildew in field trials. They have demonstrated that a combination of two variations of a resistance gene provides wheat with better protection against the fungal disease.
For several years now, UZH researchers have been investigating a wheat gene that confers resistance to powdery mildew (Blumeria graminis f. sp. tritici). The gene, called the Pm3 resistance gene, exists in different variations, so called alleles. In previous studies, plant researcher Beat Keller and his team demonstrated that single Pm3 alleles are able to confer resistance against powdery mildew fungi. And yet, a single resistance gene can quickly lose its effectiveness. Thus when it comes to plant breeding, it is important to combine multiple resistance genes. This is exactly what researchers at UZH have now tested in field trials using transgenic wheat lines.
The researchers created new wheat lines by crossbreeding transgenic Pm3 lines. This resulted in four new wheat lines, each containing two different Pm3 gene variations. "These four new wheat lines showed improved resistance against powdery mildew in field trials compared with their parental lines – during the field seasons 2015 to 2017," explains Teresa Koller, lead author of the study.
Back in the laboratory, the scientists proved that the parental lines' gene activity is added up in the newly created lines. Each Pm3 allele in the four new lines displayed the same activity as in the parental line, which results in increased overall activity, since it came from two different gene variations. "The improved resistance against powdery mildew is the result of the increased total transgene activity as well as the combination of the two Pm3 gene variations," summarizes Teresa Koller. The high overall activity of resistance genes did not cause any negative effects for the development of the wheat or its yield.
The findings of these trials improve our general knowledge of the immune system of plants, and in particular of fungal disease resistance of wheat. Besides contributing to fundamental research in the area of plants' immune systems, the findings can also be applied in wheat breeding. Thanks to the precise testing of Pm3 alleles, the best variations and combinations are identified and can then be used directly in traditional breeding by crossbreeding them into modern wheat varieties.
Blackleg and Clubroot in Canola
3 years ago
-
Blackleg and clubroot are both serious diseases that are growing in severity across Alberta, but with proper and diligent management by all farmers, they can be effectively controlled.
Blackleg
Blackleg is a fungal canker or dry rot that results in stem girdling and lodging. The disease has been present in canola fields since the 1980s.
Today, the availability and use of canola cultivars with resistance to blackleg has helped to avoid significant damage, notes Michael Harding, a research scientist with Alberta Agriculture and Forestry (AAF). However, it is still very common to see blackleg in canola crops.
Harding and his colleagues have undertaken recent surveys for blackleg (and stem rot) on Alberta canola. In 2016, they found that of 480 canola fields, 432 of them had blackleg symptoms. Indeed, Harding states "the prevalence of blackleg in Alberta has been measured at 55 to 99 per cent in the six surveys conducted over the past eight years. Prevalence was slightly lower in 2017 compared with 2016, as it was a relatively dry year in comparison."
Long-term survey trends show the pathogen to be present throughout the province, and Harding does not believe any area or farm should consider itself "blackleg free." Some fields experience little to no loss due to blackleg while others may have significant disease pressure, and he says economic loss experienced by individual farms depends on their location in the province, local weather and field history, as well as cropping and disease management practices.
"Blackleg is always a risk for canola producers and blackleg management practices should be proactive," Harding says. "Crop rotation (one host crop every four years) is a very effective way to keep disease pressure from building. The pathogen does not survive in soil without a host. So, once the canola residues are decomposed, there is little to no risk of economically-damaging blackleg pressure originating within that field."
Harding also notes that genetic resistance in the MR- and R-rated canola cultivars is keeping disease severity very low in most fields, as was seen in the survey data. However, Ralph Lange Team Lead Crop Pathology and Molecular Biology at InnoTech Alberta, notes there are now yearly cases of severe loss in cultivars labelled "resistant," a significant change from the 1990s and 2000s that indicates the pathogen is adapting.
Lange says there are about eight different blackleg strains in Western Canada, and in Alberta, about 80 per cent of all isolates belong to just three strains.
"We continue to have good resistance genes available, and what's changed is that we now need to actively manage the crop resistance genes we present to blackleg fungus populations," he explains. "So, frequent and accurate scouting with excellent record keeping is essential for determining if the genes we're presenting are working or not. Then, producers need to eliminate the non-functioning resistance genes when selecting which canola cultivar to plant (at least one functioning resistance gene)." This is now much easier, Lange notes, because seed companies are starting to reveal which genes are in which cultivar.
Another tool for blackleg management is fungicides. Harding notes while all certified canola seed is cleaned and treated to make it essentially blackleg-free (although infection can still occur due to spores being released from infected stubble), in high-risk situations during the growing season, foliar fungicides may be applied at the one-to-three leaf stage.
Going forward, Harding says the risk of resistance-building in the pathogen is very real when crop rotation recommendations are ignored, especially in wetter years when blackleg has a better chance to infect and cause disease.
"If genetic resistance were to erode due to selection of virulent pathotypes of the fungus, it would have a devastating impact in areas where genetic resistance was no longer effective," he notes. "While we are not currently seeing widespread changes in blackleg severity, it has been seen in some individual fields. This is a warning sign that we need to think carefully about crop rotation practices and resistance stewardship in order to stay ahead of blackleg."
Clubroot
In canola, this soil-borne fungus-like disease causes swellings to form on the roots, ultimately stunting the plant and even causing premature plant death. Infection and severity are supported by warm, moist, acidic soil.
University of Alberta scientists and staff from Alberta Agriculture and Forestry currently conduct yearly clubroot surveys, which began in 2003 when clubroot was first identified in the province. The 2016 survey found 289 new clubroot-infested fields and the 2017 survey another 301.
"What we've found is that clubroot is spreading fairly rapidly for a soil-borne plant pathogen, and this seems to be due mainly to the movement of infested soil and machinery," explains Stephen Strelkov, professor in the faculty of Agricultural, Life and Environment Sciences at the University of Alberta. "We've also found significant numbers of spores in wind-blown dust from infested fields which could contribute to local spread."
There is a continued spread eastward, he adds, with several new infestations recently found near the Saskatchewan border.
"Part of why it often takes a few years for growers to 'up their game' when dealing with clubroot is because the impact on yield is often very slight," notes Dan Orchard, agronomy specialist with the Canola Council of Canada. "It's almost always found in a patch at the field entrance, and the overall field yield isn't really affected. But if not managed, that patch will become much, much larger and potentially cause total loss of the entire crop."
At least 12 new strains of clubroot have been identified in Alberta since 2013, and they are all capable of overcoming the resistance in many clubroot-resistant canola varieties.
"In 2016, these strains were confirmed in over 60 fields in Alberta, and in 2017, we identified another 42 fields with potential resistance issues," Strelkov notes. "These new strains have likely emerged as a result of cropping of clubroot-resistant canola in short rotation in fields with moderate to severe clubroot infestations."
Orchard notes while best management strategies make a big difference, they are difficult to deploy. "This would include equipment sanitation, which growers have suggested could be hours and hours per piece of equipment for each field," he says. "Not cleaning equipment is a risk growers seem to be accepting, although I believe many or most of them make sure equipment from unknown regions or potential clubroot regions is clean before entering their lands, which is a great practice to follow."
He adds there is evidence around the world and preliminary evidence in Alberta suggesting pH plays a major role in clubroot spread and severity.
"Liming fields could reduce clubroot impact, but it's another excellent management strategy that's easier said than done," Orchard says. "I'm convinced, however, that over the next few years and with the help of new technology, the industry will produce better lime recommendations, better pH mapping, better application techniques, and just a better understanding of lime and the benefits/challenges."
While he believes genetic resistance is currently the most significant factor in keeping this disease at bay, the fact that new clubroot strains are quickly appearing means growers need to deploy a multi-pronged approach.
"The recipe for success would seem to be liming badly-infested patches and seeding them to a perennial grass until spore loads are manageable, coupled with planting resistant canola varieties and rotating sources of resistance on top of crop rotation."
Strelkov agrees that with the new strains appearing, it's unwise to use resistant canola varieties as a sole management strategy. He stresses longer rotations are important, and adds while "sanitation often is not viewed as practical, even steps such as trying to remove large chunks of soil from machinery or working infested fields last can be helpful."
Planning for Fusarium in 2018
3 years ago
-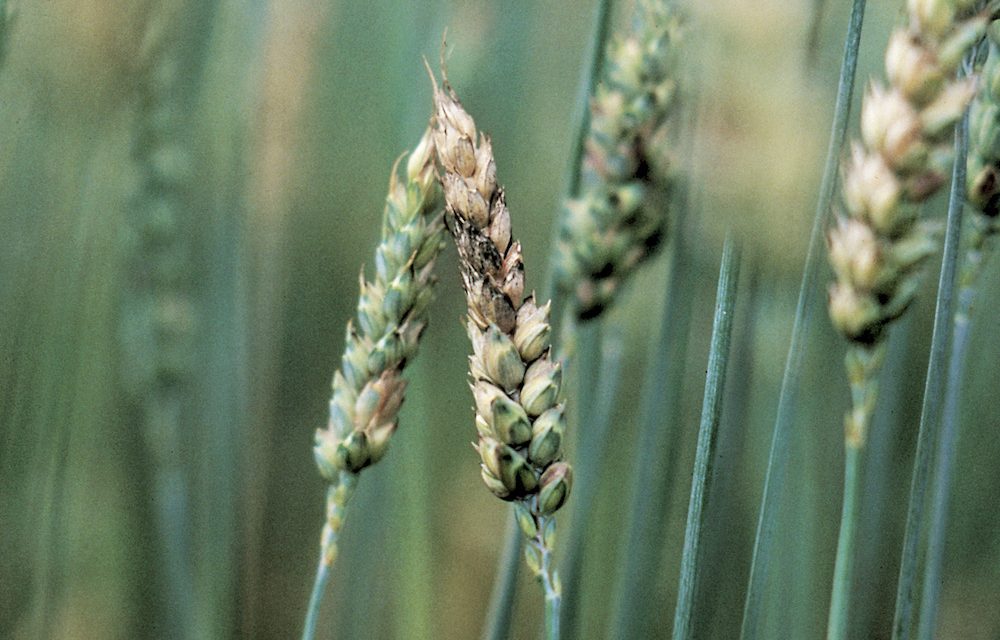 It will be easy for growers to let their guard down this year when it comes to managing for Fusarium head blight (FHB). The bone-dry summer in 2017 meant there was little issue with FHB or any other disease.
However, going into the 2018 season, growers need to stay vigilant against the yield- and quality-robbing cereal disease.
"There's little one can do at this point in time to eliminate the risk for Fusarium if the pathogen is present," says Brian Beres, research scientist with Agriculture and Agri-Food Canada in Lethbridge. "We know the inoculum is there, and while you can't control the amount of pathogen in the soil this year, nor can you predict the weather, you can control your agronomics and give your crop a fighting chance against the disease."
Fusarium graminearum is the most common cause of FHB in Alberta, and is particularly well established in the southern areas of the province. It affects yield and grade as it produces the mycotoxin deoxynivalenol (DON), which makes the grain a poor grade for the feed, malting milling and biofuels industries. High humidity and warm weather in late June and July favour spore development on infected residue, and those spores can spread through the wind or through moisture splashed onto the plant.
"After what appears to have been a year of low Fusarium head blight damage, we hope it is not out of sight, out of mind," says Michael Harding, research scientist, plant pathology with Alberta Agriculture and Forestry's Crop Diversification Centre South in Brooks. "The inoculum overwinters in the soil and on residue, and if we have a wetter season this summer, it could still be a very bad year for FHB."
Going into the growing season, the first thing growers can do to manage for Fusarium is carefully choose their variety based on their local risk. While no cereal varieties are truly resistant to Fusarium, some tolerate the disease better than others. Durum varieties can be the most difficult to choose as they are all susceptible to moderately susceptible to the disease.
Once a variety is chosen, Beres says uniformity is the main theme to allow a crop to battle FHB. A uniform crop will flower at the same time with a shortened flowering duration, ideally before Fusarium spores begin invading the crop. To achieve uniformity, growers need to turn up their seeding rate and then seed early.
"Two beneficial things happen with a higher seeding rate," says Beres. "First, you achieve uniform growth stages throughout the field; and second, you have increased main stem production and fewer tillers, both which makes foliar fungicide timing easier and improves fungicide efficacy greatly."
The ideal winter wheat seeding rate of 450 seeds/sq. metre has been established through previous research Beres and his team conducted. Combined with timely planting further enables winter wheat the opportunity to "escape" FHB infection as it can complete flowering ahead of the onset of spore inoculation. For spring wheat, research was also conducted to gauge what response growers get from a high seeding rate.
"Traditionally, spring cereal growers have seeded around 200 to 250 seeds per square metre. However, we've observed spring wheat such as durum and high-yielding CWRS varieties respond to rates as high as 450 seeds per square metre," says Beres. "While the yield response may stop at 300 to 350 seeds per square metre in some environments and with some varieties, the Fusarium risk may be lower because you have a much more uniform crop that also happens to be much more competitive with weeds."
Once the resistance package is established and the decision is made to seed at a higher rate, growers should consider lodging risk. A crop seeded at a high rate is at greater risk for lodging later in the season if lodging resistance is overlooked when choosing a variety. However, taller wheat can also be a benefit when battling FHB in low to moderate disease severity with low spore dispersal, as the disease spores that splash up from the ground during wet periods may not reach the (head) vulnerable areas of the spike.
Before the seed is even placed in the ground, cereal growers should consider a seed treatment.
"Seed treatments won't directly tackle FHB, which happens later in the season," says Harding. "But it will battle seed- and soil-borne pathogens as well as abiotic factors which could weaken your crop and its stand establishment. You don't know what's in the soil. Treated seed is exposed to less stress early in the season so it has a better chance for success after emergence."
While you want to have your field come into maturity at the same time, high risk FHB areas should consider seeding different fields at different times. "You really don't want to plant all of your wheat during the same week," says Harding. "If they are all coming into anthesis at the same time, your entire season is at risk. But if fields mature at different times, you are spreading out the risk of a total loss."
Rotation is another way to reduce the disease pathogen in the soil, but given Alberta's short growing season and cropping options, effective rotations can be challenging.
"Ideally you would only have one crop in four years that is a host for Fusarium," says Beres. "But that's impractical as many of the crops that comprise today's cropping systems are hosts for the disease. Even if the field is rested in chemical fallow, the undisturbed stubble, tissue and plant roots can be colonized with Fusarium."
Harding says even though ideal rotations are difficult, inoculum levels can be reduced by managing that rotation. "Durum and corn are the best hosts for the disease, so if you are growing corn, which is likely to have more Fusarium residue, don't grow durum right away. Allow the residue to break down on a less susceptible crop. You should work out your field selection in the fall and winter so that you can minimize the buildup of the pathogen."
If the plant is more uniform and flowering more even, the timing window to apply a fungicide is also easier. More heads will come out of the boot at the same time, and the more heads available to the fungicide, the better its efficacy. Recent research shows that waiting until as many heads are visible will reduce Fusarium and DON at harvest. A fungicide will remain effective four to six days after flowering, or seven to 10 days following head emergence.
You also have to take caution as to how you apply the fungicide," says Beres. "You need to consider ground speed, keep your boom levels low around 30 centimetres above the canopy for better coverage, and make sure your nozzle is configured so that the angle and pattern covers as much of the plant as possible utilizing a coarse spray pattern. You'll get as much out of an input that you put into how you apply it."
Harvest management can be tricky once Fusarium has infected a field. Many growers will increase the fan speed on their combine and blow the lighter, infected seed out the back end. However, then the stubble has been seeded with infected material.
"The opinions around the utility of tillage for FHB management in the science community are somewhat mixed," says Beres. "However, studies conducted on the Canadian Prairies show no increase in FHB under no-till, and there is only agreement that F. avenaceum has been controlled with tillage, not F. graminearum."
Optimizing Fungicide Applications on Wheat and Barley
3 years ago
-
Leaf spot fungal diseases can decrease cereal yield by up to 20 per cent or more, as well as diminish kernel weight, and in some cases reduce grade. This, according to Neil Whatley, crop specialist, Alberta Ag Info Centre.
"When disease risk levels are moderate to high, protection of the upper two leaves of a developing wheat plant with a timely in-crop fungicide application prevents significant losses. With barley, it's essential to protect the upper three leaves," he says.
Disease risk level increases when weather conditions are favourable for disease development, cereal crops are frequently grown in the same field, the chosen cereal variety is susceptible to leaf diseases, yield potential is good and crop price is high.
Tan spot and septoria leaf blotch are the most common leaf spot fungal diseases in wheat, says Whatley.
"While scald and net blotch most commonly affect barley, fungal diseases like spot blotch affect all cereal crops. These leaf spot pathogens survive on infected straw residue and stubble from cereal crops grown during the previous two to three years in a particular field. A prolonged period of rainfall, fog or heavy dew combined with moderate air temperatures in June and July raises the risk that these pathogens will produce spores and re-infect young, developing cereal plants."
Although leaf spot diseases can be present during early plant growth, scouting for cereal leaf diseases is especially important prior to, during, and after flag leaf emergence. "The appearance of moderate levels of disease in the lower canopy indicates there is a risk to the upper canopy leaves," says Whatley. "Under conditions favourable for disease development, leaf spot disease symptoms appear as tiny water soaked or brown or tan spots or lesions on the leaf surfaces of seedlings and tillering cereal plants. Lesions produce spores that act as the disease transfer mechanism. Under prolonged humid weather conditions, the spots become more visible as they expand and blend together. If the weather turns dry in June and July, risk level diminishes as the leaf spot pathogens remain confined to the lower leaves, causing little overall harm. However, as upper leaves emerge on the developing cereal plants, wind or the splashing motion of rain drops transfer spores from the lower canopy, and possibly from old infested crop residue, to the flag and penultimate (the leaf just below the flag) leaves, increasing the risk that key leaves for yield and grain filling may be compromised. A decision must then be made whether or not to protect the upper leaves with a foliar fungicide application."
Spores that splash or are blown by wind onto the upper leaves will germinate under favourable conditions allowing the pathogens to infect leaf tissues and cause necrotic lesions on leaf surfaces, potentially resulting in significant loss of green leaf area.
"Preventing the loss of green leaf area on the flag and penultimate leaves is the main concern as optimal sunshine on these leaves contributes to over 50 per cent of the cereal crop's eventual yield. The goal is to apply a foliar fungicide when the flag leaf has just fully emerged if disease risk level is moderate to high," says Whatley. "As a rule of thumb, 20 per cent per cent disease coverage of the area of the flag leaf results in a 10 per cent yield decrease, so preventing this amount of disease is usually desirable if yield potential is good and grain prices are fair to high. If a fungicide application is made and weather conditions favourable for disease development persist, a second fungicide application may be necessary just after head emergence, and especially where Fusarium head blight is also a concern."
Spraying too early or spraying too late results in poor disease control. "While the idea of mixing a half rate of fungicide with a late herbicide application may seem convenient, given that the flag and penultimate leaves are not fully formed, this crop management practice doesn't directly protect the upper canopy leaves and is generally not economical for leaf spot diseases like tan spot, septoria, scald, net blotch and spot blotch," notes Whatley. "In contrast, if stripe rust is observed early in the growing season, a fungicide application may be needed before flag leaf emergence and then again later at head emergence if risk is high and the variety is susceptible. It's preferable to prevent leaf spot diseases with a full rate of fungicide at the flag leaf stage or just after head emergence. However, spraying too late, after the disease is well established on the flag and penultimate leaves, is also not economical because significant green leaf area has already been lost and the fungicide doesn't cure infected leaf tissue, but instead protects healthy leaf tissue."
Whether fungicide choice is a systemic or a contact mode of action, the fungicide should be applied directly to the leaves that are important for grain filling, i.e. the flag and penultimate leaves.
"Translocation movement of a systemic fungicide is limited to within an individual leaf and does not occur between leaves," says Whatley. "Leaf spot pathogens can become resistant to a specific fungicide, so if disease pressure is high enough to spray more than once in the same field during the growing season, or during successive years in the same field, rotate fungicide modes of action. Adequate water volumes ensure optimal leaf coverage and, therefore, optimal disease control, so ten gallons of water per acre is generally applied with the fungicide."