Three Alberta Visionaries Have Been Honoured By the Agriculture Hall of Fame
2 weeks ago
-
Three Alberta visionaries have been honoured by the Agriculture Hall of Fame in recognition of their contributions to the cattle-feeding, crop science and greenhouse industries.
"The Hall of Fame is a tribute to the ongoing legacy of agricultural innovation in this province," said Oneil Carlier, Minister of Agriculture and Forestry. "This year's inductees are pioneers in their fields who have worked hard for decades to improve agricultural practices, support growth in the industry and educate the next generation of Alberta farmers and ranchers."
This year's Hall of Fame inductees were honoured at a ceremony in Leduc on Oct. 26. They are:
Garnet Altwasser
Ronald Howard
Dietrich Kuhlmann
The Alberta Agriculture Hall of Fame was created to recognize individuals who have made significant contributions to the agriculture and food industry and to the development and sustainability of rural life in Alberta.
Since 1951, more than 130 Albertans have been honoured for their leadership and accomplishments within the agriculture sector.
Inductee biographies
Garnet Altwasser
Garnet Altwasser became a leader in Canadian agribusiness during his 30-year term as the president and Chief Executive Officer of Lakeside Farm Industries. Seeing the potential of Alberta's climate and agronomy to add value to the province's large ranching base, he co-founded and grew Lakeside Farm Industries into the largest single-site feeding operation in Canada. With the establishment of a beef-packing plant in Brooks, Altwasser also began the process of modernizing and growing Canada's beef-processing industry. He devoted significant assets to research and development in agronomy and animal husbandry, which led to gains in efficiency in both feed grains and cattle, helping to advance the entire Alberta industry. Altwasser was one of the first commercial adopters of Temple Grandin's cattle-handling designs, and was a founding director of the Alberta Cattle Feeders Association. Altwasser is insatiably curious and inquisitive about what works and what succeeds in industry, and he has quietly helped and mentored young people to enter and grow in the industry. Today, Alberta's cattle-feeding and beef-processing industry is large-scale and globally competitive, thanks in large part to Altwasser's long-range vision and leadership.
Ronald (Ron) Howard
Ron Howard has spent more than four decades supporting the growth and development of high-value crop industries in Alberta, working with more than 50 different types of crops and plant species as a research, extension and diagnostic plant pathologist. He has developed many groundbreaking protocols, screened hundreds of horticultural, specialty and field crop varieties and breeding lines for disease resistance, and evaluated more than 200 chemical and biological control products for efficacy against pathogens in these crops. Howard was integral to the expansion and development of the research facilities at the Crop Diversification Centre South, including the design and construction of the current state-of-the-art greenhouse research complex. Howard's greatest impact has been in his training of and influence on generations of farmers, agronomists, students and professionals. Through his willingness and eagerness to share his vast knowledge, Howard has prepared and delivered more than 1,000 articles, presentations and scientific publications during his career, including editing and contributing to the landmark resource book, Diseases and Pests of Vegetable Crops in Canada. A meticulous and ethical researcher, a skilled leader and a true ambassador for Alberta producers, his approachability and humility have made him a "go-to" person for help when it comes to plant disease diagnosis and management.
Dietrich (Dieter) Kuhlmann
Dieter Kuhlmann has been a leader in growing Alberta's horticulture industry for more than 50 years. Three generations of the Kuhlmann family are now actively involved in running the greenhouse, garden, and market, originally founded by Kuhlmann and his wife, Elizabeth, in 1962. They have maintained their focus on outstanding relationships and selling direct to the customer. Kuhlmann is an ongoing champion for the horticulture industry and the success of other growers, demonstrating that industry benefits by learning and working together. Kuhlmann is past-president and a founding member of the Alberta Greenhouse Growers Association, an organization set up to identify and collectively act on issues of critical importance to growers. Recognizing the opportunity for Alberta growers to market cooperatively, he also worked to establish Sunfresh Farms, a grower-owned packing and distribution facility, bringing better revenues to member farms. A former director of the Alberta Crop Industry Development Fund, Kuhlmann continues to promote local horticultural projects, believing that research and development is essential to the continued growth of the horticultural industry in Alberta.
Register Now for CFGA 2018 Conference in Calgary
2 months ago
-
The Canadian Forage and Grassland Association (CFGA), in conjunction with the Alberta Forage Industry Network (AFIN), will be hosting its ninth annual conference in Calgary on November 14 and 15, 2018. Registration is now open.
This conference highlights how the Canadian forage and grassland sector is a critical foundation for sustainable growth and development throughout the Canadian agricultural industry.
This year's theme is Foundation Forage: Built from the Ground Up, recognizing the importance of a complete forage cropping system, from soil health through to export opportunities.
"Forage and grasslands are an important component of Canadian agriculture," says Cedric MacLeod, CFGA's executive director. "There are 72 million acres of forage and grassland in production in Canada and the direct economic value is $5.09 billion. It's critical that we learn as much as we can about nurturing this critical resource through events like the CFGA conference."
The conference begins with an optional preconference tour on Tuesday, November 13 which will feature visits to Namaka Farms – a large-scale, family-owned feedlot – the Arrowwood Hutterite Colony, and Waldron Grazing Co-op.
The main conference will include an exhibition of businesses and organizations that provide products or services to forage producers and grassland managers, or represent a conservation or land stewardship-based organization concerned with the continued loss of Canada's grasslands; a full line-up of speakers on such topics as soil carbon storage, forage exports, soil health enhancement and profitable forage systems; and virtual farm tours that feature innovative producers across the country.
Find the nomination form for the CFGA Leadership Award and register for the CFGA Conference.
Source: Alberta Agriculture and Forestry
Don't miss CFGA's 9th Annual Conference
2 months ago
-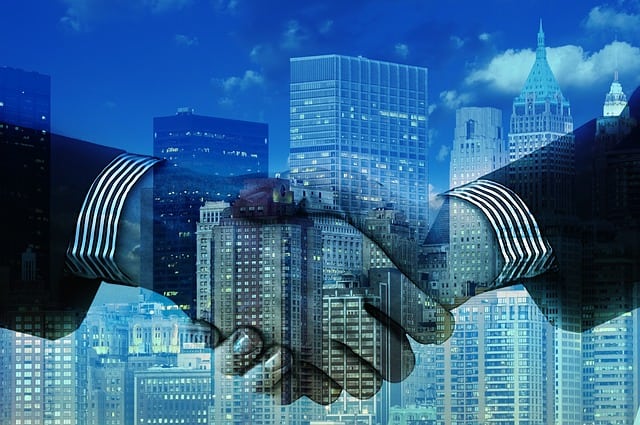 Foundation Forage: Built from the Ground Up is the theme for the Canadian Forage and Grassland Association's 9th Annual Conference which takes place in Calgary, Alta., this November. It's the must-attend event for anyone involved in forage production.
The program includes a line-up of top speakers who will talk, teach and share their expertise during presentations on Nov. 14 and 15 – the core of conference. Speakers will set the stage for producers to plan, seed, feed, graze, harvest and evaluate their valuable forage and grassland. Carbon capturing and data management, current protocols and how to meet future developments are also on the agenda.
Speaker profile
One of those speakers is cover crop expert
Steve Groff. Well known as
the Cover Crop Coach, Groff
and his family
farm 305 acres
of 14 different cash grain crops and a wide array of cover crop mixes in Lancaster County, Pa.
For the past 22 years, his Cedar Meadow Farm has conducted thousands of cover crop research trials
.
Groff will share his insights into cover crops at the conference when he presents Keep Your Soils Covered. His presentation will reveal how producers need to think about solutions that will work on their operation, some species and tricks of the trade for success and the latest information on how the marketplace may be the most motivating factor in the upcoming year to incentivize farmers to step up their game when it comes to soil health.
CFGA-New Holland Leadership Award
Also during the conference, CFGA will present its annual Leadership Award, honouring the sector's influencers. Nominations are now open and forms are available here.
Pre-conference activities
Earlier in the week, on Monday, Nov. 12, general managers from the forage organizations across the country will gather to help set the path for the national association, looking for ways to work together and strengthen the industry.
On Tuesday, Nov. 13, conference attendees have the opportunity to hit the road for hands-on learning with the CFGA Pre-Conference Tour to visit nearby leaders in the forage and grassland sector of Alberta and hear how they are finding success.
The export forage industry is an area of growth in Canada, and the sector will gather for meetings on Friday, Nov. 16.
More info
Watch the CFGA conference website for updates to the program and speakers – and see you in Calgary, Nov. 14 and 15, 2018!
Plenty to Learn at November Symposium
3 months ago
-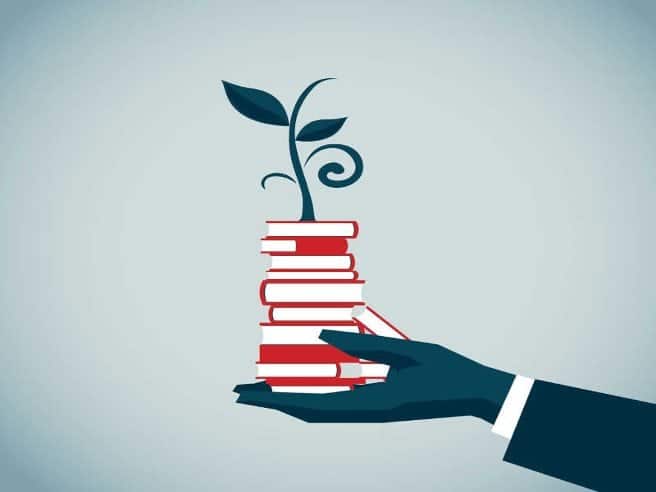 The 9th Canadian  Workshop on Fusarium Head Blight and 4th Canadian Wheat Symposium held in Winnipeg this fall is shaping up to be an event not only for scientists and those in the ag technology sector, but one farmers and producers will find of value as well.
"Being in Winnipeg, on the Prairies, I would love to see more producers come to this," says Tom Fetch, event co-chair and research scientist for Agriculture and Agri-Food Canada. "I think they would find a number of things that would be helpful, [like] revolutionary ideas in technology that they could start using on their farm."
Fetch looks after the wheat symposium side of things. Tom Gräefenhan of the Canadian Grain Commission is looking after the Fusarium head blight side of the event. Fetch said the two have been working on the event for close to a year now to get everything in order.
Each day will start with a plenary session. After that, attendees can attend any of the sessions throughout the day.
There are a total of five sessions for both wheat and fusarium head blight, running the first and second day in the afternoon. On the third day, the conference finishes at noon.
The first day will focus on breeding and genetics, with the second day focusing on the technology side of things. Day 3 will include a focus on remote sensing technology.
Steve Shirtliffe from the University of Saskatchewan will talk about drones and Heather McNairn with Agriculture and Agri-Food Canada is going to address the use of satellite images in growing wheat.
What's New?
In terms of what's new for attendees to expect, Harvey Brooks from the Saskatchewan Wheat Commission will offer a breakdown of industry funding and how that might be changing. Another highlight Fetch points out is the Grains and Health session with Yanni Papanikolaou from Nutritional Strategies Canada as the keynote speaker.
New this year is a session about wheat production and management, with a speaker from SeedMaster focusing on new technologies for producers like robotics.
The 9th Canadian Workshop on Fusarium Head Blight and 4th Canadian Wheat Symposium will be held at the Fairmont in Winnipeg, Nov. 19-22, 2018.
Registration is now open. For more information visit cwfhb-cws.com.
AAC Crossfield Launch Party Celebrates the Grounding Breaking 4-P Partnership with new Canada Prairie Spring Red (CPSR) Wheat Variety
3 months ago
-
The Alberta Wheat Commission (AWC) and Canterra Seeds Ltd. are pleased to launch AAC Crossfield – the first new variety resulting from their historic public, private, producer partnership (4-P). Celebrations will take place at a launch party at Canterra Demonstration plots in Olds, AB later today (August 16).
AAC Crossfield seed is currently under production through Canterra Seeds' seed grower shareholders, and will be commercially available to farmers this fall in advance of Spring 2019 seeding.
This first-of-its-kind partnership, totalling $3.4 million over five years, is aimed at combining the strengths of producers, along with the public and private sectors, to create improved CPSR wheat varieties for farmers. Breeding for this partnership is being led by Dr. Harpinder Randhawa based out of AAFC Lethbridge.
"AWC and our 4-P partners are proud to launch AAC Crossfield," said Kevin Bender, AWC Chair. "This is a great example of farmer dollars bringing new varieties to market."
The launch party will be held at the Canterra Seeds Demonstration plots at Olds, AB. Attendees will hear from Dr. Harpinder Randhawa who will provide a technical overview of the variety and Colette Prefontaine with Canterra Seeds Ltd Who will speak on the agronomic benefits of this variety.
"We are very excited to see the results of this ground-breaking partnership coming to life with the commercial release of AAC Crossfield," said David Hansen, President and CEO of Canterra Seeds.
Under the agreement, AWC will receive a share of royalties on new varieties resulting from the program to be used for future CPSR research and development. Canterra Seeds provides additional technical and field-testing capacity for the CPSR material from AAFC Lethbridge, and increased funding and support for the program as a whole. Canterra Seeds receives first right of refusal on new varieties resulting from the 4-P program. Canterra Seeds also provides links to the entire value chain, a deeper understanding of end-user requirements and broad experience in seed production and commercialization.
This event is open to the public and takes place from 9 to 11:00 a.m. Those still wishing to register can do so at https://www.eventbrite.ca/e/crossfield-launch-party-tickets-48005397436
Directions to the plot site:
From highway 2 take exit 340A onto AB-27 east towards Trochu / Three Hills.
Travel East on AB-27 for 0.8 km.
Turn South at the first intersection onto the gravel road. Continue south as the road winds back parallel to highway 2. After 2.1 km turn into the field access on the left
Meet your Rural Neighbours at Open Farm Days
3 months ago
-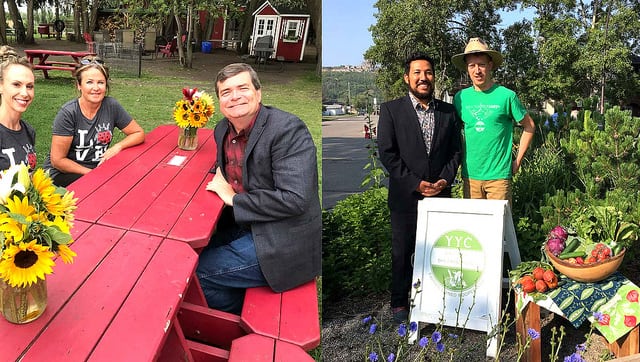 Now in its sixth year, Alberta Open Farm Days returns as an important ag-tourism event that helps visitors experience and understand where their food comes from. More than 110 host sites and culinary events across Alberta are ready to showcase the province's fast-growing rural tourism sector and everything farm life has to offer.
"Open Farm Days is back for another incredible weekend of delicious food, family friendly entertainment and rural hospitality," said Ricardo Miranda, Minister of Culture and Tourism. "The event helps people learn more about where their food comes from and supports rural tourism operators across the province. I encourage everyone to chart a course for rural Alberta and take advantage of this great staycation opportunity."
Participating host farms will offer educational tours, opportunities to buy locally grown and homemade products, and activities like corn mazes, hayrides and petting zoos. Admission to farms is free, but there may be costs for some activities.
"Alberta has some of the best farmers and food producers in the world," said Oneil Carlier, Minister of Agriculture and Forestry. Open Farm Days is a great opportunity for Albertans to support this industry and meet the people who put food on their tables. A strong local food industry creates jobs and connects communities."
Culinary events will feature top Alberta chefs preparing dishes made from locally grown products. There is a range of costs to participate in these events and space is limited. Be sure to buy tickets ahead of time.
Open Farm Days' new website makes it even easier for people to book tours and culinary events, and plan their trips across the province. Visit albertafarmdays.ca for more information.
Alberta Open Farms Days, which began in 2012, is a collaborative project presented by the Government of Alberta, the Alberta Association of Agricultural Societies, the Alberta Culinary Tourism Alliance, Travel Alberta and participating farms and ranches.
Companies Invited to Canada Food Expo Japan and Korea 2018
3 months ago
-
Alberta food and beverage producers are invited to participate in the Canada Food Expo, taking place in Japan and Korea from October 1 to 9, 2018.
The mission will include visits to Osaka and Tokyo, Japan as well as Seoul, South Korea to provide food and beverage companies with an opportunity to advance their export interests in these markets. An optional health ingredients-focused program will take place in Sapporo, Japan prior to the tabletop program.
What is the Canada Food Expo tabletop event?
Canada Food Expo is a traveling trade show event held in Osaka, Tokyo and Seoul. This initiative is designed to provide a cost-effective opportunity for export-ready, small and medium-sized food and beverage producers to showcase their products to Japanese and Korean businesses.
Japanese and Korean food and beverage buyers, importers, wholesalers and distributors will be invited to view and sample Canadian products and meet with exhibitors. In addition to the one-day tabletop event in each of the three cities, Japan and Korea-specific exporter training and market tours will be arranged.
This mission will provide opportunity to showcase your products, meet face-to-face with potential buyers, test the response to your products, and learn more about export opportunities in the Japan and South Korea markets.
Why attend the Canada Food Expo?
Japan and South Korea are important overseas markets for Canadian agriculture, food and beverages. Japan has the world's third-largest economy, a large population and is heavily reliant on agriculture and agri-food imports, making it a high priority market for Canada. Japan is Canada's third-largest export market for agri-food and seafood products, worth about $4.2 billion in 2017. Likewise, South Korea imports over 70 per cent of its food consumption requirements, relying on imports to satisfy consumer demand for greater food variety, lower prices, and convenience food products. Canada exported $652.3 million in agri-food and seafood products to South Korea in 2017.
The Supermarket Trade Show, coordinated by the New Supermarket Association of Japan (NSAJ), is a key opportunity for exporters targeting the Japanese retail, wholesale, ready meal and foodservice industry. This is an important tradeshow for companies whose products are already present in Japan, and who are looking to expand their reach in the market. The Embassy of Canada to Tokyo is a sub-member of the NSAJ, and can facilitate advance access to apply for the show for Canadian companies wishing to purchase their own booth space. There may also be opportunities to showcase Alberta products already present in the Japanese market via an information booth, without company travel to Japan.
Learn more about the Canada Food Expo and find the downloadable application form under Events. Deadline to apply is August 3, 2018. For more information, contact Katie Meredith, trade and relations officer with Alberta Agriculture and Forestry at 780-427-6057.
Source: Alberta Agriculture and Forestry
Alberta Young Speakers for Agriculture Announces Winners for Third Annual Competition
4 months ago
-
The Alberta Young Speakers for Agriculture (AYSA) has announced the winners for its third annual public speaking competition for Alberta's youth to share their passion about the agricultural industry. The competition was held July 11, 2018 during The Calgary Stampede and offered youth ages 11 to 24 an opportunity to share their views on a topic important to Albertan and Canadian agriculture.
"We're excited to announce the winners of the third year of this exciting communications competition for Albertan youth at the Calgary Stampede," said Eric Dalke, AYSA founder. "Congratulations to our winners and all the youth from across Alberta who demonstrated their commitment and passion for the agricultural industry."
Kara Oosterhuis from Calgary won first place in the senior competition and Carmen White from Claresholm took  first place in the junior competition. Both spoke about the topic "What is sustainability and why does it matter to Canadian agriculture?"
"The variety of speeches and talent of our speakers this year was amazing," said Chancey Lane, incoming AYSA President. "This competition is about giving the young leaders of tomorrow a chance to share their views and develop their skills to succeed in Canadian agriculture and this year's competitors were truly inspiring."
The topics for the 2018 competition were:
• My view on diversity in Canadian Agriculture
• Canadian agriculture needs more people – and this is how we're going to get them
• What is sustainability and why does it matter to Canadian agriculture?
• The next big thing in Canadian agriculture is: ____________________
• How can we educate urban populations about where our food comes from and the industry standards involved?
Both winners received prize money and airfare to compete in the national Canadian Young Speakers for Agriculture competition at the Royal Agricultural Winter Fair in Toronto in November, 2018.
Event: Netherlands as Gateway to the European Union
4 months ago
-
Alberta Agriculture and Forestry (AF) is organizing an educational session that will provide an overview of opportunities for Alberta value-added agri-food exporters interested in the European Union, with a special focus on the Netherlands market. This session will take place Thursday, August 9, 2018 from 10 a.m. to noon, at the J.G. O'Donoghue Building, 7000 – 113 Street in Edmonton.
Netherlands is the seventh largest economy in the EU and a major transportation and distribution center for Europe. It is estimated that half of all goods that are exported to the EU enter through the ports of Rotterdam – the largest port in Europe, Amsterdam, and Amsterdam Schiphol Airport.
The Netherlands imported CAD $38 million agri-food products from Alberta in 2017, including prepared animal foods ($10.7 million), bovine semen ($10.5 million), wheat ($7.7 million) and beef ($6.2 million).
"While the EU is an important market for commodity exports, it is one of the few markets in the world where Canada can grow exports of value-added products" – Agriculture and Agri-Food Canada.
This interactive session will provide an overview of:
Netherlands as gateway to the EU.
The supermarket landscape and distribution channels in the Netherlands.
Specific products and price competition.
Canada-European Union Comprehensive Economic and Trade Agreement and European Union refresher.
Alberta trade mission to Netherlands from October 15-19, 2018.
Henk ten Wolde, owner of DWCC Dutch Western Canada Connection is the presenter.
Space is limited and RSVP is required for this free session. A dial in option will be available for those companies not able to attend in person.
For more information and to RSVP, contact Dusan Rnjak, trade development officer with AF, at 780-913-8583.
Source: Alberta Agriculture and Forestry
Canola Council Launches New Tool To Help Growers Optimize Combine Performance And Increase Yields
4 months ago
-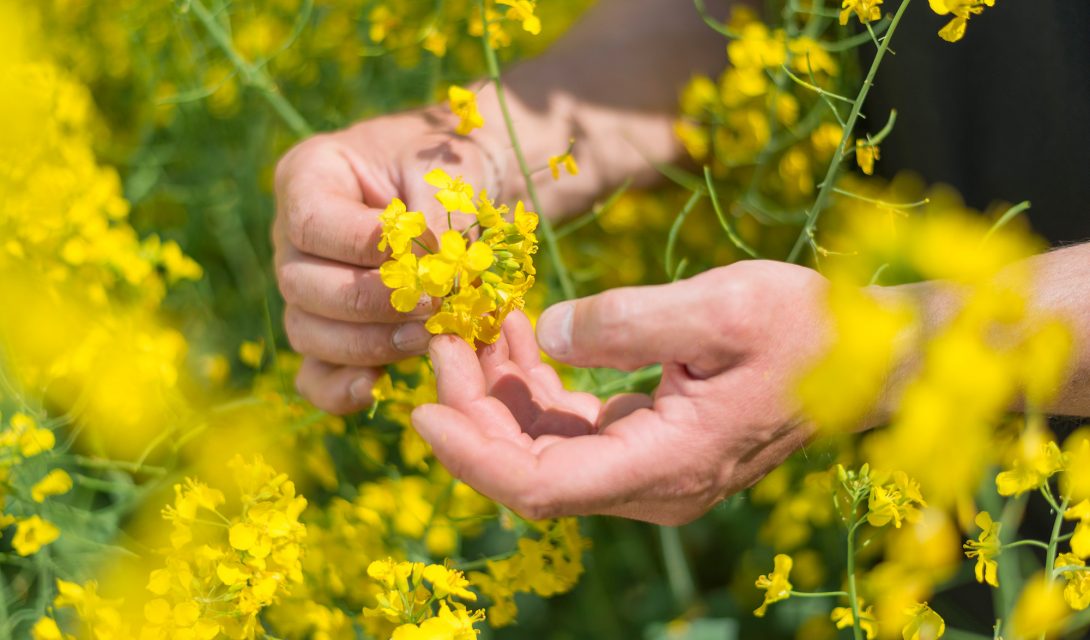 The Canola Council of Canada (CCC) released a new web-based application to help producers with combine adjustments during harvest, maximize yield and edge us closer to an average yield of 52 bu/ac by 2025.
The combine optimization tool was developed on behalf of the CCC by the Prairie Agricultural Machinery Institute (PAMI) and is intended to assist with the process of setting the combine for canola harvest. The new tool can be found at www.canolacalculator.ca alongside calculators for target plant density and seeding rates.
"In combine adjustments for all crops, we are trying to balance productivity with harvest losses and grain quality but most producers know firsthand the particular challenge this can pose for canola harvest," says Angela Brackenreed, CCC agronomy specialist. "We often see an unacceptable level of loss that is frustrating to correct."
In 2016, the CCC released a video explaining the loss measurement process and revamped the Combine Seed Loss Guide. Brackenreed says the combine optimization tool is a valuable follow-up. "Simply suggesting that setting adjustments need to be made when there are high losses is much easier said than done, particularly with challenging harvest conditions."
The combine optimization tool takes the traditional diagnostic settings flowchart and puts it into a web-based application you can access on your phone. Growers can go through a stepwise process based on the harvesting issue they're experiencing (i.e. grain loss, grain sample quality or productivity) and review the adjustment options most likely to correct the issue.
Joel McDonald, program manager of Agricultural Development Services at PAMI's Humboldt facility points out that the optimization tool can be used for any make or model of combine. "It could be 25 years before most combines on the Prairies have built-in sensor technology that creates self-adjusting machines. Until then, there are tens of thousands of combines that rely on the operator and this guide is a new way for PAMI and CCC to reach them with the information they need when they need it."
Angela Brackenreed and Joel McDonald will be presenting on combine grain loss and the new combine optimization tool at Ag in Motion. Catch them in the Agri-Trend Knowledge Tent on Thursday, July 19 at 2:00 pm.
The Canola Council of Canada is a full value chain organization representing canola growers, processors, life science companies and exporters. Keep it Coming 2025 is the strategic plan to ensure the canola industry's continued growth, demand, stability and success – achieving 52 bushels per acre to meet global market demand of 26 million metric tonnes by the year 2025. Visit canolacouncil.org to learn more.
Source: Canola Council of Canada