Know the PBR rules
2 years ago
-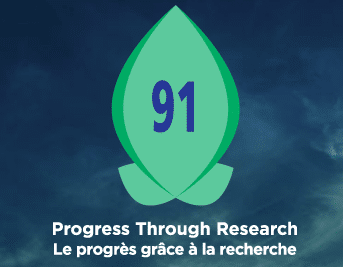 The goal of Plant Breeders' Rights (PBR) is to encourage investment in plant breeding in Canada. Yet there is a misconception that PBR only benefits large companies. The fact is, large companies often have other tools to protect their intellectual property, including patents and contracts.
PBR is critically important for public breeders, including universities, and smaller private breeders who may not have the resources or traits necessary to utilize other forms of protection.
Know the new PBR rules:
If a variety is protected under PBR, it is illegal to sell common seed, even if you don't use the variety name.
Under PBR, it is OK to keep seed on your farm – as long as the farm-saved rights are not pre-empted by another agreement or contract.
Under the new PBR '91 rules, the buyer, the processor and the seller are responsible for the infringement.
Visit PBRfacts.ca for more information.
Canadian Agricultural Partnership launched
2 years ago
-
April 1st marked the official launch of the Canadian Agricultural Partnership, a $3-billion commitment that will help chart the course for government investments in the sector over the next five years.
The Partnership aims to continue to help the sector grow trade and advance innovation while maintaining and strengthening public confidence in the food system, and increase its diversity.
Federal, provincial and territorial (FPT) governments have been working collaboratively since 2016 to develop the next agricultural policy framework, the Canadian Agricultural Partnership. Federal, provincial and territorial governments consulted with a wide range of stakeholders, including producers, processors, indigenous communities, women, youth, and small and emerging sectors to ensure the Partnership was focused on the issues that matter most to them.
In addition, under the Partnership, business risk management (BRM) programs will continue to help producers manage significant risks that threaten the viability of their farm and are beyond their capacity to manage.
Quick facts:
The Partnership includes $1 billion for federal activities and programs, and $2 billion in cost-shared programs delivered by provinces and territories on a 60:40 basis.
Program details and applications were launched for the six federal programs on February 13th and include: AgriMarketing, AgriCompetitiveness, AgriScience, AgriInnovate, AgriDiversity and AgriAssurance.
The Government of Canada is working with provinces and territories to finalize the details of cost-shared programs, which will be announced as they become available.
In addition to the $3 billion investment in strategic initiatives under the Canadian Agricultural Partnership, farmers will continue to have access to a robust suite of business risk management programs. Changes to business risk management programs are in effect for the 2018 program year.
The sector is strong, with exports in 2017 of Canadian agriculture, agri-food, fish and seafood reaching $64.6 billion, a $2 billion increase from 2016 levels. Producers are also forecast to see record levels of net cash income, with increases in both crop receipts and livestock production.
Using the Alberta Climate Information Service
2 years ago
-
In agriculture, weather is the most important factor in determining the success of a cropping or grazing season. Alberta Agriculture and Forestry's website features the Alberta Climate Information Service (ACIS) an interactive tool that helps producers, farm consultants, and researchers.
ACIS is a network of more than 350 weather stations around the province reporting weather conditions in near, real-time. It includes detailed archival information that goes back to 1961. "With more than 350 weather stations to choose from, you should be able to find one close enough to you to be approximate to the conditions you are experiencing," says Harry Brook, crop specialist at the Alberta Ag-Info Centre.
Elements covered by this network include precipitation accumulated and recent, temperature extremes and average, relative humidity, wind speeds and directions, solar radiation, snow depth, soil temperature at four different depths, and soil moisture as a percentage of field capacity. These elements allow comparisons to long term averages.
ACIS includes is a large amount of data on long-term averages for air temperatures, maximums and minimums, growing degree days at base 0 degrees, 2 degrees, and 5 degrees, and frost probabilities in 1 degree increments from 0 C to -5 C. The program also includes a wind chill index, and current weather radar can also be accessed.
ACIS also features a large collection of maps that look at drought indexes, fire danger, precipitation, soil moisture and temperature. Detailed moisture information is found for Southern Alberta through the Irrigation Management Climate Information Network (IMCIN) to help with irrigation decisions.
"Soil moisture and temperatures are useful in predicting when soils should be ready to start seeding and decide if moisture is sufficient to allow germination," says Brook. "Temperatures and wind speeds can help in deciding when it is safe to spray pesticides or help in diagnosing the possibility of spray drift."
"There is also a Fusarium head blight risk map. Using the preceding weather conditions, it can predict how likely it is that fusarium head blight will establish in your vicinity and help in timing for any fungicide application," explains Brook. "Plans are also underway developing insect pest prediction maps for some of our most damaging insect pests.
"Growing degree days, potato heat units, and corn heat units for localities are useful in estimating if various crops can be successfully grown. Also, these average numbers combined with frost probabilities are useful tools in estimating if there is enough time left in the growing season for a crop to mature," he adds.
Alberta Agriculture and Forestry is hosting a webinar on the many uses of ACIS on Wednesday, May 2, 2018 from 10 a.m. to 12 noon.
Lyster, Whiting Honoured by Alberta Seed Growers
3 years ago
-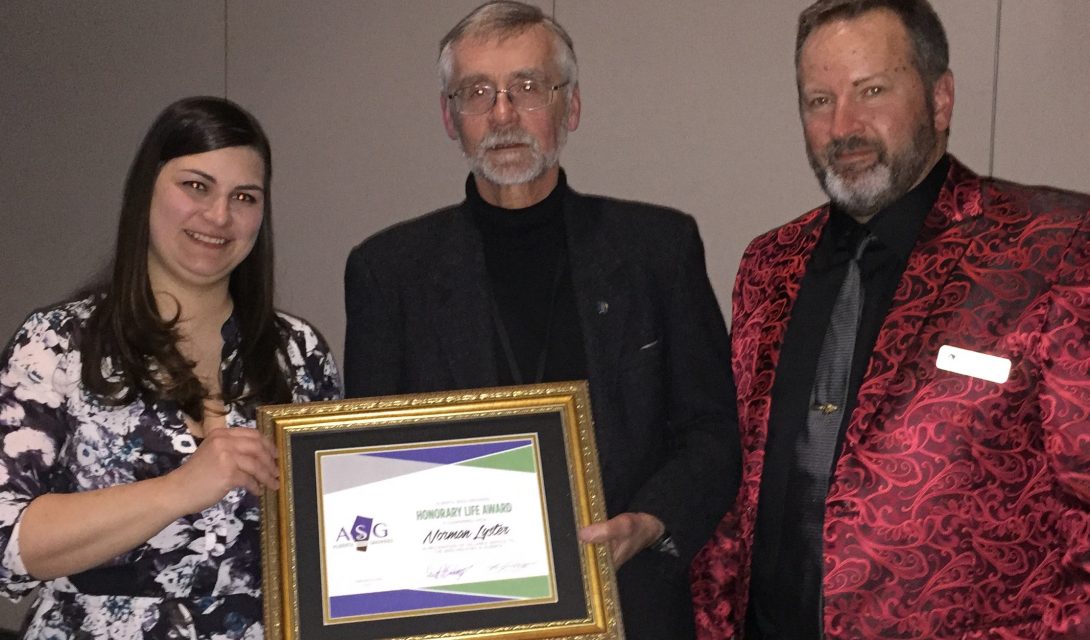 The Alberta Seed Growers honoured two individuals at their recent annual general meeting in Banff, Alta.
Norm Lyster was presented the Honorary Life Award in recognition of his valuable service to the seed industry in Alberta.
Lyster attended his first CSGA AGM in Banff as a seven-year-old in 1961 and has been involved with the Canadian Seed Growers in an official capacity since 1976.
He earned a Bachelor of Science in Agriculture, majoring in agricultural economics, from the University of Alberta, where his thesis focused on market risk and the maturing risk reduction market for feed pea producers. He also obtained an MSc Ag. in 1999, majoring in marketing and trade, under a fellowship from the Winnipeg Commodity Exchange.
Lyster has worked as owner, operator and manager of Lyster Farms Ltd. Integrated Pedigreed seed production, processing and sales since the 1980s. He is a CSGA recognized Select and Foundation Grower, and accredited grader and operator with the Canadian Seed Institute.
Lyster's involvement in the Alberta and Canadian Seed Growers has been long-running and multi-faceted. He was elected a provincial director of the Alberta branch of the CSGA in 1999 and served as national representative from 2003-2014. He was then elected president of the CSGA and served from 2014 to 2016 in that capacity. He is currently the past president of the organization.
This year, Trent Whiting was presented with the Bill Witbeck Outstanding Service Award, for his outstanding contributions to pedigreed seed production.
Whiting, Alberta/B.C. marketing representative with SeCan, has a degree in agriculture from the University of Alberta. For over 25 years, he has worked closely with seed growers in the seed industry. He started his seed career in Edmonton with UGG Forage and Special Crops in a production role. He remained with UGG/ Proven Seed until 2007, then a short time with BrettYoung before joining SeCan in the spring of 2008.
Whiting is a coach to his friends, his members at SeCan and his competitors in the industry – he has a drive to make all those around him better, and puts the needs of his members and their customers ahead of his own interests.
In his role at SeCan, Whiting helps his members and their customers choose the best products for their farms – this may not always be a SeCan product and this is noted and appreciated by all. Recently, Whiting has taken on the added responsibility of stock seed production at SeCan in the west.
Congratulations to Norm and Trent for their past and on-going contributions toward a strong seed industry in Alberta.
The Good, Bad and Ugly of Working in a Family Business
3 years ago
-
Successfully navigating the pitfalls that are unique to family enterprises can reap great benefits for everyone involved.
We all know the saying, "You can pick your friends, but you can't pick your family."
And for many people, the idea of working with family members would solicit a resounding response of "No, thank you!"
However, for others, they wouldn't have it any other way. Simon Ellis is one of these individuals. As owner and sales manager at Ellis Seeds, a fourth-generation family seed retailer in Wawanesa, Man. (54 km southeast of Brandon), he says, "Working with family is very rewarding."
Ellis graduated from Assiniboine Community College in Brandon in 2013. It was at that point he assumed more responsibility at his family's company.
"I currently work with my dad and mom, who are slowly stepping back from the business," he explains. "My role has reached a point where I am making the majority of the business decisions. I focus on developing new business relationships, logistics, and running day-to-day tasks with help from our employees."
In 2015, Simon's wife Amanda joined Ellis Seeds and is responsible for the financial and administrative side of the business. Recently, her father also came onboard, bringing with him many years of sales and management experience.
"Our family is very fortunate in that everyone can communicate with each other very well," says Ellis. "There is a trust that you wouldn't find with other employees. The biggest challenge is the fear of damaging a strong family relationship; businesses can be stressful during challenging times. It is important to remember everyone wants what is best for the family and business."
This is the same belief that has endured for nearly a century when Ernest Ellis (Simon's great-grandfather) started Ellis Seeds in 1923. At that time, Ernest shipped grass seed across the prairies because of the need to provide a quality product and produce productive land. Since then, Frank (Ernest's son) took the reins, followed by his son, Warren, who is Simon's father.
"We take pride in that our product has flowed through all four generations," says the younger Ellis.
Need to Communicate
However, the journey has not been without its challenges, which is why he says communication is the most important thing you can do to navigate working in a family business.
"Express your concerns before they build into something bigger, and continually express gratitude to your family members for supporting you and the business. They are working hard to support you, and if a mistake is made, it was a mistake and there are more important things in life."
Have Some Compassion
Rick Stamp is the owner and patriarch of Stamp Seeds, a family owned and operated pedigreed seed farm in Enchant, Alta., located approximately 77 km northeast of Lethbridge.
"Working with family is the most envious position to be in, when each person and — in turn — the family as a group, can figure out how to make it click," says Stamp. "On the other side of the coin, this can be the very worst position to be in as a family, as many family operations do not survive, and this can ultimately break families apart."
It was back in 1979 that Stamp decided he wanted a career in farming. Prior to this, he had gone to college and became a steam engineer, but realized that wasn't what he wanted.
"It was a great learning experience, but I then had a chance to purchase two quarters of land. I applied for a beginning farmers loan from AFSC, which I was able to secure," he recalls. "In hindsight today, I was very ill-prepared, with a lack of business knowledge and no capital. But what I did have was a lot of ambition, the ability to dream, to learn every day and, at the same time, was not afraid to put in the hours to make it happen."
Since 1980, Stamp and his wife Marian have worked together as partners. Their three sons, Greg, Matthew and Nathan also work full time in the business, plus two of Marian's first cousins, who have worked at Stamp Seeds for more than a decade.
Stamp says his company has been successful largely due to deep-down compassion the family has for one another.
"We are concerned what is happening in everyone's lives, what we are having to deal with, and what can we do to help each other be successful and satisfied in their work and personal lives. If we do this for each other as a family, this translates to all other individuals who work in your business building a great operating environment. This then radiates out to everyone else our group deals with."
Pitfalls and Conflicts
There are a number of possible conflicts that can arise in a family business (or any business, for that matter), according to Francine Carlin, principal of the Business Harmonizer Group, an advisory and consulting firm based in Vancouver. Some of these tend to be more unique in a family business enterprise such as:
lack of communication
lack of trust in decision making
not having clear roles or job descriptions
lack of education
little or no shared experiences within the family or the business
a sense of entitlement
not understanding the impact of the family dynamic role in shaping the future of the business
Carlin is dedicated to helping family-business owners and members develop meaningful solutions for resolving the issues and concerns that have become roadblocks to critical decision making. She has found that in her transition from corporate work to working with family enterprises, many issues can be much more complex in nature.
For instance, in working with those in the agriculture industry, Carlin says many family farms are struggling.
"And the legacy is even more emotional because it's tied to the land. I worked with one family who still had the land since 1882 and, somehow, by blood, sweat and tears, they kept it in the family. There are a lot of deep stories in the family enterprise. It takes a lot of emotional energy to change."
Carlin says what she enjoys most is helping to facilitate a shared understanding of complex issues by separating the person from the issue.
"It is important to have regular family business meetings with an agenda and often facilitated by a neutral party. It is also important to establish some form of governance that could facilitate shared understanding and family harmony, so that all impacted are clear about policy, roles and expectations. Hold regular financial reporting and business planning outcomes with nonactive family owners. The more family members working in the business, the more vital it is to ensure that everyone is clear on roles, responsibilities and expectations."
Carlin adds that for those individuals who are considering starting a family business or joining a family business that has already been established, she offers this advice.
"Understand the amount of work and commitment that's required to be successful. Build a foundation of trust and establish financial and business management best practices. And spend time nurturing and supporting a positive family dynamic."
Stamp couldn't agree more: "Build a workable, functional, and most importantly 'accountable' business structure, for everyone to work inside of. Individuals are paid for showing up on time to work every day, and for what they bring to the business — not because of who they are. If you can't get the job done, you should not be part of the team. I believe if you want others to join your business — direct family or not — ask yourself why would anyone want to be involved where there is constant conflict, lack of respect and unhappiness."
Adds Ellis: "Have the tough conversations before starting or joining in. Know where everyone stands and what their goals are. Identify and deal with challenges before they come up. The most important thing here is family and you must protect that at all costs."
Are Seed Testing Methods Keeping Up with the Times?
3 years ago
-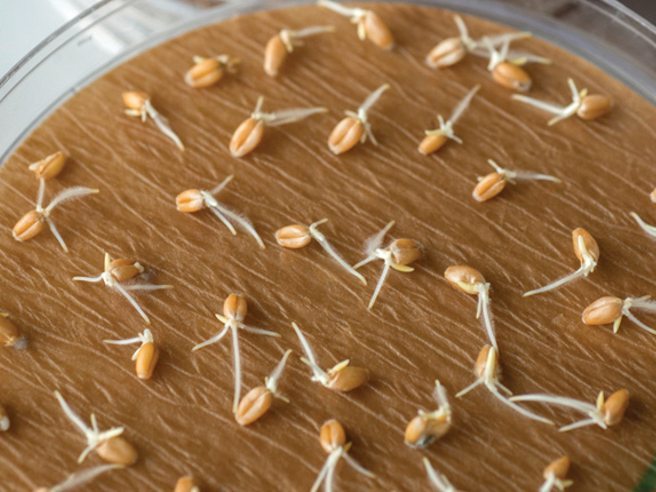 When it comes to seed quality, customers want to know exactly what they are buying and what they can expect.
High quality seed is determined by its parent's genetic makeup, physical integrity and purity of the seed, seed health and physiological seed quality, explains Lahcen Grass, the global manager for seed biology testing and product marketing support at the Syngenta Seedcare Institute.
Alison Powell, a long-time member of the International Seed Testing Association (ISTA) and an honorary senior lecturer at the University of Aberdeen, says it's important to define what we mean by "seed quality."
The term is wide ranging, she says, and encompasses purity, variety, problems of seed health, germination and vigour. She says it also includes whether or not the seed is genetically modified, and factors such as moisture content and seed weight.
"We hear a great deal about plant breeding, but the product of plant breeding is only as good as the quality of seed produced," Powell says, noting much of that depends on seed production conditions.
Grass agrees. "The quality of a given year's seed is determined by the prevailing weather and field conditions from the previous year, and subsequent processing and handling practices," he says, adding that you also have to consider if it was harvested at its highest point of physiological maturity.
The latter property can be determined by two separate tests: a germination test and a vigour test. However, these tests are not created equal.
While each seed company has its own proprietary method for conducting vigour tests, Powell points out that standardized vigour tests are published in the ISTA Rules for Seed Testing and are used worldwide. Vigour tests often impose stressful conditions on the seed during germination and emergence. The ISTA tests include several different tests but are all based on the main cause of differences in vigour, namely seed aging.
"High germination seed lots from the same variety and year can yield good germination test results but score very different on vigour tests," Grass says. "Generally, seed susceptibility to stresses that lead to poor and uneven field emergence are typical features of seed with lower vigour, not of lower germination capacity.
"On the other hand, higher and uniform emergence and vigorous seedling growth are properties of seed with higher vigour and germination."
Seed vigour is unlike germination in that it's not an absolute number. The expression of vigour depends on field conditions and is affected by oxygen uptake, water uptake and soil temperature. Thus all seeds will emerge well in favourable conditions, and differences in emergence due to vigour only arise in poor conditions.
"Industry shouldn't rely solely on germination tests, because it doesn't give the complete story," Grass says. "The good thing is all seed companies go the extra mile to conduct their own vigour tests. They invest their own resources because they don't want to sell low vigour seed to customers."
Sarah Foster, president of 20/20 Seed Labs, agrees.
"We have our sights set on seed quality and how the environment could influence vigour," she says. "With hybrid wheat on the horizon, quality, performance and vigour are key competing factors. As scientists we have to work on new tests to determine what's needed in the near future."
Grass says this information can then be used to rank seed lots based on germination. For example, if the germination rate is low, there's no need to test it for vigour.
With a focus on vigour, Powell and the ISTA Vigour Committee constantly think about the development of new tests and the potential for automation, which can dramatically speed the test results. For example, Powell says the radicle emergence test depends on the physical counting of emerged radicles, but the use of image analysis can drastically speed the process.
Just as scientific advancements are made in plant breeding, so too are they in the seed testing sector. But are the rules and standards set forth keeping up with these new breakthroughs?
In 2009, Joost Van der Burg, a member of ISTA's Advanced Technologies Committee representing the Netherlands at the time, inventoried the most promising technologies that were either in the pipeline or had emerged and were available for use. The technologies, he says, usually involve some investment and they sometimes take a decade or more to mature, so it's understandable that some secrecy surrounds them.
Powell acknowledges there are new technologies, developed by equipment companies, which are beginning to come into the market. The challenge, she says, with many of the tempting new technologies is that they've only been tested using select material, not commercial material.
Powell explains that ISTA's Seed Science and Advisory Group can evaluate the efficacy of equipment that is marketed as a means of testing seed.
"We get as much information as possible from the company and published research, and then evaluate the evidence that the equipment is effective and publish the results," she says. "The results of the seed tests need to be comparable everywhere because that is the basis of international trade."
However, having worked with students from Nepal, Bangladesh and Kenya, Powell says she's particularly aware that not all countries have modern laboratories and equipment. "That's why it's necessary for the association to recognize a wide range of tests," she points out.
Tested and Trusted
"Our vision within the International Seed Testing Association is 'uniformity in seed testing,'" Powell says. "We've worked hard to get the rules and testing standards we have today in place.
"The tests that exist now are the ones that have been and can be replicated around the world in any laboratory, and that give people in the seed industry a great deal of confidence. They are also the basis for international trade."
In some cases, the different types of tests to evaluate one characteristic of seeds reflect the changes in approach to testing. "When I think about a variety test, there are many different types of tests that can be used to verify the variety," Powell says. "These range from traditional methods that evaluate if features of the seed are 'characteristic of the variety' to extraction of proteins or DNA techniques, followed by electrophoresis or PCR [polymerase chain reaction]."
Foster, who is also an ISTA auditor, which means she helps to audit government laboratories and is committed to promoting the seed industry, says: "Yes, ISTA is current with the times and keeps working toward introducing new rules." There's a great deal of work going on internationally, she adds, and ISTA's focus remains strong to incorporate new standards.
Powell explains the test methods approved by ISTA today underwent rigorous research and numerous studies to ensure accuracy and the ability to replicate.
The characteristics tested for today are the ones industry has found to influence seed performance. If you want good emergence, then the seed needs to have a high germination rate and good vigour, Powell emphasizes. If you need seed of a certain variety, then you want excellent purity, she adds.
Adoption of New Rules
When working toward adoption of new testing methods, ISTA follows a Method Validation Programme. Technical committees conduct appropriate background research and development for different tests. This is followed by six laboratories completing the test using the specified protocol and preparation of a report from the data. Then there's a technical and a statistical review of the report to determine if the validation has shown that the test is repeatable and reproducible. If the validation is satisfactory, then the test is proposed as a new rule. If approved by ISTA members, it can be introduced into the ISTA Rules.
The subsequent application of the test by ISTA laboratories is monitored through an auditing process and proficiency tests in which ISTA accredited laboratories are sent the same sample, asked to perform a test and expected to get the same results.
For some tests, there are a number of methods that can be used. As an example, a number of approaches and equipment have been developed to determine if seed has been genetically modified. Powell explains the approach ISTA has taken to ensure uniformity in testing is that a laboratory can use a combination of approaches, as long as we get the same results.
Future
It's important for testing methods to remain relevant. "We are looking at and keeping our eye on automation, the use of robotics moving into image analysis, and the requirements for uniformity in horticulture and precision agriculture," Powell says. "If you see something that has potential, bring it to ISTA because we might be able to help it advance. We need to know what's going on scientifically and to develop it, and develop it properly."
ISTA's Seed Science Advisory Group looks at practical and applied research. Comprised of eight people, representing Denmark, France, the Philippines, the United Kingdom and the United States, the group is responsible for reading publications and scientific literature to see if there are ideas, concepts or technologies that need to be further developed.
"We all want seed to perform for customers," Powell says, noting seed performance impacts the entire value chain.
Foster adds: "Farmers continue to adopt precision ag practices and depend on every single seed put into the ground to grow and perform — the only way to achieve that is by doing some very high profile vigour work. Every inch of the field counts, and seed testing plays an important role."
Sarah Foster Honoured by the Seed Community
3 years ago
-
Sarah Foster, president of 20/20 Seed Labs, received the Outstanding Service Award from the Alberta Seed Processors at the 2018 AGM in Edmonton, Alta. on Jan. 18, 2018.
Sarah founded 20/20 Seed Labs in 1989. The laboratory is now fully accredited for all crop kinds in Canada and is the only private ISTA accredited laboratory in Canada.
"This is a gift I will never forget and I'm so proud to be in ag," Foster said on Twitter.
The Alberta Seed Processors created a video to highlight some of Sarah's work.
David Sippell Joins Cibus to Lead Canadian Operations
3 years ago
-
Cibus, a leading trait development and plant breeding company, has appointed David Sippell as Vice President, and General Manager, Canada. He will manage Canadian operations from Cibus' new office in Winnipeg.
Sippell has more than three decades of experience within the agribusiness sector. With the recent launch of SU Canola in Canada, Sippell will direct Cibus' growth and expansion into the Canadian canola market.
"David's addition to the Cibus team as the leader of our Canadian operations will steer the company's progress in this geography and provide innovative profit-yielding options to Canadian farmers," said Peter Beetham, Ph.D., President and Chief Executive Officer, Cibus. "David's extensive knowledge of the seed business and international agribusiness expertise will strengthen and grow Cibus' expanding presence in the world's most valuable canola seed market."
Sippell will bolster Cibus' growing commercial team. "David's expertise in the agribusiness sector and his deep knowledge and passion for the canola industry will contribute to the expansion of Cibus' operations in Canada," said Bradley Castanho, Ph.D., Senior Vice President, Commercial and Business Development.
Sippell's experience includes decades of leadership experience in the canola seed business in Canada with a range of companies that include Pioneer Hi-Bred International Inc. and Syngenta, and Sippell was the founding President and CEO of Canterra Seeds Holdings Ltd., a grower-owned seed company. Sippell holds a Bachelor of Science, Master of Science and Doctor of Philosophy in Plant Pathology and Plant Breeding from the University of Guelph.
According to a news release, SU Canola offers Canadian growers valuable, non-GMO hybrids that provide a new option for weed control. Cibus' first canola hybrid was registered for sale in Canada in spring 2017. Led by Sippell, Cibus' Winnipeg office is the flagship for expanding Canadian operations as Cibus launches its expanding product portfolio.
Industry Boards Give Farmers a Voice
3 years ago
-
As you finish up your busy growing season, the last thing on your mind might be an industry board meeting. But as harvest comes to an end, farmers around Alberta are taking up the reins of boards across industries.
Why sit on a board? For growers like Kevin Auch, it's a matter of recognizing the potential in his sector and then working to see just how much progress can be made.
"We are one of the newer boards in the province and we have gone from nothing to a powerhouse organization trusted with a fairly large budget to help out our farmers," says Auch, chair of the Alberta Wheat Commission. "Our role is really twofold – the first is to advocate for wheat growers, but the biggest role we have is investing in research to help solve some of the problems Alberta wheat growers face."
The Alberta Wheat Commission was created around the same time the Canadian Wheat Board single desk was dismantled, as growers in the province voiced a desire to see some of the work of the board continue. Auch joined to become an active participant in the discussion of his industry, and is serving as chair for the remainder of his second three-year term.
"The more effort you put into a board, the more you are able to accomplish and the more the industry advances," he says. "I know a lot more about the industry than I did even a few years ago. Without industry boards, issues wouldn't be dealt with in terms of market development and research at the grower level. We are also a credible voice to the customer, reassuring them that we are selling high quality, healthy product."
Auch farms 5,000 acres south of Vulcan. He is a strong advocate for strict crop rotations, as he says crop diversity is one of the biggest ways to manage disease and to keep agriculture sustainable.
"I want to make sure wheat is profitable for the grower and desirable for the consumer," he says. "As a member of the board, I can drive some of the research into solving disease issues to make sure wheat remains a staple crop in Canada."
Building a Board
Currently at the end of his term as chairman of the Alberta Canola Producers Commission (ACPC), Greg Sears initially joined his board in 2012 as a way to stay involved in the industry and to share his expertise as both a farmer and an engineer. He says board involvement is an important way to help the agriculture community through service.
"It is very gratifying to be able to advance the industry of farming," he says. "As numbers go, we are a small population and industry boards help give us a louder voice. On a personal level, board participation is an excellent way to network with other farmers to learn more about what practices work for them."
The ACPC is made up of 12 regions and each region has a director. Usually it's another member who encourages a colleague to participate, but Sears says he'd like to see even more farmers put their name forward for nomination. On his board, potential members need the signature of 10 eligible producers to become an official nominee. If there is more than one nominee in each region, elections are held within the region.
"The biggest concern other farmers communicate to us before signing on is the time commitment, but you can choose your level of involvement to a certain extent," he says. "We have four board meetings a year, and there are also several industry and government events that some of our board will attend each year. We try to spread the work load around but the time commitment can range from 12 to 30 days per year – depending on the member's interests."
Sears farms 2,400 acres north of Grande Prairie and appreciates that board participation allows him to share his experiences and advocate for issues important to his region's farmers. He says the ACPC board has directors who farm 1,000 acres, and those who farm 60,000 acres. He prefers to see both experienced and younger producers on a board in order to have a mix of voices, and to share different perspectives.
Building an Industry Network
As the son of a seed grower, Ward Oatway grew up watching his father attend board meetings. In his youth, his summer family holiday was attending the national meetings. It was at one of those national meetings later in his career where Oatway was approached by the Alberta Seed Growers to join the board – and knowing what they had accomplished in the past helped entice him to put himself forward as a nominee.
"It was initially a bit of nostalgia that led me to the board, but today I see just how many people are involved to make sure that our industry is being heard," he says. "For me, working with seed growers across the country, not just around the province, gives me the kind of insight into what different growers face, and also into how solutions in one part of the country can help in Alberta."
This is Oatway's first year as the president of the Alberta Seed Growers and he says that while there has been a steep learning curve, having a supportive past president has helped him in his role.
"Our past president has helped me to prioritize and provided guidance on the direction he took the board while allowing me to find my way. It's a very democratic process, so it's important to make sure you are representing growers in the way they have asked."
He says boards can also step in when the roles of different provincial and federal departments change suddenly. He points to when the Canadian Food Inspection Agency eliminated their crop inspectors. Several agricultural boards, including the Alberta Seed Growers, stepped up to make sure the new inspection process was in place so that the shift to third party inspectors went seamlessly.
"What was a big change that could have caused panic instead transitioned easily in part because of the involvement of various boards," says Oatway. "It seems like policy continues to change quickly, in terms of breeding and technology and global markets. We make sure our growers' interests are being heard in those policy discussions.
Oatway grows 1,300 acres of pedigreed pea, barley and wheat seed along with commercial canola on his farm near Clive. He says he wants to see more people volunteer to become members of boards.
"I think if people ask to become members they have a really good mindset coming into the process," he says. "Ours is a very young board but we need a mix of experiences as people have more or less time, based on where they are in their lives. Board experience is worth the time it takes to become fully invested in your industry, and to help make a difference going forward."
Milling Oats are Worth some Attention
3 years ago
-
If you're interested in producing oats for the milling market, CDC Ruffian and CS Camden aren't the only two varieties on the market, but they are two newer milling oat varieties with the quality characteristics millers are looking for. And from a farmer perspective, they have good agronomic packages as well.
Growing oats for the milling market ideally shouldn't be an afterthought, says Terry Tyson with Grain Millers Canada Corp. of Yorkton, Sask. The requirements for a milling oat probably aren't quite as rigid as they are for producing malt barley, but there are similarities.
"To some extent, too, oats might be a victim of their own hardiness," says Tyson, Canadian grain procurement manager. "Depending on the year, you can have reasonably good success with oats, with reduced inputs. But we encourage growers looking to supply the milling market to apply some extra attention."
Requirements may vary by company, but Grain Millers, for example, is looking for oats with uniform, plump kernels, good bushel weight, good milling yield and quality characteristics that include high beta glucan and low oil content. Those quality characteristics are important for a grain that's being processed for food product lines, which carry heart-healthy label claims.
Tyson says milling oats differ from the pony or feed oat market where often appearance – plump kernels with white hulls – is the key feature. "For milling oats the outside appearance isn't as much of an issue," he says. "If a crop does get rained on we're not worried if the hull has some discoloration. What we look for when we remove the hull is nice creamy white groats."
CS Camden, marketed by Canterra Seeds, and CDC Ruffian, marketed by FP Genetics, both deliver good milling characteristics and proper nutritionals, and in a third area which is equally important to millers as well as growers, they both have good agronomic packages.
Developed in the Lantmannen SW Seed breeding program, CS Camden was evaluated and advanced through Canterra Seeds internal product development program and registered in Canada in 2014. "It has an excellent fit for Western Canada," says Brent Derkatch, director, operations and business development with Canterra Seeds. "The variety is agronomically superior, with a shorter stature and better lodging resistance."
And it is a higher yielder as well, with field trials showing an average 114 per cent yield compared to CDC Dancer in Saskatchewan, and achieving 153 bushels per acre yields in Manitoba, according to the 2017 Manitoba Seed Guide. During the 2017 harvest, there were reports of 170-plus bu/ac yields.
CDC Ruffian was developed at the University of Saskatchewan's Crop Development Centre with the first Certified seed available to farmers in 2016. The initial work on the variety was started by the now-retired plant breeder Brian Rossnagel, and later transferred to oat and barley breeder Aaron Beattie.
"It is a variety that is just being introduced to farmers, but it has shown very well in performance trials, " says Ron Weik, seed portfolio manager, FP Genetics. " CDC Ruffian offers excellent yield potential that is 10 per cent higher than CDC Dancer in Alberta and 12 per cent higher in Saskatchewan." The variety also has a very good agronomic and disease package, ideal for production outside of the crown rust areas on the Prairies.
At the University of Saskatchewan, Beattie says he's always watching for new varieties with improved agronomic and milling characteristics. About 90 per cent of resources of their oat breeding program is devoted to milling oats.
"We always have to keep both farmers and millers in mind as we look at variety development," says Beattie.
To meet farmer interests, he's looking for features such as higher yield, improved straw strength and "reasonable" maturity to suit Prairie growing conditions. And disease resistance can also be a concern, depending on different areas of the prairies.
On the milling side, he is looking for varieties with features such as white hulled, low hull percentage, high kernel plumpness and good test weight. Also, to meet milling and end-use requirements, oil content has to be below eight per cent and beta glucan levels a minimum of 4.5 per cent and preferably higher. Although protein content hasn't been a big concern in oats, some millers are now looking for higher protein varieties.
As a company always interested in good quality milling oats, Grain Miller's Tyson encourages growers to follow proper production practices.
"Oats have been treated in two ways over the years," says Tyson. "We have some growers who really pay attention to producing good quality oats and really treat it as a cash crop. And there are some producers who, depending on the year, may make it a last minute decision.
"But we always encourage growers to use good quality pedigree seed, select clean fields that are free of wild oats and apply proper fertility." He says oats need, on average, about 100 lbs of actual available nitrogen per acre, which may mean adding 40 to 60 lbs of nitrogen along with phosphorus, at time of seeding. Soil test results will provide specific recommendations.
Variety selection is also important – grow what the miller wants. Grain Millers, for example, has a variety list for growers that includes seven "recommended" varieties (including CS Camden and CDC Ruffian), along with seven other "acceptable" varieties. They also included a list of prohibited varieties – they aren't interested in feed, hull-less and forage type varieties.
Grain Millers offers production contracts to growers, including many long-time suppliers, but is always interested in talking to new suppliers as well. The company is just building a new elevator and office in Rycroft, in Alberta's Peace River region, to expand its oat collection area.