#Plant16: Tweet Your Experience
4 years ago
-
Farmers and other ag stakeholders across Alberta are tweeting pics of their activities under the hashtag #Plant16. Here's some tweets from the past week we collected — don't be shy to post your own!
Seeding in southern Alberta is in full swing #plant16 pic.twitter.com/YBbdxqmUhO

— Albert (@abtsch) April 8, 2016
Doing some FAST field fixing and seed bed prep for #plant16 with @PrairieRockFarm in southern Alberta! pic.twitter.com/cNv6TPHwSx

— Horsch LLC (@HorschLLC) April 8, 2016
Beautiful day for seeding yellow peas in SW Alberta (the wind quit howling ) #plant16 pic.twitter.com/CpRy5CgFfM

— PROMAX AGRONOMY (@Promaxag) April 7, 2016
Potato planting underway in Alberta #plant16 pic.twitter.com/ZMtBLEjcb1

— James Bareman (@jamesbareman) April 4, 2016
Video: Stop Fusarium Before it Stops You
4 years ago
-
Fusarium graminearum has cost Alberta producers between $3 and $8.7 million annually due to reduced yield and downgrading. Alberta Agriculture has created a new video, to help raise awareness of this pest.
Canola Council Welcomes Opportunity for Stable Trade with China
4 years ago
-
The governments of China and Canada agreed to continue discussions on a permanent science-based solution to Chinese concerns about the disease blackleg. Canola trade will continue under current commercial terms until September 1, 2016 while further research and information sharing occurs. Dockage will continue to meet the terms of commercially negotiated contracts.
"The canola industry remains committed to a science-based resolution of Chinese concerns about blackleg," says Patti Miller, president of the Canola Council of Canada. "The next five months will help to achieve a permanent risk-based solution that enables stable canola exports to China. We appreciate China's ongoing commitment to collaboration and research."
Discussions on science-based solutions to concerns about blackleg have been ongoing as part of the 2010 Memorandum of Understanding established between the governments of Canada and China.
As part of this Memorandum of Understanding, the canola industry and Government of Canada have invested significantly in research to understand more about the potential risk from the disease blackleg and ways to mitigate this risk. This research has involved thousands of hours from scientists, industry and government, and included all aspects of the canola supply chain from seed genetics and agronomic practices through to handling and processing. The last component of research investigated how dockage, or foreign material, impacts the risk of blackleg transmission. Under the terms agreed to in 2010, canola seed exports to China can only be shipped to crushing facilities approved by Chinese authorities that are in areas where Chinese rapeseed is not grown.
"We commend the government of Canada for their sustained and significant efforts to achieve today's announcement," says Miller. "Under the leadership of Agriculture Minister Lawrence MacAulay, negotiations by government officials over the past several months enabled today's success."
The Canola Council has worked closely on this issue with officials at the Market Access Secretariat of Agriculture and Agri-Food Canada, the Canadian Grain Commission, the Canadian Food Inspection Agency and Global Affairs Canada. Work will continue to answer any remaining scientific questions.
GM Alfalfa Controversy Rages On with Farmers Union Letter
4 years ago
-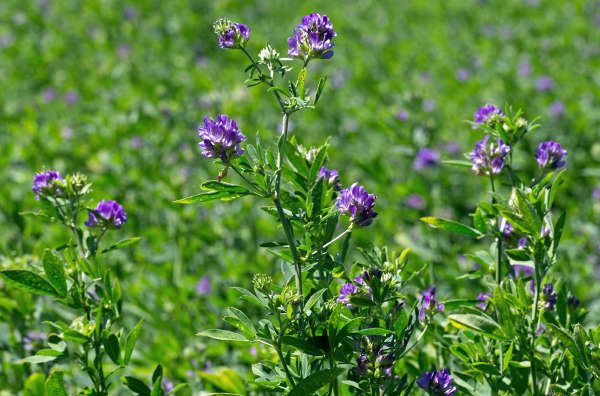 The National Farmers Union (NFU) has written to Agriculture and Agri-Food Minister Lawrence MacAulay asking him to stop Forage Genetics International (FGI) from selling genetically modified alfalfa seed in Canada this spring. The NFU also asked the minister to put border controls in place to prevent importation of contaminated conventional alfalfa seed from the U.S.
Forage Genetics announced this week it will sell the GM alfalfa seed for hay production in Eastern Canada this spring.
"This would be a disaster for farmers because, once it has been planted, there would be no way to stop the GM trait from spreading to organic and conventional farms and crops. There are many domestic and export markets that completely reject alfalfa seeds, hay or pellets with any GM content. Clearly, the minister needs to take action to protect the interests of Canadian farmers before it is too late."
Last week the Alberta Association of Municipal Districts and Counties passed a resolution to prevent the introduction of GM alfalfa into Alberta until there is market and consumer acceptance.
"If GM alfalfa is sold in eastern Canada, it would only be a matter of time before it spreads into the West. FGI should not be allowed to sell a product that would cause so much harm to farmers all across Canada," says Peter Eggers, NFU Region 8 Coordinator.
"In light of the recent media report of an Alberta seed grower who suspects seed he purchased from the USA was contaminated with herbicide-tolerant GM varieties, we are also concerned about contamination from imported seed. A 2015 USDA study shows that GM alfalfa genes have escaped and are being spread throughout the countryside by pollinators. American alfalfa seed production is therefore at high risk for contamination."
To protect the Canadian alfalfa sector, farmers should not purchase alfalfa seed from the U.S., said Slomp. "When buying from Canadian sources, seek out seed growers who have always used Canadian grown sources. It is legal for farmers to sell farm-saved seed from older varieties that are in the public domain. There are only two registered alfalfa varieties, AC Grazeland BR and Yellowhead, that are not in the public domain."
Forage Genetics to Sell GM Alfalfa in Eastern Canada in 2016
4 years ago
-
Forage Genetics International (FGI) has announced it will offer commercial seed sales of HarvXtra  alfalfa with Roundup Ready Technology to farmers in Eastern Canada in time for spring 2016 planting.
HarvXtra alfalfa with Roundup Ready Technology is an elite alfalfa containing both the Roundup Ready trait and a reduced-lignin trait. The reduced-lignin technology was developed through a strategic partnership formed between FGI, The Samuel Roberts Noble Foundation, the U.S. Dairy Forage Research Centre and Pioneer, in conjunction with Monsanto Company.
HarvXtra alfalfa with Roundup Ready Technology offers growers unsurpassed weed control with excellent crop safety and maximizes grower flexibility to ease the yield versus quality trade-off currently faced by alfalfa producers to produce quality alfalfa for dairy and beef cows. 
Expected seed quantities will be limited in 2016 but are estimated to be sufficient to plant a small, targeted launch of less than 5,000 acres of hay.
FGI is introducing commercial seed sales of HarvXtra alfalfa with Roundup Ready Technology in Eastern Canada only.  At this time, there are no plans to commercially offer HarvXtra alfalfa with Roundup Ready Technology to growers in Western Canada.
This decision is confined to the sale of seed for hay production. Companies are not permitted to undertake HarvXtra alfalfa with Roundup Ready Technology seed production in Canada.  All seed production has taken place in the U.S., with only commercial sales for hay production allowed in Eastern Canada in 2016.
The Canadian Seed Trade Association (CSTA) has facilitated the development of hay-to-hay coexistence plans and best management practices for both Eastern Canada and Western Canada working in conjunction with the alfalfa forage industry value chain, which included FGI and Monsanto Canada.   While HarvXtra alfalfa with Roundup Ready Technology will not be sold in Western Canada at this time the completion of an updated plan was in response to requests for additional stewardship guidelines to address the possibility of product moving from Eastern Canada to Western Canada.
Similar stewardship plans in the U.S. have allowed organic, conventional and genetically modified (GM) alfalfa farmers to coexist, regardless of the production method they choose. GM alfalfa has been sold and grown by U.S. farmers since 2005.
Canadian regulatory agencies granted approval for the unconfined environmental release of reduced lignin alfalfa in October 2014 followed by authorization of HarvXtra alfalfa with Roundup Ready Technology in December 2014.
Alberta Municipalities Resolve to Block GM Alfalfa
4 years ago
-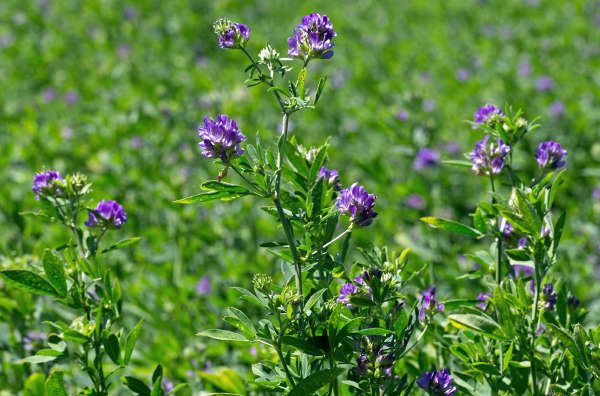 The Alberta Association Of Municipal Districts & Counties (AAMDC) has passed a resolution designed to prevent genetically modified alfalfa from being introduced to the province.
The resolution will be sent to the province for consideration.
 It asks that Alberta Agriculture and the federal government collaborate with stakeholders to prevent the introduction of genetically modified alfalfa until such a time that there is a demand for the product from Alberta's export markets.
Roundup Ready alfalfa seed — created and marketed by Forage Genetics International (FGI) — is now available commercially in the United States. It's also approved for sale in Canada as well, but FGI has made the decision to hold off on commercial sales of the herbicide-tolerant genetically modified alfalfa, despite the fact that it was granted full food, feed and environmental approval by the Canadian Food Inspection Agency in 2005.
Heather Kerschbaumer, president of Forage Seed Canada, has applauded the AAMDC's resolution. She fears that those export markets will be lost if GM alfalfa is grown in Western Canada. In 2015, she lost a sale of clover seed to Europe due to the presence of some GM canola seeds in the shipment, despite the fact it was certified organic.
"Until the rest of the world accepts GMO crops, why would we want to totally abandon our export markets?" she says. "We're not opposed to the technology, we just don't want to be contaminated. But how do you build a wall to ensure contamination doesn't happen?"
Alberta's Terry Young, Keith Degenhardt Appointed to WGRF Board
4 years ago
-
The Western Grains Research Foundation (WGRF) welcomed five new directors at its Annual Meeting in Winnipeg.
Graeme Manness of Domain, Man., replaced Gerrid Gust as the Western Canadian Wheat Growers Association nominee. Glenn Tait of North Battleford, Sask., replaced Bill Gehl as the Saskatchewan Wheat Development Commission nominee. Robert Misko of Roblin, Man., replaced Ray Askin as the Manitoba Wheat & Barley Growers Association nominee. Terry Young of Lacombe, Alta., replaced Kevin Auch as the Alberta Wheat Commission nominee. Corey Loessin of Radisson, Sask., replaced D'Arcy Hilgartner as the Western Pulse Growers nominee. Dave Sefton of Broadview, Sask., was re-elected as chair and Dr. Keith Degenhardt of Hughenden, Alta., was re-elected as vice-chair.
"2015 was a remarkable year for WGRF," said Dave Sefton, board chair. "Last year WGRF invested $19.6 million into variety development and field crop research.  We are currently managing over 245 research commitments including core program funding for wheat and barley variety development as well as singular projects from the Endowment Fund. I would like to express my appreciation to the retiring directors for their commitment to WGRF and dedication to agriculture research."
"WGRF has experienced a lot of growth, over the past few years," said Garth Patterson, WGRF executive director. "WGRF's singular focus on funding crop research brings many diverse farm groups together to collaborate for the benefit of western Canadian farmers. WGRF is in an excellent position to continue this success for years to come."
Survey Finds Canola Disease in Six Provinces
4 years ago
-
A national survey led by the Canadian Food Inspection Agency (CFIA) has found Verticillium longisporum in six provinces: British Columbia, Alberta, Saskatchewan, Manitoba, Ontario, and Quebec.
V. longisporum is a plant disease that impacts a range of crops, including canola. It was first detected in Canada in 2014. Since then, the CFIA, in partnership with industry and provincial partners, has conducted random surveys to determine its general distribution in canola-growing regions of Canada.
Verticillium is not a reportable plant disease in Canada and is not known to be regulated in other countries where it is found around the world.
As the planting season approaches, grains and oilseeds producers are encouraged to develop and implement a biosecurity management plan to prevent plant pests from being introduced or spread on their lands. Learn more about Verticillium longisporum and crop biosecurity.
Judges Hear Case Over Seed Treatment Regulations
4 years ago
-
A panel of judges has reserved their decision on the Grain Farmers of Ontario's request for appeal on the dismissal of the case surrounding the Ontario government's seed treatment regulations.
"We appreciate that the court is taking the time to consider the significance of this issue," says Mark Brock, Chair of Grain Farmers of Ontario. "We are pleased with today's outcome and look forward to the decision."
The case was heard by a panel of judges, comprised of Justice Laskin, Justice Cronk, and Justice Miller.
Two hundred grain farmers filled the courthouse today, showing support for the case and concern over the outcome. Farmers arrived from across Ontario on five buses, as well as by car and train.
"We would like to sincerely thank our farmer-members for their demonstration of support — we are all well aware of the serious impact of these regulations," says Brock. "We will share further details, as soon as they become available, with our membership."
CSGA Develops Online Tool for Seed Retailers
4 years ago
-
In partnership with the Canadian Association of Agri-Retailers (CAAR), the Canadian Seed Growers Association has developed an online program to increase seed retailers' ability to communicate the benefits of certified seed to customers. The eLearning tool is designed as a self-administered, 20-minute online eLearning program with a multiple-choice questionnaire to obtain 0.5 CEU credits. It is important for agri-retailers to understand the benefits of the certification system to empower them and allow them to educate customers on their purchasing options and risk management tools for their farm, according to CSGA. More information is available at caar.org/training/investing-in-certified-seed.