Listen Now: Canola Crops Take a Beating
4 years ago
-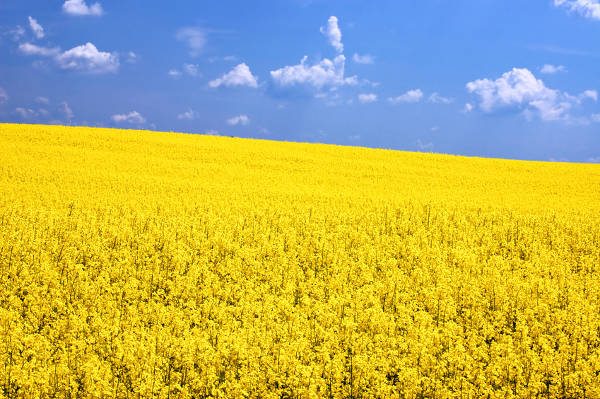 Some canola crops took a beating from the dry conditions, insects, and frost. Murray Hartman, provincial oilseed specialist with Alberta Agriculture, says producers should be checking their crops to see if reseeding might be an option.
Listen here:Â http://www1.agric.gov.ab.ca/$Department/newslett.nsf/all/cotl25223/$FILE/16_154_Murray_Hartman.mp3
Wheat Genome Sequencing Soon to be Released Across the Globe
4 years ago
-
Wheat accounts for over 20 per cent of all calories consumed in the world. The rising global population is demanding a sustainable and secure source of wheat, pressuring major wheat exporting countries like Canada to be at the cutting edge of varietal development.
Variety development across the world took a major leap forward in early 2016 when, at the annual Plant and Animal Genome Conference, it was announced that a Canadian-led team had sequenced 90 per cent of the highly-complex genome for bread wheat.
This breakthrough in genomic sequencing was accomplished, in part, through the Canadian Triticum Applied Genomics (CTAG2) project, which is co-led by plant scientist Curtis Pozniak of the University of Saskatchewan's Crop Development Centre.
Wheat researchers across the globe will now have a resource that will allow them to better identify genes responsible for adaptation, pest resistance, stress response and improved yield.
"Think of the sequence as the blueprint," explains Pozniak. "So now we can see the genes and we can see the genomic structure. What we need to be able to do now is associate each of those genes with phenotypes that are important in the field. That's really where the hard work begins."
With the blueprint in place, years earlier than anticipated, researchers and breeders will begin work linking genotype and phenotype. Phenotype is the observable characteristics of the plant that result from the interaction between the genotype and the environment.
Pozniak is quick to emphasize that while sequencing the genome strengthens the foundation of varietal development and provides an important tool for breeders to improve selection efficiency, it is only the first step in a complex process.
"What we're looking at with any kind of genomic resource is being able to improve the efficiency of selection in the long run," he says. "If you can identify and understand the package of genes that result in a phenotype that has economic value, then it is quite easy to track in the breeding program as we're trying to improve other traits such as yield."
Since the announcement in January, Pozniak and his team of researchers have been working diligently to ensure the entire genome of the test variety, Chinese Spring, is mapped completely and accurately before taking the next step.
"The intent is to release the sequence into the public domain for breeders and researchers to use however they see fit," he says. "That will happen in the next few weeks and months as we finish up some quality control on the data. We don't want to release any data that could lead anyone astray. So we're checking and double-checking that the data is fine and then we will make the data available on a website for anyone to download."
The CTAG2 project, which includes researchers from the University of Regina, the University of Guelph, the National Research Council and Agriculture and Agri-Food Canada, received funding from the Saskatchewan Wheat Development Commission, the Alberta Wheat Commission, the Manitoba Wheat and Barley Growers Association, and the Western Grains Research Foundation, along with several other organizations. It is part of a larger collaboration involving researchers in Canada and from across the globe, who have been collaborating as part of the International Wheat Genome Sequencing Consortium.
Pozniak says the excitement in the international crop research community about the release of the wheat sequence is unmistakable. Wheat researchers are now ready to put this tool to use in breeding varieties that will meet the needs of farmers and end users throughout the world.
"Completing the sequencing really allows us the opportunity to concentrate on how we can use the sequence, especially the biology and breeding behind it. Most of the effort was around generating the sequence and now we're at the stage where we can actually take it to the field and do biological research on wheat in a way that we haven't been able to do before."
Mustard: Little Seed on the Prairie
4 years ago
-
Starting with only 40 hectares of mustard crops in Alberta in 1936, Canada has now become the world's largest exporter of this ancient condiment. How? Simple: the Canadian prairies have ideal conditions for the drought-resistant, cool-weather crop.
Today, research is focussed on producing varieties fine-tuned for improved nutritional benefits. The hub for much of this research is the Saskatoon Research and Development Centre. Here, scientists have created new yellow and brown mustard varieties with reduced oil and increased protein content.
Canadian mustard's uses extend far beyond food, as well. From environmentally friendly pesticides, to a bio-diesel additive, to a natural fertilizer, the world will soon see even more advanced applications for Canadian mustard. But don't fret: making sure hot dogs and hamburgers have that extra zip will always be a top priority.
Ag facts
Canada is the world's largest producer of mustard seed.
The United States is Canada's largest market accounting for nearly 50% (60,000 metric tonnes per year) of Canada's total mustard seed exports.
Podcast: Don't Rush to Seed Canola
4 years ago
-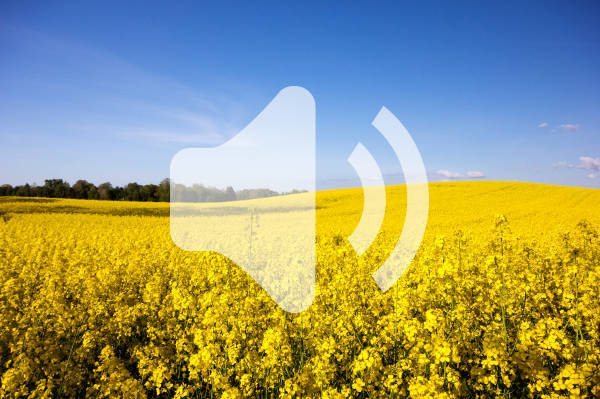 The Canola Council of Canada says growers don't have to be in a rush to seed canola in early May. Other crops such as cereals and pulses that are more suitable for deeper seeding to reach moisture may be better choices for producers waiting for rain.
Listen here:Â http://www1.agric.gov.ab.ca/$Department/newslett.nsf/all/cotl25120/$FILE/16_130_Caitlynn_Reesor.mp3
Farm Sustainability Extension Working Group Hires Extension Coordinator to Boost On-Farm Sustainability Awareness
4 years ago
-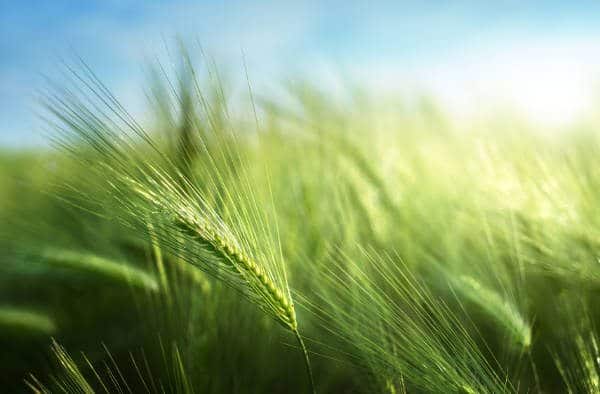 The Farm Sustainability Extension Working Group (FSEWG) announces that Jolene Noble of Manning, Alberta, has been hired as an extension coordinator to develop, coordinate, and implement an extension program to increase Alberta producers' awareness of on-farm sustainability.
Organized by the FSEWG with funding support from Alberta Agriculture and Forestry's Growing Forward 2 Program, this collaborative role is in place to address a growing need for the crop sector to meet high sustainability standards to maintain and expand international market competitiveness.
"Sustainable agriculture is becoming increasingly important in building market access opportunities and ensuring the long-term viability of our industry," says Noble. "I look forward to contributing to these end-goals by working with producers to bring awareness to social license issues and highlighting on-farm best management practices."
Noble brings extensive professional program coordination experience from the beef industry where she successfully managed programs for youth and advocacy. Additionally, she has actively participated in programs such as the McDonald's Sustainability Pilot Project, Verified Beef Production, and the Environmental Farm Plan from a producer perspective on her family's mixed farm.
In this position, Noble will support the crop commissions in better understanding farmer readiness with respect to internationally recognized sustainability standards and best management practices. This information will be derived via phone survey to be conducted by Ipsos Reid this summer, building on the information compiled through the Alberta Crops Sustainability Certification Pilot Project that was collaboratively delivered during the spring of 2015. Noble will subsequently develop and deliver coordinated extension programming to support the crop commissions' membership in positioning their operations to meet current and emerging sustainability market standards.
Alberta Young Speakers for Agriculture Launches Youth Speaking Competition at Calgary Stampede
4 years ago
-
 The Alberta Young Speakers for Agriculture (AYSA) has announced its inaugural public speaking competition for Albertan youth to share their passion about the agricultural industry. The competition will be held during the Calgary Stampede and offers youth ages 11-24 an opportunity to share their views in a speech on a topic important to Albertan and Canadian agriculture.
"We're excited to announce the launch of this exciting communications competition for Albertan youth at the Calgary Stampede," said Eric Dalke, AYSA co-founder. "We invite youth ages 11-24 to sign up and share their passion for the agricultural industry by speaking and sharing their views on Canadian agriculture."
The competition will be held on July 13th during the Calgary Stampede and offers youth the opportunity to compete with a five to seven minute speech on topics important to the agricultural industry. Winners have the opportunity to win a cash prize of up to $1,000 and will be eligible to compete in the Canadian Young Speakers for Agriculture competition in Toronto.
The topics for the 2016 competition are:
• What is the impact of public opinion on Canadian farmers?
• How would you explain a GMO to a non-farmer?
• What does the next generation of agriculture bring to the table?
• How can we improve the media's perception of Canadian agriculture?
• Old MacDonald had a farm … But what about Mrs. MacDonald?
"Agriculture is a vital industry for Canada and Alberta and it's important we develop future leaders to help this industry thrive," said Dalke. "This competition is about giving the young leaders of tomorrow the opportunity to learn, grow and succeed in Canadian agriculture."
Canadian Seed Trade Association Releases Coexistence Plan for Alfalfa Hay
4 years ago
-
Following extensive consultation with stakeholders along the alfalfa hay production chain in Western Canada, a Coexistence Plan for Alfalfa Hay in Western Canada is now available.
Recognizing that GM development of alfalfa and other crop kinds will continue, the Canadian Seed Trade Association (CSTA) agreed to facilitate a value chain process to develop a coexistence plan for conventional, organic and GM alfalfa production, first in Eastern Canada in 2013, and now in Western Canada.
Many experts contributed to the development of the Western coexistence plan and voluntary Best Management Practices (BMP's), including forage specialists, alfalfa producers, seed companies and honey producers. The group reviewed the biology of alfalfa in Canada and alfalfa hay production systems, and tailored the BMP's to the specific needs of Western Canada. The plan does not advocate for or against the commercialization of GM alfalfa, or favor any one system. The result is a science-based document designed to help farmers understand and incorporate the voluntary BMP's into their crop management system, whether conventional, organic or GM.
"CSTA is happy to have facilitated this meaningful stakeholder process," said Scott Horner, CSTA president. "With stakeholder cooperation, solutions to help producers be successful with the system that best fits their needs can be found. We encourage everyone to view the Plan as an important component of successful alfalfa hay production in Western Canada."
The Coexistence Plan for Alfalfa Hay in Western Canada, containing background on alfalfa production systems in Western Canada, the principles of coexistence, and Best Management Practices can be found at cdnseed.org.
Grading Tables for New Wheat Classes Take Effect Aug. 1
4 years ago
-
The Canadian Grain Commission will adopt primary and export grade determinant tables for the new Canada Northern Hard Red and Canada Western Special Purpose wheat classes on August 1, 2016 as recommended by the Western Standards Committee.
At their April meetings, both the western and eastern standards committees recommended adding "poor colour" to the definition for degree of soundness for:
Oats, No. 4 Canada Eastern
Oats, No. 4 Canada Western
This change takes effect on July 1, 2016 in eastern Canada and on August 1, 2016 in western Canada.
Quick facts
The western and eastern standards committees meet twice a year to recommend specifications for grades of grain, and to select and recommend standard and guide samples to the Canadian Grain Commission. Members represent all stakeholders in the grain industry and include producers, grain processors, grain handlers and exporters.
The Western Standards Committee met on April 5 in Winnipeg and the Eastern Standards Committee met on April 6 in Montreal.
The Canadian Grain Commission is in its second year of study to determine if mildew standards and guides for western wheat are set at appropriate levels. At this time, testing is not complete. The Canadian Grain Commission will report back to the eastern and western standards committees in the fall.
The Canadian Grain Commission is analyzing samples of Canada Western Red Spring and Canada Western Soft White Spring to determine the relationship between the percentage of Fusarium-damaged kernels and the level of deoxynivalenol (DON), a toxin associated with Fusarium head blight and how this relationship is affected by changing growing conditions and chemotypes. This study is part of the Canadian Grain Commission's ongoing research to ensure food safety and functionality.
The Canadian Grain Commission is studying whether a tolerance for ergot should be added to the grade determinant tables for fababeans and chickpeas. Although ergot is a disease of cereal crops, other pulse crops do have a grading tolerance for it. The Canadian Grain Commission will report back to the Western Standards Committee in the fall.
On August 1, 2016, these wheat classes will be eliminated: Canada Western Interim Wheat, Canada Western General Purpose and Canada Western Feed. Varieties in the Canada Western Interim Wheat class will move to the Canada Northern Hard Red class and varieties in the Canada Western General Purpose and Canada Western Feed classes will move to the Canada Western Special Purpose class.
WGRF Invests $800,000 in U of A Wheat Breeding
4 years ago
-
The Western Grains Research Foundation (WGRF) and the University of Alberta's Faculty of Agricultural, life & Environmental Sciences (ALES) announced that they have renewed their partnership in wheat breeding. WGRF will invest $811,587 into the wheat breeding program at the University of Alberta over the next five years.
"The wheat breeding program at the U of A's Faculty of ALES is an important piece of the western Canadian wheat breeding network," said Dave Sefton, WGRF Board Chair. "WGRF has been investing in wheat research at the U of A since 2005 and, over this time we have seen the program take some significant strides towards the development of new wheat varieties and germplasm for the parkland zone."
"WGRF's support has been integral to the success we've enjoyed," said Dean Spaner, wheat breeder and professor. "This continued long-term investment demonstrates the value the wheat producers of western Canada place on our work, and is the base that attracts other investors. This announcement is a tremendous boost in confidence and responsibility, for which we are deeply grateful."
"This investment over the next five years more than doubles the previous five year commitment by WGRF," says Garth Patterson, WGRF Executive Director. "Over the last five years alone, the U of A Wheat Breeding Program has registered five improved CWRS varieties, released one germplasm line, and graduated five PhD and four MSc students. This exemplifies the great work being done at the U of A."
"We are very proud of our wheat breeding program that helps western Canadian wheat growers grow healthier, higher-yielding crops," said Dr. Stanford F. Blade, Dean of the Faculty of Agricultural, Life & Environmental Sciences. "We're also very grateful for the confidence shown by WGRF, whose support plays a pivotal role in the success we've had with our program."
The U of A breeding program focuses on Canada Western Red Spring (CWRS), Canada Prairie Spring Red (CPS-R) and the Canada Western General Purpose (CWGP) class. The goal of the program is to develop and select germplasm that will result in higher yielding varieties that are earlier maturing, have increased straw strength and protect the quality characteristics of the CPS and CWRS wheat.
Listen Now: Stripe Rust Already Spotted
4 years ago
-
Stripe rust symptoms have already been identified in some winter wheat fields in southern Alberta. In this podcast, Mike Harding, research scientist at Alberta Agriculture, says that it's crucial growers continue to monitor their fields for the fungus.
Audio file here: http://www1.agric.gov.ab.ca/$Department/newslett.nsf/all/cotl25044/$FILE/16_112_Mike_Harding.mp3