Canada's Yukon offers free land if you're willing to farm the north
2 years ago
-
In Canada's far north, the government of Yukon Territory wants to attract small farmers to the frigid region with a simple pitch: free land.
And as global warming makes Canada's northern regions more hospitable to agriculture by opening once frozen land to farming, the opportunities are growing.
Bordering on Alaska in northwestern Canada, the Yukon has given away nearly 8,000 acres (3,208 hectares) of farmland in the past decade, a senior government official told the Thomson Reuters Foundation. A dozen new applications are under consideration.
Now is a good time to start farming in the Yukon, say government officials.
"Our territory is expected to get wetter and warmer," said Rod Jacob, a government official with the Department of Energy, Mines and Resources in the capital Whitehorse.
"We may see opportunity with an increased growing season," Jacob told the Thomson Reuters Foundation in an email.
"A number of programs help farmers to become more resilient to climate change, including funding to increase access to water for irrigation or to have better water efficiency," Jacob said.
The Yukon is larger than Belgium, Denmark, Germany and the Netherlands combined but only 40,000 people live there, according to government data.
Free land in the area is only available for Canadians and permanent residents who have been living in the Yukon for more than a year, Jacob said.
Would-be farmers who want a free 65 hectare (160 acre) plot of land, the maximum allowed under the program, must pay for surveying, pledge to make investments in the property and meet other conditions in order to join the initiative.
People who receive free land must farm on the property for at least seven years before they can sell it, Jacob said, in order to stop speculation. These rules do not apply to investors who want to purchase farmland through traditional investment.
On average, the government doles out about 10 parcels of free land per year, Jacob said, with most concentrated around Whitehorse.
The region's agriculture industry is relatively small, the official said, with farmers producing mostly vegetables, hay, meat and other products.
Free land in the Yukon has been on offer since 1982 and some analysts believe demand for farms in the northern region will increase as the region heats up.
Canada's far north is considered the "canary in the coal mine" by environmentalists, as global warming is felt there first and often with more intensity than other areas.
Average temperatures in the Yukon have climbed by 2 degrees Celsius in the past 50 years due to climate change, said a 2016 Canadian study, more than twice as fast as the planet as a whole.
Winter temperatures in the territory have risen an average of 4 degrees Celsius over the past half-century, the study said.
Rising temperatures have seen the population of caribou – an important food source for indigenous people in Canada's northern boreal and Arctic regions – crash. But it has also opened up new areas for agriculture in some of the far north with a longer growing season.
The winter months are still harsh, however. In January temperatures in the Yukon still frequently drop to minus 20 degrees or lower, according to 2017 government figures.
Source: Thomson Reuters Foundation
Dan Wright new CSTA president
2 years ago
-
Dan Wright is the new president of the Canadian Seed Trade Association (CSTA). Wright becomes the association's 66th  president.
Wright has served on the board of directors for two years and on the executive for three years. He has a strong connection to agriculture, a foundation that was laid in childhood at his family's cash crop farm and farm equipment dealership.
Wright continued that connection in his career, and has worked for Monsanto Canada since 2000. His roles have included licensing manager, marketing manager and business development manager. Currently, he is the Canada corn and soybean portfolio lead, which includes introducing new traits and the expansion of corn and soybeans in Western Canada. All of these roles have provided Wright with the opportunity to work with farmers and agriculture industry stakeholders in all regions of Canada.
Wright will guide an active board of directors in their endeavour to foster seed innovation and engage with members. The board includes: Todd Hyra, SeCan, 1st vice-president; Georges Chaussé, La Coop Fédérée, 2nd vice-president; Brent Derkatch, Canterra Seeds, past president; Doug Alderman, Pride Seeds; Darrell Dziver, BrettYoung Seeds; Wayne Gale, Stokes Seeds Limited; Bruce Harrison, Crop Production Services Canada; Bob Hart, Sevita International; Duane Johnson, Syngenta Canada; George Lammertsen, Bayer CropScience; Brian Nadeau, Nadeau Seeds; Roger Rotariu, NuFarm; Ellen Sparry, C&M Seeds; Marty Vermey, Dow Seeds; and Jim Schweigert, the American Seed Trade Association representative.
New Canadian Agricultural Partnership to Help Position Canada as a Leader in the Global Economy
2 years ago
-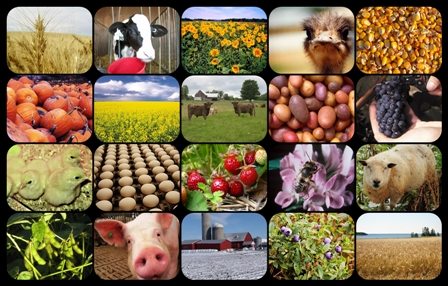 Canada's Ministers of Agriculture have reached agreement on the key elements of a new federal, provincial, territorial (FPT) agricultural policy framework during the annual meeting of federal, provincial and territorial ministers of agriculture held in St. John's, Newfoundland and Labrador, from July 19-21.
The Canadian Agricultural Partnership, a five-year, $3 billion investment, will come into effect on April 1, 2018.  It will strengthen the agriculture, agri-food and agri-based products sector, ensuring continued innovation, growth and prosperity. In addition, producers will continue to have access to a robust suite of business risk management (BRM) programs.
The Canadian Agricultural Partnership will focus on six priority areas:
Science, Research, and Innovation – Helping industry adopt practices to improve resiliency and productivity through research and innovation in key areas.
Markets and Trade – Opening new markets and helping farmers and food processors improve their competitiveness through skills development, improved export capacity, underpinned by a strong and efficient regulatory system.
Environmental Sustainability and Climate Change – Building sector capacity to mitigate agricultural greenhouse gas emissions, protect the environment and adapt to climate change by enhancing sustainable growth, while increasing production.
Value-added Agriculture and Agri-food Processing – Supporting the continued growth of the value-added agriculture and agri-food processing sector.
Public Trust – Building a firm foundation for public trust in the sector through improved assurance systems in food safety and plant and animal health, stronger traceability and effective regulations.
Risk Management – Enabling proactive and effective risk management, mitigation and adaptation to facilitate a resilient sector by working to ensure programs are comprehensive, responsive and accessible.
Under the Canadian Agricultural Partnership, BRM programs will continue to help producers manage significant risks that threaten the viability of their farm and are beyond their capacity to manage. Governments responded to industry concerns regarding eligible coverage under AgriStability, ensuring a more equitable level of support for all producers. Highlights of upcoming BRM changes are available at Canadian Agricultural Partnership – Business Risk Management Programs.
Governments further committed to engaging in a review that explores options to improve BRM programming. The review will recognize the important role played by all programs (AgriStability, AgriInvest, AgriInsurance) in the risk management plans of producers given the diversity of the sector. The review will also directly involve producers and have an early focus on market risk, including as it relates to AgriStability addressing concerns regarding timeliness, simplicity and predictability. Ministers will be presented with options in July 2018 for consideration based on early findings of the review.
A summary of items discussed at the annual meeting of federal, provincial and territorial ministers of agriculture meeting is available at Summary of items from the 2017 Annual Meeting of Federal, Provincial and Territorial Ministers of Agriculture. The next annual FPT Ministers' meeting will be held in Vancouver, British Columbia, in July 2018.
The agriculture and agri-food sector is a key growth industry in Canada, contributing over $100 billion annually to the economy and employing 2.3 million Canadians. Canadian farm incomes rose to $14.8 billion in 2016, the 2nd best year on record. In 2016, the total value of Canadian agriculture, agri-food and seafood exports reached an all-time high exceeding $62 billion.
Alberta Farm families Honoured
2 years ago
-
Alberta families who have farmed the same land for 100 years or more are being recognized with Century Farm and Ranch Awards.
Recipients of the Government of Alberta's Century Farm and Ranch Award receive a bronze plaque to commemorate this significant milestone. A total of 52 families are being recognized across the province this year, including 19 families who will be honoured in Vegreville on July 6.
Since 1993, almost 1,700 families have received Century Farm and Ranch Awards.
Agriculture is the province's largest renewable industry, with exports valued at more than $10 billion annually. There are more than 43,000 farms in Alberta, totalling more than 50 million acres.
Alberta Century Farm and Ranch Award recipients being recognized at this event:
The Abbott family of Edgerton
The Bleakley family of Paradise Valley
The Brassington family of Paradise Valley
The Christie family of Kitscoty
The Gregoraschuk family of St. Michael
The Hall family of Dapp
The Homeniuk family of Mundare
The Kassian family of Thorhild
The Kozma family of Waskatenau
The Lychak family of Derwent
The Nazarchuk family of Derwent
The Powell family of Vermilion
The Scott family of Bonnyville
The Smiley family of Lavoy
The Tataryn family of Thorhild
The Tuck families of Lavoy
The Verbeek family of Morinville
The Wirsta family of Elk Point
New Alberta online Fusarium head blight risk tool
2 years ago
-
Alberta's wheat farmers can now add a Fusarium head blight (FHB) risk tool to their agronomy toolbox, improving their ability to make well-informed decisions related to FHB disease management. The risk tool was developed in a partnership between the Alberta Wheat Commission and Alberta Climate Information Service (ACIS) with expert support from researchers based at Agriculture and Forestry (AF) and Agriculture and Agri-Food Canada (AAFC).
This local disease infection risk tool is optimized for use on mobile devices, enabling farmers to remotely view hourly updates on FHB disease severity for their location. Risk is based on a seven-day history of rain, temperature and humidity.
"The key to a successful growing season is to have the best information possible when it comes to risks that our crops face," said Kevin Auch, AWC chair. "With FHB becoming more problematic in Alberta, a full scope of risk will be a major help with decision making when it comes to fungicide applications for disease control."
The tool also features a live updating provincial map of Alberta with the Disease Severity Index for every weather station as well an info tab containing best management practices.
The risk tool was initiated by AWC and ACIS unit lead Ralph Wright and engineered by technical analyst Dr. Pawel Pytlack, also with ACIS. The interface pulls data from weather stations Alberta-wide. Expertise from AF plant pathologist Dr. Michael Harding, AF plant disease researcher Neil Whatley and AAFC plant disease researcher Dr. Kelly Turkington helped to connect the weather data to FHB risk.
"Each day ACIS collects nearly 130,000 hourly weather observations from more than 370 stations province wide," said Ralph Wright, ACIS unit lead. "Weather conditions have enormous impacts on farming operations. Coupling the weather observations to a risk tool is a fantastic example of how weather data can be used to help producers make timely, informed decisions."
Alberta farmers can view the maps online and are encouraged to provide feedback on the website to AWC's grower relations and extension coordinator, Brian Kennedy. More information on the FHB risk maps is available at albertawheat.com.
Australia scientists make accidental breakthrough that could lead to drought-proof crops
2 years ago
-
A group of Australian National University (ANU) scientists has made a major breakthrough that could improve Australia's food security during drought.
The Canberra-based researchers have spent the past decade looking at the effects of drought on plants, accidentally discovering some plants have a self-preservation method that is potentially life-saving.
One of the lead researchers, biologist Kai Chan, says the team found chloroplasts do more than capture sunlight through photosynthesis to make plant food.
Dr Chan said they found chloroplasts also worked together with plant hormones during drought stress.
"Chloroplasts are actually capable of sensing drought stress and telling the leaves to shut-up and prevent water from being lost during drought stress," he said.
"So the chloroplasts are actually helping the plants to prevent losing too much water.
"We know how the drought alarm actually calls for help and we know how help comes in the form of closing pores on the leaves."
The team made the discovery while conducting tests on barley and arabidopsis, a relative of canola and mustard.
They found boosting the levels of the chloroplast signal in these plants extended their drought survival by about 50 per cent.
Dr Chan described the discovery as a major breakthrough for farmers.
"We have got very strong reason to believe that this ability is also present in other major crops like rice and wheat," he said.
"Imagine if you're able to help those plants close their pores much earlier during drought that might actually help those crops survive just that little bit longer until the next rainfall. The find means farmers may be able to better protect their crops, like wheat and canola, during long bouts of drought."
Dr Chan said he was working to develop a chemical spray to boost the chloroplast signal that closes pores on plant leaves.
Other collaborators are investigating plant breeding to naturally enhance levels of the chloroplast signal.
"Canberra is not particularly known as an agricultural area, but Canberra and the ANU is a centre of knowledge and technological breakthroughs that can help not just the Canberra region but globally as well."
It is hoped the crop technology could be available within the next five to 10 years.
Source: ABC
Satellite technology could help ag producers measure soil moisture
2 years ago
-
Agricultural producers could, in the future, make use of better forecasts to more efficiently irrigate their fields using a Purdue-developed technology that could  more accurately sense soil moisture below the surface through measuring the reflections of  communication satellite signals.
"The reflectivity of the surface is a function of the soil moisture, and that allows us to quantify the amount of moisture in the soil so, if necessary, growers can take corrective actions to protect their crops," said James Garrison, a professor in Purdue's School of Aeronautics and Astronautics, and Electrical and Computer Engineering (by courtesy). "The technology we're developing can be cost effective.
"Water is becoming more and more scarce. So, managing the water that is available is becoming increasingly important. To manage it you need to be able to accurately determine the amount being used. The key there is to measure how much of it is in the soil where most of it is absorbed by the plants' roots."
The technology makes use of a specialized receiver to capture reflections of communication satellite signals having wavelengths of about one metre (39 inches), which scientists refer to as "P-band."
Conventional satellite technology used for measuring soil moisture cannot operate at these longer wavelengths due to the required antenna size and the substantial interference from communications links. Current observations of soil moisture from a satellite uses wavelengths of about 20 cm (8 inches) and can only penetrate the soil about 5 cm (2 inches). Predictions of sub-surface soil moisture, currently require the application of models to extend the surface measurements deeper.
The new technique is known as "signals of opportunity," or SoOp, and essentially utilizes the same transmissions that are the source of interference that prevents measurements from other methods. P-band SoOp is expected to be sensitivity to soil moisture down to 15 to 20 centimetres, or about 6 to 8 inches, below the surface. Reflections of the signals from the surface are compared to the original satellite signals.
"By using these existing satellite signals we bypass the requirements for licensing a P Band transmitter, which is extremely difficult," Garrison said. "It also reduces the size of the antenna required."
Researchers have tested a prototype of the instrument on a small plane during an experiment in the Little Washita watershed in Oklahoma. They now plan to collect data from a fixed tower location to observe the changes in a single agricultural field over at least one growing season.
If successful, this technology can be mounted on drones for planning the irrigation schedule of crops.
The technology has been patented through the Purdue Office of Technology Commercialization and is available for licensing. For more information about developing and commercializing this or other Purdue innovations, contact the Purdue Office of Technology Commercialization at 765-588-3470, [email protected]
Source: Purdue University
Hybrids Change Cereal Grain Economics
2 years ago
-
What hybrid varieties have done for corn and canola is now occurring with rye, and should soon be happening with wheat.
The yields of both corn and canola have steadily increased, with hybrid vigour (heterosis) as a major contributing factor. Hybrid production is much easier to accomplish with some crops than others. That's why hybrids haven't been developed for soybeans.
With hybrids, producers need to purchase new seed every year, so the yield advantage has to be large enough to warrant the increased cost.
Over the past couple of years, hybrid fall rye has been introduced to Western Canada. Varieties developed by German-based KWS Cereals are being marketed by different seed companies in this country. Although developed for use in Europe, the varieties have been a hit in Canada.
Claus Nymand of KWS Cereals says the yield advantage is at least 20 per cent – and with proper management, may be closer to 30 per cent – as compared with conventional varieties. Winter hardiness is good and the new varieties show a considerably better falling number, a quality test important for the milling and distilling industries.
Rye is a minor acreage crop in Canada, but Nymand is optimistic that improved yields and quality will make rye more competitive with other cereals in the feed market, allowing acreage and production to increase.
Meanwhile, Syngenta and Bayer CropScience are among the companies working on hybrid wheat varieties. Darcy Pawlik, the North American product manager for cereals at Syngenta, believes the hybridization of wheat can create added value for all players in the value chain.
In North Dakota, Syngenta's first experimental wheat hybrids were grown in field trials last year, exhibiting a 10 to 15 per cent yield advantage. Pawlik says the commercialization target for the U.S. market is 2020.
The company hopes the first hybrid wheat varieties will be available in Canada a couple of years later. Canada has a three-year registration process, and that may slow things a bit.
While the first wheat hybrids may only have a 10 per cent yield advantage, Pawlik acknowledges that's the minimum necessary to justify the cost of producers buying hybrid seed. He expects superior results from subsequent varieties. Syngenta is also working with hybrid barley, but at this point that work has been in Europe.
Cereals have often been the least profitable crops in the rotation. Hybridization would appear to be one of the best hopes for reducing the cost of production on a per tonne basis.
Source: FCC (from an AgriSuccess article, June 2017)
Agrium and PotashCorp will become Nutrien
2 years ago
-
Potash Corporation of Saskatchewan Inc. announced today that once the anticipated merger transaction closes, the new company will be named Nutrien.
A news release today from Agrium states the new organization will be the global leader in reliable, low-cost crop nutrient production, combined with the largest agricultural retail-distribution network in the world.
On Nov. 3, 2016, shareholders of Potash Corp. of Saskatchewan and Agrium Inc. voted overwhelmingly in favour of an all-stock merger. The companies say the deal should bring upwards of US$500 million in annual cost savings for the combined company with US$20.6 billion in expected net revenue.
The regulatory review and approval process for the merger transaction continues and the parties expect closure of the transaction to take place in the third quarter of 2017.
About PotashCorp
PotashCorp is the world's largest crop nutrient company and plays an integral role in global food production. The company produces the three essential nutrients required to help farmers grow healthier, more abundant crops. With global population rising and diets improving in developing countries, these nutrients offer a responsible and practical solution to meeting the long-term demand for food. PotashCorp is the largest producer, by capacity, of potash and one of the largest producers of nitrogen and phosphate. While agriculture is its primary market, the company also produces products for animal nutrition and industrial uses. Common shares of Potash Corporation of Saskatchewan Inc. are listed on the Toronto Stock Exchange and the New York Stock Exchange.
About Agrium
Agrium Inc. is a major global producer and distributor of agricultural products, services and solutions. Agrium produces nitrogen, potash and phosphate fertilizers, with a combined wholesale nutrient capacity of approximately eleven million tonnes and with significant competitive advantages across our product lines. We supply key products and services directly to growers, including crop nutrients, crop protection, seed, as well as agronomic and application services, thereby helping growers to meet the ever growing global demand for food and fibre. Agrium retail-distribution has an unmatched network of approximately 1,500 facilities and over 3,300 crop consultants who provide advice and products to our grower customers to help them increase their yields and returns on hundreds of different crops. With a focus on sustainability, the company strives to improve the communities in which it operates through safety, education, environmental improvement and new technologies such as the development of precision agriculture and controlled release nutrient products. Agrium is focused on driving operational excellence across our businesses, pursuing value-enhancing growth opportunities and returning capital to shareholders. For more information visit: www.agrium.com
Chinese Academy of Sciences Partners with Bayer to Improve Wheat Yields
2 years ago
-
A team of researchers from Shanghai Institutes for Biological Sciences (SIBS) of the Chinese Academy of Sciences and Bayer will work together to improve wheat yields. In the collaboration, SIBS researchers will work closely with Bayer on developing and validating a wheat canopy photosynthesis model.
Jeroen Van Rie, crop efficiency trait research expert and Bayer's lead scientist on the project, says, "The world population is growing, and arable land is limited. The crops of the future will have to deliver top performance, especially in wheat, which accounts for about 20% of the world's food energy intake today." He added that the joint research work will help identify ways of improving photosynthesis and yield.
Prof. Zhu Xinguang, principal investigator of the Plant Systems Biology group at Shanghai Institute of Plant Physiology and Ecology, adds that improving photosynthesis is one of the most promising approaches to dramatically improve crop productivity. "In this new grant, we will develop advanced wheat canopy photosynthesis models to help guide future wheat breeding," he added.
Source: ISAAA