New Alberta online Fusarium head blight risk tool
2 years ago
-
Alberta's wheat farmers can now add a Fusarium head blight (FHB) risk tool to their agronomy toolbox, improving their ability to make well-informed decisions related to FHB disease management. The risk tool was developed in a partnership between the Alberta Wheat Commission and Alberta Climate Information Service (ACIS) with expert support from researchers based at Agriculture and Forestry (AF) and Agriculture and Agri-Food Canada (AAFC).
This local disease infection risk tool is optimized for use on mobile devices, enabling farmers to remotely view hourly updates on FHB disease severity for their location. Risk is based on a seven-day history of rain, temperature and humidity.
"The key to a successful growing season is to have the best information possible when it comes to risks that our crops face," said Kevin Auch, AWC chair. "With FHB becoming more problematic in Alberta, a full scope of risk will be a major help with decision making when it comes to fungicide applications for disease control."
The tool also features a live updating provincial map of Alberta with the Disease Severity Index for every weather station as well an info tab containing best management practices.
The risk tool was initiated by AWC and ACIS unit lead Ralph Wright and engineered by technical analyst Dr. Pawel Pytlack, also with ACIS. The interface pulls data from weather stations Alberta-wide. Expertise from AF plant pathologist Dr. Michael Harding, AF plant disease researcher Neil Whatley and AAFC plant disease researcher Dr. Kelly Turkington helped to connect the weather data to FHB risk.
"Each day ACIS collects nearly 130,000 hourly weather observations from more than 370 stations province wide," said Ralph Wright, ACIS unit lead. "Weather conditions have enormous impacts on farming operations. Coupling the weather observations to a risk tool is a fantastic example of how weather data can be used to help producers make timely, informed decisions."
Alberta farmers can view the maps online and are encouraged to provide feedback on the website to AWC's grower relations and extension coordinator, Brian Kennedy. More information on the FHB risk maps is available at albertawheat.com.
Australia scientists make accidental breakthrough that could lead to drought-proof crops
2 years ago
-
A group of Australian National University (ANU) scientists has made a major breakthrough that could improve Australia's food security during drought.
The Canberra-based researchers have spent the past decade looking at the effects of drought on plants, accidentally discovering some plants have a self-preservation method that is potentially life-saving.
One of the lead researchers, biologist Kai Chan, says the team found chloroplasts do more than capture sunlight through photosynthesis to make plant food.
Dr Chan said they found chloroplasts also worked together with plant hormones during drought stress.
"Chloroplasts are actually capable of sensing drought stress and telling the leaves to shut-up and prevent water from being lost during drought stress," he said.
"So the chloroplasts are actually helping the plants to prevent losing too much water.
"We know how the drought alarm actually calls for help and we know how help comes in the form of closing pores on the leaves."
The team made the discovery while conducting tests on barley and arabidopsis, a relative of canola and mustard.
They found boosting the levels of the chloroplast signal in these plants extended their drought survival by about 50 per cent.
Dr Chan described the discovery as a major breakthrough for farmers.
"We have got very strong reason to believe that this ability is also present in other major crops like rice and wheat," he said.
"Imagine if you're able to help those plants close their pores much earlier during drought that might actually help those crops survive just that little bit longer until the next rainfall. The find means farmers may be able to better protect their crops, like wheat and canola, during long bouts of drought."
Dr Chan said he was working to develop a chemical spray to boost the chloroplast signal that closes pores on plant leaves.
Other collaborators are investigating plant breeding to naturally enhance levels of the chloroplast signal.
"Canberra is not particularly known as an agricultural area, but Canberra and the ANU is a centre of knowledge and technological breakthroughs that can help not just the Canberra region but globally as well."
It is hoped the crop technology could be available within the next five to 10 years.
Source: ABC
Satellite technology could help ag producers measure soil moisture
2 years ago
-
Agricultural producers could, in the future, make use of better forecasts to more efficiently irrigate their fields using a Purdue-developed technology that could  more accurately sense soil moisture below the surface through measuring the reflections of  communication satellite signals.
"The reflectivity of the surface is a function of the soil moisture, and that allows us to quantify the amount of moisture in the soil so, if necessary, growers can take corrective actions to protect their crops," said James Garrison, a professor in Purdue's School of Aeronautics and Astronautics, and Electrical and Computer Engineering (by courtesy). "The technology we're developing can be cost effective.
"Water is becoming more and more scarce. So, managing the water that is available is becoming increasingly important. To manage it you need to be able to accurately determine the amount being used. The key there is to measure how much of it is in the soil where most of it is absorbed by the plants' roots."
The technology makes use of a specialized receiver to capture reflections of communication satellite signals having wavelengths of about one metre (39 inches), which scientists refer to as "P-band."
Conventional satellite technology used for measuring soil moisture cannot operate at these longer wavelengths due to the required antenna size and the substantial interference from communications links. Current observations of soil moisture from a satellite uses wavelengths of about 20 cm (8 inches) and can only penetrate the soil about 5 cm (2 inches). Predictions of sub-surface soil moisture, currently require the application of models to extend the surface measurements deeper.
The new technique is known as "signals of opportunity," or SoOp, and essentially utilizes the same transmissions that are the source of interference that prevents measurements from other methods. P-band SoOp is expected to be sensitivity to soil moisture down to 15 to 20 centimetres, or about 6 to 8 inches, below the surface. Reflections of the signals from the surface are compared to the original satellite signals.
"By using these existing satellite signals we bypass the requirements for licensing a P Band transmitter, which is extremely difficult," Garrison said. "It also reduces the size of the antenna required."
Researchers have tested a prototype of the instrument on a small plane during an experiment in the Little Washita watershed in Oklahoma. They now plan to collect data from a fixed tower location to observe the changes in a single agricultural field over at least one growing season.
If successful, this technology can be mounted on drones for planning the irrigation schedule of crops.
The technology has been patented through the Purdue Office of Technology Commercialization and is available for licensing. For more information about developing and commercializing this or other Purdue innovations, contact the Purdue Office of Technology Commercialization at 765-588-3470, [email protected]
Source: Purdue University
Hybrids Change Cereal Grain Economics
2 years ago
-
What hybrid varieties have done for corn and canola is now occurring with rye, and should soon be happening with wheat.
The yields of both corn and canola have steadily increased, with hybrid vigour (heterosis) as a major contributing factor. Hybrid production is much easier to accomplish with some crops than others. That's why hybrids haven't been developed for soybeans.
With hybrids, producers need to purchase new seed every year, so the yield advantage has to be large enough to warrant the increased cost.
Over the past couple of years, hybrid fall rye has been introduced to Western Canada. Varieties developed by German-based KWS Cereals are being marketed by different seed companies in this country. Although developed for use in Europe, the varieties have been a hit in Canada.
Claus Nymand of KWS Cereals says the yield advantage is at least 20 per cent – and with proper management, may be closer to 30 per cent – as compared with conventional varieties. Winter hardiness is good and the new varieties show a considerably better falling number, a quality test important for the milling and distilling industries.
Rye is a minor acreage crop in Canada, but Nymand is optimistic that improved yields and quality will make rye more competitive with other cereals in the feed market, allowing acreage and production to increase.
Meanwhile, Syngenta and Bayer CropScience are among the companies working on hybrid wheat varieties. Darcy Pawlik, the North American product manager for cereals at Syngenta, believes the hybridization of wheat can create added value for all players in the value chain.
In North Dakota, Syngenta's first experimental wheat hybrids were grown in field trials last year, exhibiting a 10 to 15 per cent yield advantage. Pawlik says the commercialization target for the U.S. market is 2020.
The company hopes the first hybrid wheat varieties will be available in Canada a couple of years later. Canada has a three-year registration process, and that may slow things a bit.
While the first wheat hybrids may only have a 10 per cent yield advantage, Pawlik acknowledges that's the minimum necessary to justify the cost of producers buying hybrid seed. He expects superior results from subsequent varieties. Syngenta is also working with hybrid barley, but at this point that work has been in Europe.
Cereals have often been the least profitable crops in the rotation. Hybridization would appear to be one of the best hopes for reducing the cost of production on a per tonne basis.
Source: FCC (from an AgriSuccess article, June 2017)
Agrium and PotashCorp will become Nutrien
2 years ago
-
Potash Corporation of Saskatchewan Inc. announced today that once the anticipated merger transaction closes, the new company will be named Nutrien.
A news release today from Agrium states the new organization will be the global leader in reliable, low-cost crop nutrient production, combined with the largest agricultural retail-distribution network in the world.
On Nov. 3, 2016, shareholders of Potash Corp. of Saskatchewan and Agrium Inc. voted overwhelmingly in favour of an all-stock merger. The companies say the deal should bring upwards of US$500 million in annual cost savings for the combined company with US$20.6 billion in expected net revenue.
The regulatory review and approval process for the merger transaction continues and the parties expect closure of the transaction to take place in the third quarter of 2017.
About PotashCorp
PotashCorp is the world's largest crop nutrient company and plays an integral role in global food production. The company produces the three essential nutrients required to help farmers grow healthier, more abundant crops. With global population rising and diets improving in developing countries, these nutrients offer a responsible and practical solution to meeting the long-term demand for food. PotashCorp is the largest producer, by capacity, of potash and one of the largest producers of nitrogen and phosphate. While agriculture is its primary market, the company also produces products for animal nutrition and industrial uses. Common shares of Potash Corporation of Saskatchewan Inc. are listed on the Toronto Stock Exchange and the New York Stock Exchange.
About Agrium
Agrium Inc. is a major global producer and distributor of agricultural products, services and solutions. Agrium produces nitrogen, potash and phosphate fertilizers, with a combined wholesale nutrient capacity of approximately eleven million tonnes and with significant competitive advantages across our product lines. We supply key products and services directly to growers, including crop nutrients, crop protection, seed, as well as agronomic and application services, thereby helping growers to meet the ever growing global demand for food and fibre. Agrium retail-distribution has an unmatched network of approximately 1,500 facilities and over 3,300 crop consultants who provide advice and products to our grower customers to help them increase their yields and returns on hundreds of different crops. With a focus on sustainability, the company strives to improve the communities in which it operates through safety, education, environmental improvement and new technologies such as the development of precision agriculture and controlled release nutrient products. Agrium is focused on driving operational excellence across our businesses, pursuing value-enhancing growth opportunities and returning capital to shareholders. For more information visit: www.agrium.com
Chinese Academy of Sciences Partners with Bayer to Improve Wheat Yields
2 years ago
-
A team of researchers from Shanghai Institutes for Biological Sciences (SIBS) of the Chinese Academy of Sciences and Bayer will work together to improve wheat yields. In the collaboration, SIBS researchers will work closely with Bayer on developing and validating a wheat canopy photosynthesis model.
Jeroen Van Rie, crop efficiency trait research expert and Bayer's lead scientist on the project, says, "The world population is growing, and arable land is limited. The crops of the future will have to deliver top performance, especially in wheat, which accounts for about 20% of the world's food energy intake today." He added that the joint research work will help identify ways of improving photosynthesis and yield.
Prof. Zhu Xinguang, principal investigator of the Plant Systems Biology group at Shanghai Institute of Plant Physiology and Ecology, adds that improving photosynthesis is one of the most promising approaches to dramatically improve crop productivity. "In this new grant, we will develop advanced wheat canopy photosynthesis models to help guide future wheat breeding," he added.
Source: ISAAA
German breeders develop 'open-source' plant seeds
2 years ago
-
There's open-source software, open-source pharma research, and open-source beer. Now, there are open-source seeds, too.
Breeders from Göttingen University in Germany and Dottenfelderhof agricultural school in Bad Vilbel, Germany, have released tomato and wheat varieties under an open-source license. Their move follows similar schemes for sharing plant material in India and the United States, but is the first that provides legal protection for the open-source status of future descendants of plant varieties.
The idea behind the open-source license is that scientists and breeders can experiment with seeds—and improve them—unimpeded by legal restrictions. The license "says that you can use the seed in multiple ways but you are not allowed to put a plant variety protection or patent on this seed and all the successive developments of this seed," says agricultural scientist Johannes Kotschi, who helped write the license last year. Kotschi manages OpenSourceSeeds for the nonprofit Agrecol in Marburg, Germany, which announced the tomato and wheat licensing in Berlin in late April.
Since then, university, nonprofit, and organic breeders have expressed interest in issuing open-source licenses for their hop, potato, and tomato varieties, Kotschi says. Many have also requested the open-source tomato seeds, he adds. People have been breeding plants in search of desirable features, such as drought- and pest-resistance, for millennia. But until 1930, when the United States began applying patent law to plants, there was little a breeder could do to assert ownership over a new variety.
Since then, a flurry of protections, including patents and a special intellectual property system for crops called "plant variety protection," has begun to block the way for researchers trying to breed new varieties, open-source advocates say. Developing the famous Golden Rice, for example, required so-called humanitarian exemptions to plant patents. As a result of mergers, plant intellectual property is in the hands of a shrinking number of companies.
International agreements on plant variety protection include a so-called breeder's exception that allows for research—but breeders who use it to develop a new commercial variety have to pay royalties to the owner of the protected variety. And patents are even more restrictive, says Niels Louwaars, director of Plantum, a plant breeder's association in Gouda, the Netherlands: "When one trait in a plant is patented, you are in principle not allowed under the research exemption to use such materials for further breeding," he says.
The recent German licensing action circumvents those problems. Anyone can use the varieties, so long as they do not prevent others from conducting research on derivatives; all of the plant's future descendants are also in a "commons."
An allied U.S. group called the Open Source Seed Initiative (OSSI) tried for several years to write a similar binding license but concluded in 2014 that it was too unwieldy to gain widespread acceptance among breeders and seed companies, says plant geneticist and OSSI Executive Director Claire Luby of the University of Wisconsin in Madison. Because patents play a bigger role in plant intellectual property in the United States, breeders are more hemmed in than in Europe. Instead, OSSI now encourages supporters to make and follow a "pledge" to keep new varieties and derivatives open.
Organic seed company Fruition Seeds in Naples, New York, has taken a carrot population Luby and colleagues put into the commons and begun breeding it to create a sexually reproducing variety, Luby says. Luby has also sent out open-pledged carrot seeds to university researchers over the last couple years.
There's a similar development in India, where agriculture scientist GV Ramanjaneyulu of the Centre for Sustainable Agriculture in Hyderabad has organized an open-source network that has bred and shared eight varieties of rice, wheat and pulses. That may seem superfluous, because Indian law does not recognize patents on plants or plant traits at all. But a much-debated seed law pending since 2004 could change that. "We are trying to prepare for the future," Ramanjaneyulu says. "Conditions should be much simpler and easier for sharing."
But Louwaars cautions that a complete shift to an open-source system would harm innovation. Commercial breeders, the main producers of economically important new crop varieties, can't use open-source seeds because they would not be able to claim royalties for any varieties they develop from them. If too many seeds were in the open source–only commons, they would be "killing the business model," Louwaars says. Many universities would also lose out if they could no longer charge royalties for plant traits or breeding tools.
How much of an impact the various sharing systems have remains to be seen. For now, it's best to experiment with them in different legal systems, Ramanjaneyulu says: "Let each nation decide, and let's learn from each other."
Source: Science magazine
Bee Buzzes Could Help Determine How to Save their Decreasing Population
2 years ago
-
According to recent studies, declines in wild and managed bee populations threaten the pollination of flowers in more than 85 per cent of flowering plants and 75 percent of agricultural crops worldwide. Widespread and effective monitoring of bee populations could lead to better management; however, tracking bees is tricky and costly.
Now, a research team led by the University of Missouri (MU)has developed an inexpensive acoustic listening system using data from small microphones in the field to monitor bees in flight. The study, published today in PLOS ONE, shows how farmers could use the technology to monitor pollination and increase food production.
"Causes of pollinator decline are complex and include diminishing flower resources, habitat loss, climate change, increased disease incidence and exposure to pesticides, so pinpointing the driving forces remains a challenge," said Candace Galen, professor of biological science in the MU College of Arts and Science. "For more than 100 years, scientists have used sonic vibrations to monitor birds, bats, frogs and insects. We wanted to test the potential for remote monitoring programs that use acoustics to track bee flight activities."
First, the team analyzed the characteristic frequencies — what musicians call the pitch — of bee buzzes in the lab. Then, they placed small microphones attached to data storage devices in the field and collected the acoustic survey data from three locations on Pennsylvania Mountain, Colorado, to estimate bumble bee activity.
Using the data, they developed algorithms that identified and quantified the number of bee buzzes in each location and compared that data to visual surveys the team made in the field. In almost every instance, the acoustic surveys were more sensitive, picking up more buzzing bees.
"Eavesdropping on the acoustic signatures of bee flights tells the story of bee activity and pollination services," Galen said. "Farmers may be able to use the exact methods to monitor pollination of their orchards and vegetable crops and head off pollination deficits. Finally, global 'citizen scientists' could get involved, monitoring bees in their backyards."
Currently, using the algorithms developed in this study, the team is developing a smartphone app that could record buzz activity as well as document the bees photographically. Future studies could determine whether bees detect competitors by sound and whether flowers have chemical responses to bee buzzes, Galen said.
Source: University of Missouri
Report highlights economic, environmental benefits of biotech
2 years ago
-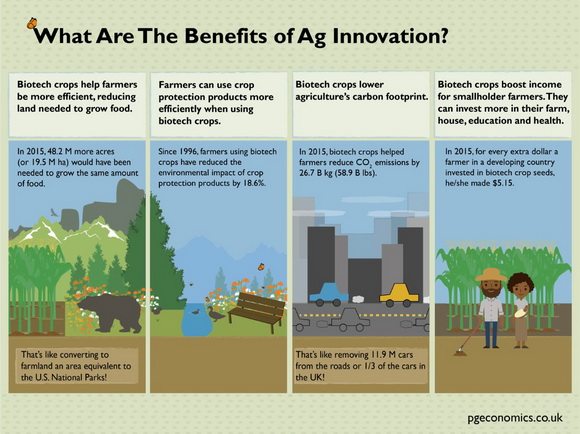 A new report released today by PG Economics has found that over the last 20 years, crop biotechnology has significantly reduced agriculture's environmental impact and stimulated economic growth in the 26 countries where the technology is used.
The innovative agricultural technology has contributed to preserving the earth's natural resources while allowing farmers to grow more, high quality crops. It has also helped alleviate poverty for 16.5 million, mostly smallholder farmers, in developing countries.
"Over the last 20 years, where farmers have been given access to, and the choice of growing biotech/GM crops, they have consistently adopted the technology, contributing to a more sustainable food supply and a better environment where they live," said Graham Brookes, director of PG Economics, co-author of the report.
Highlights in the peer reviewed report include:
Crop biotechnology has reduced agriculture's environmental impact
• Crop biotechnology has significantly reduced agriculture's greenhouse gas emissions by helping farmers adopt more sustainable practices such as reduced tillage, which decreases the burning of fossil fuels and retains more carbon in the soil. Had biotech crops not been grown in 2015, for example, an additional 26.7 billion kilograms of carbon dioxide would have been emitted into the atmosphere, which is the equivalent of adding 11.9 million cars to the roads.
• From 1996 to 2015, crop biotechnology reduced the spraying of crop protection products by 619 million kilograms, a global reduction of 8.1 per cent. This is equal to more than China's total crop protection product use each year. As a result, farmers who grow biotech crops have reduced the environmental impact associated with their crop protection practices by 18.6 per cent.

Crop biotechnology has reduced pressure to use new land in agriculture and contributed to global food security
• Biotech crops allow farmers to grow more without needing to use additional land. For example, if crop biotechnology had not been available to farmers in 2015, maintaining global production levels that year would have required the planting of an additional 8.4 million hectares (ha) of soybeans, 7.4 million ha of corn, 3 million ha of cotton and 0.7 million ha of canola. This is equivalent to needing an additional 11 per cent of the arable land in the United States, or roughly 31 per cent of the arable land in Brazil or 13 per cent of the cropping area in China.
Crop biotechnology enables farmers to increase crop yields
• Insect resistant (IR) crop technology used in cotton and corn has consistently improved yields by reducing the damage caused by pests. From 1996 to 2015, across all users of this technology, yields have increased by an average of +13.1 per cent for IR corn and +15 per cent for IR cotton relative to conventional production systems. Farmers who grow IR soybeans commercially in South America have seen an average +9.6 per cent increase in yields since 2013.
• In some countries, herbicide tolerant (HT) technology has improved yields through better weed control. For example, in Bolivia, HT soybeans increased yields by +15 per cent. In Argentina, HT technology has helped farmers grow an additional soybean crop after wheat in the same growing season.
• Biotech farmers in developing countries, many of whom are resource-poor and farm small plots of land, continue to see the highest yield gains from using the technology.
• Over 20 years, crop biotechnology has been responsible for the additional production of 180.3 million tonnes of soybeans, 357.7 million tonnes of corn, 25.2 million tonnes of cotton lint and 10.6 million tonnes of canola.
Crop biotechnology supports improved livelihoods, especially for poor, smallholder farmers in developing countries
• By better controlling pests and weeds, crop biotechnology helps farmers increase their yields, which leads to higher incomes and better lives for themselves and their families. In 2015, the net farm level economic benefit was $15.5 billion, equal to an average increase in income of $90/hectare. From 1996 to 2015, the net global farm income benefit was $167.7 billion.
Crop biotechnology contributes to global economic success
• Crop biotechnology continues to be a good investment for millions of farmers. In 2015, for each extra dollar invested in biotech crop seeds globally, farmers netted an average $3.45.
• In 2015, farmers in developing countries received $5.15 for each extra dollar invested in biotech crop seeds, whereas farmers in developed countries received $2.76 for each extra dollar invested in biotech crop seeds.
Download a pdf of the full report here.
Seeding decisions harvest opportunities for Canadian farmers
2 years ago
-
With innovations in crop science, production practices, and marketing, Canadian farm operators are growing a wider variety of field crops while also expanding their production area. Canada's total field crop area increased seven per cent from 2011 to 92.7 million acres in 2016.
The largest crops in terms of acreage were canola, spring wheat, alfalfa and barley. As well, pulses and soybeans have shown considerable growth, the result of market opportunities and the development of seed varieties more suitable to broader environmental regions.
The Prairie provinces led in field crop acreage, with 83.3 per cent of the total area in 2016.
The average field crop area per agricultural operation has doubled over the last 35 years. Canola acreage was almost six times larger in 2016 than it was in 1981, while lentil acreage was over 44 times greater in 2016 than it was in 1981.
Read more here… this information is taken from an analytical series based on 2016 Census of Agriculture data.