Researchers identify gene to help hybrid wheat breeding
2 years ago
-
Australian researchers at the University of Adelaide have identified a naturally occurring wheat gene that, when turned off, eliminates self-pollination but still allows cross-pollination – opening the way for breeding high-yielding hybrid wheats.
Published in the journal Nature Communications, and in collaboration with U.S.-based plant genetics company DuPont Pioneer, the researchers say this discovery and the associated breeding technology have the potential to radically change the way wheat is bred in Australia and internationally.
"Wheat is the world's most widely grown crop, delivering around 20 per cent of total food calories and protein to the world's population," says Ryan Whitford, Hybrid Wheat Program Leader at the University of Adelaide's School of Agriculture, Food and Wine.
"But to meet increased food demand from predicted global population growth, its production needs to increase by 60 per cent by 2050. One of the most promising options to meet this demand is for farmers to grow hybrid wheat varieties, which can offer a 10 to 15 per cent yield boost relative to conventionally bred varieties that are currently on the market."
Hybrid wheats result from crosses between two carefully selected pure wheat lines. The challenge to produce hybrid wheat, however, is in the breeding and commercial multiplication of the hybrid parent seed. Wheat is a self-pollinator while the production of hybrid seed requires large-scale cross-pollination.
In the United States, DuPont Pioneer has developed an innovative breeding technology for corn called Seed Production Technology (SPT) used to bulk up parent breeding lines for hybrid production.
"The pollination gene is 'biologically contained' to the breeding process and does not make its way past the grandparent stage in producing the end-user hybrid seed," says Marc Albertsen, Research Director, DuPont Pioneer. "This identified pollination gene is the key step for a similar technology for wheat and could dramatically increase the efficiency of hybrid wheat seed production."
Source: University of Adelaide
CFIA re-establishing tolerance levels for micronutrient fertilizers
2 years ago
-
The Canadian Food Inspection Agency (CFIA) is re-establishing tolerance levels for micronutrient fertilizers. The tolerances will be phased in over the next two years.
Micronutrients are plant nutrients that are required in small amounts. A lack of micronutrients can negatively affect plant growth and crop yield. However, too many micronutrients can also have adverse effects on animals, plants and the environment.
To mitigate the risks of over-application, the CFIA regulates micronutrient fertilizers. The tolerances will provide clarity for the regulated parties, facilitate compliance verification and enforcement and improve compliance rates in the marketplace.
The tolerances are based on scientific evidence and modern manufacturing practices, and are in line with international standards.
Products with micronutrients will continue to require labelling in English and French to inform customers of all safety information.
BASF to acquire parts of Bayer's seed and non-selective herbicide businesses
2 years ago
-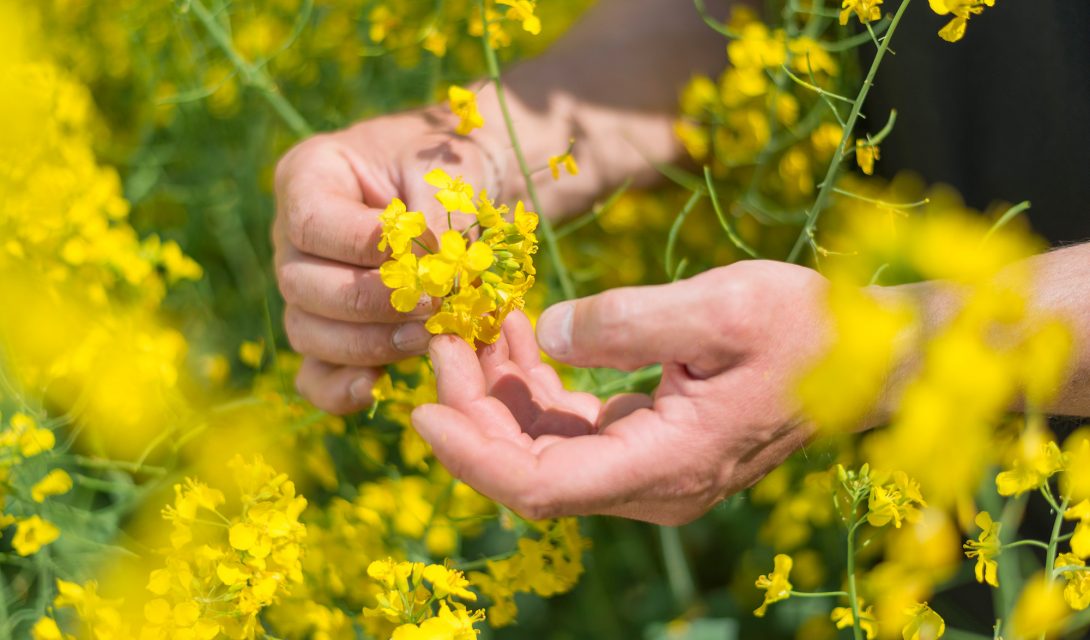 BASF has signed an agreement to acquire significant parts of Bayer's seed and non-selective herbicide businesses.
Bayer intends to divest these assets in the context of its planned acquisition of Monsanto. The all-cash purchase price is €5.9 billion, subject to certain adjustments at closing.
The assets to be acquired include Bayer's global glufosinate-ammonium non-selective herbicide business, commercialized under the Liberty, Basta and Finale brands, as well as its seed businesses for key row crops in select markets: canola hybrids in North America under the InVigor brand using the LibertyLink trait technology, oilseed rape mainly in European markets, cotton in the Americas and Europe as well as soybean in the Americas. The transaction also includes Bayer's trait research and breeding capabilities for these crops and the LibertyLink trait and trademark.
For the full year 2016, sales of the business to be purchased from Bayer amounted to around €1.3 billion and EBITDA to around €385 million. The transaction is subject to the closing of Bayer's acquisition of Monsanto and approval by relevant authorities. It is expected to close in the first quarter of 2018.
More than 1,800 commercial, R&D, breeding and production personnel will transfer from Bayer to BASF. These employees are primarily located in the United States, Germany, Brazil, Canada and Belgium. Furthermore, BASF will acquire the manufacturing sites for glufosinate-ammonium production and formulation in Germany, the United States, and Canada, seed breeding facilities in the Americas and Europe as well as trait research facilities in the United States and Europe.
Youth Ag-Summit kicks off in Brussels
2 years ago
-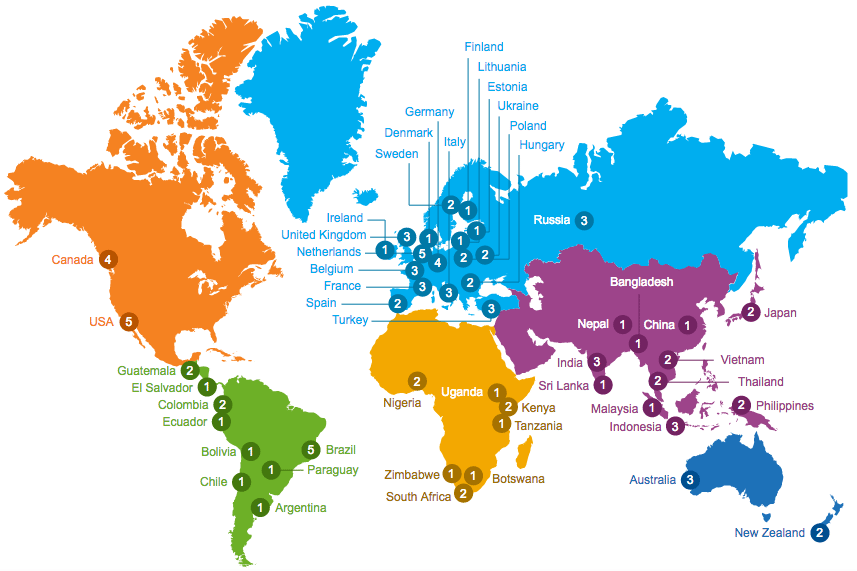 Brussels, October 9, 2017 – Today marks the kick-off of the 3rd edition of the Youth Ag-Summit, with 100 bright young talents from around the world arriving in Brussels, Belgium, to tackle one of humanity's biggest challenges: how to feed a growing population in a more sustainable manner. Organized by Bayer, together with the two Belgian young farmers associations Groene Kring (GK) and Fédération des Jeunes Agriculteurs (FJA), the summit aims to address the UN Sustainable Development Goals (SDGs) to end hunger, achieve food security, and promote sustainable agriculture.
Over the next four days, the delegates from 49 countries – who range from age 18 to 25 – will work together to generate innovative, sustainable and actionable solutions to global food security challenges. Their mission is to come up with concrete new ideas which can drive agricultural progress across the globe and be put into practice back home. (Canadian delegates.)
"For the UN SDGs to be reached, everyone needs to do their part. By inspiring our youth to advocate for science and sustainable agriculture, we hope to tap into the creativity of great young minds to help solve a major societal challenge," said Liam Condon, member of the Board of Management of Bayer AG and president of the Crop Science Division. "The Youth Ag-Summit is always a hotbed of enthusiasm, creative thinking, and innovation – I look forward to seeing what projects will emerge this year."
This year, Youth Ag-Summit delegates will hear from expert and inspirational speakers including Professor Louise O. Fresco, President of Wageningen University & Research, Caleb Harper, Director of Open Agriculture (OpenAG) initiative, MIT Media Lab, Hugh Evans, CEO of Global Citizen and many more.
As well as talks designed to spark their creativity, delegates will have the opportunity to tour the EU institutions and meet with European policymakers, visit one of Bayer's innovative sustainable farming sites, and gain real-world insights into sustainability in action from companies and organisations such as Rabobank, CropTrust, Thought for Food, BioBest, International Society for Horticultural Science, VIB – Flemish Institute for Biotech, Inagro, University Ghent and Ahold Delhaize Group.
Speaking about the partnership with Bayer, national chairman of Groene Kring, Giel Boey, said: "We are very pleased to co-host this event, which gives young people the chance to collaborate and act on solutions for sustainable agriculture – rather than just thinking, they will be DOING."
"We need to restore the connection between those who produce our food and those who consume it. We're proud to be this year's co-host and are certain that the delegates' work will have a positive impact in their communities and beyond," added Guillaume Van Binst, secretary general of the Fédération des Jeunes Agriculteurs.
Throughout the week, delegates will work to develop "Thrive for Change Projects"; concrete ideas to help achieve the UN SDGs in their communities and countries. Following a pitch process, the strongest ideas will be selected for future funding and development by Bayer.
Visit www.youthagsummit.com to meet the delegates and to learn more about the Summit. Follow the latest news on @YouthAgSummit or https://www.facebook.com/YouthAgSummit/.
Alberta Barley hires Tom Steve as Interim General Manager
2 years ago
-
Alberta Wheat and Barley undergo trial period operating with a shared management structure.
Alberta Barley announces the appointment of Tom Steve as interim general manager effective immediately. Steve currently serves as general manager of the Alberta Wheat Commission (AWC) and will continue in this role as well.
With Steve now leading both commissions, the boards of AWC and Alberta Barley have approved a project to assess the feasibility of amalgamating their management teams over a four-month trial period. The move is aimed at streamlining the commissions' collaborative relationship, and increasing efficiencies that will better serve Alberta's wheat and barley farmers.
"Our board saw this as an excellent opportunity to leverage the strong working relationship we have with the Alberta Wheat Commission," said Jason Lenz, Alberta Barley chair. "By exploring the idea of a single management team, we hope to identify ways to provide greater value to the province's wheat and barley farmers."
Alberta Barley and AWC already share office space as well as accounting and administrative staff, making this move a logical next step in further building the working relationship between the two commissions.
"Since our inception in 2012 we have collaborated with Alberta Barley on projects that serve both crops," said Kevin Auch, AWC chair. "With a shared management structure, we believe we can operate with maximum efficiency and provide the best possible return on investment to farmers."
Following the trial period in early 2018, the two boards will determine whether they will formalize an integrated management structure operating under one general manager and reporting to both boards. Alberta Barley and AWC look forward to reporting on the results of the trial period and sharing next steps with farmers.
The general manager position at Alberta Barley has been vacant since Rob Davies left the commission on Sept. 6, 2017.
The tale of two neonicotinoid bumblebee studies
2 years ago
-
Two studies on the health of bumblebees and links to neonicotinoid health were published simultaneously last month in sister publications of the prestigious science journal empire, Nature.
Both examined closely similar scientific questions, with somewhat different experimental methodologies. But the study that found that neonics caused no serious issues was ignored by the media while the one suggesting a bee-apocalypse was widely played up as "definitive."
The studies were not identical in focus, although they had one author in common — entomologist Nigel Raine of the University of Guelph in Ontario. They looked at different stages in the life cycle of bumblebees and their queens. So, on that basis alone, the findings about the differences in bee health could have been different. But the issue here is not only the conclusions, but the reporting on the studies.
National Report Identifies Priorities for the Profitability of Canada's Wheat Industry
2 years ago
-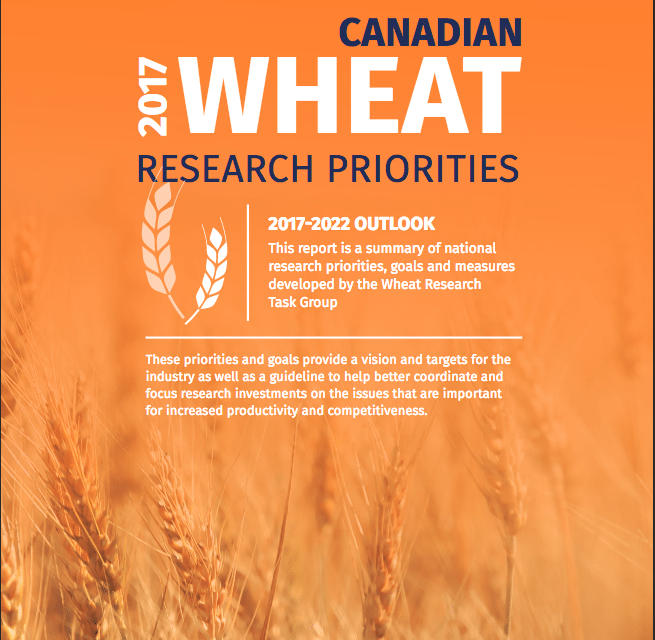 Agriculture and Agri-Food Canada (AAFC) and Cereals Canada today released the 2017 Canadian Wheat Research Priorities report.
Wheat research priorities were developed through a national collaboration of farmers, federal and provincial governments, private development companies, public research institutions, exporters and processors to identify the priority areas of research that public, private and producer groups should focus on for the next five years in order to ensure the strength and growth of the wheat industry in Canada.
The research priorities focus on improving wheat yield and reliability, increasing sustainability and improving food safety such as reducing mycotoxins. Research will also increase the ability to respond to consumer needs by developing a way to capture consumer preferences, and provide this information directly to researchers and purchasers.
Canada produces an average of 30M tonnes of wheat each year and is the worlds' largest producer of high-protein milling wheat.
AgGrowth Coalition Poised for Next Steps in BRM Review
2 years ago
-
In response to the Federal Provincial and Territorial (FPT) Agricultural Ministers' commitment to a comprehensive review of Business Risk Management (BRM) programs over the coming year, several agricultural organizations have formalized their structure and plans as the AgGrowth Coalition. The Coalition has committed to advocacy efforts and policy research to position industry as a trusted, authoritative partner in this critical review process.
At a recent meeting in Toronto the Coalition discussed and agreed to a strategy for the path forward in ensuring meaningful participation of industry in the BRM review. Members committed time and resources to guarantee that agriculture has a significant voice in shaping the next generation of farming policy and programs.
To that end, the AgGrowth Coalition is pleased to announce the coalition's Chair, Mark Brock and Vice Chair, Jeff Nielsen. Mark Brock is Chair of Grain Farmers of Ontario and an active corn, soybean, and wheat farmer. Jeff Nielsen is President of Grain Growers of Canada and grows canola, wheat and barley in central Alberta.
Additionally, the AgGrowth Coalition is undertaking an independent research and policy process – it is the expectation that this will be done in partnership with FPT governments.
"Modern farming is a smart global business supporting strong communities across the country with sustainable practices. It's time to modernize our agriculture programs, reflect the risks that are part of this reality and support the opportunities in front of us," says Mark Brock, Chair of AgGrowth. "This is a rare opportunity to improve agriculture policy and programs to enhance the economic, environmental, and social contributions of farming in Canada."
In cooperation with the Canadian Cattlemen's Association and the Canadian Pork Council, AgGrowth is committed to undertake research and policy development to actively support the BRM review process.
"The AgGrowth coalition has created an industry business risk management committee to conduct research and analysis, develop policy positions and ultimately present options for improvement from a farmer perspective," said vice-Chair Jeff Nielsen. "We would like to do this in partnership with government."
New Partnership Provides Alberta Farmers with Tools to Fight Climate Change
2 years ago
-
Farmers in Alberta are being given the tools to take charge against climate change by adopting on-farm best management practices that are scientifically proven to limit the impacts of agriculture on natural resources like air, water and soil.
Fertilizer Canada is proud to announce the signing of a Memorandum of Understanding with the Agricultural Research & Extension Council of Alberta (ARECA) that includes integration of 4R Nutrient Stewardship (Right Source @ Right Rate, Right Time, Right Place®) into the province's Environmental Farm Plan (EFP). This agreement marks a significant milestone on Fertilizer Canada's journey to create truly sustainable and climate-smart agriculture in Canada.
"We are pleased that ARECA has officially recognized 4R Nutrient Stewardship as a best practice for nutrient management on Alberta farms," said Garth Whyte, president and CEO of Fertilizer Canada. "By encouraging farmers across the province to use fertilizer effectively, Alberta is joining the front lines in the fight against climate change and ensuring their place among the world's leaders in sustainable agriculture."
"ARECA is a long-time supporter and promoter of 4R Nutrient Stewardship," said Janette McDonald, executive director. "There is no doubt this formalized partnership with Fertilizer Canada will aid us in expanding awareness of the program as a best practice for nutrient management planning."
4R Nutrient Stewardship is a science-based nutrient management system that is universally applicable yet locally focused. By applying the right source of fertilizer at the right rate, the right time and the right place, farmers can ensure nutrients are efficiently taken up by their crops and are not lost to air, water or soil. This increases crop productivity and reduces unwanted environmental impacts.
Managed by ARECA, the province's EFP self-assessment process encourages producers to assess and identify environmental risks on their farms and take action to improve their practices.
"While Alberta's EFPs already include a section on nutrient risks, adding information about the positive long-term benefits of 4R Nutrient Stewardship will expand awareness among the province's farmers," said Paul Watson, EFP director at ARECA.
As growers in Alberta adopt 4R Nutrient Stewardship under the Alberta EFP, the acres they manage will be counted under Fertilizer Canada's 4R Designation program, which tracks the amount of Canadian farmland using 4R Nutrient Stewardship to boost productivity and conserve resources. Fertilizer Canada aims to capture 20 million 4R acres by 2020 – representing 25 per cent of Canadian farmland – to demonstrate to the world the commitment Canada's agriculture sector has made to adopt climate-smart and sustainable farm practices.
DowDuPont Merger Successfully Completed
2 years ago
-
DowDuPont today announced the successful completion of the merger of equals between The Dow Chemical Company ("Dow") and E.I. du Pont de Nemours & Company ("DuPont"), effective Aug. 31, 2017. The combined entity is operating as a holding company under the name "DowDuPont™" with three divisions – Agriculture, Materials Science and Specialty Products.
Shares of DuPont and Dow ceased trading at the close of the New York Stock Exchange (NYSE) on Aug. 31, 2017. Beginning today, DowDuPont will start trading on the New York Stock Exchange under the stock ticker symbol "DWDP." Pursuant to the merger agreement, Dow shareholders received a fixed exchange ratio of 1.00 share of DowDuPont for each Dow share, and DuPont shareholders received a fixed exchange ratio of 1.282 shares of DowDuPont for each DuPont share.
"Today marks a significant milestone in the storied histories of our two companies," said Andrew Liveris, executive chairman of DowDuPont. "We are extremely excited to complete this transformational merger and move forward to create three intended industry-leading, independent, publicly traded companies. While our collective heritage and strength are impressive, the true value of this merger lies in the intended creation of three industry powerhouses that will define their markets and drive growth for the benefit of all stakeholders. Our teams have been working for more than a year on integration planning, and — as of today — we will hit the ground running on executing those plans with an intention to complete the separations as quickly as possible."
"For shareholders, customers and employees, closing this transaction is a definitive step toward unlocking higher value and greater opportunities through a future built on sustainable growth and innovation," said Ed Breen, chief executive officer of DowDuPont. "DowDuPont is a launching pad for three intended strong companies that will be better positioned to reinvest in science and innovation, solve our customers' ever-evolving challenges, and generate long-term returns for our shareholders. With the merger now complete, our focus is on finalizing the organizational structures that will be the foundations of these three intended strong companies and capturing the synergies to unlock value. With clear focus, market visibility and more productive R&D, each intended company will be equipped to compete successfully as an industry leader."