Muendel Honoured with Alberta Pulse Industry Innovator Award
3 years ago
-
The Alberta Pulse Growers (APG) presented the fourth annual Alberta Pulse Industry Innovator Award to Dr. Hans-Henning Muendel, who was instrumental in developing numerous bean cultivars for Alberta growers.
"Each year, APG recognizes a person or organization whose progressive thinking and tireless efforts helped build Alberta's pulse industry into the flourishing sector that it is today," said APG Chair D'Arcy Hilgartner. "Dr. Muendel dedicated his career to developing the dry bean cultivars that now set the standard for small red, black, pinto and great northern cultivars in Western Canada. He truly deserves to receive the Alberta Pulse Industry Innovator Award for his many contributions."
In 1996, there weren't any dry bean cultivars being grown in Western Canada that had been bred in this region. Over the next 11 years, as the senior research scientist at the Agriculture and Agri-Food Canada Research Centre in Lethbridge, Muendel and his team developed 14 dry bean cultivars in seven bean classes, and co-developed one other new bean cultivar. Muendel's bean breeding program concentrated on producing early maturing, upright bean cultivars that are well-suited to the short growing seasons of southern Alberta, Saskatchewan and Manitoba. Many of the dry bean cultivars from Muendel's program also had improved resistance to white mould while maintaining high yield and quality. Muendel also served as an ex-officio director for Alberta Pulse Growers.
Zone 1 Director Rodney Volk had high praise for Muendel's contributions to the pulse industry that continue to benefit dry bean growers like himself.
"Dr. Muendel was instrumental in establishing the breeding program that developed dry bean cultivars specific to southern Alberta growing conditions," Volk said. "The success of dry bean production in southern Alberta today can be largely credited to his program's development of local varieties with improved standability and disease resistance. Many of today's pinto and great northern varieties still have a direct connection to the lines Dr. Muendel developed."
Muendel said that he was honoured to learn that he was chosen as the recipient of the fourth annual Industry Innovator Award: "It has been 10 years since I retired, and now – with our bean varieties having spread throughout the Alberta dry bean growing area – on behalf of my breeding team, it is such an honour to accept this award."
The Alberta Pulse Growers Commission represents 6,000 growers of field pea, dry bean, lentil, chickpea, faba bean and soybean in Alberta. Our vision is to have Alberta pulses recognized by consumers as environmentally friendly, healthy, nutritious, and recognized by all producers as being an essential element in a sustainable cropping system.
We Must Do More About Mental Health
3 years ago
-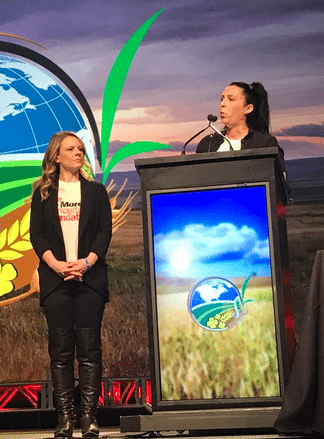 An important new initiative to get people in the agriculture community talking about mental health was launched this week.
The Do More Agriculture Foundation — a not-for-profit whose mission is to create a culture in ag where all producers are encouraged/empowered/supported to take care of their mental wellbeing — officially launched at the FarmTech conference in Edmonton on Jan. 30.
Do More Ag co-founder and farmer Kim Keller says this week's launch is only the beginning of a conversation that will go on for years within the agriculture community.
While she says things are improving with regard to breaking down the stigma associated with mental illness in agriculture, there's a long way to go to help farmers get the help they need if struggling with mental health issues.
"So much of a farmer or producer's livelihood is out of their control. It's market- or weather-based. At the same time, we have the culture in ag where we're supposed to be tough and stoic and not talk about our feelings," she says.
"Like the rest of society, there's a lack of understanding and knowledge about mental health in agriculture. The fact farmers live in rural locations makes things even more challenging — it's no secret that mental health resources in rural areas aren't plentiful."
At FarmTech, Keller and fellow Do More Ag co-founder, farmer Lesley Kelly, took part in a panel discussion moderated by Alberta Seed Guide publisher Shawn Brook about mental health in ag.
Anyone wishing to help out in the effort to raise awareness of mental health in agriculture is encouraged to contact the Do More Agriculture Foundation through the contact form at domore.ag.
Root Microbiome Valuable Key to Plants Surviving Drought
3 years ago
-
Just as the microorganisms in our gut are increasingly recognized as important players in human health and behaviour, new research from the University of Toronto Mississauga (UTM) demonstrates that microorganisms are equally critical to the growth and health of plants. For example, plants that are able to recruit particular bacteria to their root microbiomes are much more drought resistant than their fellows, says UTM PhD candidate Connor Fitzpatrick, of the Department of Biology.
The plant's root microbiome is the unique community of micro-organisms living in and on plant roots. Similar to the gut microbiome in animal species, the root microbiome is the interface between a plant and the world. The root microbiome is responsible for important functions such as nutrient uptake and signals, important to plant development.
Fitzpatrick's study is published in the latest issue of the Proceedings of the National Academy of Science. His exploration of the role of the root microbiome in plant health could eventually assist farmers to grow crops under drought-ridden conditions.
For the study, Fitzpatrick grew 30 species of plants found in the Greater Toronto Area from seed in identical soil mixtures in a laboratory setting. These included familiar plants like goldenrod, milkweed and asters. The plants were raised for a full growing season (16 weeks), with each species grown in both permissive and simulated drought conditions.
Fitzpatrick's research explores the commonalities and differences among the root microbiomes of the various host plant species, dividing the microbiomes into the endosphere (microbes living inside roots) and rhizosphere (microbes living in the soil surrounding roots). He found variation across the 30 species, with related species having more similarity between microbiomes than diverse species.
"It's as you would expect," Fitzpatrick says. "Just as there are more similarities between a human's gut microbiome and an ape's than between a human's and a mouse's, the closer the relationship between plant species, the more similar their root microbiomes. It's important to document as a way to better understand the evolutionary processes shaping the plant root microbiome."
In addition to deepening our basic biological understanding of plant evolution and development, the research offers further avenues for study, including how and why some plants recruit bacteria that impact drought resistance while others don't.
"If plants were able to enrich their root microbiomes with a particular group of bacteria, the Actinobacteria, they grew much better in drought conditions," says Fitzpatrick. "All of our plants had access to this group of bacteria, but they also needed to have the ability to recruit it from the soil."
In another finding that is consistent with the practice of crop rotation, Fitzpatrick showed that the more similar the composition of a plant's root microbiome to that of the previous generation of a plant grown in that soil, the more the second-generation plant suffered.
"There is a complex web of interactions taking place that is difficult to disentangle and requires further inquiry," Fitzpatrick says.
"Practically speaking, we need to understand how to sustain plants with all of the mounting stressors today, such as drought and an increase in pathogens (e.g., plant disease)," Fitzpatrick says. "The efforts to mitigate these issues are expensive and short-lived or very damaging to the environment. If we can harness naturally occurring interactions for these purposes, we'll be much better off."
Source: University of Toronto
PBR moves from education to enforcement
3 years ago
-
Ottawa, ON – January 23, 2018 – SeCan has reached settlement with a number of western producers who were selling and/or advertising for sale varieties protected by PBR. "Our goal is to continue to educate" says Todd Hyra, Business Manager, Western Canada for SeCan. "Part of education is the willingness to take the step to enforce the rights on behalf of the breeder".
Below are the most recent infringers listed by town, province and variety.
| | | | |
| --- | --- | --- | --- |
| Cory Dawe | Dinsmore | SK | AC® Strongfield Durum |
| Richard Erle Bredahl | Shaunuvon | SK | AC® Strongfield Durum |
| Dylan Szakacs | Melfort | SK | AC® Vesper VB CWRS |
| Chad Swan | Plenty | SK | CDC Copeland Malt Barley |
| Ian Topham | Eastend | SK | CDC Cowboy Feed Barley |
| G5 Farms Ltd. | Oak River | MB | CDC Copeland Malt Barley |
| Clayton Miller | Young | SK | CDC Copeland Malt Barley |
"PBR has been in place for 25 years and 'I did not know' is no longer a suitable excuse," says Lorne Hadley from CPTA. "It's refreshing to see some willing to step forward and admit a mistake – these end very differently than cases where the infringer is reluctant to come clean. We never pursue an infringer without having evidence in hand."
Awareness is the important first step and SeCan talks about the importance of PBR whenever possible. To stay on side Hadley points out a few things to keep in mind:
Most new varieties have some form of protection – don't assume a variety is not protected.
If a variety is protected under PBR, it is illegal to sell common seed, even if you don't use the variety name.
Under PBR, it is OK to keep seed on your farm – as long as the farm-saved rights are not pre-empted by another agreement or contract.
Under the new PBR '91 rules, the buyer, the processer, and the seller are responsible for the infringement.
Visit PBRfacts.ca for more information.
The goal of Plant Breeders' Rights is to encourage investment in plant breeding in Canada. There is a misconception that PBR only benefits large companies – the fact is large companies often have other tools to protect their intellectual property (including patents and contracts). PBR is critically important for public breeders, (including universities) and smaller private breeders who may not have the resources or traits necessary to utilize other forms of protection.
How climate change alters plant growth
3 years ago
-
Global warming affects more than just plant biodiversity – it even alters the way plants grow.
A team of researchers at Martin Luther University Halle-Wittenberg (MLU) joined forces with the Leibniz Institute for Plant Biochemistry (IPB) to discover which molecular processes are involved in plant growth.
In the current edition of the internationally renowned journal Current Biology, the group presents its latest findings on the mechanism controlling growth at high temperatures. In the future this could help breed plants that are adapted to global warming.
Plants react much more sensitively to fluctuations in temperature than animals. They are also unable to seek out warmer or cooler locations.
"When temperatures rise, plants grow taller in order to cool themselves off. Their stalks become taller and their leaves become narrower and grow farther apart. Yet this makes the plant more instable overall," says Professor Marcel Quint, an agricultural scientist at MLU. This is noticeable, for example, during grain harvesting. Instable plants bend faster in the rain and generally produce less biomass. There is also a reduction in the proportion of key substances, like proteins, that can be stored in the grain kernel.
"While the correlation between temperature and plant growth at the macrolevel is relatively well understood, there are still many open questions at the molecular level. We are just starting to understand how plants detect the changes in temperature and translate this into specific reactions," Quint notes.
Earlier studies have shown that the protein PIF4 directly controls plant growth and that this protein is also dependent on temperature. When it's cold, PIF4 is less active – in other words the plant doesn't grow. At higher temperatures, PIF4 activates growth-promoting genes and the plant grows taller.
"Up until now it had been unclear how the plant knows when to activate PIF4 and how much should be released," says Quint. "There were large gaps in our knowledge about the exact signalling pathway of temperature-controlled growth."
And that is precisely what the research group in Halle has now discovered. They investigated the growth behaviour of seedlings of the model plant thale cress (Arabidopsis thaliana). Normally its seedlings form short stems at 20 C (68 F). These stems become considerably longer at 28 C (82.4 F). In the lab, the scientists identified plants with a gene defect which still only formed short stems at 28 C. Then they searched for possible reasons for this lack in growth. They discovered a hormone that activates the PIF4 gene at high temperatures, thus producing the protein. This reaction did not occur in the mutated plants.
"We have now discovered the role of this special hormone in the signalling pathway and have found a mechanism through which the growth process is positively regulated at higher temperatures," says Quint.
The findings of the research group from Halle may help to breed plants in the future that remain stable even at high temperatures and are able to produce sufficient yields. To achieve this, the findings from the basic research on model plants first have to be transferred to cultivated plants like cereals.
Pot Genetics: Why cannabis strains don't all live up to their billing
3 years ago
-
Red Diesel, Moby Dick, Lemon Burst, or how about Girl Scout Cookies? All names for "bud," the cannabis flower, and when the black market product goes legal in Canada this summer expect some heavy marketing of fancy names and their tantalizing effects.
But plant scientists say the "sell" is hazy. Those buds have a mixed-up lineage and don't always match what's advertised.
It's about genetics, and cannabis is a mixed breed, to say the least.
With more than 100 creative names for pot, each variant is said to have slightly different properties and that translates into different effects, according to vendors.
Uncovering a Genetic Mechanism to Enhance Yield Potential in Cereal Crops
3 years ago
-
Solving the world's food, feed and bioenergy challenges requires integration of multiple approaches and diverse skills. Andrea Eveland, Ph.D., assistant member at the Donald Danforth Plant Science Center, and her team identified a genetic mechanism that controls developmental traits related to grain production in cereals. The work was performed in Setaria viridis, an emerging model system for grasses that is closely related to economically important cereal crops and bioenergy feed stocks such as maize, sorghum, switchgrass and sugarcane.
The Eveland laboratory's research findings, "Brassinosteroids modulate meristem fate and differentiation of unique inflorescence morphology in Setaria viridis", were recently published in the journal The Plant Cell. In their study, Yang et al. mapped a genetic locus in the S. viridis genome that controls growth of sterile branches called bristles, which are produced on the grain-bearing inflorescences of some grass species. Their research revealed that these sterile bristles are initially programmed to be spikelets; grass-specific structures that produce flowers and grain. Eveland's work showed that conversion of a spikelet to a bristle is determined early in inflorescence development and regulated by a class of plant hormones called brassinosteroids (BRs), which modulate a range of physiological processes in plant growth, development and immunity. In addition to converting a sterile structure to a seed-bearing one, the research also showed that localized disruption of BR synthesis can lead to production of two flowers per spikelet rather than the single one that typically forms. These BR-dependent phenotypes therefore represent two potential avenues for enhancing grain production in millets, including subsistence crops in many developing countries that remain largely untapped for genetic improvement.
"This work is a great demonstration of how Setaria viridis can be leveraged to gain fundamental insights into the mechanisms that govern seed production in the grasses – our most important group of plants that includes corn, sorghum, rice, wheat and barley," said Thomas Brutnell, Ph.D., Director of the Enterprise Institute for Renewable Fuels, Danforth Center. "It's also worth noting that this project was conceived and work initiated after Dr. Eveland joined the Danforth Center – an impressive feat for a junior faculty member that speaks to both the advantages of working on a model system and the great team that she has assembled at the Danforth Center."
At the Danforth Center, Eveland's research focuses on the developmental mechanisms that control plant architecture traits in cereal crops. Specifically, she investigates how plant organs are formed from stem cells, and how variation in the underlying gene regulatory networks can precisely modulate plant form. Her team integrates both computational and experimental approaches to explore how perturbations to these gene networks can alter morphology, both within a species and across the grasses, with the ultimate goal of defining targets for improving grain yield in cereals.
"The genetics and genomics tools that are emerging for Setaria enable more rapid dissection of molecular pathways such as this one, and allow us to manipulate them directly in a system that is closely related to the food crops we aim to improve," said Eveland. "It means we are just that much closer to designing and deploying optimal architectures for cereal crops. The prospect of leveraging these findings for improvement of related grasses that are also orphan crop species, such as pearl and foxtail millets, is especially exciting."
New Survey Identifies Labour Challenges for Seed Growers
3 years ago
-
Throughout 2017, a number of seed growers and related organizations voiced concerns about lack of seed grower access to foreign labour through the Government of Canada's Temporary Foreign Workers Program (TFWP).
To better understand the issue, Canadian Seed Growers' Association (CSGA) surveyed seed growers across the country. Here are some of the findings:
26% of members surveyed were not able to find all the workers needed to work on their seed farms in 2016 and 2017;
When asked what types of workers seed farms need most, 59% of respondents indicated they needed full time permanent positions while 41% indicated they needed seasonal help;
27% of respondents used government programs to access workers;
47% of respondents indicated they would use the Temporary Foreign Workers Program (TFWP) to access season workers if they had access to the program
As a result of these findings, the CSGA began working with the Canadian Seed Trade Association, the Seed Corn Growers of Ontario and the Canadian Agricultural Human Resource Council (CAHRC) to sensitize Government and in particular the Department of Employment and Social Development Canada to the need to expand access to the TFWP to all seed growers.
Initial efforts have focused on ensuring that canola seed growers maintain their current access to the program, that seed corn growers regain the access that they recently (and inexplicably) lost and that other seed growers needs be recognized. While these efforts have not yet yielded results, Government's initial response has been encouraging.
CSGA will continue to advocate on behalf of members on labour issues and will provide progress reports as discussions with government evolve.
Source: CSGA
Seed Synergy partners launch new website and release Green Paper
3 years ago
-
The Seed Synergy Collaboration Project has launched a new website, seedsynergy.net, and released a comprehensive Green Paper proposing a vision for the next generation seed system and inviting comments on it.
Over the past year, leaders from the six major seed sector industry organizations have been working together on the Seed Synergy Collaboration Project to develop recommendations and implementation plans that will enable a next generation seed system for Canada.
"The Seed Synergy partners are pleased to announce these updates to you", said Krista Erickson, executive director of the Commercial Seed Analysts Association of Canada, speaking on behalf of the group. "Collaboration between the partner groups over the last number of months has brought us one step closer to the reality of a seed system that functions optimally for all those involved in it and for Canadians in general. We hope that agriculture value chain partners will join with us in the discussion and visit our new website today".
The current model of the seed sector must adapt to seize emergent opportunities. Canada needs a strong vision for the future, and practical reforms now, to position producers, innovators, and ultimately the entire agricultural value chain to succeed in a highly competitive and innovation-based global marketplace.
The Green Paper is the Seed Synergy partnership's vision for how to meet these challenges, with proposals designed to: stimulate investment to unlock our innovative potential, enable industry to play a greater leadership role in governing the seed system, increase transparency within the system and better meet diverse customer needs and drive growth throughout the agriculture value chain.
Over the coming months the Seed Synergy organizations will be talking to their members, holding regional workshops, and engaging with stakeholders (including key federal government departments) to produce a final White Paper for the spring/summer 2018. The White Paper will chart a course for the future of the seed system, and will set out a strong path forward for industry and government to work together in a meaningful way.
For more details and to provide feedback, visit the new Seed Synergy website.
Self-defense for plants
3 years ago
-
Salk scientists characterize unusual plant immune response to bacterial infection
When you see brown spots on otherwise healthy green leaves, you may be witnessing a plant's immune response as it tries to keep a bacterial infection from spreading. Some plants are more resistant to such infections than others, and plant biologists want to understand why. Salk Institute scientists studying a plant protein called SOBER1 recently discovered one mechanism by which, counterintuitively, plants seem to render themselves less resistant to infection.
The work, which appeared in Nature Communications on December 19, 2017, sheds light on plant resistance generally and could lead to strategies to boost plants' natural immunity or to better contain infections that threaten to destroy an entire agricultural crop.
"There are a lot of losses in crop yields due to bacteria that kill plants," says the paper's senior author Joanne Chory, a Howard Hughes Medical Institute Investigator, director of Salk's Plant Molecular and Cellular Biology Laboratory and a 2018 recipient of the Breakthrough Prize in Life Sciences. "With this work, we set out to understand the underlying mechanism of how resistance works, and to see how general it is."
One of the ways plants fight bacterial infection is by killing off their own cells in which bacterial proteins are detected. But some bacteria have evolved a counter strategy—injecting special proteins that suppress the plant's immune response by adding small, disabling chemical tags called acetyl groups to immune molecules. This process is called acetylation. What makes certain plants able to resist these bacterial counter measures while others succumb to infection remains unclear.
As a means to better understand such pathogen-plant interactions, Chory's team turned to the well-studied weed Arabidopsis thaliana and, in particular, an enzyme called SOBER1—which had previously been reported to suppress the weed's immune response to a bacterial protein known as AvrBsT. While it may seem counterintuitive to use immune suppression to study infection resistance, the Salk biologists thought doing so could yield useful information.
The researchers started by determining SOBER1's amino acid sequence—the particular order of building blocks that gives a protein its basic identity. Intriguingly, they found it was very similar to a cancer-pathway-related human enzyme. This enzyme contains a characteristic tunnel into which proteins with certain types of modifications can fit and be cut as part of the enzymatic reaction. It turns out SOBER1 can be classified as part of a vast protein superfamily known as alpha/beta hydrolases. These enzymes share a common core structure but are very flexible in the chemical reactions they catalyze, which range from the breakdown of fat to the detoxification of chemicals called peroxides.
Next, they used a more than 100-year-old technique called X-ray crystallography to determine SOBER1's three-dimensional structure. While similar to the human enzyme, the plant enzyme's tunnel had two extra amino acids sticking down from the top: one at the entrance and one in the middle.
"When we saw those, we realized they had to have a dramatic effect on function because they basically block the tunnel," says Salk research associate and co–first author Marco Bürger.
To discover what the purpose might be, Bürger and co–first author Björn Willige, also a research associate, used substrates (molecules that enzymes act on) with different lengths and biochemically tested how well they fit in the enzyme and whether they could be cut. Only certain types fit and were cut—very short acetyl groups. This suggested that SOBER1 is a deacetylase—a class of enzyme that removes acetyl groups. Furthermore, the team mutated SOBER1 and thus opened the blocked tunnel. With this change, Bürger and Willige engineered an enzyme that lost its strong specificity for short acetyl groups and instead preferred longer substrates.
"For the initial biochemistry experiments, we used established, artificial substrates," says Willige. "But next we wanted to see what would happen in plants."
For this, they used tobacco plants—which have large leaves that are easy to work with—and a bacterium with a protein called AvrBsT, known to trigger acetylation. They produced AvrBsT in different regions of tobacco leaves along with SOBER1 and several mutated (and thus nonfunctional) versions of the enzyme.
Leaves producing AvrBsT had brown patches of dead tissue, indicating that AvrBsT had initiated a cell death program to curtail the systemic spreading of the pathogen. Leaves that produced AvrBsT together with SOBER1 looked healthy, indicating that SOBER1 reversed the action of AvrBsT. Strikingly, mutated SOBER1 versions with an opened tunnel were not able to prevent the tissue from dying. From this, the researchers concluded that deacetylation must be the underlying chemical reaction leading to suppression of the plant's immune response.
The tobacco tests supported the idea of SOBER1 being a deacetylase that would remove acetyl groups added by bacterial proteins. Without the acetyl groups tagging proteins, the plant didn't recognize them as foreign and thus didn't mount a cell-killing immune response. The leaves looked healthier because cells weren't dying.
"SOBER's function is surprising because it keeps infected tissue alive, which puts the plant at risk," says Chory, who also holds the Howard H. and Maryam R. Newman Chair in Plant Biology at Salk. "But we are just beginning to understand these types of mechanisms, and there could very well be conditions in which the actions of SOBER1 is beneficial."
Further tests showed that the activity and function of SOBER1 is not restricted to the weed Arabidopsis thaliana, but also exists in a plant called oilseed rape demonstrating that the findings of Chory's lab could be applied to agricultural crops and biofuel resources.
Bürger and Willige would next like to begin screening for chemical inhibitors that could block SOBER1, thereby allowing plants to have a full immune response to pathogenic bacteria.
The work was funded by Howard Hughes Medical Institute, Deutsche Forschungsgemeinschaft, the Human Frontier Science Program and The Pioneer Postdoctoral Endowment Fund.