Supporting global change: Bayer to fund three youth-led food security projects
3 years ago
-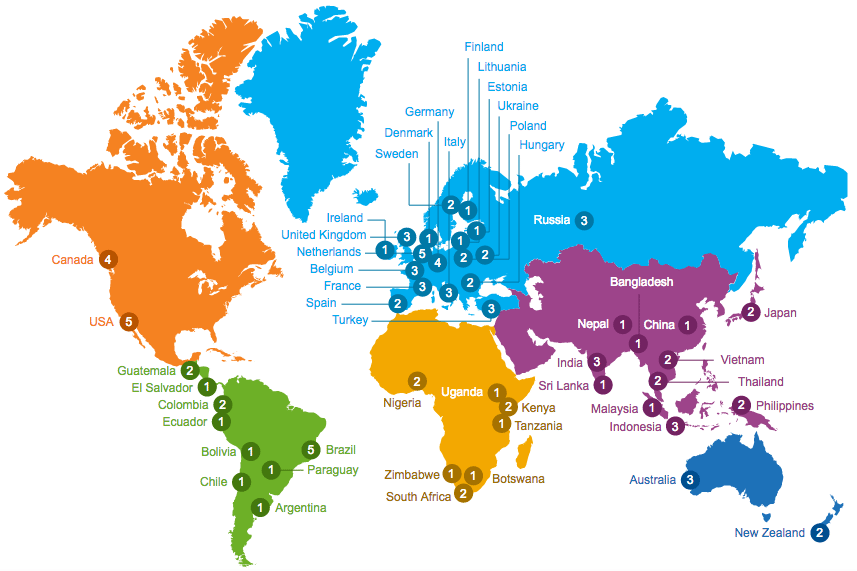 Bayer will be funding future projects developed by some of the world's brightest young food security advocates during the 2017 Youth Ag-Summit. The three projects will tackle issues related to the United Nations Sustainable Development Goals (SDG) of Gender Equality, Quality Education, and Responsible Consumption and Production.
On Oct. 9 – 13, 100 young agricultural enthusiasts, aged 18-25 and from 49 different countries, gathered in Brussels, Belgium, for the third edition of the Youth Ag-Summit. Organized by Bayer, together with the two Belgian young farmers associations Groene Kring and Fédération des Jeunes Agriculteurs, the event provided an opportunity for delegates to work on concrete solutions to one of humanity's greatest challenges: how to feed a growing world population in a sustainable manner.
At the Youth-Ag Summit, delegates, including four from Canada, worked throughout the week in groups of 10 to develop their ideas, before pitching to a jury of experts and the audience. The jury and the audience then selected the winners on the basis of criteria such as feasibility, innovativeness and creativity:
Third place went to "Imperfect Picks", a group who was assigned to work on SDG 12: Responsible Consumption and Production. These delegates impressed with their cartoon campaign to promote "ugly fruits" to children, and enable a broader cultural shift towards accepting food that appears blemished but is still of good quality. They won €3,000 to further develop and implement their project.
Second place went to "Seeds of Change", a group of delegates focusing on SDG 4: Quality Education. They will use their prize of €5,000 to fund a project aimed at promoting agriculture in schools through young agricultural champions, in order to bridge the disconnect between people who consume, and people who produce food.
Finally, first place was awarded to the group "AGRIKUA" ("kua" being the Swahili word for "grow"), whose project focuses on promoting Gender Equality (SDG 5) in the agricultural sector. Their plan to create an online professional platform for young Kenyan women seeking opportunities in agriculture impressed the jury and audience alike, and they took home the grand prize of €10,000. On top of this funding, the AGRIKUA delegates will also receive dedicated training and coaching to help make the project a reality. They will also be invited back to

Europe

to present their project to a relevant industry platform.
Cassie Hayward from Halifax, Nova Scotia, was one of four Canadian delegates to attend the Summit. She was part of the winning AGRIKUA team and feels that this experience has been life-changing.
"I'm very fortunate to have been part of such an amazing team. The outcome we achieved is because of the collaboration and commitment of our group to make a real impact in addressing food security," said Hayward. "Within 24 hours our lives changed. Since my teammates and I arrived at home, various groups have expressed their interest in our project."
Hayward wasn't the only Canadian to garner attention at the Youth Ag-Summit. In fact, all of the top teams had representation from Canada—the only country in attendance to do so.
"We are extremely proud of our Canadian delegates," said Al Driver, president and CEO, Bayer Crop Science. "These four delegates used their diverse experience and backgrounds to find tangible solutions to addressing food security. They should all be proud in the manner they represented their country to the world."
As well as working in groups to develop their projects, delegates spent the week hearing from world-renowned speakers and partner organizations, who inspired them to each commit to doing "Three Little Things" in their everyday life to foster greater food security.
On The Edge
3 years ago
-
Can epigenetics change the way we breed crops for drought and climate change?
Epigenetically manipulated crops have been shown to grow vigorously even when stressed by drought, heat or cold. Sally Mackenzie is a professor of plant science at the University of Nebraska and co-founder of Epicrop Technologies, a private company developing a new plant-breeding method using this technology. Epicrop's epigenetic technology is unique as it is able to improve crop yields and stress tolerance without making any changes to the DNA sequence of the plant. The final crop plant is genetically identical to the starting plant and contains no foreign genes or any changes to the plant's DNA.
So what's the difference between genetic modification versus epigenetic manipulation? Genetics is the study of DNA and the genes within, while epigenetics is the study of how and when the genes are expressed. When plants are genetically modified, the DNA itself is changed, while epigenetic manipulation involves changes to how genes are expressed or silenced.
Since the 1930s, plant breeders have used radiation or highly toxic chemicals (also known as mutagenesis) to mutate and modify the DNA of plants in order to produce better crops. Plant breeders who use this breeding technique expose plants to disruptions in hopes that some kind of random genetic mutation will occur that will be beneficial. The sweet Ruby Red grapefruit, which can be grown and sold as organic, is one of 3,000 plants that have been developed using mutagenesis. Despite the fact that the process results in tens of thousands of unplanned and unmappable mutations, it is unregulated, while genetic engineering, which might require only a singe gene tweak, must go through years of expensive evaluations.
In the 1990s, a more precise method of genetic modification was approved for corn, soybeans and other crops. These GMOs are sometimes created by taking a useful gene or a few genes from one species and inserting it into a different one, resulting in crops that are resistant to viruses, insects or herbicides.
In both of the plant-breeding methods, we can use genetic sequencing to see that changes have actually been made to a plant's DNA. However, that is not the case with the new plant-breeding method being developed by Mackenzie and Epicrop. This method basically silences a gene, but leaves the DNA intact. No "foreign" DNA is inserted, as in transgenic breeding.
A few years ago, Mackenzie and her lab colleagues discovered a gene called MSH1. They learned that silencing the gene tricks plants into "believing" they are growing under stressful conditions, causing them to compensate by activating a number of survival mechanisms, resulting in higher yields and more robust growth.
"When this gene is no longer functional, it sets off a cascade of events in a plant that are very interesting. The plant believes, under this condition, that it is experiencing all kinds of stress—drought, cold, and heat, all at one time—so lots of those different stress pathways are all amplified simultaneously. The plants believe that they're seeing stress, even if you're growing them in perfect conditions," says MacKenzie.
While silencing genes is nothing new, Epicrop's method of focusing on the MSH1 gene uses a new methodology that can be used over multiple generations. After silencing the gene, Epicrop crosses the manipulated plants with non-manipulated ones. The offspring are robust for about five generations, just like their manipulated parents.
As Mackenzie describes it, it's as if they have reprogrammed the plants' memory — not their DNA — so they always react as if they are growing under stressful conditions: "What we're doing, actually, is to create memory. Once we create this memory of stress, we can grow all of its progeny, and all of its progeny will still have that memory. We can go 10 cycles and still have that memory, so we've now created in this variety a memory stock — a breeding stock that we can use in all of our crosses. Now we've got a new way of doing breeding that gives us new, enhanced capabilities that we didn't have, and it is not subject to regulation because we're not adding any genetic change, we're adding epigenetic change."
Mackenzie and her colleagues have shown this breeding method is effective with sorghum, tomatoes and Arabidopsis, and she believes that it can be used with virtually any plant.
While traditional GMO crops take years to pass regulatory hurdles, Epicrop's plants will not have to undergo strict scrutiny because no changes are made at the genetic level. "There is nothing you can regulate about my technology," Mackenzie said. "When APHIS considered this for regulation, they didn't even know how to impose regulation even if they wanted to."
This means that epigenetic seeds may be available relatively soon to help farmers address drought and heat due to climate change.
Epicrop is currently conducting large-scale field tests on sorghum and tomato, and is developing partnerships with seed companies whose products can benefit from their epigenetic technology.
Source: Genetic Literacy Project
What do the proposed federal tax changes mean for your farm?
3 years ago
-
Alberta producers are invited to attend the 5th annual Alberta Crops Breakfast on November 9 to learn what the proposed federal tax changes mean for their farms.
Chartered Professional Accountant and Business Valuator Dean Gallimore will delve into this hot topic as the guest speaker at this free event held in conjunction with Agri-Trade in Red Deer.
"The federal government says their tax proposals are about fairness," Gallimore said. "Many farmers will be shocked by the impact of these proposals on their situations. Farmers should be proactive in trying to figure out how this proposed legislation affects their business moving into the future."
Gallimore is a retired partner from KPMG LLP in Lethbridge, where he spent his career working with agriculture clients and strategies. He has authored a Professional Development Publication for CCH Canada Limited on Farm Taxation and co-written Tax Strategies for Farmers (published by Alberta Agriculture).
The breakfast starts at 7:30 a.m. at the Sheraton Hotel in Red Deer, with Gallimore's presentation called "Proposed Federal Tax Changes – What does this mean to your farm?" taking place at 8:15 a.m.
This event is hosted by Alberta Barley, Alberta Canola Producers Commission, Alberta Pulse Growers and Alberta Wheat Commission. The breakfast is free to attend but pre-registration is required.
Researchers identify gene to help hybrid wheat breeding
3 years ago
-
Australian researchers at the University of Adelaide have identified a naturally occurring wheat gene that, when turned off, eliminates self-pollination but still allows cross-pollination – opening the way for breeding high-yielding hybrid wheats.
Published in the journal Nature Communications, and in collaboration with U.S.-based plant genetics company DuPont Pioneer, the researchers say this discovery and the associated breeding technology have the potential to radically change the way wheat is bred in Australia and internationally.
"Wheat is the world's most widely grown crop, delivering around 20 per cent of total food calories and protein to the world's population," says Ryan Whitford, Hybrid Wheat Program Leader at the University of Adelaide's School of Agriculture, Food and Wine.
"But to meet increased food demand from predicted global population growth, its production needs to increase by 60 per cent by 2050. One of the most promising options to meet this demand is for farmers to grow hybrid wheat varieties, which can offer a 10 to 15 per cent yield boost relative to conventionally bred varieties that are currently on the market."
Hybrid wheats result from crosses between two carefully selected pure wheat lines. The challenge to produce hybrid wheat, however, is in the breeding and commercial multiplication of the hybrid parent seed. Wheat is a self-pollinator while the production of hybrid seed requires large-scale cross-pollination.
In the United States, DuPont Pioneer has developed an innovative breeding technology for corn called Seed Production Technology (SPT) used to bulk up parent breeding lines for hybrid production.
"The pollination gene is 'biologically contained' to the breeding process and does not make its way past the grandparent stage in producing the end-user hybrid seed," says Marc Albertsen, Research Director, DuPont Pioneer. "This identified pollination gene is the key step for a similar technology for wheat and could dramatically increase the efficiency of hybrid wheat seed production."
Source: University of Adelaide
CFIA re-establishing tolerance levels for micronutrient fertilizers
3 years ago
-
The Canadian Food Inspection Agency (CFIA) is re-establishing tolerance levels for micronutrient fertilizers. The tolerances will be phased in over the next two years.
Micronutrients are plant nutrients that are required in small amounts. A lack of micronutrients can negatively affect plant growth and crop yield. However, too many micronutrients can also have adverse effects on animals, plants and the environment.
To mitigate the risks of over-application, the CFIA regulates micronutrient fertilizers. The tolerances will provide clarity for the regulated parties, facilitate compliance verification and enforcement and improve compliance rates in the marketplace.
The tolerances are based on scientific evidence and modern manufacturing practices, and are in line with international standards.
Products with micronutrients will continue to require labelling in English and French to inform customers of all safety information.
BASF to acquire parts of Bayer's seed and non-selective herbicide businesses
3 years ago
-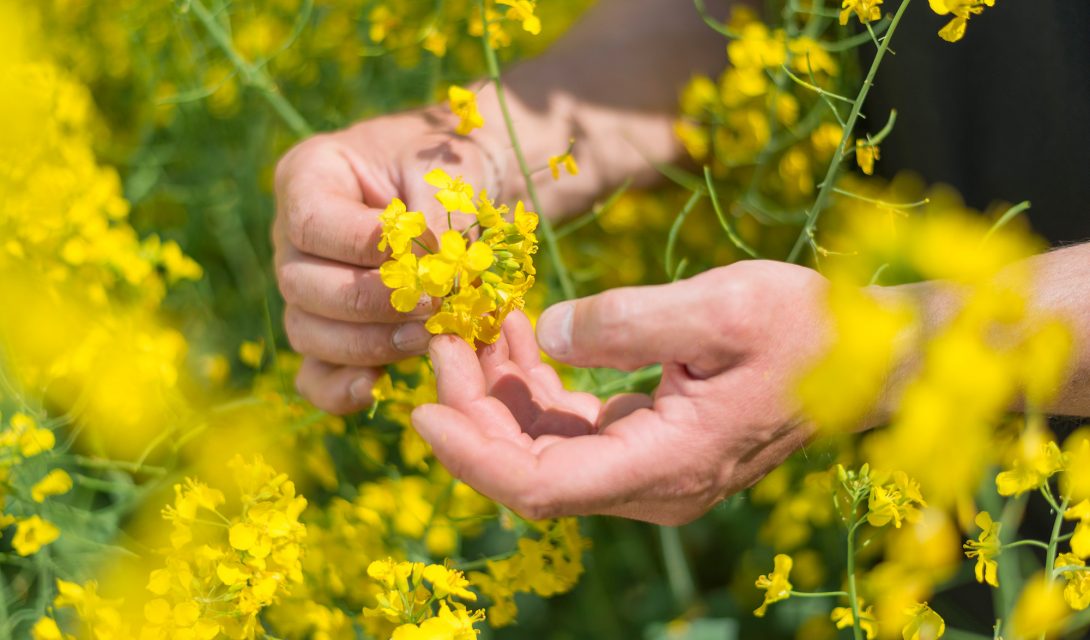 BASF has signed an agreement to acquire significant parts of Bayer's seed and non-selective herbicide businesses.
Bayer intends to divest these assets in the context of its planned acquisition of Monsanto. The all-cash purchase price is €5.9 billion, subject to certain adjustments at closing.
The assets to be acquired include Bayer's global glufosinate-ammonium non-selective herbicide business, commercialized under the Liberty, Basta and Finale brands, as well as its seed businesses for key row crops in select markets: canola hybrids in North America under the InVigor brand using the LibertyLink trait technology, oilseed rape mainly in European markets, cotton in the Americas and Europe as well as soybean in the Americas. The transaction also includes Bayer's trait research and breeding capabilities for these crops and the LibertyLink trait and trademark.
For the full year 2016, sales of the business to be purchased from Bayer amounted to around €1.3 billion and EBITDA to around €385 million. The transaction is subject to the closing of Bayer's acquisition of Monsanto and approval by relevant authorities. It is expected to close in the first quarter of 2018.
More than 1,800 commercial, R&D, breeding and production personnel will transfer from Bayer to BASF. These employees are primarily located in the United States, Germany, Brazil, Canada and Belgium. Furthermore, BASF will acquire the manufacturing sites for glufosinate-ammonium production and formulation in Germany, the United States, and Canada, seed breeding facilities in the Americas and Europe as well as trait research facilities in the United States and Europe.
Youth Ag-Summit kicks off in Brussels
3 years ago
-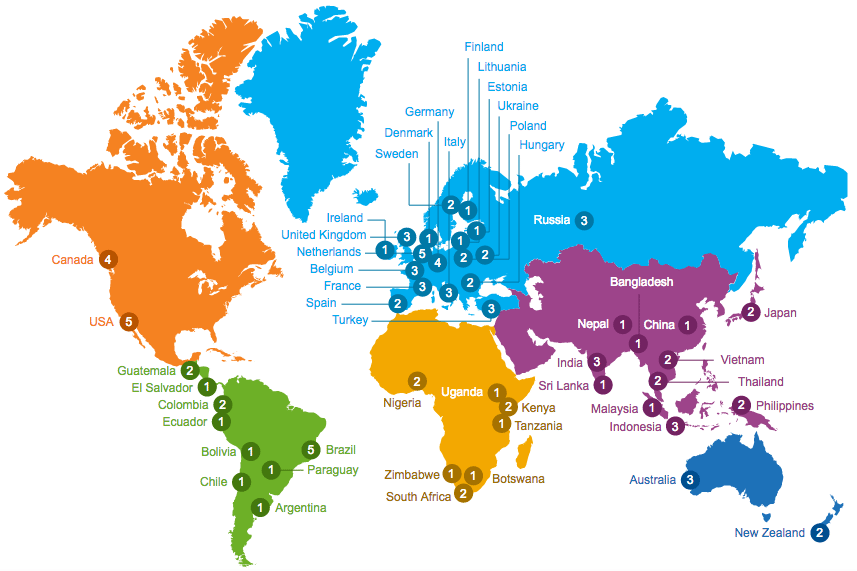 Brussels, October 9, 2017 – Today marks the kick-off of the 3rd edition of the Youth Ag-Summit, with 100 bright young talents from around the world arriving in Brussels, Belgium, to tackle one of humanity's biggest challenges: how to feed a growing population in a more sustainable manner. Organized by Bayer, together with the two Belgian young farmers associations Groene Kring (GK) and Fédération des Jeunes Agriculteurs (FJA), the summit aims to address the UN Sustainable Development Goals (SDGs) to end hunger, achieve food security, and promote sustainable agriculture.
Over the next four days, the delegates from 49 countries – who range from age 18 to 25 – will work together to generate innovative, sustainable and actionable solutions to global food security challenges. Their mission is to come up with concrete new ideas which can drive agricultural progress across the globe and be put into practice back home. (Canadian delegates.)
"For the UN SDGs to be reached, everyone needs to do their part. By inspiring our youth to advocate for science and sustainable agriculture, we hope to tap into the creativity of great young minds to help solve a major societal challenge," said Liam Condon, member of the Board of Management of Bayer AG and president of the Crop Science Division. "The Youth Ag-Summit is always a hotbed of enthusiasm, creative thinking, and innovation – I look forward to seeing what projects will emerge this year."
This year, Youth Ag-Summit delegates will hear from expert and inspirational speakers including Professor Louise O. Fresco, President of Wageningen University & Research, Caleb Harper, Director of Open Agriculture (OpenAG) initiative, MIT Media Lab, Hugh Evans, CEO of Global Citizen and many more.
As well as talks designed to spark their creativity, delegates will have the opportunity to tour the EU institutions and meet with European policymakers, visit one of Bayer's innovative sustainable farming sites, and gain real-world insights into sustainability in action from companies and organisations such as Rabobank, CropTrust, Thought for Food, BioBest, International Society for Horticultural Science, VIB – Flemish Institute for Biotech, Inagro, University Ghent and Ahold Delhaize Group.
Speaking about the partnership with Bayer, national chairman of Groene Kring, Giel Boey, said: "We are very pleased to co-host this event, which gives young people the chance to collaborate and act on solutions for sustainable agriculture – rather than just thinking, they will be DOING."
"We need to restore the connection between those who produce our food and those who consume it. We're proud to be this year's co-host and are certain that the delegates' work will have a positive impact in their communities and beyond," added Guillaume Van Binst, secretary general of the Fédération des Jeunes Agriculteurs.
Throughout the week, delegates will work to develop "Thrive for Change Projects"; concrete ideas to help achieve the UN SDGs in their communities and countries. Following a pitch process, the strongest ideas will be selected for future funding and development by Bayer.
Visit www.youthagsummit.com to meet the delegates and to learn more about the Summit. Follow the latest news on @YouthAgSummit or https://www.facebook.com/YouthAgSummit/.
Alberta Barley hires Tom Steve as Interim General Manager
3 years ago
-
Alberta Wheat and Barley undergo trial period operating with a shared management structure.
Alberta Barley announces the appointment of Tom Steve as interim general manager effective immediately. Steve currently serves as general manager of the Alberta Wheat Commission (AWC) and will continue in this role as well.
With Steve now leading both commissions, the boards of AWC and Alberta Barley have approved a project to assess the feasibility of amalgamating their management teams over a four-month trial period. The move is aimed at streamlining the commissions' collaborative relationship, and increasing efficiencies that will better serve Alberta's wheat and barley farmers.
"Our board saw this as an excellent opportunity to leverage the strong working relationship we have with the Alberta Wheat Commission," said Jason Lenz, Alberta Barley chair. "By exploring the idea of a single management team, we hope to identify ways to provide greater value to the province's wheat and barley farmers."
Alberta Barley and AWC already share office space as well as accounting and administrative staff, making this move a logical next step in further building the working relationship between the two commissions.
"Since our inception in 2012 we have collaborated with Alberta Barley on projects that serve both crops," said Kevin Auch, AWC chair. "With a shared management structure, we believe we can operate with maximum efficiency and provide the best possible return on investment to farmers."
Following the trial period in early 2018, the two boards will determine whether they will formalize an integrated management structure operating under one general manager and reporting to both boards. Alberta Barley and AWC look forward to reporting on the results of the trial period and sharing next steps with farmers.
The general manager position at Alberta Barley has been vacant since Rob Davies left the commission on Sept. 6, 2017.
The tale of two neonicotinoid bumblebee studies
3 years ago
-
Two studies on the health of bumblebees and links to neonicotinoid health were published simultaneously last month in sister publications of the prestigious science journal empire, Nature.
Both examined closely similar scientific questions, with somewhat different experimental methodologies. But the study that found that neonics caused no serious issues was ignored by the media while the one suggesting a bee-apocalypse was widely played up as "definitive."
The studies were not identical in focus, although they had one author in common — entomologist Nigel Raine of the University of Guelph in Ontario. They looked at different stages in the life cycle of bumblebees and their queens. So, on that basis alone, the findings about the differences in bee health could have been different. But the issue here is not only the conclusions, but the reporting on the studies.
National Report Identifies Priorities for the Profitability of Canada's Wheat Industry
3 years ago
-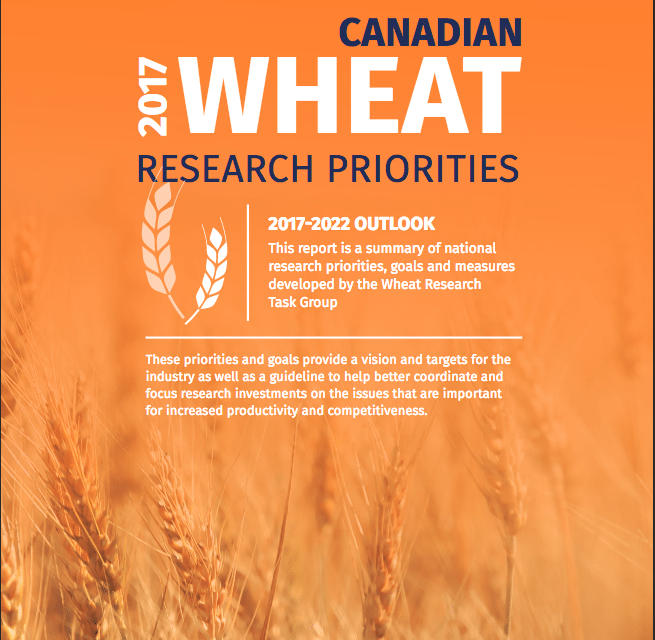 Agriculture and Agri-Food Canada (AAFC) and Cereals Canada today released the 2017 Canadian Wheat Research Priorities report.
Wheat research priorities were developed through a national collaboration of farmers, federal and provincial governments, private development companies, public research institutions, exporters and processors to identify the priority areas of research that public, private and producer groups should focus on for the next five years in order to ensure the strength and growth of the wheat industry in Canada.
The research priorities focus on improving wheat yield and reliability, increasing sustainability and improving food safety such as reducing mycotoxins. Research will also increase the ability to respond to consumer needs by developing a way to capture consumer preferences, and provide this information directly to researchers and purchasers.
Canada produces an average of 30M tonnes of wheat each year and is the worlds' largest producer of high-protein milling wheat.