New Alberta labour standards for paid farm workers tabled
2 years ago
-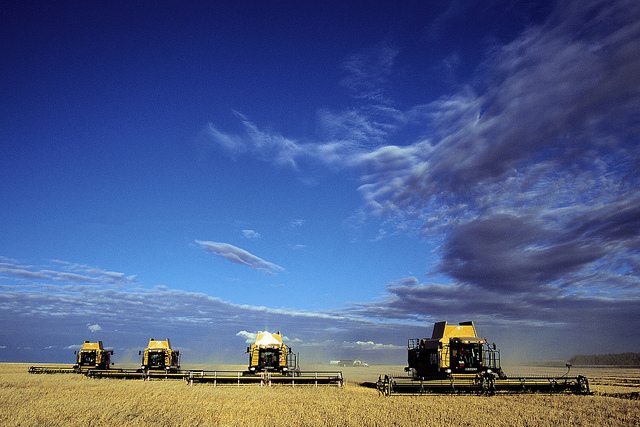 Waged farm workers in Alberta will be allowed to unionize and get new rules governing vacation pay and youth employment, under a provincial labour bill tabled Wednesday.
The new rules are tucked into Bill 17, the Fair and Family-friendly Workplaces Act, which went through first reading Wednesday and, if passed, would take effect Jan. 1, 2018.
The bulk of the bill is devoted to new employment standards for workers province-wide, relating mainly to parental leave and various types of unpaid leave.
It also raises Alberta's minimum age of work to 13, citing the International Labour Organization's Convention 138 on youth employment.
The bill allows the provincial Labour Relations Code to apply to the agricultural sector, giving "waged, non-family" farm employees the ability to unionize if they choose and to bargain collectively.
Farm-specific amendments would exclude family members from the Labour Relations Code, the province said. The rules would also allow the province to appoint a public emergency tribunal to halt labour disputes and/or arbitrate agreements in cases where a strike or lockout could harm livestock or damage crops.
The bill also sets out Employment Standards Code provisions affecting waged farm workers but specifically excludes family members, using the definition of "family member" previously seen in amendments to the province's controversial Bill 6, the Enhanced Protection for Farm and Ranch Workers Act.
The province emphasized Wednesday the employment standards laid out in Bill 17 apply only on farms and ranches with paid employees who are not the owner or related to the owner.
Unpaid farm and ranch workers, such as relatives, friends and neighbours helping out "will not be affected," the province said.
Children doing chores or taking part in activities such as 4-H, casual work or branding parties, or helping neighbours and friends, or taking part in "recreational activities," such as hunting on farmland, will also not be affected, the province said.
However, standards outlined for youth under the Employment Standards Code would also apply to paid young employees on farms and ranches, "after consultation on light work and hazardous work with agriculture and other stakeholders."
For waged farm workers, the new bill lays out standards for general holiday pay, requiring that farm employees who work a general holiday get straight time pay plus either general pay at a rate of 4.2 per cent of the previous four weeks' wages, or an alternate day off as agreed to by the employer and employee.
Vacation and vacation pay entitlements in the Employment Standards Code would also apply for waged farm workers, but would be calculated on total wages, not on a maximum of 44 hours per week.
Four days of rest for waged farm workers would be provided for every 28 days at the employer's discretion if the employer and employee can't agree on dates.
Greenhouses, nurseries, mushroom and sod farms continue not to be considered farms under the Employment Standards Code, the province said.
Existing provincial standards on hours of work and overtime would not apply for farm workers, the province said; minimum wage rules would apply.
The added employment standards and labour relations rules for farm workers stem from recommendations from two technical working groups studying legislation for farms and ranches, the province said Wednesday.
Other rules in the new bill applying to workers provincewide will see maternity leave extended by one week, to 16 weeks; parental leave extended to 52 weeks, up from 37; and compassionate care leave extended to 27 weeks, from eight.
The bill also proposes to guarantee job protection for new unpaid leaves such as long-term illness and injury leave; personal and family responsibility leave ; bereavement leave; domestic violence leave; and leaves relating to critical illness of a child and to death or disappearance of a child due to crime.
Workers would be eligible for all job-protected leaves following a minimum 90 days of employment.
The bill also proposes to remove a provision that allowed employers to apply for a permit to pay persons with disabilities less than minimum wage, the province said.
Source: AgCanada.com

Arctic stronghold of world's seeds flooded after permafrost melts
2 years ago
-
No seeds were lost but the ability of the rock vault to provide failsafe protection against all disasters is now threatened by climate change.
It was designed as an impregnable deep-freeze to protect the world's most precious seeds from any global disaster and ensure humanity's food supply forever. But the Global Seed Vault, buried in a mountain deep inside the Arctic circle, has been breached after global warming produced extraordinary temperatures over the winter, sending meltwater gushing into the entrance tunnel.
The vault is on the Norwegian island of Spitsbergen and contains almost a million packets of seeds, each a variety of an important food crop. When it was opened in 2008, the deep permafrost through which the vault was sunk was expected to provide "failsafe" protection against "the challenge of natural or man-made disasters."
But soaring temperatures in the Arctic at the end of the world's hottest ever recorded year led to melting and heavy rain, when light snow should have been falling. "It was not in our plans to think that the permafrost would not be there and that it would experience extreme weather like that," said Hege Njaa Aschim, from the Norwegian government, which owns the vault.
"A lot of water went into the start of the tunnel and then it froze to ice, so it was like a glacier when you went in," she told the Guardian. Fortunately, the meltwater did not reach the vault itself, the ice has been hacked out, and the precious seeds remain safe for now at the required storage temperature of -18 C.
But the breach has questioned the ability of the vault to survive as a lifeline for humanity if catastrophe strikes. "It was supposed to [operate] without the help of humans, but now we are watching the seed vault 24 hours a day," Aschim said. "We must see what we can do to minimize all the risks and make sure the seed bank can take care of itself."
The vault's managers are now waiting to see if the extreme heat of this winter was a one-off or will be repeated or even exceeded as climate change heats the planet. The end of 2016 saw average temperatures over 7 C above normal on Spitsbergen, pushing the permafrost above melting point.
"The question is whether this is just happening now, or will it escalate?" said Aschim. The Svalbard archipelago, of which Spitsbergen is part, has warmed rapidly in recent decades, according to Ketil Isaksen, from Norway's Meteorological Institute.
"The Arctic and especially Svalbard warms up faster than the rest of the world. The climate is changing dramatically and we are all amazed at how quickly it is going," Isaksen told Norwegian newspaper Dagbladet.
The vault managers are now taking precautions, including major work to waterproof the 100m-long tunnel into the mountain and digging trenches into the mountainside to channel meltwater and rain away. They have also removed electrical equipment from the tunnel that produced some heat and installed pumps in the vault itself in case of a future flood.
Aschim said there was no option but to find solutions to ensure the enduring safety of the vault: "We have to find solutions. It is a big responsibility and we take it very seriously. We are doing this for the world."
"This is supposed to last for eternity," said Åsmund Asdal at the Nordic Genetic Resource Centre, which operates the seed vault.
Source: The Guardian
Canadian young leaders chosen for Youth Ag-Summit
2 years ago
-
Bayer, together with partners Groene Kring (GK) and Fédération des Jeunes Agriculteurs (FJA), is pleased to announce that 100 bright young minds have been selected to participate in the third global Youth Ag-Summit, which will take place in Brussels, Belgium from Oct. 9-13, 2017.
This year's Summit is themed "Feeding a Hungry Planet," and aims to address the UN Sustainability Goals of ending hunger, achieving food security and promoting sustainable agriculture.
Four of the 100 chosen delegates will represent Canada at the Youth Ag-Summit: Cassandra Hayward, Halifax, Nova Scotia; Brandon Hebor, Toronto, Ontario; Cameron Olson, Rocky View, Alberta; Alexis Wagner, St. John's, Newfoundland.
Hailing from 49 countries and aged between 18 and 25, the chosen delegates share a passion for agriculture and a vision of a world without hunger. During the summit, they will share their diverse experiences and work together to generate innovative, sustainable and actionable solutions to global food security challenges. Across five days, delegates will undertake group projects and participate in industry tours, as well as learning from expert guest speakers. Their mission is to come up with concrete new ideas which can drive agricultural progress across the globe and be put into practice back home.
"The agricultural industry can contribute strongly to achieving some of the key UN Sustainable Development Goals, but this also requires the active involvement of the next generation. The Youth Ag-Summit aims to give young leaders the opportunity to foster their ideas, share best practices and explore the role of modern agriculture in feeding a hungry planet," said Liam Condon, member of the Board of Management of Bayer AG and head of the Crop Science Division.
 Participants selected through an essay contest
To be considered for participation, prospective delegates were required to submit an essay of 1,500 words on the topic of food insecurity. A total of nearly 1,200 essays from 95 different countries were submitted, all of which were reviewed by a panel of industry experts.
"The applicants put a lot of effort into their essays. We reviewed them based on their views on sustainable food security and agriculture. Reading them was a valuable experience. Their contributions will form the basis for discussion at the Youth Ag-Summit in October," said Giel Boey, national chairman of Groene Kring.
Young people can help tackle global food security challenges
 This year's winning applicants focused their essay submissions on the 17 UN Sustainable Development Goals and the role of youth in helping to feed a growing world population. Ideas put forward related to improving education and awareness of best practices, increasing gender equality within the sector, changing consumption patterns, and mitigating the impact of climate change on crop yield, to name a few.
"As a Belgian youth agricultural organization, we look forward to welcoming and introducing young leaders to local farming challenges and hearing their global and local perspectives. It will be a true pleasure to share ideas and thoughts with so many passionate minds," said Guillaume Van Binst, secretary general of the Fédération des Jeunes Agriculteurs.
The delegates hail from the following 49 countries: Argentina, Australia, Bangladesh, Belgium, Bolivia, Botswana, Brazil, Canada, Chile, China, Colombia, Denmark, Ecuador, El Salvador, Estonia, Finland, France, Germany, Guatemala, Hungary, India, Indonesia, Ireland, Italy, Japan, Kenya, Lithuania, Malaysia, Nepal, Netherlands, New Zealand, Nigeria, Paraguay, Philippines, Poland, Russia, South Africa, Spain, Sri Lanka, Sweden, Tanzania, Thailand, Turkey, Uganda, Ukraine, United Kingdom, USA, Vietnam, and Zimbabwe.
Visit www.youthagsummit.com to meet the delegates and to learn more about the Summit. Follow the latest news on @YouthAgSummit or https://www.facebook.com/YouthAgSummit/.
Canada's 2016 Census of Agriculture
2 years ago
-
Farm operators are slightly older and there are fewer farms in Canada than in 2011, but farms are on average larger and more area is devoted to crop production according to the results from the 2016 Census of Agriculture.
Agricultural data has been collected in Canada since 1666 and 2016 marks the 22nd Census of Agriculture since Confederation. The census paints a sweeping picture of the agricultural sector. It tracks changes in crops and livestock, as well as the evolution of farming practices and mechanization, from the power of horses to horsepower. Canadian farmers have continually taken advantage of technological advances to more efficiently deliver a wider variety of agricultural products to Canadians and the world.
Total number of agricultural operations, Canada, 1961 to 2016
While total farm area edged down from 2011, the area dedicated to cropland rose to 93.4 million acres in 2016. Although urbanization may reduce cropland available in some areas, a net increase in cropland is attributable to a shift in land use. Farmers have converted land formerly used as pasture, summerfallow or other less productive land into productive area. Canola remains the biggest crop, accounting for more than one-fifth of all cropland.
The number of farm operators declined from 2011 while the average age continued to rise. However, the proportion of operators under 35 years of age edged up for the first time since 1991. Despite the increase in the average age, only 1 in 12 operations reported having a formal succession plan laying out how the operation will be transferred to the next generation of farmers.
Primary agriculture accounted for 1.5% of national gross domestic product (agricultural gross domestic product) in 2013. However, this percentage rises to 4.6% when agricultural input and service providers, primary producers, food and beverage processors, agriculture food retail and wholesale industries are taken into account (Statistics Canada. 2013. Special tabulation, based on 2013 gross domestic product by industry).
Agricultural operations in Canada employed 280,315 people in 2015. From a trade perspective, agricultural goods accounted for 2.2% of Canada's total imports and 4.6% of total exports. In terms of value, almost one-third of Canadian agricultural production was exported in 2013.
There are fewer farms, but the farms are larger
The results of the 2016 Census of Agriculture show that the agriculture industry continues to consolidate. There were 193,492 farms counted in 2016, down 5.9% from the previous census in 2011. However, this was the lowest rate of decline in 20 years.
While farm numbers have declined, the average area per farm increased from 779 acres in 2011 to an average of 820 acres in 2016.
The area dedicated to cropland rose 6.9% from 2011 to 93.4 million acres (chart at right) in 2016, as land that was flooded during the 2011 Census was brought back into production, use of summerfallow decreased and marginal land was converted into productive cropland.
Younger operators and women make up a larger share of farmers
The 2016 Census of Agriculture counted 271,935 farm operators on agricultural operations, down from 293,925 in 2011. Farm operators under 35 years of age accounted for an increasing share of total operators and their absolute numbers also rose – from 24,120 in 2011 to 24,850 in 2016. This was the first absolute increase in this category of operators since 1991.
However, the fastest growing age group was farm operators aged 55 years and older. The average age of operators – individuals who make management decisions for the agricultural enterprise – edged up from 54 years in 2011 to 55 years in 2016. This trend parallels the ageing of the general population. Among Canadians aged 15 to 64, the share of people aged 55 to 64 years old (all baby boomers) reached a record high 21.0% in 2016.
Women account for an increasing share of farm operators, rising from 27.4% in 2011 to 28.7% in 2016. In the 2016 Census of Agriculture, 77,970 women were listed as farm operators. Women were most prevalent among farm operators aged 35 to 54 years (30.7%), followed by those aged 55 and older (27.7%) and those under 35 years of age (26.4%).
Many farm operators also do off-farm work
The 2016 Census of Agriculture found that 44.4% of all farm operators did some off-farm work, usually as a means of supplementing their total income. Just over 3 in 10 (30.2%) operators worked an average of 30 hours a week or more off the farm.
British Columbia had the highest incidence of off-farm work, as well as the highest proportion of farms with total sales under $10,000. Just over half (51.1%) of farm operators in British Columbia reported receiving a wage or salary from another job or operating a business unrelated to the farm.
Corporations more likely to have succession plans
The transfer of agricultural assets as farmers transition out of the sector can happen in a number of ways. Farm assets can be sold in whole or in part and the buyer can be a new entrant or someone looking to expand their existing operation. Farm operations can also be transferred to other parties via a will or written succession plan.
In 2016, 8.4% of farms nationally reported having a written succession plan. Among sole proprietorships, 4.9% had a written succession plan compared with 16.3% of family and non-family corporations.
Just over half (51.7%) of all Canadian farms were sole proprietorships in 2016. Partnerships accounted for 22.9% of farms, while 22.5% were family corporations and 2.7% were non-family corporations. The rate of incorporation among farm operations rose from 19.8% in 2011 to 25.1% in 2016.
More oilseed and grain-type farms
Oilseed and grain-type farms remain the most common type of farm, increasing from 30.0% in 2011 to 32.9% in 2016 (chart at right). In the Prairie provinces, 46.3% of farms fell into this farm type.
Beef-type farms remain the second most common farm type, accounting for 18.6% of agricultural operations, up slightly from 18.2% in 2011.
Prairie farmers drive gains in field crop area
Total farm area decreased 0.9% from 160.2 million acres in 2011 to 158.7 million acres in 2016. Shifts in tenure were responsible for some of this decline, as rental agreements tend to cover only productive land. The area of cropland increased as farmers cleared, drained and upgraded marginal lands to support crop production, shifted practices to reduce the need for summerfallow, and returned land which had been flooded in 2011 back into production. While cropland grew, woodlands and wetlands as well as pasture decreased.
Farm size varied considerably based on region and farm type. The largest operations on average were found in Saskatchewan (1,784 acres), while the smallest on average were located in Newfoundland and Labrador (174 acres).
Field crop area grew from 69.7 million acres in 2011 to 78.5 million acres in 2016, largely driven by increases in the Prairie provinces. In Manitoba and Saskatchewan, the return of cropland, which had been reported as idle in the last census due to flooding, contributed to the rise in field crop area. Prince Edward Island and New Brunswick were the only provinces to report a decrease in field crop area from 2011 to 2016.
The area of hay and alfalfa cropland declined 16.6% (-2.8 million acres), while the area of pasture decreased 4.4% (-2.2 million acres), due in part to a smaller beef herd. Some of the hay and pasture land was converted to field crop production.
Growing diversity of crops
Farm operators continued to diversify the crops they produce in response to changing market demands and improved crop varieties. For example, lentils are now the third-largest crop in Saskatchewan following canola and spring wheat, as market demand increased from foreign buyers. According to the Food and Agriculture Organization of the United Nations, Canada was the largest producer of lentils in the world in 2014.
Meanwhile, there has been an expansion of soybeans, corn for grain and corn for silage in the Prairie provinces, the result of new varieties suitable to the growing conditions of the region. Soybean area in Manitoba more than doubled – from 705,032 acres in 2011 to 1,645,397 acres in 2016. In Central Canada, corn and soybeans remained the largest field crops by area, while fodder crops and potatoes were the largest crop areas in Atlantic Canada.
Livestock sector characterized by exits and consolidation
The beef sector experienced strong international demand for Canadian beef breeding stock from 2011 to 2016, mainly from the United States. Demand was largely driven by the smaller size of the U.S. beef herd from 2010 to 2012 as a result of drought conditions. Increased demand, coupled with limited supply, drove prices to a record high in 2015. Some producers chose to take advantage of higher prices to sell their cattle and focus on other agricultural activities, such as crop production, or opted to leave farming entirely.
The number of beef cattle decreased 2.4% from 2011 to 6,883,906 heads in 2016, while the number of operations reporting beef cattle declined 12.3% to 62,760. Operations reporting beef cattle had an average of 110 head at the time of the 2016 Census of Agriculture, up 11.3% from 2011.
The beef sector is generally divided in two, with cow-calf operations specializing in raising breeding stock and feedlots specializing in feeding cattle destined for market. The Prairie provinces accounted for just over 80% of the total beef cattle in Canada.
On cow-calf operations, the average beef herd increased from 74 head in 2011 to 84 in 2016. Over the same period, feedlot operations grew on average from 185 head of beef cattle in 2011 to 212 head in 2016.
Total number of cattle and calves, Canada, 1956 to 2016
While the average number of head per farm increased, it was not enough to offset an overall decline in producer numbers. The size of the beef breeding herd (beef cows and beef heifers for breeding herd replacement) fell 1.0%, from 4.5 million animals in 2011 to 4.4 million in 2016. While the 2016 Census marks the second consecutive decrease in the beef breeding herd, the rate of decline slowed from the 22.3% drop reported in the 2011 Census.
Meanwhile, milk production rose 8.7% despite fewer dairy cows. Increased production per animal was attributable to improvements in animal nutrition, genetics and production practices.
The average number of dairy cows per farm rose from 65 cows in 2011 to 73 in 2016, a continuation of a long-term upward trend. The number of farms reporting dairy cows decreased 13.4% from 2011 to 12,895 in 2016. The total number of dairy cows fell 2.4% to 939,071 head as farm operations consolidated.
Pig numbers rose from 12.7 million in 2011 to 14.1 million in 2016, while the number of farms reporting pigs increased from 7,371 to 8,402. The growth was due to better market conditions, which boosted the price of pigs relative to the period before the last census. Prior to the 2011 Census of Agriculture, the pig sector was beset by high feed costs, disease and low pig prices, resulting in many farmers leaving the sector and lower pig numbers.
The number of farms reporting hens and chickens increased 15.8% from 2011 to 23,910 in 2016. Meanwhile, the number of birds rose from 133.0 million to 145.5 million.
Blueberries, cranberries, and greenhouse veggies bright spots in the horticulture sector
Fruits, berries, and nuts acreage rose 6.7% from 2011, mainly due to blueberries and cranberries. Blueberry area continued to expand in Quebec and Atlantic Canada (principally areas of managed lowbush blueberries) and in British Columbia (where highbush blueberries dominate). Nationally, blueberry area has consistently increased over the past several censuses and now stands at 196,026 acres.
The increase in blueberry area was largely driven by growing international demand. Canada exported 94.8 million kilograms of frozen blueberries in 2016, up 33.7% from 2011. Meanwhile, exports of fresh blueberries rose 84.4% to 37.1 million kilograms. The United States remains Canada's top destination for both fresh and frozen blueberries. Total blueberry exports to the United States increased 86.0% from 2011 and the United States accounted for 71.0% of total blueberry exports in 2016, up from 55.3% in 2011.
Cranberry area increased from 15,191 acres in 2011 to 18,134 acres in 2016. Exports of fresh cranberries also increased, rising 77.6% from 2011 to 63.5 million kilograms in 2016. Both blueberries and cranberries are amenable to mechanized harvesting, allowing operators to increase the scale of their operation with a minimal increase in the number of employees.
In contrast to blueberries and cranberries, the area of strawberries and raspberries declined as the commodities faced disease outbreaks as well as labour and market challenges. Raspberry area fell 23.7% from 2011 to 5,651 acres in 2016, while strawberry area decreased 8.4% to 10,155 acres.
Apple orchard area continued to decline, with the largest decreases in Nova Scotia and Quebec. Overall, the total acres dedicated to apple production fell 3.2% from 2011 to 43,631 acres in 2016. While area of production declined, the area is used more intensively. For example, the yield of apples in Canada increased from 7.2 tons per acre in 1996 to 10.0 tons per acre in 2016.
Greenhouse vegetable area rose 22.5% from 2011 to 165.4 million square feet in 2016. Ontario continued to lead the provinces, accounting for more than two-thirds of all greenhouse vegetable area. From 2011 to 2016, Ontario saw almost no change in the number of operations in the province, but a 29.8% increase in the area dedicated to greenhouse vegetables. Over this period, Ontario added 25.7 million square feet – more than the total area of greenhouse vegetable production in every other province combined except British Columbia.
The number of farms reporting field vegetables rose 10.3% from 2011 to 9,994 in 2016. However, most of the new farms reporting vegetables were small. Total field vegetable area in Canada increased 1.0% to 270,294. Despite a 16.9% decrease in sweet corn area since 2011, sweet corn remained the largest vegetable crop area in 2016.
Less nursery, Christmas tree and sod area
Nursery operations reported 17.8% less area in 2016 (49,073 acres) from five years earlier, while Christmas tree area declined 16.0% to 58,780 acres and sod area fell 10.6% to 56,719 acres. Lower sod and nursery area were driven by a shift away from the construction of single-detached dwellings in favour of multi-dwelling type buildings, and a move away from traditional landscaping practices towards hardscaping. The decline in Christmas tree area was a result of increased demand for artificial Christmas trees.
One in eight farms sold food directly to consumers
In 2016, 12.7% of farms reported that they sold directly to consumers. Of the 24,510 farms that were marketing directly to consumers, 96.1% sold unprocessed products such as fruits and eggs, while 14.4% sold value-added products like wine and cheese. Fruit and vegetable combination type farms (79.8%) were most likely to sell directly to consumers.
Farmers harvest the sun for more than growing crops
In 2016, 5.3% of farms reported having a renewable energy-producing system on their operation. Of these farms, 85.0% had solar panels while 15.7% reported wind turbines. Ontario had the highest percentage of farms with renewable energy-producing systems on their operation at 10.4%. Of the 5,180 farms with renewable energy-producing systems in Ontario, 85.5% had solar panels and 17.5% had wind turbines. Prince Edward Island had the second-highest percentage of farms with renewable energy-producing systems at 5.8%, and had the highest percentage of farms reporting renewable energy with wind turbines at 42.3%.
Bigger, more valuable tractors
Farmers continued to report larger and more expensive equipment, in line with the growth in average farm area. The number of tractors over 149 power take off horsepower (p.t.o hp) rose from 85,681 in 2011 to 104,990 in 2016, while their value increased 50.0% (in 2016 constant dollars) to $9.4 billion dollars. The number of tractors smaller than 149 p.t.o hp fell from 600,233 to 546,276 over the same period.
The total value of farm machinery and equipment owned and leased by agricultural operations increased 15.4% (in 2016 constant dollars) to $53.9 billion.
Larger and more valuable farms
The value of land and buildings used by agricultural operations increased 37.5%, from $311.2 billion in 2011 to $427.9 billion (in 2016 constant dollars) in 2016. Land and building values varied across the country, ranging from an average of $1,210 per acre in Saskatchewan to $9,580 per acre in Ontario. The national average value for land and buildings on farms was $2,696 per acre.
Farm profits unchanged from 2010
Gross farm receipts totalled $69.4 billion in 2015, while operating expenses reached $57.5 billion. On average, for every dollar in gross farm receipts, farms incurred 83 cents in expenses in 2015 for an expense-to-receipt ratio of 0.83. Rounded to the nearest cent, the ratio was unchanged from 2010. The stability in the expense-to-receipt ratio indicates that farms were as profitable in 2015 at the national level as they were in 2010.
However, the expense-to-receipt ratio varied across regions and farm types. In 2015, those operations typed as dairy had the most favourable ratio (0.77), despite a deterioration from 0.73 in 2010. Farms typed as sheep and goat, which had the least favourable ratio in 2010 at 1.01, improved to 0.96 in 2015.
New AFSC board appointed
2 years ago
-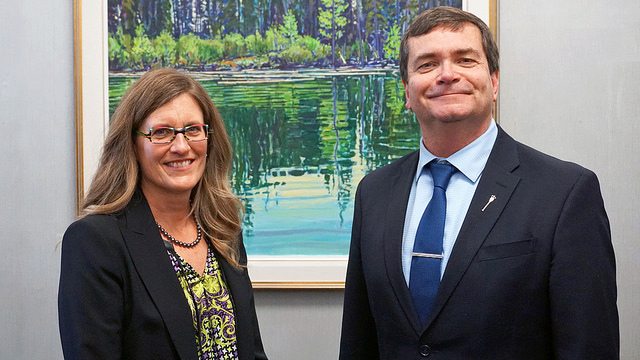 A new board of directors will provide oversight and accountability at the Agriculture Financial Services Corporation (AFSC).
The eight-member board was selected through an open recruitment process and includes individuals with a wealth of experience in agriculture, agribusiness, rural entrepreneurship and board governance.
AFSC's previous board of directors was dismissed in June 2016 after an examination by Alberta's Chief Internal Auditor raised concerns about oversight of senior executive expenses and procurement practices. For almost a year, an interim board, appointed by Oneil Carlier, Minister of Agriculture and Forestry, led the organization in providing services to Albertans. The newly appointed board of directors assumes its responsibilities immediately.
The new board:
Jennifer Wood (Edmonton): Jennifer Wood, who will serve as AFSC board chair, is a professional agrologist, a partner in a private equity holding company that focuses on the agribusiness sector and co-operates her family cattle ranch. Wood has 15 years of board experience in a variety of roles, across sectors.
Gerald (Jerry) Bouma (Edmonton): Jerry Bouma, is a partner in an agri-food management consulting firm and has more than 35 years of experience in strategic planning, business and marketing management and market research in the agri-food sector. Bouma has a Master of Science in Agricultural Economics and decades of varied board experience.
Gordon Cove (Red Deer): Gordon Cove has experience in the agri-food industry including policy, program funding and international market and business development. Cove has served on multiple boards, has participated in board governance training and was the most recent president and chief executive officer of the Alberta Livestock and Meat Agency.
Peter Galloway (Fort Saskatchewan): Peter Galloway is a professional agricultural coach and manages a fourth-generation family farm operation, producing, processing and marketing cereal grains, pulses and oilseeds. Galloway has more than 25 years of board governance experience in the areas of agriculture and co-operative, non-profit financial (banking) services.
Jo-Ann Hall (Stony Plain): Jo-Ann Hall has more than 30 years of experience with the Alberta Public Service, most recently as an Assistant Deputy Minister with Alberta Agriculture and Rural Development. Hall has experience in the development of leadership capacity and financial management, as well as a background in accountability.
Harvey Hagman (Mayerthorpe): Harvey Hagman has served on a number of boards related to agriculture and rural development. Hagman is president of the Hagman Cattle Company. He recently finished a Professional Director Certification Program and has received Professional Director and Professional Director Government designations.
Anna Harder (Camrose): Anna Harder is a Chartered Professional Accountant with a focus on agriculture and agribusiness and has a background in agricultural work in grain and mixed farming. Harder's board governance experience, of approximately 30 years, has focused on social services.
Kiren Singh (Canmore): Kiren Singh is a financial executive with more than 25 years of risk management, insurance, credit and capital markets experience, holding senior roles in the energy industry. Singh is actively involved in the community supporting organic farming, sustainable land development and agri-tourism and is a director and chair of the Finance and Audit Committee of Travel Alberta. She has a Master's of Business Administration and is a CFA charter holder.
Innovative program targets native bee habitat
2 years ago
-
Syngenta Canada and the Soil Conservation Council of Canada (SCCC) have teamed up to work with Prairie farmers to establish Operation Pollinator sites on farms.
Operation Pollinator is a program focused on research and partnerships to enhance biodiversity and promote the health and well-being of bees and other pollinators that play an important role in both agriculture and our broader ecosystem.
To enroll in the program, producers agree to convert one-to-two acres of lower-productivity land to establish a dedicated Operation Pollinator site. In exchange for dedicating the land, participating producers receive a provision of high-quality, pollinator-friendly wildflower seed, agronomic advice and assistance to help offset site establishment costs.
"The goal is to maintain this new pollinator habitat over the long term to maximize the benefits for bees, the broader Prairie landscape, and farmers," says Dr. Paul Hoekstra, senior stewardship and policy manager at Syngenta, and program lead in Canada.
In Alberta, the SCCC is collaborating with the Agriculture Research and Extension Council of Alberta.
A secondary benefit of the program is to improve understanding of how land management models focused on the creation of pollinator-friendly habitats impact biodiversity and soil health.
Sites can take a few years to fully establish themselves as a sustainable, ongoing pollinator habitat. "We are continually learning from these experiences, in terms of what works and, equally importantly, what doesn't work," says Hoekstra. "At the end of the day it's important that the participating farmers see value in the use of their land in this way and how it complements and contributes to the rest of their farm operation."
Farmers wishing to sign up can visit the SCCC website where they will find details regarding participation in the program.
Expanding Opportunities for Young Canadians in Agriculture
2 years ago
-
The federal government has announced a two-year investment of up to $5.2 million for the Agricultural Youth Green Jobs Initiative to attract young Canadians to green jobs within the agriculture and agri-food sector.
The initiative follows through on a Government of Canada commitment made in Budget 2017 to help create good, well-paying jobs and to support young Canadians as they transition into the workforce.
Under the initiative, support is available to fund youth internships, both on the farm and with organizations engaged in the agriculture and agri-food sector for environmentally beneficial activities.
Funding will be available in two streams: The Green Farms stream will provide matching funds of up to $10,000, to help a farmer hire high school or college students to support environmentally beneficial activities on the farm.
The Green Internships stream will provide matching funds of up to $16,000 to help organizations involved in the agricultural industry hire young graduates to pursue environmental activities, services or research that benefit the agriculture sector.
Applications for both streams started April 26.
Farmer directors deliver Alberta's grain industry messaging and priorities in Ottawa
2 years ago
-
Team Alberta, along with the Grain Growers of Canada, were in Ottawa last week meeting with various parliamentarians to discuss priorities for Alberta grain farmers to ensure a viable and profitable crop sector.
"This collaborative outreach couldn't have happened at a better time. There is a lot of good news for agriculture right now, most notably Agriculture's contribution to the Gross Domestic Product (GDP) in the federal budget and Canada's goal to grow agri-food exports to $75 billion annually by 2025," said Mike Ammeter, a director with Alberta Canola. "We were pleased by the prospect that the government views agriculture as an engine for growth and are committed to collaborate with them to unleash that growth."
Alberta's four major crop commissions that make up Team Alberta agree that aggressive progress in transportation, trade, research and innovation are not only needed to achieve Canada's ambitious growth plan, but they are essential for our competitiveness. While in Ottawa, Team Alberta also raised the issue of cash ticket deferrals and the impact it may have on their membership.
"As farmers, our success is directly tied to the effectiveness of Canada's transportation system and the ability to get our product to market, so we continue to share the message that accountability is the only way to make real gains," added Jeff Nielsen, president of Grain Growers of Canada. "It is imperative a system is put in place that gives shippers the ability to negotiate meaningful, reciprocal, service level agreements and ensure a basic level of accountability for rail companies."
"Alberta grain farmers are major exporters and to grow our exports we need free trade agreements with key global markets, such as the United States (U.S.), China, European Union (E.U.) and Japan," added Warren Sekulic, director with the Alberta Wheat Commission. "Non-tariff barriers to trade are our number one concern for market access. Biotech and pesticide regulations, and phytosanitary measures continue to impede our crops from getting into foreign markets."
Alberta's farmers are among the most innovative and sustainable in the world. They adopt and invest in technology, research and innovation that will increase efficiency and reduce costs, but also have tremendous benefits to the environment. Many of these practices stem from investment by growers in science and research.
"Team Alberta recommended that the federal government put peer reviewed science and risk based approach at the core of its regulatory decisions and future investments in innovation," said Tim van der Hoek, director with the Alberta Pulse Growers.
The Team Alberta outreach mission included a delegation of directors and staff from the Alberta Pulse Growers Commission, Alberta Canola Producers Commission, Alberta Barley, Alberta Wheat Commission, and Grain Growers of Canada. The delegation met with representatives from all political parties and shared a united message about how the government can support Canadian farmers.
"Alberta is a significant contributor to Canada's agricultural economy and Team Alberta saw tremendous value for our members sitting down with officials in Ottawa to discuss how the Canadian government could have a role to help achieve greater success for Alberta's agriculture industry," said Dave Bishop, vice-chair of Alberta Barley.
Legislation to re-empower agricultural commissions
2 years ago
-
The Alberta government is supporting agricultural commissions by giving producers more autonomy to choose which service-charge model works best for their industry.
The Marketing of Agricultural Products Amendment Act 2017 was tabled in the legislature today, April 11, 2017. Amendments to the act would give each commission the ability to determine whether their service charges, also known as "check-offs," should be refundable or non-refundable. Service charges are collected when an agricultural product is sold, or it is a base charge to each member of the commission.
"With this amendment, government would restore autonomy to agricultural commissions and their members," said Oneil Carlier, Minister of Agriculture and Forestry. "We want them to have the power to determine their own service-charge model, because a 'one-size-fits-all' approach doesn't make sense in today's diverse agriculture."
Legislative changes in 2009 made all commission service charges refundable and Alberta became the only jurisdiction in Canada with mandatory refundable service charges.
Under the proposed amendments, members could change their commission's service-charge model through a plebiscite.
Marketing of Agricultural Products Act (MAPA)
MAPA was established in 1965. It enables producers to create agricultural commissions, provide services and help regulate sectors within the agricultural industry. Commissions use service charges to fund operations and activities that benefit their industries, such as product marketing and promotion, trade missions and support for research.
Before 2009, agricultural commissions had the option of refundable or non-refundable service charges. In 2009, MAPA was amended to require all commissions to issue refunds of their service charges at the request of any producer members. The 2009 amendment specifically applied the mandatory refunds to the commissions for beef, lamb, potatoes and pork, which previously had non-refundable models.
MAPA also governs the Alberta Agricultural Products Marketing Council, the provincial agency that oversees the operations of marketing boards and commissions, administers regulations under MAPA and provides advice to government.
Agricultural commissions in Alberta
Alberta Barley Commission
Alberta Beef Producers
Alberta Beekeepers Commission
Alberta Canola Producers Commission
Alberta Elk Commission
Alberta Lamb Producers
Alberta Oat Growers Commission
Alberta Peace Region Forage Seed Commission
Alberta Pork Producers Development Commission
Alberta Pulse Growers Commission
Alberta Wheat Commission
Alfalfa Seed Commission
Potato Growers of Alberta
Heightened Risk from Pea Leaf Weevil in 2017
2 years ago
-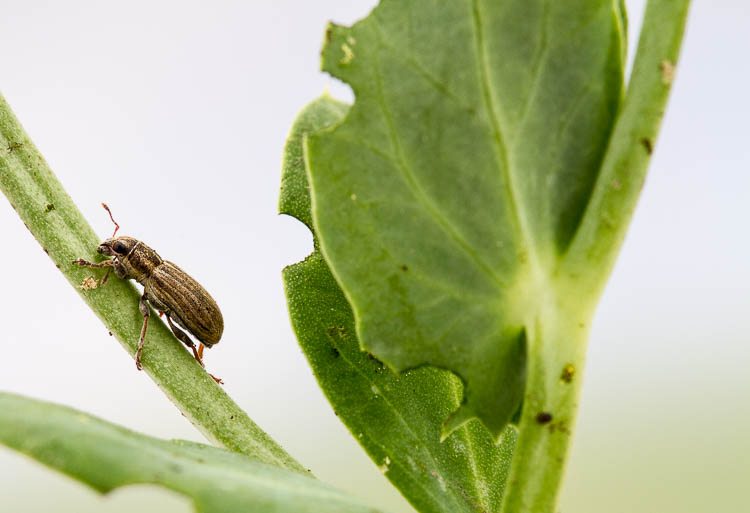 Research shows that treating pea seed with a systemic insecticide product is the most effective control measure to prevent pea leaf weevil damage.
According to a crop specialist with Alberta Agriculture and Forestry, properly inoculated annual legume crops, such as field pea and faba bean, produce most of the nitrogen they require for growth through the growing season via nitrogen fixation carried out by nodules on plant roots.
"Hence, field pea and faba bean are generally grown on nitrogen deficient soil without much, if any, additional synthetic nitrogen fertilizer," says Neil Whatley. "When the pea leaf weevil insect pest feeds on the nodules of pea and faba bean seedlings, this natural nitrogen source is greatly compromised, inhibiting optimal pea and faba bean growth throughout the remainder of the growing season as well as decreasing crop yield."
The pea leaf weevil was reported in southern Alberta in 1997 and remained for several years south of Hwy 1. Since 2013, this insect's geographic range has greatly expanded into central Alberta, extending as far north as Sturgeon County, north of Edmonton, with lower levels of feeding reported in east central Alberta.
"Given that 2016 survey levels were high in the aforementioned areas, there's a high risk of infestation in the same areas if winter and spring conditions are favourable," notes Whatley. "A potential predictor of population increase is precipitation in August. As many areas with high weevil populations in 2016 experienced August precipitation, pea and faba bean producers in these areas are advised to plan control strategies for the 2017 crop year."
After spending the winter as an adult beetle in perennial legumes, adults are attracted to annual and perennial legume crops in spring, including field pea, faba bean, lentil, alfalfa and bean. "However, egg laying only takes place in soil near field pea or faba bean seedlings, so root nodules of lentil and alfalfa, for example, are not affected. Just prior to egg laying, adult pea leaf weevil insects feed on the margins of seedling leaves resulting in a notched or scalloped leaf appearance, which is not expected to reduce yield. After hatching from eggs, the worm-like larvae proceed downward into the soil where they primarily feed on root nodules resulting in decreased nitrogen fixation by pea and faba bean plants."
Spring weather conditions can alter the timing and severity of pea leaf weevil damage, says Whatley.
"Weevils arrive early to pea and faba bean fields if warm temperatures above 20 C persist for more than a few days in late April or early May, potentially corresponding with higher yield losses. Alternatively, if cool weather occurs during the same period, yield is generally not as compromised, especially when the crop advances past the sixth node stage before the weevils arrive. In either case, field scouting is required to make control decisions on a field by field basis. It's also advised not to seed into cold soil."
Yield losses may occur when there are more than 30 per cent of seedlings (three out of 10 plants along a seed row; assess groups of 10 plants in multiple rows) with feeding damage on the clam leaf before the sixth node stage in peas. The clam leaf is the most recently emerged leaf.
"Most research hasn't shown that control of weevils using foliar insecticide prevents yield loss. The ineffectiveness of foliar spraying probably arises because weevils have already laid enough eggs to significantly damage root nodules when sprays are applied or because healthy weevils immigrate after spraying," says Whatley. "According to research on the Prairies, nodule protection is more effective when pea seed is treated with a systemic insecticide product prior to seeding. Faba bean may be similarly protected, but this requires investigation."
If feeding damage is only apparent on the older, lower leaves and not on the newer clam leaf, says Whatley, the weevil has probably already laid eggs and spraying would be of no value.
"As such, producers should scout for damage on the clam leaf and not on lower leaves. Since pea leaf weevils migrate into field pea and faba bean fields, foliar damage is initially observed along field edges. Foliar insecticides applied early in an infestation to field edges may be a sound economic decision; however, additional on-farm research will provide more clarity."
Whatley adds limited spraying would also reduce the risk of affecting beneficial species, such as ground beetles, that may help manage pea leaf weevil populations through predation.