Milling Oats are Worth some Attention
2 years ago
-
Growing oats for the milling market shouldn't be an afterthought.
If you're interested in producing oats for the milling market, CDC Ruffian and CS Camden aren't the only two varieties on the market, but they are two newer milling oat varieties with the quality characteristics millers are looking for. And from a farmer perspective, they have good agronomic packages as well.
Growing oats for the milling market ideally shouldn't be an afterthought, says Terry Tyson with Grain Millers of Yorkton, Sask. The requirements for a milling oat probably aren't quite as rigid as they are for producing malt barley, but there are similarities.
"To some extent, too, oats might be a victim of their own hardiness," says Tyson, company grain procurement manager. "Depending on the year, you can have reasonably good success with oats, with reduced inputs. But we encourage growers looking to supply the milling market to apply some extra attention."
Requirements may vary by company, but Grain Millers, for example, is looking for oats with uniform, plump kernels, good bushel weight, good milling yield and quality characteristics that include high beta glucan and low oil content. Those quality characteristics are important for a grain that's being processed for food product lines, which carry heart-healthy label claims.
Tyson says milling oats differ from the pony or feed oat market where often appearance – plump kernels with white hulls – is the key feature. "For milling oats the outside appearance isn't as much of an issue," he says. "If a crop does get rained on we're not worried if the hull has some discoloration. What we look for when we remove the hull is nice creamy white groat."
CS Camden, marketed by Canterra Seeds, and CDC Ruffian, marketed by FP Genetics, both deliver good milling characteristics and proper nutritionals, and in a third area which is equally important to millers as well as growers, they both have good agronomic packages.
Developed in the Lantmannen SW Seed breeding program, CS Camden was registered in Canada in 2014. "It has an excellent fit for Western Canada," says Brent Derkatch, director, operations and business development with Canterra Seeds. "The variety is agronomically superior, with a shorter stature and better lodging resistance." And it is a higher yielder as well, with field trials showing an average 114 per cent yield compared to CDC Dancer in Saskatchewan, and achieving a 153 bushel/acre yields in Manitoba.
"It's a high-yielding variety with improved standability with good milling characteristics," says Derkatch. "It can really drive the returns per acre for farmers."
CDC Ruffian was developed at the University of Saskatchewan's Crop Development Centre with the first Certified seed available to farmers in 2016. The initial work on the variety was started by the now-retired plant breeder Brian Rossnagel, and later transferred to oat and barley breeder Aaron Beattie.
"It is a variety that is just being introduced to farmers, but it has shown very well in performance trials, " says Ron Weik, seed portfolio manager, FP Genetics. " CDC Ruffian offers excellent yield potential that is 10 per cent higher than CDC Dancer in Alberta and 12 per cent higher in Saskatchewan." The variety also has a very good agronomic and disease package, ideal for production outside of the crown rust areas on the Prairies.
At the University of Saskatchewan, Beattie says he's always watching for new varieties with improved agronomic and milling characteristics. About 90 per cent of resources of their oat breeding program is devoted to milling oats.
"We always have to keep both farmers and millers in mind as we look at variety development," says Beattie.
To meet farmer interests, he's looking for features such as higher yield, improved straw strength and "reasonable" maturity to suit Prairie growing conditions. And disease resistance can also be a concern, depending on different areas of the prairies.
On the milling side, he is looking for varieties with features such as white hulled, low hull percentage, high kernel plumpness and good test weight. Also, to meet milling and end-use requirements, oil content has to be below eight per cent and beta glucan levels a minimum of 4.5 per cent and preferably higher. Although protein content hasn't been a big concern in oats, some millers are now looking for higher protein varieties.
As a company always interested in good quality milling oats, Grain Miller's Tyson encourages growers to follow proper production practices.
"Oats have been treated in two ways over the years," says Tyson. "We have some growers who really pay attention to producing good quality oats and really treat it as cash crop. And there are some producers who, depending on the year, may make it a last minute decision.
"But we always encourage growers to use good quality pedigree seed, select clean fields that are free of wild oats and apply proper fertility." He says oats need, on average, about 100 lbs of actual available nitrogen per acre, which may mean adding 40 to 60 lbs of nitrogen along with phosphorus, at time of seeding. Soil test results will provide specific recommendations.
Variety selection is also important – grow what the miller wants. Grain Millers, for example, has a variety list for growers that includes seven "recommended" varieties (including CS Camden and CDC Ruffian), along with seven other "acceptable" varieties. They also included a list of prohibited varieties – they aren't interested in feed, hull-less and forage type varieties.
Grain Millers offers production contracts to growers, including many long-time suppliers, but is always interested in talking to new suppliers as well. The company is just building a new elevator and office in Rycroft, in Alberta's Peace River region, to expand its oat collection area.
Limagrain Cereals Research Canada
2 years ago
-
Last summer, an exciting new research and breeding partnership between Canterra Seeds and Limagrain was announced. The partnership, called Limagrain Cereals Research Canada (LCRC), aims to keep wheat genetics at the forefront in Western Canada. It's located in Saskatoon.
Canterra Seeds is owned by western Canadian seed growers and agricultural retailers. France-based Limagrain is the fourth-largest seed company in the world (field crops and vegetable seeds), the European leader for functional flours and the primary industrial bakery in France.
We asked LCRC CEO Erin Armstrong about the importance of the partnership for the breeding and development of cereals in Canada, and what impact it will have on the number of and quality of varieties available to growers over the next five to 20 years. She first notes that LCRC senior breeder Jason Reinheimer joined the company in February 2016, and additional staff came on board in April and August.
"Over the next several years the LCRC team will grow as the program becomes fully established," she says. "We are building on work done at Canterra Seeds that started in 2012 and involved screening material from existing Limagrain wheat breeding programs.
"LCRC is developing varieties specifically for western Canadian farmers with plans to collaborate with public breeders as well as the Limagrain network of cereal breeders around the world. LCRC will bring genetics with unique characteristics to the market in Western Canada, and varieties from the existing pipeline could be registered within the next couple of years."
Armstrong is clear that the 2015 update to the federal Plant Breeders' Rights Act, which brought Canadian plant breeding regulations in line with the current Convention of the International Union for Protection of New Varieties of Plants (UPOV), was "critical" to LCRC's launch. There was considerable effort throughout the entire value chain to support an update to the Act, Armstrong explains, including the seed industry as well as Partners in Innovation, a group of grower organizations that supported enhancing Canada's ability to attract investment with a goal to increased innovation.
"Without the update ensuring the ability to use the same intellectual property protection tools as almost all of the rest of the world, Limagrain and many other breeders were not willing to invest in cereal breeding in Canada," she notes. "With the announcement of the passage of Bill C-18 in February 2015, it was full steam ahead with planning for the launch of LCRC."
The LCRC research centre site is in the northeast area of Saskatoon, in a stand-alone building with generous office, seed lab and warehouse space, and a large enclosed yard. "Our first field season is successfully under our belts, with plans to expand field testing next year," Armstrong notes. "The lab is fully functional and allows us to set up for field trials and do preliminary evaluation of the samples coming off the field. Bread quality testing is done at the Limagrain Cereal Seeds Quality Lab in Fort Collins, Colorado, a shared facility for the two North American Limagrain cereal breeding companies."
Armstrong adds that Hayley Butler, LCRC's quality lab manager, is a member of the Prairie Recommending Committee for Wheat, Rye and Triticale quality evaluation team, and is fully familiar with the quality testing requirements for the Canadian variety registration system.
Focus on Spring Wheat
LCRC's initial focus is to develop broadly-adapted, disease-resistant and high-quality spring wheat varieties specifically for Western Canada. We asked Reinheimer for details on how this will work.
"LCRC will build on the success and strength of the Canadian breeding and seeds industry through partnering and collaborating with local programs," he explains. "LCRC has developed an extensive trial testing network covering the diverse wheat growing areas of Alberta, Saskatchewan and Manitoba. We will field-test breeding material across a broad range of environments to help evaluate it against real-world stresses and diseases. Some of that material will make it into varieties and therefore onto farmers' fields."
Reinheimer adds while the wheat evaluation network will primarily be managed by LCRC's breeding team, it will also include collaborative testing opportunities with government and universities. The wheat breeding material LCRC is utilizing in Canada has been accessed from Limagrain's international breeding germplasm inventory.
"Traits and germplasm developed through Limagrain's global research and breeding efforts, when combined with local germplasm and selected throughout Western Canada, will bring together the best of both worlds in terms of elite genetic combinations."
Reinheimer says he and the rest of the LCRC breeding team will also be taking advantage of new plant breeding technologies that have been developed over the past decade.
"For example, we generate more genomic data today than we have in all of the history of wheat breeding," he notes. "LCRC, through its linkage with Limagrain, is at the forefront of the 'genomics age' where we can test and select for high-performing varieties more effectively than we ever have before. Access to breeding technology that allows you to predict field performance in the lab, and ensuring it is continually 'ground proofed' on Canadian farms, will underpin variety success. This ability to use world-leading genomic tools and apply them on Canadian soil is certainly an exciting prospect for Canadian farmers."
LCRC plans to broaden its crop type portfolio in the near future. Reinheimer says durum wheat, barley and winter wheat are currently on the radar.
To take his position at LCRC, he and his family moved from Australia to Canada. "My wife and two young children love it in Canada and have felt so welcomed," he says. "So we have been busy learning to ice skate, trying to understand sports like curling and discovering awesome things like maple bacon."
Reinheimer calls being able to help build a new plant breeding operation in Canada a "fantastic" opportunity. "Especially when you have two great partners in Limagrain and Canterra Seeds for support," he notes. "I have always wanted to work in Canada as the agricultural community has so many positive aspects that are the envy of the world. To be able to work with so many great people who are passionate about helping forge a positive future for the Canadian grains industry is very exciting for me."
For her part, Armstrong says it was an honour to be asked to be LCRC CEO. "While I've run an organization before, this is the first time I've had the chance to build something from the ground up," she says. "Working with my colleagues Dr. Jim Peterson (research director), Sebastien Benon (CEO of the business unit into which LCRC fits) and with the board of directors is a real pleasure. I can't believe it's already been a year and a half since we started with our blank piece of paper. Once Jason came on board, things really moved forward quickly.
"We are all committed to having LCRC become an established provider of new cereal varieties for Western Canadian farmers and to contributing to innovation within our sector," she adds.
Farmer Survey-Analysis of Precision Agriculture
2 years ago
-
Farmers are encouraged to take part in an on-line survey on precision agriculture to help advance innovation in Canadian farming.
The survey will take place between Jan. 9 and Mar. 4, 2017, and will examine the use of precision agriculture in Western Canada.
Precision agriculture (PA) is a term used to encompass a range of devices to collect agriculture information and the geospatial tools to enable site specific management of food production. There are many definitions of precision agriculture (PA) which are often influenced by the specific equipment or management system being referenced.
According to Dale Steele, who has been commissioned by Agriculture and Agri-Food Canada to conduct the survey, the research gleaned will determine the various levels of adoption for precision agriculture technologies throughout the Prairies, how Canadian producers compare with key competitors in similar jurisdictions, and the various factors that create barriers to adoption.
"It will gather insights from crop sector stakeholders regarding their practical experiences with on-farm adoption of innovation in general, including what has worked and what has not, as well as the motivations for technology adoption, and the educational and business support networks available," says Steele. "The results of this research will be used to better understand the state of play of precision agriculture in the western Canadian crop sector, and identify key challenges that need to be overcome to boost innovation and competitiveness in the sector."
The survey will look at the precision agriculture tools being adopted in Western Canada and identify the barriers to technology and innovation that farmers face across the Prairies. Farmers are asked to include the various tools and technologies they currently use and are considering using in 2017.
"It will benefit all agriculture stakeholders to determine the precision agriculture tools that have been adopted in Western Canada. Results from the survey will help promote the use of innovation and competitiveness in agriculture,and inform the development of future policies and programs."
A similar survey was recently conducted in other regions of Canada.
Complete the survey here:  https://www.surveymonkey.com/r/precision-ag-western-canada
Summary results will be available in April 2017, and shared with western Canadian grower associations, industry stakeholders and farm media.
A year after Bill 6, farm workers WCB claims more than double
2 years ago
-
In the first year that controversial farm safety legislation was in effect, workers' compensation claims for farm workers more than doubled in Alberta.
Statistics provided by the Workers Compensation Board show there were 793 farm injury claims accepted by WCB in 2016, compared with 339 the year before.
Mandatory WCB coverage for paid agriculture workers came into effect on Jan. 1, 2016, under the NDP government's Bill 6, the Enhanced Protection for Farm and Ranch Workers Act, which set off enormous protests from farmers and opposition parties when it was passed in the fall of 2015.
Previously, agricultural operations were not required to have injury coverage for workers, though they could voluntarily take on WCB coverage or use private insurance. Family members remain exempt.
The WCB said there are now 3,629 agricultural operators registered, up from 1,756 at the end of 2015. There are no statistics available on how many of the employers formerly held private insurance.  
Lynn Jacobson, president of the Alberta Federation of Agriculture — the province's largest producer-funded general farm organization — said in a recent interview that there is still lingering anger in rural areas over how the NDP government introduced and implemented Bill 6.
But he believes the change has ultimately been positive because most of the producers he has dealt with have found that WCB coverage is "far better than any insurance package that they've had."
"A lot of the things were not being claimed that probably should have been claimed before," said Jacobson, who farms near Enchant in southern Alberta.
Jacobson said benefits of WCB coverage include immunity from litigation for employers and payment for long-term health-care costs of an injured employee. But he said there is a need for WCB regulations to be adjusted to better fit the farm sector.
The Alberta Agriculture Farm and Ranch Safety Coalition, or AgCoalition, a grouping of major farm organizations formed in response to Bill 6, did not have a spokesperson available Thursday.
But in a statement, the coalition noted that since farm injuries are now being reported through a single source, "the increase in farm injuries through WCB data alone is insufficient to determine farm incident frequency rates."
"We are working with WCB to use this, along with other information available to the farm and ranch community, to paint an accurate and complete picture that will identify areas of risk," said the organization.
The WCB's numbers show the largest number of 2016 injury claims — 192 — came from feedlots, followed by 131 from hay/grain/crop farming and 106 claims from beef producers. Nearly a quarter of the claims, 199, were strains or sprains, with 153 superficial wounds, 165 open wounds and 106 cases of fractures, dislocation or nerve damage.
There were 170 other injury claims, as well as three accepted farm fatality claims.
Labour Minister Christina Gray said ideally there would be no injured workers in the province, but mandatory WCB coverage gives certainty to both farm workers and employers.
"I can say with certainty that our legislation provides that coverage and that protection to farm and ranch workers, so that they have access to medical and financial support," she said.
"Those supports for workers are guaranteed rights. Previously, they were a benefit that may or may not be provided."
Gray said the WCB review launched by the NDP government has reached out to the farm sector for input into possible changes around agricultural coverage.
Wildrose Leader Brian Jean has promised to repeal Bill 6 if his party wins the next election in 2019.
Opposition agriculture critic Dave Schneider said there would likely be replacement legislation passed, rather than simply a return to the status quo that existed before 2016.
Schneider said many producers in contact with Wildrose remain unhappy about being forced to take on WCB coverage because they viewed the private insurance they previously held as more comprehensive and cheaper.
"What I can see is looking into whether private insurance can provide the same coverage as WCB. And if they can, would that not open up competition and be better for everybody?" he said.
Source:  Calgary Herald
Canola Council Chief to Lead Grain Commission
2 years ago
-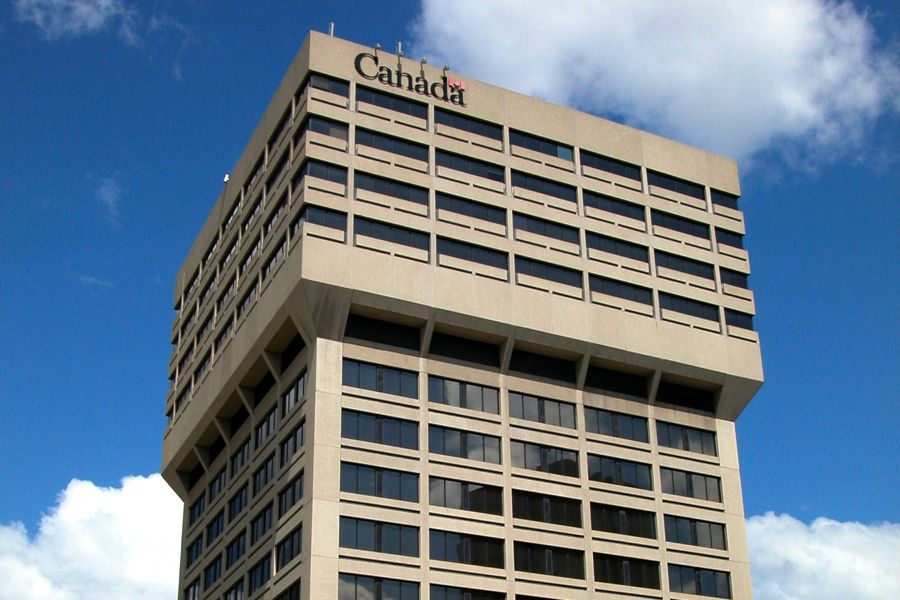 The point person for Canada's canola industry will become the chief executive of Canada's grain handling regulator starting in mid-February.
Patti Miller, the president of the Canola Council of Canada since 2012, will start a six-year term as chief commissioner of the Canadian Grain Commission (CGC) on Feb. 13, federal Agriculture Minister Lawrence MacAulay announced Tuesday.
"Patti has a wealth of experience in the sector and her passion for agriculture will be of great benefit to the commission's work," MacAulay said in a news release.
The Winnipeg-based CGC, which has a staff of about 400 full-time equivalent employees, serves as regulator of standards and procedures for Canada's grain handling sector and as official certifier of Canadian grain.
The commission establishes, recommends and maintains grades and standards for Canadian grain, is responsible for Canada's system of grain grading and inspection and serves as one of Canada's scientific research organizations on grain quality.
As chief commissioner, under the Canada Grain Act, Miller will supervise and direct the commission's staff and operations.
Miller comes to the post with a master's degree in agricultural economics from the University of Saskatchewan and industry experience in both the public and private sectors. While at the Winnipeg-based Canola Council, Miller spearheaded its "Keep It Coming 2025" strategic plan, launched in 2014 with targets for annual Canadian canola production of 26 million tonnes and for average yields of 52 bu./ac. by 2025.
Before joining the council she worked in management at Agriculture and Agri-Food Canada (AAFC), overseeing farm income program delivery and grain and oilseed market development and research work. Before her stint at AAFC, she was communications manager for the Canadian arm of U.S. agrifood firm Cargill.
As the CGC's chief commissioner, Miller replaces Elwin Hermanson, who opted not to apply for another stint at the post after his term expired in January last year. Jim Smolik, who as assistant chief commissioner assumed Hermanson's duties, ran out the clock on his term in November when he moved to a new post at Cargill. The lone remaining CGC commissioner, Murdoch MacKay, also concluded his term last month.
Source: AgCanada.com
2017 Youth Ag-Summit to be held in Brussels
2 years ago
-
CALGARY, Dec. 19, 2016 /CNW/ — Against a backdrop of the increasing disconnect of young people from farming and a world population that is forecast to soar to 10 billion by 2050, visionary thinking, a long-term approach, and creativity are needed to develop solutions to face global farming challenges. That is why Bayer and the two Belgian young farmers associations, Groene Kring and Fédération des Jeunes Agriculteurs, are inviting young thought leaders from around the world to apply to attend the third Global Youth Agriculture Summit from October 9 to 13, 2017 in Brussels, Belgium.
About 100 young delegates from around the world will share ideas, develop solutions and engage in an open discussion on one of the world's most challenging questions: How do we feed a hungry planet sustainably? To apply, young people aged 18 to 25 are asked to submit an essay on the underlying causes of food insecurity and the effect it can have on a growing population. The essay question is based on the UN Sustainable Development Goals. Ability to demonstrate original ideas and passion to help shape the future will be the key selection criteria for the Youth Ag-Summit. Applications are being accepted online until January 13, 2017. Find out more about the application process and the Summit at www.youthagsummit.com.
In 2015, delegates delivered the Canberra Youth Ag-Declaration, an action-oriented plan with recommendations on how youth can have an optimal impact on global food security, which was tabled at the United Nations Committee on World Food Security in Rome afterwards. "Hailing from 33 countries and many different educational backgrounds, all 100 delegates brought together unique and diverse perspectives and mooted ideas towards addressing a global concern. It was amazing to see how we all, enthusiastically, took up the challenge and formed a common overall vision aimed at feeding a hungry planet," remembers Samba Ouma Zablon, 2015 alumni delegate from Kenya, who was selected to present the declaration to the UN. In 2017, the movement continues in the European capital.
Canada remains involved for the third-installment of the Summit, and will be sending four young leaders represent Canada—two of which will be current members or alumni of 4-H Canada. This will add to a total of 68 Canadians who will have contributed to the global conference since its inception in 2013 (Calgary, AB).
"Since 2013, when 4-H Canada first partnered with Bayer in hosting the inaugural conference, the Youth Ag-Summit has been an incredible opportunity for our members to lend their voice to important global conversations," said Shannon Benner, CEO of 4-H Canada. "We believe in empowering young people with the skills they need to be leaders in the areas they are passionate about, and working with their peers to discuss tackling global food security at this Summit will do just that."
Assessing young people's knowledge about agriculture
The Summit's long-term goal is to inspire delegates to not just think, but to act, and action is clearly needed to improve young people's knowledge about agriculture, since many young people are disconnected from farming and give little thought to where their food comes from. That is why Bayer initiated a major study1 to assess young people's agricultural literacy in eleven countries during Summer 2015. The Youth Agriculture Literacy Study revealed that the overwhelming majority of young people had no idea when crops were ripe or were harvested. The study also demonstrated that a higher level of education does not mean a higher level of agricultural literacy.
"Bayer is committed to encouraging young people to learn about agriculture and to inspire the next generation of ag visionaries. With initiatives like the 2017 Youth Ag-Summit, agricultural scholarships and experimental learning at our student labs and online, we want to encourage young people to learn more about sustainable agriculture and food supply whereby the vital role of science and innovation is highlighted," says Bernd Naaf, Head of Business Affairs & Communications and Labor Director at Bayer.
About the Youth Ag-Summit
The Youth Ag-Summit is a global youth conference to inspire and connect the next generation of young leaders in agriculture and related disciplines. At the Summit, 100 young leaders aged 18 to 25 from all around the world will meet to share perspectives and create an open dialogue on one of the world's most challenging questions: how to feed a hungry planet? The Youth Ag-Summit forms part of the Agricultural Education Program and aims at raising awareness for food and farming all over the globe.
Find more information about the summit on the website: www.youthagsummit.com
Find out more about the Agricultural Education Program at: www.ag-education.bayer.com
Province, U of A partner to continue research at agricultural stations
2 years ago
-
Since 2013, the Alberta government has been implementing a new management model to ensure the Onefour and Stavely research substations continue to conduct research relating to sustainable rangeland management and prairie conservation into the future.
Through a memorandum of understanding between the government and the University of Alberta the two research ranches will maintain rangeland and native grassland and continue to provide opportunities for agricultural research. In addition, important wildlife habitat will be protected while also providing grazing opportunities for local ranchers.
"The Onefour and Stavely research ranches have played a pivotal role in developing rangeland management as we know it in Western Canada," said Shannon Phillips, Minister of Environment and Parks. "The recent memorandum of understanding between the Government of Alberta and the university will help ensure more important work will come from these sites in the future."
The research ranch model was developed by working with the university and livestock industry representatives. It uses grazing stewards to maintain the important grazing infrastructure and provides sustainable grazing opportunities on the sites which are important for maintaining these grassland ecosystems.
"The signing of this memorandum of understanding allows staff and students to utilize Stavely and Onefour to conduct innovative research and teaching on a wide variety of issues pertinent to rangeland ecology and management," said Dr. Edward Bork, Director of the Rangeland Research Institute in the Faculty of Agricultural, Life and Environmental Sciences at the University of Alberta. "This agreement will support long-term research that promotes rangeland economic and environmental sustainability in Western Canada by taking advantage of the rich generational learnings that Stavely and Onefour offer."
According to Dr. David Turpin, President of the University of Alberta, the Stavely Research Station and Onefour have created a deep legacy of ecological and agricultural research in the province. "Thanks to this new agreement, that legacy is in good hands," he noted. "Through our Rangeland Research Institute in the Faculty of Agricultural, Life and Environmental Sciences, the U of A will continue to engage with and facilitate partnerships across the province, country and continent, conducting leading multi-disciplinary research and teaching to address issues as diverse as grassland ecology, wildlife management, carbon capture, climate change and water management."
Work on the ranches will help promote and set research standards for range management in the province and help shape future research.
About the research ranches
Onefour: The Onefour Agricultural Research Substation, established in 1927, is a 42,000-acre (17,199 hectares) site that includes 39,780 acres (16,098 hectares) of public land southeast of Medicine Hat. Through good stewardship practices, Onefour has conserved valuable native prairie habitats, supporting a wide variety of flora and fauna, including species at risk.
Stavely: The Stavely Agricultural Research Station, established in 1949, is a 980-acre (388-hectares) site west of Stavely on the eastern edge of the Porcupine Hills. Through good stewardship practices, Stavely has served to conserve valuable foothills fescue grasslands while supporting wildlife habitat.
Soil pHertility
2 years ago
-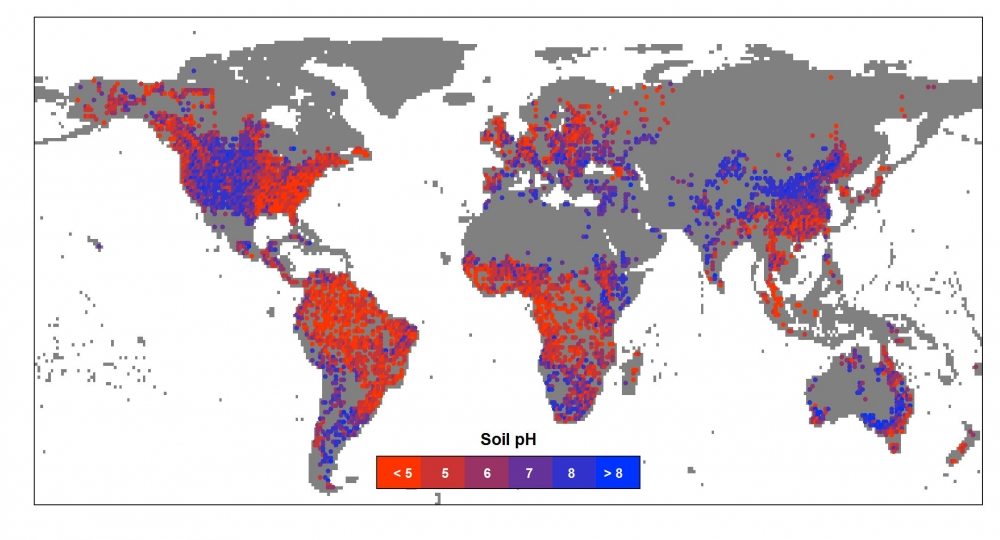 Examining data from around the world, researchers create a global map of soil pH and illuminate how it changes between wet and dry climate.
For some time now, scientists have known that climate influences soil chemistry — and, in particular, soil pH, a measure of acidity or alkalinity. In dry climates, soil is alkaline; in wet climates, it's acidic.
But what has remained unknown is just how soil pH changes between wet and dry climates. A new analysis by UC Santa Barbara researchers sheds light on that mystery, revealing that the shift occurs abruptly, right at the boundary between wet and dry conditions. The findings appear in the journal Nature.
"We found that if you go to wet climates — places where you might expect to find a forest, whether in the high latitudes or in the Amazon — the pH is acidic," said lead author Eric Slessarev, a Ph.D. student in the Department of Ecology, Evolution and Marine Biology at UCSB. "If you go to dry climates, the pH is alkaline. This is what we expected. But our analysis was able to confirm that the transition between those two zones is very abrupt.
"It only takes a small change in climate to achieve the switch from that acid zone to the alkaline zone and there are fewer soils with an intermediate pH," Slessarev added. "Those soils are in places like Iowa or the Ukraine, which — not coincidentally — are places intensively farmed because those neutral range soils are the most fertile. Extreme pH tends to be bad for crops for a variety of reasons."
Soil pH levels range from 0 to 14, with 7 being neutral. Levels below 7 are acidic, and those above are alkaline. Neutral soils are less common than either extreme and tend to cluster at the transition between wet climates and dry climates.
The research team conducted a meta-analysis using soil databases from the United States, China, Canada, Australia, Brazil and the International Soil Research Information Center in Wageningen, Netherlands. The team evaluated approximately 60,000 data points to build a global soil pH map.
"One thing that we can draw from our analysis is that the parts of the world that humans depend upon the most for agriculture sit on an edge between wet and dry climates and between acid soils and alkaline soils," Slessarev said. "What's more, our work demonstrates that soil pH — and therefore soil fertility — is tightly linked to climate. In fact, it's linked in a way that looks like a staircase, where a step exists between one space and another. For the parts of the world on the edge of that step, this means a very small change in climate could make a big difference in how the system functions."
Source: UC Santa Barbara
Canadian leadership in plant variety protection receives international recognition
2 years ago
-
December 9, 2016, Ottawa, ON – Canada's leadership in protecting new plant varieties has received international recognition with the election of Anthony Parker, Canada's Commissioner of Plant Breeders' Rights, to the International Union for the Protection of New Varieties of Plants (UPOV).
UPOV members recognized Parker's knowledge and experience in plant variety protection matters and his role in the ratification of the 1991 Act of the UPOV Convention by Canada in 2015.
Parker played an instrumental role in the implementation of the 2015 Agricultural Growth Act which amended Canada's Plant Breeder's Rights Act, bringing it into line with the UPOV '91 Convention. His role in advancing these legislative amendments to the Act has cemented Canada's reputation as a leader in plant variety development and Plant Breeder's Rights.
Parker will serve as Chair of the Administrative and Legal Committee (CAJ), which is one of UPOV's governing bodies, and is tasked with dealing with the organization's financial, administrative, legal, and policy matters.
Through the cooperation of its members, UPOV creates an environment which supports investment in plant breeding, bringing innovations to farmers globally. An effective system of intellectual property protection for new plant varieties helps ensure sustainable agricultural production, crop diversity, and food security worldwide. Such new plant varieties include features like improved yields and resistance to plant pests and diseases, a key element for increasing productivity and product quality.
UPOV was founded in 1961, establishing the first International Convention for the Protection of New Varieties of Plants; and has since been revised three times, in 1972, 1978 and 1991. UPOV is based in Geneva, Switzerland; and is comprised of 74 members covering 93 states on six continents.
Since 1992, Canada's Plant Breeders' Rights Office has received over 9000 applications for new plant varieties, covering over 330 different crop kinds.
Agriculture and Conservation Groups Join Together for a Sustainable Future
2 years ago
-
December 7, 2016, Ottawa, Ont. – Seeing more benefit to working collaboratively than apart, a diverse group of partners from the agriculture industry and conservation organizations have created a plan toward a sustainable future for Canada's agri-environmental landscape.
Imagine our country as a place where no new land is brought into agricultural production, environmental benefits are produced and farm production and profitability increase on an existing land base. This is the shared vision of the Canadian Roundtable for Sustainable Crop's (CRSC) agro-ecosystem working group, along with industry partners, for the sustainability of Canadian agriculture in the next 10 years.
Announced today at the Sustainability at Sunrise breakfast during the GrowCanada Conference, this vision has Canadian farmers meeting the growing demand for increased production while conserving and restoring ecosystem health such as soil, water and wildlife, and managing climate risk for future generations.
"The CRSC is proud to have been part of developing this vision," says Mark Brock, chair of the CRSC steering committee. "Sustainability is the common ground between environmental and agricultural interests and we thank all the founding organizations for their involvement; in particular, the leadership of Maria Trainer and Paul Thoroughgood. We applaud them for discovering things we can agree on, rather than focusing on those we cannot and inspiring our entire sector. To realize this vision, actions must be taken, and the CRSC looks forward to being part of the work that lies ahead."
Using science as the cornerstone and collaboration to achieve their goals, agriculture and conservation leaders from Canadian Federation of Agriculture, CropLife Canada, Ducks Unlimited Canada, Fertilizer Canada, Grain Growers of Canada, Soil Conservation Council of Canada, and the World Wildlife Fund Canada were involved in the development of this vision for a sustainable future.
Brought to life at a workshop led by the Soil Conservation Council of Canada, the CRSC will use this vision to work toward 12 outcomes by 2026. The first one starts with Canada being recognized as an innovative leader in the area of sustainable agriculture.
Sustainable agricultural practices recognize that agricultural and environmental values are intrinsically connected. To ensure current stewardship efforts are maintained, and to avoid environmental degradation, increased production must be achieved on the current area of land under production.
Read the entire vision statement.