AgGrowth Coalition Poised for Next Steps in BRM Review
3 years ago
-
In response to the Federal Provincial and Territorial (FPT) Agricultural Ministers' commitment to a comprehensive review of Business Risk Management (BRM) programs over the coming year, several agricultural organizations have formalized their structure and plans as the AgGrowth Coalition. The Coalition has committed to advocacy efforts and policy research to position industry as a trusted, authoritative partner in this critical review process.
At a recent meeting in Toronto the Coalition discussed and agreed to a strategy for the path forward in ensuring meaningful participation of industry in the BRM review. Members committed time and resources to guarantee that agriculture has a significant voice in shaping the next generation of farming policy and programs.
To that end, the AgGrowth Coalition is pleased to announce the coalition's Chair, Mark Brock and Vice Chair, Jeff Nielsen. Mark Brock is Chair of Grain Farmers of Ontario and an active corn, soybean, and wheat farmer. Jeff Nielsen is President of Grain Growers of Canada and grows canola, wheat and barley in central Alberta.
Additionally, the AgGrowth Coalition is undertaking an independent research and policy process – it is the expectation that this will be done in partnership with FPT governments.
"Modern farming is a smart global business supporting strong communities across the country with sustainable practices. It's time to modernize our agriculture programs, reflect the risks that are part of this reality and support the opportunities in front of us," says Mark Brock, Chair of AgGrowth. "This is a rare opportunity to improve agriculture policy and programs to enhance the economic, environmental, and social contributions of farming in Canada."
In cooperation with the Canadian Cattlemen's Association and the Canadian Pork Council, AgGrowth is committed to undertake research and policy development to actively support the BRM review process.
"The AgGrowth coalition has created an industry business risk management committee to conduct research and analysis, develop policy positions and ultimately present options for improvement from a farmer perspective," said vice-Chair Jeff Nielsen. "We would like to do this in partnership with government."
New Partnership Provides Alberta Farmers with Tools to Fight Climate Change
3 years ago
-
Farmers in Alberta are being given the tools to take charge against climate change by adopting on-farm best management practices that are scientifically proven to limit the impacts of agriculture on natural resources like air, water and soil.
Fertilizer Canada is proud to announce the signing of a Memorandum of Understanding with the Agricultural Research & Extension Council of Alberta (ARECA) that includes integration of 4R Nutrient Stewardship (Right Source @ Right Rate, Right Time, Right Place®) into the province's Environmental Farm Plan (EFP). This agreement marks a significant milestone on Fertilizer Canada's journey to create truly sustainable and climate-smart agriculture in Canada.
"We are pleased that ARECA has officially recognized 4R Nutrient Stewardship as a best practice for nutrient management on Alberta farms," said Garth Whyte, president and CEO of Fertilizer Canada. "By encouraging farmers across the province to use fertilizer effectively, Alberta is joining the front lines in the fight against climate change and ensuring their place among the world's leaders in sustainable agriculture."
"ARECA is a long-time supporter and promoter of 4R Nutrient Stewardship," said Janette McDonald, executive director. "There is no doubt this formalized partnership with Fertilizer Canada will aid us in expanding awareness of the program as a best practice for nutrient management planning."
4R Nutrient Stewardship is a science-based nutrient management system that is universally applicable yet locally focused. By applying the right source of fertilizer at the right rate, the right time and the right place, farmers can ensure nutrients are efficiently taken up by their crops and are not lost to air, water or soil. This increases crop productivity and reduces unwanted environmental impacts.
Managed by ARECA, the province's EFP self-assessment process encourages producers to assess and identify environmental risks on their farms and take action to improve their practices.
"While Alberta's EFPs already include a section on nutrient risks, adding information about the positive long-term benefits of 4R Nutrient Stewardship will expand awareness among the province's farmers," said Paul Watson, EFP director at ARECA.
As growers in Alberta adopt 4R Nutrient Stewardship under the Alberta EFP, the acres they manage will be counted under Fertilizer Canada's 4R Designation program, which tracks the amount of Canadian farmland using 4R Nutrient Stewardship to boost productivity and conserve resources. Fertilizer Canada aims to capture 20 million 4R acres by 2020 – representing 25 per cent of Canadian farmland – to demonstrate to the world the commitment Canada's agriculture sector has made to adopt climate-smart and sustainable farm practices.
DowDuPont Merger Successfully Completed
3 years ago
-
DowDuPont today announced the successful completion of the merger of equals between The Dow Chemical Company ("Dow") and E.I. du Pont de Nemours & Company ("DuPont"), effective Aug. 31, 2017. The combined entity is operating as a holding company under the name "DowDuPont™" with three divisions – Agriculture, Materials Science and Specialty Products.
Shares of DuPont and Dow ceased trading at the close of the New York Stock Exchange (NYSE) on Aug. 31, 2017. Beginning today, DowDuPont will start trading on the New York Stock Exchange under the stock ticker symbol "DWDP." Pursuant to the merger agreement, Dow shareholders received a fixed exchange ratio of 1.00 share of DowDuPont for each Dow share, and DuPont shareholders received a fixed exchange ratio of 1.282 shares of DowDuPont for each DuPont share.
"Today marks a significant milestone in the storied histories of our two companies," said Andrew Liveris, executive chairman of DowDuPont. "We are extremely excited to complete this transformational merger and move forward to create three intended industry-leading, independent, publicly traded companies. While our collective heritage and strength are impressive, the true value of this merger lies in the intended creation of three industry powerhouses that will define their markets and drive growth for the benefit of all stakeholders. Our teams have been working for more than a year on integration planning, and — as of today — we will hit the ground running on executing those plans with an intention to complete the separations as quickly as possible."
"For shareholders, customers and employees, closing this transaction is a definitive step toward unlocking higher value and greater opportunities through a future built on sustainable growth and innovation," said Ed Breen, chief executive officer of DowDuPont. "DowDuPont is a launching pad for three intended strong companies that will be better positioned to reinvest in science and innovation, solve our customers' ever-evolving challenges, and generate long-term returns for our shareholders. With the merger now complete, our focus is on finalizing the organizational structures that will be the foundations of these three intended strong companies and capturing the synergies to unlock value. With clear focus, market visibility and more productive R&D, each intended company will be equipped to compete successfully as an industry leader."
Resistance to Major Fungal Disease in Oilseed Crops Now Possible
3 years ago
-
In a world first, researchers from the University of Western Australia in collaboration with Punjab Agricultural University in India have found the key to resistance to sclerotinia stem rot, a major fungal disease in Brassica oilseed crops globally.
Brassica oilseed crops include canola and mustard. Sclerotinia stem rot poses a major yield limiting threat to these crops worldwide, and currently, no commercial varieties with high level resistance to this disease are available.
The research, published in the international journal Scientific Reports, showed that resistance to sclerotinia stem rot disease found in Indian mustard is influenced by at least 10 genes. Professor Martin Barbetti from UWA's School of Agriculture and Environment and Institute of Agriculture said the findings are exciting because they offer highly significant oilseed breeding applications and benefits.
"Developing highly resistant varieties offers the only real prospect for long-term, cost-effective management of this devastating disease," Prof Barbetti said.
"The findings offer mustard and subsequently canola breeders a powerful tool to optimize use of the genetic variation available within wild Brassica species."
Currently farmers rely mainly on fungicide sprays to manage the disease, but these often provide poor or inconsistent control. As forecasting this disease has proven unreliable, fungicides are often wasted in cases where little disease would have eventuated anyway, adding to the already high production costs for low-input farming systems such as in Australia and India.
"Initially for mustard crops and later for canola, such novel engineering to develop new oilseed Brassica varieties that express these critical resistances to sclerotinia stem rot will enable much more effective management of this devastating pathogen worldwide," Prof Barbetti said.
The findings were published in the paper Mapping resistance responses to Sclerotinia infestation in introgression lines of Brassica juncea carrying genomic segments from wild Brassicaceae B. fruticulosa in Scientific Reports. The research was supported by the Government of India and the Indian Council of Agricultural Research.
Source: European Seed
New Public Trust Research Tackles Transparency in 2017
3 years ago
-
Find out what consumers are looking for from restaurants, grocery stores, food companies, governments and farmers at the CCFI Summit
Public trust and transparency continue to evolve as priority agenda items for many stakeholders and governments across the agri-food sector from coast to coast.  If transparency is no longer optional – what does that mean and what actions are needed by those who work in food or farming.
The Canadian Centre for Food Integrity (CCFI) 2017 public trust research will focus on transparency, trust and millennials, as a key driver in their efforts to help Canada's food system earn trust.
"As discussions evolve from identifying public trust as a priority to establishing strategy and action plans for the future, it's essential for our agri-food sector leaders to understand the values and expectations of the Canadian public," stated Kim McConnell, CCFI Chair.
Building on the benchmark work established in 2016, this year's CCFI research will take a deeper dive into transparency to help establish what consumers are looking for and from whom. The US Center for Food Integrity 2015 research established seven key elements of transparency and found that consumers clearly hold food companies responsible for delivering, followed by farmers, restaurants and grocery stores.  The Canadian research will duplicate this work for valuable North American comparisons, and also added in governments as a new category to find out more.
This research will be released at the CCFI Public Trust Summit in Calgary September 18-20th, along with a new transparency index tool for companies and associations to use to measure their efforts on transparency with some best management practices.
Join thought leaders from across the country and across sectors to help build the momentum for earning trust in Calgary this September.  Register and book hotels for the CCFI Public Trust Summit today at www.foodintegrity.ca
Western farmers worry they'll pay the price of saving supply management under NAFTA
3 years ago
-
Kevin Auch has been putting in long hours on his southern Alberta farm harvesting durum wheat — and also fretting about distant trade negotiations that may affect the price.
He wasn't pleased, earlier this week, when Canada's foreign affairs minister vowed to defend supply management on Canadian farms in the NAFTA negotiations just getting underway.
The system of controlled production and price protection doesn't directly affect wheat farmers. But Auch, who is also chairman of the Alberta Wheat Commission, wonders who will pay the price of shielding supply management from competition.
BASF receives MRLs for HEAT LQ as a pre-harvest herbicide in wheat and barley
3 years ago
-
In time for the 2017 cereal harvest, BASF Canada confirms that the CODEX Alimentarius Commission (CAC) established Maximum Residue Limits (MRLs) for HEAT LQ as a harvest aid in cereals. This allows BASF to establish MRLs in all major export markets to support the use of HEAT LQ as a pre-harvest herbicide in wheat and barley with glyphosate.
"Canadian wheat and barley growers can now use HEAT LQ as a harvest aid with full export market access," said Dan Packer, cereal crop manager for BASF Canada.
The announcement has received endorsement from the Western Grain Elevator Association.
HEAT LQ on wheat and barley was included in the 201-2018 producer declaration, prior to the establishment of CODEX MRLs for HEAT LQ. The members of the Western Grain Elevators Association will now waive this clause for the 2017-2018 application season.
"With the recent establishment of CODEX MRLs for HEAT LQ as a pre-harvest herbicide in wheat, durum and barley, grain companies will now omit those crops from the 2017-18 declaration forms," said Wade Sobkowich, executive director of the Western Grain Elevator Association. "Growers can now use HEAT LQ as a pre-harvest application on wheat, durum and barley, and these grains can be marketed to Canada's major export countries."
HEAT LQ provides wheat and barley growers with a new tool to dry down tough broadleaf weeds including volunteer Roundup Ready canola, redroot pigweed and wild buckwheat, to name a few. A pre-harvest application of glyphosate and HEAT LQ will provide complete and rapid drydown of tough weeds to improve harvest efficiency for the 2017 season.
For more information on a pre-harvest application of HEAT LQ herbicide, contact AgSolutions Customer Care at 1-877-371-BASF (2273), or visit agsolutions.ca.
New publications encourage Canadian honey bee health
3 years ago
-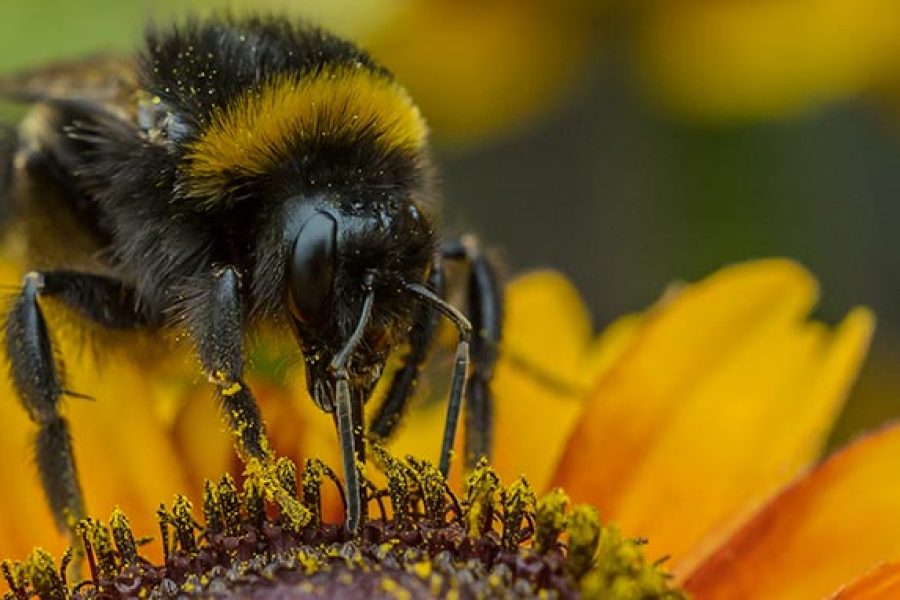 The Bee Health Roundtable recently published two documents related to honey bee health:
Canadian Best Management Practices for Honey Bee Health is a useful manual for those interested in bee keeping. It covers a wide variety of topics, such as hive management, pest disease treatments, queen health and bee nutrition.
Planting Forage for Honey Bees in Canada is a guide that provides information for farmers, road, utility and land managers, and gardeners on how to create and improve honey bee forage in Canada. It also encourages home owners to support initiatives related to honey bee habitats, and provides a list of plants that are attractive to honey bees.
Both documents are available for download at the Canadian Honey Council website.
The Bee Health Roundtable is an industry-government forum that fosters dialogue and action on a national scale to ensure a sustainable future for beekeeping and crop agriculture.
Canada's Yukon offers free land if you're willing to farm the north
3 years ago
-
In Canada's far north, the government of Yukon Territory wants to attract small farmers to the frigid region with a simple pitch: free land.
And as global warming makes Canada's northern regions more hospitable to agriculture by opening once frozen land to farming, the opportunities are growing.
Bordering on Alaska in northwestern Canada, the Yukon has given away nearly 8,000 acres (3,208 hectares) of farmland in the past decade, a senior government official told the Thomson Reuters Foundation. A dozen new applications are under consideration.
Now is a good time to start farming in the Yukon, say government officials.
"Our territory is expected to get wetter and warmer," said Rod Jacob, a government official with the Department of Energy, Mines and Resources in the capital Whitehorse.
"We may see opportunity with an increased growing season," Jacob told the Thomson Reuters Foundation in an email.
"A number of programs help farmers to become more resilient to climate change, including funding to increase access to water for irrigation or to have better water efficiency," Jacob said.
The Yukon is larger than Belgium, Denmark, Germany and the Netherlands combined but only 40,000 people live there, according to government data.
Free land in the area is only available for Canadians and permanent residents who have been living in the Yukon for more than a year, Jacob said.
Would-be farmers who want a free 65 hectare (160 acre) plot of land, the maximum allowed under the program, must pay for surveying, pledge to make investments in the property and meet other conditions in order to join the initiative.
People who receive free land must farm on the property for at least seven years before they can sell it, Jacob said, in order to stop speculation. These rules do not apply to investors who want to purchase farmland through traditional investment.
On average, the government doles out about 10 parcels of free land per year, Jacob said, with most concentrated around Whitehorse.
The region's agriculture industry is relatively small, the official said, with farmers producing mostly vegetables, hay, meat and other products.
Free land in the Yukon has been on offer since 1982 and some analysts believe demand for farms in the northern region will increase as the region heats up.
Canada's far north is considered the "canary in the coal mine" by environmentalists, as global warming is felt there first and often with more intensity than other areas.
Average temperatures in the Yukon have climbed by 2 degrees Celsius in the past 50 years due to climate change, said a 2016 Canadian study, more than twice as fast as the planet as a whole.
Winter temperatures in the territory have risen an average of 4 degrees Celsius over the past half-century, the study said.
Rising temperatures have seen the population of caribou – an important food source for indigenous people in Canada's northern boreal and Arctic regions – crash. But it has also opened up new areas for agriculture in some of the far north with a longer growing season.
The winter months are still harsh, however. In January temperatures in the Yukon still frequently drop to minus 20 degrees or lower, according to 2017 government figures.
Source: Thomson Reuters Foundation
Dan Wright new CSTA president
3 years ago
-
Dan Wright is the new president of the Canadian Seed Trade Association (CSTA). Wright becomes the association's 66th  president.
Wright has served on the board of directors for two years and on the executive for three years. He has a strong connection to agriculture, a foundation that was laid in childhood at his family's cash crop farm and farm equipment dealership.
Wright continued that connection in his career, and has worked for Monsanto Canada since 2000. His roles have included licensing manager, marketing manager and business development manager. Currently, he is the Canada corn and soybean portfolio lead, which includes introducing new traits and the expansion of corn and soybeans in Western Canada. All of these roles have provided Wright with the opportunity to work with farmers and agriculture industry stakeholders in all regions of Canada.
Wright will guide an active board of directors in their endeavour to foster seed innovation and engage with members. The board includes: Todd Hyra, SeCan, 1st vice-president; Georges Chaussé, La Coop Fédérée, 2nd vice-president; Brent Derkatch, Canterra Seeds, past president; Doug Alderman, Pride Seeds; Darrell Dziver, BrettYoung Seeds; Wayne Gale, Stokes Seeds Limited; Bruce Harrison, Crop Production Services Canada; Bob Hart, Sevita International; Duane Johnson, Syngenta Canada; George Lammertsen, Bayer CropScience; Brian Nadeau, Nadeau Seeds; Roger Rotariu, NuFarm; Ellen Sparry, C&M Seeds; Marty Vermey, Dow Seeds; and Jim Schweigert, the American Seed Trade Association representative.