Statistics Canada Releases Crop Acreage Estimates
9 months ago
-
Ending off the month of June, Statistics Canada revised its 2018 Canadian crop acreage estimates. The grain trade generally expected and received updates reflecting an increase in canola area and a trimming of wheat acres relative to its report released in April.
Seeded acreage of the major pulse crops were dialed back slightly, the result of tariffs imposed by India continuing to weigh down the price outlook. Barley acres increased from the April estimate as about expected.
Canola
Canadian farmers reported the intention of seeding 22.7 million acres of canola in 2018, an upward revision of 1.4 million from their previous report, but still down 1.1 per cent from the record 23 million acres seeded in 2017. PFCanada was looking for a number equal to last year, but this was close.
Ultimately, the higher canola number does not change the price outlook as market attention now shifts back to summer weather and emerging global oilseed trade patterns highlighted by United States and China conflict.
Wheat
Canadian farmers reported all wheat seeded area at 24.7 million acres, a 2.2 per cent revision lower from what StatsCan projected in April, but still up 10.4 per cent from last year. Durum wheat though saw an unexpected jump up to 6.19 million acres.
Spring wheat lost about one million acres from the spring report, but the yield and quality outcome from this 2018 crop carries more weight to determining supply and influencing grower returns.
A weak Canadian dollar and an eventual less aggressive export tone from Russia and the European Union should ensure ample wheat export opportunities from Canada.
The durum number comes in higher than the marketplace needs, suggesting a price outlook that continues to grind along at a sideways trend for now. It will likely take some work and time for a price uptrend to assert, but first durum has to find a bottom.
Soybeans
In 2018, the area sown to soybeans is down 13.2 per cent from 2017 to 6.3 million acres. That's in line with StatsCan's April estimate, but perhaps at the lower end of trade expectations. The four largest producing provinces in the country – Ontario, Manitoba, Quebec and Saskatchewan – all planted fewer acres.
Barley and oats
Total area seeded to barley rose 12.7 per cent from last year to 6.5 million acres in 2018. Strong winter and spring prices for feed barley likely attracted additional acres.
Canadian farmers reported seeding 3.1 million acres of oats, down 4.8 per cent from 2017. A weak and flat price environment drew away oat acres to other cereal choices. If yield and quality verifies for 2018, I think we can expect the same going nowhere market trend extending for at least six months or more.
Lentils and peas
Canadian farmers reported that areas seeded to lentils decreased 14.5 per cent in 2018 to 3.8 million acres. Acreage seeded to dry peas fell 12 per cent to 3.6 million acres. Both commodities were down 200,000 to 300,000 acres from the April report and coming in closer to what trade ideas were coming into the spring season.
Fundamentally, the price outlook for edible peas is poised to be the first pulse market to reinvigorate, but not until after competitively priced exportable surpluses from the Former Soviet Union states are eroded. My best guess is that lentils still have another year of grind before pricing can shift back up to higher levels.
Bottom line
Canadian crop acreage, according to Statistics Canada for 2018 sees some shifting back to canola and away from spring wheat and pulses.
Source: Farm Credit Canada
Olds College Embraces the Future with Launch of Smart Farm
9 months ago
-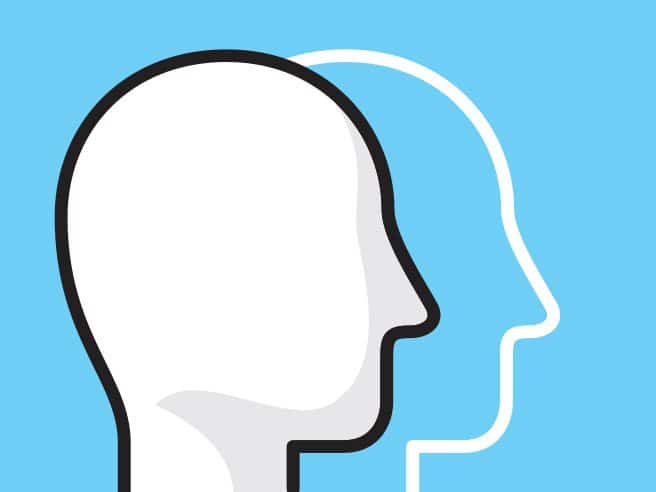 Olds College has officially launched the Olds College Smart Farm, an exciting new initiative that will see the College transform their existing farm operation into a farm of the future by incorporating the latest technologies aimed at improving productivity while efficiently and sustainably using resources.
"Working with industry partners from the agriculture and technology sectors, the Olds College Smart Farm will provide a cutting edge learning environment for our students and lifelong learners by providing a hands-on venue for industry to develop, integrate and test new agriculture technology and practices," comments Stuart Cullum, President, Olds College.
A multi-million dollar initiative, the Olds College Smart Farm will be implemented in phases. The College is collaborating with partners from the private and public sectors, and government to build and fund this initiative. The plan is to grow partnerships along with the Smart Farm in the coming months and years to enhance student learning and applied research opportunities.
Phase one focuses on crops, with 110 acres being transformed into a smart farm by:
installing stationary soil monitors
installing digital weather stations
evaluating soil and crops using spectroscopy and multispectral imaging along with artificial intelligence neural nets to help determine the differences in healthy and unhealthy plants, and the causes for health deterioration
installing wireless grain bin sensors
installing a wireless mesh network that will provide wi-fi to the entire farm
equipment monitoring and control for best practice precision agriculture, including the use of monitors and controls on contractor equipment to gather data
the use of UAVs (unmanned aerial vehicles)
installing rural narrowband connectivity to ensure high quality internet connectivity
incorporating farm management software platforms that gather, store, and visualize production and management data
utilizing data analytics, machine learning, and AI to turn data into information, and information into knowledge
partnering with expert agronomists who will serve as agronomic coaches to help analyze the data
"At Olds College we believe that agriculture is a key industry to our province and country's success," comments Cullum. "The Olds College Smart Farm creates an open environment for collaboration and research among industry and other post-secondary institutions to work together to advance the agriculture industry. Olds College has a great opportunity with our Smart Farm to facilitate engagement that address the challenges facing agriculture, in order for our ag sector to produce more while using less."
The College also announced today that they are working to develop new programming in agriculture technology, and have partnered with Agri-Trade to host a Smart Ag Expo next summer. The Smart Ag Expo scheduled for August 13 & 14, 2019, will be a combination of an outdoor farm show, with hands-on technology demos, and a series of conference style workshops and courses that the public can register for.
Fusarium Head Blight: Appropriate Fungicide Timing
9 months ago
-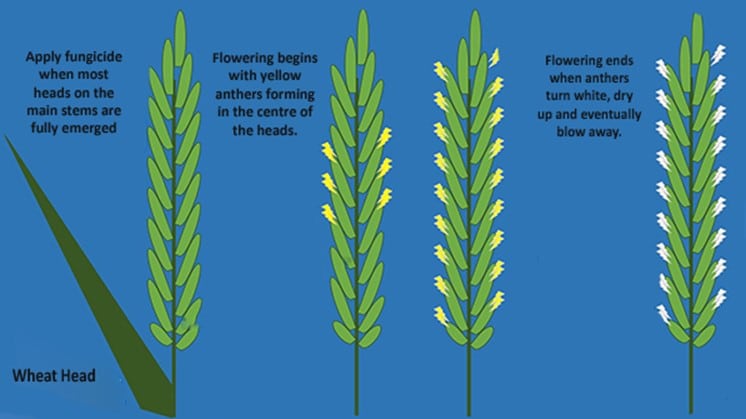 Dryer weather conditions across most of the Prairies limited fusarium head blight (FHB) disease in cereal crops in 2017. However, cereals grown in shortened crop rotations will continue to be vulnerable during the current crop season due to more severe FHB incidence in many areas in 2016.
"A one year break away from a host crop is not enough time to permit this serious fungal disease to adequately decompose," says Neil Whatley, crop specialist at the Alberta Ag-Info Centre. "Infected crop residue from 2016 continues to pose a serious threat to cereals in 2018 if favourable weather conditions occur."
Cereal crops are most vulnerable to infection at flowering time when the disease spores, dispersed primarily by wind, infect the cereal plant. Disease severity is greater under weather conditions of high humidity and warmer temperatures, 15 to 25 C, in June and July that favour spore development.
"While complete control of FHB is unattainable, producers can suppress the disease in cereal crops by applying a fungicide," says Whatley. "Although several fungicides are registered to suppress FHB, strobilurin (Group 11) fungicides are not recommended."
"Observable FHB symptoms don't appear until the late heading stage when it is too late to apply protective fungicide. Therefore, a decision to apply a fungicide must be made prior to this, at the flowering stage, to protect emerging heads," adds Whatley.
If disease risk level is assessed as moderate to high and yield return justifies fungicide application cost, a foliar fungicide should be applied at the flowering stage to protect emerging heads. Disease risk level increases when more of the following factors exist:
Field is located in a region where FHB is established.
Cereal variety being grown is susceptible to FHB.
Durum or corn is in the crop rotation or in adjacent fields.
Cereal crops are frequently grown in the same field or in nearby fields.
Weather conditions are damp and warm at crop flowering stage.
Irrigation is used in the farm operation.
Yield potential is good.
Cereal grain prices are high.
Alberta Agriculture and Forestry's Alberta Climate Information Service (ACIS) has developed the weather-based FHB risk forecast webpage to assist growers with making a spraying decision and for more accurate timing of a fungicide application. This forecasting tool provides local and hourly FHB risk levels using near-real-time weather data that growers can correspond with the correct heading stage for appropriate fungicide application timing. Mobile friendly www.weatherdata.ca/malso features the FHB webpage and can be added to a smart phone's home screen.
The period of time that a cereal plant is susceptible to infection is short. Therefore, the spray window is also short, approximately seven days. Warmer weather conditions narrow the spray window while cooler conditions widen the spray window. FHB fungal spores infect the cereal plant by entering openings created where tiny flowers – referred to as anthers – form on the cereal head. Wheat flowers after the head is fully emerged from the boot while barley begins flowering as the head emerges from the boot. Tiny yellow anthers initially form in the middle of a head, ultimately developing over the full length of the head, and finally turning from yellow to white as they age and dry out before blowing away.
"Under ideal growing conditions, the length of time from when the wheat head is just emerging from the boot to the beginning of flowering is three days, so begin scouting closely when the head begins to emerge from the boot," says Whatley. "The spray window begins when most of the heads on the main stems are fully emerged from the boot and continues through the time when yellow anthers form on the heads. As mentioned, barley begins to flower in the boot, however, wait until most of the barley heads have emerged from the boot before spraying. Ultimately, good head coverage prior to infection is critical for improving fungicide efficacy for both wheat and barley. Recent research suggests that fungicides continue to provide suitable suppression of FHB when applied 4 to 6 days after the start of flowering, or approximately 7 to 10 days following full head emergence. If considering a later application, follow the pre-harvest interval specified for each fungicide product."
Dr. Tom Wolf's (AgriMetrix Research & Training) fungicide spray recommendations for FHB are:
Angle nozzles forward or use a double nozzle (forward and back).
Greater angles are better.
Use coarse sprays.
Maintain low boom height.
Fast travel speeds are fine for vertical targets (cereal heads).
Water: recommend 15+ gallons per acre (70+ litres per acre).

Source: AAFC
Local Food Council to Support Growth in Sector
9 months ago
-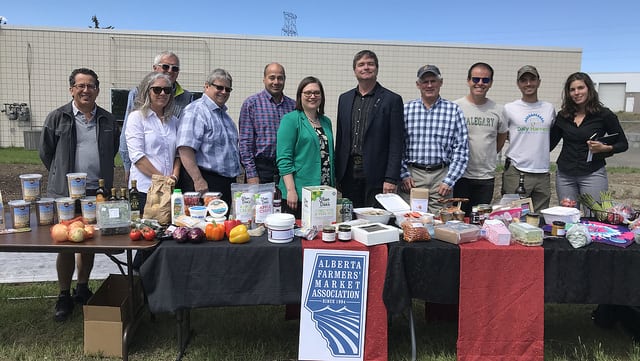 Applications are now open for Alberta's first ever Local Food Council. The aim of the council will be to provide recommendations on provincial policies, programs, pilot projects or initiatives to support the continued growth and sustainability of Alberta's local food sector.
Recruiting a Local Food Council is the first step in implementing the Supporting Alberta's Local Food Sector Act that was passed on May 30.
"Our government is stepping up to show support for this industry and the people who put food on our table," said Oneil Carlier, Minister of Agriculture and Forestry. "The Supporting Alberta's Local Food Sector Act and our new Local Food Council will give a voice to this growing industry by helping it find new markets, create new jobs and further diversify the provincial economy."
The council will have broad representation from Alberta's local food sector across the province, including small producers and processors and those with specialized and academic knowledge, and would report to the minister within one year.
"Urban farming is one way to reconnect people with their food and how it's grown," said Dennis Scanland, Calgary urban farmer, Dirt Boys, president of YYC Growers and Distributors, co-founder of SunnyCider. "Local food is about accessibility and being invested in the land, your food and your community. We need to start conversations about local food production, break down some of the perceived barriers for people to get involved and engage citizens."
Members will be selected from a public recruitment process, which is now open on the Alberta public agency board opportunities website. Stakeholders with an interest or knowledge of the local food sector are encouraged to apply. Applications close July 12.
The legislation requires the council to examine:
Potential barriers and challenges for local food producers and local food processors, including specific challenges faced by small producers and processors.
Local food aggregation and distribution.
Risk-management tools for local food producers and processors.
Increasing access to local food.
Consumer awareness of local food.
Certification opportunities for local food producers and local food processors.
Source: Government of Alberta
Recognizing a Century of Alberta Farming and Ranching Dedication
9 months ago
-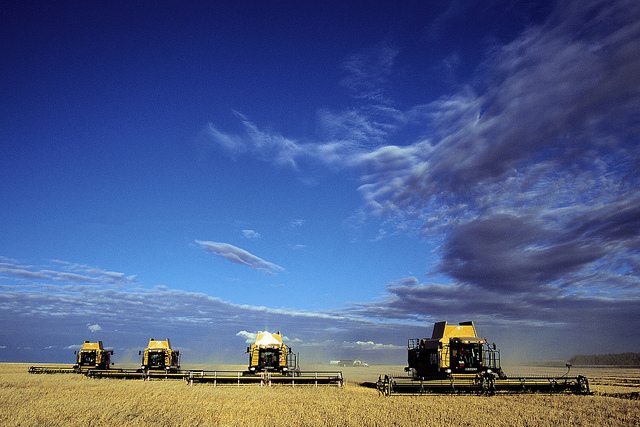 The Alberta Century Farm and Ranch Award has honoured over 1,750 farm families in Alberta since its inception in 1993. An Alberta Agriculture and Forestry program, the award salutes those families who have continuously owned and actively operated the same land for a minimum of 100 years.
Applications for the award, including eligibility criteria, are available on the Alberta Century Farm and Ranch Award webpage. Eligible families are provided with a bronze plaque, many of which are proudly displayed throughout rural Alberta. Families often have special celebrations and reunions to mark the occasion of receiving their award.
Since 2013, the department has held summer recognition events throughout rural Alberta to bring recipients together. This year, 96 families have been invited to recognition events taking place in unique rural venues across Alberta:
Nisku, June 21
Olds, June 28
Camrose, July 5
Medicine Hat, July 26
Ukrainian Cultural Heritage Village, August 2
Grande Prairie, August 12
View all the Alberta Century Farm and Ranch Award recipients.
For more information on applying for a Century Farm and Ranch Award or the summer recognition events please contact Susan Lacombe at 780-968-6557.
Source: Alberta Agriculture and Forestry
Farm Income Estimates for Alberta
9 months ago
-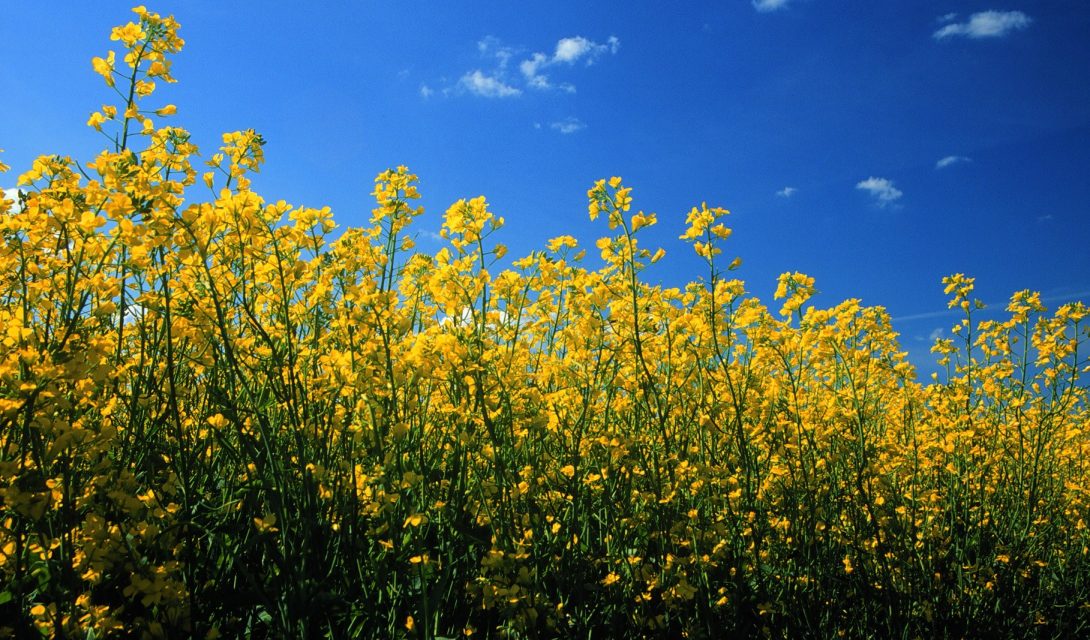 Statistics Canada has released its 2017 farm income estimates for Canada and the provinces, as well as the first quarter 2018 farm cash receipts (FCR) estimates. Roy Larsen, senior statistician with Alberta Agriculture and Forestry examines the Alberta numbers.
In 2017, Alberta had a healthy farm income situation with several records set, says Larsen. "Total FCR for the province surpassed $14 billion for the first time to $14.1 billion, a 4.5 per cent increase from 2016. Fuelling the gain were higher crop and livestock market receipts plus program payments to producers." Total FCR is the sum of crop and livestock market receipts plus program payments to producers.
Crop market receipts set a new record, up 3.9 per cent to $6.9 billion. "The growth in receipts was largely driven by higher marketing and prices, notably wheat and canola," explains Larsen. "Some of the other crops posting gains were oats and flax, with chickpeas, dry beans and corn setting new highs. Receipts for barley, dry peas, potatoes and lentils decreased."
Livestock market receipts were up 4.6 per cent to $6.4 billion, the second highest on record, says Larsen. "It is mainly due to increased marketing, notably cattle. Market receipts for cattle and calves rose 4.8 per cent to $4.8 billion, the third highest on record. Hogs were up for the first time since 2014. Posting record receipts were dairy, poultry and eggs."
Total program payments to producers increased 9.7 per cent to $764.1 million, "That was largely due to higher payments under Crop Insurance, AgriStability, AgriRecovery and Compensation for Animal Losses," adds Larsen.
Total farm operating expenses rose 3.8 per cent to a record $10.5 billion. Says Larsen, "Notable increases included livestock/poultry purchases and machinery fuel/repairs, while commercial feed and fertilizer/lime fell."
Alberta's net cash income (NCI) – the difference between FCR and farm operating expenses – increased 6.8 per cent from 2016, to a record $3.6 billion. "Likewise," says Larsen, "Realized net income (RNI), which is NCI adjusted for depreciation and is a non-cash cost, grew 10.3 per cent to a record $1.8 billion. Overall, total net income (TNI) was practically unchanged, just down marginally 0.3 per cent, at $2.2 billion."
Alberta's total FCR in the first quarter 2018 was $3.9 billion, down 5.7 per cent from the first quarter of 2017, says Larsen. "The decline was due to lower crop market receipts, down 9.4 per cent, and program payments to producers, down 31.8 per cent, more than offsetting higher livestock market receipts, which was up 3.7 per cent."
Nationally in 2017, Alberta ranked first among provinces in total FCR and cattle and calf receipts. Alberta ranked second to Saskatchewan in NCI, RNI and TNI. Alberta accounted for 22.9 per cent of the national total FCR of $61.6 billion.
For the first quarter of 2018, Alberta was second to Saskatchewan in total FCR. Nationally, receipts fell 5.3 per cent from the same period in 2017 to $15.4 billion. "The decline was not unique to Alberta, as receipts fell for most provinces," adds Larsen.
Data from the release is available via the Statistics Canada website. The tables are as follows: annual farm cash receipts (Table 32-10-0045-01), net farm income (Table 32-10-0052-01), and quarterly farm cash receipts (Table 32-10-0046-01).
For more information about these farm income estimates for Alberta, contact Roy Larsen at 780-644-1308.
Source: Alberta Agriculture and Forestry
South Korea, Japan Halt Wheat and Flour Sales from Canada Over GMO Plants Found in Alberta
9 months ago
-
South Korea has joined Japan in suspending trade in Canadian wheat following the discovery of a small number of genetically modified plants in southern Alberta.
It's standard protocol in both countries to temporarily close markets in such cases, Global Affairs spokesman Jesse Wilson said Monday.
"The Government of Canada is working with foreign trading partners to ensure they have all the necessary information to make informed decisions and limit market disruption," he said in an emailed statement.
Parliament Must Pass the CPTPP: Cereals Canada
9 months ago
-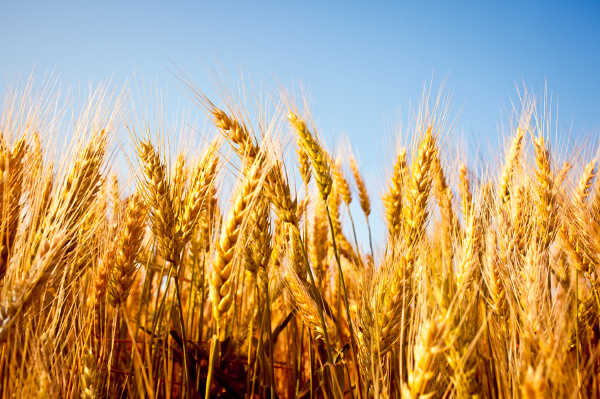 Implementing legislation for the Comprehensive and Progressive Trans-Pacific Partnership (CPTPP) is now in Parliament.  Canada has a chance to demonstrate much-needed leadership and cooperation on trade with like-minded global partners.  It is imperative for Parliament to pass this legislation before its summer recess. This agreement will unlock valuable trade opportunities all while enhancing prospects for the growth and diversification of Canadian agriculture.
The Government of Canada recognizes the important growth potential for agri-food exports and increased contributions to our economy.  The latest budget set an ambitious target to increase agri-food exports to $75 billion annually by 2025, up from $64 billion today.  The CPTPP offers a path towards this goal.
The case for trade diversification is stronger in today's political climate.  The uncertainty and risk surrounding the ongoing renegotiation of NAFTA are troubling enough.  The acrimony after the G7 meeting in Charlevoix drives home the need to expand export horizons.  Implementing the CPTPP is a concrete opportunity for Canada to improve access and competitiveness in new markets.
Livelihoods across the country are tied to agricultural trade.  From our ports in Vancouver and Montreal, mills and manufacturing plants in Winnipeg and Toronto, to family farms and agri-businesses, international trade sustains jobs in every region, city and rural area of Canada.
Looking more closely at the CPTPP, we see that its benefits for Canadian agriculture revolve around three key areas.
First, lower tariffs achieved through this agreement have a direct impact on Canadian competitiveness. This is particularly important for value-added agri-food products, many of which have traditionally faced high tariffs in export markets.  But it is also critical for commodities like wheat and canola, where Canada will have preferential access to key markets such as Japan and Vietnam, thereby matching the gains achieved by Australia.  Somewhat ironically, the CPTPP will also give Canada a leg up against the U.S. in high value Asian markets.  Many agriculture groups in the U.S. are openly disappointed by their country's withdrawal from the CPTPP for this reason.  But to lock-in these benefits, Canada must be among the first countries to ratify the agreement.
Second, through the CPTPP Canada and its partners are upgrading the rules of trade. Predictable, risk- and science-based trade rules play a key role in facilitating access to markets.  As a modern, ambitious and comprehensive trade agreement, the CPTPP sets higher standards for participating countries while creating a more predictable and transparent trade environment.  Stronger science-based and risk-based rules for agricultural trade will help limit the potential for protectionist barriers and encourage greater investment in innovation.  Adoption of new technologies leads to productivity enhancements and new commercial opportunities.
The improvements to the trading rules through the CPTPP are critical for Canadian farmers and exporters who are increasingly facing unjustified market barriers around the world. A strong and ambitious agreement between Canada and CPTPP partners sets common standards that reduce the likelihood of trade friction, while offering stronger dispute resolution mechanisms when issues arise.  It should be noted, however, that Canada also has an onus to enforce these rules when issues emerge – as is the case with Canada's ongoing challenges for durum exports to Italy, under the Canada-European Union Free Trade Agreement (CETA).
The third benefit, and perhaps the most important, is that the CPTPP is viewed as an opportunity to provide leadership in promoting multilateral trade policy cooperation. In the wake of withdrawal and rising protectionism by traditional trading partners, the importance of achieving these outcomes is clearer than ever.  What's more, as the global economic and political center of gravity shifts towards Asia, Canada will be well positioned to deepen its trading relationships and shape global business standards.  Once the agreement is in place, it is highly likely that new countries, perhaps even the U.S., will seek to join, further strengthening the agreement's scale and benefits.  Canada must be at the table with the terms for new entrants are set.
The CPTPP is a tremendous opportunity to build and diversify markets.  The agreement will build jobs in both rural and urban Canada and it will help grow the Canadian economy.  With the implementing legislation for the CPTPP now in Parliament, Canada has a chance to play a leading role by joining the first six countries to ratify the agreement.  This will demonstrate Canada's commitment to international trade while promoting continued cooperation, against the backdrop of rising protectionism and uncertainty.
The spotlight is now on Parliament to ratify the CPTPP.  Farmers can do their part by taking the time to write, call or meet with their Members of Parliament to encourage ratification before the expected June 22 recess of Parliament.  Farmers' voices matter so take the time – it will be good for your business.
Source: Cereals Canada
Looking Up: Real GDP and Alberta's Agri-Food Industries
9 months ago
-
The real Gross Domestic Product (GDP) for Alberta's agri-food industry rose again in 2017. Jean Marie Uwizeyimana, agri-food statistician with Alberta Agriculture and Forestry, examines the numbers.
In 2017, Alberta's GDP for agri-food industries rose 2.5 per cent to $6.5 billion, the second consecutive year of growth. "At 12.5 per cent," explains Uwizeyimana, "These industries represented the third highest percentage share of the total Canadian agri-food GDP after Ontario and Quebec."
The GDP for the province's primary agriculture industry increased 1.9 per cent to $3.5 billion in 2017. "Of this total, the GDP for crop and animal production rose 1.8 per cent to $3.4 billion," says Uwizeyimana. "Support activities for agriculture increased 5.3 per cent to $108.0 million."
Food and beverage manufacturing industries in Alberta grew at a faster pace, increasing 3.2 per cent to $3.0 billion, adds Uwizeyimana. "It has been increasing for the last five years. The food manufacturing industry GDP rose 3.4 per cent to $2.5 billion, while the beverage manufacturing industry increased 2.2 per cent to $474.3 million."
Meat products manufacturing continued to be Alberta's largest food segment. "It accounted for roughly $1.0 billion, or 38.1 per cent, of total food manufacturing GDP," explains Uwizeyimana. "Grain and oilseed milling ranked second at $296.5 million, or almost 12.0 per cent."
Overall, Alberta's economy in 2017 increased 4.9 per cent to $304.7 billion, as measured by real GDP, after declining for two years. Alberta also led all provinces in economic growth, with mining, quarrying, oil and gas extraction as the main contributing industries. Nationally, GDP also grew 3.3 per cent to $1.7 trillion: the strongest year-over-year increase since 2011.
GDP is one of the primary indicators used to measure the performance of a country's economy and is an important tool when comparing the performance of different jurisdictions. It represents the monetary value of all goods and services produced over a specific time period and is often referred to as the size of the economy. Adds Uwizeyimana, "As it is collected in nominal – or current – dollars, comparing two periods requires making adjustments for inflation. Real GDP is GDP adjusted for inflation."
Source: Alberta Agriculture and Forestry
Take this Weather and Climate Webpage with You
9 months ago
-
Alberta and Agriculture and Forestry (AF) has just launched its weather and climate mobile-friendly webpage. Ralph Wright, head of agro-meteorology with AF, explains the features of this weather app and how it can help Alberta producers.
"What this app is doing is taking all the different sources of weather information we have out there and putting it in one place – that is – on your mobile device," says Wright. "Typically, most weather apps are just getting forecasts. The thing that always struck us about the forecasts is that it doesn't show what happened yesterday. That is a very important question for farmers. For example, when you talk about winds and when to spray, the forecasts aren't that accurate as to when the winds might diminish in the evening or maybe when they start picking up in the afternoon, or for that matter, what range of directions have they been blowing in."
This app lets producers look at all of the hourly data for winds for the past few days, says Wright. "If we're in a stable weather pattern – today is much like yesterday – you can start getting some pretty good ideas when today's winds may pick up or subside. You can look back over the last couple of days, and also see what the gusts were like. So, if you're thinking of spraying right now, you can take a look at what the winds are at several weather stations in your area. If they are all similar, there a good chance your area will be the same."
The app also features Environment Canada's radar superimposed over Google maps. "You can zoom right in on your quarter section," adds Wright. "You can see the storms coming in real time, as the radar is updated every 10 minutes. Our handy little play back slider lets you move it forward and backward to get a good feel for how fast it's moving, where it's going and how long it may last. The radar also lets you see out a few hundred kilometres to see if there is anything coming beyond the horizon."
The app keeps records of temperatures at different times of the day. "We all know what tomorrow's temperatures are forecast to be, but what was the temperature last night," says Wright. "Perhaps you sprayed a couple days ago, and you don't know how low the temperature dropped. Did you get frost? Maybe the temps dipped down to 3 or 4 degrees and the plants "shut down" temporarily. It could mean a recent herbicide application may not have been as effective as it should have been. We now have those records for producers to see."
The app features precipitation amounts recorded at weather stations around the province. "This is particularly important for producers who have insured on the weather stations for lack of moisture," explains Wright. "People are insuring on precipitation amounts for AFSC's Lack of Moisture insurance programs, and they can go take a look at any time to see how much rain has fallen. This is particularly important near AFSC's cut off times, giving the insured some insight into whether or not a payment may be triggered."
Insects – alfalfa weevil, bertha armyworm, wheat midge – are part of this app. "It will give you the heads up for scouting, some awareness of how the insects are developing, and then help you to make decisions whether or not you need to spray," adds Wright.
Fusarium head blight is another category on the app. Says Wright, "This webpage will tell you whether conditions right for infection. If they are, it's time to be extra vigilant."
Most of the weather station data being displayed goes back up to two months, including hourly data. "However," adds Wright, "We also have an almanac which allows you to go and explore climate data back to 1961. What we have available now is growing season precipitation for the last 58 years. Here, we can see that Fort Vermilion has been in a dry spell since the drought of 2002. But looking back further you can a long series of dry years in the 1960s and early 1970s. You can also look at corn heat units and frost free days. We will continue to add more features, so stay connected."
The mobile webpage also features more detailed Environment Canada forecasts, weather alerts, and the fire risk index that goes back seven days.
Find this mobile friendly webpage at www.weatherdata.ca/m to add to your smart phone's home screen. For more information about the webpage, contact Ralph Wright at 780-446-6831.
Source: Alberta and Agriculture and Forestry