Pest and Disease Outlook 2020
8 months ago
-
Top pest and disease concerns in Alberta for the coming year. 
After a couple of dry years, 2019 was a wetter year in most areas of Alberta, at least in the second half of the growing season, which allowed some crop diseases to rear their ugly heads. This may very well affect what diseases are most threatening in 2020, but the weather will, as always, be a huge factor.
With cereals and canola, Agriculture and Agri-Food Canada (AAFC) plant pathology research scientist Kelly Turkington explains even though it was dry in 2017 and 2018, there may still have been background low-level infections in lower crop canopies and, thus, potential inoculum, especially for cereal leaf diseases.
"When the moisture arrives, even a low level of cereal leaf spot inoculum on old crop residues can be a concern," says Turkington, who is based at the AAFC Lacombe Research and Development Centre. "A lot of the leaf spot diseases in barley and wheat are polycyclic, which means they have many cycles of spore production, dispersal, and host infection, with some cycles being as short as seven days. With moisture present, they can quickly produce large amounts of spores and build up to damaging levels."
Seed testing lab results dating back from before 2012 illustrate the continued expansion of Fusarium graminearum in cereal seed samples in Alberta, notes Turkington. Levels of detection decreased in 2017 and 2018, but moist conditions in central and northern Alberta (as well as irrigation in southern Alberta) resulted in F. graminearum detections skyrocketing in 2019, but not at 2016 levels.
In cereals, as in years past, Turkington says root rots should not be too much of a problem unless growers are planting barley-on-barley or wheat-on-wheat (although no-till seeding helps reduce the impact of diseases such as common root rot). Disease survey results suggest the development of the Septoria leaf disease complex in wheat and this will also be an issue to watch for in 2020.
In barley, scald is also a threat, but mainly in cooler western Prairie regions. "If you had a significant amount of scald in 2019 and you need to grow barley in the same fields this coming year, you should change varieties and pick a variety with as complete a resistance package as possible, not just for scald," advises Turkington. "For silage or forage production, keep in mind that we did a trial where we planted a mixture of triticale, oat and barley, which reduced leaf disease development resulting in better yield than growing the same barley variety continuously."
In addition, take-all root rot disease is always a risk in wheat-on-wheat, notes Turkington, but it can also infect barley, although levels in both crops appear to be reduced compared to years ago. Growers should also keep in mind that take-all does better in alkaline soil, so Turkington says, "if you've applied lime to deal with clubroot in canola, watch out." In canola, he points to sclerotinia stem rot, clubroot and blackleg as risks for 2020, although the extent will depend largely on the weather.
To mitigate all disease risk in 2020, Turkington advises a close look at field history to help producers choose the best variety possible or to signal the need to extend crop rotations. For example, if they had issues with leaf spot disease and/or fusarium in the cereals planted in previous years, producers should choose a variety with at least a moderate level of resistance. Turkington says there is excellent stripe rust resistance in today's wheat varieties, from moderate to full resistance now available.
The disease ratings of previous variety choices will also give insight into which growers should choose for 2020 or if a more extended rotation is needed. Turkington adds that fungicides are key tools for in-season disease management, and crop scouting will always be critical to determine if the disease risk warrants a fungicide application.
Lastly, besides good crop management practices in 2020, Turkington advises growers to send samples of their 2019 harvested grain to a lab for a "full fungal scan" test, which will indicate what fungal diseases were present on the crop and to what extent. This information can be used to further tweak a disease management program, with regard to seed and seed treatment choice, as well as length of rotation.
Pulse Outlook
As with canola and wheat, pulses experienced an upsurge in fungal disease levels in 2019 due to all the moisture. Robyne Bowness Davidson, pulse research scientist at Alberta Agriculture and Forestry, says Mycosphaerella (Ascochyta) blight was present at high levels in the 2019 field pea crop and if the 2020 growing season is wet again, it will also be a large concern due to higher inoculum levels that will overwinter in the crop debris. "It was present in every single field surveyed regardless of whether or not producers applied a fungicide," she explains. "Downy mildew, another foliar disease of pea only seen in wet years like 2019, may also be a concern in 2020 due to higher inoculum levels."
Sclerotinia, a foliar pathogen, and Aphanomyces, a root rot pathogen, were also present in field peas in 2019. Both diseases thrive in high moisture, overwinter in the soil and affected lentils in 2019 as well. Sclerotinia is a potential threat in many broadleaf crops, and can move from canola to pulses or vice versa. Ascochyta was also observed in lentils in 2019, but Davidson says the fact that there is not a large acreage of lentils in Alberta at present helps prevent it from becoming a serious concern.
"In faba beans, the main disease concern is Chocolate spot (caused by Botrytis), present in 2019 due to the wet weather," she adds. "It tends to move in later in the season and can affect yield. We will continue our work in this area to determine the application timing, rate and efficacy of various fungicides. Our research on this has actually been going on for four years, but 2019 was the first year this disease was present at high enough levels that we could study it due to the moisture." In general, faba beans are less affected by root diseases due to a larger root structure, she adds. They are resistant to Aphanomyces and seed treatments work very well to control the other root rot fungal threats.
Insect Threats
The No. 1 threat for canola producers in 2020 is likely flea beetle, says Scott Meers, insect specialist with Alberta Agriculture and Forestry. These will be striped flea beetles, except in the extreme south of the province where it's the non-striped variety. "If the canola crop is able to grow fast in the spring, they won't be as bad," explains Meers. "There are no new control products available, so I've been stressing good plant stand establishment. Flea beetle populations are exacerbated by low plant populations, but there's a lot of pressure on growers to seed more lightly because seed is so expensive. You can do that, but as I have been saying to growers all this year, you are risking higher beetle numbers and you'll have to do things to control them."
Canola growers may also face bertha army worm, where there was an outbreak in the Peace region, and some cases in central and southern Alberta in 2019. Cabbage seed pod weevil is a steady threat in all growing regions, but a little more in the east.
In wheat, Meers reports wheat midge is on the increase in central Alberta due to the wetter weather in the past year, with pockets in various areas. The drier weather in southern Alberta has allowed the wheat stem sawfly to build into a serious problem. Growers in central and southern parts of the province also face serious grasshopper potential. "In barley, there are no real concerns," he adds. "In peas and fava beans, there's pea leaf weevil, and every year there is some pea aphid, especially in lentils in southern Alberta depending on the year."
For more information visit the Prairie Pest Monitoring Network Blogat http://prairiepestmonitoring.blogspot.com/?m=0and the Fusarium Head Blight Infection Risk Reportat https://agriculture.alberta.ca/acis/fusarium-risk-tool.jsp.
Missing Plants. What's The Cause?
1 year ago
-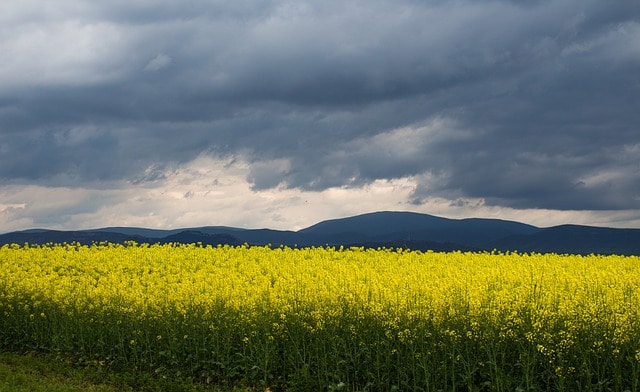 Many factors can cause a thin canola stand. Proper diagnosis is important for effective management. Here are common factors, with diagnosis tips for each.
Herbicide carryover will be most severe in areas where application rates were the highest – areas of headland overlaps, for example – and in areas that tend to be drier. Hilltops are more susceptible since they can be lower in organic matter, reducing the buffering capacity of those areas, and they remain drier, resulting in less opportunity for breakdown to occur. Check page 79 of the Guide to Crop Protection for a list of residual herbicides and the recropping restrictions for each.
Fertilizer toxicity. High rates of nitrogen, sulphur and even phosphorus placed in the seed row can greatly increase mortality if the seeding equipment has low seed bed utilization (SBU). Low moisture conditions will make damage worse. Toxicity damage often occurs in patterns, being worse in dryer or lighter parts of the field that don't have the moisture to diffuse fertilizer concentrations beside the seed. You may also notice differences row to row if some openers are worn more than others and not providing required seed/fertilizer separation. Why limit seed-placed fertilizer?
Lack of seedbed moisture. With limited seedbed moisture, canola seeds can just sit there waiting for enough moisture for germination. In some cases, seeds can start to take on moisture, but can't get enough resulting in desiccation and death of the seed or germinated seedling.
Excess moisture. Flooded soils can stop root function and kill canola seedlings within a matter or days. Bottom leaves will tend to yellow first. This damage will be more common in low spots. Read more.
Frost damage. Frost can cause leaves to turn yellow or brown, then dry up and fall off. Severe frost damage can also cause pinching of the stem up near the growing point, closer to the cotyledon. Disease can also cause pinching of the stem, but disease pinching tends to occur closer to the soil surface or below the surface where the hypocotyl remains white. Regular scouting makes this diagnosis easier, especially if you know the stand looked good the day before a frost.
Wind. This year strong winds sheared off some canola seedlings and blew away the top inch of soil and the seed along with it in some areas, while burying small seedlings in others. This will create patches within a field. If winds have been heavier than usual, consider this possibility. Losses will tend to be worse on hilltops.
Seedling disease. Stem and hypocotyl (the part of the seedling's stem below the cotyledons and down to the seed) damage near the soil surface and below is likely seedling disease. To make sure, use a magnifying glass to look at the hypocotyl to rule out insect feeding. Seedling diseases can be more common in canola seeded too deep into cool and wet soils. Because the plant takes that much longer to emerge and because the size of the vulnerable hypocotyl area is that much longer than with a shallow seeded plant, the plant is more susceptible to seedling diseases. Read more.
Cracked seed. Seed that is very dry is more prone to cracking as it moves through the drill, which can reduce germination rates. A slower fan speed will help to reduce damage.
Seed rate. If the seed is good but the stand is spotty throughout the field, the seeding rate may have been too low. Large seed (high TKW) seeded at a low seeding rate may provide only a few plants per square foot. Proper calibration is another potential factor, especially with a new drill. Did the drill meter out the seed counts intended?  It is difficult to scout for a "lack" of seeds, but look in the seed row close to plants that have emerged for any ungerminated seeds or signs of seedling mortality, to rule out other causes.
Insect damage. Cutworms and wireworms can wipe out young canola plants before emergence or shortly thereafter. Start scouting for damaged or missing plants on a weekly basis once the crop starts to come up. Cutworm feeding results in notched, wilted, dead, or cut-off plants. With wireworms and sometimes with cutworms, the plants may not emerge at all. Patterns confined to hill tops, side hills, water runs or field edges often suggests environmental, disease or insect problems.
Seeder issues. Repeatable patterns in rows or groups of rows usually suggest a mechanical issue with the drill. Single rows could be plugged. Whole manifolds could have plugged feeder hoses. One wing of the drill could be going deeper. Shanks could be stretched. Openers behind the tractor wheels could be worn more than others and not placing seed properly. The pattern can often tell you where on the machine the problem occurred. Packing pressure, residue management, opener type and seeder type can all influence seed placement and stand establishment. Disk versus knife openers have pros and cons depending on soil type, moisture, residue, and seed bed quality.
Seeding depth. Seeding too deep can also greatly reduce emergence rates
In some cases we can never really know for sure the causes for a thin stand. In those cases, the best action might be to do nothing and hope the crop recovers. There is no sense spending money on a cure when you don't know the problem.
Source: Canola Watch
A Reminder About Bertha Armyworm
1 year ago
-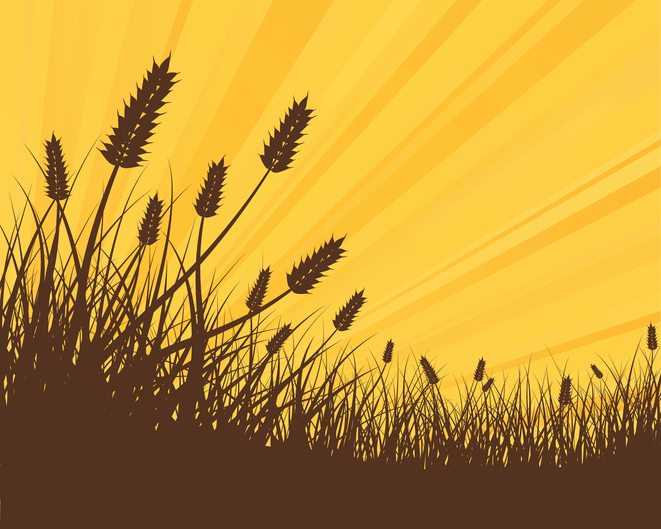 What to keep in mind now that trap reports are coming in and garnering a fair amount of attention.
"Some agrologists and producers have been asking for bertha armyworm traps and lures to do their own trapping," says Scott Meers, insect management specialist with Alberta Agriculture and Forestry.
"It is too late to put up new traps now because we would be half way through the monitoring period before they could be sent out and placed in the field."
Meers says that traps do a great job of indicating the general risk in an area but a poor job of indicating the risk in an individual field.
"For that reason, we do not encourage the use of traps to determine the risk field by field. We have had situations where the traps were high and there were high levels of larvae in the area but the trap field was not badly infested."
The bertha armyworm traps give an assessment for an area. Each field must be checked and assessed separately to determine if control measures are warranted.
Bertha armyworm results are posted here. The map can be zoomed in. Each point is interactive and includes the catch total and week-by-week counts.
Meers strongly recommends that once the cumulative count reaches 300 moths, scouting should start in late July and progress through early August.
"We really appreciate the support of the industry in helping develop a very good coverage of bertha armyworm moth pheromone traps across Alberta this year," he adds. "We welcome any new cooperators for the 2020 monitoring season."
For timely and accurate insect management information and resources, go to the Alberta Insect Pest Monitoring Network.
Source: Alberta Ag
Flea Beetles: Why Do They Seem Worse?
1 year ago
-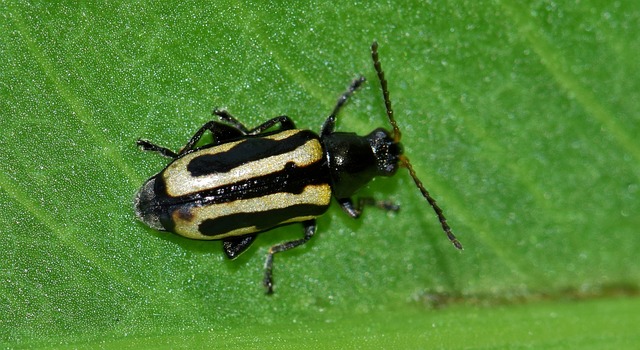 Calls to our agronomists, insecticide sales at retailers and Twitter comments all point to a worse-than-usual flea beetle situation this year. The simplest reason seems the most logical: Warm and dry weather favours flea beetle emergence and activity. Warm temperatures increase flea beetle metabolism, which likely means more feeding per beetle. The same dry weather slows crop growth, leaving plants at a vulnerable small size for longer. Seedling feeding points also desiccate rapidly with warm and dry.
Very active flea beetles + slow-growing crop = lots of crops under heavier-than-usual flea beetle pressure.
This does not mean 'spray sooner' but pay close attention to the 25% defoliation action threshold. Damage can advance very quickly with dry and warm growing conditions AND with a large number of beetles active in the fields. So be prepared for 'action'.
To dig deeper, we asked entomologists across the Prairies to help us answer a few questions:
Are there more flea beetles this year? They can't say for sure. They may have some idea once sticky trap results from research studies are evaluated.
What risk factors can make flea beetles worse in a particular field? While canola seeded in canola stubble may be worse in some observations this year, Manitoba Agriculture entomologist John Gavloski is not aware of any research showing that rotation increases or decreases flea beetle risk. he says research has demonstrated lower flea beetle damage in canola in no-till fields compared to conventionally-tilled fields (Dosdall et al. 1999.  Crop Protection 18: 217-224; Milbrath et al. 1995. The Canadian Entomologist 127: 289-293).
Is headland spraying a practical option? Headland spraying can be a practical option, providing there is a clear edge effect with the flea beetles in the field.
What insecticides are registered for foliar application for flea beetles? Foliar insecticides registered for flea beetles in canola are list on page 607 of the Manitoba and Saskatchewan Guides to Crop Protection. Note that Lorsban is not registered for flea beetles in canola. To Keep It Clean for export, it is important to always follow the instructions on product labels.
FURTHER CONSIDERATIONS:
Avoid going with the flow. Even if it seems everyone is spraying, it may not be the right decision for all fields. In areas where lots of spraying seems to be happening, two of our Saskatchewan agronomists checked their own canola fields and found minimal feeding. They're not spraying. Check all fields. Know the thresholds. The 'better safe than sorry' approach may be a waste of time and money and unnecessarily threatens all the beneficial insects in a field. In some cases, you may also find that a headlands spray is enough. Flea beetles tend to be patchy and often worse at field edges.
If you plan to reseed, DON'T spray insecticide for flea beetles. By the time the next crop emerges, the flea beetles may have moved on to other more established crops nearby, and the reseeded crop will have some protection from its seed treatment.You may however want to spray herbicide to take out the old crop. That will allow for uptake of herbicide before the seeding step covers the small seedlings with a layer of dust.
Source: Canola Watch
Team Alberta says PMRA's Proposed Cancellation Of Strychnine Could Cause Severe Economic Consequences
2 years ago
-
With the Pest Management Regulatory Agency (PMRA) proposing the complete cancellation of Strychnine for its use in controlling Richardson's Ground Squirrel (gopher) populations, Team Alberta says farmers must be able to retain access to this product since there are currently no safe or effective alternatives to protect crops from damage. Severe gopher outbreaks could result in hundreds of thousands of dollars in crop damages to farms. Team Alberta is also calling for a long-term integrated pest management strategy to be in place prior to a final decision being made.
Team Alberta outlined its concerns and made several recommendations in a submission to the PMRA's 90-day consultation for proposed re-revaluations of several products. Team Alberta recommends: 1) a long-term integrated pest management strategy to control the pests be developed prior to any final decisions from the PMRA, 2) the proposed decision be reconsidered taking into account all available scientific research and be based on peer-reviewed science, and 3) the PMRA should study the effectiveness and safety of alternative chemical options.
"Gophers are a common problem across Alberta and Saskatchewan, and have the potential to cause substantial economic losses, especially in drier years," said Kevin Bender, AWC Chair.
"It's absolutely imperative that farmers be able to retain the only tools that allow us to quickly gain control of outbreaks," said Renn Breitkreuz, Alberta Canola Chair.
The PMRA has cancelled liquid concentrate Strychnine for use in gophers on at least two occasions in the past, only to bring in subsequent emergency product registrations to respond to population surges that caused the decimation of crops across the Prairies.
"Past emergency registrations demonstrate that cancellation is not a long-term solution," said Jason Lenz, Alberta Barley Chair. "For this reason, one of our recommendations is for the development of a long-term integrated pest management strategy which has been discussed by the PMRA in the past."
"Not only do farmers find Strychnine effective in protecting their crops, there is no other viable or safer alternative currently available to control severe outbreaks when this product is used according to the label," said D'Arcy Hilgartner, Alberta Pulse Growers Chair.
Farmers can review the full Team Alberta submission here.
Source: Alberta Barley
Wireworms – We're Just Seeing the Tip of the Iceberg
2 years ago
-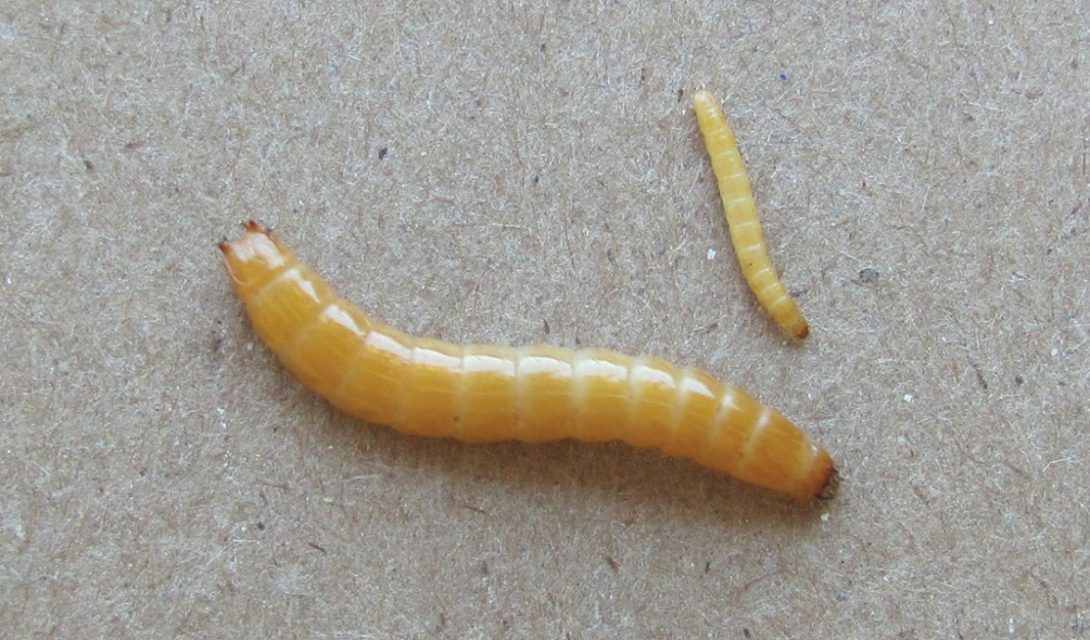 Damage to field crops by wireworms is poised to escalate across the Prairies. Neil Whatley, crop specialist at Alberta Agriculture and Forestry, explains how producers can be proactive about finding solutions in their areas by submitting samples to Canada's wireworm research team.
"Lindane insecticide, such as Vitavax Dual, etc., kept wireworm numbers low for several decades on the Prairies," says Whatley. "Since the ban of this organochlorine pesticide in 2004, wireworm damage in field crops is rebounding. Some researchers say we're just seeing the tip of the iceberg."
"Varying from region to region, around 30 different pest wireworm species exhibit diverse behaviours and lifecycles, making a single control measure improbable," explains Whatley. "An individual region may contain more than one wireworm species."
Depending on the species, the worm-like larvae can feed on plant roots and germinating seeds for up to 3 to 5 years before developing into the adult click beetle stage. Adds Whatley, "While current seed treatments may repel wireworms for a growing season, their populations continue to increase, and these treatment measures begin to fail."
Due to their preference to eat annual or perennial grasses, wireworm populations can build up in fields that have extended periods of cereal crops or pasture. Pulses, oilseeds, potatoes and sugar beets are susceptible to wireworm damage when grown in rotation with cereals. Crops grown in recently broken sod are especially vulnerable. Non-farmed areas like grassy ditches and undisturbed field borders also harbour wireworms and click beetles.
Agriculture and Agri-Food Canada's (AAFC) wireworm research team is identifying wireworm species and researching new control measures. "The research team needs to know which specific wireworm species dominates in your farming region so the correct control option(s) can be applied as the problem worsens," explains Whatley.
Dr. Haley Catton, cereal crop entomologist with AAFC, is the prairies representative on the team and based at the Lethbridge Research and Development Centre. The team is asking for producers to submit wireworm samples from their fields.
"Due to a greater amount of soil moisture, wireworms migrate near to the soil surface in early spring when soil temperatures rise above 5 C, making spring the best time to bait and capture wireworms," adds Whatley. "Baiting can be as simple as burying a cup of a cereal-based product like flour, bran or wheat seeds to a depth of four to six inches, or 10 to 15 cm, into the soil at marked locations."
Dig up the baits 10 to 14 days later, collecting the wireworms and some of the not too wet field soil. Insert the sample into a hard plastic container for shipping. There may be more than one species present, so collect as many wireworms as possible.
Mail your wireworm sample to:
Dr. Haley Catton
Agriculture and Agri-Food Canada
Lethbridge Research and Development Centre
5403 – 1 Ave S
Lethbridge, AB T1J 4B1
Include a brief description of when and where the sample was collected (nearest town or address), information about the crop rotation in the sampled field over the past 4 years, name and telephone number. Once the species are identified, producers will be contacted with the results.
For more information about submitting wireworm samples, contact Haley Catton at 403-317-3404.
Monitor for Insect Pests this Growing Season
2 years ago
-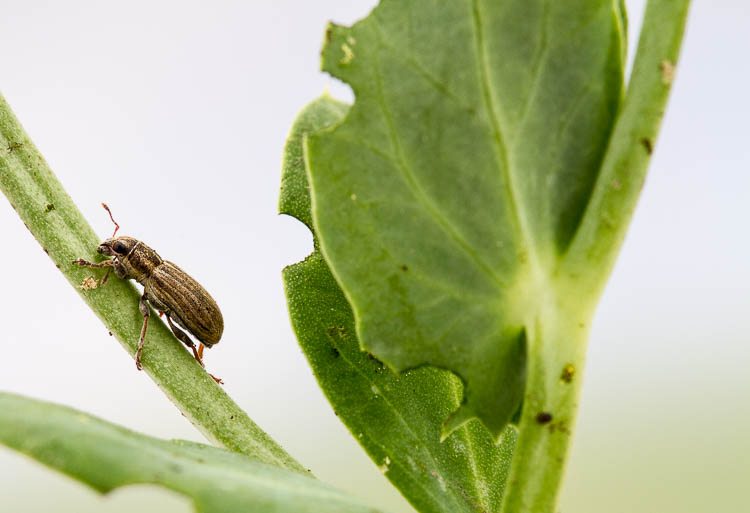 Specialists at Alberta Agriculture and Forestry (AF) are working to have fields predetermined for the 2018 insect survey season and are looking for assistance from agrologists and producers across Alberta.
This year, the survey teams would like to check pea and wheat fields. They will survey for pea leaf weevil in late spring and survey for wheat midge and wheat stem sawfly in the fall after harvest.
"In addition to the rest of the province, we are looking for pea fields up into the Peace Country because the pea leaf weevil has been confirmed into that area, and we want to expand our survey there," says Scott Meers, insect management specialist with AF. "We are looking for fields that producers would be happy to have us check. For allowing us on their fields, we will provide those producers with a report of the survey results."
Meers would also like to increase in the number of bertha army worm traps in Alberta. "We are trying to get four to five traps per county across the province. If you are interested, we will hook you up with all the materials you will need."
For agrologists and producers who have monitored for the bertha army worm adults in the past, now is a good time to check those traps to see if they need to be repaired or replaced. "They are plastic, and plastic in the wind and sunshine tends to break down after time. Let us know if they need to be upgraded or replaced," adds Meers.
For more information about monitoring for the upcoming growing season or replacing traps, contact Shelley Barkley at [email protected].
Blackleg and Clubroot in Canola
3 years ago
-
Blackleg and clubroot are both serious diseases that are growing in severity across Alberta, but with proper and diligent management by all farmers, they can be effectively controlled.
Blackleg
Blackleg is a fungal canker or dry rot that results in stem girdling and lodging. The disease has been present in canola fields since the 1980s.
Today, the availability and use of canola cultivars with resistance to blackleg has helped to avoid significant damage, notes Michael Harding, a research scientist with Alberta Agriculture and Forestry (AAF). However, it is still very common to see blackleg in canola crops.
Harding and his colleagues have undertaken recent surveys for blackleg (and stem rot) on Alberta canola. In 2016, they found that of 480 canola fields, 432 of them had blackleg symptoms. Indeed, Harding states "the prevalence of blackleg in Alberta has been measured at 55 to 99 per cent in the six surveys conducted over the past eight years. Prevalence was slightly lower in 2017 compared with 2016, as it was a relatively dry year in comparison."
Long-term survey trends show the pathogen to be present throughout the province, and Harding does not believe any area or farm should consider itself "blackleg free." Some fields experience little to no loss due to blackleg while others may have significant disease pressure, and he says economic loss experienced by individual farms depends on their location in the province, local weather and field history, as well as cropping and disease management practices.
"Blackleg is always a risk for canola producers and blackleg management practices should be proactive," Harding says. "Crop rotation (one host crop every four years) is a very effective way to keep disease pressure from building. The pathogen does not survive in soil without a host. So, once the canola residues are decomposed, there is little to no risk of economically-damaging blackleg pressure originating within that field."
Harding also notes that genetic resistance in the MR- and R-rated canola cultivars is keeping disease severity very low in most fields, as was seen in the survey data. However, Ralph Lange Team Lead Crop Pathology and Molecular Biology at InnoTech Alberta, notes there are now yearly cases of severe loss in cultivars labelled "resistant," a significant change from the 1990s and 2000s that indicates the pathogen is adapting.
Lange says there are about eight different blackleg strains in Western Canada, and in Alberta, about 80 per cent of all isolates belong to just three strains.
"We continue to have good resistance genes available, and what's changed is that we now need to actively manage the crop resistance genes we present to blackleg fungus populations," he explains. "So, frequent and accurate scouting with excellent record keeping is essential for determining if the genes we're presenting are working or not. Then, producers need to eliminate the non-functioning resistance genes when selecting which canola cultivar to plant (at least one functioning resistance gene)." This is now much easier, Lange notes, because seed companies are starting to reveal which genes are in which cultivar.
Another tool for blackleg management is fungicides. Harding notes while all certified canola seed is cleaned and treated to make it essentially blackleg-free (although infection can still occur due to spores being released from infected stubble), in high-risk situations during the growing season, foliar fungicides may be applied at the one-to-three leaf stage.
Going forward, Harding says the risk of resistance-building in the pathogen is very real when crop rotation recommendations are ignored, especially in wetter years when blackleg has a better chance to infect and cause disease.
"If genetic resistance were to erode due to selection of virulent pathotypes of the fungus, it would have a devastating impact in areas where genetic resistance was no longer effective," he notes. "While we are not currently seeing widespread changes in blackleg severity, it has been seen in some individual fields. This is a warning sign that we need to think carefully about crop rotation practices and resistance stewardship in order to stay ahead of blackleg."
Clubroot
In canola, this soil-borne fungus-like disease causes swellings to form on the roots, ultimately stunting the plant and even causing premature plant death. Infection and severity are supported by warm, moist, acidic soil.
University of Alberta scientists and staff from Alberta Agriculture and Forestry currently conduct yearly clubroot surveys, which began in 2003 when clubroot was first identified in the province. The 2016 survey found 289 new clubroot-infested fields and the 2017 survey another 301.
"What we've found is that clubroot is spreading fairly rapidly for a soil-borne plant pathogen, and this seems to be due mainly to the movement of infested soil and machinery," explains Stephen Strelkov, professor in the faculty of Agricultural, Life and Environment Sciences at the University of Alberta. "We've also found significant numbers of spores in wind-blown dust from infested fields which could contribute to local spread."
There is a continued spread eastward, he adds, with several new infestations recently found near the Saskatchewan border.
"Part of why it often takes a few years for growers to 'up their game' when dealing with clubroot is because the impact on yield is often very slight," notes Dan Orchard, agronomy specialist with the Canola Council of Canada. "It's almost always found in a patch at the field entrance, and the overall field yield isn't really affected. But if not managed, that patch will become much, much larger and potentially cause total loss of the entire crop."
At least 12 new strains of clubroot have been identified in Alberta since 2013, and they are all capable of overcoming the resistance in many clubroot-resistant canola varieties.
"In 2016, these strains were confirmed in over 60 fields in Alberta, and in 2017, we identified another 42 fields with potential resistance issues," Strelkov notes. "These new strains have likely emerged as a result of cropping of clubroot-resistant canola in short rotation in fields with moderate to severe clubroot infestations."
Orchard notes while best management strategies make a big difference, they are difficult to deploy. "This would include equipment sanitation, which growers have suggested could be hours and hours per piece of equipment for each field," he says. "Not cleaning equipment is a risk growers seem to be accepting, although I believe many or most of them make sure equipment from unknown regions or potential clubroot regions is clean before entering their lands, which is a great practice to follow."
He adds there is evidence around the world and preliminary evidence in Alberta suggesting pH plays a major role in clubroot spread and severity.
"Liming fields could reduce clubroot impact, but it's another excellent management strategy that's easier said than done," Orchard says. "I'm convinced, however, that over the next few years and with the help of new technology, the industry will produce better lime recommendations, better pH mapping, better application techniques, and just a better understanding of lime and the benefits/challenges."
While he believes genetic resistance is currently the most significant factor in keeping this disease at bay, the fact that new clubroot strains are quickly appearing means growers need to deploy a multi-pronged approach.
"The recipe for success would seem to be liming badly-infested patches and seeding them to a perennial grass until spore loads are manageable, coupled with planting resistant canola varieties and rotating sources of resistance on top of crop rotation."
Strelkov agrees that with the new strains appearing, it's unwise to use resistant canola varieties as a sole management strategy. He stresses longer rotations are important, and adds while "sanitation often is not viewed as practical, even steps such as trying to remove large chunks of soil from machinery or working infested fields last can be helpful."
Wheat Midge Tolerance Gene Detected in Soft White Wheat
3 years ago
-

Through recent advancements in marker technology, SeCan recently discovered that the majority of the soft white wheat varieties grown in Western Canada contain the Sm1 trait for midge tolerance – and for this reason they will require stewardship. The Midge Tolerant Wheat Stewardship Team provides the background and an explanation of why stewardship is necessary:
Sm1, the only known gene that confers tolerance to wheat midge, was first identified in soft red winter wheat varieties. In the late 1990s, Canadian public breeders worked to cross this naturally occurring trait into red spring wheat (CWRS and Extra Strong) for the benefit of western Canadian producers. These first products were launched in spring 2010 (AC Unity VB, AC Goodeve VB, AC Glencross VB).
Since that time, over 20 varieties of Midge Tolerant Wheat have been registered in many classes, including CWRS, CPSR, CWES, CWAD, and GP/SP.
As Sm1 products neared commercialization, entomologists agreed that the risk of midge becoming resistant to the trait was highly likely. They suggested a stewardship plan incorporating an interspersed refuge (10 per cent of a susceptible variety) was necessary to preserve the useful life of the Sm1 trait.
First evidence of Sm1 in soft white spring (SWS) wheat varieties came from field tests from the General Purpose Co-op during the 2015 growing season – conducted by the Agriculture & Agri-Food Canada (AAFC) Manitoba wheat midge program (Curt McCartney and Sheila Wolfe), and the University of Manitoba midge program (Alejandro Costamagna, Ian Wise, and Roxanne Georgison). These varieties were identified as midge resistant based upon dissection of wheat spikes.
In 2016, in coordination with SWS Breeder Dr. Harpinder Randhawa, the entire SWS Co-op was tested. The data was all based on dissection of spike samples from the Co-op field tests.
Also, in 2016, Dr. Curtis Pozniak from the Crop Development Centre (CDC) at the University of Saskatchewan, tested a marker for Sm1 on
Wheat Co-op entries. This was done to see if his DNA marker accurately predicted the field-based phenotype (i.e. kernel damage).
The DNA marker developed by CDC was done in conjunction with researchers at AAFC. To date, the marker results appear to match the results from the spike dissections.
Based on the work above, the following varieties carry Sm1 and are midge tolerant: AAC Awesome (CWSP), AAC Chiffon, AAC Indus and AC Sadash. AAC Paramount is suspected to carry Sm1 but needs to be confirmed by field test in 2017.
AC Andrew has been tested by marker and in the field, and does not contain Sm1. For this reason it will be an appropriate refuge for all tolerant varieties.
Why Stewardship Now?
If Sm1 varieties have been grown in other regions without a refuge, why do we need a refuge in Western Canada? Other regions, such as the UK and Eastern U.S., do not have a large acreage of wheat in rotation. In Western Canada, the traditional fit for SWS wheat was the irrigation area of southern Alberta – this area typically has little to no midge pressure. However, in the last seven to eight years, we have seen growth in soft white acres into non-traditional areas to supply the feed and ethanol market. In comparison to other classes, the SWS acres are relatively small. This is fortunate, but still needs to be addressed.
The fact we have been growing SWS without a refuge puts the Sm1 trait at risk. Midge tolerant wheat saves producers $40-60 million per year ($36 per acre). There are no replacement tolerance genes. "There is No Plan B."
For this reason we need to act as quickly as possible to put a stewardship plan in place for the benefit of all wheat producers (not just soft white).
The Stewardship Plan
Seed growers will add refuge to all future seed stocks released of AAC Awesome, AAC Paramount (once field results confirm resistance), AAC Indus, AAC Chiffon and AC Sadash.
Varieties that have not yet been released have limited volumes. Remediation will be a much greater challenge for a variety like AC Sadash that is currently grown on several hundred thousand acres, making up over half of the total SWS acres.
For AC Sadash there were two options to protect Sm1: 1) Work with SeCan members and the industry to add refuge to all seed stocks available, as soon as realistically possible; 2) Deregister AC Sadash to remove it from the system, and replace it with the new products that have refuge blended in.
SeCan has decided it is in the best interests of the industry that AC Sadash remain available – and trust the industry will be willing to participate in implementing a stewardship plan.
The hope is that growers will "do what is right" to protect the trait for the benefit of future generations of wheat producers.
How Can You Prevent Creating Resistance?
If you grow one of these SWS varieties, add a refuge: one bushel of AC Andrew to every nine bushels of tolerant SWS variety.
If you're unable to add the refuge, spray insecticide to eliminate the possibility of resistant midge (until you are able to add refuge).
In the near future, we hope to have the Sm1 marker commercially available. This will give us the opportunity to monitor farm level samples of AC Sadash for the appropriate level of refuge to ensure the stewardship is being followed.
Heightened Risk from Pea Leaf Weevil in 2017
3 years ago
-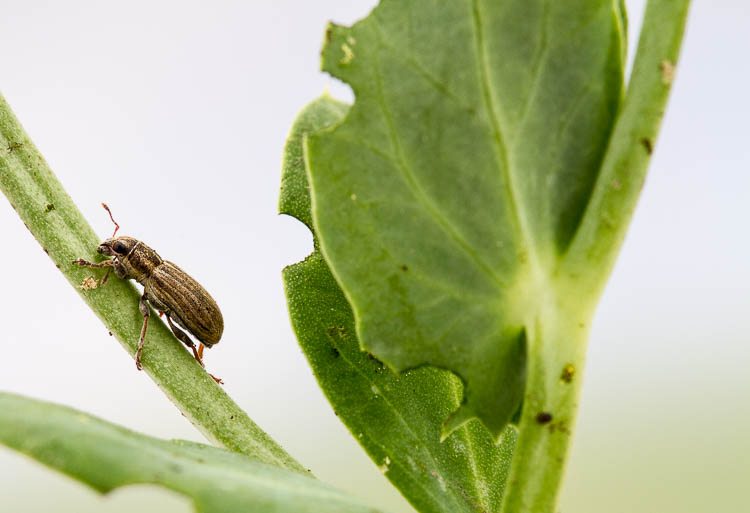 Research shows that treating pea seed with a systemic insecticide product is the most effective control measure to prevent pea leaf weevil damage.
According to a crop specialist with Alberta Agriculture and Forestry, properly inoculated annual legume crops, such as field pea and faba bean, produce most of the nitrogen they require for growth through the growing season via nitrogen fixation carried out by nodules on plant roots.
"Hence, field pea and faba bean are generally grown on nitrogen deficient soil without much, if any, additional synthetic nitrogen fertilizer," says Neil Whatley. "When the pea leaf weevil insect pest feeds on the nodules of pea and faba bean seedlings, this natural nitrogen source is greatly compromised, inhibiting optimal pea and faba bean growth throughout the remainder of the growing season as well as decreasing crop yield."
The pea leaf weevil was reported in southern Alberta in 1997 and remained for several years south of Hwy 1. Since 2013, this insect's geographic range has greatly expanded into central Alberta, extending as far north as Sturgeon County, north of Edmonton, with lower levels of feeding reported in east central Alberta.
"Given that 2016 survey levels were high in the aforementioned areas, there's a high risk of infestation in the same areas if winter and spring conditions are favourable," notes Whatley. "A potential predictor of population increase is precipitation in August. As many areas with high weevil populations in 2016 experienced August precipitation, pea and faba bean producers in these areas are advised to plan control strategies for the 2017 crop year."
After spending the winter as an adult beetle in perennial legumes, adults are attracted to annual and perennial legume crops in spring, including field pea, faba bean, lentil, alfalfa and bean. "However, egg laying only takes place in soil near field pea or faba bean seedlings, so root nodules of lentil and alfalfa, for example, are not affected. Just prior to egg laying, adult pea leaf weevil insects feed on the margins of seedling leaves resulting in a notched or scalloped leaf appearance, which is not expected to reduce yield. After hatching from eggs, the worm-like larvae proceed downward into the soil where they primarily feed on root nodules resulting in decreased nitrogen fixation by pea and faba bean plants."
Spring weather conditions can alter the timing and severity of pea leaf weevil damage, says Whatley.
"Weevils arrive early to pea and faba bean fields if warm temperatures above 20 C persist for more than a few days in late April or early May, potentially corresponding with higher yield losses. Alternatively, if cool weather occurs during the same period, yield is generally not as compromised, especially when the crop advances past the sixth node stage before the weevils arrive. In either case, field scouting is required to make control decisions on a field by field basis. It's also advised not to seed into cold soil."
Yield losses may occur when there are more than 30 per cent of seedlings (three out of 10 plants along a seed row; assess groups of 10 plants in multiple rows) with feeding damage on the clam leaf before the sixth node stage in peas. The clam leaf is the most recently emerged leaf.
"Most research hasn't shown that control of weevils using foliar insecticide prevents yield loss. The ineffectiveness of foliar spraying probably arises because weevils have already laid enough eggs to significantly damage root nodules when sprays are applied or because healthy weevils immigrate after spraying," says Whatley. "According to research on the Prairies, nodule protection is more effective when pea seed is treated with a systemic insecticide product prior to seeding. Faba bean may be similarly protected, but this requires investigation."
If feeding damage is only apparent on the older, lower leaves and not on the newer clam leaf, says Whatley, the weevil has probably already laid eggs and spraying would be of no value.
"As such, producers should scout for damage on the clam leaf and not on lower leaves. Since pea leaf weevils migrate into field pea and faba bean fields, foliar damage is initially observed along field edges. Foliar insecticides applied early in an infestation to field edges may be a sound economic decision; however, additional on-farm research will provide more clarity."
Whatley adds limited spraying would also reduce the risk of affecting beneficial species, such as ground beetles, that may help manage pea leaf weevil populations through predation.