Ramping up Variety Development
6 months ago
-
One of the most time-consuming parts of the crop breeding process is the time needed to grow successive generations of plants. What if we could really speed that up?
That's the goal of a project at the National Research Council of Canada (NRC). The accelerated growth methods used in this project could potentially trim several years off the breeding process, providing a big boost to the development of improved crop varieties.
"The project's overall aim is to speed up plant growth so breeders can achieve multiple generations of the crop in a very short time," explains Dr. Kishore Rajagopalan with the NRC in Saskatoon, who is leading the project. "That will help greatly with plant breeding efforts because plants take quite some time to grow and you need to go through several generations as part of a breeding program."
For instance, imagine the challenge for a breeder who is trying to address an urgent threat, like a very virulent new strain of a major pathogen. "Sometimes it can take 10 to 13 years to get new varieties out into the marketplace. Pathogens can evolve quickly and spread around the world. They don't sit around and wait for the breeders to catch up with them. So the faster that the breeders can introduce new forms of disease resistance into a crop, the better," notes Dr. Patricia Polowick, another NRC researcher involved in accelerated growth studies.
"Accelerated breeding is faster than traditional crop breeding. So if farmers are faced with new threats whether from disease or other means, improved varieties will get to the farmers much faster and they won't have as much crop loss."
Acceleration Options
In his project, Rajagopalan's team is applying multiple methods to speed up wheat growth and looking for the best combination of these methods that will take the plants from seed to flowering and maturity in the shortest time.
One intriguing method involves growing plants under constant light. "The use of continuous light for accelerating crop growth was adopted initially by a group of Australian researchers in collaboration with others around the world. They were inspired by experiments conducted by NASA [National Aeronautics and Space Administration] in the 1980s and 1990s looking at growing plants in controlled environmental conditions including constant light," Rajagopalan says.
The NASA scientists were experimenting with the use of plants to help maintain human life in space. "In these experiments, they observed a linear effect of light on photosynthetic rate and production of plant biomass. In simple terms, photosynthesis is the process by which a plant converts atmospheric carbon dioxide into storable sugars using energy that comes from sunlight, and in the process it emits oxygen back into the atmosphere. [The scientists observed that] if you increase the supply of light to the plant, then it continues to perform photosynthesis and continues to grow more and faster and produce more biomass," he notes.
"In addition, in certain plants, especially in cereal crops like wheat and barley, applying continuous light also seems to increase the plant's development rate. So the plant goes from seed to flowering faster, and you get to the next generation of plants faster. This is simply because constant light could act as a stress factor. When you apply stress to a plant, the plant responds by producing flowers and seeds, and completing its lifecycle as early as possible before it dies or desiccates."
Rajagopalan notes other environmental stress factors can also accelerate plant development in a similar way. So, along with constant light, the project is testing factors like moisture stress, nutrient availability stress and stress from smaller pot sizes.
The research team is also using a propagation method called embryo rescue to go more quickly from one generation to the next. "We harvest seeds before they are fully mature and dried, and harvest the embryos from these grains, put the embryos on nutrient media plates and get seedlings from them. That can save us a few weeks, instead of waiting for the grains to mature and dry," Rajagopalan explains.
Speed Breeding, Canadian Style
The project's four objectives mainly relate to determining optimal procedures for accelerating growth of Canadian wheats, seeing how many generations they can get per year, and increasing understanding of the effects of these accelerated growth conditions on plants.
"The first objective is to evaluate the rust and Fusarium head blight resistance of different Canadian wheat varieties when grown under normal conditions compared with the accelerated growth conditions," says Rajagopalan. "We want to understand how important traits like disease resistance are affected by these accelerated growth conditions so that we can use these conditions for breeding for those traits."
They are focusing on Fusarium head blight and rust because of the relevance of these diseases to Canadian wheat production. "We looked at Fusarium head blight because it's an increasing problem in the wheat-growing regions in Western Canada. The statistics from the last 10 years show the incidence of Fusarium head blight in wheat in Canada has increased almost every year; 2016 was a particularly bad year. Not only does this disease reduce yields but it can also produce toxins, like deoxynivalenol (DON), which can downgrade grain quality and affect the marketability of the grain. So it's a pretty devastating disease economically," he says.
"That's why many researchers here at the NRC and in other organizations are working to find new sources of resistance against Fusarium head blight in wheat. And we want to be able to quickly deploy those novel traits into varieties that are being created, so those varieties can respond to this increasing threat in Canadian farming. By using accelerated breeding, we believe we can bring these traits to the market earlier than is currently possible."
Like Fusarium head blight, rust is a major disease concern in Prairie wheat crops, and many Canadian researchers are working on rust resistance. Rajagopalan's project is targeting leaf rust, a common disease in wheat. Under conditions that favour this disease, susceptible wheat varieties can suffer very serious yield losses. Over the years, several leaf rust resistance genes have been introduced into Canadian wheat cultivars and then the pathogen has evolved to defeat that resistance.
"Rapid deployment of new rust resistance genes is essential for fighting this pathogen. And again, speed breeding would be the way to address that."
The project's second objective is to see if responses to the accelerated growth methods vary among different wheat varieties. This extensive work involves testing multiple Canadian varieties of bread wheat and durum wheat and determining which combination of acceleration methods is best for each cultivar. "We want to see if we can do any tailoring of conditions for particular varieties," notes Rajagopalan.
The third objective is to rapidly generate a recombinant inbred line population under accelerated growth conditions. Such lines are very useful for mapping traits in a plant's genome. The lines generated in Rajagopalan's project will be used in other projects to characterize resistance genes for rust diseases in wheat.
"And the fourth objective is to evaluate long-term changes induced when plants are grown for multiple generations under accelerated growth conditions," says Rajagopalan. "We want to see if any long-lasting effects are happening in the plants compared to plants grown under normal conditions."
Polowick adds, "One of the reasons we want to look at the long-term effects is because we are putting the plants under a lot of stress." Breeders will want to be sure plants grown under induced stresses to accelerate their growth will respond to things like diseases and insect pests in the same way when they are grown under normal conditions.
Boosting a Breeding Revolution
This two-year project started in April 2017, and Rajagopalan's team has already completed two of the objectives. "We have completed the testing of the effects of Fusarium and rust resistance in different varieties under normal and accelerated growth conditions. And we have completed the very large-scale study to understand the effects of accelerated growth conditions on various wheat varieties. So we have a really good understanding of what conditions work best for the multiple varieties of durum and bread wheat that we have tested." The researchers are currently working on the other two objectives.
The effects of the accelerated growth conditions are very impressive so far.
"Right now, we are getting about five to six generations of wheat within a year using these conditions. For plants grown under normal conditions [in a greenhouse], you will get around two to three generations per year. So you can reduce the generation time of the plant by half by adopting these conditions," says Rajagopalan.
There is already interest in applying speed breeding beyond Rajagopalan's project. "I'm running a parallel study with a private breeding company using the same accelerated breeding ideas with some of their wheat lines," Polowick explains. "This concept has been heavily adopted by the plant breeding industry in places like Australia, and we're hoping that some of our work here will make it more available to the Canadian breeders so Canadian farmers can benefit from our progress."
Along with the benefit of bringing new varieties to the market sooner, Polowick points to a further advantage. "Some of the other projects within the NRC [and other agencies] use the modern 'omics' such as genomics and proteomics, and these technologies have enabled great progress in the identification of novel plant traits whether it is to fight diseases or to mitigate the effects of environmental stresses. So it's not accelerated growth conditions in isolation; it's accelerated growth in combination with a lot of the progress being made in other projects that will provide the most benefit to the farmers."
Alberta Wheat Commission research manager Lauren Comin sees value in this type of research. "Decreasing the time it takes for a variety to be developed is very important for producers. Producers need to be able to be nimble when it comes to choosing a variety. For example, resistance to abiotic and biotic stress plays an important role in selection. We are seeing pests adapt over time and currently employed resistance genes are being defeated. At the same time, we are seeing remarkable advancements in pre-breeding and discoveries of new sources of resistance. Shorter variety development times mean that new genes can be deployed and be in a farmer's field without too much of a lag. Our scientists can respond to changes more quickly, which allows farmers to adapt faster as well."
Along with the potential for large, rapid steps forward in Canadian wheat varietal improvement, other crops could also benefit from the powerful combination of accelerated breeding and valuable new traits. Australian research shows speed breeding can also work in such crops as barley, chickpea, pea and canola, with the number of possible generations per year depending on the crop type.
"We would love to see wider adoption of these accelerated breeding methods that we are working on in Canadian wheat breeding programs and to also make progress in other crops where this approach is applicable," Rajagopalan says.
His project is funded by the Saskatchewan Ministry of Agriculture, the Canada-Saskatchewan Growing Forward 2 program, and the National Research Council of Canada.
What Makes Cereal Crops More Stress-Tolerant?
7 months ago
-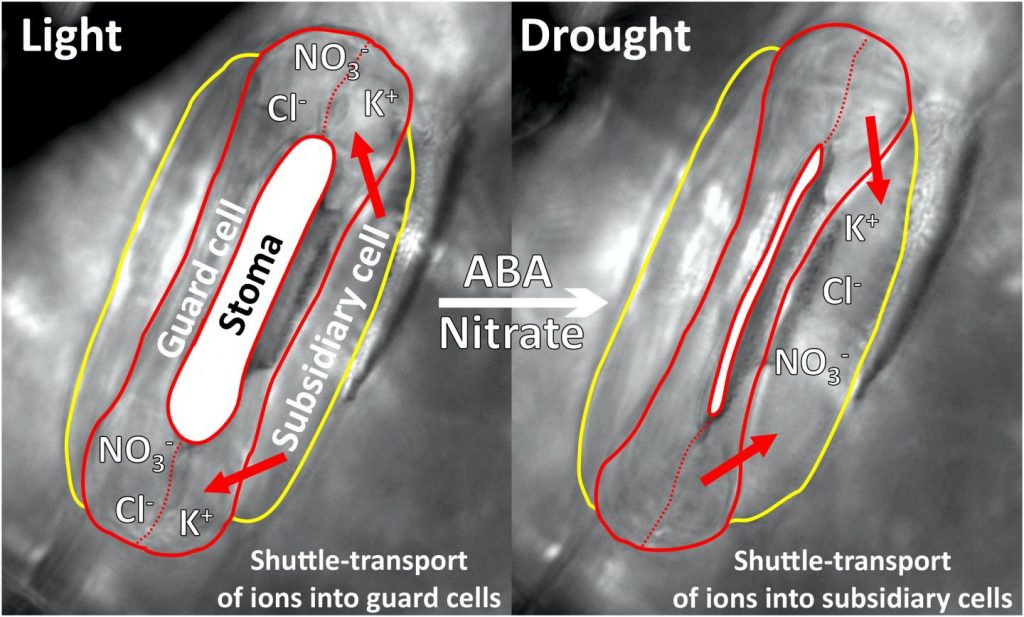 Whether barley, wheat, maize or rice: The grass family includes all the major cereals. They are vital for feeding the world's population. Farmers produce 80 per cent of all plant-based foods from grass crops. This success is due in part to the plants' ability to adjust more quickly to dry conditions and sustain lack of water better than other plants.
But why are grasses more tolerant to water scarcity? Can other food crops be bred for this property, too, to assure or boost agricultural yields in the future? This could be important in the face of a growing world population and climate change that will entail more periods of dry and hot weather.
The plant researchers Professor Rainer Hedrich, Professor Dietmar Geiger and Dr. Peter Ache from Julius-Maximilians-Universität Würzburg (JMU) in Bavaria, Germany, are looking into these questions. They studied brewing barley to determine why grasses are more stress-tolerant and are therefore "better" crop plants than potatoes and the likes.
Two Amino Acids Make the Difference
The scientists discovered that this difference can be attributed to the protein SLAC1 of the guard cells. Just two amino acids, the building blocks that make up proteins, are responsible for the plant's drought tolerance. "We now want to find out whether this small difference can be harnessed to make potatoes, tomatoes or rapeseed more tolerant to stress as well," says Rainer Hedrich.
The new insights have been published in the prestigious journal Current Biology where Hedrich, Geiger and Ache describe how they pinpointed the tiny difference between grasses and other plants.
Ion Transport is a Key Process
The JMU researchers began scrutinizing microscopically small leaf pores called stomata. These openings admit carbon dioxide for photosynthesis into the plant. But they also serve as outlets for water. To prevent losing too much water through evaporation, land plants have learned during evolution to actively open and close their stomata using special guard cells. Membrane proteins such as SLAC1 play a key role in this regulatory process: acting like channels, they guide ions into and out of the cells.
Hedrich is convinced that a basic understanding of the molecular goings-on during ion transport through the plasma membrane of the guard cells is the key to improving the drought tolerance and yields of agricultural crop plants.
Ion Shuttles Make Leaf Pores More Efficient
The stomata of grasses have a special feature: The pore is bordered by two pairs of cells where other plants only have a single cell pair. Grass cereals boast two dumbbell-shaped guard cells that form and regulate the pore. Additionally, they are flanked by two subsidiary cells.
The JMU researchers have demonstrated that the subsidiary cells absorb and store the potassium and chloride from the guard cells when the pore closes. When the stoma opens, they pass the ions back to the guard cells. "Our cereals use the subsidiary cells as a dynamic reservoir for osmotically active ions. This ion shuttle service between guard cell and subsidiary cell allows the plant to regulate the pores particularly efficiently and quickly," Dietmar Geiger explains.
Two Measuring Systems for More Drought Resistance
There is a second mechanism that makes grasses more tolerant to dry conditions. When water is scarce, plants produce the stress hormone ABA (abscisic acid). Inside the guard cells, it activates the ion channels of the SLAC1 family, thereby initiating the closing of the stomata to prevent the plant from withering within a matter of minutes.
"Interestingly, we found that nitrate must be present in brewing barley and other grass cereals in addition to ABA to enable the pore to close," Peter Ache says. The nitrate concentration allows the barley to measure the shape the photosynthesis is in. If it works smoothly, nitrate levels are low.
Barley hence relies on two measuring systems: It uses ABA to register water availability and nitrate to assess photosynthesis performance. "By combining the two, the barley is better able than other plants to negotiate between the extremes of 'dying of hunger' and 'dying of thirst' when facing water scarcity," Rainer Hedrich explains
Testing the Nitrate Sensor in Other Plants
Which mechanism is responsible for the difference in stoma regulation at the molecular level? To answer this, the researchers analyzed SLAC1 channels of various herbaceous plants compared to grasses. This allowed them to identify the "nitrate sensor" of the grasses: It is comprised of a motif of two amino acids which first occurred in moss during evolution and was subsequently further optimized to give the guard cells their unique properties.
In a next step, the team of researchers wants to establish whether herbaceous agricultural crops also benefit from having a nitrate sensor. To achieve this, the scientists want to fit Arabidopsis plants that lack the SLAC1 channel with the SLAC1 channel of barley. "If this step increases their stress tolerance, we can consider breeding optimized potatoes, tomatoes or rapeseed," Hedrich says.
On the Way to Nitrogen-Fixing Cereals
7 months ago
-
Cereal crops that fix their own nitrogen? Achieving this dream could result in major benefits for agriculture and the environment.
Scientists around the world are pursuing this goal, including a group in Alberta. The Lethbridge-based researchers have already made impressive advances towards developing nitrogen-fixing triticale plants as a first step to creating other nitrogen-fixing cereals.
"The idea of nitrogen-fixing cereals is not new. The discovery in the late 1880s of symbiosis between nitrogen-fixing bacteria and legumes spurred the eventual question of whether it is possible in non-legume plants, including cereals. However, the path from the idea to its successful realization is in this case quite bumpy," says Dr. Alicja Ziemienowicz, a research biologist with Agriculture and Agri-Food Canada (AAFC) and an adjunct professor at the University of Lethbridge. She is co-leading this nitrogen fixation research with her AAFC colleague Dr. François Eudes.
"There are three biotechnological approaches for biological nitrogen fixation in cereals, and all require genetic engineering of bacteria or plants or both," she explains. "The first one is to create rhizobium-legume-like symbiosis in cereals; in other words, to convince rhizobia and cereals to form an interaction similar to the interaction of rhizobia with legumes. The second approach aims at improving bacteria that live inside cereal plants or in the soil right next to cereal roots so these bacteria can perform nitrogen fixation more efficiently."
However, these two strategies would rely on the use of bio-fertilizer inoculants, which are not always as effective as crop growers would like and are not as convenient as having the trait in the seed.
"When I joined the team of Dr. François Eudes at AAFC's Lethbridge Research and Development Centre about five years ago, we decided to take the third approach to the biotechnological solutions for the nitrogen fixation problem," adds Ziemienowicz. "This approach is perhaps the most challenging one but also the most promising. It involves the direct transfer of bacterial nitrogen fixation (nif) genes into the plant."
Ziemienowicz is an expert in this type of research and has been working on development of better technologies for plant improvement for over 20 years. She is excited to be applying her knowledge and skills to nitrogen fixation in cereals "to achieve practical and applicable outcomes in a research area that is so important for Canadian and global agriculture."
"Many have labelled nitrogen-fixing cereal crops as the 'holy grail,'" notes Lauren Comin, research manager with the Alberta Wheat Commission (AWC). "Nitrogen-fixing cereals could bring a lot of significant benefits. First of all is the benefit to the farmer's profit. Obviously producers would save money by reducing input costs, and there could be time savings as well. Those benefits alone are enough for us to get excited."
Ziemienowicz states, "Nitrogen fertilizers contribute about 20 per cent of cereal crop production costs, not including costs of fertilizer application: fuel, machinery, labour. Cereal crops capable of fixing nitrogen for their own needs will reduce crop dependence on nitrogen fertilizers, and will increase their performance and productivity in nitrogen-deficient soils."
Both Comin and Ziemienowicz point out that nitrogen-fixing cereals would also contribute to sustainability. "There is an ever-growing interest in sustainability from those on the farm and off the farm. Plants that could fix all or some of their nitrogen would mean fewer synthetic applications, less nitrogen loss to the atmosphere and less leaching into the waterways," says Comin.
Eudes and Ziemienowicz began this research in 2014 with a two-year proof-of-concept study, funded by AWC and Alberta Innovates. Last year's research was funded by AWC and the Saskatchewan Wheat Development Commission. Recently, the research was approved for three-year co-funding by all three of these agencies. In this upcoming work, Ziemienowicz and Eudes will be collaborating with AAFC wheat breeders Drs. Robert Graf and Harpinder Randhawa.
Ziemienowicz and Eudes' research so far has involved triticale. "Most procedures that we employ in this project work more efficiently in triticale than in wheat," says Ziemienowicz. "Once we obtain nitrogen-fixing triticale, we will transfer this trait into wheat using interspecies breeding techniques. Moreover, lessons learned from development of this trait in triticale will help us to apply it to other crop species."
If all goes as expected, they will produce triticale plants that have all the characteristics of the triticale parent plus the ability to fix nitrogen. Ziemienowicz thinks it will take at least 10 more years to develop nitrogen-fixing wheat. "We need about three years to produce and test the nitrogen-fixing triticale plants. Then, we need a few years to transfer the trait to wheat. Also, it takes years for commercialization of a plant with a novel trait."
Even though it is many years away, the path to commercialization could be as challenging as the scientific path to develop nitrogen-fixing cereals.
"The Canadian 'plants with novel traits' approach is different from much of the rest of the world. [In Canada] it doesn't really matter what process you used [to introduce a trait]; it's whether it is a new trait that has never appeared before," explains Cam Dahl, president of Cereals Canada Inc., a not-for-profit organization that brings together partners from all sectors of the cereals value chain.
"However, there would be some significant regulatory hurdles [for GE nitrogen-fixing wheat] in other markets like the EU or Japan because of the unfounded public perception around recombinant DNA technology."
From Dahl's point of view, recombinant DNA technology has provided great benefits, both economic and environmental, in crops like corn, soybeans and canola. But he is uncertain about what the cereals industry could do to change negative public perceptions of the technology. "That's a question I have been asking for 20 years. I'm not quite sure of the answer, whether it's an issue around technology in plant breeding or technology in pesticides, herbicides and fungicides. Very often public perception does not match up with the science and what science is telling us. The gap between scientific understanding and public perception sometimes can be very large, and that is difficult to cross."
Dahl notes another consideration in commercialization. "We would have to ensure that, if a new product is commercialized, it would be done in a way that doesn't jeopardize our current exports." That would require such steps as obtaining regulatory approvals in importing countries and using identity-preserved systems to keep the GE grain separate from other grain. Another factor would be development of a policy on the low-level presence of GE crop material in grain shipments.
Despite the challenges, AWC hasn't shied away from funding Eudes and Ziemienowicz's work. "Investing in genetic engineering technology today does not mean that we'll be harvesting a GE crop in August. Developing new varieties is really a long-term game. And depending on which novel traits we're seeking, the benefits could far outweigh the perceived negatives," says Comin.
Ed. Note: A longer in-depth story on this topic will appear in the Fall 2018 issue of Alberta Seed Guide.
St. John's, B.C. and Israeli companies collaborate to breed new pot strains
8 months ago
-
A St. John's entrepreneur is working with two other companies to launch an operation in Newfoundland that will focus on developing different strains of cannabis and hemp.
Chris Snellen is the founder of CEPG Systems, which designs controlled-environment plant-growth systems and currently operates a hydroponic grow operation in the city's east end that cultivates lettuce, mushrooms and other plants.
He's now partnering with Future Farm Technologies of B.C. and Rahan Meristem, an Israeli company, to start a hemp breeding program in St. John's.
The project will focus on growing new cannabis strains specifically tailored for specific medical and commercial uses.
The collaboration between the three companies will go ahead once they get a dealer license from Health Canada, which will  allow them to start doing research and development on new cannabis strains.
The plan isn't to start producing large quantities of smokeable pot, but to develop the strains themselves as small amounts of cannabis leaf tissue, which will ideally be sold as intellectual property to licensed producers around the world.
Snellen said the plan is to eventually produce new strains that can be used for both medical, industrial and recreational use. He hopes to have some ready by this time next year.
Source: CBC
Clubbing Clubroot
8 months ago
-
On the Prairies, clubroot appeared in Alberta in 2003, in Saskatchewan in 2008 and Manitoba in 2013. As any grower can tell you, it's a nasty canola disease that usually worsens in a field every year, partly because the spores are very easy to spread and so hardy they can survive for up to two decades in the soil. Combine this fact with the strong prices that canola fetches these days – widely encouraging back-to-back or two-year rotations – and you have a big problem.
Companies are certainly moving as quickly as possible to produce seed with effective resistance to clubroot, but breeding to defend against this particular pathogen involves navigating a wide range of complex challenges.
"Clubroot has a very short lifecycle resulting in several generations per season," explains Dr. Marcus Weidler, vice president of seed operations at Bayer CropScience, "enabling the pathogen to react to changes in its environment very quickly, including new crop resistance genes."
Dr. Jed Christianson, pathology lead at Monsanto Canada, explains that clubroot's large and quickly-adapting population sizes means that it takes relatively long canola rotations of three or four years to see significant drops in the number of viable spores in the soil, and very long rotations of over 10 years for spores to effectively disappear.
"Each gall produced on a canola root can contain billions of spores," he says. "So, given the numbers of spores generated, even very rare events like the emergence of individual spores that have gained the ability to infect resistant canola will happen over a fairly short number of cropping cycles. A one in a billion event doesn't seem that unlikely to happen when you're given 20 billion chances."
Combine this with the fact not all clubroot pathotypes (races) have been identified, and it's therefore difficult, explains Weidler, to develop a canola variety that is resistant to all potential pathotypes to which a plant may be exposed.
Dr. Igor Falak reminds us that it was in 2013 that a new clubroot pathotype was identified, one to which all canola varieties on the market carrying resistance to the original 2003 pathotype were susceptible. Although hybrids with the initial type of resistance continue to hold their own on most infested acres, the number of fields with the new pathotype is increasing annually. Falak, senior research scientist with Corteva Agriscience, blames this situation on "years of canola-on-canola."
In addition, he notes that although clubroot "is similar to another disease of canola (blackleg), where canola products may carry race specific resistance," clubroot-resistant canola varieties "do not have 'fallback' resistance mechanisms, unlike blackleg-resistant products that also have a different type of stable resistance."
More breeding challenges are found in the fact that because canola plants carry no clubroot resistance genes, all the major seed companies are actively testing resistance genes found in rutabaga, cabbage and turnip. However, Weidler notes that because these species are only remotely related to canola, it's far from easy to transfer genes between them without also transferring additional unwanted genetic "baggage" that negatively impacts yield, canola quality or agronomics.
If all this wasn't enough, clubroot is a challenging organism to deal with, having unique characteristics – described by Weidler as a form of life "somewhere between a bacterium and a fungus."
Christianson concludes that the biggest challenge in creating clubroot-resistant canola seed is to introduce resistance "while continuing to improve hybrid performance for yield, maturity, standability, resistance to other diseases, harvestability, seed quality and all of the other attributes that are important to growers' success."
Breeding Steps to Develop Clubroot-Resistant Canola Seed
Christianson says the steps involved in breeding clubroot-resistant varieties are relatively simple, and that any breakthroughs relating to resistance genes "are really just the discovery and characterization of more of them through concerted screening efforts."
The entire process is a matter of crossbreeding canola with resistant relatives through normal pollination procedures and recovering offspring that are clubroot-resistant. "Those offspring then have to be crossed with canola again and again through many generations, selecting the resistant offspring at each generation for use in the next cycle to obtain plants that maintain resistance, but have recovered the characteristics of high-performing canola," Christianson explains.
Weidler adds that unwanted genetic material from the resistance donor that negatively impacts the agronomic performance of the offspring is removed through several crossings of the offspring with elite parent stock. "Using molecular breeding tools, we can check the progress towards the end goal," he notes. "Ideally, only the genetic sequence conferring clubroot resistance has been transferred and no other parts of the donor genome remain in the offspring."
Breeding Progress
DowDupont was the first company in Canada to market clubroot resistant hybrids in 2009 (45H29).
"Our hybrids have multi-source and multi-race resistance to clubroot, and have a high level of resistance to the most prevalent clubroot race – race 3 – along with resistance to races 2, 5, 6 and 8," Falak notes. "We have five hybrids with clubroot resistance: 45H29, 45H33, 45CS40, 45CM36 and 45H37. Pioneer hybrid 45CM36 is one of our newest products that contains a new source of clubroot resistance that confers resistance to both the initial type and new pathotypes, and can be rotated with the original resistant hybrids."
Hybrid 45CM36 was launched in 2017 and is widely available to western Canadian famers for the 2018 growing season.
For its part, Bayer CropScience has "identified several new potential resistance sources," says Weidler, "and we have been able to demonstrate that these are different from what is currently on the market."
Christianson says that as Monsanto nears "actual commercial entry into the marketplace, we will have more to share about how second-generation resistance fits in with existing resistance traits to provide a sound disease management strategy."
No matter what resistant canola varieties are marketed, no company can predict how long a new variety will last before it's compromised. This depends on too many factors, explains Weidler, including the resistance gene, environmental conditions and management practices.
All the companies strongly agree that the existence of varieties with resistance is only part of the clubroot solution.
Weidler emphasizes the importance of an integrated disease management approach for clubroot, and fully supports the recommendations of the Canola Council of Canada.
Falak and Christianson echo the sentiment. "All resistance traits will be effective for longer periods of time if they are used judiciously," says Christianson. "Choosing resistant seed is only one part of a successful disease management strategy. Growers need to include crop rotation, field scouting and early detection of clubroot, and minimizing soil movement between fields on equipment."
Falak agrees. He says following a proper canola rotation as well as rotation of resistance genes, combined with preventing soil movement and other agronomic measures "would enable sustainable clubroot management that would prolong efficacy of any new resistance sources that are introduced."
Breathing Life into Flax
9 months ago
-
With only one public breeding program left for the crop in Western Canada, flax researchers are trying to get growers to adopt the latest genetics and help usher in a renaissance for this valuable product.
You might forgive Helen Booker for feeling a little lonely these days. As a member of the only public flax breeding program left in Western Canada, she's always anxious to chat about flax.
"It's not exactly a money-making business, breeding and developing cultivars for these smaller, self-pollinating crops," says Booker, flax breeder and Ministry of Agriculture Strategic Research Program chair at the University of Saskatchewan's Crop Development Centre (CDC) in Saskatoon.
The handful of breeding programs for flax that once existed in Canada have been whittled down to two — a small one in Quebec, and the other at the CDC. Flax is a crop that, despite its increasing popularity in a variety of foods, is often considered a niche product, and overshadowed by the likes of wheat, canola, corn and soybeans.
Flax acreage in Canada declined to 925,000 acres in 2016 after experiencing steady increases in the previous four years and reaching 1.6 million acres in 2015. The decline in 2016 was primarily due to tremendous increases in pea and lentil acres in Saskatchewan and Alberta, notes Don Kerr, recently retired president of the Flax Council of Canada.
Crop alternatives like canola and soybeans in Manitoba in particular have impacted flax acres as well, he says. That's partly because other countries have hopped on the flax-growing bandwagon, and also because farmers are switching to other crops like canola and soybeans.
That's odd, considering Canada is the world's leader in the production and export of flax, according to the Flax Council of Canada — a position it has held since 1994. In 2014-15, Canada produced about 875,000 metric tons and exported about 80 per cent of it, according to Statistics Canada. In 2015-16, Canadian flax production totalled 940,000 metric tons.
Canada is also the first country in the world to allow a health-related claim for flaxseed for use on food labels, linking ground whole flaxseed to lower cholesterol — a major risk factor for heart disease. This claim is one of only a dozen deemed to meet the rigorous scientific criteria established by Health Canada.
Those are major honours for any crop. So why is there less flax breeding happening in Canada?
"There's more than a dozen cultivars registered for production in Canada, but flax growers are maybe growing a couple of them. Seed companies can't make money selling certified seed — there's just not enough revenue in it," Booker says. "There's no real comprehensive business plan for these smaller crops where farmers are able to save the seed and replant it, and they don't have to go and buy seed every year."
That leaves breeders like Booker with a problem. She needs to work hard to ensure Canada remains a world leader in flax, and doing that means improving the crop for the future and continuing the introduction of new lines. At the same time, older varieties of flax — CDC Bethune, first registered 19 years ago and the most popular one in Canada — continue to hang on and dominate the marketplace.
Booker and the CDC put forward a single flax line earlier this year at the meeting of the Prairie Grain Development Committee (PGDC), and it was recommended for registration. FP2513 shows an impressive yield bump — 117 per cent of CDC Bethune in the Zone 1 longer-growing season black and grey soils of Western Canada, where the majority of flax acres are located. That's significant, but Booker isn't holding her breath that the new line will become king of the flax world anytime soon.
"We're trying to move farmers away from Bethune and adopt some of the newer genetics, but it's not easy," she says.
Part of the issue, she acknowledges, is that flax just hasn't made the same yield gains as other crops over time, so it can be hard to get growers excited about a new variety when they have seed from the old standbys like Bethune and CDC Sorrel on hand and ready to put in the ground. Farmers love the agronomics of those varieties, she notes.
According to Kofi Agblor, managing director of the CDC, part of the solution is to make the flax program more efficient and by creating new flax varieties that will be better positioned to be adopted by growers. The CDC recently commissioned a study of its flax program, which came up with a number of recommendations for how to make the program better.
"It's what works on the farm that we're now focusing on," he says.
Flax faces many of the same challenges as barley when it comes to sluggish adoption of new varieties, Agblor points out, so it's not alone among crops that have a hard time against newer genetics adopted in the marketplace.
"If you look at 2016, CDC Copeland was the No. 1 variety of malt barley. That variety is almost 20 years old. The return on investment for barley is lower than for wheat, and because the adoption isn't there, you can spend a lot of money to bring newer varieties to the marketplace and not have the uptake to really make it worthwhile."
The solution? Avoid the temptation to put forward a new line of flax unless it shows a significant gain in yield or possesses an economically important trait.
"Otherwise, what you end up doing is just littering the market with varieties no one is picking up," Agblor says.
"What needs to happen is we need to create new varieties that do two things: fulfill the needs of farmers in terms of yield, disease resistance and such, and fulfill the needs of the end users, like improvements in oil quantity and the like. This way you select only lines that will make the cut, and that results in a much more efficient use of resources."
That was the thinking last year, when the CDC put forward only one line at the PGDC meetings, and it's that kind of thinking that will help flax succeed in the marketplace, notes Kerr.
"Growers are choosing what gives them the best bang for their buck. Yield has always been an issue with flaxseed, but growers were seeing 27 bushels per acre last year with flax, which is pretty good," he says. "I think the work we're doing as a sector has contributed to that, and it's not just genetics — part of that is getting information about best management practices out there."
Muffins, India and the Future of Flax
According to Kerr, despite the drop-off in Canadian flax acres, the crop is well positioned to experience a renaissance all its own.
"We'll see a rebound in acres next year. In terms of markets, we have a good story to tell about flaxseed," he says.
The Health Canada claim, he says, has gone a long way to boosting the crop's profile. The Winnipeg Regional Health Authority has added flax muffins to the menu in many of its personal care homes and hospital sites. In 2016, an estimated 50,000 muffins were served in the health region. The muffin's appearance on the menu began in September of last year, after consultation with the Flax Council.
Three other foods made with ground flaxseed were created and tested at the Food Development Centre in Portage la Prairie — a bread, smoothie mix and nutrition bar.
The Flax Council also embarked on a trip to China in April 2017. Chinese demand has been growing steadily over the past number of years, says Kerr, and he wants to ensure Canadian flax is in front of them.
"We could see our exports bounce back. Europe is a major market, and we might see some increases there this year. There's also growing demand in India. They grow some flax there, but not in any great quantity. Our pulse industry is benefiting from shipments to India, and I think flax will as well. We're also looking at Mexico and markets like that, where we can see some positive growth."
For Agblor, there is indeed a good story to tell about flax. A recent economic assessment the CDC conducted of its plant breeding program showed a $6 return to the farmer for every $1 the CDC invests in flax development.
"That's impressive. It sounds low, but that's because there's such few acres. What we need is to convince people to grow more flax, and to do that we need a method of capturing the value of the varieties in the marketplace," he says.
"If you buy certified seed once and you re-use the seed for the next six years, where does the money come from to develop a new variety that has better yield? That's a discussion we have to have industry-wide. A lot of our breeders have to run around to get money to get that work done. They spend a lot of time filling out applications and looking for funding."
The advent of new products, like the new flax being developed by the California-based Cibus expected to be released in 2019, could also raise the profile of the crop. Cibus' new non-transgenic, glyphosate-tolerant flax product will offer improved yields for flax farmers and promises healthier flax-based oils for consumers, according to the company.
It also provides a gateway-enabling development platform that can be used for additional non-transgenic trait development in flax, notes Jim Radtke, the company's senior vice-president of product development. He spoke about the product at the PGDC meeting in Winnipeg in February 2017. It uses Cibus' non-transgenic Rapid Trait Development System (RTDS) to make gene edits to plants, a technology it's also using in canola, rice and potato.
The Canadian flax market is in need of an effective weed control package for flax, and that's why the Flax Council of Canada with the support of the federal government has partially funded the development of this crop. According to Agblor, germplasm from the CDC was used to help develop it.
"It was really exciting to see glyphosate tolerant flax in a greenhouse. Flax doesn't like glyphosate at all, so we've clearly made significant progress," Radtke says.
Muendel Honoured with Alberta Pulse Industry Innovator Award
10 months ago
-
The Alberta Pulse Growers (APG) presented the fourth annual Alberta Pulse Industry Innovator Award to Dr. Hans-Henning Muendel, who was instrumental in developing numerous bean cultivars for Alberta growers.
"Each year, APG recognizes a person or organization whose progressive thinking and tireless efforts helped build Alberta's pulse industry into the flourishing sector that it is today," said APG Chair D'Arcy Hilgartner. "Dr. Muendel dedicated his career to developing the dry bean cultivars that now set the standard for small red, black, pinto and great northern cultivars in Western Canada. He truly deserves to receive the Alberta Pulse Industry Innovator Award for his many contributions."
In 1996, there weren't any dry bean cultivars being grown in Western Canada that had been bred in this region. Over the next 11 years, as the senior research scientist at the Agriculture and Agri-Food Canada Research Centre in Lethbridge, Muendel and his team developed 14 dry bean cultivars in seven bean classes, and co-developed one other new bean cultivar. Muendel's bean breeding program concentrated on producing early maturing, upright bean cultivars that are well-suited to the short growing seasons of southern Alberta, Saskatchewan and Manitoba. Many of the dry bean cultivars from Muendel's program also had improved resistance to white mould while maintaining high yield and quality. Muendel also served as an ex-officio director for Alberta Pulse Growers.
Zone 1 Director Rodney Volk had high praise for Muendel's contributions to the pulse industry that continue to benefit dry bean growers like himself.
"Dr. Muendel was instrumental in establishing the breeding program that developed dry bean cultivars specific to southern Alberta growing conditions," Volk said. "The success of dry bean production in southern Alberta today can be largely credited to his program's development of local varieties with improved standability and disease resistance. Many of today's pinto and great northern varieties still have a direct connection to the lines Dr. Muendel developed."
Muendel said that he was honoured to learn that he was chosen as the recipient of the fourth annual Industry Innovator Award: "It has been 10 years since I retired, and now – with our bean varieties having spread throughout the Alberta dry bean growing area – on behalf of my breeding team, it is such an honour to accept this award."
The Alberta Pulse Growers Commission represents 6,000 growers of field pea, dry bean, lentil, chickpea, faba bean and soybean in Alberta. Our vision is to have Alberta pulses recognized by consumers as environmentally friendly, healthy, nutritious, and recognized by all producers as being an essential element in a sustainable cropping system.
How climate change alters plant growth
10 months ago
-
Global warming affects more than just plant biodiversity – it even alters the way plants grow.
A team of researchers at Martin Luther University Halle-Wittenberg (MLU) joined forces with the Leibniz Institute for Plant Biochemistry (IPB) to discover which molecular processes are involved in plant growth.
In the current edition of the internationally renowned journal Current Biology, the group presents its latest findings on the mechanism controlling growth at high temperatures. In the future this could help breed plants that are adapted to global warming.
Plants react much more sensitively to fluctuations in temperature than animals. They are also unable to seek out warmer or cooler locations.
"When temperatures rise, plants grow taller in order to cool themselves off. Their stalks become taller and their leaves become narrower and grow farther apart. Yet this makes the plant more instable overall," says Professor Marcel Quint, an agricultural scientist at MLU. This is noticeable, for example, during grain harvesting. Instable plants bend faster in the rain and generally produce less biomass. There is also a reduction in the proportion of key substances, like proteins, that can be stored in the grain kernel.
"While the correlation between temperature and plant growth at the macrolevel is relatively well understood, there are still many open questions at the molecular level. We are just starting to understand how plants detect the changes in temperature and translate this into specific reactions," Quint notes.
Earlier studies have shown that the protein PIF4 directly controls plant growth and that this protein is also dependent on temperature. When it's cold, PIF4 is less active – in other words the plant doesn't grow. At higher temperatures, PIF4 activates growth-promoting genes and the plant grows taller.
"Up until now it had been unclear how the plant knows when to activate PIF4 and how much should be released," says Quint. "There were large gaps in our knowledge about the exact signalling pathway of temperature-controlled growth."
And that is precisely what the research group in Halle has now discovered. They investigated the growth behaviour of seedlings of the model plant thale cress (Arabidopsis thaliana). Normally its seedlings form short stems at 20 C (68 F). These stems become considerably longer at 28 C (82.4 F). In the lab, the scientists identified plants with a gene defect which still only formed short stems at 28 C. Then they searched for possible reasons for this lack in growth. They discovered a hormone that activates the PIF4 gene at high temperatures, thus producing the protein. This reaction did not occur in the mutated plants.
"We have now discovered the role of this special hormone in the signalling pathway and have found a mechanism through which the growth process is positively regulated at higher temperatures," says Quint.
The findings of the research group from Halle may help to breed plants in the future that remain stable even at high temperatures and are able to produce sufficient yields. To achieve this, the findings from the basic research on model plants first have to be transferred to cultivated plants like cereals.
Combination of resistance genes offers better protection for wheat against powdery mildew
10 months ago
-
University of Zurich (UZH) plant researchers have tested newly developed wheat lines with improved resistance to powdery mildew in field trials. They have demonstrated that a combination of two variations of a resistance gene provides wheat with better protection against the fungal disease.
For several years now, UZH researchers have been investigating a wheat gene that confers resistance to powdery mildew (Blumeria graminis f. sp. tritici). The gene, called the Pm3 resistance gene, exists in different variations, so called alleles. In previous studies, plant researcher Beat Keller and his team demonstrated that single Pm3 alleles are able to confer resistance against powdery mildew fungi. And yet, a single resistance gene can quickly lose its effectiveness. Thus when it comes to plant breeding, it is important to combine multiple resistance genes. This is exactly what researchers at UZH have now tested in field trials using transgenic wheat lines.
The researchers created new wheat lines by crossbreeding transgenic Pm3 lines. This resulted in four new wheat lines, each containing two different Pm3 gene variations. "These four new wheat lines showed improved resistance against powdery mildew in field trials compared with their parental lines – during the field seasons 2015 to 2017," explains Teresa Koller, lead author of the study.
Back in the laboratory, the scientists proved that the parental lines' gene activity is added up in the newly created lines. Each Pm3 allele in the four new lines displayed the same activity as in the parental line, which results in increased overall activity, since it came from two different gene variations. "The improved resistance against powdery mildew is the result of the increased total transgene activity as well as the combination of the two Pm3 gene variations," summarizes Teresa Koller. The high overall activity of resistance genes did not cause any negative effects for the development of the wheat or its yield.
The findings of these trials improve our general knowledge of the immune system of plants, and in particular of fungal disease resistance of wheat. Besides contributing to fundamental research in the area of plants' immune systems, the findings can also be applied in wheat breeding. Thanks to the precise testing of Pm3 alleles, the best variations and combinations are identified and can then be used directly in traditional breeding by crossbreeding them into modern wheat varieties.
Pot Genetics: Why cannabis strains don't all live up to their billing
10 months ago
-
Red Diesel, Moby Dick, Lemon Burst, or how about Girl Scout Cookies? All names for "bud," the cannabis flower, and when the black market product goes legal in Canada this summer expect some heavy marketing of fancy names and their tantalizing effects.
But plant scientists say the "sell" is hazy. Those buds have a mixed-up lineage and don't always match what's advertised.
It's about genetics, and cannabis is a mixed breed, to say the least.
With more than 100 creative names for pot, each variant is said to have slightly different properties and that translates into different effects, according to vendors.