Starting with the Best
2 years ago
-
Quality assurances of varietal purity, germination and freedom from impurities are just a few reasons why certified seed represents a good value proposition for farmers.
Know what you grow. Rob Graf believes the old adage not only holds true for summing up the value of certified seed, but it is even more important in today's world of ever-improving genetics.
"With certified seed, there are very definite and deliberate procedures put in place to make sure that within relatively tight tolerances the variety that's being purchased is true to type," says Graf, an Agriculture and Agri-Food Canada research scientist and wheat breeder at the Lethbridge Research and Development Centre in Alberta.
It's these requirements, he adds, that ensure producers get the enhanced traits they expect when they purchase a specific variety of certified seed. Improvements in such areas as yield, pest resistance and drought tolerance can take millions of dollars and years of R&D, and it is only through certified seed that they can be reliably accessed.
"I'm a wheat breeder, and we're constantly looking at developing varieties with higher yields and good agronomic characteristics and improved disease resistance," says Graf. "Pedigreed seed is the avenue by which you can legally acquire seed which has these new genetics."
Ron Markert is a certified seed producer in Vulcan, Alta. The president of Markert Seeds Ltd., who also serves on the Canadian Seed Growers Association (CSGA) board, says those who grow and process pedigreed seed are always striving to provide growers with the highest performing products.
"If you want to keep on top of the game now in farming, you have to have the best of everything in terms of genetics," Markert says. "Margins are very tight in the agricultural sector and you have to be as efficient as you can. One way to do that is to seed the best genetics. Newer varieties can offer a higher yield, disease resistance, insect tolerance and many other agronomic characteristics that will help increase your bottom line."
"As growers of certified seed… we are expected to meet very stringent standards, rules and regulations to ensure that the purity of that variety is maintained," Markert adds. "Farmers are after a quality product, so if we can't deliver that, they won't continue to buy."
How is Certified Seed Produced
According to the CSGA website, the pedigree of a certified seed crop is documented on paper from the breeding establishment to commercial sale. Testing by the Canadian Food Inspection Agency (CFIA) accredited seed labs is used to confirm the seed purity and germination of all certified seed crops.
Pedigreed seed producers must follow strict standards for isolation distances and land-use history, as well as maximum levels of off-type varieties, other crop kinds and weeds. Years of planning which crop will be planted where is also required, as well as cleaning seeders and combines between plots and fields, cleaning augers and storage facilities between varieties, and weeding and roguing plots and fields to remove off-types and weeds from the pedigreed seed crop.
In the field, third-party inspections overseen by CFIA verify the isolation of the seed crop and that it was produced from a higher-level progeny. The absence of volunteer crops and off-type varieties is also confirmed. In addition, random sampling is conducted in pedigreed seed processing plants to ensure seeds are free from weeds and other crop kinds.
Graf says the result of all this is that growers know that what they're putting into the ground is quality seed.
"It's inspected for purity, it's inspected for germination, it's inspected for weed seeds, and here in Alberta there's a zero tolerance for Fusarium gramineaum," he says. "All of these factors make certified seed a value proposition for farmers."
Growers who choose to buy common seed or use farm-saved seed often do it to try to save money, but Graf says that strategy can be short-sighted. Not only is there the expense of cleaning farm-saved seed to consider, but the price for not using certified seed could be lower-performing crops and weed-infested fields in the future.
"If a farmer is growing several different varieties of the same crop and they're not cleaning their combine out and so on, over a number of years you will get some contamination that you may not even be aware of. The same goes for the amount of weeds," Graf says.
Markert agrees that certified seed provides excellent value for growers.
"I can certainly tell you that over the years that we've been growing certified seed, farmers are getting a bargain because of all the work that we have to do," Markert says. "There's a lot that goes into producing that pure crop. Everything has to be very meticulously controlled to make sure farmers get what we tell them they're going to get."
Markert says he's found that more and more growers, especially the larger ones, are recognizing the benefits of certified seed.
"They just realized that, 'you know, I could use bin run seed to save a buck but it's just not worth it. I might as well buy certified seed. Then I know I'm getting quality seed, and in return I'm going to get a better price in the end when I market my product.'"
On The Edge
2 years ago
-
Can epigenetics change the way we breed crops for drought and climate change?
Epigenetically manipulated crops have been shown to grow vigorously even when stressed by drought, heat or cold. Sally Mackenzie is a professor of plant science at the University of Nebraska and co-founder of Epicrop Technologies, a private company developing a new plant-breeding method using this technology. Epicrop's epigenetic technology is unique as it is able to improve crop yields and stress tolerance without making any changes to the DNA sequence of the plant. The final crop plant is genetically identical to the starting plant and contains no foreign genes or any changes to the plant's DNA.
So what's the difference between genetic modification versus epigenetic manipulation? Genetics is the study of DNA and the genes within, while epigenetics is the study of how and when the genes are expressed. When plants are genetically modified, the DNA itself is changed, while epigenetic manipulation involves changes to how genes are expressed or silenced.
Since the 1930s, plant breeders have used radiation or highly toxic chemicals (also known as mutagenesis) to mutate and modify the DNA of plants in order to produce better crops. Plant breeders who use this breeding technique expose plants to disruptions in hopes that some kind of random genetic mutation will occur that will be beneficial. The sweet Ruby Red grapefruit, which can be grown and sold as organic, is one of 3,000 plants that have been developed using mutagenesis. Despite the fact that the process results in tens of thousands of unplanned and unmappable mutations, it is unregulated, while genetic engineering, which might require only a singe gene tweak, must go through years of expensive evaluations.
In the 1990s, a more precise method of genetic modification was approved for corn, soybeans and other crops. These GMOs are sometimes created by taking a useful gene or a few genes from one species and inserting it into a different one, resulting in crops that are resistant to viruses, insects or herbicides.
In both of the plant-breeding methods, we can use genetic sequencing to see that changes have actually been made to a plant's DNA. However, that is not the case with the new plant-breeding method being developed by Mackenzie and Epicrop. This method basically silences a gene, but leaves the DNA intact. No "foreign" DNA is inserted, as in transgenic breeding.
A few years ago, Mackenzie and her lab colleagues discovered a gene called MSH1. They learned that silencing the gene tricks plants into "believing" they are growing under stressful conditions, causing them to compensate by activating a number of survival mechanisms, resulting in higher yields and more robust growth.
"When this gene is no longer functional, it sets off a cascade of events in a plant that are very interesting. The plant believes, under this condition, that it is experiencing all kinds of stress—drought, cold, and heat, all at one time—so lots of those different stress pathways are all amplified simultaneously. The plants believe that they're seeing stress, even if you're growing them in perfect conditions," says MacKenzie.
While silencing genes is nothing new, Epicrop's method of focusing on the MSH1 gene uses a new methodology that can be used over multiple generations. After silencing the gene, Epicrop crosses the manipulated plants with non-manipulated ones. The offspring are robust for about five generations, just like their manipulated parents.
As Mackenzie describes it, it's as if they have reprogrammed the plants' memory — not their DNA — so they always react as if they are growing under stressful conditions: "What we're doing, actually, is to create memory. Once we create this memory of stress, we can grow all of its progeny, and all of its progeny will still have that memory. We can go 10 cycles and still have that memory, so we've now created in this variety a memory stock — a breeding stock that we can use in all of our crosses. Now we've got a new way of doing breeding that gives us new, enhanced capabilities that we didn't have, and it is not subject to regulation because we're not adding any genetic change, we're adding epigenetic change."
Mackenzie and her colleagues have shown this breeding method is effective with sorghum, tomatoes and Arabidopsis, and she believes that it can be used with virtually any plant.
While traditional GMO crops take years to pass regulatory hurdles, Epicrop's plants will not have to undergo strict scrutiny because no changes are made at the genetic level. "There is nothing you can regulate about my technology," Mackenzie said. "When APHIS considered this for regulation, they didn't even know how to impose regulation even if they wanted to."
This means that epigenetic seeds may be available relatively soon to help farmers address drought and heat due to climate change.
Epicrop is currently conducting large-scale field tests on sorghum and tomato, and is developing partnerships with seed companies whose products can benefit from their epigenetic technology.
Source: Genetic Literacy Project
Researchers identify gene to help hybrid wheat breeding
2 years ago
-
Australian researchers at the University of Adelaide have identified a naturally occurring wheat gene that, when turned off, eliminates self-pollination but still allows cross-pollination – opening the way for breeding high-yielding hybrid wheats.
Published in the journal Nature Communications, and in collaboration with U.S.-based plant genetics company DuPont Pioneer, the researchers say this discovery and the associated breeding technology have the potential to radically change the way wheat is bred in Australia and internationally.
"Wheat is the world's most widely grown crop, delivering around 20 per cent of total food calories and protein to the world's population," says Ryan Whitford, Hybrid Wheat Program Leader at the University of Adelaide's School of Agriculture, Food and Wine.
"But to meet increased food demand from predicted global population growth, its production needs to increase by 60 per cent by 2050. One of the most promising options to meet this demand is for farmers to grow hybrid wheat varieties, which can offer a 10 to 15 per cent yield boost relative to conventionally bred varieties that are currently on the market."
Hybrid wheats result from crosses between two carefully selected pure wheat lines. The challenge to produce hybrid wheat, however, is in the breeding and commercial multiplication of the hybrid parent seed. Wheat is a self-pollinator while the production of hybrid seed requires large-scale cross-pollination.
In the United States, DuPont Pioneer has developed an innovative breeding technology for corn called Seed Production Technology (SPT) used to bulk up parent breeding lines for hybrid production.
"The pollination gene is 'biologically contained' to the breeding process and does not make its way past the grandparent stage in producing the end-user hybrid seed," says Marc Albertsen, Research Director, DuPont Pioneer. "This identified pollination gene is the key step for a similar technology for wheat and could dramatically increase the efficiency of hybrid wheat seed production."
Source: University of Adelaide
ASTA Launches Plant Breeding Animation Video
2 years ago
-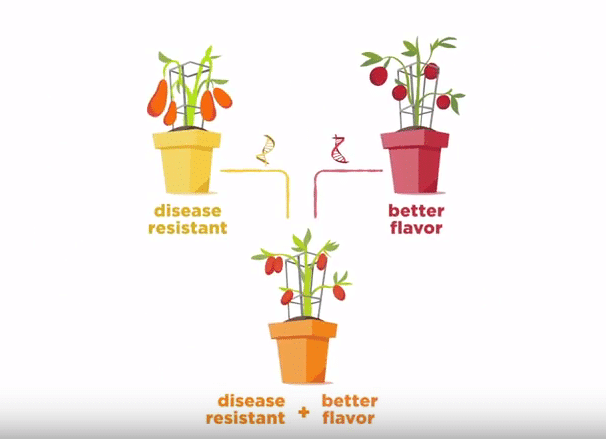 CropLife International and the American Seed Trade Association (ASTA) launched an animated video exploring the history and future of plant breeding – from the ancient domestication of wild crops to gene editing and beyond.
Australia scientists make accidental breakthrough that could lead to drought-proof crops
2 years ago
-
A group of Australian National University (ANU) scientists has made a major breakthrough that could improve Australia's food security during drought.
The Canberra-based researchers have spent the past decade looking at the effects of drought on plants, accidentally discovering some plants have a self-preservation method that is potentially life-saving.
One of the lead researchers, biologist Kai Chan, says the team found chloroplasts do more than capture sunlight through photosynthesis to make plant food.
Dr Chan said they found chloroplasts also worked together with plant hormones during drought stress.
"Chloroplasts are actually capable of sensing drought stress and telling the leaves to shut-up and prevent water from being lost during drought stress," he said.
"So the chloroplasts are actually helping the plants to prevent losing too much water.
"We know how the drought alarm actually calls for help and we know how help comes in the form of closing pores on the leaves."
The team made the discovery while conducting tests on barley and arabidopsis, a relative of canola and mustard.
They found boosting the levels of the chloroplast signal in these plants extended their drought survival by about 50 per cent.
Dr Chan described the discovery as a major breakthrough for farmers.
"We have got very strong reason to believe that this ability is also present in other major crops like rice and wheat," he said.
"Imagine if you're able to help those plants close their pores much earlier during drought that might actually help those crops survive just that little bit longer until the next rainfall. The find means farmers may be able to better protect their crops, like wheat and canola, during long bouts of drought."
Dr Chan said he was working to develop a chemical spray to boost the chloroplast signal that closes pores on plant leaves.
Other collaborators are investigating plant breeding to naturally enhance levels of the chloroplast signal.
"Canberra is not particularly known as an agricultural area, but Canberra and the ANU is a centre of knowledge and technological breakthroughs that can help not just the Canberra region but globally as well."
It is hoped the crop technology could be available within the next five to 10 years.
Source: ABC
Hybrids Change Cereal Grain Economics
2 years ago
-
What hybrid varieties have done for corn and canola is now occurring with rye, and should soon be happening with wheat.
The yields of both corn and canola have steadily increased, with hybrid vigour (heterosis) as a major contributing factor. Hybrid production is much easier to accomplish with some crops than others. That's why hybrids haven't been developed for soybeans.
With hybrids, producers need to purchase new seed every year, so the yield advantage has to be large enough to warrant the increased cost.
Over the past couple of years, hybrid fall rye has been introduced to Western Canada. Varieties developed by German-based KWS Cereals are being marketed by different seed companies in this country. Although developed for use in Europe, the varieties have been a hit in Canada.
Claus Nymand of KWS Cereals says the yield advantage is at least 20 per cent – and with proper management, may be closer to 30 per cent – as compared with conventional varieties. Winter hardiness is good and the new varieties show a considerably better falling number, a quality test important for the milling and distilling industries.
Rye is a minor acreage crop in Canada, but Nymand is optimistic that improved yields and quality will make rye more competitive with other cereals in the feed market, allowing acreage and production to increase.
Meanwhile, Syngenta and Bayer CropScience are among the companies working on hybrid wheat varieties. Darcy Pawlik, the North American product manager for cereals at Syngenta, believes the hybridization of wheat can create added value for all players in the value chain.
In North Dakota, Syngenta's first experimental wheat hybrids were grown in field trials last year, exhibiting a 10 to 15 per cent yield advantage. Pawlik says the commercialization target for the U.S. market is 2020.
The company hopes the first hybrid wheat varieties will be available in Canada a couple of years later. Canada has a three-year registration process, and that may slow things a bit.
While the first wheat hybrids may only have a 10 per cent yield advantage, Pawlik acknowledges that's the minimum necessary to justify the cost of producers buying hybrid seed. He expects superior results from subsequent varieties. Syngenta is also working with hybrid barley, but at this point that work has been in Europe.
Cereals have often been the least profitable crops in the rotation. Hybridization would appear to be one of the best hopes for reducing the cost of production on a per tonne basis.
Source: FCC (from an AgriSuccess article, June 2017)
Chinese Academy of Sciences Partners with Bayer to Improve Wheat Yields
2 years ago
-
A team of researchers from Shanghai Institutes for Biological Sciences (SIBS) of the Chinese Academy of Sciences and Bayer will work together to improve wheat yields. In the collaboration, SIBS researchers will work closely with Bayer on developing and validating a wheat canopy photosynthesis model.
Jeroen Van Rie, crop efficiency trait research expert and Bayer's lead scientist on the project, says, "The world population is growing, and arable land is limited. The crops of the future will have to deliver top performance, especially in wheat, which accounts for about 20% of the world's food energy intake today." He added that the joint research work will help identify ways of improving photosynthesis and yield.
Prof. Zhu Xinguang, principal investigator of the Plant Systems Biology group at Shanghai Institute of Plant Physiology and Ecology, adds that improving photosynthesis is one of the most promising approaches to dramatically improve crop productivity. "In this new grant, we will develop advanced wheat canopy photosynthesis models to help guide future wheat breeding," he added.
Source: ISAAA
German breeders develop 'open-source' plant seeds
2 years ago
-
There's open-source software, open-source pharma research, and open-source beer. Now, there are open-source seeds, too.
Breeders from Göttingen University in Germany and Dottenfelderhof agricultural school in Bad Vilbel, Germany, have released tomato and wheat varieties under an open-source license. Their move follows similar schemes for sharing plant material in India and the United States, but is the first that provides legal protection for the open-source status of future descendants of plant varieties.
The idea behind the open-source license is that scientists and breeders can experiment with seeds—and improve them—unimpeded by legal restrictions. The license "says that you can use the seed in multiple ways but you are not allowed to put a plant variety protection or patent on this seed and all the successive developments of this seed," says agricultural scientist Johannes Kotschi, who helped write the license last year. Kotschi manages OpenSourceSeeds for the nonprofit Agrecol in Marburg, Germany, which announced the tomato and wheat licensing in Berlin in late April.
Since then, university, nonprofit, and organic breeders have expressed interest in issuing open-source licenses for their hop, potato, and tomato varieties, Kotschi says. Many have also requested the open-source tomato seeds, he adds. People have been breeding plants in search of desirable features, such as drought- and pest-resistance, for millennia. But until 1930, when the United States began applying patent law to plants, there was little a breeder could do to assert ownership over a new variety.
Since then, a flurry of protections, including patents and a special intellectual property system for crops called "plant variety protection," has begun to block the way for researchers trying to breed new varieties, open-source advocates say. Developing the famous Golden Rice, for example, required so-called humanitarian exemptions to plant patents. As a result of mergers, plant intellectual property is in the hands of a shrinking number of companies.
International agreements on plant variety protection include a so-called breeder's exception that allows for research—but breeders who use it to develop a new commercial variety have to pay royalties to the owner of the protected variety. And patents are even more restrictive, says Niels Louwaars, director of Plantum, a plant breeder's association in Gouda, the Netherlands: "When one trait in a plant is patented, you are in principle not allowed under the research exemption to use such materials for further breeding," he says.
The recent German licensing action circumvents those problems. Anyone can use the varieties, so long as they do not prevent others from conducting research on derivatives; all of the plant's future descendants are also in a "commons."
An allied U.S. group called the Open Source Seed Initiative (OSSI) tried for several years to write a similar binding license but concluded in 2014 that it was too unwieldy to gain widespread acceptance among breeders and seed companies, says plant geneticist and OSSI Executive Director Claire Luby of the University of Wisconsin in Madison. Because patents play a bigger role in plant intellectual property in the United States, breeders are more hemmed in than in Europe. Instead, OSSI now encourages supporters to make and follow a "pledge" to keep new varieties and derivatives open.
Organic seed company Fruition Seeds in Naples, New York, has taken a carrot population Luby and colleagues put into the commons and begun breeding it to create a sexually reproducing variety, Luby says. Luby has also sent out open-pledged carrot seeds to university researchers over the last couple years.
There's a similar development in India, where agriculture scientist GV Ramanjaneyulu of the Centre for Sustainable Agriculture in Hyderabad has organized an open-source network that has bred and shared eight varieties of rice, wheat and pulses. That may seem superfluous, because Indian law does not recognize patents on plants or plant traits at all. But a much-debated seed law pending since 2004 could change that. "We are trying to prepare for the future," Ramanjaneyulu says. "Conditions should be much simpler and easier for sharing."
But Louwaars cautions that a complete shift to an open-source system would harm innovation. Commercial breeders, the main producers of economically important new crop varieties, can't use open-source seeds because they would not be able to claim royalties for any varieties they develop from them. If too many seeds were in the open source–only commons, they would be "killing the business model," Louwaars says. Many universities would also lose out if they could no longer charge royalties for plant traits or breeding tools.
How much of an impact the various sharing systems have remains to be seen. For now, it's best to experiment with them in different legal systems, Ramanjaneyulu says: "Let each nation decide, and let's learn from each other."
Source: Science magazine
Wheat Midge Tolerance Gene Detected in Soft White Wheat
2 years ago
-

Through recent advancements in marker technology, SeCan recently discovered that the majority of the soft white wheat varieties grown in Western Canada contain the Sm1 trait for midge tolerance – and for this reason they will require stewardship. The Midge Tolerant Wheat Stewardship Team provides the background and an explanation of why stewardship is necessary:
Sm1, the only known gene that confers tolerance to wheat midge, was first identified in soft red winter wheat varieties. In the late 1990s, Canadian public breeders worked to cross this naturally occurring trait into red spring wheat (CWRS and Extra Strong) for the benefit of western Canadian producers. These first products were launched in spring 2010 (AC Unity VB, AC Goodeve VB, AC Glencross VB).
Since that time, over 20 varieties of Midge Tolerant Wheat have been registered in many classes, including CWRS, CPSR, CWES, CWAD, and GP/SP.
As Sm1 products neared commercialization, entomologists agreed that the risk of midge becoming resistant to the trait was highly likely. They suggested a stewardship plan incorporating an interspersed refuge (10 per cent of a susceptible variety) was necessary to preserve the useful life of the Sm1 trait.
First evidence of Sm1 in soft white spring (SWS) wheat varieties came from field tests from the General Purpose Co-op during the 2015 growing season – conducted by the Agriculture & Agri-Food Canada (AAFC) Manitoba wheat midge program (Curt McCartney and Sheila Wolfe), and the University of Manitoba midge program (Alejandro Costamagna, Ian Wise, and Roxanne Georgison). These varieties were identified as midge resistant based upon dissection of wheat spikes.
In 2016, in coordination with SWS Breeder Dr. Harpinder Randhawa, the entire SWS Co-op was tested. The data was all based on dissection of spike samples from the Co-op field tests.
Also, in 2016, Dr. Curtis Pozniak from the Crop Development Centre (CDC) at the University of Saskatchewan, tested a marker for Sm1 on
Wheat Co-op entries. This was done to see if his DNA marker accurately predicted the field-based phenotype (i.e. kernel damage).
The DNA marker developed by CDC was done in conjunction with researchers at AAFC. To date, the marker results appear to match the results from the spike dissections.
Based on the work above, the following varieties carry Sm1 and are midge tolerant: AAC Awesome (CWSP), AAC Chiffon, AAC Indus and AC Sadash. AAC Paramount is suspected to carry Sm1 but needs to be confirmed by field test in 2017.
AC Andrew has been tested by marker and in the field, and does not contain Sm1. For this reason it will be an appropriate refuge for all tolerant varieties.
Why Stewardship Now?
If Sm1 varieties have been grown in other regions without a refuge, why do we need a refuge in Western Canada? Other regions, such as the UK and Eastern U.S., do not have a large acreage of wheat in rotation. In Western Canada, the traditional fit for SWS wheat was the irrigation area of southern Alberta – this area typically has little to no midge pressure. However, in the last seven to eight years, we have seen growth in soft white acres into non-traditional areas to supply the feed and ethanol market. In comparison to other classes, the SWS acres are relatively small. This is fortunate, but still needs to be addressed.
The fact we have been growing SWS without a refuge puts the Sm1 trait at risk. Midge tolerant wheat saves producers $40-60 million per year ($36 per acre). There are no replacement tolerance genes. "There is No Plan B."
For this reason we need to act as quickly as possible to put a stewardship plan in place for the benefit of all wheat producers (not just soft white).
The Stewardship Plan
Seed growers will add refuge to all future seed stocks released of AAC Awesome, AAC Paramount (once field results confirm resistance), AAC Indus, AAC Chiffon and AC Sadash.
Varieties that have not yet been released have limited volumes. Remediation will be a much greater challenge for a variety like AC Sadash that is currently grown on several hundred thousand acres, making up over half of the total SWS acres.
For AC Sadash there were two options to protect Sm1: 1) Work with SeCan members and the industry to add refuge to all seed stocks available, as soon as realistically possible; 2) Deregister AC Sadash to remove it from the system, and replace it with the new products that have refuge blended in.
SeCan has decided it is in the best interests of the industry that AC Sadash remain available – and trust the industry will be willing to participate in implementing a stewardship plan.
The hope is that growers will "do what is right" to protect the trait for the benefit of future generations of wheat producers.
How Can You Prevent Creating Resistance?
If you grow one of these SWS varieties, add a refuge: one bushel of AC Andrew to every nine bushels of tolerant SWS variety.
If you're unable to add the refuge, spray insecticide to eliminate the possibility of resistant midge (until you are able to add refuge).
In the near future, we hope to have the Sm1 marker commercially available. This will give us the opportunity to monitor farm level samples of AC Sadash for the appropriate level of refuge to ensure the stewardship is being followed.
Barley Genome Sequenced
2 years ago
-
A team of researchers at the University of California, Riverside are among a group of 77 scientists worldwide who have sequenced the complete genome of barley, a key ingredient in beer and single malt Scotch. The research, 10 years in the making, was just published in the journal Nature.
"This takes the level of completeness of the barley genome up a huge notch," said Timothy Close, a professor of genetics at UC Riverside. "It makes it much easier for researchers working with barley to be focused on attainable objectives, ranging from new variety development through breeding to mechanistic studies of genes."
The research will also aid scientists working with other cereal crops, including rice, wheat, rye, maize, millet, sorghum, oats and even turfgrass, which like the other food crops, is in the grass family, Close said.
Barley has been used for more than 10,000 years as a staple food and for fermented beverages, and as animal feed.
It is found in breakfast cereals and all-purpose flour and helps bread rise. Malted barley gives beer colour, body, protein to form a good head, and the natural sugars needed for fermentation. And single malt Scotch is made from only water and malted barley.
The report in Nature provides new insights into gene families that are key to the malting process. The barley genome sequence also enabled the identification of regions of the genome that have been vulnerable to genetic bottlenecking during domestication, knowledge that helps to guide breeders to optimize genetic diversity in their crop improvement efforts.
Ten years ago, the International Barley Genome Sequencing Consortium, which is led by Nils Stein of the Leibniz Institute of Plant Genetics and Crop Plant Research in Germany, set out to assemble a complete reference sequence of the barley genome.
This was a daunting task, as the barley genome is almost twice the size of the human genome and 80 per cent of it is composed of highly repetitive sequences, which cannot be assigned accurately to specific positions in the genome without considerable extra effort.
Multiple novel strategies were used in this paper to circumvent this fundamental limitation. Major advances in sequencing technology, algorithmic design and computing made it possible. Still, this work kept teams around the world – in Germany, Australia, China, Czech Republic, Denmark, Finland, Sweden, Switzerland, United Kingdom and the United States – occupied for a decade. This work provides knowledge of more than 39,000 barley genes.
Alcoholic beverages have been made from malted barley since the Stone Age, and some even consider this to be a major reason why humankind adopted plant cultivation, at least in the Fertile Crescent, where barley was domesticated.
During malting, amylase proteins are produced by germinated seeds to decompose energy-rich starch that is stored in dry grains, yielding simple sugars. These sugars then are available for fermentation by yeast to produce alcohol. The genome sequence revealed much more variability than was expected in the genes that encode the amylase enzymes.
Barley is grown throughout the world, with Russia, Germany, France, Canada and Spain being among the top producers. In the United States, barley is mainly grown in the northwest. Idaho, Montana and North Dakota are the leading producers.
Source: UC Riverside