Genome of Wheat Ancestor Sequenced
3 years ago
-
Technological Breakthrough Will Help Decode Massive Bread Wheat Genome, Accelerate Wheat Breeding
Sequencing the bread wheat genome has long been considered an almost insurmountable task, due to its enormous size and complexity. Yet it is vitally important for the global food supply, providing more than 20 per cent of the calories and 23 per cent of the protein consumed by humans.
Now, an international team of scientists led by researchers at the University of California, Davis, has come a step closer to solving the puzzle by sequencing the genome of a wild ancestor of bread wheat known as Aegilops tauschii, a type of goatgrass.
In the study, published Nov. 15 in the journal Nature, researchers applied a combination of advanced technologies to generate a reference-quality genome sequence for Ae. tauschii, which is highly adaptable and tolerant of diseases. It is also the primary source of genes for the bread-making properties of wheat flour.
The findings will allow researchers to discover new genes that can improve wheat baking quality, resistance to diseases, and tolerance to extreme environmental conditions like frost, drought and salinity.
The effort has already had one practical result: the discovery of two new genes for resistance to a race of wheat stem rust to which there is virtually no resistance in wheat. The genes were transferred from Ae. tauschii into wheat and are now available to wheat breeders.
Piecing together the puzzle
Wheat and its wild ancestors have genomes much larger than humans, which makes sequencing difficult.
"When we started this project nearly two decades ago, there was no technology to sequence genomes of that size and complexity," said Jan Dvorak, a leader of the project and professor in the Department of Plant Sciences at UC Davis. "This group of plants are unique because their genomes are just absolutely full of repeated sequences. We found more than 84 percent of the Ae. tauschii genome consists of closely related repeated sequences."
Dvorak describes the project as like tearing up pages of a thick book and trying to piece it back together. "Only imagine that every sentence on the page is nearly identical. That was our task," said Dvorak.
The technologies used by the researchers can be applied to any plant genome, so the implications extend beyond wheat.
Contributors to the research include scientists from USDA-ARS, Albany, California; John Hopkins University, Maryland; University of Georgia, Athens in the U.S.; and from Germany, Canada, China, U.K., France, and Switzerland. The research was funded with a grant from the National Science Foundation.
Keeping Up with Alfalfa Advances
3 years ago
-
Whether it's new conventional varieties with better winter hardiness and disease resistance, there's a lot happening in the alfalfa seed market. Here's a snapshot of the latest advances and what's coming down the pipe.
In the world of forage seed, alfalfa is getting a lot of press these days, due in part to a GE variety that has sparked renewed interest in the world of alfalfa seed.
Even before the U.S.-based Forage Genetics International (FGI) began selling its HarvXtra alfalfa seed with Roundup Ready technology to farmers in Eastern Canada in 2016, the alfalfa industry was split on the issue of whether doing so was a good idea.
On one side, alfalfa seed producers in the West feared contamination risk they said could pose a danger to alfalfa seed exports. In the East, growers wanted the ability to grow herbicide tolerant alfalfa for livestock feed.
In the end, FGI decided to go ahead and launch the product in the East for hay production only. It's currently not being sold in Western Canada. Despite the controversy, the issue served to put alfalfa back in the spotlight.
"It's what often gets lost when people talk about alfalfa — the conventional side and some of the strides being made there," says Erick Lutterotti, general manager of Gold Medal Seeds in Brooks, Alta., (a subsidiary of FGI) and vice-chair of the Canadian Seed Trade Association's Forage and Turf Committee.
Winter Hardiness
Especially exciting for Lutterotti are new varieties of multifoliate alfalfa that have been bred to be very winter hardy.
"That's the big thing in conventional alfalfa."
Winter hardiness is determined by an alfalfa variety's ability to withstand cold temperatures. The lower the rating for winter hardiness, the greater the ability of the plant to survive the winter months. Winter hardiness ratings indicate the potential longevity of the alfalfa stand.
Lutterotti notes that although fall dormancy is related to winter hardiness, the latter is separate from fall dormancy. In recent years, breeders have been successful at separating winter hardiness from fall dormancy.
"In the past, multifoliate alfalfas came with a 4 or 5 fall dormancy rating, meaning it wakes up early and goes to bed late. For people south of Lethbridge, you'd get three or four cuts per year, maybe a fourth," Lutterotti says.
"Inherently, creeping-rooted alfalfa was the most winter hardy there was, but those varieties were best suited for lower-yielding two-cut systems. Now we have a very high-quality alfalfa — dairy quality — that's still at that 4 fall dormancy rating, but you have a winter hardiness below 2, which is as a good or better than any creeper on the market. This gives you lots of options as to your farming system, and it can be used in many different regions."
Regional differences are the key to knowing what alfalfa variety is best for Western Canada, Lutterotti adds. If the alfalfa crop is meant for short-term growth, moderate winter hardiness is usually adequate. For long-term stands, a lower winter hardiness rating is often a good idea, but it can depend on a couple factors, he notes.
"In regions with more snow, a lower winter hardiness rating may not provide much additional protection, but you never know. You don't want the grower to just assume that they're going to get a lot of snow cover next winter. You might not get as much snow in a given year, so it might be a good idea to go with an alfalfa that can withstand exposure to the cold better."
He recommends retailers work with their customers to determine the variety that is the best fit for their specific situation. Popular varieties include Compass, with ultra-winter hardiness and fast regrowth.
GE alfalfa isn't the only product FGI is working on. It's also making strides with conventional alfalfa, an example being an attempt to offer stronger resistance to Anthracnose stem rot.
Anthracnose of alfalfa is caused by Colletotrichum trifolii. This fungus can attack leaves, but most characteristically attacks stems and crowns. While resistance has been built in to many varieties of alfalfa on the market, Peterson notes it's beginning to break down in some lines. The disease is rare in Western Canada, but is more prevalent in the eastern United States and Eastern Canada.
"Even with Aphanomyces root rot, which has been around for over 20 years, the industry is finding there's still a lot to be gained by breeding new varieties resistant to additional races of this important disease," says Mike Peterson, global traits lead for FGI.
Improving Yield, Persistence and Quality
The advances in alfalfa products like high-quality winter hardy varieties are due in part to the hard work of people like Annie Claessens, forage breeder at Agriculture and Agri-Food Canada's Quebec Research and Development Centre.
Claessens is part of a multidisciplinary team of researchers constantly working to improve the forage crop on a number of fronts.
Like breeders of most other crops, alfalfa breeders are working to boost yields. The key to doing so is lowering the dormancy, but doing so can have unwanted effects on alfalfa persistence. It's an interesting conundrum that Claessens and her team are challenged with.
"We're trying to help growers extend the alfalfa growing season from late summer through to early winter, so we want less dormant cultivars. However, when they're less dormant, they generally have lower winter survival."
Some significant gains have been made in recent years, like the kind Lutterotti refers to, where winter hardiness has been improved while keeping fall dormancy the same. But there's a ways to go, Claessens notes.
"Those two traits can be improved simultaneously. We've developed an indoor selection method to decrease dormancy but increase freezing tolerance, which is one of the most important factors in lowering winter survival under our climatic conditions."
Breeding for better freezing tolerance involves creating plants with perennial organs (crown and roots) that are able to withstand freezing temperatures. She reports that they have been able to increase the freezing tolerance of alfalfa by 5 C.
Claessens and her colleagues are also working at disease resistance, which is the second-most important factor lowering winter survival. Breeding efforts are focusing on Phytophthora root rot and Aphanomyces root rot, thereby helping alfalfa to be less affected by cold and wet soil conditions.
Phytophthora root rot, caused by a fungus-like pathogen, is believed to survive for many years in the soil, and may attack alfalfa after long rotations to other crops. Aphanomyces root root, caused by a pathogen very similar to Phytophthora, attacks both seedlings and adult alfalfa plants and can dramatically reduce yield and vigour of established stands.
"We've developed an indoor selection method to identify which plants are highly and moderately resistant to those diseases. We can select plants with greater resistance and breed them to rapidly develop lines that are better able to resist those pests."
Boosting quality also remains the mission of alfalfa breeders like Claessens.
"Our goal is to have cows produce more milk from the alfalfa they consume, either by increasing alfalfa's digestibility or energy content so the microorganisms in their stomach can have more energy to process the protein," she says. "By increasing the energy content, we can increase milk production from forages, increase protein content of the milk, and reduce nitrogen loss in the environment at the same time."
Exciting new alfalfa varieties don't just appear overnight, though. Claessens notes that breeding programs are expensive, and new sources of germplasm and funding are always being sought. It can take many years for a new alfalfa variety to hit the market.
Public Versus Private Crop Breeding
3 years ago
-
There are some important differences between public and private breeding – and how these differences affect seed growers and crop farmers is often a matter of hot debate in Canada.
Until the 1990s, seed development in Canada was primarily public, and continuing public crop breeding still provides a high return on investment, according to Dr. Rob Graf, a winter wheat breeder at Agriculture and Agri-Food Canada in Lethbridge, Alta. Indeed, it's been estimated that every dollar invested in public cereals breeding provides at least 20 times the return in the form of better crops, spin-off industry jobs, check off investments in additional research and so on. With private-bred seed, many argue most of the profits often go to company shareholders who may not even be Canadian.
Dr. Stephen Morgan Jones agrees that private plant breeding is conducted to make a profit. "Public plant breeding is primarily carried out to produce improved varieties with the adoption of the new variety being more important than the return on investment," explains the owner of Lethbridge-based consulting firm Amaethon Agricultural Solutions. "There is also a general feeling that private breeding programs, such as the ones for canola, soybean and corn, are very well capitalized, with excellent equipment and other resources, whereas public breeding programs tend to generally have resource issues."
It is also a perception among many in the crop sector that, high return on investment or not, Canada's public breeding efforts when it comes to cereal varieties have been dismal – amongst the lowest yielding in the world. Graf disagrees and points out that the rate of yield increase for wheat in Western Canada compares favourably with other parts of the world and that average yields are trending upwards. It is also clear, he says, that public cultivars are very popular with western Canadian farmers. Public wheat breeding is wholly directed towards finished cultivars that are vital to the industry, and Graf says that while public breeders have been very effective in increasing yield, productivity traits and disease resistance through long-term, stable breeding programs, there is also ample room for private sector involvement. "Both sectors are focused on industry sustainability," he says, "but the way it's looked at may be somewhat different."
Morgan Jones notes wheat producers are very much already involved in partnerships with public plant breeding, with millions of producer dollars invested in it on an ongoing basis through the wheat check-off. He also points out that the Western Grains Research Foundation (WGRF) and the wheat commissions (Alberta, Saskatchewan and Manitoba) have developed long-term partnerships with universities and government, and these arrangements often include the sharing of royalty revenue from producer-supported varieties. Like Graf, he notes there are some 4-P arrangements (public/private/producer partnerships) already in place, and that these could be enhanced. (See article in this issue with updates on a very successful Canadian 4-P partnership.)
Cost and Risk
Some crop farmers have concerns about the present cost of private-bred seed and that those costs will only rise. The cost of private-bred canola is certainly high, but farmers have found that with this crop, a good profit is still achievable due to factors like high yield and strong market demand. However, some farmers wonder if the same situation will occur with cereals.
Morgan Jones says although Syngenta has been involved in wheat breeding in Western Canada for many years, and other companies such as Bayer and Canterra Seeds have recently begun investing in it, companies have rightly had concerns about recovering costs.
"For large acreage crops such as CWRS [Canada Western Red Spring] wheat, there is a sufficiently large seed market to justify investment," he says. "But if you compare the economics for wheat and canola, with wheat seed planted at about 20 times the rate of canola seed, there is the issue of handling quite a large amount of seed and producing it in a way that makes any profit viable. There is thus little interest in cereal crops with less than five million acres."
Morgan Jones acknowledges that private company development of proprietary traits such as herbicide or insect resistance requires a large investment and that this ultimately results in higher seed prices. On the other hand, public breeders, in most cases, take a royalty on the future sales of their variety by the seed company, but the royalty is usually less than five per cent of the seed price.
"This means that private companies will tend to focus on traits that have an immediate positive impact on farmer profit, such as increased yield and lower input costs or lower cost production systems," he says. "In contrast, public investment in plant breeding tends to be for the longer term, with more attention given to finding new sources of disease and insect resistance, and maintaining and improving wheat quality."
Morgan Jones also points out that while private companies dominate the canola seed market, there is still a large public investment in canola genomics, pre-breeding new lines and sources of disease resistance. "I think it's important to have a balance of public and private investment," he notes.
However, in his view, this does not apply in cases where there are multiple private companies competing to provide similar seed that meet farmers' needs.
"In that situation, there is little justification to continue public investment in variety development, and public investment is better to shift to a more basic, longer-term approach to ensure the genetic variability is available for the future," Morgan Jones says. "At the same time, there is no doubt that using current methodology, the current private focus of developing hybrid wheat varieties will be more expensive to produce and market, and the extra performance will have to be very evident for farmers to be motivated to spend more on the seed."
Moving Forward
In terms of how private and public wheat breeding will play out in the coming years, Graf would like to see germplasm exchange encouraged and simplified.
"Germplasm is the 'life-blood' of plant breeding, and if we are to meet the challenging requirements of the future, we need to work together, building on each other's successes," he says.
Morgan Jones notes breeders have a voluntary code of practice promoting ethical behaviour, and though the code does include exchange between public and private breeders, he suspects this is limited to certain material only.
"For germplasm exchange to work effectively, it requires breeders who receive material to reciprocate with others," he says. "Some universities in the U.S. strictly control their germplasm and want a share of any future revenues that may result from their germplasm being used in future crosses. This tends to limit exchange of germplasm. In the case of wheat in Canada, the best germplasm is currently held by public plant breeders, although this may change in the longer term as private companies invest more in wheat."
Graf also believes the current strong, transparent and merit-based registration system should continue, with its balanced approach to sector requirements that include disease and pest resistance. He says it works for the benefit of the entire industry and it encourages quick uptake of new cultivars because there is less risk to the entire value chain, from the pedigreed seed producer to the commercial farmer and end-use customer.
Morgan Jones, however, thinks the current process of government-controlled variety registration adds years to the time a new variety could be released to the industry. He suggests the possibility of a hybrid registration system, where a producer could get very early access to advanced breeder lines in which traits were reliably expressed, and work with a grain company to commercially test them. The farmer and grain company would jointly take the risk and in some cases the breeding line would be rejected, but the ones that were successful would likely be able to be commercialized two to three years sooner.
"I would argue that food safety is the role for government and that the industry itself should be mature enough to manage quality as is the case in other commodities," Morgan Jones notes.
Whatever the future holds, Graf believes there will always be a need for public breeding. For example, he says there has been little private interest in developing new durum varieties, minor spring wheat classes or winter wheat, so public breeding of these classes will therefore need to continue if the industry sees value in Canadian production of these commodities.
Starting with the Best
3 years ago
-
Quality assurances of varietal purity, germination and freedom from impurities are just a few reasons why certified seed represents a good value proposition for farmers.
Know what you grow. Rob Graf believes the old adage not only holds true for summing up the value of certified seed, but it is even more important in today's world of ever-improving genetics.
"With certified seed, there are very definite and deliberate procedures put in place to make sure that within relatively tight tolerances the variety that's being purchased is true to type," says Graf, an Agriculture and Agri-Food Canada research scientist and wheat breeder at the Lethbridge Research and Development Centre in Alberta.
It's these requirements, he adds, that ensure producers get the enhanced traits they expect when they purchase a specific variety of certified seed. Improvements in such areas as yield, pest resistance and drought tolerance can take millions of dollars and years of R&D, and it is only through certified seed that they can be reliably accessed.
"I'm a wheat breeder, and we're constantly looking at developing varieties with higher yields and good agronomic characteristics and improved disease resistance," says Graf. "Pedigreed seed is the avenue by which you can legally acquire seed which has these new genetics."
Ron Markert is a certified seed producer in Vulcan, Alta. The president of Markert Seeds Ltd., who also serves on the Canadian Seed Growers Association (CSGA) board, says those who grow and process pedigreed seed are always striving to provide growers with the highest performing products.
"If you want to keep on top of the game now in farming, you have to have the best of everything in terms of genetics," Markert says. "Margins are very tight in the agricultural sector and you have to be as efficient as you can. One way to do that is to seed the best genetics. Newer varieties can offer a higher yield, disease resistance, insect tolerance and many other agronomic characteristics that will help increase your bottom line."
"As growers of certified seed… we are expected to meet very stringent standards, rules and regulations to ensure that the purity of that variety is maintained," Markert adds. "Farmers are after a quality product, so if we can't deliver that, they won't continue to buy."
How is Certified Seed Produced
According to the CSGA website, the pedigree of a certified seed crop is documented on paper from the breeding establishment to commercial sale. Testing by the Canadian Food Inspection Agency (CFIA) accredited seed labs is used to confirm the seed purity and germination of all certified seed crops.
Pedigreed seed producers must follow strict standards for isolation distances and land-use history, as well as maximum levels of off-type varieties, other crop kinds and weeds. Years of planning which crop will be planted where is also required, as well as cleaning seeders and combines between plots and fields, cleaning augers and storage facilities between varieties, and weeding and roguing plots and fields to remove off-types and weeds from the pedigreed seed crop.
In the field, third-party inspections overseen by CFIA verify the isolation of the seed crop and that it was produced from a higher-level progeny. The absence of volunteer crops and off-type varieties is also confirmed. In addition, random sampling is conducted in pedigreed seed processing plants to ensure seeds are free from weeds and other crop kinds.
Graf says the result of all this is that growers know that what they're putting into the ground is quality seed.
"It's inspected for purity, it's inspected for germination, it's inspected for weed seeds, and here in Alberta there's a zero tolerance for Fusarium gramineaum," he says. "All of these factors make certified seed a value proposition for farmers."
Growers who choose to buy common seed or use farm-saved seed often do it to try to save money, but Graf says that strategy can be short-sighted. Not only is there the expense of cleaning farm-saved seed to consider, but the price for not using certified seed could be lower-performing crops and weed-infested fields in the future.
"If a farmer is growing several different varieties of the same crop and they're not cleaning their combine out and so on, over a number of years you will get some contamination that you may not even be aware of. The same goes for the amount of weeds," Graf says.
Markert agrees that certified seed provides excellent value for growers.
"I can certainly tell you that over the years that we've been growing certified seed, farmers are getting a bargain because of all the work that we have to do," Markert says. "There's a lot that goes into producing that pure crop. Everything has to be very meticulously controlled to make sure farmers get what we tell them they're going to get."
Markert says he's found that more and more growers, especially the larger ones, are recognizing the benefits of certified seed.
"They just realized that, 'you know, I could use bin run seed to save a buck but it's just not worth it. I might as well buy certified seed. Then I know I'm getting quality seed, and in return I'm going to get a better price in the end when I market my product.'"
On The Edge
3 years ago
-
Can epigenetics change the way we breed crops for drought and climate change?
Epigenetically manipulated crops have been shown to grow vigorously even when stressed by drought, heat or cold. Sally Mackenzie is a professor of plant science at the University of Nebraska and co-founder of Epicrop Technologies, a private company developing a new plant-breeding method using this technology. Epicrop's epigenetic technology is unique as it is able to improve crop yields and stress tolerance without making any changes to the DNA sequence of the plant. The final crop plant is genetically identical to the starting plant and contains no foreign genes or any changes to the plant's DNA.
So what's the difference between genetic modification versus epigenetic manipulation? Genetics is the study of DNA and the genes within, while epigenetics is the study of how and when the genes are expressed. When plants are genetically modified, the DNA itself is changed, while epigenetic manipulation involves changes to how genes are expressed or silenced.
Since the 1930s, plant breeders have used radiation or highly toxic chemicals (also known as mutagenesis) to mutate and modify the DNA of plants in order to produce better crops. Plant breeders who use this breeding technique expose plants to disruptions in hopes that some kind of random genetic mutation will occur that will be beneficial. The sweet Ruby Red grapefruit, which can be grown and sold as organic, is one of 3,000 plants that have been developed using mutagenesis. Despite the fact that the process results in tens of thousands of unplanned and unmappable mutations, it is unregulated, while genetic engineering, which might require only a singe gene tweak, must go through years of expensive evaluations.
In the 1990s, a more precise method of genetic modification was approved for corn, soybeans and other crops. These GMOs are sometimes created by taking a useful gene or a few genes from one species and inserting it into a different one, resulting in crops that are resistant to viruses, insects or herbicides.
In both of the plant-breeding methods, we can use genetic sequencing to see that changes have actually been made to a plant's DNA. However, that is not the case with the new plant-breeding method being developed by Mackenzie and Epicrop. This method basically silences a gene, but leaves the DNA intact. No "foreign" DNA is inserted, as in transgenic breeding.
A few years ago, Mackenzie and her lab colleagues discovered a gene called MSH1. They learned that silencing the gene tricks plants into "believing" they are growing under stressful conditions, causing them to compensate by activating a number of survival mechanisms, resulting in higher yields and more robust growth.
"When this gene is no longer functional, it sets off a cascade of events in a plant that are very interesting. The plant believes, under this condition, that it is experiencing all kinds of stress—drought, cold, and heat, all at one time—so lots of those different stress pathways are all amplified simultaneously. The plants believe that they're seeing stress, even if you're growing them in perfect conditions," says MacKenzie.
While silencing genes is nothing new, Epicrop's method of focusing on the MSH1 gene uses a new methodology that can be used over multiple generations. After silencing the gene, Epicrop crosses the manipulated plants with non-manipulated ones. The offspring are robust for about five generations, just like their manipulated parents.
As Mackenzie describes it, it's as if they have reprogrammed the plants' memory — not their DNA — so they always react as if they are growing under stressful conditions: "What we're doing, actually, is to create memory. Once we create this memory of stress, we can grow all of its progeny, and all of its progeny will still have that memory. We can go 10 cycles and still have that memory, so we've now created in this variety a memory stock — a breeding stock that we can use in all of our crosses. Now we've got a new way of doing breeding that gives us new, enhanced capabilities that we didn't have, and it is not subject to regulation because we're not adding any genetic change, we're adding epigenetic change."
Mackenzie and her colleagues have shown this breeding method is effective with sorghum, tomatoes and Arabidopsis, and she believes that it can be used with virtually any plant.
While traditional GMO crops take years to pass regulatory hurdles, Epicrop's plants will not have to undergo strict scrutiny because no changes are made at the genetic level. "There is nothing you can regulate about my technology," Mackenzie said. "When APHIS considered this for regulation, they didn't even know how to impose regulation even if they wanted to."
This means that epigenetic seeds may be available relatively soon to help farmers address drought and heat due to climate change.
Epicrop is currently conducting large-scale field tests on sorghum and tomato, and is developing partnerships with seed companies whose products can benefit from their epigenetic technology.
Source: Genetic Literacy Project
Researchers identify gene to help hybrid wheat breeding
3 years ago
-
Australian researchers at the University of Adelaide have identified a naturally occurring wheat gene that, when turned off, eliminates self-pollination but still allows cross-pollination – opening the way for breeding high-yielding hybrid wheats.
Published in the journal Nature Communications, and in collaboration with U.S.-based plant genetics company DuPont Pioneer, the researchers say this discovery and the associated breeding technology have the potential to radically change the way wheat is bred in Australia and internationally.
"Wheat is the world's most widely grown crop, delivering around 20 per cent of total food calories and protein to the world's population," says Ryan Whitford, Hybrid Wheat Program Leader at the University of Adelaide's School of Agriculture, Food and Wine.
"But to meet increased food demand from predicted global population growth, its production needs to increase by 60 per cent by 2050. One of the most promising options to meet this demand is for farmers to grow hybrid wheat varieties, which can offer a 10 to 15 per cent yield boost relative to conventionally bred varieties that are currently on the market."
Hybrid wheats result from crosses between two carefully selected pure wheat lines. The challenge to produce hybrid wheat, however, is in the breeding and commercial multiplication of the hybrid parent seed. Wheat is a self-pollinator while the production of hybrid seed requires large-scale cross-pollination.
In the United States, DuPont Pioneer has developed an innovative breeding technology for corn called Seed Production Technology (SPT) used to bulk up parent breeding lines for hybrid production.
"The pollination gene is 'biologically contained' to the breeding process and does not make its way past the grandparent stage in producing the end-user hybrid seed," says Marc Albertsen, Research Director, DuPont Pioneer. "This identified pollination gene is the key step for a similar technology for wheat and could dramatically increase the efficiency of hybrid wheat seed production."
Source: University of Adelaide
ASTA Launches Plant Breeding Animation Video
3 years ago
-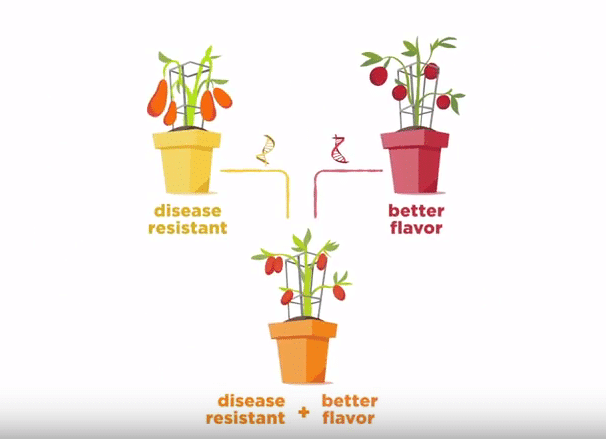 CropLife International and the American Seed Trade Association (ASTA) launched an animated video exploring the history and future of plant breeding – from the ancient domestication of wild crops to gene editing and beyond.
Australia scientists make accidental breakthrough that could lead to drought-proof crops
3 years ago
-
A group of Australian National University (ANU) scientists has made a major breakthrough that could improve Australia's food security during drought.
The Canberra-based researchers have spent the past decade looking at the effects of drought on plants, accidentally discovering some plants have a self-preservation method that is potentially life-saving.
One of the lead researchers, biologist Kai Chan, says the team found chloroplasts do more than capture sunlight through photosynthesis to make plant food.
Dr Chan said they found chloroplasts also worked together with plant hormones during drought stress.
"Chloroplasts are actually capable of sensing drought stress and telling the leaves to shut-up and prevent water from being lost during drought stress," he said.
"So the chloroplasts are actually helping the plants to prevent losing too much water.
"We know how the drought alarm actually calls for help and we know how help comes in the form of closing pores on the leaves."
The team made the discovery while conducting tests on barley and arabidopsis, a relative of canola and mustard.
They found boosting the levels of the chloroplast signal in these plants extended their drought survival by about 50 per cent.
Dr Chan described the discovery as a major breakthrough for farmers.
"We have got very strong reason to believe that this ability is also present in other major crops like rice and wheat," he said.
"Imagine if you're able to help those plants close their pores much earlier during drought that might actually help those crops survive just that little bit longer until the next rainfall. The find means farmers may be able to better protect their crops, like wheat and canola, during long bouts of drought."
Dr Chan said he was working to develop a chemical spray to boost the chloroplast signal that closes pores on plant leaves.
Other collaborators are investigating plant breeding to naturally enhance levels of the chloroplast signal.
"Canberra is not particularly known as an agricultural area, but Canberra and the ANU is a centre of knowledge and technological breakthroughs that can help not just the Canberra region but globally as well."
It is hoped the crop technology could be available within the next five to 10 years.
Source: ABC
Hybrids Change Cereal Grain Economics
3 years ago
-
What hybrid varieties have done for corn and canola is now occurring with rye, and should soon be happening with wheat.
The yields of both corn and canola have steadily increased, with hybrid vigour (heterosis) as a major contributing factor. Hybrid production is much easier to accomplish with some crops than others. That's why hybrids haven't been developed for soybeans.
With hybrids, producers need to purchase new seed every year, so the yield advantage has to be large enough to warrant the increased cost.
Over the past couple of years, hybrid fall rye has been introduced to Western Canada. Varieties developed by German-based KWS Cereals are being marketed by different seed companies in this country. Although developed for use in Europe, the varieties have been a hit in Canada.
Claus Nymand of KWS Cereals says the yield advantage is at least 20 per cent – and with proper management, may be closer to 30 per cent – as compared with conventional varieties. Winter hardiness is good and the new varieties show a considerably better falling number, a quality test important for the milling and distilling industries.
Rye is a minor acreage crop in Canada, but Nymand is optimistic that improved yields and quality will make rye more competitive with other cereals in the feed market, allowing acreage and production to increase.
Meanwhile, Syngenta and Bayer CropScience are among the companies working on hybrid wheat varieties. Darcy Pawlik, the North American product manager for cereals at Syngenta, believes the hybridization of wheat can create added value for all players in the value chain.
In North Dakota, Syngenta's first experimental wheat hybrids were grown in field trials last year, exhibiting a 10 to 15 per cent yield advantage. Pawlik says the commercialization target for the U.S. market is 2020.
The company hopes the first hybrid wheat varieties will be available in Canada a couple of years later. Canada has a three-year registration process, and that may slow things a bit.
While the first wheat hybrids may only have a 10 per cent yield advantage, Pawlik acknowledges that's the minimum necessary to justify the cost of producers buying hybrid seed. He expects superior results from subsequent varieties. Syngenta is also working with hybrid barley, but at this point that work has been in Europe.
Cereals have often been the least profitable crops in the rotation. Hybridization would appear to be one of the best hopes for reducing the cost of production on a per tonne basis.
Source: FCC (from an AgriSuccess article, June 2017)
Chinese Academy of Sciences Partners with Bayer to Improve Wheat Yields
3 years ago
-
A team of researchers from Shanghai Institutes for Biological Sciences (SIBS) of the Chinese Academy of Sciences and Bayer will work together to improve wheat yields. In the collaboration, SIBS researchers will work closely with Bayer on developing and validating a wheat canopy photosynthesis model.
Jeroen Van Rie, crop efficiency trait research expert and Bayer's lead scientist on the project, says, "The world population is growing, and arable land is limited. The crops of the future will have to deliver top performance, especially in wheat, which accounts for about 20% of the world's food energy intake today." He added that the joint research work will help identify ways of improving photosynthesis and yield.
Prof. Zhu Xinguang, principal investigator of the Plant Systems Biology group at Shanghai Institute of Plant Physiology and Ecology, adds that improving photosynthesis is one of the most promising approaches to dramatically improve crop productivity. "In this new grant, we will develop advanced wheat canopy photosynthesis models to help guide future wheat breeding," he added.
Source: ISAAA