LCRC receives recommendation for interim registration on first variety
2 years ago
-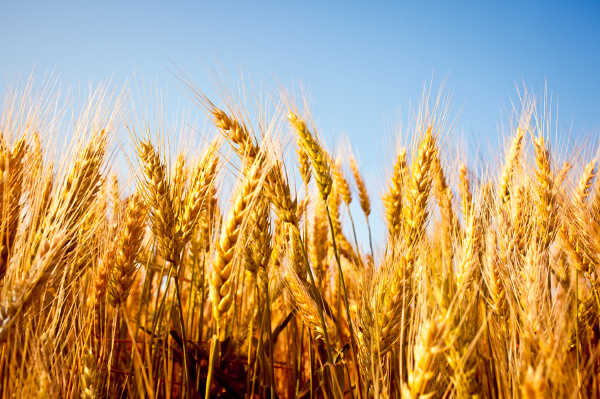 The first variety from Limagrain Cereals Research Canada's (LCRC) cereal breeding program has been recommended for interim registration.
GP202 is a Canadian Western Special Purpose (CWSP) wheat that boasts high yields and the lowest accumulated DON levels among the CWSP varieties put forward for support at the Prairie Grain Development Committee (PGDC) meeting on March 2 in Winnipeg.
According to a news release, low DON levels make the variety ideal for producers looking for a feed wheat variety. Other end users have also expressed interest in evaluating the variety for their purposes. It will be commercialized by LCRC partner Canterra Seeds through its network of seed grower shareholders, beginning in spring 2017.
Related story: Limagrain Cereals Research Canada
Agricultural robot may be 'game changer' for crop growers, breeders
2 years ago
-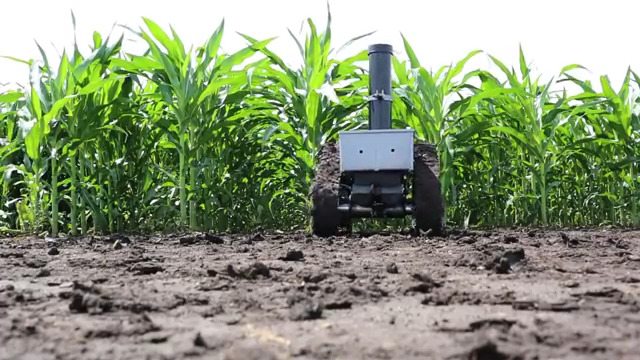 A semiautonomous robot may soon be roaming agricultural fields gathering and transmitting real-time data about the growth and development of crops, information that crop breeders – and eventually farmers – can use to identify the genetic traits in plants likely to produce the greatest yields.
A team of scientists from the Carl R. Woese Institute for Genomic Biology at the University of Illinois is developing the robot in partnership with researchers from Cornell University and Signetron Inc.
Inspired by the autonomous rovers used to search collapsed buildings and other dangerous environments, the agricultural robot is propelled on continuous tracks, or miniature tank treads, which enable it to navigate through dry or muddy fields. Researchers guide it using GPS and a laptop computer.
Traveling between the crop rows, the robot uses hyperspectral, high-definition and thermal cameras, weather monitors and pulsed laser scanners to capture phenotypic information – such as the stem diameter, height and leaf area of each plant – and assess environmental conditions, such as the temperature and moisture content of the soil.
The robot stores the data in its onboard computer and transmits it in real time to the grower's computer. Scientists use the data to create a 3-D reconstruction of each plant, develop predictive models for the plant's growth and development, and estimate the biomass yield for each plant and the entire plot.
"Immediate access to the data is very important for crop breeders in the U.S.," said U. of I. agricultural and biological engineering professor Girish Chowdhary. "It's very important for them to see and visualize the data. If the data are available to the breeder quickly, then they can make actionable decisions" that enhance production.
Although researchers are currently using the robot to assess fields of energy sorghum, a crop used in biofuel production, they say the robot would perform equally well with other tall-growing row crops such as corn and wheat, and possibly with soybeans before the plant canopy closes.
The robot is a "game changer" for both crop scientists and farmers, automating the labor-intensive phenotyping processes of farming and crop development, said Stephen P. Long, the director of the project. Long is the Gutgsell Endowed University Professor of Crop Sciences and Plant Biology at Illinois.
"For producers, it's going to accelerate the rate at which we can improve the genetic material. We can now select material much more rapidly and select many more plants as well, so we can eventually deliver to the farmer a far more productive bioenergy crop," Long said.
"One of the big advances of the last few years is that we can now determine the complete DNA blueprint of each plant. But how do we use that? What we need is to be able to describe a plant as it grows. You could do that perhaps with an army of people, but now the robot can do all of that for you. We can combine the phenotypic information about how the plant's performing with the genetic blueprint and identify the combination of genes we need to get the best plant possible," Long said.
Chowdhary, whose research focus is field robotics, is modifying the robot's current design to reduce its width so it can maneuver more easily between crop rows. He also plans to install a sensor system for detecting and avoiding obstacles.
To reduce the production costs associated with the robot's current metal and track construction, Chowdhary's team is exploring the feasibility of producing some of the components via 3-D printing.
"We are targeting a cost to the breeder of $5,000 to $10,000, which means we will have to get the manufacturing cost significantly below that," Chowdhary said. "An agricultural robot that costs just $5,000 is a totally new concept. Agricultural equipment today typically costs hundreds of thousands of dollars. Bringing the cost of our robot below $5,000 will be in itself a significant achievement for our team."
Unlike the robots used in factories, agricultural robots must be weather resistant, Chowdary said. The underlying technologies – the algorithms, the mechanical design and the human-robot interaction devices that provide robustness – are useful in many other industries, including defense, surveillance and scientific exploration.
The team expects to have a prototype built within two years and begin manufacturing thereafter, with the goal of having the robot on the market by 2021.
Source: University of Illinois Urbana-Champaign
Limagrain Cereals Research Canada
2 years ago
-
Last summer, an exciting new research and breeding partnership between Canterra Seeds and Limagrain was announced. The partnership, called Limagrain Cereals Research Canada (LCRC), aims to keep wheat genetics at the forefront in Western Canada. It's located in Saskatoon.
Canterra Seeds is owned by western Canadian seed growers and agricultural retailers. France-based Limagrain is the fourth-largest seed company in the world (field crops and vegetable seeds), the European leader for functional flours and the primary industrial bakery in France.
We asked LCRC CEO Erin Armstrong about the importance of the partnership for the breeding and development of cereals in Canada, and what impact it will have on the number of and quality of varieties available to growers over the next five to 20 years. She first notes that LCRC senior breeder Jason Reinheimer joined the company in February 2016, and additional staff came on board in April and August.
"Over the next several years the LCRC team will grow as the program becomes fully established," she says. "We are building on work done at Canterra Seeds that started in 2012 and involved screening material from existing Limagrain wheat breeding programs.
"LCRC is developing varieties specifically for western Canadian farmers with plans to collaborate with public breeders as well as the Limagrain network of cereal breeders around the world. LCRC will bring genetics with unique characteristics to the market in Western Canada, and varieties from the existing pipeline could be registered within the next couple of years."
Armstrong is clear that the 2015 update to the federal Plant Breeders' Rights Act, which brought Canadian plant breeding regulations in line with the current Convention of the International Union for Protection of New Varieties of Plants (UPOV), was "critical" to LCRC's launch. There was considerable effort throughout the entire value chain to support an update to the Act, Armstrong explains, including the seed industry as well as Partners in Innovation, a group of grower organizations that supported enhancing Canada's ability to attract investment with a goal to increased innovation.
"Without the update ensuring the ability to use the same intellectual property protection tools as almost all of the rest of the world, Limagrain and many other breeders were not willing to invest in cereal breeding in Canada," she notes. "With the announcement of the passage of Bill C-18 in February 2015, it was full steam ahead with planning for the launch of LCRC."
The LCRC research centre site is in the northeast area of Saskatoon, in a stand-alone building with generous office, seed lab and warehouse space, and a large enclosed yard. "Our first field season is successfully under our belts, with plans to expand field testing next year," Armstrong notes. "The lab is fully functional and allows us to set up for field trials and do preliminary evaluation of the samples coming off the field. Bread quality testing is done at the Limagrain Cereal Seeds Quality Lab in Fort Collins, Colorado, a shared facility for the two North American Limagrain cereal breeding companies."
Armstrong adds that Hayley Butler, LCRC's quality lab manager, is a member of the Prairie Recommending Committee for Wheat, Rye and Triticale quality evaluation team, and is fully familiar with the quality testing requirements for the Canadian variety registration system.
Focus on Spring Wheat
LCRC's initial focus is to develop broadly-adapted, disease-resistant and high-quality spring wheat varieties specifically for Western Canada. We asked Reinheimer for details on how this will work.
"LCRC will build on the success and strength of the Canadian breeding and seeds industry through partnering and collaborating with local programs," he explains. "LCRC has developed an extensive trial testing network covering the diverse wheat growing areas of Alberta, Saskatchewan and Manitoba. We will field-test breeding material across a broad range of environments to help evaluate it against real-world stresses and diseases. Some of that material will make it into varieties and therefore onto farmers' fields."
Reinheimer adds while the wheat evaluation network will primarily be managed by LCRC's breeding team, it will also include collaborative testing opportunities with government and universities. The wheat breeding material LCRC is utilizing in Canada has been accessed from Limagrain's international breeding germplasm inventory.
"Traits and germplasm developed through Limagrain's global research and breeding efforts, when combined with local germplasm and selected throughout Western Canada, will bring together the best of both worlds in terms of elite genetic combinations."
Reinheimer says he and the rest of the LCRC breeding team will also be taking advantage of new plant breeding technologies that have been developed over the past decade.
"For example, we generate more genomic data today than we have in all of the history of wheat breeding," he notes. "LCRC, through its linkage with Limagrain, is at the forefront of the 'genomics age' where we can test and select for high-performing varieties more effectively than we ever have before. Access to breeding technology that allows you to predict field performance in the lab, and ensuring it is continually 'ground proofed' on Canadian farms, will underpin variety success. This ability to use world-leading genomic tools and apply them on Canadian soil is certainly an exciting prospect for Canadian farmers."
LCRC plans to broaden its crop type portfolio in the near future. Reinheimer says durum wheat, barley and winter wheat are currently on the radar.
To take his position at LCRC, he and his family moved from Australia to Canada. "My wife and two young children love it in Canada and have felt so welcomed," he says. "So we have been busy learning to ice skate, trying to understand sports like curling and discovering awesome things like maple bacon."
Reinheimer calls being able to help build a new plant breeding operation in Canada a "fantastic" opportunity. "Especially when you have two great partners in Limagrain and Canterra Seeds for support," he notes. "I have always wanted to work in Canada as the agricultural community has so many positive aspects that are the envy of the world. To be able to work with so many great people who are passionate about helping forge a positive future for the Canadian grains industry is very exciting for me."
For her part, Armstrong says it was an honour to be asked to be LCRC CEO. "While I've run an organization before, this is the first time I've had the chance to build something from the ground up," she says. "Working with my colleagues Dr. Jim Peterson (research director), Sebastien Benon (CEO of the business unit into which LCRC fits) and with the board of directors is a real pleasure. I can't believe it's already been a year and a half since we started with our blank piece of paper. Once Jason came on board, things really moved forward quickly.
"We are all committed to having LCRC become an established provider of new cereal varieties for Western Canadian farmers and to contributing to innovation within our sector," she adds.
Gene editing is just advanced plant breeding, ASTA says
2 years ago
-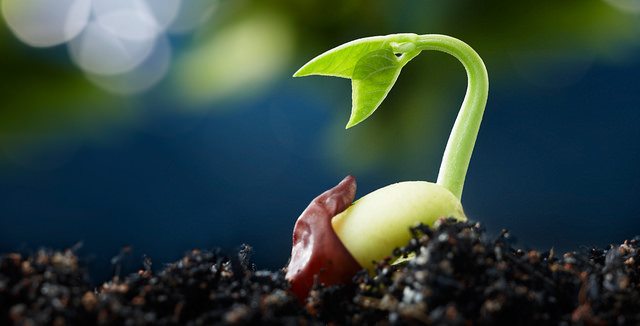 WASHINGTON, Dec. 7, 2016 – Gene editing is simply the latest development in the evolution of plant breeding, the head of the American Seed Trade Association said at ASTA's annual meeting today in Chicago, seeking to reassure consumers about the safety and efficacy of the new technique.
ASTA President and CEO Andy LaVigne was joined by three seed company representatives and a University of Idaho professor at a press conference, where they discussed the potential of gene editing to battle persistent disease problems, such as Fusarium head blight in wheat and barley, and downy mildew in spinach.
"The farmer's constantly looking to grow more using less," LaVigne said. "Farmers need that variety of seed choices to solve their local needs, to manage changing weather, to fight plant disease and pests, and wisely use crop inputs and those natural resources."
He cautioned, however, that regulatory barriers that have effectively prevented land grant universities from conducting biotech research could be applied to gene editing, which he said "would be a shame."
Juliet Marshall, a professor of cereals agronomy and plant pathology at the University of Idaho, said gene editing could be used to control, or at least reduce the impacts of, Fusarium head blight, known more commonly as head scab.
The disease is characterized by scabby kernels, which in addition to reducing yield can indicate the presence of vomitoxin, a mycotoxin that can coat the seed and is "showing up in a lot of our grain," Marshall said.
The FDA recommends that vomitoxin in finished products such as flour not exceed 1 part per million. "Advisory levels" for animal feed are 5 ppm or 10 ppm, depending on the animal.
But Marshall said she has seen levels as high as 25 ppm in some durum wheat in Idaho, which had to be thrown away.
Growers can use a variety of techniques to reduce the chances that head scab will spread – crop rotation, less use of corn in the rotation because it's "a good source for this fungus to grow and reproduce," and precise and timely application of fungicides.
"Even with all of these practices, we don't have the host resistance to actually control this disease," Marshall said. "Even if you have a moderately resistant variety, it doesn't help."
Gene editing can help, she said. Using the CRISPR-Cas9 tool, plant breeders can modify existing genes "to effectively enhance what small resistance factors are there."
Marshall touted the ability of universities to make crucial advances in plant breeding, because they are not driven by the profit motive.
"It's really important that public institutions utilize these techniques," she said. "The public sector is often where things start."
Corinne Marshall, intellectual property and licensing manager for Sakata Seeds America, said that gene editing could be used to build resistance to downy mildew in spinach, a disease that is threatening organic growers' ability to meet demand.
She also said that gene editing could help broccoli retain nutrients that are lost through cooking.
Ultimately, however, consumers will have to accept the new technology. LaVigne said the industry needs to be transparent in discussing the new techniques and ASTA is working on a communications effort addressing consumer concerns.
"We want to keep it (gene editing) in that realm of plant breeding," he said.
Jerry Flint, vice president of industry and regulatory affairs at DuPont Pioneer, said the company has been engaging with various stakeholders in an effort to discern their concerns about gene editing.
"A consistent theme we're hearing is that how we talk about technology matters," he said.
And Mark Herrmann, chair of ASTA and the CEO of AgReliant Genetics, the third-largest seed company in the U.S., said the industry is trying to "get out in front of the conversation." People who are dead-set against GMO's will be hard to convince that gene editing is beneficial, but those in the "movable middle" can be swayed when they understand the benefits, such as being able to produce more food with fewer inputs.
Source: Agri-Pulse