What Makes Cereal Crops More Stress-Tolerant?
1 year ago
-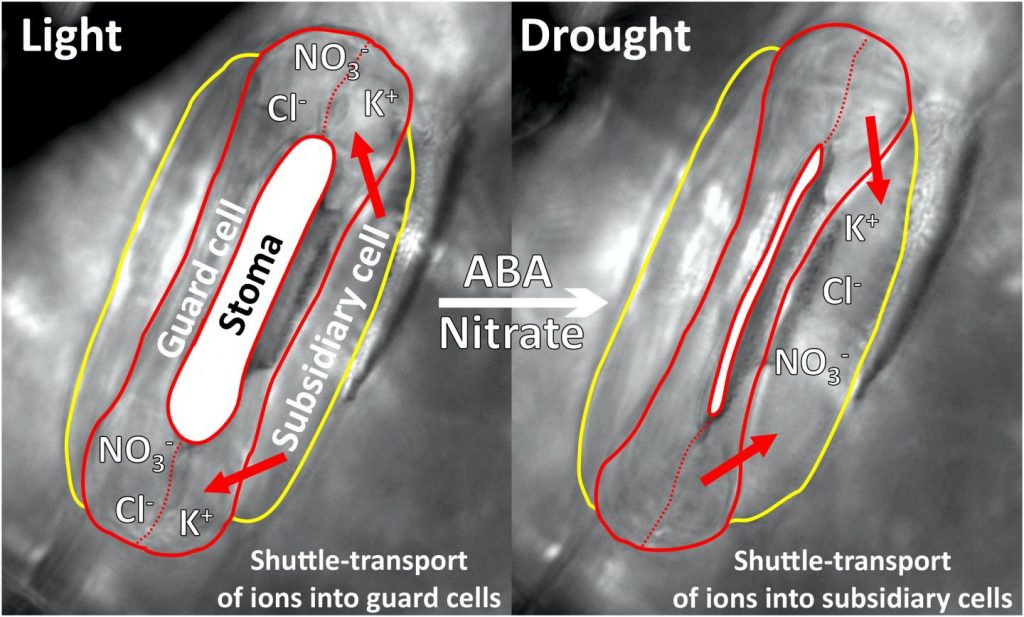 Whether barley, wheat, maize or rice: The grass family includes all the major cereals. They are vital for feeding the world's population. Farmers produce 80 per cent of all plant-based foods from grass crops. This success is due in part to the plants' ability to adjust more quickly to dry conditions and sustain lack of water better than other plants.
But why are grasses more tolerant to water scarcity? Can other food crops be bred for this property, too, to assure or boost agricultural yields in the future? This could be important in the face of a growing world population and climate change that will entail more periods of dry and hot weather.
The plant researchers Professor Rainer Hedrich, Professor Dietmar Geiger and Dr. Peter Ache from Julius-Maximilians-Universität Würzburg (JMU) in Bavaria, Germany, are looking into these questions. They studied brewing barley to determine why grasses are more stress-tolerant and are therefore "better" crop plants than potatoes and the likes.
Two Amino Acids Make the Difference
The scientists discovered that this difference can be attributed to the protein SLAC1 of the guard cells. Just two amino acids, the building blocks that make up proteins, are responsible for the plant's drought tolerance. "We now want to find out whether this small difference can be harnessed to make potatoes, tomatoes or rapeseed more tolerant to stress as well," says Rainer Hedrich.
The new insights have been published in the prestigious journal Current Biology where Hedrich, Geiger and Ache describe how they pinpointed the tiny difference between grasses and other plants.
Ion Transport is a Key Process
The JMU researchers began scrutinizing microscopically small leaf pores called stomata. These openings admit carbon dioxide for photosynthesis into the plant. But they also serve as outlets for water. To prevent losing too much water through evaporation, land plants have learned during evolution to actively open and close their stomata using special guard cells. Membrane proteins such as SLAC1 play a key role in this regulatory process: acting like channels, they guide ions into and out of the cells.
Hedrich is convinced that a basic understanding of the molecular goings-on during ion transport through the plasma membrane of the guard cells is the key to improving the drought tolerance and yields of agricultural crop plants.
Ion Shuttles Make Leaf Pores More Efficient
The stomata of grasses have a special feature: The pore is bordered by two pairs of cells where other plants only have a single cell pair. Grass cereals boast two dumbbell-shaped guard cells that form and regulate the pore. Additionally, they are flanked by two subsidiary cells.
The JMU researchers have demonstrated that the subsidiary cells absorb and store the potassium and chloride from the guard cells when the pore closes. When the stoma opens, they pass the ions back to the guard cells. "Our cereals use the subsidiary cells as a dynamic reservoir for osmotically active ions. This ion shuttle service between guard cell and subsidiary cell allows the plant to regulate the pores particularly efficiently and quickly," Dietmar Geiger explains.
Two Measuring Systems for More Drought Resistance
There is a second mechanism that makes grasses more tolerant to dry conditions. When water is scarce, plants produce the stress hormone ABA (abscisic acid). Inside the guard cells, it activates the ion channels of the SLAC1 family, thereby initiating the closing of the stomata to prevent the plant from withering within a matter of minutes.
"Interestingly, we found that nitrate must be present in brewing barley and other grass cereals in addition to ABA to enable the pore to close," Peter Ache says. The nitrate concentration allows the barley to measure the shape the photosynthesis is in. If it works smoothly, nitrate levels are low.
Barley hence relies on two measuring systems: It uses ABA to register water availability and nitrate to assess photosynthesis performance. "By combining the two, the barley is better able than other plants to negotiate between the extremes of 'dying of hunger' and 'dying of thirst' when facing water scarcity," Rainer Hedrich explains
Testing the Nitrate Sensor in Other Plants
Which mechanism is responsible for the difference in stoma regulation at the molecular level? To answer this, the researchers analyzed SLAC1 channels of various herbaceous plants compared to grasses. This allowed them to identify the "nitrate sensor" of the grasses: It is comprised of a motif of two amino acids which first occurred in moss during evolution and was subsequently further optimized to give the guard cells their unique properties.
In a next step, the team of researchers wants to establish whether herbaceous agricultural crops also benefit from having a nitrate sensor. To achieve this, the scientists want to fit Arabidopsis plants that lack the SLAC1 channel with the SLAC1 channel of barley. "If this step increases their stress tolerance, we can consider breeding optimized potatoes, tomatoes or rapeseed," Hedrich says.
Clubbing Clubroot
1 year ago
-
On the Prairies, clubroot appeared in Alberta in 2003, in Saskatchewan in 2008 and Manitoba in 2013. As any grower can tell you, it's a nasty canola disease that usually worsens in a field every year, partly because the spores are very easy to spread and so hardy they can survive for up to two decades in the soil. Combine this fact with the strong prices that canola fetches these days – widely encouraging back-to-back or two-year rotations – and you have a big problem.
Companies are certainly moving as quickly as possible to produce seed with effective resistance to clubroot, but breeding to defend against this particular pathogen involves navigating a wide range of complex challenges.
"Clubroot has a very short lifecycle resulting in several generations per season," explains Dr. Marcus Weidler, vice president of seed operations at Bayer CropScience, "enabling the pathogen to react to changes in its environment very quickly, including new crop resistance genes."
Dr. Jed Christianson, pathology lead at Monsanto Canada, explains that clubroot's large and quickly-adapting population sizes means that it takes relatively long canola rotations of three or four years to see significant drops in the number of viable spores in the soil, and very long rotations of over 10 years for spores to effectively disappear.
"Each gall produced on a canola root can contain billions of spores," he says. "So, given the numbers of spores generated, even very rare events like the emergence of individual spores that have gained the ability to infect resistant canola will happen over a fairly short number of cropping cycles. A one in a billion event doesn't seem that unlikely to happen when you're given 20 billion chances."
Combine this with the fact not all clubroot pathotypes (races) have been identified, and it's therefore difficult, explains Weidler, to develop a canola variety that is resistant to all potential pathotypes to which a plant may be exposed.
Dr. Igor Falak reminds us that it was in 2013 that a new clubroot pathotype was identified, one to which all canola varieties on the market carrying resistance to the original 2003 pathotype were susceptible. Although hybrids with the initial type of resistance continue to hold their own on most infested acres, the number of fields with the new pathotype is increasing annually. Falak, senior research scientist with Corteva Agriscience, blames this situation on "years of canola-on-canola."
In addition, he notes that although clubroot "is similar to another disease of canola (blackleg), where canola products may carry race specific resistance," clubroot-resistant canola varieties "do not have 'fallback' resistance mechanisms, unlike blackleg-resistant products that also have a different type of stable resistance."
More breeding challenges are found in the fact that because canola plants carry no clubroot resistance genes, all the major seed companies are actively testing resistance genes found in rutabaga, cabbage and turnip. However, Weidler notes that because these species are only remotely related to canola, it's far from easy to transfer genes between them without also transferring additional unwanted genetic "baggage" that negatively impacts yield, canola quality or agronomics.
If all this wasn't enough, clubroot is a challenging organism to deal with, having unique characteristics – described by Weidler as a form of life "somewhere between a bacterium and a fungus."
Christianson concludes that the biggest challenge in creating clubroot-resistant canola seed is to introduce resistance "while continuing to improve hybrid performance for yield, maturity, standability, resistance to other diseases, harvestability, seed quality and all of the other attributes that are important to growers' success."
Breeding Steps to Develop Clubroot-Resistant Canola Seed
Christianson says the steps involved in breeding clubroot-resistant varieties are relatively simple, and that any breakthroughs relating to resistance genes "are really just the discovery and characterization of more of them through concerted screening efforts."
The entire process is a matter of crossbreeding canola with resistant relatives through normal pollination procedures and recovering offspring that are clubroot-resistant. "Those offspring then have to be crossed with canola again and again through many generations, selecting the resistant offspring at each generation for use in the next cycle to obtain plants that maintain resistance, but have recovered the characteristics of high-performing canola," Christianson explains.
Weidler adds that unwanted genetic material from the resistance donor that negatively impacts the agronomic performance of the offspring is removed through several crossings of the offspring with elite parent stock. "Using molecular breeding tools, we can check the progress towards the end goal," he notes. "Ideally, only the genetic sequence conferring clubroot resistance has been transferred and no other parts of the donor genome remain in the offspring."
Breeding Progress
DowDupont was the first company in Canada to market clubroot resistant hybrids in 2009 (45H29).
"Our hybrids have multi-source and multi-race resistance to clubroot, and have a high level of resistance to the most prevalent clubroot race – race 3 – along with resistance to races 2, 5, 6 and 8," Falak notes. "We have five hybrids with clubroot resistance: 45H29, 45H33, 45CS40, 45CM36 and 45H37. Pioneer hybrid 45CM36 is one of our newest products that contains a new source of clubroot resistance that confers resistance to both the initial type and new pathotypes, and can be rotated with the original resistant hybrids."
Hybrid 45CM36 was launched in 2017 and is widely available to western Canadian famers for the 2018 growing season.
For its part, Bayer CropScience has "identified several new potential resistance sources," says Weidler, "and we have been able to demonstrate that these are different from what is currently on the market."
Christianson says that as Monsanto nears "actual commercial entry into the marketplace, we will have more to share about how second-generation resistance fits in with existing resistance traits to provide a sound disease management strategy."
No matter what resistant canola varieties are marketed, no company can predict how long a new variety will last before it's compromised. This depends on too many factors, explains Weidler, including the resistance gene, environmental conditions and management practices.
All the companies strongly agree that the existence of varieties with resistance is only part of the clubroot solution.
Weidler emphasizes the importance of an integrated disease management approach for clubroot, and fully supports the recommendations of the Canola Council of Canada.
Falak and Christianson echo the sentiment. "All resistance traits will be effective for longer periods of time if they are used judiciously," says Christianson. "Choosing resistant seed is only one part of a successful disease management strategy. Growers need to include crop rotation, field scouting and early detection of clubroot, and minimizing soil movement between fields on equipment."
Falak agrees. He says following a proper canola rotation as well as rotation of resistance genes, combined with preventing soil movement and other agronomic measures "would enable sustainable clubroot management that would prolong efficacy of any new resistance sources that are introduced."
Wind Farms Positively Impact Crops, U.S. Study Says
1 year ago
-
Iowa State University researchers have found that wind turbines located in agricultural fields are a plus for the crops growing around them.
The overall effects on crops growing in wind farms appear to be positive said Gene Takle, Iowa State agronomy professor. He has led a team of plant and soil scientist along with extension specialists who have been looking into the effects since 2009.
They started their work after seeing more wind farms and turbines pop up around the state. The new land use was positive for the landowners where they were located, but the researchers wondered if it was the same for the farmers growing crops.
"It's unusual because we're continuing the previous land use and we're adding another," Takle says. "We're sort of double-cropping because these can be thought of two forms of energy production. The Chinese do this when they plant soybeans in between horticultural crops. We're planting turbines."
If the turbines change the microclimate for corn and soybeans, the team wanted to learn if it is a big enough change to be measured and the potential impacts.
Takle says wind blowing across a corn or soybean field without turbines creates a certain turbulence that carries moisture from the transpiring crop, which rises into the atmosphere and pulls down cooler, drier air. At night the wind is calmer and the land cools.
Turbines take some of the wind energy, slowing it down but increasing its turbulence so it interacts with the crop more, possibly increasing evaporation from the crop or moving carbon dioxide down into the crop.
"The biggest changes are at night and that's because during the day there's a lot of chaotic turbulence, just because the sun is heating the surface and the wind is gusty," Takle says. "At night when it gets pretty calm, the crop cools down and if it's a humid night you start to get dew formation. If you add the turbines, it looks a little more like the daytime. So the dew formation is delayed and it may start to evaporate sooner."
Since fungus and mold like a wet environment, the shorter the wet period makes it less favorable for the growth of those potential pathogens. In the fall, the shorter wet period could speed up harvesting because farmers typically have to wait for soybeans to dry in the morning.
Another factor is that turbines bring warmer air down to interact with the cool air near the surface. Throughout the wind farm, the surface is a little bit warmer which inhibits dew formation."
"Satellites can measure surface temperatures and you can see little dots across the state of Iowa and locate every wind farm because they're slightly warmer than the surrounding area. So we know it has an effect that's large enough to be seen there," he says.
Another plus is the air pressure fluctuation measured around wind turbines.
Takle says there is a lot of carbon dioxide in the top few feet of soil — as much as two or three times what is in the air. The movement of air by the turbines pumps air down, and the movement draws carbon dioxide out of the soil so more would be available to the plant for photosynthesis.
The air moving down also creates more plant movement, which increases sunlight penetrating the dense crop canopy.
On the negative side is the tendency of higher temperatures occurring at night in wind farms.
Considering corn, during the day it's taking in solar energy and carbon dioxide to make plant material. At night it cools down and gives back some of the carbon dioxide, and it gives up more if it's warmer.
"So the night time warming of the turbines is not a totally good thing," he says. "Night time temps have been going up over the last 40 years and are becoming a limiting factor for crop yields."
But overall crops grown in wind farms seem to benefit.
"So there are three ways the crop is being 'fertilized' from either the air or from the soil or from increased photosynthesis. We measured increased carbon dioxide uptake during the day, but an increased respiration at night," he says. "But over the course of the day there was more uptake. So as far as the impact of the turbines on the carbon dioxide processes and the photosynthesis process in the near vicinity of the turbines it's a net gain."
His team would like to look at the result of wind movement through a farm as it slows and tends to move up, which could create clouds if the air is warm and moist, and potentially rain.
"Are wind farms a preferential location for cloud formation or something that's going to provide more rain in an area beyond the wind farm? We don't know, we have some preliminary measurements that suggest that this is a real effect. Theoretically, you say yes there should be an effect, but is it large enough to be measured or to be important?" Takle asks.
Ag robot speeds data collection, analyses of crops as they grow
1 year ago
-
A new lightweight, low-cost agricultural robot could transform data collection and field scouting for agronomists, seed companies and farmers.
The TerraSentia crop phenotyping robot, developed by a team of scientists at the University of Illinois (U of I), will be featured at the 2018 Energy Innovation Summit Technology Showcase in National Harbor, Maryland, on March 14.
Traveling autonomously between crop rows, the robot measures the traits of individual plants using a variety of sensors, including cameras, transmitting the data in real time to the operator's phone or laptop computer. A custom app and tablet computer that come with the robot enable the operator to steer the robot using virtual reality and GPS.
TerraSentia is customizable and teachable, according to the researchers, who currently are developing machine-learning algorithms to "teach" the robot to detect and identify common diseases, and to measure a growing variety of traits, such as plant and corn ear height, leaf area index and biomass.
"These robots will fundamentally change the way people are collecting and utilizing data from their fields," said U of I agricultural and biological engineering professor Girish Chowdhary. He is leading a team of students, engineers and postdoctoral researchers in development of the robot.
At 24 pounds, TerraSentia is so lightweight that it can roll over young plants without damaging them. The 13-inch-wide robot is also compact and portable: An agronomist could easily toss it on a truck seat or in a car trunk to transport it to the field, Chowdhary said.
Automating data collection and analytics has the potential to improve the breeding pipeline by unlocking the mysteries of why plant varieties respond in very different ways to environmental conditions, said U. of I. plant biology professor Carl Bernacchi, one of the scientists collaborating on the project.
Data collected by the crop-scouting robot could help plant breeders identify the genetic lineages likely to produce the best quality and highest yields in specific locations, Bernacchi said.
He and Stephen P. Long, a Stanley O. Ikenberry Endowed Chair and the Gutgsell Endowed University Professor of Crop Sciences and Plant Biology at Illinois, helped determine which plant characteristics were important for the robot to measure.
"It will be transformative for growers to be able to measure every single plant in the field in a short period of time," Bernacchi said. "Crop breeders may want to grow thousands of different genotypes, all slightly different from one another, and measure each plant quickly. That's not possible right now unless you have an army of people – and that costs a lot of time and money and is a very subjective process.
"A robot or swarm of robots could go into a field and do the same types of things that people are doing manually right now, but in a much more objective, faster and less expensive way," Bernacchi said.
TerraSentia fills "a big gap in the current agricultural equipment market" between massive machinery that cultivates or sprays many acres quickly and human workers who can perform tasks requiring precision but move much more slowly, Chowdhary said.
"There's a big market for these robots not only in the U.S., where agriculture is a profitable business, but also in developing countries such as Brazil and India, where subsistence farmers struggle with extreme weather conditions such as monsoons and harsh sunlight, along with weeds and pests," Chowdhary said.
As part of a phased introduction process, several major seed companies, large U.S. universities and overseas partners are field testing 20 of the TerraSentia robots this spring through an early adopter program. Chowdhary said the robot is expected to become available to farmers in about three years, with some models costing less than $5,000.
The robot is being made available to crop scientists and commercial crop breeders for the 2018 breeding season through EarthSense Inc., a startup company that Chowdhary co-founded with Chinmay P. Soman.
A former National Science Foundation postdoctoral fellow at the university, Soman is the chief executive officer of EarthSense, which is based at the U of I Research Park and comprises a growing team of engineers and computer scientists.
Source: University of Illinois at Urbana–Champaign
Pioneering work on Fusarium head blight in rye
1 year ago
-
Unlike other cereal crops affected by Fusarium head blight (FHB), very little is known about FHB in fall rye from a Canadian perspective. We don't know how serious a concern FHB might be in our rye crops. We don't know which Fusarium species are infecting rye. We don't have FHB ratings for our current rye varieties. And we have limited information on optimal timing for fungicide applications to manage FHB in rye.
So Jamie Larsen with Agriculture and Agri-Food Canada (AAFC) at Lethbridge and Anita Brûlé-Babel with the University of Manitoba have teamed up on a project to develop FHB-related information and tools that rye growers need.
"This research is new territory from a Canadian and even a North American perspective," says Larsen, who has breeding programs for open-pollinated fall rye and several other cereals.
"Rye has not had a lot of attention from Canadian researchers and growers for a very long time. But the playing field has changed with the new rye hybrids. They are significantly higher yielding, they are shorter, and they are easier to harvest. So now there is renewed interest in rye," notes Brûlé-Babel. "It's important to get a sense of how rye responds to Fusarium head blight and whether there is going to be an issue with the disease and what rye growers should do in conditions where Fusarium is a concern."
Larsen became interested in the issue due to several factors that have emerged in recent years. "Initially when I started working in rye, I had looked at the literature and I thought the disease wasn't a major problem. Also, the main areas where rye is traditionally grown – north of Swift Current and around the Great Sand Hills area in Saskatchewan – aren't huge Fusarium head blight areas. And rye has this natural ability to be tolerant to a lot of diseases. So I wasn't too worried about Fusarium head blight," he explains.
"But then I sent some rye varieties to Ontario as checks in a triticale experiment. And as I was walking along in those plots, I saw a rye variety with its head completely glued shut and pink with Fusarium. I'd never seen anything like it." As well, he found out FHB occurs in Prairie rye crops through his work as the coordinator for the fall rye cooperative registration trial. Each year, the trial is grown at 15 locations across Western Canada, and in some years Fusarium-damaged kernels (FDK) have been found in the grain samples from the trials.
Another driver for Larsen was the potential, especially with the new hybrids, to sell more rye into the feed and food markets. To help in realizing that potential, he saw the need to know more about FHB's impacts on rye yield and quality – particularly since Fusarium species can release toxins that can limit the use of grain in feed and food – and the need to develop FHB-resistant rye varieties and other tools to manage the disease.
FHB is not common in the Lethbridge area, but it is a widespread concern in Manitoba, and Brûlé-Babel conducts screening for FHB resistance as part of her winter wheat breeding program. So Brûlé-Babel and Larsen brought together their different areas of expertise to develop their plans for the project. Also joining the project is KWS, the German company that has developed several hybrid ryes for Canadian growers.
Evaluating Rye Lines for Resistance
Brûlé-Babel is screening fall rye lines for FHB resistance at her FHB nurseries at Winnipeg and Carman. To increase the potential for disease development, her research team inoculates the rye lines with Fusarium graminearum, the most common of several Fusarium species that cause FHB in Manitoba cereals.
The FHB responses of the rye lines are measured in three ways: disease levels in the field; FDK levels in the grain; and concentrations in the grain of deoxynivalenol (DON), the primary toxin produced by Fusarium graminearum.
In 2017, they evaluated about 70 rye lines, including materials from Canada, the United States, Germany, Russia and other countries, as well as lines from Larsen's breeding program and from KWS. Current Canadian rye cultivars are included in the screening so growers will be able to get information on FHB ratings to help in choosing rye varieties for their farms. For 2018, the researchers have added more rye lines from KWS, so the total is now about 130 lines.
The 2017 results showed that FHB definitely occurs in rye and that some lines are more resistant than others.
"Overall, we're not seeing very many lines that are as susceptible as our susceptible wheat checks. And most of the rye lines are in the resistant to intermediate range," notes Brûlé-Babel.
The testing for FDK and DON in the 2017 samples will be done in the coming months by KWS. However, based on what Brûlé-Babel's team observed in the field and as the grain samples were harvested, it appears that FHB infection often tends to cause the rye plant not to set seed. As a result, the FDK levels are lower than would be expected in a wheat crop with similar field infection levels.
Brûlé-Babel had heard anecdotally through their KWS collaborators that DON levels in rye tend to be quite low. She suspects this could turn out to be true if there aren't many infected kernels in the harvested grain to contribute to DON in the samples.
"So my guess at this point is that the biggest problem from Fusarium head blight for rye producers might turn out to be yield loss as opposed to a crop that you can't market [due to FDK and DON]," she says.
Once they have two years of data from the nurseries, Larsen will start making crosses with some of the FHB-resistant lines so he can develop new open-pollinated varieties with this trait.
Other Fusarium Species
Brûlé-Babel is also leading two other FHB/rye studies for the project. One study is looking into other Fusarium species that cause FHB in rye. "Not a lot is known about which Fusarium species infect rye [on the Prairies], so we've worked with Maria Antonia Henriquez at AAFC's Morden Research and Development Centre. She does a Fusarium survey every year, collecting diseased plants from [spring wheat and winter wheat fields in Manitoba]. So we asked if she could also collect samples from rye fields," explains Brûlé-Babel.
One of Brûlé-Babel's graduate students, Duoduo Wang, has isolated the Fusarium species from the Manitoba rye samples. Wang has identified the species based on the appearance of the fungi when grown in the lab, and she will be doing some DNA marker work to confirm the identifications. The preliminary results indicate that the most common species was Fusarium graminearum, but other species were also present.
In 2018, Wang will be doing a greenhouse study to examine the infection process and see how the different Fusarium species interact with selected rye cultivars.
Optimizing Fungicide Timing
Wang is also working on the other study, which is investigating fungicide timing for managing FHB in rye. "Very little information is available on fungicide timing for rye for this disease. We need to develop some basis for timing recommendations," says Brûlé-Babel.
According to Larsen, the general recommendation for fungicide timing for FHB in wheat is to spray two days after heading because wheat plants usually flower about two days after heading. But in rye, flowering might not start until seven to 14 days after heading. In that long heading/flowering period, what is the best time to apply a fungicide?
Brûlé-Babel also points out that, because rye is an outcrossing species, its florets are open for a longer period than the florets of a self-pollinating species like wheat, and it may be that a fungicide might interfere with pollination and seed set in rye.
From the rye lines being screened in the nursery, Wang has selected an FHB-susceptible cultivar, a cultivar with an intermediate response, and an FHB-resistant cultivar to use in the fungicide trials. The trials will take place at Winnipeg and Carman. The fungicide will be Prosaro, a commonly used fungicide that is registered for FHB suppression in wheat and barley.
The trials will compare four fungicide timings: at 50 per cent heading; at 10 per cent anthesis, which is when 10 per cent of the flowers on the spike have extruded anthers; at 80 per cent anthesis; and at six days after flowering. Brûlé-Babel's team will be inoculating the plants with Fusarium graminearum. The trials will also have two types of check plots: inoculated with no fungicide and non-inoculated with no fungicide.
Larsen hopes they'll be able to figure out an easy-to-use general rule for FHB fungicide timing in rye similar to the two-days-after-heading guideline for wheat. He adds, "The hybrids are typically a lot more uniform in flowering timing than the open-pollinated ryes, so fungicide timing for open-pollinated ryes might turn out to be a little trickier."
Practical Results
This pioneering project will lead to practical information, improved varieties and other tools for rye growers in Western Canada and perhaps other regions of the country.
"Providing good information for farmers to make decisions is very important. Part of the reason we're doing this research is to make sure there won't be any surprises in terms of potential Fusarium problems for rye growers," Brûlé-Babel says. "I'm quite excited about the revival of interest in rye because it's a very good crop for many uses and definitely contributes to diversification on the landscape."
This FHB research is part of a larger project led by Larsen on rye disease issues that also includes work on ergot and rust. Saskatchewan's Agriculture Development Fund, Western Grains Research Foundation, Western Winter Wheat Initiative, Saskatchewan Winter Cereals Development Commission, FP Genetics, KWS and Bayer CropScience are funding the project.
Root Microbiome Valuable Key to Plants Surviving Drought
1 year ago
-
Just as the microorganisms in our gut are increasingly recognized as important players in human health and behaviour, new research from the University of Toronto Mississauga (UTM) demonstrates that microorganisms are equally critical to the growth and health of plants. For example, plants that are able to recruit particular bacteria to their root microbiomes are much more drought resistant than their fellows, says UTM PhD candidate Connor Fitzpatrick, of the Department of Biology.
The plant's root microbiome is the unique community of micro-organisms living in and on plant roots. Similar to the gut microbiome in animal species, the root microbiome is the interface between a plant and the world. The root microbiome is responsible for important functions such as nutrient uptake and signals, important to plant development.
Fitzpatrick's study is published in the latest issue of the Proceedings of the National Academy of Science. His exploration of the role of the root microbiome in plant health could eventually assist farmers to grow crops under drought-ridden conditions.
For the study, Fitzpatrick grew 30 species of plants found in the Greater Toronto Area from seed in identical soil mixtures in a laboratory setting. These included familiar plants like goldenrod, milkweed and asters. The plants were raised for a full growing season (16 weeks), with each species grown in both permissive and simulated drought conditions.
Fitzpatrick's research explores the commonalities and differences among the root microbiomes of the various host plant species, dividing the microbiomes into the endosphere (microbes living inside roots) and rhizosphere (microbes living in the soil surrounding roots). He found variation across the 30 species, with related species having more similarity between microbiomes than diverse species.
"It's as you would expect," Fitzpatrick says. "Just as there are more similarities between a human's gut microbiome and an ape's than between a human's and a mouse's, the closer the relationship between plant species, the more similar their root microbiomes. It's important to document as a way to better understand the evolutionary processes shaping the plant root microbiome."
In addition to deepening our basic biological understanding of plant evolution and development, the research offers further avenues for study, including how and why some plants recruit bacteria that impact drought resistance while others don't.
"If plants were able to enrich their root microbiomes with a particular group of bacteria, the Actinobacteria, they grew much better in drought conditions," says Fitzpatrick. "All of our plants had access to this group of bacteria, but they also needed to have the ability to recruit it from the soil."
In another finding that is consistent with the practice of crop rotation, Fitzpatrick showed that the more similar the composition of a plant's root microbiome to that of the previous generation of a plant grown in that soil, the more the second-generation plant suffered.
"There is a complex web of interactions taking place that is difficult to disentangle and requires further inquiry," Fitzpatrick says.
"Practically speaking, we need to understand how to sustain plants with all of the mounting stressors today, such as drought and an increase in pathogens (e.g., plant disease)," Fitzpatrick says. "The efforts to mitigate these issues are expensive and short-lived or very damaging to the environment. If we can harness naturally occurring interactions for these purposes, we'll be much better off."
Source: University of Toronto
How climate change alters plant growth
1 year ago
-
Global warming affects more than just plant biodiversity – it even alters the way plants grow.
A team of researchers at Martin Luther University Halle-Wittenberg (MLU) joined forces with the Leibniz Institute for Plant Biochemistry (IPB) to discover which molecular processes are involved in plant growth.
In the current edition of the internationally renowned journal Current Biology, the group presents its latest findings on the mechanism controlling growth at high temperatures. In the future this could help breed plants that are adapted to global warming.
Plants react much more sensitively to fluctuations in temperature than animals. They are also unable to seek out warmer or cooler locations.
"When temperatures rise, plants grow taller in order to cool themselves off. Their stalks become taller and their leaves become narrower and grow farther apart. Yet this makes the plant more instable overall," says Professor Marcel Quint, an agricultural scientist at MLU. This is noticeable, for example, during grain harvesting. Instable plants bend faster in the rain and generally produce less biomass. There is also a reduction in the proportion of key substances, like proteins, that can be stored in the grain kernel.
"While the correlation between temperature and plant growth at the macrolevel is relatively well understood, there are still many open questions at the molecular level. We are just starting to understand how plants detect the changes in temperature and translate this into specific reactions," Quint notes.
Earlier studies have shown that the protein PIF4 directly controls plant growth and that this protein is also dependent on temperature. When it's cold, PIF4 is less active – in other words the plant doesn't grow. At higher temperatures, PIF4 activates growth-promoting genes and the plant grows taller.
"Up until now it had been unclear how the plant knows when to activate PIF4 and how much should be released," says Quint. "There were large gaps in our knowledge about the exact signalling pathway of temperature-controlled growth."
And that is precisely what the research group in Halle has now discovered. They investigated the growth behaviour of seedlings of the model plant thale cress (Arabidopsis thaliana). Normally its seedlings form short stems at 20 C (68 F). These stems become considerably longer at 28 C (82.4 F). In the lab, the scientists identified plants with a gene defect which still only formed short stems at 28 C. Then they searched for possible reasons for this lack in growth. They discovered a hormone that activates the PIF4 gene at high temperatures, thus producing the protein. This reaction did not occur in the mutated plants.
"We have now discovered the role of this special hormone in the signalling pathway and have found a mechanism through which the growth process is positively regulated at higher temperatures," says Quint.
The findings of the research group from Halle may help to breed plants in the future that remain stable even at high temperatures and are able to produce sufficient yields. To achieve this, the findings from the basic research on model plants first have to be transferred to cultivated plants like cereals.
Combination of resistance genes offers better protection for wheat against powdery mildew
1 year ago
-
University of Zurich (UZH) plant researchers have tested newly developed wheat lines with improved resistance to powdery mildew in field trials. They have demonstrated that a combination of two variations of a resistance gene provides wheat with better protection against the fungal disease.
For several years now, UZH researchers have been investigating a wheat gene that confers resistance to powdery mildew (Blumeria graminis f. sp. tritici). The gene, called the Pm3 resistance gene, exists in different variations, so called alleles. In previous studies, plant researcher Beat Keller and his team demonstrated that single Pm3 alleles are able to confer resistance against powdery mildew fungi. And yet, a single resistance gene can quickly lose its effectiveness. Thus when it comes to plant breeding, it is important to combine multiple resistance genes. This is exactly what researchers at UZH have now tested in field trials using transgenic wheat lines.
The researchers created new wheat lines by crossbreeding transgenic Pm3 lines. This resulted in four new wheat lines, each containing two different Pm3 gene variations. "These four new wheat lines showed improved resistance against powdery mildew in field trials compared with their parental lines – during the field seasons 2015 to 2017," explains Teresa Koller, lead author of the study.
Back in the laboratory, the scientists proved that the parental lines' gene activity is added up in the newly created lines. Each Pm3 allele in the four new lines displayed the same activity as in the parental line, which results in increased overall activity, since it came from two different gene variations. "The improved resistance against powdery mildew is the result of the increased total transgene activity as well as the combination of the two Pm3 gene variations," summarizes Teresa Koller. The high overall activity of resistance genes did not cause any negative effects for the development of the wheat or its yield.
The findings of these trials improve our general knowledge of the immune system of plants, and in particular of fungal disease resistance of wheat. Besides contributing to fundamental research in the area of plants' immune systems, the findings can also be applied in wheat breeding. Thanks to the precise testing of Pm3 alleles, the best variations and combinations are identified and can then be used directly in traditional breeding by crossbreeding them into modern wheat varieties.
Pot Genetics: Why cannabis strains don't all live up to their billing
1 year ago
-
Red Diesel, Moby Dick, Lemon Burst, or how about Girl Scout Cookies? All names for "bud," the cannabis flower, and when the black market product goes legal in Canada this summer expect some heavy marketing of fancy names and their tantalizing effects.
But plant scientists say the "sell" is hazy. Those buds have a mixed-up lineage and don't always match what's advertised.
It's about genetics, and cannabis is a mixed breed, to say the least.
With more than 100 creative names for pot, each variant is said to have slightly different properties and that translates into different effects, according to vendors.
Self-defense for plants
1 year ago
-
Salk scientists characterize unusual plant immune response to bacterial infection
When you see brown spots on otherwise healthy green leaves, you may be witnessing a plant's immune response as it tries to keep a bacterial infection from spreading. Some plants are more resistant to such infections than others, and plant biologists want to understand why. Salk Institute scientists studying a plant protein called SOBER1 recently discovered one mechanism by which, counterintuitively, plants seem to render themselves less resistant to infection.
The work, which appeared in Nature Communications on December 19, 2017, sheds light on plant resistance generally and could lead to strategies to boost plants' natural immunity or to better contain infections that threaten to destroy an entire agricultural crop.
"There are a lot of losses in crop yields due to bacteria that kill plants," says the paper's senior author Joanne Chory, a Howard Hughes Medical Institute Investigator, director of Salk's Plant Molecular and Cellular Biology Laboratory and a 2018 recipient of the Breakthrough Prize in Life Sciences. "With this work, we set out to understand the underlying mechanism of how resistance works, and to see how general it is."
One of the ways plants fight bacterial infection is by killing off their own cells in which bacterial proteins are detected. But some bacteria have evolved a counter strategy—injecting special proteins that suppress the plant's immune response by adding small, disabling chemical tags called acetyl groups to immune molecules. This process is called acetylation. What makes certain plants able to resist these bacterial counter measures while others succumb to infection remains unclear.
As a means to better understand such pathogen-plant interactions, Chory's team turned to the well-studied weed Arabidopsis thaliana and, in particular, an enzyme called SOBER1—which had previously been reported to suppress the weed's immune response to a bacterial protein known as AvrBsT. While it may seem counterintuitive to use immune suppression to study infection resistance, the Salk biologists thought doing so could yield useful information.
The researchers started by determining SOBER1's amino acid sequence—the particular order of building blocks that gives a protein its basic identity. Intriguingly, they found it was very similar to a cancer-pathway-related human enzyme. This enzyme contains a characteristic tunnel into which proteins with certain types of modifications can fit and be cut as part of the enzymatic reaction. It turns out SOBER1 can be classified as part of a vast protein superfamily known as alpha/beta hydrolases. These enzymes share a common core structure but are very flexible in the chemical reactions they catalyze, which range from the breakdown of fat to the detoxification of chemicals called peroxides.
Next, they used a more than 100-year-old technique called X-ray crystallography to determine SOBER1's three-dimensional structure. While similar to the human enzyme, the plant enzyme's tunnel had two extra amino acids sticking down from the top: one at the entrance and one in the middle.
"When we saw those, we realized they had to have a dramatic effect on function because they basically block the tunnel," says Salk research associate and co–first author Marco Bürger.
To discover what the purpose might be, Bürger and co–first author Björn Willige, also a research associate, used substrates (molecules that enzymes act on) with different lengths and biochemically tested how well they fit in the enzyme and whether they could be cut. Only certain types fit and were cut—very short acetyl groups. This suggested that SOBER1 is a deacetylase—a class of enzyme that removes acetyl groups. Furthermore, the team mutated SOBER1 and thus opened the blocked tunnel. With this change, Bürger and Willige engineered an enzyme that lost its strong specificity for short acetyl groups and instead preferred longer substrates.
"For the initial biochemistry experiments, we used established, artificial substrates," says Willige. "But next we wanted to see what would happen in plants."
For this, they used tobacco plants—which have large leaves that are easy to work with—and a bacterium with a protein called AvrBsT, known to trigger acetylation. They produced AvrBsT in different regions of tobacco leaves along with SOBER1 and several mutated (and thus nonfunctional) versions of the enzyme.
Leaves producing AvrBsT had brown patches of dead tissue, indicating that AvrBsT had initiated a cell death program to curtail the systemic spreading of the pathogen. Leaves that produced AvrBsT together with SOBER1 looked healthy, indicating that SOBER1 reversed the action of AvrBsT. Strikingly, mutated SOBER1 versions with an opened tunnel were not able to prevent the tissue from dying. From this, the researchers concluded that deacetylation must be the underlying chemical reaction leading to suppression of the plant's immune response.
The tobacco tests supported the idea of SOBER1 being a deacetylase that would remove acetyl groups added by bacterial proteins. Without the acetyl groups tagging proteins, the plant didn't recognize them as foreign and thus didn't mount a cell-killing immune response. The leaves looked healthier because cells weren't dying.
"SOBER's function is surprising because it keeps infected tissue alive, which puts the plant at risk," says Chory, who also holds the Howard H. and Maryam R. Newman Chair in Plant Biology at Salk. "But we are just beginning to understand these types of mechanisms, and there could very well be conditions in which the actions of SOBER1 is beneficial."
Further tests showed that the activity and function of SOBER1 is not restricted to the weed Arabidopsis thaliana, but also exists in a plant called oilseed rape demonstrating that the findings of Chory's lab could be applied to agricultural crops and biofuel resources.
Bürger and Willige would next like to begin screening for chemical inhibitors that could block SOBER1, thereby allowing plants to have a full immune response to pathogenic bacteria.
The work was funded by Howard Hughes Medical Institute, Deutsche Forschungsgemeinschaft, the Human Frontier Science Program and The Pioneer Postdoctoral Endowment Fund.