Frost and Nitrate Accumulation
3 months ago
-
Many parts of the province have already experienced some frost. Barry Yaremcio, beef and forage specialist at the Alberta Ag-Info Centre, looks at nitrate accumulation in crops and how to manage it.
Nitrate accumulation can become a problem when crops experience light frosts of -1 C to -2 C for even only a few hours during the night. "These conditions damage the leaves of the plants but not the roots. Over the next three of four days, the roots continue to send nutrients up the plant. The damaged plant is unable to use those nutrients, resulting in nitrate accumulation," explains Yaremcio.
"When we get a heavy frost of -5 to -6 C for six or seven hours, the internal working system of the plant is completely destroyed and it can no longer move water or nutrients. A killing frost means that the plants are dead and therefore nitrates won't accumulate," says Yaremcio. "Light frosts that are experienced for only a few hours damage the plant but not the internal bundles that move water and nutrients up the stem. The injured leaves can't use the nutrients effectively, and that is when there is the greatest chance of nitrate accumulating."
Annual crops are the most susceptible to nitrate accumulation – oats being the worst – but also barley and wheat. Immature salvage canola crops cut for silage or greenfeed also have a tendency for nitrate accumulation.
"Alfalfa is a legume and the nodules attached to the roots tend to hoard the nitrogen and only release as much as the plants require," says Yaremcio. "Nitrate accumulation is extremely rare in alfalfa."
Application of nitrogen fertilizer or manure also has a significant influence on the susceptibility of the crops. High amounts of nitrogen fertilizer or manure increase the risk of nitrate accumulation.
"If fields have been used for swath grazing, winter feeding areas, have had high manure applications or high amounts of fertilizers applied in the spring, those fields are more susceptible to accumulate nitrate in the plants," says Yaremcio. "If no fertilizer has been applied, or if it is an old grass field, those fields are not typically a problem."
After a frost, the timing for cutting the field is a key factor in managing nitrogen accumulation. "If producers can get out in the field the day after the frost and cut it as quickly as they can, there should not be a problem," says Yaremcio. "Nitrate levels increase and peak on the third or fourth day after a frost."
If there is time for the plants to recover, and there is no additional frost to kill the plants, nitrate levels will decline and return to normal 14 days after the frost.
"It is either get out there within one or two days after the frost and cut very quickly, or wait 10 to 14 days before cutting the field," says Yaremcio.
For more information, contact the Alberta Ag-Info Centre at 310-FARM (3276).
Source: Alberta Agriculture and Forestry
Frost Hits Canola. Do I Swath?
3 months ago
-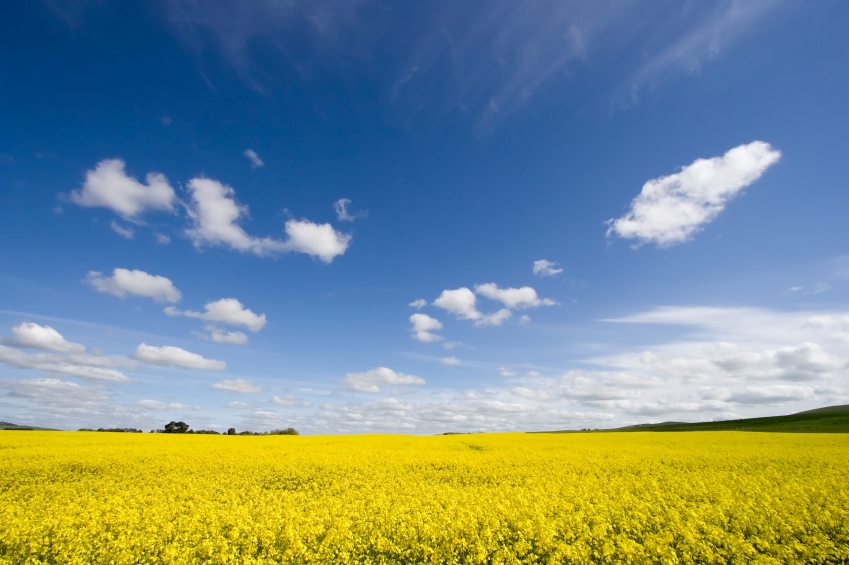 This is the question for many canola growers Sept. 4 as frost (in some areas heavy and long-lasting) hit parts of Alberta over night.
Start with these steps:
—Check standing canola the morning after a frost.
—Before taking any action, wait 4-6 hours after frost to allow the full extent of frost damage to become evident. The crop may look undamaged in the morning but by the afternoon wilting, desiccation and pod splitting may begin. This crop may need to be swathed to preserve yield, but keep in mind that high green counts are likely.
—Light to moderate frost damage may take longer to show up. If no damage is evident after the first day and you decide to leave the crop to mature more fully, scout again after 2-3 days to reassess.
—If most or all seed is mature and you planned to swath the day after a frost anyway, then don't bother waiting 4-6 hours. Just start swathing.
Responses for heavy or light frost
Heavy frost… below -2°C: Assess the damage in early afternoon. Check pods for a white, wilted appearance. Pod shatter and pod drop could begin within a day, especially with warm sunny afternoons. If pods are desiccating rapidly, swathing right away will preserve as much yield as possible.
For canola with high seed moisture, frost in excess of -5°C is generally lethal, resulting in non-viable seed. At such low temperatures, ice crystals physically disrupt structures such as membranes and enzymes. Pods of immature canola crops frozen at lethal temperatures have been observed to turn black, whereas mild frost turns pods white or white-speckled.
Light frost… above -2°C: Hold off swathing. Check in the afternoon for wilting to make sure frost damage was not heavier than expected. You may see some speckling on the stem and pods, but this is of little concern as long as the plant is still alive. If no wilting, leave the crop standing and check daily.
What to look for during daily monitoring:
—If the majority of the seeds remain green and immature, delay swathing to allow for further seed maturity.
—If the pods are severely damaged and are beginning to desiccate, swath during periods of dew or high humidity to reduce the amount of pod shelling and pod drop.

Frost and quality. A killing frost will reduce quality, but that can't be helped — whether you swath today or wait. Immature seeds (moisture content higher than 20%) will be damaged. Seeds with less than 20% moisture will normally escape damage. Green seed is the major downgrade that results from frost.
Source: Canola Watch
Nitrate Accumulation in Hailed Out Crops
5 months ago
-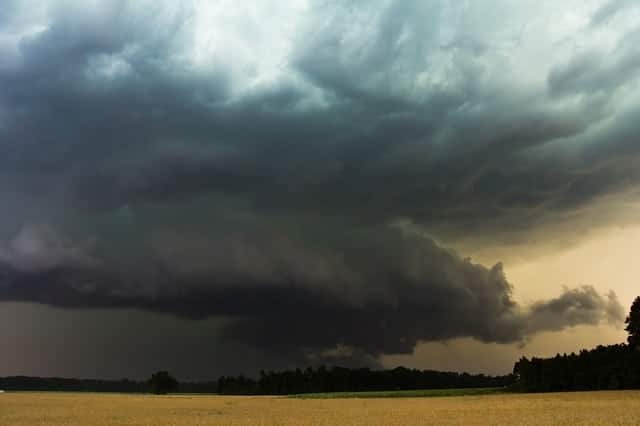 Hail storms travelling across the province this time of year are definitely not unusual. Subsequent damage to annual and perennial crops can be minimal or complete destruction depending on their severity. Barry Yaremcio, beef and forage specialist at the Alberta Ag-Info Centre, explains what to consider when salvaging damaged cereal, oilseed, or hay crops after a hail event to avoid problems with nitrate accumulation.
"Nitrate accumulation occurs in a plant when it is injured and is not able to convert nitrate to protein efficiently after a hail storm," explains Yaremcio. "In non-legume crops, water and nutrients are pushed into the plant from the root system as quickly after the storm as was provided prior to the hail event. Nitrate accumulates in the top leaves and concentrations peak roughly four days after the injury. If the plants recover and new growth is observed, nitrate levels can return to normal 12 to 14 days after the injury."
Soil fertility – in particular the nitrogen content in the soil – and stage of crop development are critical factors as to whether there will be a nitrate problem in the plants. "Crops such as canola and wheat have high amounts of nitrogen fertilizer applied. If the crop is thin and not overly productive, there could be significant amounts on soil nitrogen remaining in the soil into July. A crop that is thick with high yield potential would use up the available nitrogen much earlier in the growing season. With less nitrogen left in the soil, there is less available to be transported into the plant," says Yaremcio.
Yaremcio adds that hay crops tend to have lower fertility than annual crops. "The risk of a hay stand having high nitrate concerns is much lower. Alfalfa and legume crops have nodules in the root system that regulates nitrate transport into the plants. The nodules only allow as much nitrogen into the plant as is needed, therefore it is extremely rare to have nitrate accumulation in legume forages. Nodules on the roots of legume crops only allow as much nitrogen up into the plant as is required. There is no risk of nitrate accumulation in alfalfa or clovers."
Forage test labs can test for nitrates. Says Yaremcio, "If the sample is taken the fourth day after the storm, the results will indicate the "worst case" situation. Talk to the lab and request a rush analysis, then the results could be available one to two days after the sample is received."
Yaremcio explains that ensiling the crop will not reduce nitrate levels if the product is put up properly. "Adequate amounts of packing, sealing with plastic as soon as possible, and allowing the silage to ferment for three to four weeks produces a stable product. Silage that is poorly made can reduce nitrate levels, but the quality of the silage is greatly diminished. To get a representative sample when the silage is being made, take one handful of silage out of each load as the trucks bring it in. Put the handful into a plastic pail with a lid. At the end of the day, mix up the sample and collect a half bread bag full, squeeze out the air and freeze the sample. Send the sample in for analysis on a Monday or Tuesday so it gets to the lab without being in transport over the weekend."
Find more information about nitrate poisoning and feeding nitrate feeds to livestock. "Nitrate in a forage or silage can be managed so that there are no problems or difficulties encountered during the feeding program," adds Yaremcio. "Talk to your feed sales person or company nutritionist, nutritional consultant, or contact the Ag-Info Centre talk to a livestock specialist."
Source: Agriculture and Forestry