A new map showing fusarium seed infection in Alberta between Sept. 1, 2020 and April 30, 2021 has been released by the Alberta Seed Processors (ASP). This is the final map for the 2020/21 growing season.
Results from over 8,600 cereal grain seed samples from 60 rural and two urban municipalities were analyzed, the report says. The highest infection rate recorded was 91 per cent. However, the majority of samples tested negative and the average infection rate was 0.346 per cent, the report notes.
Ancillary data on germination and vigour levels was also collected, the report says. Germination values of 5,970 samples tested ranged from zero to 100 per cent, with the average value being 93.21 per cent. Vigour values of 3,644 samples ranged from zero to 100 per cent, with the mean value being 88.45 per cent.
The findings for the map were gathered from tests completed by SGS Canada, Seed Check Technologies and 20/20 Seed Labs. The test results were merged into one database, catalogued by postal code and then grouped by municipality. The data includes seed testing results for both farm-saved seed and pedigreed seed. The report notes the sample location doesn't necessarily indicate the seed was produced, nor is destined to be planted, in the catalogued municipality.
Results from the tests were reviewed by Michael Harding, research scientist for plant and bee health in the surveillance section of Alberta Agriculture and Forestry. The Alberta Wheat and Barley Commissions supplied further agronomic and management input, the report notes.
The funding for the project came from the Canadian Agricultural Partnership (CAP) and is part of a three-year project on Alberta fusarium seed infection. The main goal of the project is to better understand how farmers can manage, control and prevent fusarium, the report notes.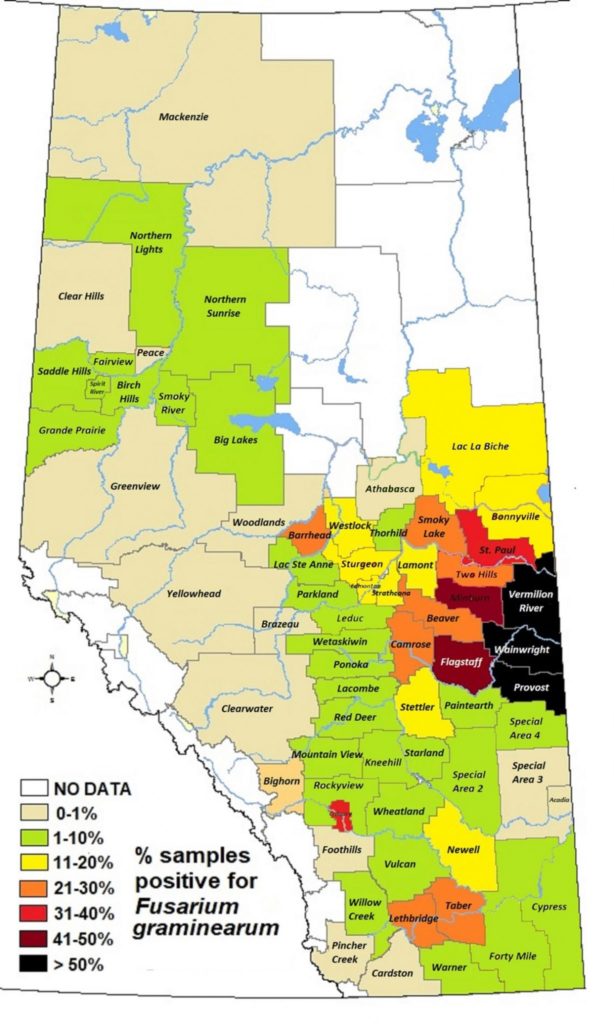 Related Articles
Fusarium Seed Infection Map Released
Moving Forward with Fusarium Regulations Eased