Producers Rushing to Sell Tough Grain
2 years ago
-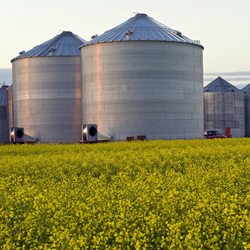 Alberta feed wheat prices are falling as producers rush to sell downgraded and high moisture crops coming off the field.
Nelson Neumann, grain trader with Agfinity in Stony Plain, Alta, said feed wheat prices have fallen about 70 cents/bu since the summer when hot, dry conditions raised worries that feed quality supplies would be tight.
However, a long and difficult harvest in Alberta – marked by cold, wet weather – has meant more and more wheat is coming off in relatively poor condition and heading straight for the feed market rather than the higher priced milling or export markets.
"Last week the phones were blowing up. Right now, I think we're seeing some better weather, so everyone's outside and the phones are probably going to light up again next week," he said of farmers calling to sell.
Along with wheat, producers have been rushing to sell higher moisture barley, Neumann said, adding that in the last few weeks Agfinity has seen a lot of tough grain, at 18 to 20% moisture.
"You're seeing a lot of offers all in the 18% (moisture range), all with producers needing quick movement. Don't want to store it, can't store it, can't dry it down," he said.
At Agfinity, feed wheat bids are currently sitting around C$230 to $235/tonne ($6.25 – $6.40), depending on location. Back in late July, feed wheat bids in the Lethbridge area were as high as about $6.75/bu
Source: Syngenta