A grain handling yard equipped with a SigmaGrain software system from Sigmasys. Photo: Sigmasys
What are the benefits seed growers can gain from using the Libra Cart and SigmaGrain systems for harvest data management? And what improvements are coming for both these platforms.  
With the 2020 harvest in the rear-view mirror it's a good time for growers, who treat and handle seed, to consider how efficiencies might be gained for the 2021 growing season through the use of automated data management systems. To help, the Alberta Seed Guide checked in with two established Canadian companies to see how these systems are being used by the seed sector and what improvements are in the works.
Libra Cart — A Harvest Data Management System
First up is the Libra Cart from Agrimatics in Saskatoon, Sask., sold across North America and Australia. It's a tablet and smartphone-based grain cart weighing and harvest management system comprised of a small box mounted on the grain cart. It connects to standard load cells through the junction box, and an accompanying free app, which can be accessed on a tablet or smartphone. The system automatically detects every time the grain cart is unloading, and wirelessly records and stores the date, time, weight and GPS location. Libra Cart also provides tracking of each load to its final destination. 
The data can instantly be exported out of the app and later opened with any spreadsheet software or can be automatically backed up to the Agrimatics online cloud service, explains Jasmine Brodziak, Agrimatics territory and marketing manager.
Having all this data allows seed and grain producers to compare yields between fields and varieties, resulting in better decision-making. "These records are also very useful for crop insurance," says Brokziak. The box costs around $2,500 and one battery charge lasts on average for one harvest season.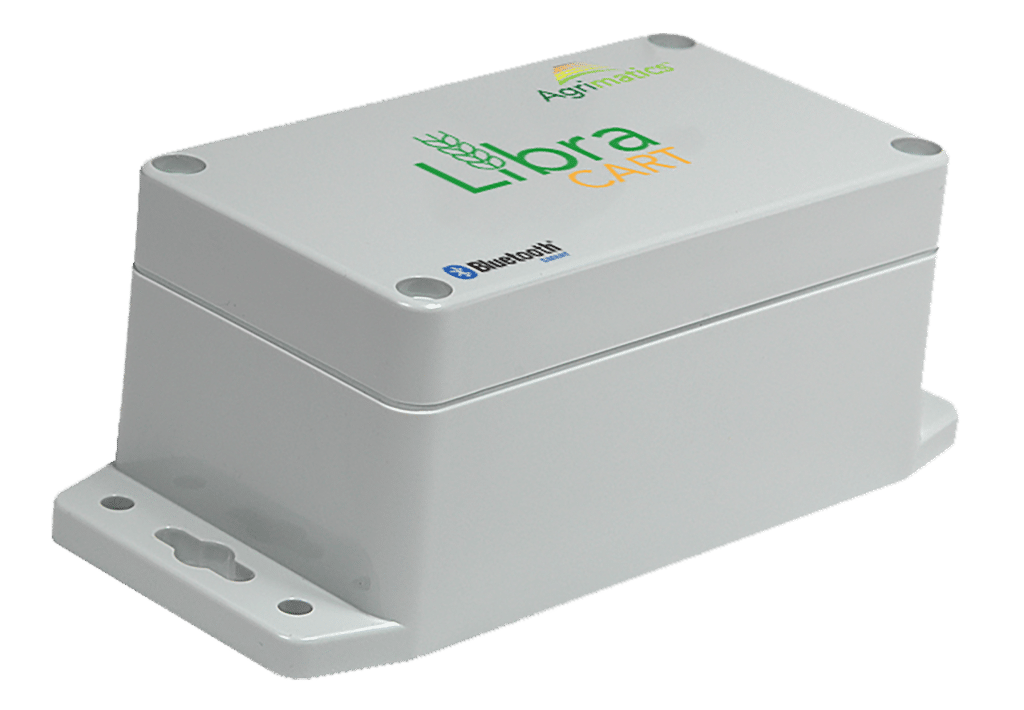 Dean Toews, sales and product development manager at Triple Star Manufacturing in MacGregor, Man., which sells Agrimatics products as well as its own, has found seed growers are the first to understand the benefits of weighing seeds, often more than once.
"It starts with grain cart in the field and some seed growers use the Libra Carts as well for on-yard measurements between bin and cleaner," he explains. "I have sold kits for gravity wagons as well for seed growers. Customers that use gravity wagons for on-yard measurements can use the same Libra that they use on their grain carts in the field."
The Libra Cart is useful not only for comparing fields and varieties, but for doing trials comparing fertilizer rate, crop protection products and so on, adds Toews,. It also assists in calibrating yield monitors on combines and helps grain growers make appropriate and confident marketing decisions.
"Selling according to what 'should' be in the bin has cost many producers over the years by over-selling," Toews says. "One customer reported to me that he was within seven bushels on a 12,000 bushel grain bag when he hauled it to the elevator."
Looking forward, Agrimatics is working on new features within the app and providing more reporting options related to its cloud data storage service.
SigmaGrain — A Harvest Data Management System
Quebec-based Sigmasys offers SigmaGrain, a software system specifically designed for the automation and management of weighing, inventory and transport. Sigmasys also makes systems for aggregate weighing and management of asphalt plants and more. 
"SigmaGrain is installed at grain producer sites, grain elevators and agricultural cooperatives," explains Alexandre Séguin, Sigmasys vice president of marketing for Sigmasys. "We also have a few seed producers in Quebec and Ontario. Currently, our clients are mainly based in Quebec, but we aim to broaden our horizons to meet market demand all around Canada. We believe that we can help farmers from east to west to be more profitable and more efficient by helping them better manage their operations. The time savings generated by using SigmaGrain ensures a rapid return on investment."
The upfront cost of SigmaGrain varies depending on the features required by the customer, and there's an annual service contract fee which includes the yearly upgrade and if needed, technical support.
SigmaGrain can save farmers time through automation of grain load weighing and also rapid analysis of each load, Séguin says.
"The automatic calculation of the moisture deduction and associated drying costs saves time and eliminates the risk of error," he explains. "Real-time inventory tracking per storage site and silo eliminates visual inventory checks also saves time and ensures inventory status is always available."
Access to information can be controlled by one user or a group of users. The system can also calculate estimated and actual yield by harvest, by production and by field.
"Efficiencies are gained through the truck weighing process, for deductions and cost calculations, and for the management of sales, purchases and inventory," Séguin explains. "Accuracy is ensured by automatic calculation of deductions for humidity, impurities and handling, and automatic calculation of drying and storage costs."
Up-to-date inventory data can be accessed quickly, and data can be automatically transferred to accounting systems as desired. Data can be organized in cumulative reporting on a daily, monthly and annual basis, and on various levels at large facilities, such as tonnage by contract, producer and storage site.
"For example, the time saved for an employee for the manual management of the site could be used for other tasks," Séguin explains about how the administrative time savings of the system quickly become significant. "This is very considerable given the current labour shortage."
The company also offers the automated 'SigmaTerm' weighing terminal for unattended weighing. The driver enters information at the interface from the cab.
Sigmasys is currently working on adding a contract management module to meet the needs of grain traders, which will offer management of sales offers and purchase requests.
"Managing grain costs, contracts and invoicing requires a more in-depth analysis of grain trading needs," Séguin notes. "The addition of relationships between purchase and sale contracts to allow the calculation of profit margins per contract."
Other SigmaGrain features in development are focused on helping with inventory control, taking into consideration the transfers made between silos and involve the creation of an interface with the elevator. The upgrades also involve the use of an interactive diagram specific to each operation with the ability to add and otherwise manage the following information for each silo including type of grain, quantity (height, volume, per cent of total silo capacity) and monitoring of conditions (temperature and humidity).
More Harvest Data Management Tech to Come
While the Prairie Agricultural Machine Institute (PAMI) has done "lots of work" related to grain handling, President Leah Olson is not aware at this time of other systems similar to these two.
"When we consider the automation and data collection being used on farms, we anticipate seeing technology evolve in grain carts and other key pieces of equipment that will help make decisions within the operation and onsite. For example, incorporating the traceability of grain through blockchain," Olson says.
Related Articles
'Digital Ecosystem' Enables Online Buying of Seed