As Terry Wagner nears retirement from four decades spent seed growing, he is sharing his knowledge with a new generation.
For Terry Wagner, seed growing was a way to have a second job on his farm without ever having to leave the farm.
During the 1970s, Wagner found himself working off the farm to keep the farm afloat. As the 1980s hit, he was struggling to sell his grain. Strikes at the ports on the West Coast were leaving Prairie elevators full and not buying, so Wagner started looking at becoming a seed grower.
"We had land payments that had come up and we were struggling to get rid of our product," Wagner explains in a phone interview. "I started selling seed, deciding that I needed another alternative to shipment to the elevators."
In 1981, Wagner officially became a seed grower and Wagner's Seed Farm was born. For the last four decades he has spent countless hours in the field caring for his seed crops, and then winters cleaning the seed at his on-farm seed cleaning plant. As he nears his 40th year as a seed grower, he is preparing to retire, but not before helping out a young seed grower in the area.
Starting the Farm
Wagner grew up working on his family farm next to his current farm near Lacombe, Alta. After high school, he attended Olds College for agriculture mechanics. While there, the neighbour of his family farm reached out to him, as he was selling his farm and wanted to know if Wagner was interested in buying it.
"In 1972, a long time ago this farm cam available, a half section here and I bought it when I was 18," Wagner says. "Once I finished at Olds College, I pulled right in… I think in '78 we bought another quarter and 1980 we bought another adjoining quarter."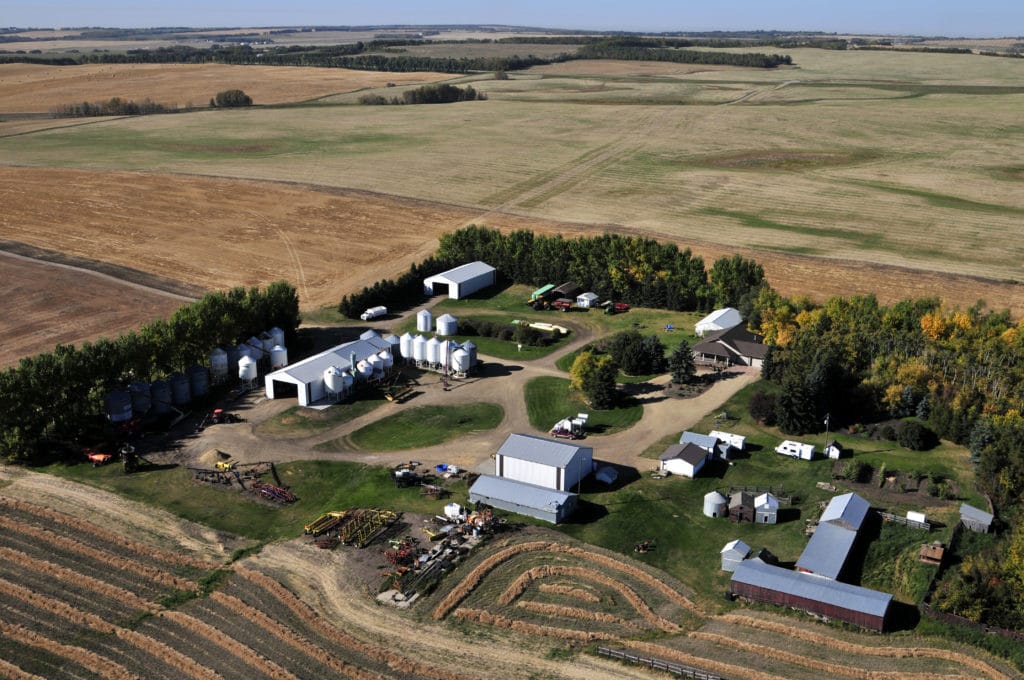 The farm currently has 1,000 acres with wheat, barley, canola, oats and peas grown on it. When Wagner started farming, he worked closely with his father who let him use equipment until Wagner could afford to buy his own — becoming independent as a farmer later on.
Wagner used to have a small finish hog operation and 70 head of cattle, but over the years as he neared retirement, he sold off the livestock and downsized to focus on the pedigreed seed business. Before the pedigreed seed business, Wagner also worked off the farm at jobs like at the municipal seed cleaning plant and doing construction work.
Over the years, Wagner's family has helped on the farm. His wife Loree has worked at jobs off the farm, but she is a registered select seed grower herself and helps Wagner around the yard. His daughters, Kathy and twins, Janice and Janelle, helped out on the farm growing up, but have now moved away and have their own careers away from the farm.
"We didn't push them to try and come back to the farm or anything, they pick their career and away they went," Wagner says. "As I can I keep farming, you never know somebody might decide to get out of the city and move out here."
Becoming a Name in the Seed Business
When AC Morgan oats were first released in 1999, SeCan reached out to Wagner as their first seed grower to grow them. Morgan oats were developed at the Agriculture and Agri-Food Canada's (AAFC) Lacombe research station not far from Wagner's farm.
"We had seven acres in I think, and they went 196 bushels to the acre. And all the newspapers, the Western Producer, were phoning me. I couldn't believe these yields," Wagner says.
Morgan oats weren't the only crop variety where Wagner was one of the first seed growers to grow them. He also was one of the first to grow CDC Battleford barley and Flourish hard red winter wheat.
Wagner is still growing new varieties he's just now working with another seed grower to do it. Last year, Wagner grew AB Tofield and Esma barley for Russell Wildeman, the young seed grower he's been working with, as Wagner is a select grower and Wildeman is not yet.
Working with the Next Generation
Wildeman grew up with Wagner's daughters and his family would buy seed from Wagner's Seed Farm. A few years ago, Wildeman had started the process of taking over his family farm from his father, when Wildeman and his father made a visit to Wagner's farm.
"I have some fairly modern equipment and (Wildeman and his father) come in and I can remember him walking to talk to me. He was looking at all our equipment and stuff, and he goes, 'Dad, I want to be a seed grower,'" Wagner says.
Wildeman was looking at ways to diversify the farm but was struggling to find more land to buy at a reasonable price. He had always been interested in plants having worked as a summer student at the AAFC Lacombe Research and Development Centre. Seed growing seemed like a good fit to increase the value of the crops grown on his land without needing to expand the land base.
"When we decided to try growing seed for the first time, and getting our seed grower number, working through all the paperwork and stuff, (Wagner) was willing to take a few phone calls and encourage us to continue down that path," Wildeman says in a phone interview, explaining how Wildeman Seed Farms was created.
Wagner wasn't Wildeman's only mentor in the seed industry, another local seed grower, Ward Oatway, has also helped him learn the ropes.
For Wagner he is looking forward to this growing season and receiving his 40th certificate as a seed grower. He then may retire from the seed business and sell his crops on the grain market, but he hasn't made a final decision just yet.
"I still love what I do. Everybody says, 'Oh I heard….' I keep talking about maybe stopping the business and then go, yeah we have one more year and this has been going on for five years now," Wagner says.