Moving Forward with Fusarium Regulations Eased
3 months ago
-
With fusarium removed from Alberta's Pest and Nuisance Control Regulations, the seed industry is looking forward to a future where farmers will have quicker access to new seed varieties and more research work done on the plant disease.
The Alberta seed industry was starting to give up hope after years of advocating for changes to the provincial fusarium regulation. While the regulation had been made with good intentions back in the early 2000s, the situation had changed, and Alberta was finding itself lagging behind its Prairie neighbours.
"Some of the regulations were outdated. And from across the province, different areas had different issues with fusarium. They were trying to manage it according to their local areas, but it was more of a regional problem," Tom Coppock, president of the Alberta Seed Processors, says in a phone interview.
In the mid-1990s, fusarium head blight was found in milling wheat in both Saskatchewan and Manitoba, with the disease being declared of economic importance in areas outside southern Manitoba in the late 1990's. Adding to the spread, drought hit Alberta in the early 2000s. To keep livestock fed, feed was brought into southern Alberta from other Prairie provinces such as Manitoba. Some of the plant material was infected with fusarium which resulted in importing the plant disease to Alberta fields.
To fight back and try to halt the spread, the provincial government placed Fusarium graminearum, which is the main causal organism of Fusarium Head Bight, under the Pest and Nuisance Control Regulation. This meant any seed with even a trace amount of fusarium was not allowed to be planted in Alberta. In Manitoba and Saskatchewan, seed with small percentages of fusarium were allowed.
"As time went on, we were finding that fusarium was no longer confined to southern Alberta. It had moved in on its own accord from Saskatchewan," Ward Oatway, past president of the Alberta Seed Growers, says in a phone interview. "It's been slowly creeping westward from there."
In the seed industry, growers were finding themselves with fusarium infected seed. If even a trace of fusarium was found on seed, growers were forced to either export the seed to Saskatchewan or Manitoba, sell the seed lot as commercial grain losing the seed premium, or even destroy it. Even when seed could be heat treated to remove the risk of spreading the fusarium, it was still not legal to sell in Alberta.
The industry joined together to form an industry working group and started advocating for the government to change the regulation. At times they would get close to having the restrictions modified but then an election would happen, and the new administration would either not want to touch a regulatory amendment or they'd be back at the start of the process all over again. Finally, on June 3, Alberta Minister of Agriculture and Forestry Devin Dreeshen signed a ministerial order removing Fusarium graminearum from the Pest and Nuisance Control Regulations.
"The regulations, the way they were, were physical control and the way the pest travelled was by air," Renee Hoyme, president of the Alberta Seed Growers, explains in a phone interview. "It's nice to know the minister realized you can't control fusarium by controlling the movement of the seed."
The restrictions were also causing stress for farmers as there was a stigma around fusarium being found on your farm. Trent Whiting, SeCan's Alberta and British Columbia marketing rep was finding a lot of his customers and farmers were treating fusarium as something they were ashamed of and wouldn't want to talk about.
"I've seen that stigma and you have to talk them down," Whiting explains in a phone interview. "You sprayed, you bought certified seed, you did everything right and you still have it. That doesn't make you a bad farmer."
Whiting is hoping the stigma will be reduced with the regulation changes as Alberta will now be able to work on managing fusarium instead of trying to rid fields of it.
Advancements Hindered
Prior to the changes, research work had been limited in Alberta which was making it hard to find ways to handle fusarium infections. Researchers could only conduct tests on fusarium if it was naturally in the soil, and they couldn't run controlled trials as they weren't allowed to plant fusarium infected seed.
"We haven't been able to come up with an Alberta approach on how to really manage it because we can't do any of the testing of variety, screening, or even testing of products here, because we're never able to even introduce the inoculum into a trial," Whiting says, adding Alberta is a large province with different conditions compared to its Prairie counterparts.
Whiting is also the parent seed coordinator for SeCan in Western Canada and is in charge of planning seed trials. With the Alberta fusarium restrictions, he would find himself picking growers in Saskatchewan and Manitoba over Alberta to try out new varieties. By reducing the amount of seed trials done in Alberta, it limited the release of new varieties.
"We were finding that even if a variety had better resistance to fusarium and everything, the breeding program in the seed distribution or the seed multiplication sites were in areas that had fusarium," Oatway says. "It was extremely difficult for seed growers in Alberta to get seed the first year of a new variety."
New seed varieties would launch in Alberta a few years after they had launched in Manitoba and Saskatchewan. AAC Brandon wheat launched in Alberta a year after the rest of the Prairie provinces because the stock seed had some fusarium in it, Whiting says. AC Brandon is now the most widely grown variety in Alberta.
On Oatway's farm, he was also having problems with receiving reliable supplies of certain stock seeds. He had grown a barley seed variety from Manitoba but wasn't able to get stock seed every year as they were fusarium infected.
"We get one, two years and then it's like, well I don't have any and I can't get any," Oatway says. "We still get phone calls about it. And it's like, 'Oh sorry, I can't get the stock seed.'"
He weighed bringing in extra seed on non-fusarium years in order to have a supply, but quickly realized it wasn't worth the extra money it would take to store the seed.
Future Opportunities
With the regulations changed, the seed industry is now turning its attention to future opportunities as they learn how to control fusarium and hopefully reduce the incidence of it.
"We still are advocating for farmers and trying to educate them about best management practices," Hoyme explains. "Just because fusarium is deregulated doesn't negate the need to test your seed to know if it's infected, to treat your seed before seeding it, do crop rotations and follow best management practices to still control the spread."
The restriction easement should give Alberta farmers access to new seed varieties sooner, while also allowing for further testing to be done in the province to find better ways to manage and deal with fusarium. Seed testing will remain key though for fusarium management, as most seed plants will still require seed to be tested.
"Now we're going to be able to be open about the situation with farmers," Coppock says. "If a seed sample has a low level or a trace level, then that's where we can discuss the best management practices to treat your seed and how to deal with it going forward from there."
Fusarium Watch
7 months ago
-
The wet weather last summer in many parts of Alberta has raised concerns about Fusarium head blight (FHB) in this year's cereal crops — and about the availability of Fusarium-free seed for next season.
"There are a lot of positive Fusarium test results, especially in wheat," says Krista Zuzak, chief plant health officer for Alberta Agriculture and Forestry.
Kelly Turkington, aplant pathology researcher with Agriculture and Agri-Food Canada based in Lacombe, Alta., says because precipitation was generally higher than normal in central and northern Alberta, there was a higher risk of FHB infection in those areas during the growing season.
"The concern would be that the moisture many areas got in late June, July and early August could potentially result in some significant issues," he says.
Zuzak believes as a result of the wet weather, many growers who consulted Fusarium risk maps in the summer would have seen a "very high" risk level during the peak flowering period when cereal crops were most vulnerable to FHB infection.
The ability to access such maps is largely a result of new technologies like the Fusarium Head Blight Risk Tool developed by the Alberta Wheat Commission and Alberta Agriculture and Forestry. It can be used on computers and mobile devices so farmers can remotely view updates on Fusarium disease severity for their location.
It provides real-time results including precipitation, temperature and humidity to help assess risk and can be used to determine the need and timing of fungicide application.
"Fusarium is unique in that it is weather dependent and can vary from year to year. With diseases like clubroot you can make maps and once it's there, you know it's there for a good chunk of history. Fusarium can show up or be dormant, depending on the weather conditions in any given year," Zuzak says.
"With Fusarium, in terms of pathology, we need a pathogen in sufficient quantity, a susceptible host like a cereal or corn. If we see another wet year in 2020, there's a better chance of more infection and higher risk."
Furthermore, wet years that are followed by a dry year can reduce how much Fusarium rears its ugly head, despite the pathogen being present in the field.
"In that case, it might not manifest itself and won't infect the grain," Zuzak adds.
Because it was generally much drier in southern Alberta, the FHB risk was lower there, says Turkington. However,disease could have developed in those instances where too much irrigation water may have been applied, resulting in downgrading of crops, he says.
Turkington points out challenging conditions at seeding and early in the growing season delayed planting in many parts of Alberta, which in turn has led to later harvests. Because of that, it's likely the FHB picture won't be fully revealed until early 2020.
Zuzak says the FHB situation is definitely something cereal growers should take note of as they plan for the 2020 growing season. Seed testing is the No. 1 line of defense, she emphasizes.
Growers should test what they've pulled off the field, so they have a better idea of what's out there. Fusarium is a declared pest under the Alberta Agriculture Pest Act.
"You want to use healthy seed with no detectable levels of Fusarium, so you don't introduce the pathogen to an area. Seed health reports can really help you know the full range of fungus present — not just FHB, but a general seed health report is a great thing to have done."
Trevor Blois, disease diagnostician supervisor for 20/20 Seed Labs, says in the fight against Fusarium head blight, a DNA test can be helpful.
In cereals, FHB can be caused by four different Fusarium species. The DNA test specifically detects  F. graminearum.
"In 2019, we saw the second-highest number of positive test results for FHB since 2016. Fifteen per cent of samples are testing positive in Alberta across all crop types. We're really seeing an increase in FHB in wheat and barley. This correlates with where we are seeing the Fusarium being distributed in the province," Blois says.
The DNA test analyzes 400 to 600 seeds, compared to 200 seeds for conventional culture plate testing. When a plate test comes out negative for Fusarium, it can in rare cases still come out positive with a DNA test. If it does, this means very low levels of Fusarium are present.
"In this instance, you can still use the seed, but you have the added insight that it's present in your area and the seed has been exposed in some way. Seed treatment is recommended in those cases, so that low-level, late-season surface infection can be managed better," he adds.
Another important management strategy is to keep in mind that short rotations of cereals or corn can allow for a buildup of Fusarium, Zuzak adds. The pathogen can survive on infested field residue.
"Cereals back-to-back can be a problem. We do have fungicides that include Fusarium on the label for the list of fungi that are controlled by them. Keep in mind treating cereal and corn intended for use as seed in Alberta is a good idea. There are fungicide applications that are possible. Also, ensuring you have a registered product and proper timing for fungicide application is a good idea," Zuzak says.
A Word About the Fusarium Head Blight Risk Tool
Alberta's wheat farmers can add a Fusarium head blight (FHB) risk tool to their agronomy toolbox, improving their ability to make well-informed decisions related to FHB disease management. The risk tool was developed in a partnership between the Alberta Wheat Commission and Alberta Climate Information Service (ACIS) with expert support from researchers based at Agriculture and Forestry (AF) and Agriculture and Agri-Food Canada (AAFC).
This local disease infection risk tool is optimized for use on mobile devices, enabling farmers to remotely view hourly updates on FHB disease severity for their location. Risk is based on a seven-day history of rain, temperature and humidity.
The tool also features a live updating provincial map of Alberta with the Disease Severity Index for every weather station as well an info tab containing best management practices.
It can be accessed at agriculture.alberta.ca/acis/m#!fusarium
With files from Marc Zienkiewicz
Pest and Disease Outlook 2020
8 months ago
-
Top pest and disease concerns in Alberta for the coming year. 
After a couple of dry years, 2019 was a wetter year in most areas of Alberta, at least in the second half of the growing season, which allowed some crop diseases to rear their ugly heads. This may very well affect what diseases are most threatening in 2020, but the weather will, as always, be a huge factor.
With cereals and canola, Agriculture and Agri-Food Canada (AAFC) plant pathology research scientist Kelly Turkington explains even though it was dry in 2017 and 2018, there may still have been background low-level infections in lower crop canopies and, thus, potential inoculum, especially for cereal leaf diseases.
"When the moisture arrives, even a low level of cereal leaf spot inoculum on old crop residues can be a concern," says Turkington, who is based at the AAFC Lacombe Research and Development Centre. "A lot of the leaf spot diseases in barley and wheat are polycyclic, which means they have many cycles of spore production, dispersal, and host infection, with some cycles being as short as seven days. With moisture present, they can quickly produce large amounts of spores and build up to damaging levels."
Seed testing lab results dating back from before 2012 illustrate the continued expansion of Fusarium graminearum in cereal seed samples in Alberta, notes Turkington. Levels of detection decreased in 2017 and 2018, but moist conditions in central and northern Alberta (as well as irrigation in southern Alberta) resulted in F. graminearum detections skyrocketing in 2019, but not at 2016 levels.
In cereals, as in years past, Turkington says root rots should not be too much of a problem unless growers are planting barley-on-barley or wheat-on-wheat (although no-till seeding helps reduce the impact of diseases such as common root rot). Disease survey results suggest the development of the Septoria leaf disease complex in wheat and this will also be an issue to watch for in 2020.
In barley, scald is also a threat, but mainly in cooler western Prairie regions. "If you had a significant amount of scald in 2019 and you need to grow barley in the same fields this coming year, you should change varieties and pick a variety with as complete a resistance package as possible, not just for scald," advises Turkington. "For silage or forage production, keep in mind that we did a trial where we planted a mixture of triticale, oat and barley, which reduced leaf disease development resulting in better yield than growing the same barley variety continuously."
In addition, take-all root rot disease is always a risk in wheat-on-wheat, notes Turkington, but it can also infect barley, although levels in both crops appear to be reduced compared to years ago. Growers should also keep in mind that take-all does better in alkaline soil, so Turkington says, "if you've applied lime to deal with clubroot in canola, watch out." In canola, he points to sclerotinia stem rot, clubroot and blackleg as risks for 2020, although the extent will depend largely on the weather.
To mitigate all disease risk in 2020, Turkington advises a close look at field history to help producers choose the best variety possible or to signal the need to extend crop rotations. For example, if they had issues with leaf spot disease and/or fusarium in the cereals planted in previous years, producers should choose a variety with at least a moderate level of resistance. Turkington says there is excellent stripe rust resistance in today's wheat varieties, from moderate to full resistance now available.
The disease ratings of previous variety choices will also give insight into which growers should choose for 2020 or if a more extended rotation is needed. Turkington adds that fungicides are key tools for in-season disease management, and crop scouting will always be critical to determine if the disease risk warrants a fungicide application.
Lastly, besides good crop management practices in 2020, Turkington advises growers to send samples of their 2019 harvested grain to a lab for a "full fungal scan" test, which will indicate what fungal diseases were present on the crop and to what extent. This information can be used to further tweak a disease management program, with regard to seed and seed treatment choice, as well as length of rotation.
Pulse Outlook
As with canola and wheat, pulses experienced an upsurge in fungal disease levels in 2019 due to all the moisture. Robyne Bowness Davidson, pulse research scientist at Alberta Agriculture and Forestry, says Mycosphaerella (Ascochyta) blight was present at high levels in the 2019 field pea crop and if the 2020 growing season is wet again, it will also be a large concern due to higher inoculum levels that will overwinter in the crop debris. "It was present in every single field surveyed regardless of whether or not producers applied a fungicide," she explains. "Downy mildew, another foliar disease of pea only seen in wet years like 2019, may also be a concern in 2020 due to higher inoculum levels."
Sclerotinia, a foliar pathogen, and Aphanomyces, a root rot pathogen, were also present in field peas in 2019. Both diseases thrive in high moisture, overwinter in the soil and affected lentils in 2019 as well. Sclerotinia is a potential threat in many broadleaf crops, and can move from canola to pulses or vice versa. Ascochyta was also observed in lentils in 2019, but Davidson says the fact that there is not a large acreage of lentils in Alberta at present helps prevent it from becoming a serious concern.
"In faba beans, the main disease concern is Chocolate spot (caused by Botrytis), present in 2019 due to the wet weather," she adds. "It tends to move in later in the season and can affect yield. We will continue our work in this area to determine the application timing, rate and efficacy of various fungicides. Our research on this has actually been going on for four years, but 2019 was the first year this disease was present at high enough levels that we could study it due to the moisture." In general, faba beans are less affected by root diseases due to a larger root structure, she adds. They are resistant to Aphanomyces and seed treatments work very well to control the other root rot fungal threats.
Insect Threats
The No. 1 threat for canola producers in 2020 is likely flea beetle, says Scott Meers, insect specialist with Alberta Agriculture and Forestry. These will be striped flea beetles, except in the extreme south of the province where it's the non-striped variety. "If the canola crop is able to grow fast in the spring, they won't be as bad," explains Meers. "There are no new control products available, so I've been stressing good plant stand establishment. Flea beetle populations are exacerbated by low plant populations, but there's a lot of pressure on growers to seed more lightly because seed is so expensive. You can do that, but as I have been saying to growers all this year, you are risking higher beetle numbers and you'll have to do things to control them."
Canola growers may also face bertha army worm, where there was an outbreak in the Peace region, and some cases in central and southern Alberta in 2019. Cabbage seed pod weevil is a steady threat in all growing regions, but a little more in the east.
In wheat, Meers reports wheat midge is on the increase in central Alberta due to the wetter weather in the past year, with pockets in various areas. The drier weather in southern Alberta has allowed the wheat stem sawfly to build into a serious problem. Growers in central and southern parts of the province also face serious grasshopper potential. "In barley, there are no real concerns," he adds. "In peas and fava beans, there's pea leaf weevil, and every year there is some pea aphid, especially in lentils in southern Alberta depending on the year."
For more information visit the Prairie Pest Monitoring Network Blogat http://prairiepestmonitoring.blogspot.com/?m=0and the Fusarium Head Blight Infection Risk Reportat https://agriculture.alberta.ca/acis/fusarium-risk-tool.jsp.
Keeping Blackleg at Bay
8 months ago
-
If blackleg levels are on the rise in your canola field, think about adjusting your tactics for managing this yield-limiting disease.
Blackleg-resistant canola varieties are an excellent tool for managing this potentially serious disease, but we need to take care of them.
"If we deploy the same genetic resistance over and over again, then we put a lot of pressure on that genetic resistance and it could break," says Michael Harding, a plant pathologist with Alberta Agriculture and Forestry.
That's the reason researchers are monitoring this fungal pathogen and its races in Alberta and the rest of Western Canada. And that's why growers need to monitor their own canola fields.
"If you're growing canola every year or every second year, and you are starting to see an increase in blackleg over time, that is an indicator the races within your field are adapting to overcome the resistance deployed," says Justine Cornelsen, the blackleg lead for the Canola Council of Canada (CCC). Rising blackleg levels are a reminder to reach into your toolbox for some of your other tools like changing to a canola variety with a different blackleg resistance package and/or extending your crop rotation.
Cornelsen explains two fungal pathogens — Leptosphaeria maculans and Leptosphaeria biglobosa— can cause blackleg in canola. Leptosphaeria maculans is the major concern on the Prairies. Canola residues infected with this fungus release spores that can infect susceptible canola plants as early as the cotyledon stage.
The infection spreads down from the foliage to the base of the stem. The disease can result in stem cankering, lodging and major yield losses, especially if the infection begins when the crop is very young.
A Look at the Alberta Situation
Harding has been leading Alberta's blackleg surveys since 2015. He says the province's blackleg surveys have been sporadic over the past few decades with surveys conducted for a couple of years, then no surveys for a few years, then another survey for a year, and so on. A key issue was whether the person responsible for monitoring canola diseases in Alberta had enough funding in any given year to cover the survey's manpower and diagnostic costs.
"I was in the same boat; I had some limited resources, but not necessarily enough to do a canola disease survey every single year," he says. Thus, Harding and his group are taking a different approach. "We are coordinating the survey, but we ask for volunteers — people interested in canola disease could help out by surveying a few fields."
In 2015, Harding's group partnered with agricultural fieldmen in counties across the province. In 2016 and 2017, they received funding from the Alberta Crop Industry Development Fund and partnered with agricultural research associations in the Agricultural Research and Extension Council of Alberta (ARECA). Last year, and in 2018, they partnered with the agricultural fieldmen again. These surveys include blackleg, sclerotinia and clubroot.
"This has been a really big step forward for us in Alberta to have a consistent, long-term, annual disease survey in canola," says Harding. "And it is thanks to partnering with groups like the agricultural fieldmen and ARECA. We're going to continue with this partnering approach."
They try to survey about one per cent of the canola fields in each county, collecting data on blackleg prevalence, incidence and severity. The table below summarizes the results from the 2015 to 2018 surveys. The blackleg levels were a little higher in 2016 due to wet conditions that favoured the disease.
Results from Alberta Blackleg Surveys, 2015 to 2018
| | | | | |
| --- | --- | --- | --- | --- |
| Parameter | 2015 | 2016 | 2017 | 2018 |
| Number of fields surveyed | 208 | 480 | 421 | 339 |
| Prevalence: percentage of surveyed fields that have blackleg symptoms | 70.7% | 90% | 82.2% | 80.5% |
| Incidence: percentage of stems with blackleg symptoms | 13.1% | 21.2% | 14.0% | 13.25% |
| Severity: rated on a scale from 0 (no disease) to 5 (completely diseased) | 0.39 | 0.42 | 0.26 | 0.24 |
Courtesy of Michael Harding, Alberta Agriculture and Forestry
Harding summarizes. "Overall, our surveys show blackleg is widespread in the province, but we generally only see 10 to 20 per cent of the plants with symptoms, and the severity on average is very low in most fields — less than one out of five. Meaning, the resistance in our canola varieties is working very effectively."
Harding states the 2019 blackleg results could be quite different in various areas of the province. "In 2019, some parts of Alberta had almost no rain, and in other parts it wouldn't stop raining. For southern Alberta, I'm guessing that the 2019 blackleg numbers will be quite similar to those in 2017 and 2018. But in the central part of the province, where they essentially had rain all season long, we could have much higher levels."
To try to draw more information from the survey data, Harding and his group have started conducting a hot spot analysis. "The data points in the survey have a precise GPS location attached to them so we can map them. One of the tools in the mapping software can look around each individual point that has a high severity to see how many points nearby also have a high severity. If it reaches a certain threshold, it will tell you there might be a little hot spot there," he explains.
"This analysis is one way we can distil down an enormous amount of survey data and say, 'here are some areas we may need to look at a little closer.'"
They first conducted the hot spot analysis in 2018.
"We found a few spots with a little higher severity and maybe a little higher incidence. We don't yet know what causes the hot spots, whether they might be due perhaps to the appearance of a new virulent race that is overcoming the resistance in our varieties, or maybe the local weather conditions pushed the severity a little higher."
The 2019 data could help to shed some light on the cause of the hot spots.
"Since a significant part of the province had lots and lots of precipitation and another pretty significant area had almost no rain, that will help us to sort out what the biggest driver is of these hot spots: is it the weather, or is it something else like the crop rotation history or new blackleg races? After we do this analysis for a number of years in a row, we should be able to say with some certainty what is going on."
Three Key BMPs for Managing Blackleg
"Our top three best management practices for blackleg really come down to some of the basics for effective disease management," says Cornelsen.
"Scouting is No.1. Monitoring is key to knowing if you have an issue with your resistant variety."
She recommends rating the blackleg levels in your canola fields each year, especially if you are using a short rotation and if you think you may have a blackleg issue in some fields.
"The best time for blackleg scouting to help make decisions for future years is at 60 per cent seed colour change, right around when you would typically swath the crop," says Cornelsen.
"You go into the field, pull up the plants, cut through the top of the root, and rate your plants on that 0 to 5 scale, with 0 being a clean, healthy plant that has no sign of black tissue in the cross section, and 5 is showing complete internal blackening." Sampling instructions and the rating chart are available on the CCC website.
"You can use this severity rating to determine how much yield you have potentially lost due to blackleg, if you were above or below the provincial average [for the disease], and whether the disease level has been increasing over time in that field," she says.
"That information helps you to make decisions the next time you grow canola in that field. If the disease levels are rising, then maybe you need a varietal change, or maybe the disease is so severe you need to think about extending your crop rotation on that particular field."
Crop rotation is the second of the CCC's top three best management practices (BMPs).
"Blackleg is very easily managed with an extended rotation," Cornelsen emphasizes. "If you can move to growing canola once out of three years, you allow the old residue which houses the pathogen to die down in the field naturally. That will minimize the risk of the field having severe blackleg."
"When blackleg showed up as a real force to be reckoned with in Alberta back in the 1970s and 1980s, it was managed with crop rotation. The one-in-four rotation with canola really came about because of blackleg — the fungus does not survive very long in the soil unless it has host tissue," says Harding. "The lower part of the canola stem persists the longest; it is kind of a woody tissue that survives for two or three years. But once that breaks down, there is nothing left for the blackleg fungus to survive on, so it dies.
The blackleg fungus can also be seed-borne, but close to 100 per cent of the canola seed purchased has been cleaned and treated with a fungicide to prevent any seed-borne issues with blackleg, he adds.
The third key BMP is using blackleg-resistant varieties.
"In Canada, all commercially available varieties are rated as resistant or moderately resistant to blackleg. We are all doing this BMP already," says Cornelsen. "The next level is stewarding the varieties better."
Rotate Resistance Genes
In addition to the big three BMPs, one of the secondary practices on the CCC's blackleg BMP list is rotation of resistance genetics.
Blackleg resistance relies on two types of resistance: major gene resistance, which is very effective, but specific to particular blackleg races; and quantitative resistance, which involves multiple genes that each contribute a small amount to the plant's overall ability to resist the disease at stem cankering.
In major gene resistance, the resistance gene in the plant has to match up with the corresponding avirulent gene in the pathogen. For example, the resistance gene Rlm2 is only effective against races with the avirulence gene Avrlm2.
Since the 1990s, resistant canola varieties with the same one or two major genes have been widely used on the Prairies. That has put selection pressure on the pathogen to shift toward other races. Research by Gary Peng at Agriculture and Agri-Food Canada in Saskatoon and others shows some Avrlm genes have become less common and others have become more common over the past couple of decades in Western Canada.
Each year, as Harding's group assesses blackleg severity in the stems collected in the Alberta survey, whenever they see a stem with blackleg symptoms, they cut off a one-inch piece and send it to Peng. Peng is currently monitoring the blackleg races in Western Canada. His group isolates the blackleg fungus from the samples and determines which avirulence genes are present. Harding also passes along the hot spot analysis from the Alberta survey in case that helps hone in on some areas that might be a concern for development of new blackleg races.
Peng's research also suggests many canola cultivars probably have both major gene and quantitative resistance. Even if the pathogen's population shifts to overcome a race-specific major gene, most cultivars have non-race-specific quantitative resistance that slows the pathogen's spread in the plant and reduces the disease's impacts on yields.
Canada now has a voluntary labelling system that identifies the major resistance genes in canola cultivars. At present, DeKalb, Canterra Seeds, Brett Young and Cargill are using this new labelling system.
"The old recommendation was just to switch your variety [if you noticed increasing problems with blackleg in a field]. You could have unknowingly switched to a variety that would actually be worse for that field," explains Cornelsen. "Now that we've got more information, rotation of resistance genes has become a new best management practice."
Growers and agronomists can submit canola stubble samples to a diagnostic lab to have blackleg races identified. The pathogen is very diverse, so most fields will likely have multiple races. The idea is to choose a canola variety with resistance to the main avirulence genes in the field, if such a variety is available.
"Right now, we have four major genes identified (some varieties are identifying a fifth unknown gene) in Canadian canola varieties. Looking at our blackleg race profile in Western Canada, there would be the potential to adopt an Rlm7 resistance gene in our varieties, to match up with Avrlm7, which is becoming increasingly common here," says Cornelsen.
She is hopeful additional major genes will become available in Canadian canola varieties in the coming years. "A lot of the life sciences companies in Canada have access to materials with other resistance genes that are deployed in other countries. Also, researchers with Agriculture and Agri-Food Canada at Saskatoon have identified some new resistance genes, which will be available to the Canadian market. But it takes time — when you're introducing a new trait or gene it can take upwards of 10 years to get the new varieties out."
New Fungicide Options on the Way
"Fungicides are not commonly used for controlling blackleg on the Prairies at present, mainly because producers don't necessarily see a return on investment within the application year. That is probably because we are missing the critical window of infection," explains Cornelsen.
"Just in the last year or so, we have really dialled in on when the critical stage for infection occurs for blackleg on the Prairies. It's the cotyledon to two-leaf stage. The plants infected at that very early stage will be the ones that suffer the greatest yield loss or may not even make it to harvest. If we can protect the plants at that early stage, we will really minimize the severity of the disease in some fields."
Infection at this really early stage is not unusual. "The infected residue only needs a little moisture and temperatures around 15 to 16 C to start producing spores. [Often in a warm spring,] the pathogen is already releasing spores when the canola cotyledons are popping out of the ground," Cornelsen says.
She explains the foliar fungicides registered for blackleg in canola are labelled for the two- to six-leaf stage, by which time the plants could already be infected. And even if the fungicides were registered for the cotyledon stage, a foliar application at that timing would likely be impractical. "Growers are often busy with planting when canola is at the cotyledon stage. And it's tough to wrap your head around the idea of spraying at the cotyledon stage because you would be spraying bare ground."
However, new seed treatments are on the way. "Within the next few years, we are going to have some new seed treatments coming on the market that can protect the plant at that critical window from the cotyledon to two-leaf stage. I think the new seed treatments will prolong the use of some of the genetics in our blackleg-resistant varieties."
One of these new products is Syngenta's Saltro. "We're excited about what Saltro fungicide seed treatment will bring to the management of airborne blackleg," says Scott Ewert, head of Seedcare with Syngenta Canada. He explains Saltro will provide a new tool as part of an integrated disease management approach, together with crop rotation and genetic resistance, to manage blackleg in canola, minimize yield loss associated with this disease and support the longevity of canola seed genetics.
This seed treatment contains a new active ingredient, adepidyn, which is an SDHI mode of action. Syngenta anticipates registration of Saltro seed treatment in time for use in the 2021 growing season. "What's unique about Saltro is it will provide protection against airborne blackleg at canola emergence through what we now know to be a critical infection period for the disease, the cotyledon stage," says Ewert.
"With blackleg management, we can't rely on just one tool," says Cornelsen. "I know we put our resistant cultivars up on a pedestal, but we've got to look at prolonging their longevity and using all of our management tools. Crop rotation and scouting are really key pieces to managing this disease."
The Future of Disease Management in Western Canada
9 months ago
-
Kelly Turkington is an Agriculture and Agri-Food Canada research scientist and plant pathologist based in Lacombe, Alta., who brings more than 35 years of experience with cereal and oilseed diseases and their management to the industry. From the importance of field-based knowledge and correct disease identification to spore trapping and molecular tests to tailor a farmer's variety selection and in-crop disease management program, Turkington discusses the issues and tools he sees affecting the future of disease management.
ASG: What do you consider one of the most important aspects influencing disease management in the future in Western Canada?
KT: It will be critical to maintain a level of field-based knowledge with respect to disease management, which involves correct disease identification. Although advances in technology will play an important role in the future, it'll be important for those people entering the industry to still have a good educational background and/or field expertise. Educational resources, field-based research and technology transfer, and on-one-on mentoring will be critical to develop and maintain this capacity.
As we see advances in technology — whether related to molecular biology and phenomics, including alternative strategies for assessing disease, like satellite or drone-based imagery — we need to make sure what we're identifying based on these new technologies is actually verified in the field in terms of a particular disease issue.
ASG: Is there anything else industry stakeholders, including farmers, can do to improve disease management?
KT: We need to understand the life cycles of the pests we're trying to manage — how they survive, how and when they develop, and their levels within a field or harvested grain. For example, if a pathogen is only present in small amounts, it will likely have a limited impact on yield, quality and net returns, thus, in-crop fungicide may not be needed. Therefore, understanding the issues you're trying to manage is key to identifying the most suitable disease control strategies and if they are needed. We can't underestimate the importance of foundational knowledge regarding the crop we are growing and any potential disease issues.
We get focused on the latest, greatest and newest technologies, but we also need to remember we're dealing with a biological system. You need to have an understanding of the crop's biology and the pest species or disease attacking that crop. All farmers may not need that if they are working with an experienced and knowledgeable crop advisor or consultant. The message is, don't underestimate the need for good field sense, the importance of expertise, and an understanding of the basics.
ASG: Do you see challenges ahead with respect to an understanding of the basics?
KT:  It relates to what appears to be a generational shift. At some of the recent farmer meetings I've attended, there are more young women and men. Their levels of understanding and field-based expertise may not be the same as some of the older generations of farmers. When it comes to understanding crop production, such as soil fertility, agronomics and pest management, we can't lose focus of the importance of acquiring knowledge, whether that's through formal education, technology transfer or mentoring on-farm. We need a certain level of knowledge and awareness, whether the farmer has that, or whether it's in combination with an experienced crop consultant.
ASG: Are there any other factors that will directly affect disease management in Western Canada, including Alberta?
KT: There are many factors that influence farmers' cropping choices and rotations, and these factors may overshadow concerns related to disease management. Cropping choices may simply reflect commodity prices, the economics of production, or disease issues — for example farmers may love to grow field peas, but can't effectively manage Aphanomyces. From a broad perspective, we need a wider suite of cropping options that farmers feel comfortable growing: they know how to manage the crops and the pest issues that affect them.
As important, there must be an established market for the commodities farmers produce and the prices must be reasonable. To me, having a suite of cropping options is a foundational element we need because if farmers have a range of different crop species they know they can get paid reasonably well for, and be successful growing and managing any pest issues that arise, then they can start looking at two or three or more years between host crop species. This non-host rotational interval combined with good volunteer and host weed control allows for decomposition of infested crop residues and the loss of viability of pathogen survival structures.
ASG: How do molecular tools fit into the future picture of disease management?
KT: Western Canada is in a unique position in that we have a series of private sector or commodity group-supported labs, which have built capacity as far as molecular biology is concerned. In many cases these labs started out primarily testing cereal seed for Fusarium graminearum using traditional agar plating, but then transitioned into DNA-based testing technologies.
This molecular expertise continues to expand. Nowadays, labs offer canola residue tests that identify the virulence group of a blackleg pathogen. Therefore, producers can look at the resistance genetics in the varieties they are growing and the nature of the pathogen in their field, and with the assistance of a crop consultant come up with a resistance management plan. That capacity and molecular expertise is at producers' fingertips. That, to me, is very exciting and continues to grow. Molecular approaches are another tool for assessing the prevalence and nature of a particular pathogen species.
In terms of planning crop rotations, producers can test the virulence spectrum of the blackleg pathogen in a field, for example. Based on the test results, growers can make decisions about the varieties they grow and the rotation they want to follow. Moreover, in the next five to 10 years, there'll likely be similar approaches to other disease issues in other crop species.
In cereals, we may be able to look at the virulence spectrum of cereal leaf spot pathogens. Growers could take in-season or end-of-growing-season infected plant tissues to the lab. Test results may indicate the farmer has a particular type of pathogen virulence group, which will help dictate the varieties and rotations a grower should use.
ASG: Are there other ways you see molecular techniques influencing disease management?
KT: Fortunately, in Western Canada, our fungicide use patterns have typically been fairly limited up until the last 10 to 15 years. Now, we're seeing fungicide being put on at flag leaf emergence or before, and once again after head emergence — to top up leaf disease control as well as for Fusarium suppression.
In some cases in Europe and Australia — where there is a much longer history of fungicide resistance development in various pathogens, usually due to repeated use within a growing season or between growing seasons — researchers are investigating the use of molecular techniques to assess infected plant samples or spores captured out of the air by spore traps. The molecular characteristics of the pathogens and their virulence spectrums can be assessed, which can, as mentioned previously, indicate what resistance genes in the host may still be effective in terms of the virulence spectrum of the pathogen. Research efforts are also looking at using molecular markers related to fungi sensitivity.
When I was a student, spore trapping was more of a research-focused activity because it was cumbersome and took a lot of time. Nowadays, with advances in molecular biology, results from spore trap or plant samples are available within one day. Interest in spore trapping technologies is increasing, which may lead to more practical commercial applications. Still, spore traps are focused mainly on research activities, but we're seeing that change. One option right now is the Spornado technology from 20/20 Seed Labs, which is a passive spore trap.
Fighting Fusarium Head Blight
10 months ago
-
Two Alberta experts share their views on best practices for managing the fungal disease in cereal crops.
Fusarium head blight (FHB) is a growing threat in Alberta. This serious fungal disease of wheat, barley, oats and corn first appeared in southern Alberta crops in the 1990s and has been slowly spreading north and west since then.
While there is no "silver bullet" available to growers to ward off FHB in their crops, there are steps they can take to reduce the impact of disease.
According to Kelly Turkington, an Agriculture and Agri-Food Canada plant pathology researcher based in Lacombe, Alta., the two primary weapons used to combat FHB, fungicides and resistant varieties, don't provide the same measure of control they do for some other important cereal diseases.
That's why Turkington believes an integrated approach that utilizes a series of best practices from seeding to residue management at harvest offers the best chance of success for FHB control.
We asked Turkington as well as Clair Langlois, a cereal extension specialist with Alberta Agriculture and Forestry, about management practices they feel can help growers minimize the presence and effect of FHB on their farms.
Resistant Varieties
Turkingtonbelieves the first line of defence against FHB is to grow varieties with the best available level of resistance against Fusarium graminearum, the predominant Fusarium species in Alberta.
Emerson is a winter wheat rated Resistant (R) to FHB and AAC Tenacious is a Canadian Prairie Spring Red variety that also has a R rating. There are a number of other spring wheat varieties rated Moderately Resistant (MR), and among the durums, Intermediate is the best rating.
Turkington says resistance to FHB is harder to achieve in wheat than it is for some other pathogens, so the level of disease control typically isn't as high as it would be for a stripe rust resistant variety, for example. But he says when used as part of a disease management program, varieties with an R or MR rating still offer some assurance against F. graminearum infection.
"That doesn't guarantee you won't have problems, but it greatly reduces your risk compared to a highly susceptible variety," says Turkington.
Healthy Seed
Turkington states another key to FHB control is using good quality certified seed, or at the least, seed tested for the Fusarium pathogen.
"To fully understand what you're facing in your field or in your area, that means testing, making sure the seed you're planting is tested for F. graminearum," he says.
Langlois agrees it's important for growers to dotheir due diligence when procuring secure seed.
When buying certified seed, he says growers should ask for a seed health report with testing results specifically for F. graminearum.  Using seed of the highest quality with high germination and vigor scores, and the lowest disease levels as possible.  Langlois also recommends growers keep a representative sample of the seed they purchased.
In addition, Langloisbelieves it's a good idea for growers who opt to test their seed to ask their seed labs to perform both an Agar-plate test and a DNA test, since this will not only tell you if F. graminearum is present in the seed, but just how much of it is there.
Seed Treatment
Langlois says regardless of whether FHB is present in an area, it's a good practice for growers to always treat their seed with a registered fungicide that includes Fusarium control on the label. He says this will not only help avert seedling blight but also reduce the potential spread of F. graminearum in a field or area that hasn't had it before.
Another benefit of using treated seed is it can help cereal crops get off to a good start and in a better position to ward off FHB.
"You want to start off with good, high-quality seed and then couple that with a good quality seed treatment using good application technology, which will help ensure rapid uniform seed germination, seedling growth and emergence, and stand establishment," Turkington says.
"If you have a high level of Fusarium infection, and you'll pick that up in your seed tests, you'll see a reduction in germination. Seed treatments can help mitigate some of that if the level of infection isn't too high."
Seeding Rates
Langlois recommends growers utilize higher seedings rates, since this will promote a more uniform stand, reduce tillering in plants, and result in a shorter flowering period for the crop (which is the key growth stagefor F. graminearum).
As Turkington points out, uniform crop development will ensure more uniform head emergence and a more uniform target for farmers spraying fungicides to limit FHB later on in the growing season.
"You need to get fungicide on the plant tissue you want to protect. If plant tissue is still in the boot, it's totally unprotected, and the fungicide will be deposited on the flag leaf sheath instead. You need to have head tissues physically out so you can spray fungicide on them," Turkington says.
"If you use a lower seeding rate, that means there's more secondary development and a wider window for potential infection to occur since there's a much more variable target."
Turkington recommends growers avoid planting seed too deep, since this can also result in more variable stand establishment.
He suggests growers pay close attention to the amount of seed-placed fertilizer to avoid phyto-toxicity that high levels of seed-placed fertilizer may cause.
"You want to have good separation of your seed and fertilizer, especially nitrogen. This will help to promote more even germination and better stand establishment," says Turkington.
Sprayer Technology
Turkington stresses when applying fungicides in-season to fight FHB, it's essentialto make sure the field sprayer is working properly and calibrated correctly, so the fungicide is distributed as evenly and accurately as possible.
He says spray nozzles and nozzle combinations that maximize spray coverage on all sides of the wheat heads are particularly effective.
"You need to look at an angled nozzle setup," says Turkington. "The fungicides we're using provide suppression at best. That may just be the nature of the disease we're trying to control and the target we're trying to hit, which is more of a vertical target. That's why it's important to use the right nozzle technology to try and improve coverage."
Limiting Residue
Turkington says because F. graminearum can overwinter in crop stubble, anything that can be done to facilitate decomposition of this residue will help remove a potential source of inoculant. He says one of the steps growers can take is to chop up crop residue and spread it widely over the field.
"The smaller the pieces, the better, because the more rapidly it will decompose," says Turkington. "If you get good spread of the material, you won't have the thick sort of swath of chaff that might take a bit longer to decompose in subsequent growing seasons."
Crop Rotation
 Allowing more time for crop stubble to break down before reintroducing another cereal crop to the field is another way to reduce the risk of Fusarium infection. Langlois says a short or continuous rotation of cereal crops can allow for a buildup of F. graminearum on infested residues, so it's recommended growers leave at least two years between host crops.
Because corn is also susceptible to F. graminearum, Langlois says it should be avoided in rotation with small grain cereals.
"You have to be careful what you pick for a rotation, and corn is definitely not one," he says.
Turkington agrees. "If you look at history, corn is an important host for Fusarium graminearum, and that means it's an important host crop for subsequent small grain cereal crops in terms of future risk. So certainly, corn exacerbates the risk you may have."
For many Alberta grain farmers, canola is a popular rotation choice with cereals. Both Langlois and Turkington say field peas are an excellent rotational crop growers should consider as well.
Field location can also be an important consideration for FHB control since wind-blown F. graminearum spores can easily travel from one field to the next. Langlois says for this reason, it makes sense for growers to try to avoid planting small grain cereals right beside cereal or corn fields where F. graminearum levels are known or suspected to be high.
Combination of Practices
Turkington says in those areas where the fusarium pathogen is well established, relying on crop rotation alone is likely not enough when it comes to FHB prevention.
 "You might have a good rotation, at least two, if not three years between susceptible crops, but your neighbour next door may not necessarily be following that type of crop rotation," he says. "What you might find are spores literally being blown across a gravel road from one field to one that's immediately adjacent, and those fields would be most at risk."
Turkington says that's why using multiple tactics to fight FHB is the most effective strategy, and he's optimistic with new research into areas like variety development, seed health and enhanced agronomic practices, farmers will eventually have a larger and more effective toolbox to work with.
"In Alberta, Fusarium head blight is a big issue that can cause some significant problems," he says. "The tools we have [to fight it] do not necessarily work as well as we would like them to right now, but there's lots of research and activity going into improving that, so I'm hopeful."
###
To:  All agricultural producers in Alberta
Re:  Fusarium graminearum status in Alberta
Fusarium graminearum (Fg) was declared a pest in the Pest and Nuisance Control Regulation under the Agricultural Pest Act in Alberta as an eradication strategy in 1999.  Since then, infection levels and spread of the pathogen are increasing across Alberta. For example, in 2016, 26.5 per cent1 of cereal fields surveyed, and 85.3 per cent1of corn fields inspected contained the pathogen.  Forecasts for 2019 point towards a higher incidence of infection in high rainfall areas of Alberta, especially in crops that received rain during flowering.
Alberta Seed Growers and Alberta Seed Processors through their work in a multi-faceted industry working group launched by the Alberta Wheat Commission have put forward the following request of the Alberta Government:
Modernize the current Pest and Nuisance Control Regulation to move away from a seed-infection based regulatory approach to mitigation and management. Instead, we recommend a focus on the use of best management practices to control the disease.
This regulatory change would allow for the free and transparent movement of seed with minor levels of Fg infection for propagation & research. It would also emphasize a focus on the more effective disease management of employing best management practice tools.
Following are the consequences of maintaining status quo of Fg as a pest in the current Pest and Nuisance Control Regulation:
Economic Disadvantage for Alberta Producers
Alberta farmers are at a competitive disadvantage to access newer varieties available to farmers in other provinces; it is becoming more difficult to find pedigreed seed that has non-detectable levels of Fg.
High quality pedigreed seed with very low infection levels of Fg. (0.5 per cent) is being shipped out of province or dumped as commercial grain, leaving farmers with less opportunity to purchase pedigreed seed.
Maintaining a focus only on seed infection increases the risk of producing fusarium infected crops, as it takes the focus off wind-borne spore infection from infected cereal & corn fields.
Alberta's Seed Industry is Not Sustainable
o   Seed growers are finding it increasingly difficult to find higher generations of the newer varieties with improved fusarium resistance, resorting to growing older varieties; which does not help farmers trying to manage fusarium.
o   Seed production companies are at a tipping point where it is next to impossible to justify multiplying varieties in Alberta where they are at substantial risk of producing seed with detectable levels of fusarium. These new seed varieties, when detectable levels of fusarium are present, are then shipped out of province, where out-of-province producers are at a huge advantage of gaining quicker access.
Please join us, along with other members of the fusarium working group, to support the amendment of the Pest and Nuisance Control Regulation to address the current fusarium reality. Email your support for change or any comments to the fusarium working group:  [email protected].
1  Harding, Michael;  Research Scientist, Plant Pathology Crop Research and Extension Branch Alberta Agriculture and Forestry Summary of Surveys for Fusarium Head Blight caused by Fusarium graminearum in Alberta Wheat Fields, ACIDF Project # 2015C017R
Sniffing Out Clubroot
11 months ago
-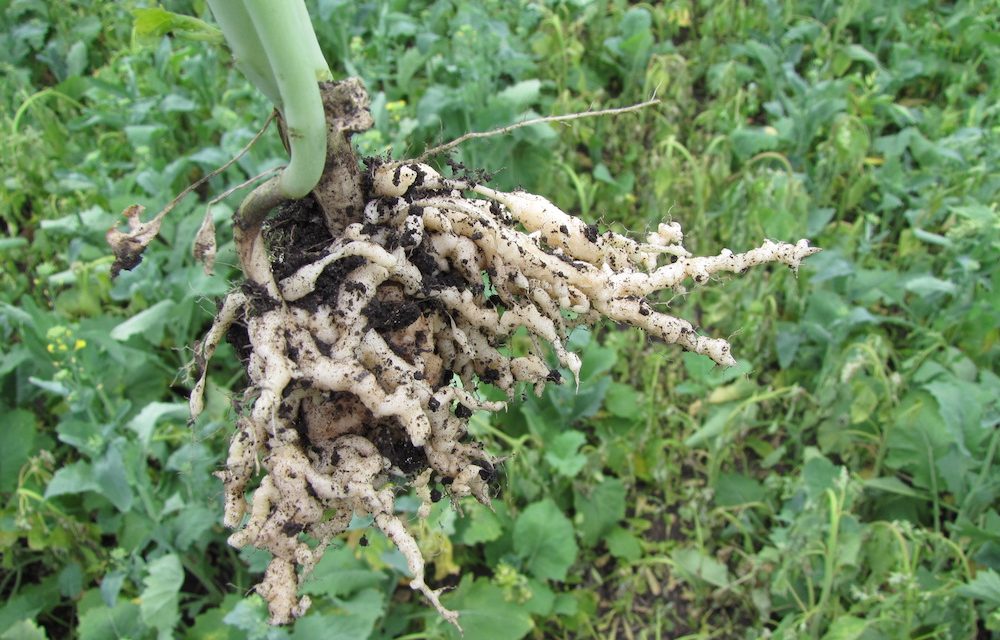 It was a sight this past September in canola fields near Brooks in Newell County and again in Leduc County, 2 sniffer dogs on the hunt for clubroot galls. They and their trainers were in the province for the final phase, the field trial, of the canine detection of clubroot project.
The project came about when Michael Harding, research scientist of plant pathology with Alberta Agriculture and Forestry (AF), was contacted by dog trainer Mario Bourque in New Brunswick about training sniffer dogs to detect plant disease. Harding suggested clubroot.
"I knew that the concept had been done before (with avocados) and we needed to find the situation that needed the solution," explained Harding. "Clubroot was the one because all the symptoms are underground. We have to destructively sample to see them. We needed something that could see the roots without pulling them out of the ground. That is where the dogs' olfactory senses came into play."
Harding contacted Farming Smarter's general manager Ken Coles to support the project.
"In the research world, it is always a struggle to figure out how to get the projects that are interesting to farmers and practical in your area," said Coles. "We felt that it was a relevant and kind of an out there idea and that's kind of the premise of Farming Smarter."
Before the two dogs – Josie, a 2 year old German Shepherd, and Adi, a 13 month old Golden Doodle – flew to Alberta, trainer Bill Grimmer used clinical scent training for 3 months in New Brunswick. Once they had proven the dogs could detect clubroot in the clinical trials, they were ready for field testing.
During those two days in the field, those participating in the trial saw evidence that the dogs would alert their handlers to areas where clubroot was present without digging up the roots.
"We set out to answer the question can dogs be trained to sniff out clubroot. We have shown that is truly the case both in the clinical setting and in the field setting," Harding added.
"We learned a lot in those field trials," said Harding. "The dogs had never been in a canola field before. They had never been on an airplane. It did not go seamlessly because this was a really new environment and a new experience for the dogs. They are used to detecting gall material that is not underground on a canola stubble, so it was the first time for that."
Harding added that these dogs would need some additional training to be working dogs with a high rate of success at detecting clubroot. "But, we have seen lots of evidence that they can do it."
"Clubroot costs the industry a lot of money," said Coles. "For us down south, where we are in that sort of clubroot-free zone, to be able to detect it earlier, we can employ the strategies that have already been successful and maybe keep it out a bit longer."
"If you have a scent dog that can help scout for clubroot, you eliminate the need to pull out 500 roots to find one with a gall," said Harding. "There is an upfront cost for a sniffer dog, but you do not have to pay them a salary. They are really happy to go. Dogs could be trained to detect resting spores in the soil, so they could detect clubroot infestations in soil on equipment. The dog could verify there is no presence of clubroot spores on equipment up for sale. You could combine with GPS, on the dog's collar to see where the dog has scouted, what it missed, where it has alerted and where it has not."
Harding also added the possibility of training the dogs to detect more than clubroot. "You could train a single animal to alert you to fusarium, aphanomyces, blackleg, verticililium wilt, late blight – these dogs have the capability of learning that skill."
"Now the work starts," said Cole. "There are just so many approaches and opportunities, and we need to sort them out."
Source: Alberta Ag
Clubroot Update (With Recipe For Clubroot Management)
1 year ago
-
Manitoba Agriculture announced this week it has discovered a clubroot pathotype in South Central Manitoba that is able to overcome the first generation clubroot resistance. Outside of Alberta, very few fields have been found to contain novel pathotypes like this, and this is the first finding in Manitoba.
In Saskatchewan, visible clubroot symptoms have been found in two fields in the northwest part of the province in R.M.s where clubroot symptoms were not previously confirmed.
And in Rocky View County in Alberta, a county where clubroot was confirmed for the first time just last year, novel pathotypes that can overcome first generation resistance are already confirmed.
All of this news means clubroot continues to spread and farmers should continue to scout, even when using CR varieties. Click here for scouting tips and images.
RECIPE FOR CLUBROOT MANAGEMENT
When combined, like ingredients in a recipe, the following practices will help growers to limit clubroot damage in canola, allowing for the continued success and profitability of canola production across the Prairies.
Vigilantly scout all canola fields for symptoms, even if growing a CR variety.
Keep a minimum 2-year break between canola crops. This crop rotation is crucial in the stewardship of genetic resistance. With a 2-year break between clubroot hosts, we see a rapid decline in living resting spores.
Seed CR varieties and understand if/when to deploy different sources of CR. Planting CR varieties before the disease arrives and gets established will give you a better chance of keeping the resting spore load at a manageable level and maintaining effective resistance. Rotation of resistance genes could also be important to maintain resistance efficacy. With repeated use of varieties with the same resistant traits under high spore loads, virulent races can multiply and effectiveness of resistant will be seriously compromised. Read about how that happens.
Limit activities that can introduce foreign soil or cause erosion. Minimum tillage and equipment sanitation (as simple as knocking off visible dirt before leaving a field) will greatly reduce the risk of moving infested soil around. Note that wet soil conditions increase the amount of soil that clings to equipment.
Control host weeds. Common weeds that can host clubroot include stinkweed, shepherd's purse, flixweed, all mustards and volunteer canola. They need to be controlled within three weeks of emergence to prevent a new batch of spores being produced.
Isolate field entrances and hot spots. Use patch management strategies to reduce spore loads, such as grassing the affected area, which will also limit soil movement. Patches that are visibly worse than the remainder of your field often have billions more spores per gram of soil than elsewhere and are often the first place where clubroot resistance breaks down. Removing these hot spots from cultivation for a few extra years significantly reduces spread and risk of resistance breakdown. As part of this, having separate field entrances and exits could reduce the amount of infested soil leaving the field on machinery.
Scout now for clubroot. Symptoms of the disease are most noticeable late in the season, and can still be seen during and after harvest on plant roots. Producers are strongly encouraged to familiarize themselves with clubroot symptoms and start scouting now before the galls degrade. If galls are degrading they will look brown and peaty and may fall off when plants are pulled from the ground. Scout heavy traffic areas (entrances, exploration, gas wells, etc), low areas/water runs and areas where dust/snow tends to drift and settle. It is good practice to pull plants and examine roots whenever you are looking at later-stage canola as the disease could show up anywhere.
Source: Canola Watch
New Clubroot Areas – Scout Your CR Canola
1 year ago
-
In Saskatchewan, visible clubroot symptoms have been found in two fields in the northwest part of the province in RMs where clubroot symptoms were not previously confirmed. This serves as a reminder to all canola growers to scout fields – both clubroot resistant (CR) and susceptible varieties – closely for visible clubroot symptoms and remain diligent in preventing and managing clubroot.
Random scouting of healthy looking plants is important because by the time galls are big enough to cause above-ground symptoms, clubroot has taken a firm hold in the field.
Variety choices for next year. With the goal to keep spores 'low and local', early deployment of clubroot-resistant (CR) canola is important when clubroot is confirmed in an area and certainly when any trace of clubroot spores are found on the farm.
The CR trait will prevent most infection, which will help to keep spore counts low in fields that already have lower counts. With fewer resting spores in the soil, the risk of building up virulent pathotypes is reduced.
Use the following checklist to decide whether a CR variety is right for your farm. If any one statement is "false", a CR variety may be the best choice.
I vigorously checked all of my fields (not just those in canola this year) to confirm that clubroot is not found on my farm. (True or False)
I sent in soil samples from fields that will be in canola next year and they tested negative for the pathogen. (True or False)
My neighbours have checked their fields and they don't have clubroot. (True or False)
I have not heard of any clubroot in my community. (True or False)
No outside equipment/traffic has entered my fields since I last scouted them for clubroot. (True or False)
When spore counts are allowed to reach high levels: clubroot is more easily moved from field to field, clubroot will cause yield loss in susceptible canola (even with a four-year rotation) and clubroot will overcome CR traits.
Note that growing CR varieties alone is not enough to stop spore build up. Crop rotation and weed control are also required.
Crop rotation. Evidence from three rotation studies done in Canada (two at Normandin, Quebec, one in Alberta) suggests that two years between host crops is the minimum rotation to manage clubroot spores in a field.
Weed control. Volunteer canola, flixweed, shepherd's purse, stinkweed and mustard will all host clubroot and leaving these weeds uncontrolled in rotation crop will greatly reduce the benefit of crop rotation to manage clubroot.
Source: Canola Watch
Patch Management For Clubroot: You Can Do It! Here's How
1 year ago
-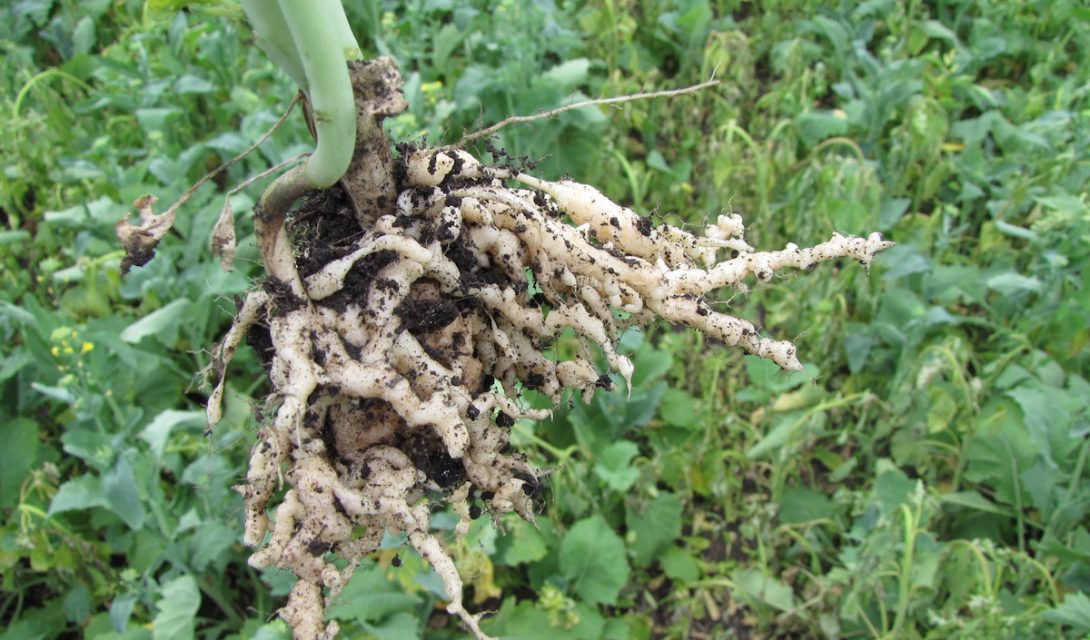 Canola plants yellowing pre-maturely could be infected with clubroot. If you find a patch of canola plants with clubroot galls, take action now to contain it. This is especially important (1) if clubroot is new to the farm or (2) if the field is seeded to a clubroot-resistant (CR) variety and the patch could have a new pathotype that you need to contain.
If the patch is small, dig up the infected roots and burn/destroy them. Then make sure to leave the patch untouched by tillage or any other operation that would move soil beyond the patch.
Why is patch management important? Spore loads will be very high in that patch and could reduce canola productivity in that area for years. Clubroot will often start in small patches and if a farm can identify those patches early and keep them contained, it can be an extremely important step in managing the disease. Discovery of a patch can also inspire a review of crop rotation to extend the break between canola crops to a minimum two years (three-year rotation), and encourage the farm to increase biosecurity practices to limit soil spread. In areas of Alberta that have been battling clubroot for more than 15 years now, more than a dozen fields have so much clubroot, including pathotypes that can overcome CR varieties, that canola is not a viable economic crop on that land. That is why identifying and containing clubroot patches is so important.
Once the patch is defined, a good next step would be to seed the patch to a perennial grass. This could be done now to see if the grass can get established before freeze up. If conditions are not suitable (too dry, too cold) for establishment, the next best patch-seeding time is likely early spring.
HOW TO ESTABLISH A PATCH OF GRASS
Step 1. Identify the patch dimensions by pulling plants in all directions until NO GALLS can be seen on the roots. At a minimum, extend the radius of the patch by about 50% from that point and seed the whole expanded area to grass. (The grass-patch area should be approximately double the area where clubroot galls were determined to be present.)
Step 2. Choose a grass species or blend. Although research is showing that certain grasses may be slightly better than others at coaxing spores out of dormancy and more quickly reducing spore loads (Fleet meadow brome and common smooth brome showed good results), the purpose of the grass is to establish a thick stand that holds soil in place.
Step 3. Seed the patch. Surface application (with a Valmar, for example) and a light harrowing is often enough for grass seed. Shallow seeding is optimal. Regardless of how the grass gets seeded and/or incorporated, make sure to not drag soil outside the patch. Clean off the equipment before leaving the infested patch so contaminated soil is not transferred outside this patch. For specifics on seeding rates and other valuable grass-establishment tips, refer to the 'How to establish grasses' section in this guide.
Step 4. Once the patch is established, spray as needed to keep out volunteer canola and other clubroot hosts. Known clubroot hosts include canola volunteers, brassica weeds (flixweed, stinkweed, shepherd's purse, wild mustard), tame mustard, camelina and most other brassica crops and brassica vegetables. Leave the grass in place for at least three years before returning to annual crops. Five to seven years may be required if clubroot was so severe that plants in the patch were all dead in July.
Source: Canola Watch