The Bashaw Seed Cleaning Co-operative built a new seed cleaning plant, which increased capacity, in 2018. Photo: Bashaw Seed Cleaning Co-operative
The Bashaw Seed Cleaning Co-operative has been serving its community for more than six decades, and during that time its level of service and sense of community has only grown.
When the team at the Bashaw Seed Cleaning Co-operative decided it was time to upgrade its plant a few years ago, they didn't look at all of the fancy new bells and whistles they could add. Instead they focused on expanding their capacity while keeping the same standard of service they are known for.
"We maintained a lot of what we did at the old plant, we did not incorporate a whole bunch of automation. We still believe in hands-on, adjusting the machinery and visually being out there," Bill Sinclair, Bashaw Seed Cleaning Co-op manager, says in a phone interview.
Since the Bashaw plant first opened in 1959, it has always focused on serving and working with the community they call home, while providing top notch pedigreed seed cleaning. In the fall of 2018, after 59 years in their original smaller plant, they cut the ribbon on a new larger capacity facility — ushering in a new era of business for both themselves and the community they serve.
A History of Innovation at Bashaw Seed Cleaning Co-op
While they may have opted out of adding a lot of fancy automation to their new plant, they kept true to their history of being cutting edge and innovative in the seed industry.
The Bashaw Seed Cleaning Co-op was the first in Alberta to add colour sorting technology to its facility. By adding colour sorting, the plant was able to attract new customers and expand their business.
"The demand for services was such that we were having to run the old plant 24 hours a day, and we were unable to take on any new big customers," Sinclair says. At the old plant they were cleaning 700,000 bushels a year. In the first full year at the new plant they were able to clean over 1.2 million bushels of seed and grain.
The new plant was also built to accommodate the future twinning of the equipment in order to double their output if/when the need arises, Sinclair adds.
While the main feature of the new plant was the capacity expansion, a few upgrades to the facility were also added. A pelleting system was installed in order to help with dust collection. The system collects chaff in the plant and turns it into pellets which can be sold as animal feed. Sinclair says it does help, but not every grain chaff pelletizes easily.
Sinclair also worked with AGI to create a new model of their STORM FX Seed Treater. The STORM system is a mobile grain auger with an automatic pumping system which applies chemicals. Sinclair reached out to AGI about making an in-house stationary model.
"We're the first ones to have one of these AGI STORM stationary treating systems out here. It's working wonderful and it was just one those partnerships over time (where) people have been able to make something happen in our industry," Sinclair explains.
Bashaw Seed Cleaning Co-op Works With the Community
The larger capacity has also allowed the Bashaw plant to expand its work within the community. When Rahr Malting, an international malting facility located only about 30 km from the plant, first heard about the expansion, they were interested.
The folks at Rahr had been noticing more Ergot was turning up in grain loads trucked to the facility. The general seed cleaner system Rahr had onsite was unable to separate Ergot out, however a colour sorting machine could clean the grain.
"We were rejecting them and (the loads) were going back to the farmer," Kevin Sich, supply chain director for Rahr Malting, says in a phone call. "So, the farmer had to haul it home or haul it somewhere else to get it seed cleaned."
Rahr reached out Sinclair, asking if they could forge a partnership between the two. In the end it was decided the Bashaw plant would leave bin space available for Rahr, which would allow Rahr customers to come and drop off loads to be cleaned right after they're rejected at the malting facility.
"We might be sending a truck within 20 minutes of the phone call. And in the industry, a lot of times you don't do that kind of stuff, it's supposed to be planned," Sich says.
While Bashaw doesn't sell other products besides its seed and grain cleaning services, the plant is an integral part of its community and supports agriculture related causes there.
"We have always tried to support small things in the community, especially youth and 4-H kind of things," Sinclair says. "I guess that's what it is, we live in a small town Alberta."
Making it Through the Pandemic
It hasn't been easy for the plant this year as they've had to adapt to the ever changing COVID-19 pandemic reality. In March 2020 as the first wave lockdown hit Alberta, Bashaw Seed Cleaning Co-op put away its coffee pot and had customers stay in their trucks as they dropped off loads.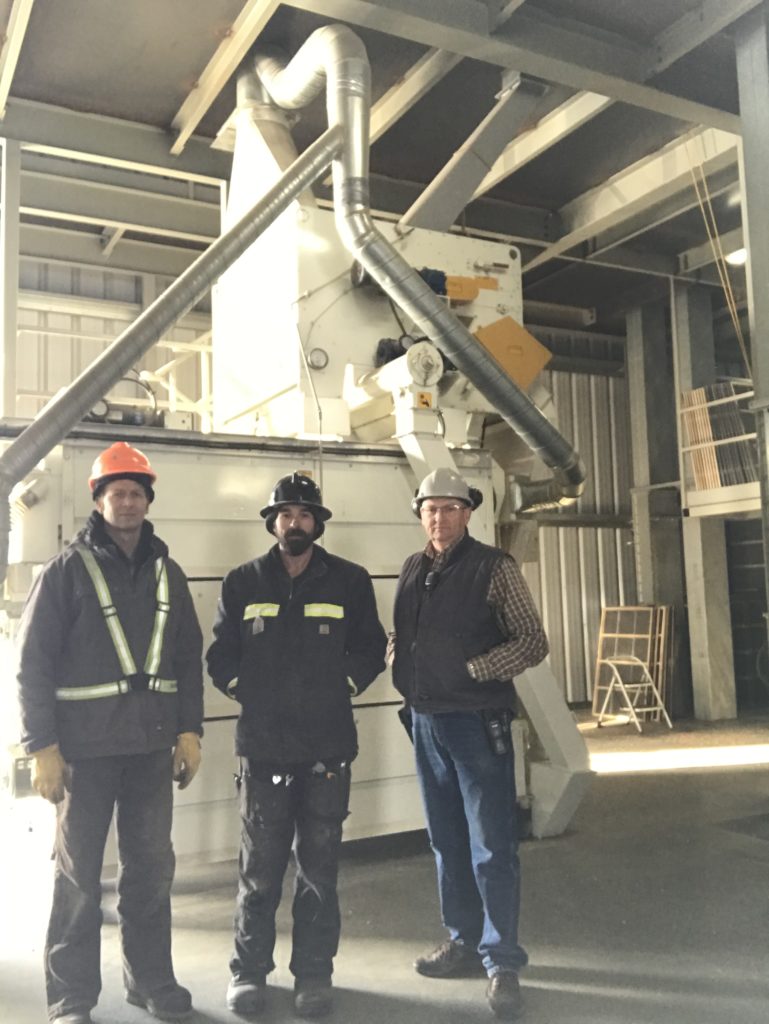 "It's been a bit strange. We don't have the direct, close personal contact with our customers right now," Sinclair says. "It was a matter of us making sure we could get the seed out last spring. And I'm not sure where it's going to go (now)."
Sinclair has been manager of the Bashaw plant for 26 years. With the reduced customer contact he's thankful of the relationships he's built with them over the last quarter of a century.
"It would be much, much harder on a new business or management situation I think to adapt to this right now. I think we're pretty fortunate that I'm at the stage where I am here where our customers know what to expect here."
Sinclair works with two other employees at the plant, Leroy Quapp and Ashley Rindero. Usually there is four employees at the plant, but they are currently looking for another employee for the plant.
Related Articles