Frontier Seed Cleaning Co-op Surpasses The One Million Bushels Mark, Doubling Its Volume In Five Years
7 months ago
-
For the first time in its near 40-year history, Frontier Seed Cleaning Co-op Ltd. has processed more than one million bushels of seed and grain, surpassing all expectations of Ken Wiebe, the plant's manager.
"We did almost 1.1 million bushels. It's unbelievable. Every year you figure you can't do any more, but it keeps increasing," says Wiebe. "It's a good feeling, but sometimes it's very hectic considering the capacity — if you divide 300 to 350 bushels per hour by 1.1 million bushels that's a lot of hours."
Over the past five years, the plant has doubled its volume. In 2013, the plant processed roughly 500,000 bushels, and each year thereafter, increased bushel numbers by at least 100,000. One reason the plant topped one million bushels is its storage capacity.
Last summer, Wiebe installed two additional storage bins, increasing storage volume by about 7,000 bushels, bringing the plant's total storage capacity up to 30,000 bushels. He also upped the plant's operating times: during peak seasons, it runs around the clock. Wiebe figures about 3,400 hours went into processing 1.1 million bushels of oats, wheat, canola, peas, barley and lentils.
However, it's the region's increasing production acres driving the plant's boom. "Our acres have increased. They've probably tripled over the last two to three years. A lot of new land is being put into production," he says.
Also central to the plant's processing growth is the organic industry. According to Wiebe, about 30 to 40 per cent of all organic producers in Alberta are growing crops in his region. The organic industry has significantly boosted production in the area for the last five years. As a certified organic facility since 2013, approximately 50 per cent of the plant's processing can be attributed to this sector.
"The organic industry is big here," says Wiebe. "This is what makes us money. We got our plant certified in 2013, and it's been picking up every year."
The plant currently cleans about 300,000 to 400,000 bushels of organic products per year, in addition to 20,000 to 30,000 bushels of conventional oat seed for distribution to organic producers.
Big Plans
Established in 1980, and sitting on two acres near the northern Alberta hamlet of La Crete, the plant has reached its processing capacity, says Wiebe, and he has no plans to increase the volume it can handle. "I've done everything I can do with this plant," he says. However, Wiebe has got big plans for the future.
The ink has only just dried on the legal paperwork for the purchase of seven acres to house a new seed cleaning facility on the outskirts of La Crete. The plant manager hopes to break ground in three to four years for a state-of-the-art seed cleaning facility.
"When we do it, we want to go all out. We want to build a big, modern facility. That's the goal we've set for now," says Wiebe. He figures it'll take a year from the start of construction to cleaning the first bushels of seed and grain.
Besides a brand-new building, Wiebe also looks forward to new, high-tech equipment, such as a colour sorter, and computerized operations.
"This is world-renowned oat country. We do lots of oats here, but then wild oats become a problem. We need a colour sorter. I can only take out a limited amount of wild oats — you need a colour sorter for the rest. That'll be super exciting," he says.
Presently, everything is as it should be at the plant: Wiebe has it running like a well-oiled machine. "Right now, we're operating pretty smoothly. I don't foresee any challenges unless the capacity gets way out of hand. Every year you think you can't do more, and then you throw in another 100,000 bushels on top. It's the struggle we'll have for the next three to four years," he says.
The only other potential pitfall is a downturn in organic markets, something Wiebe doesn't dwell on. Instead, he remains focused on the tasks at hand, such as separating crop combinations.
The season begins to heat up for the plant manager in August, when farmers start combining. And, because intercropping is so popular in the area, separating oats and peas or barley and peas are fall projects on Wiebe's to-do list.
Processing peas begins in August and lasts until the end of October. Then the Frontier crew starts on the rest of the seed cleaning. During the busy seasons, up to seven other staff members are on the payroll.
However, no matter the time of year or how many staff members are employed, an important focus of the business is customer care. According to Wiebe, establishing and maintaining good relationships with the producer community is important, especially because of the plant's size.
"Our capacity is so small that we all have to cooperate. I have very good relationships with my farmers. I bend over backwards for them, and they for me. That's very important because of the plant's size and processing volume."
Advancing Quinoa
1 year ago
-
Quinoa is still very much a small niche crop in Canada, but since the United Nations declared 2013 the International Year of Quinoa, it's been gathering steam.
The ancient South American staple is now being grown commercially in Ontario as well as the three Prairie provinces, but adapting quinoa to our country's unique growing conditions hasn't exactly been easy.
The search for seed to produce quinoa varieties that can reliably flourish in Canada continues, and it is entrepreneurs as well as research scientists who are leading these efforts.
We talked to the producers of two made-in-Canada products — Quinta Quinoa and Amber Quinoa — about the different paths they're taking to find right seed.
Quinta Quinoa
Jamie Draves is the founder of the Quinta Quinoa brand, which was introduced to Ontario consumers in Ontario last year.
Draves got his quinoa brand onto store shelves after appearing on CBC Television's Dragon's Den in 2015. He left the Den with a $200,000 investment from Canadian restaurant magnate Vikram Vij to go towards advancing a gluten-free production facility in Georgetown, Ont., and the commercialization of Quinta Quinoa.
Draves started with small group of growers in Ontario producing his quinoa and he's begun looking to Western Canada to expand his network.
Developed through five years of industry-support research, Quinta Quinoa varieties are highly nutritious. They've been shown through third-party testing to be high in protein, fibre and zinc, an excellent source of iron and magnesium, and a good source of calcium.
"We are two-to-four times the nutrient value of any other quinoa on the market," Draves says.
The company hasn't stopped there. Draves notes that an aggressive conventional breeding program has been set up, which so far has produced 70 new varieties of quinoa. It's hoped that some of them will be ready for commercialization in as little as three years.
"We expect quite a few of these varieties — at least five to 10 of them and potentially quite a few more — will have very unique traits that will be sought-after for specific functional food market purposes," Draves says.
According to Draves, the new varieties have different potential strengths. "We are opening discussions with growers and companies around the world to help them develop superior seeds to the ones they already have, and many of them are looking for something different," he says.
"With quinoa being such a high nutrient provision for people's diets, it's exciting to be able to be in a position to be able to help make superior natural types available."
Draves says the focus of the breeding program is on producing higher yields as well as expanding the choice of different-coloured offerings and beefing up the nutrient content of Quinta Quinoa even further.
"We continue to push the envelope with our all seeds," he says. "We have strong research relationships with the University of Guelph, which is looking at non-GMO DNA information that will help us to continue to naturally breed our quinoa to make it more beneficial from a yield perspective for the growers, but then also have higher nutrition for our consumers."
Quinoa is a cool-season crop and is particularly sensitive to heat, which limits the areas of potential commercial production in Canada.
"There still is a fair amount of variability in terms of where we can grow it successfully," Draves says. "That's our next big step."
Quinta Quinoa growers in southwestern and northeastern Ontario have fared well in terms of yield and quality, Draves notes. He adds the company's quinoa production efforts in Western Canada have so far been mixed, although there were some "incredible results" in southern Alberta last year, including a record 2,000 pound-per-acre yield.
Draves' company and its research partners are working toward achieving a better understanding of both the development stages and the phenological elements of quinoa production, in order to speed up the process of naturally breeding varieties tailored to different areas.
"That includes taking a look at using some of the newer CRISPR technologies to look at markers within the gene code that inhibit or hold back certain strengths of the crop. This will allow us from a non-GMO perspective to really better understand how we can select these natural plants, to encourage some of these more favourable traits in the different areas," he says.
"Understanding the genome allows us to pick that best one very quickly and early. That saves a lot of time in the process and produces a superior end result."
Amber Quinoa
Percy Phillips of Portage la Prairie, Man., has a background in agricultural engineering and in product development in ag, mining and transportation equipment. These days, much of his time is spent developing both a producer base and a market for Amber Quinoa, Phillips' own brand of prairie-grown quinoa that's sold at a dozen or so retail and food service locations in Manitoba.
Phillips' interest in quinoa was sparked by a Peruvian vacation some eight years ago. He started wondering if quinoa could be a successful crop back home, and Phillips' curiosity turned into a quest for quinoa seed that could be grown commercially in Manitoba and, eventually, the establishment of Prairie Quinoa.
Prairie Quinoa's mission — to produce a superior and distinct Canadian quinoa — is similar to that of Quinta Quinoa's, but Phillips has chosen a different route in his effort to get there.
"I'm an engineer, not a plant breeder, so rather than trying to develop my own variety of quinoa, I went on a search to find quinoa seed from other parts of the world that would grow here," Phillips says.
For the past three years, Phillips has been trying out different types of quinoa, not only in his own plots but also through ongoing variety evaluation trials at Manitoba Crop Diversification Centres in different areas of the province.
"It has cost me a lot of time, effort and money to locate the seed," says Phillips, who has sourced his quinoa seed from South America as well as the U.S.
Amber Quinoa has been Phillips' most successful variety and is the one that's now being produced commercially. He's looking for more Manitoba producers to try their hand at growing the crop for Prairie Quinoa this year.
Phillips says the potential advantages Manitoba holds for quinoa production include long daylight hours, productive land and large field sizes, and proximity to U.S. markets. But he acknowledges that finding quinoa seed from elsewhere that will consistently perform well in Manitoba — in other words, produce a reliable, high-yielding crop — has been challenging.
According to Phillips, the first year of trials in 2014 showed quite a bit of promise, but the results were much more mixed the following two years. He believes this was due in part to moisture deficiencies and weather anomalies in the testing areas.
Craig Linde of Manitoba Agriculture has been overseeing the quinoa trials at the crop diversification centres. "From year to year the variability has been quite high, which I think is essentially the main takeaway with regard to quinoa right now," he says.
According to Phillips, quinoa has a vast genetic pool, with some 5,000 different varieties in Peru and Bolivia alone. Because of this diversity, Phillips believes discovering the right types of seed to fuel a successful commercial quinoa industry in Manitoba is likely only a matter of time.
Prairie Quinoa is prepared to keep looking — new varieties will continue to be assessed in Phillips' fields and in more government evaluation trials this year.
"Certainly there is room for quinoa to be grown as a crop in Canada," Phillips says. "We just need to find the commercially viable varieties and a model to produce it."
Riding the Western Soybean Wave
1 year ago
-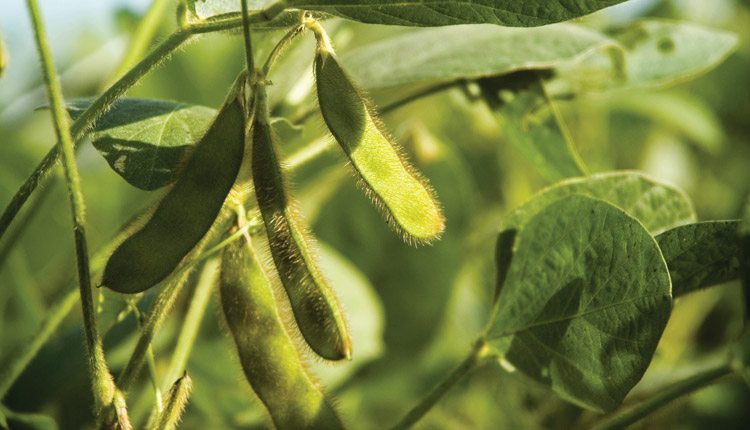 Soybeans were once unheard on the Prairies. Now, they're marching west from Manitoba to Alberta, with no end to acreage increase in sight.
Here's an easy riddle: What was unheard of in Manitoba a few years ago, now is found everywhere and has moved well beyond Manitoba in a seemingly unstoppable westward domination of Canadian fields?
The answer is soybeans.
Truly a force to be reckoned with, soybeans are now being grown in huge amounts across Saskatchewan and have started to be grown in Alberta as well. To find out exactly how much acreage has expanded, how the development of locally-adapted varieties is going and where the future of soybeans in the west is headed, we checked in with three experts, including Glenda Clezy, an agronomy specialist with the Saskatchewan Pulse Growers (SPG).
Clezy says it was around 2012 that the crop really started to increase significantly in acreage in Western Canada. She points to Statistics Canada data that shows a strong jump in acreage in Manitoba from last year to this year (2.3 million acres in 2017 up from about 1.6 million in 2016), and a tremendous leap over the same time period in Saskatchewan (850,000 in 2017, more than three-and-a-half times the 240,000 acres grown in 2016).
Alberta is not currently included in the data due to low acreage, nor in Statistics Canada's June 2017 crop report, which states that Ontario, Manitoba, Quebec and Saskatchewan account for 99 per cent of national total soybean production, and that all of these provinces reached record high soybean acreages this year.
"The number of varieties available to growers is on the rise as well," Clezy explains, "and is likely a key factor in the increase in acres as more varieties are available that are shorter-season and have the potential to reduce risk for producers. Currently there are 48 varieties in the variety trials in Saskatchewan. These varieties range from 006 to 0006 maturity groups."
Trials in Manitoba involve similar varieties, as well as some that are later-maturing.
Clezy took a look at the websites for companies that are currently selling soybean varieties in Western Canada, and reports that there now seem to be more than 90 varieties available in total. However, she notes that not all of these varieties will be suitable for all areas, and farmers in some areas will have a much smaller number of varieties to select from that may be suitable for their locations.
Wilt Billing believes the number of soybean varieties available in Western Canada has easily gone up ten-fold over the last decade. The product line manager for Crop Production Services in Manitoba says that it's the development of early-maturing varieties that has driven the acreage growth, and that "some companies have been faster to address this than others."
Elroy Cober, a research scientist in the soybean breeding and genetics division at Agriculture and Agri-Food Canada (AAFC) in Ottawa, agrees that maturity is a requirement for reliable production in the Prairies. "Growers need to select lines that reliably mature," he advises, "while recognizing they may give up a little yield in years when there is a long open fall."
Over the last 15 years or so, Cober has been testing his early-maturing soybean lines with staff at the AAFC station in Morden, Man. He notes that while the growing season in that area is a "long" season when considering Western Canada as a whole, he's found "the early half of my breeding material to be adapted to Manitoba."
Cober has developed a very early-maturing variety, AAC Edward, marketed by SeCan.
"During its testing, it was grown at Saskatoon for a number of years and performed very reliably there," Cober reports. "It is necessary to test lines in their proposed area of adaptation. Iron deficiency chlorosis is not an issue in Eastern Canada, while it can be a problem with some soils in Manitoba. Local testing will sort out lines that are susceptible."
Cober is currently testing early-maturing breeding material in Manitoba at AFFC Morden and Portage. He is also collaborating in a pilot project where he is developing populations and sending them to Morden and Saskatoon for selection and testing with the belief that local selection may allow for even better adaptation.
Billing notes that in general, breeding is now shifting towards the development of defensive traits and high-yield potential in the early-maturing varieties. He lists resistance against things like Phytophthora, white mould, and soybean cyst nematode to be among important defensive traits.
Soybeans on Trial in Alberta
In a presentation published in January 2017, crop scientist Francis Larney of AAFC Lethbridge and his colleagues stated that soybean acreage is increasing in Alberta and that they have found the best yields to occur at maturity of 116 to 121 days. They have done one year of study so far. They also conclude:
More than 130 days to maturity can lead to risk of frost damage
Threshold CHU = 2,200
Target yields are now about 3,300 kg/ha (50 bu/ac)
Future yields could be pushed to 4,000 kg/ha (60 bu/ac)
The team measured factors such as plant density, days to flowering, plant height at flowering, pods and seeds per plant and so on, and found that narrow rows resulted in lower pod height and more seeds per plant. Higher planting density resulted in slightly faster maturation.
The scientists also looked into whether soybeans could be used to replace dry beans in irrigated rotations, but found dry beans result in a soil N credit 2 to 2.5 times greater than soybeans.
Looking Forward
 In terms of where in the west we might we see soybeans being grown next and how the industry is preparing for that, Clezy points to a few factors.
"The future of soybeans will be dependent on the success that growers have over the next few years, as well as the ongoing release of new varieties that offer higher yields and earlier maturity," she says. "The weather and the amount of moisture available will also impact the success of soybeans. As varieties continue to develop that are able to mature in fewer number of days, and yield sufficiently to make them a suitable option for more of Western Canada, we will likely continue to see soybean acres increase as well as expand in geography to the north and to the west."
Cober notes that some growers are trying soybeans in areas such as The Pas, Man., and Edmonton, and he feels it might be a possible to grow soybeans that far north, and he continues to look for new early-maturity genes which might allow for further northern expansion. "While heat-loving soybeans might be able to be grown in the northern Prairies, they need to yield enough to be competitive with cool climate crops," he notes. "I hope that soybeans might find a place in canola rotations to allow for longer rotations and reduce canola disease pressure."
Alberta's First Seed Plant Doesn't Act Its Age
1 year ago
-
At 71, you're supposed to slow down a bit and not overdo it. Clearly, someone forgot to share that with the Camrose County Seed Cleaning Plant, which seems to get bigger and better with age.
In 1946, the Agricultural Service Board (ASB) in the Municipal District of Camrose saw that good clean seed was hard to find and chose to do something about it.
"The old army drill hall was rented through the Town of Camrose from 1946 to 1948 to clean and store seed grain," said current plant manager Murray Van Petten. "The Alberta government rented cleaning machines to the operators and a profit of $7,000 was turned over to the M.D. of Camrose No.63."
A Clean Start
Nothing against army drill halls, but the ASB decided in 1948 to build a new plant, thanks in part to a $10,000 grant from the province. Thus was born the first seed cleaning plant built in Alberta with municipal and provincial funding for use by the agricultural community.
"It's from this basic idea that the co-op seed cleaning plants were built back then, with one-third financing from each of the provincial government, municipal government and shareholders," says Van Petten. "In the case of the Camrose plant, the shareholder portion of the funds was provided by the proceeds of the first operation in the Camrose Drill Hall. As a result, this plant was owned completely by the M.D. of Camrose and operated by the Agricultural Service Board."
Just as armies must face adversity, so too did plant operators. In 1963, the recently formed County of Camrose No. 22 built a new, more modern seed plant on the existing site. One year later, it had burned to the ground, leaving only the office and driveway. The present plant was constructed on the surviving foundation in 1964; fortunately, it has fared much better than its predecessor.
Onward and Upward
"There have been numerous additions and renovations over the years to enhance efficiency and production," says Van Petten. "In 1980, we built a loading bay and power door, and followed that up in 1981 with a new driveway floor deck including a digital readout truck scale. That year, we also added a bin monitoring system, a 3,000 bushel per hour receiving leg, a debearder and an additional elevating leg."
But they were just getting warmed up. Brand new offices and overhead doors appeared in 1982, while 1983 saw a 1,500-bushel clean seed bin and two 275-bushel screening bins installed. Over the next 10 years, the plant would add more storage and screening bins, loading bays, a more effective cyclone and an LMC Mark 500 Gravity Table at a cost of $232,000.
"The last renovation, completed in 2001, included 10,000 bushels of grain storage, a 5,000 bushel per hour receiving leg, clean seed leg, an upgraded treating facility and three 2,000 bushel hopper bins for clean seed."
Candid Cameras
Today, the plant runs like a well-oiled machine where nothing is left to chance. All bin levels and leg shafts are monitored, as is the chemical pressure, treated grain flow and mixing auger shaft rotation. To ensure staff safety and work efficiency, the plant has a video monitor system complete with eight cameras.
Thanks to a full line of new equipment installed over the last five years – including a debearder, 6 drum indent, precision grader, Ceres 686 Clipper and a Buhler Sortex color sorter – the plant now averages 700,000 to 800,000 bushels per year.
In keeping with its commitment to not be slowed by age, the plant upgraded its treating system last year to a Graham G-40, capable of treating seed between 30 and 40 bushels per minute.
Counting on the County
Apart from its storied past and status as "Alberta's first," the Camrose County Seed Cleaning Plant is also unique in its county ownership, something Van Petten says offers many advantages.
"The Agricultural Service Board offices at the plant are a natural because we are patronized mostly by farmers. One office assistant is able to support both the ASB and seed plant offices' reception requirements and maintain all financial aspects for the plant. As well, the ASB shop being on the same premises gives the plant access to welders and other necessary equipment for maintenance."
Finally, two of the seed plant operators are used by the ASB department during summers, giving qualified personnel full-time positions and saving the hassle of retraining part-time help every year for both departments.
With all of the upgrades, makeovers and innovations, the Camrose County Seed Cleaning Plant is neither looking nor acting its age, and that's good news for the county, the operators and their customers. Like the senior citizen who eats well and exercises, it seems the plant's best years are yet to come.
Powered by Passion
2 years ago
-
Working together sets the Carmangay Seed Cleaning Plant apart.
Managers and staff of the Carmangay Seed Cleaning Plant, located about 60 km north of Lethbridge, count themselves lucky – they love their jobs. That may explain why turnover at the plant is rarer than a seed cleaning issue they can't solve.
Since they opened their doors in 1959, they've only had five general managers. The first held the position for two decades, and the current general manager, Rod Blenkin, has been on the job for 23 years. And as he nears retirement, his son Chris is taking the reins as plant manager.
"My dad and I are a good team," said Chris Blenkin. "He manages operations and employees and I focus on the bookwork as well as future expansion."
With 15 years of experience at the plant, Chris Blenkin is a relative rookie; but then, he's only 34 years old, and he likes what he sees so far.
Advantage: Alberta
"Our plant is the 'Alberta advantage' in action. Other provinces have privately-run seed plants so they charge the customer more. As a co-operative, we are here to benefit the farmer and keep their costs as low as possible."
That has always been the goal of the Carmangay Seed Cleaning Plant, whether processing 150,000 bushels annually in 1995 or 600,000 in 2016.
Today, the bulk of their business is cleaning cereals and pulses for farmers to re-plant the following year. Most of that business comes from word-of-mouth, thanks to clients who appreciate their knowledge.
"We try and add value to a farm operation wherever we can. Our 40 years of combined experience gives us a unique viewpoint where we can clean just about anything from hemp to rice to safflower," notes Blenkin. "We even get calls from farmers who aren't in our area asking us to problem solve for them."
The Royal Treatment
Not content to rest on their laurels, however, they are rapidly building the seed treatment part of the business.
"It's a key area of growth. We used to treat 6,000 to 12,000 bushels of grain per year and we now do around 70,000, all in April and May. We wanted to find a way of assisting farmers at seeding time, so we bought a mobile seed treater and went to work. Now we're exploring ways of boosting those numbers even more," says Blenkin.
Part of their success stems from a commitment to always having the latest equipment and technology in their plant.
"We're constantly modernizing to be more efficient and do a better, faster and more affordable job for the farmer. Our new mobile treater is a perfect example as it's fully automated and provides proper application and amazing coverage at an extremely fast rate," says Blenkin.
The automation brings error rates down from 10 per cent, which is typical in the industry, to a measly 0.5 per cent. No wonder father and son talk about embracing technology.
A Co-operative in the Truest Sense
Not only do they look ahead, they look around and gather input from many sides.
"We are currently working with our board on five- and 10-year plans and discussing a number of ideas," notes Blenkin. "We're also sitting down with farmers to get their opinions on where they'd like the plant to go from here. As much as we're a seed cleaning plant, we're really owned by the farmers and here to benefit them."
While those plans may include a new plant at some point, they're considering other areas where they could be of service, such as exporting and blending of seed for feed.
Their collaborative approach to planning for the future also extends to dealing with the present.
"I think one of the reasons we've had such continuity of staff is our board of directors," says Blenkin. "They're very supportive and strike a good balance, giving us the freedom to run the plant and offering plenty of guidance when it's needed."
The plant is a co-operative in the truest sense, in that customers have their input as well.
"Our local clients are fantastic. They're so encouraging and really want the plant to succeed which only gives us more passion to make that happen. We're truly here to help each other and work together," adds Blenkin.
Their building may be long in the tooth, but there's no shortage of youthful enthusiasm inside.
"This operation is filled with energy. We have a young board and a solid foundation backed by the Alberta Seed Processors. Most importantly, we have managers and staff who love what they do: giving farmers the best product and service they can to help them grow their business."
When it comes to job satisfaction, this is one group that truly found its calling, and its customers are indeed lucky to deal with such a caring and enthusiastic group.