Saving Dollars with Sectional Control
5 months ago
-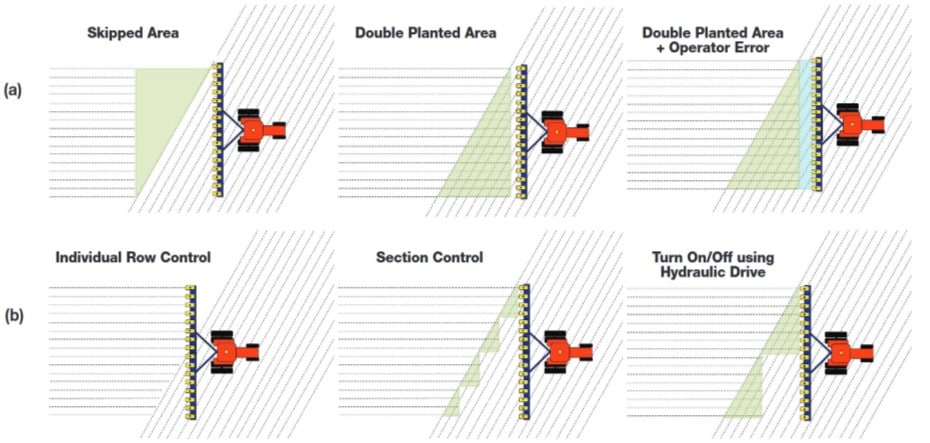 How much money does using sectional control to stop seeding overlap actually save farmers?
Last year, Nevin Rosaasen, policy and program specialist with the Alberta Pulse Growers (APG), was looking into cost effective technologies for farmers. Sectional control rose to the top of his list as he quickly discovered there hadn't been any specific studies looking into the cost savings, both monetary and environmental, of the technology.
"When you set off certain sections when you're overlapping you just avoid double seeding, double fertilization and because of that it can greatly reduce the cost of your inputs," Rosaasen explains in a phone interview.
With fields including barriers in the form of bushes and wetlands, this technology helps farmers maneuver around them and not over apply on areas already seeded. It also helps discourage farmers from clearing these barriers in their fields, which in some cases are important environmental habitats.
"We've seen certain sustainability schemes for sourcing food in food supply chains that now will not allow farmers who either drained wetlands or removed trees, to sell into some of those markets," Rosaasen says.
Rosaasen's study was approved and received funding through the Canadian Agricultural Partnership (CAP) with the federal government. He also managed to get the attention of colleagues at the Alberta Wheat and Barley commissions, Alberta Canola Producers Commission and the Canola Council of Canada, who volunteered time to help with the study. Alberta Agriculture and Forestry was also involved, however staff reductions since then has reduced the provincial role.
After receiving funding Rosaasen launched into the first year of the study — a literary review of the technology available. The Prairie Agricultural Machinery Institute (PAMI) came on board to help with it. The second phase this year will be PAMI testing the technologies in fields surrounding their office at Humboldt, Sask. The third and final phase to be completed next year will be a report on the findings of the study.
PAMI will be testing sectional control technology from manufacturers including Bourgault, Seed Hawk and SeedMaster.
"What we're trying to do is test three different types of sectional control technologies in the field and look at two different sets of overlap," Katelyn Gaetz, PAMI agronomist and project lead, says in a phone interview. "I'll be out there during seeding to monitor information from the producer and then I'll be out there at emergence to see visually where the overlap is."
To measure draft in the field, PAMI will be using a load cart, Gaetz explains. This will help them to compare the draft measurements to fuel usage across the field in terms of lifting and lowering sections on a drill.
The group has been receiving interest from the industry about the study. Fertilizer Canada, Nutrien and John Deere have all reached out. Rosaasen says they're in early discussions with Nutrien to help on the third phase.
Protein Premiums For Wheat
2 years ago
-
The 2018 crop year featured a strong protein premium for wheat, in particular hard red spring wheat. Neil Blue, provincial crop market analyst with Alberta Agriculture and Forestry, looks at the situation with protein premiums on wheat in 2019.
Blue says that wheat protein premiums this crop year have dropped back to below average levels due to increased supply of higher protein wheat in the world. These crops include the dryness-reduced U.S. hard red winter wheat crop as well as European and post-Soviet state crops.
"In Alberta, this year's protein premium is around two cents per bushel per one-tenth per cent of protein," says Blue. "Although, the protein premium may vary from one buyer to another."
"Some buyers may quote that protein premium as 10 cents per bushel for a half percentage point of protein. Last spring, the protein premiums for wheat were historically high, averaging about five cents per bushel per one-tenth per cent protein point."
He adds that for an individual buyer, the protein premium may differ at different protein levels. "For example, last year for some half-point protein increments, the premium was as high as eight cents per bushel per one-tenth point of protein. Over the last several years in Alberta, the average protein premium for wheat has been from 3.5 to 4 cents per bushel per one-tenth per cent protein level."
As for some marketing strategies, Blues says that taking representative samples as grain is placed into storage and using the Canadian Grain Commission's (CGC) Harvest Sample Program are a good start.
"There is no charge for the program during the harvest sample submission period, and the CGC provides for wheat the grade, protein and DON levels as well as the falling number," he explains. "Although considered unofficial, that CGC grading information can then be used as a reference by producers in their marketing."
The next step is shopping around widely to learn how buyers are grading your wheat and also learn the grade, protein and other grade aspect price differentials that each buyer is applying.
"On that note," says Blue, "I realize that producers have encountered variations from buyer to buyer in grading, but I advise that producers should try to collect as much information about buyers' prices as possible on which to base their sale decisions."
Blue adds that producers who disagree with an assessed grade on delivery to a licensed primary elevator can request that a sample from that load be sent to the CGC for a grade assessment. "That grade will be the final grade for settlement. I know that producers are reluctant to challenge a grade factor, but that is a right of producers and the method that should be acceptable to buyers to maintain good relationships with producers."
For more information about wheat protein premiums, contact Neil Blue at [email protected] or 780-422-4053.
Source: Government of Alberta
Increasing Numbers of Weeds are no Longer Responding to Herbicides
2 years ago
-
Weed resistance to herbicides has been an issue in crop production for many years. However, it is is coming to the forefront as increasing numbers of weeds are no longer responding to herbicides.
"Most producers are aware of the issue but, unless it affects them directly, don't see it as a huge issue," says Harry Brook, crop specialist with Alberta Agriculture and Forestry. "For example, resistance to glyphosate – commonly known as RoundUp – is found in other parts of the world and Canada. We also now have glyphosate resistance in kochia in southern Alberta and it continues to spread. These should serve as a wake-up call to producers to the importance of rotating different herbicide groups when treating problem weeds. Failure to take this problem seriously will eventually result in the loss of our most popular weed control products."
Herbicide resistant wild oats can be found in many field in the province. Some biotypes are resistant to more than one herbicide group.
"In Manitoba in 2016, 78 per cent of fields sampled had some group 1 resistant wild oats. The majority of herbicides used for wild oat control are in this group. If wild oats is resistant to a single herbicide in a chemical group, it's pretty well resistant to all the herbicides that use that particular mode of action. Also in 2016, group 2 resistant wild oats was found in 43 per cent of Manitoba fields, and 42 per cent had wild oats resistant to both group 1 and 2. These numbers would be similar in Alberta. Soil-applied wild oat control is in group 8, which is older chemistry and has seen a resurgence in use. Cases of resistance to group 8 herbicides is increasing, despite it not being used much in the last 20 years."
Cleavers, kochia, chickweed, spiny annual sow thistle, hemp nettle, green foxtail, wild mustard, smartweed, Russian thistle and stinkweed have all developed resistances to group 2 herbicides, says Brook. "That group contain the sulfonylureas, the "imi's" and florasulam. Weed surveys from 2014 to 2017 estimate about 7.7 million acres or more in Alberta have some weed resistance issue."
Brook says there are a few ways to detect a herbicide resistance issue. "Investigate areas in the field where weed control didn't occur. Rule out other factors that might have affected herbicide performance including misapplication, spray misses, unfavourable weather conditions, and misapplication of herbicide at wrong leaf stage or late weed flushes. Other warning signs include other weeds listed on the herbicide being controlled adequately, patchy control with no reasonable explanation, a history of herbicide failure in the same area, lack of signs of herbicide injury on plants, and finally, a history of using the same herbicide group on the land, year after year."
Brooks says when a producer uses the same herbicide or products using the same mode of action, they are actually helping select for those plants that are either not affected or affected less by the active ingredient than other plants. "By killing off susceptible plants, you are actually setting the stage for the resistant ones to thrive as all their competition is killed off."
Herbicides that have one specific mode of action are most likely to develop resistant weeds. "Group 1 and group 2 herbicides fall into this category," says Brook. "However, the most important reason for having resistance show up is due to repeated use of the same chemical. Short crop rotations and a lack of crop variety has set up the conditions to encourage weed resistance to emerge."
Canada has reported resistance issues in weeds to at least six different herbicide groups. "If we ignore the risk of developing resistances, the day may come when we might lose some of our best herbicide tools from the weed management tool box. Pay attention. Scout your fields. Keep field records. Use a good crop and herbicide group rotation to keep this problem at bay. The consequences of not doing so are not cheap or pretty."
For more information about herbicide resistance, contact the Alberta Ag-Info Centre at 310-FARM (3276).
Source: Alberta Agriculture and Forestry
Recover PO4 Inoculant Improves Phosphorus Fertility Management
3 years ago
-

BrettYoung Seeds Limited announces the launch of Recover PO4 phosphate solubilizing inoculant for Canada.  The active ingredient in Recover PO4, Penicillium bilaii, is the same proven phosphorus fertilizer efficiency technology that thousands of Canadian farmers have used in products like TagTeam and JumpStart.
Used as part of an overall phosphorus fertility program, Recover PO4 improves access to and makes more efficient use of phosphorus from both fertilizer and soil sources.
"The introduction of Recover PO4 fits with our core strategy of providing innovative seed and seed related products to help farmers grow in every way," says Eric Gregory, marketing director of BrettYoung Seeds in Winnipeg, Man. "Recover PO4 strongly complements our portfolio of world-class crop input solutions including BrettYoung brand canola and forage seed and Elite brand corn and soybean seed."
Recover PO4 is being introduced in a convenient liquid formulation as compared to other Penicillium bilaii products, allowing commercial applicators and farmers to easily apply with their everyday seed-treating practices without the need to solubilize with water first.  It is registered on alfalfa, canola, chickpeas, corn, dry beans, lentils, peas, soybeans, and spring and winter wheat.
"The convenient liquid formulation will allow more farmers to utilize this proven technology to grow bigger, healthier crops," says Gregory.
CFIA re-establishing tolerance levels for micronutrient fertilizers
3 years ago
-
The Canadian Food Inspection Agency (CFIA) is re-establishing tolerance levels for micronutrient fertilizers. The tolerances will be phased in over the next two years.
Micronutrients are plant nutrients that are required in small amounts. A lack of micronutrients can negatively affect plant growth and crop yield. However, too many micronutrients can also have adverse effects on animals, plants and the environment.
To mitigate the risks of over-application, the CFIA regulates micronutrient fertilizers. The tolerances will provide clarity for the regulated parties, facilitate compliance verification and enforcement and improve compliance rates in the marketplace.
The tolerances are based on scientific evidence and modern manufacturing practices, and are in line with international standards.
Products with micronutrients will continue to require labelling in English and French to inform customers of all safety information.
BASF receives MRLs for HEAT LQ as a pre-harvest herbicide in wheat and barley
3 years ago
-
In time for the 2017 cereal harvest, BASF Canada confirms that the CODEX Alimentarius Commission (CAC) established Maximum Residue Limits (MRLs) for HEAT LQ as a harvest aid in cereals. This allows BASF to establish MRLs in all major export markets to support the use of HEAT LQ as a pre-harvest herbicide in wheat and barley with glyphosate.
"Canadian wheat and barley growers can now use HEAT LQ as a harvest aid with full export market access," said Dan Packer, cereal crop manager for BASF Canada.
The announcement has received endorsement from the Western Grain Elevator Association.
HEAT LQ on wheat and barley was included in the 201-2018 producer declaration, prior to the establishment of CODEX MRLs for HEAT LQ. The members of the Western Grain Elevators Association will now waive this clause for the 2017-2018 application season.
"With the recent establishment of CODEX MRLs for HEAT LQ as a pre-harvest herbicide in wheat, durum and barley, grain companies will now omit those crops from the 2017-18 declaration forms," said Wade Sobkowich, executive director of the Western Grain Elevator Association. "Growers can now use HEAT LQ as a pre-harvest application on wheat, durum and barley, and these grains can be marketed to Canada's major export countries."
HEAT LQ provides wheat and barley growers with a new tool to dry down tough broadleaf weeds including volunteer Roundup Ready canola, redroot pigweed and wild buckwheat, to name a few. A pre-harvest application of glyphosate and HEAT LQ will provide complete and rapid drydown of tough weeds to improve harvest efficiency for the 2017 season.
For more information on a pre-harvest application of HEAT LQ herbicide, contact AgSolutions Customer Care at 1-877-371-BASF (2273), or visit agsolutions.ca.