Alberta Wheat Commission Welcomes New Chairman and Board Members
5 years ago
-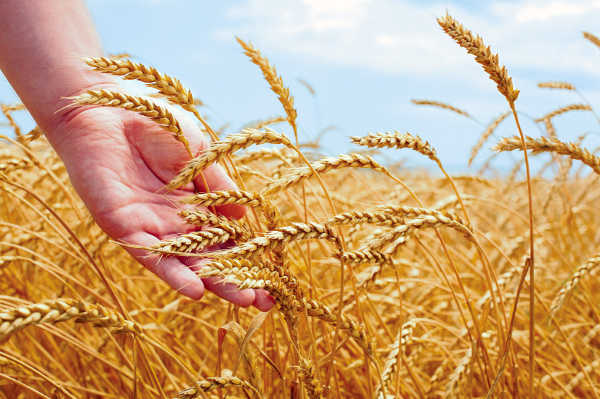 Alberta Wheat Commission (AWC) today announced changes to the farmer-elected board of directors and regional representatives, including a new chairman; Kevin Auch from Carmangay. Changes to positions on the board of directors and regional representatives follow AWC's annual general meeting (AGM) at FarmTech™2016 and include:
Trevor Petersen from Penhold joins the board of directors representing region 3.
Kevin Bender from Sylvan Lake was re-elected as director-at-large and was also elected by the board of directors to serve as the vice-chairman.
Michael Ammeter Sylvan Lake and Jason Lenz from Bentley were elected by acclamation to serve as region 3 representatives during the November region 3 meeting.
Kent Erickson from Irma chose not to seek re-election for a second term as director and chairman, but has taken on the role of region 3 representative.
"We have a very engaged group of farmers on our board and as regional representatives," said Tom Steve, General Manager of AWC. "Their experience and strategic thinking has been a foundation for AWC's growth and we we're exited to welcome new members to our team and continue our work in leading the wheat industry forward."
During today's AGM, Erickson, the founding AWC chair, was recognized for his energetic leadership and commitment to AWC and Alberta's wheat farmers. He spent over three years as a director and chairman, and played a key role in shaping AWC's strategic direction.
"As AWC's new chairman, I want to thank Kent for his leadership over the last several years," said Kevin Auch, chairman. "I have served as AWC's vice chairman this past year and have sincerely appreciated Kent's mentorship. I am honoured to take on my new role as chairman and am excited to continue the momentum AWC has built."
Farmers are encouraged to visit albertawheat.com to learn more about our board of directors and regional representatives and how they represent wheat farmers in Alberta.
Canada's Variety Development Research Supported by Record Investment from Farmers
5 years ago
-
Minister of Agriculture and Agri-Food Lawrence MacAulay and Dr. Keith Degenhardt, Vice-Chair of the farmer-funded Western Grains Research Foundation (WGRF), announced their renewed commitment to wheat and barley variety development in Canada. Agriculture and Agri-Food Canada (AAFC) and the WGRF have signed a new five-year research support agreement for AAFC wheat and barley breeding.
Under this renewed partnership with AAFC, WGRF will invest more than $21 million to support AAFC's western wheat and barley breeding programs until 2020. These funds, derived from farmer check-offs on wheat and barley sold in western Canada, represent the biggest ever industry investment in AAFC research. It will underpin AAFC's scientific capacity in plant pathology and physiology, entomology and grain quality and will enable specialized research equipment upgrades in support of all disciplines.
"Wheat and barley contribute billions of dollars annually to Canada's economy. This substantial investment in wheat and barley variety development will advance innovation, giving Canadian grain farmers a competitive edge to meet world demands for food and feed," MacAulay said.
"The benefits of investing wheat and barley check-offs into breeding are clearly recognized and valued by farmers and the Federal government. Check-off investments of over $90 million since 1994 have resulted in the development of 120 wheat and barley varieties. Our new investment of $21.4 million provides stability to AAFC wheat and barley research until 2020 and ensures that AAFC will continue to develop new varieties for many years to come," Degenhardt added.
Applications Now Accepted for CSAAC Student Grant
5 years ago
-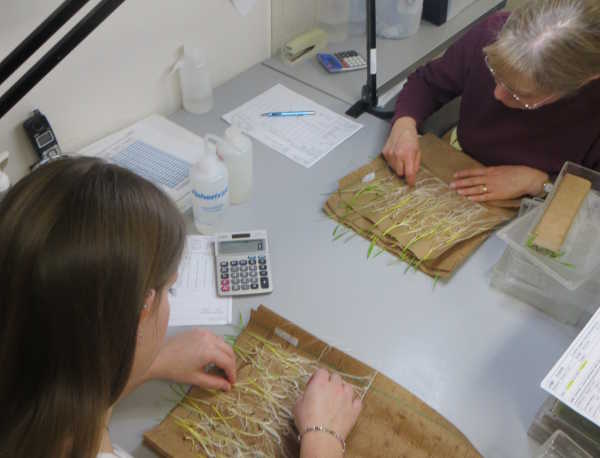 The Commercial Seed Analysts Association of Canada Inc. (CSAAC) is a body of professional and accredited seed analyst members dedicated to providing quality seed testing services to the seed industry.
CSAAC has an annual student grant available in the amount of $500 for post-secondary studies in the field of agriculture and/or plant sciences at a recognized Canadian institution. CSAAC wishes to provide an incentive to encourage students to pursue degrees related to agriculture so as to promote the development of sufficient expertise in the agricultural sector for the future.
Applications for grant will be accepted at any time throughout the year; however, the deadline is May 15 for the following fall term. No exceptions are allowed. If no one applies by that date, the award will not be given for that year. A student is only eligible to receive the award once.
To be eligible, the student must be enrolled full-time at a Canadian university or college. Proof of enrollment from their university or college must accompany the application. The student must be a Canadian citizen or permanent resident of Canada. A copy of the student's most recent transcript must accompany the application. Academic achievement is not a decision making criteria; however, the student has to prove they have the ability to handle the studies they have undertaken. The student can be in any year of study in one of the agriculture and/or plant sciences programs at a recognized Canadian institution. Selection criteria will be based on fulltime enrolment, extracurricular activities and an accompanying essay. The one to two page essay topic will be on why the student feels that they should receive this grant from CSAAC.
The student's past and current involvement in the agriculture industry including the family farm and/or seed testing is a benefit to the nominee for a successful application.
Application and further instructions along with French translations may be found on the CSAAC website at www.seedanalysts.com.
ASGA Honours Industry Stalwarts
5 years ago
-
The Alberta Seed Growers Association held its annual general meeting last week, honouring several members of the seed industry.
Dr. Ron DePauw and Dr. Bryan Harvey received honorary life awards, in recognition of their valuable serviceto the seed industry in Alberta.
Harvey is an internationally recognized scholar, scientist, administrator and public servant. He has taught classes in plant sciences, genetics and plant breeding at the diploma, baccalaureate and postgraduate levels. He has a special interest in curriculum development and teacher evaluation and has served on numerous committees in these areas. He developed the accreditation regime for programs in agrology managed by the Agricultural Institute of Canada and is director of accreditation for that organization. He has participated in accreditation reviews of programs at all of Canada's agricultural universities as well as several outside of Canada.
DePauw has actively participated in the registration of 56 cultivars of spring wheat, durum wheat and six cultivars of triticale. His hard red spring wheat breeding program has produced cultivars with wide adaptation, shifting the negative relationship between grain yield and grain protein concentration with AC Barrie — setting a new standard of production; Lillian became the first solid stem wheat ever, to be the most widely grown cultivar in Canada in the Canada Western Hard Red Spring wheat market class, Carberry, a CWRS variety with resistance to numerous diseases and short strong straw, was the most widely grown cultivar in 2014. Stettler was most widely grown in Alberta for the past several years.
The Bill Whitbeck Outstanding Service Award was given to Ward Oatway and Harold Warkentin in recognition of their contribution to pedigreed seed production in Canada.
A seed grower since 1984, Oatway farms with his wife Lori and daughters Ezri and Brie along with his parents, Grant and Lois, on the family farm south of Clive, Alberta. Together they farm approximately 1,300 acres of seed barley, wheat, peas and commercial canola. They condition the bulk of the seed on-farm, while also utilizing the local Clive Seed Cleaning Co-op.
A pedigreed seed grower since 1979, Warkentin is an active contributor to the industry. In his earlier farming years he worked extensively with the Beaver County Ag Fair seed section to promote seed production, and over the years has also worked with many plant breeders to test new seed varieties.
Retiring directors Larry Penner and Patrick Fabian were given special thanks for their time and service on the ASGA board of directors.
For more photos from the event, visit http://seedalberta.ca/media/
FarmTech 2016: An Attendee's Experience
5 years ago
-
Alberta Canola Producers Commission director Kelly McIntyre attended last week's FarmTech event. He offers his thoughts on the conference and all it had to offer.
——————
For the last five years, I have attended FarmTech as an Alberta Canola Producers Commission (ACPC) director. Prior to joining the board, I still attended almost every one as a farmer. Why? Leading edge information that helps me succeed both as a farmer and a person. The variety of presenters at FarmTech is amazing.
ACPC's commitment to FarmTech helps to ensure that the commission stays connected to the farmers it serves and this years' experience was even more exciting to me than past ones. As a director of the Canadian Canola Growers Association (CCGA) I was asked to participate in a television interview to promote 'The Man Van'. This van is a portable testing facility for the early detection of prostate cancer in men. It was brought to FarmTech though the sponsorship provided by CCGA. Doing a television interview is a bit of a nerve-wracking experience for a rookie like me but I was happy to help promote such a good initiative. The Global News health segment aired that night after the first day of FarmTech. Well, as a result there were many farmers who came to the van the next day for the simple PSA blood test! There were even a few people from the city that had seen the interview and came to the FarmTech event just to get tested. I never could have imagined when I started to come to this event many years ago in Red Deer that I would be a part of such a noble cause.
As the years of attending have progressed I have found that my focus has changed. I used to go to as many agronomy sessions as possible. Now I tend to go to sessions that are more about self-improvement and big picture thinking. Agronomy is still available if you want it but some of the other session topics are a little harder for a farmer to find in other places. It can be a little overwhelming having all these new ways of thinking and doing things so I try to focus on one or two new ideas and developed the skills around them.
This year I attended a session called Relationship Awareness. I don't think many farmers would have actively sought out information on this subject previously, but at a conference it is easy and comfortable to attend. Good communication with many different people is a big part of a farmer's life and this session focused on improving that. I also attended a session on sustainability, which helped me to understand that it is more than just a buzz word, it is part of our entire food production system. The session on Weed Resistance in the USA made me realize the devastating effects of not paying attention to crop and chemical rotations: they are in big trouble. Plant Growth Regulators presented by a panel of farmers with some experience are emerging as a new technology available to farmers. I learned that they are sometimes very effective but not necessarily a fit for everyone or every field. The large attendance at the Managing Canola Harvest session showed me that farmers are very willing to adopt new management strategies.
Overall, I will continue to attend this event in both a personal and professional capacity because it brings value to all parts of my life. As an ACPC director I enjoy the conversations I have with other growers and like seeing people enjoy an event we host.
Podcast: Pea Leaf Weevil Expanding its Range
5 years ago
-
Scott Meers, insect management specialist with Alberta Agriculture, talks about pea leaf weevil. Meers says the range of this insect is expanding, adding it's also affecting fababeans.
Download the podcast here:Â http://www1.agric.gov.ab.ca/$Department/newslett.nsf/all/cotl24704/$FILE/16_27_Scott_Meers.mp3
Canola Producers Commission Introduces 2016 Board of Directors
5 years ago
-
The 26th Annual General Meeting of the Alberta Canola Producers Commission (ACPC) was held January 26 at the FarmTech Conference in Edmonton. In the fall, director nominations were held and two new directors were acclaimed. Following the AGM, the board met and voted for executive positions. The new chair of the board is Greg Sears of Sexsmith, Alta. and vice-chair is Renn Breitkreuz from Onoway.
ACPCÂ would like to welcome:
Denis Guindon of Falher, AB replacing Raymond Blanchette in Region 3
Kevin Serfas of Turin, AB replacing Lee Markert in Region 9
"Thank you to Lee Markert, our past chair, for setting a high standard in professionalism, passion for the industry, and leadership. We wish you the best in your future on the farm with your family and in your business," says new Chair of the Board Greg Sears. "I would also like to thank our two past directors Marlene Caskey and Raymond Blanchette for their dedication to this board, and their contributions to this industry and its producers."
ACPC is actively seeking eligible growers that could represent Region 12. This region is made up of areas such as Drumheller, County of Forty Mile, Cypress County, Starland County and surrounding areas. Anyone growing canola in these areas is eligible for the board of directors.
Alberta Farmers Crowned in DeKalb Seed for Yourself Yield Challenge
5 years ago
-
This year, hundreds of growers competed in the DeKalb Seed for Yourself Yield Challenge. Growers entered their DeKalb corn, canola and soybean crops and squared off with other individuals for the prestigious title of champion. In order to claim this honour, one must produce the highest yielding crop in their crop category in their respective contest zone.
Several Alberta farmers are included among the winners in Western Canada:
| | | | | | | | |
| --- | --- | --- | --- | --- | --- | --- | --- |
| Zone  | Crop | Contest Zone | City | Prov | Winner Name | DEKALB Hybrid  | Yield (bu/ac) |
| 1 | Canola | South of Highway 1 | Welling | AB | Richard Wilde | 74-44 BL | 78.4 |
| 2 | Canola | Highway 1 North to Highway 12 | Crossfield | AB | Peter Cissell | 74-44 BL | 83.5 |
| 3 | Canola | Highway 12 North (outside of Peace Region) | Fort Saskatchewan | AB | Joanne Kuhn | 74-54 RR | 70.0 |
Podcast: 2016 Insect Forecast
5 years ago
-
The 2016 insect forecast maps are now available  on Alberta Agriculture's website. Scott Meers, insect management specialist with Alberta Agriculture, gave an update at Agronomy Update in Red Deer. For wheat midge, Meers says 2016 shows an overall lower level of the insect across the province; but he says timing is everything.
To listen to the interview: go here:Â http://www1.agric.gov.ab.ca/$Department/newslett.nsf/all/cotl24701/$FILE/16_26_Scott_Meers.mp3
To view the maps, visit:Â http://www.agric.gov.ab.ca/app21/loadmedia
Cereal Researcher Receives Prestigious Award
5 years ago
-
Former Alberta Agriculture and Forestry researcher Jim Helm is awarded the prestigious American Society of Agronomy Distinguished Service Award. This award is given only to highly distinguished nominees that have made a transformational contribution to the agronomy profession.
"Jim Helm is a household name among cereal breeders and scientists worldwide" says nominator John Ryan, former soil scientist with the International Centre for Agricultural Research in the Dry Areas.
Helm spent over four decades as head of research at the Field Crop Development Centre, located in Lacombe, and oversaw the release of 42 cereal cultivars bred specifically for conditions in Alberta and Western Canada, including 32 barley varieties, nine triticale varieties, and one winter wheat variety.
"While this award is primarily a credit to Jim, it's also a credit to his colleagues and the Centre here in Lacombe" says Ryan.
Born and raised in Washington state, Helm had the opportunity as a master's student to work with legendary Nobel Peace Prize winner Norman Borlaug at Washington State University.
After obtaining his Ph.D from Oregon State University, Helm found his way to Alberta in 1973 to become the sole worker at the brand new provincial barley breeding program, later known as FCDC.
Under Helm's leadership, the FCDC grew from its humble beginnings into a world class cereal breeding facility, with 10 scientists and over 30 staff working in pathology, biotechnology, quality, and breeding labs. Initially focusing on feed barley, the FCDC's breeding programs have since expanded to include malt barley, spring and winter triticale, and wheat.
Helm retired from FCDC at the end of 2014. He has also received the Canadian Society of Agronomy's Distinguished Agronomist award, the Alberta Centennial Medal for outstanding service to the people and province of Alberta, the Alberta Science and Technology Award for Innovation in Agricultural Science, and was inducted into the Alberta Agricultural Hall of Fame in 2002.