Grain Growers of Canada holds second annual National Grain Week
6 months ago
-
Grain Growers of Canada (GGC) members from coast to coast are in Ottawa this week to meet with government as part of the second annual National Grain Week which runs from February 26-28. This year's theme, From Report to Reality, focusses on harnessing the recommendations in the Agri-Food Economic Strategy Table Report released in September 2018.
"This Report is an opportunity not to be missed for our industry," said Jeff Nielsen (Olds, AB), GGC Chair. "We are excited about the future of grain farming in Canada and are ready to work with government to achieve success."
The Report lays out clear deliverables for government and industry aimed at supporting the growth of agriculture, agri-food and the Canadian economy as a whole. As a naturally innovative industry, agri-food is a growth driver and GGC members have been pleased to see the Government's recent recognition of that fact.
"It is so important as farmers that we take the time to come to Ottawa and meet directly with government on a regular basis," said GGC Vice Chair Markus Haerle (St. Isidore, ON). "Our sector has unique needs which focus on trade, innovation, infrastructure, and a strong regulatory environment; all of which are addressed in the EST report."
The Report is just one in a series of recent reports that acknowledge the agri-food sector's potential including the Barton Report, Budget 2017, and the Fall Economic Statement from November 2018. The Government has a focus on growing the middle class, and, as key contributors to strong rural economies grain farmers are clear partners in achieving that goal.
In addition to government meetings, National Grains Week includes a Parliamentary reception on Tuesday, February 26th where Agriculture and Agri-Food Minister Lawrence MacAulay will deliver remarks.
"Now that Canada is once again in a federal election year it is all the more important that grain farmers are vocal in our needs and advocate for our industry," added Shane Stokke (Watrous, SK), GGC Vice Chair. "We are proud of what we contribute to the economy and look forward to working with government and our industry partners to ensure that Canada's grain sector is sustainable and competitive for generations to come."
Source: Grain Growers of Canada
Canadian Grain Commission Extends Harvest Sample Program Deadline
10 months ago
-
Cool and wet weather during the harvest season may have Canadian grain producers wondering how the quality of their grain has been affected. The Canadian Grain Commission recognizes that harvest has been delayed in many locations and has extended the deadlines of its Harvest Sample Program by a month so more producers can benefit from this service.
The Harvest Sample Program offers an unofficial grade and quality information that could help producers make delivery decisions. New for this year, the Canadian Grain Commission is offering Falling Number and DON (deoxynivalenol) results for wheat as part of the Harvest Sample Program.
The Canadian Grain Commission makes crop quality data generated from harvest samples available to marketers to promote the sale of Canadian grain. This quality information confirms Canada's ability to deliver consistent, high-quality grain from year to year.
Producers who are not currently registered for the Harvest Sample Program, but who would like to take part for the 2018 harvest have until November 30 to register online at www.grainscanada.gc.ca. There is no charge to enroll, and registered participants have until December 31, 2018, to submit samples taken from their crops.
Quick facts
The Harvest Sample Program is a voluntary program that offers analytical services to Canadian grain producers and grain companies.
Participating producers are emailed a report that includes an unofficial grade, protein and dockage for their grain. As well, this year, producers who send in wheat samples will get Falling Number and DON (deoxynivalenol) results.
Source: Alberta Agriculture and Forestry
Producers Rushing to Sell Tough Grain
10 months ago
-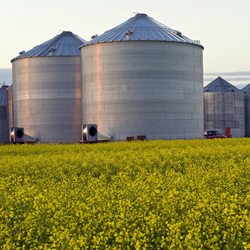 Alberta feed wheat prices are falling as producers rush to sell downgraded and high moisture crops coming off the field.
Nelson Neumann, grain trader with Agfinity in Stony Plain, Alta, said feed wheat prices have fallen about 70 cents/bu since the summer when hot, dry conditions raised worries that feed quality supplies would be tight.
However, a long and difficult harvest in Alberta – marked by cold, wet weather – has meant more and more wheat is coming off in relatively poor condition and heading straight for the feed market rather than the higher priced milling or export markets.
"Last week the phones were blowing up. Right now, I think we're seeing some better weather, so everyone's outside and the phones are probably going to light up again next week," he said of farmers calling to sell.
Along with wheat, producers have been rushing to sell higher moisture barley, Neumann said, adding that in the last few weeks Agfinity has seen a lot of tough grain, at 18 to 20% moisture.
"You're seeing a lot of offers all in the 18% (moisture range), all with producers needing quick movement. Don't want to store it, can't store it, can't dry it down," he said.
At Agfinity, feed wheat bids are currently sitting around C$230 to $235/tonne ($6.25 – $6.40), depending on location. Back in late July, feed wheat bids in the Lethbridge area were as high as about $6.75/bu
Source: Syngenta
Estimating The Cost Of Drying Grain And Oilseeds
10 months ago
-
Early winter conditions this fall may make it necessary for harvested grains and oilseeds to be dried mechanically. Dean Dyck, farm business management specialist at the Alberta Ag-Info Centre, examines those potential costs.
"Investing in a grain drying system requires careful long term decision making because of the significant cost," explains Dyck. "Knowing the costs of on-farm drying is important for those evaluating the potential purchase and for those who already have a system in place to compare on-farm costs to commercial drying rates."
The cost of drying will depend on the type and size of drying system, the amount of moisture removed, the weather conditions during the drying period, and the operating and ownership costs. Operating costs include fuel, electricity, repairs and maintenance, labour, shrinkage, and hauling. Says Dyck, "The largest component of grain drying cost is fuel – either propane or natural gas. The amount of fuel used will vary widely with the type of system, the type of grain or oilseed dried, the outside air temperature, and the moisture removed."
Dyck says that the cost of annual repair and maintenance or replacing components is usually low. "It is suggested to use 1.5 per cent of the investment cost of the drying system per 100 hours of use. Most drying systems use electricity to power fans and move grain. Multiply the horsepower of the electric motors by 0.75 then by the current electricity rate to calculate the cost per hour."
The amount of labour required to operate a drying system will vary by the type of system. "High temperature, fast drying systems will require frequent monitoring, while a slower system may not need to be checked as often," says Dyck. "The labour cost per bushel can be estimated by dividing the typical farm labour wage rate per hour – usually about $20 per hour – by the number of bushels dried in an hour by the system."
Dyck adds that the cost of grain shrinkage during the drying and hauling process is often overlooked. "It can be calculated by using the Grain Shrinkage Calculatoron the Alberta Agriculture and Forestry website and multiplying the percentage of shrinkage by a future cash price."
Ownership costs, including depreciation and the cost of investment, will vary depending on the size and investment in the drying system. "The initial investment can include the purchase price of the drying unit, surge bins, plus any auxiliary equipment such as augers, wiring, and concrete," he says. "Depreciation on the dryer and auxiliary equipment can be calculated at the rate of 10 per cent per year. If you have surge bins, depreciate them at 5 per cent per year. The cost of investment should be the rate that could be earned on equity capital. A good measure is the Bank of Canada's 5 to 10 year bond rate, which is currently at 2.5 per cent. Divide these figures by the total estimated hours of use this year."
"As a reference point," adds Dyck, "Calculations done by the farm management specialists at the Ag-Info Centre suggest a range of 10 to 16 cents per bushel per percentage point drop in moisture. For example, drying canola from 17 per cent to 9.5 per cent will cost between $0.75 and $1.20 per bushel. There are many factors that go into the cost of drying grain, so doing your own calculations is highly recommended."
For more information or assistance, contact the Alberta Ag-Info Centre at 310-FARM (3276).
Source: Alberta Agriculture and Forestry
Grain Growers of Canada Welcomes New Vice President and Members
1 year ago
-
Grain Growers of Canada (GGC) is pleased to announce that four new members have joined the organization, bringing total membership to 16 national, regional and provincial grower groups. The announcement was made at the organization's semi-annual Board meeting on Aug. 1, 2018 in Guelph, ON.
New members include:
Grain Farmers of Ontario (GFO)
Producteurs de grains du Québec (PGQ)
Saskatchewan Pulse Growers (SaskPulse)
Manitoba Oat Growers Association (MOGA)
"An expanded GGC means a stronger voice for grain farmers in Ottawa," said GGC President, Jeff Nielsen. "Grain farmers are driving economic growth across Canada and by working together we can help deliver the conditions that Canada's hard-working middle class grain farmers need to continue that growth."
At the same meeting, the GGC Board elected Markus Haerle, Chair of Grain Farmers of Ontario, as the organization's new Vice President. Mr. Haerle is replacing Art Enns of the Prairie Oat Growers Association who stepped down from the position at the meeting.
"I am delighted to take on this role and help lead GGC into the future," said Mr. Haerle. "The need for meaningful market access, reliable risk management programs and regulations that encourage growth is shared by farmers across Canada and we can help meet those needs with a united voice in Ottawa."
At a time when grain farmers are increasingly challenged by trade volatility, policy priorities for GGC include expanded international trade including the quick ratification of CPTPP, the successful implementation of the Transportation Modernization Act, and a comprehensive review of business risk management programming that delivers programs that work for farmers.
Grain Growers of Canada provides a strong national voice for over 65,000 active and successful grain, oilseed and pulse producers through its 16 provincial, regional and national grower groups. Our mission and mandate are to pursue a policy environment that maximizes global competitiveness and to influence federal policy on behalf of independent Canadian grain farmers and their associations.
Grain Grading and Variety Designation Changes come into Effect on August 1
1 year ago
-
The Canadian Grain Commission would like to remind grain producers and industry of changes to the Official Grain Grading Guide and variety designation lists coming into effect on August 1, 2018.
Beginning in the 2018-19 crop year, individual official standard samples will be used to assess frost, heat stress and mildew damage in western Canadian wheat. An updated version of the Official Grain Grading Guide will be available on the Canadian Grain Commission's website on August 1, 2018.
New variety designation lists will also come into effect on August 1, 2018. Following a 3 year transition period, 25 varieties of Canada Western Red Spring and 4 varieties of Canada Prairie Spring Red wheat that do not meet the revised quality parameters for their current classes will be reassigned to the Canada Northern Hard Red class. These changes will help maintain Canada's reputation as a consistent supplier of high quality milling wheat and ensure Canadian producers are able to realize the benefits of growing premium classes.
Quick facts
Under the Canada Grain Act, the Canadian Grain Commission is responsible for establishing and maintaining

Canada's

grain grading system.
As the federal agency responsible for ensuring grain quality, the Canadian Grain Commission's role is to ensure that varieties assigned to wheat classes reflect the end-use functionality needs of buyers of Canadian grain.
Grain Farmers Need to be Prepared for August 1 Wheat Reclassification
1 year ago
-
The Saskatchewan Wheat Development Commission (Sask Wheat), the Alberta Wheat Commission (AWC) and the Manitoba Wheat and Barley Growers Association (MWBGA) are asking Prairie grain farmers to be prepared for the upcoming reclassification of 29 wheat varieties.
On August 1, 2018, 25 varieties of wheat currently classified as Canada Western Red Spring (CWRS) and four varieties currently classified as Canada Prairie Spring Red (CPSR) will be reclassified into the Canada Northern Hard Red (CNHR) class.
"We want farmers to have a plan to market any remaining wheat that is transitioning to a new class on August 1," says Sask Wheat Chair Laura Reiter. "It is important farmers know what they have in their bins and that they communicate with their local elevator or buyers soon to make sure they are able to maximize the return on these varieties."
In February 2015, the Canadian Grain Commission (CGC) announced the Canadian wheat class modernization process. The process was undertaken to maintain the quality, enhance the consistency and support the marketability of Canadian wheat. In December 2015, the CGC announced the creation of the CNHR and Canada Western Special Purpose wheat classes.
Many producers have been preparing over the last two years by transitioning to varieties not designated for reclassification. However, according to the CGC's 2017 Grain Varieties by Acreage Insured Report, 491,108 acres of wheat varieties which are designated for the CNHR class on August 1, including Harvest, Lillian and Unity, were still grown in Western Canada in 2017.
"The CGC is not allowing any grace period for producers after the July 31st deadline," said Kevin Bender, AWC Chair. "We therefore think it's important that farmers negotiate the best possible terms for the varieties being reclassified and be aware that grain companies will have until December 31, 2018 to ship any remaining stocks from the system as CWRS and CPSR."
Producers who have a contracted delivery date after August 1 for a transitioning variety should contact their elevator or grain buyer as soon as possible to ensure their grain will be accepted as CWRS or CPSR. Wheat varieties classified as CNHR are expected to sell at a discount to the CWRS and CPSR classes.
"The MWBGA is happy to partner with our fellow wheat organizations in communicating to Western Canadian producers the importance of making a transition plan," says Fred Greig, MWBGA Chair. "Maintaining the quality of the CWRS class is important to Canada's reputation and will benefit farmers. While the reclassified varieties are still registered and can be grown, we strongly recommend that farmers arrange their marketing options for these varieties prior to future plantings."
For more information on the reclassification, please go to the CGC website at grainscanada.gc.ca.
Source: Alberta Wheat